THE MXA WRECKING CREW GOES TO CHINA… BEFORE THE CORONAVIRUS PANDEMIC HIT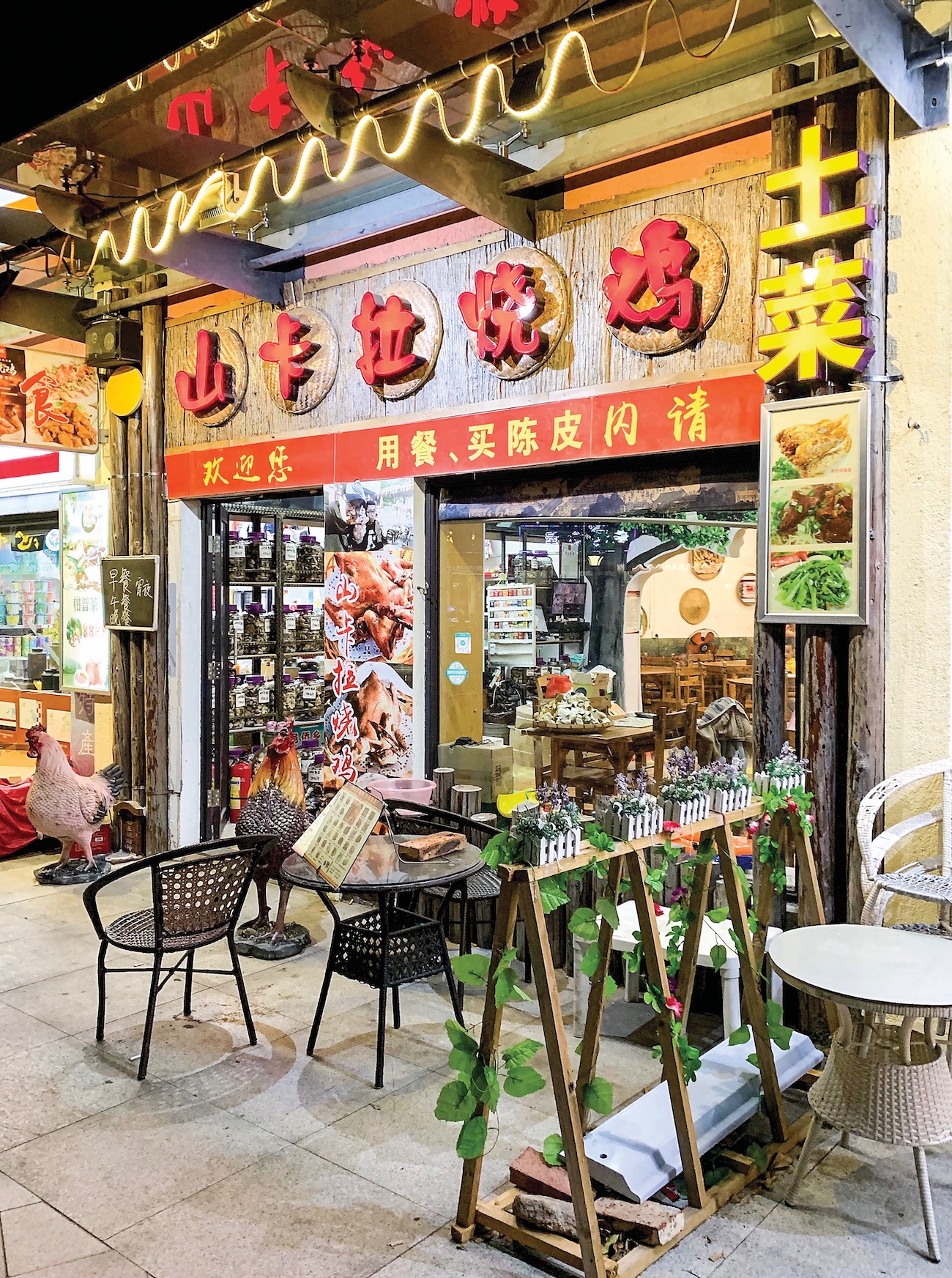 THE MXA WRECKING CREW GOES TO CHINA… BEFORE THE CORONAVIRUS PANDEMIC HIT
By Dennis Stapleton
China has a population of about 1.43 billion people and covers approximately 3,700,000 square miles. It is a country that provides global manufacturing, producing cheap knock-off dirt bikes and parts. With all these dirt bike parts being made, you would think there would be more buzz around China's motocross community; however, with China's strict internet restrictions banning the use of all social media sites and websites like Google and Gmail, it cuts itself off from the rest of the connected world. Since China has always been a place of mystery to me, I wanted to travel there and race. Some of the most fun and craziest experiences I have had have been racing in other parts of Asia like India, the Philippines and Thailand. 
Luckily, one of the fun parts of my job at MXA is to go to the far ends of the earth to spread the word, so when I got an offer for an all-expenses-paid trip, plus start money, to go to Jiangmen Xinhui, China, for what I understood to be an FIM test race for one of the two proposed Chinese MXGP events later this year, I jumped at it. I was in Kuwait last year for an FIM test race at Kuwait Motor Town, a possible landing spot for an MXGP in the future.
"THE CHINESE WANTED TWO AMERICANS, BUT JODY WON'T GO ANYWHERE THAT ISN'T ON THE 15 FREEWAY, AND DARYL ECKLUND AND
JOSH MOSIMAN SAID THEY WERE TOO BUSY. SO, I ASKED
RYAN SURRATT TO COME ALONG."
It took a while to get all the paperwork handled, but the day finally arrived when my host from Jabebe, China, called and said, "Let's go racing!" China requires a $140 visa to visit the country for the length of my stay. In 2016, China started a program called Direct Transit, where you can enter China without a visa, but this was not designed for travelers who are making China their primary destination. It is just for those passing through, which means not leaving the airport. In order to travel to China as your primary destination, you are required to have a prepaid round-trip ticket, along with a confirmed hotel reservation. Once you have this, an invitation letter, copy of the China ID card of the person inviting you into the country and a passport speeds the process along. I didn't want to go alone, as the Chinese race promoters had requested two Americans, but Jody refuses to go anywhere that isn't on the 15 Freeway, and Daryl Ecklund and Josh Mosiman said they were too busy. So, I asked Ryan Surratt if he would like to come along. 
Luckily, the China Consulate is in downtown Los Angeles. After you are approved, you can drive to the Consulate and pick up your visa. After two days of paperwork, $245 spent, and 300 miles of driving in Southern California traffic, the packing and journey began. 
When someone else books your flight, the risk is high that you'll be the unlucky recipient of a seat in the back row against the bathrooms—you know, the seat that does not recline. Take it from me, the sounds of people slamming bathroom doors and kids screaming loud enough to break glass make the $75 upgrade to a better seat worthwhile
At our first stop in China, we scrambled down the plane's stairs to pick up our bags to get to our connecting flight. However, it never fails that I get the big "X" on my paperwork that insinuates that I look like a terrorist, a capitalist or a Republican. By the time I cleared the extra Chinese security, Ryan had our bags ready to be checked. As an experienced traveler in foreign lands, I told Ryan that we should get our last American meal at the airport's Burger King, because it might be the last food we recognize for five days. Surprise, the Chinese Burger King would not take credit cards. No problem; everybody in the world takes American dollars. Not a chance at Burger King. Luckily for us, Starbucks took debit cards, so we squeezed in a cardboard sandwich and coffee. 
"WHEN THE FIRST ORDER OF FOOD CAME OUT, THE DELICACY ON THE PLATE WAS STILL MOVING. I HAVE FACED MANY A PLATE OF WEIRD FOOD IN WEIRD PLACES, BUT TO RYAN SURRATT, THIS WAS ALL NEW."
At our next airport, we got picked up by our Chinese motocross hosts. I was hungry and ready for the authentic Chinese version of a Burger King Whopper, which was a snake and chicken meal—and the chicken was actually duck. I did not realize how picky I was about food, but it was nothing a little ketchup couldn't fix.
Then we started the three-hour drive through the south of China from Guangzhou Baiyun to Jiangmen Xinhui, which is a section of Guangdong. We were told that we would be staying in the Gudou Hot Springs Resort. By the time we arrived, it was late, but there were tons of neon lights and school kids everywhere. After traveling around the world, nothing sounds better than a hot shower and some shuteye, but I've learned from wandering the world that sleeping at the wrong time can start the trip out poorly. So, Ryan and I decided to take a stroll through town. They had a motorcycle show going on with safety school classes and many Chinese-made motorcycles on display. 
After a quick look around, we decided to get something to eat before heading back to the hotel. As we walked around the food court, many people tried to get us to sit at their table or try their food. They seemed to like Americans. With the help of our host and guide, we finally sat down and ordered. When the first order of food came out, the delicacy on the plate was still moving. I have faced many a plate of weird food in weird places, but to Ryan Surratt, this was all new. I told Ryan to just order rice and noodles if he wasn't in the mood for food that tried to run away. We hung around until 11 p.m. China time, which was 7 a.m. back home in California, and then called it quits and tried to get some rest.
"THE TRACK LOOKED LIKE AN OVERGROWN BMX TRACK. DIRT LINED BOTH SIDES OF THE TRACK TO MARK THE COURSE. THIS WAS NOT GOING TO
BE A CHALLENGING TRACK BY ANY MEANS." 

 On Friday, Ryan and I went to the racetrack to check in and get ready for practice. We headed straight for our bikes. The good news was they looked just like the photos they sent us when trying to convince us to come to mainland China to race. We did the basic bolt check, topped off the tire pressure and set the race sag before heading out to walk the track. The track looked like an overgrown BMX track (although there were pretty green mountains as a backdrop with big red balloons floating in the sky).
Dirt was lining both sides of the track to mark the course boundary. This was not going to be a challenging track by any means—a fact that was confirmed when we saw the Novice-level tabletops and big hard-pack wall berms. On the back half of the track, the wall berms were so far on the outside of the corner that no one ever went there. The inside line became the slot-car way around the corner. The start was going to be the key to success, as Ryan and I weren't the only foreign riders in China on this weekend. On a one-line track, passing was not going to be easy. 
Practice started with the China bike class going out first. As they circled the track on their Chinese-built machines, they hit all the jumps and ripped around at a good pace. Now it was time for us to ride. I warned Ryan that when in a foreign country it is best to take your time for the first few laps. You want to make sure that your borrowed bike doesn't have a bad bog, pogo-stick suspension or things that fly off in midair. By the third lap, the International group was up to speed. It was uneventful as practices go.
After practice, I made a few small adjustments to the bike and skipped the second practice. There was no reason to kill a bike with very limited parts on a track that didn't require any more laps to get it down. During any international event, you typically get stuck at the track a lot more than you would hope, as you just want to do your job and then go sightseeing. I have spent my whole life at racetracks, but this was my first time in China, and I wanted to venture out. 
"OUT OF THE BLUE, THE POLICE SHUT DOWN THE INTERNATIONAL RACE.
I THOUGHT TO MYSELF, "WHAT HAVE I DONE? I FLEW ALL THE WAY TO
CHINA ONLY TO BREAK A LAW AND HAVE THE RACE SHUT DOWN."
 Saturday was race day. It started with an untimed practice. Then there was a very long break before our race. I kept myself busy while waiting for the International class by checking out some local Chinese bikes and meeting the local kids. There were an impressive number of riders at the event and 2000 spectators. The only problem was that English is not very common outside of Hong Kong, so Google Translate came in handy.
After waiting half the day for our race to line up, I rode down a dirt road to the back side of the track to see if the track changed at all. Before I knew it, I had an angry policeman blowing his whistle and yelling at me. I had no clue what he was saying. He began to turn bright red, and I could see him getting angrier and more agitated. Spit was flying out of his mouth and, for some reason, I found this amusing and started to smile. As with policeman everywhere, this only made things worse, and pretty soon I was in the middle of a Chinese police convention. From the bits of English that I could understand, it seemed that I had broken some law. In my head I thought, "I'm going to jail for riding a dirt bike down a dirt road." Luckily, the race promoter came to my rescue, but his English was not much better. Finally, a Brazilian guy named Sole, who had lived in China for 10 years and could speak the language, translated for me. He was racing in my class on an older Kawasaki KX250F with a Chinese engine in it. I learned that dirt bikes are illegal on any kind of road without a license plate, which I did not have on my race bike.
Then, out of the blue, the police shut down the international race. I thought to myself, "What have I done? I flew all the way to China only to break a law and have the race shut down by the police." It turns out that I had nothing to do with it. There was political unrest in Hong Kong, and the police were not taking any chances with the 2000 people milling about. Ryan and I went back to our hotel to check out all the local festivities and try out a few different hot springs.
"AFTER WE JUMPED ON THE GONDOLA, I REALIZED THIS WAS A BAD IDEA! THE PEAK WAS MUCH HIGHER THAN IT LOOKED, PLUS THE GONDOLA
WAS VIBRATING AND CREAKING LIKE CRAZY." 
This is the view of the 40-minute gondola ride up the Caishen mountain to see the Temple of Wealth with a scenic view of the Hot Springs town on the way down.
The race was now scheduled for Sunday at 1 p.m., but I was having doubts that this would ever happen. I'd been there for three days and had only ridden one short practice session. I was okay with not riding, because I was ready to check out the sights. Ryan and I had bought tickets to ride the gondola to the top of the mountain behind our hotel. The hot spring resort had many amazing sites to see. After we jumped on the gondola, I realized this was a bad idea! The peak was much higher than it looked, plus the gondola was vibrating and creaking like crazy. As we made our way up the hill, my hands were sweating; but, once on the top, the sights were well worth the rickety ride.
While we were gone, our race was moved to 4 p.m. Once we arrived at the track, all the spectators were gone. This was the first time I had ever raced an international event where the promoters waited for everyone to leave before they held the race. It didn't make any sense to me then and still doesn't now, because the Chinese fans had come to see the foreign riders race. The track was completely blown out, and the purse wasn't worth taking big risks, so I decided to ride safely, not wishing to test the local Chinese medical facilities. I did not want to discourage Ryan, as it was important for him to win this event. At the checkered flag, Ryan Surratt took the win, with Thai riders Tanarat Penjan second and Chaiyan Romphan third. I was fourth and happy I was still in one piece.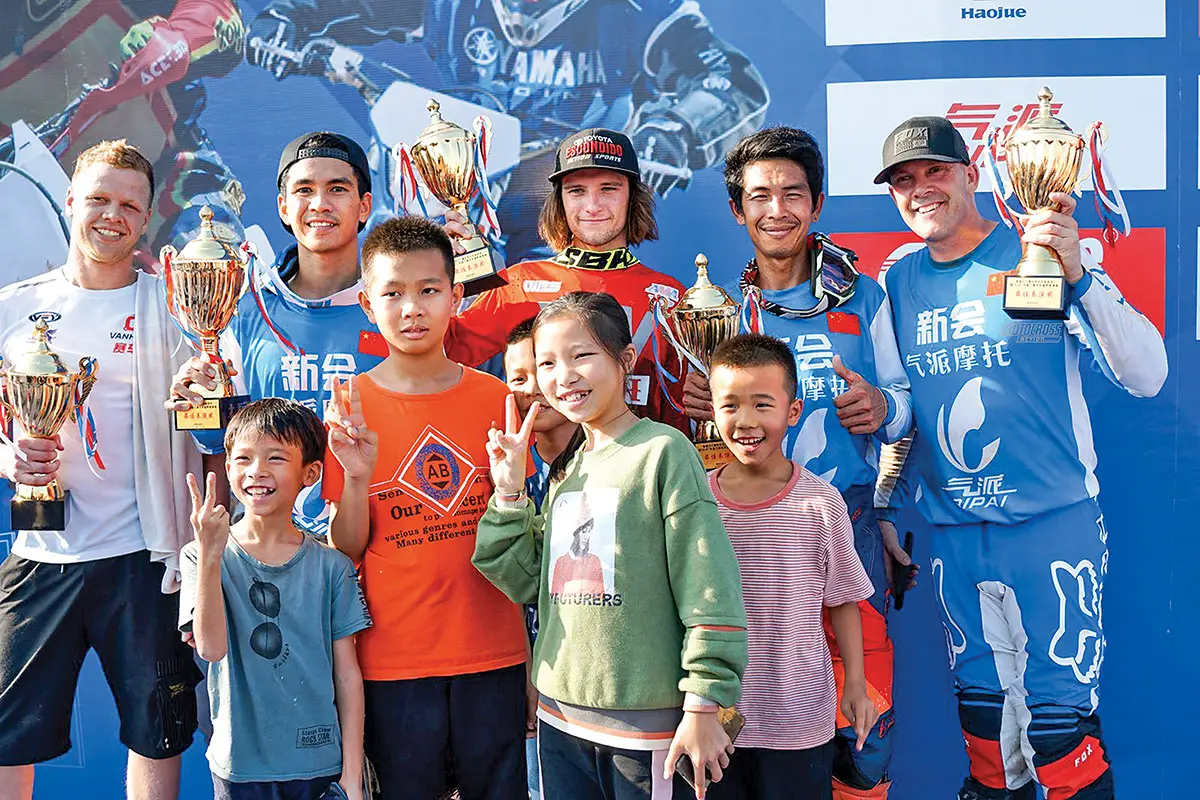 After the race, we did photos, grabbed trophies, and had one last dinner with some of the international MX guys. This is where I made the last mistake of my trip to China. I walked by the kitchen to see what they were making. I will leave that part to your imagination, but turtle soup was on the menu that night.
I was so happy when I saw McDonald's at the international airport. It was the first meal I got to keep down in my five days in China.