THE QUEST TO BUILD A 2002 WORKS CR250 TWO-STROKE — PLUS VIDEO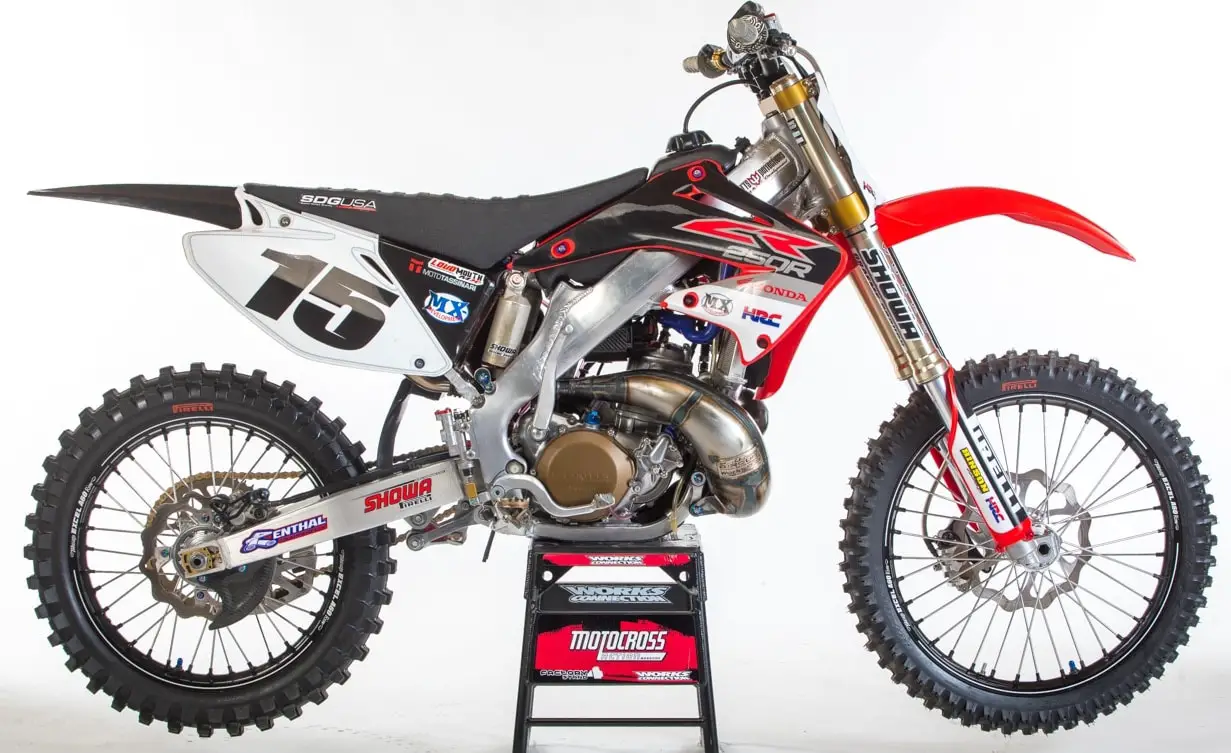 THE QUEST TO BUILD A 2002 WORKS CR250 TWO-STROKE — PLUS VIDEO
By Mark Chilson
"Once upon a time I owned a brand-new 1996 Honda CR250 motocross bike. I loved that bike. The steel frame and Showa suspension components made it a handling dream. Unfortunately, I had a mid-air collision with a Volkswagen Bug at the sand dunes in Glamis, California, that totaled my prized possession," said motocross photographer and racer Mark Chilson. "That generation of CR250 fueled Jeremy McGrath's legacy. He went on to win every 250 Supercross Championship on that steel-framed smoker from 1993 to 1997. And if you're thinking Honda killed the golden goose when they switched to their rigid aluminum frame in 1997, you're right. Jeremy refused to race with the new stiff machinery and, for other reasons as well, jumped ship.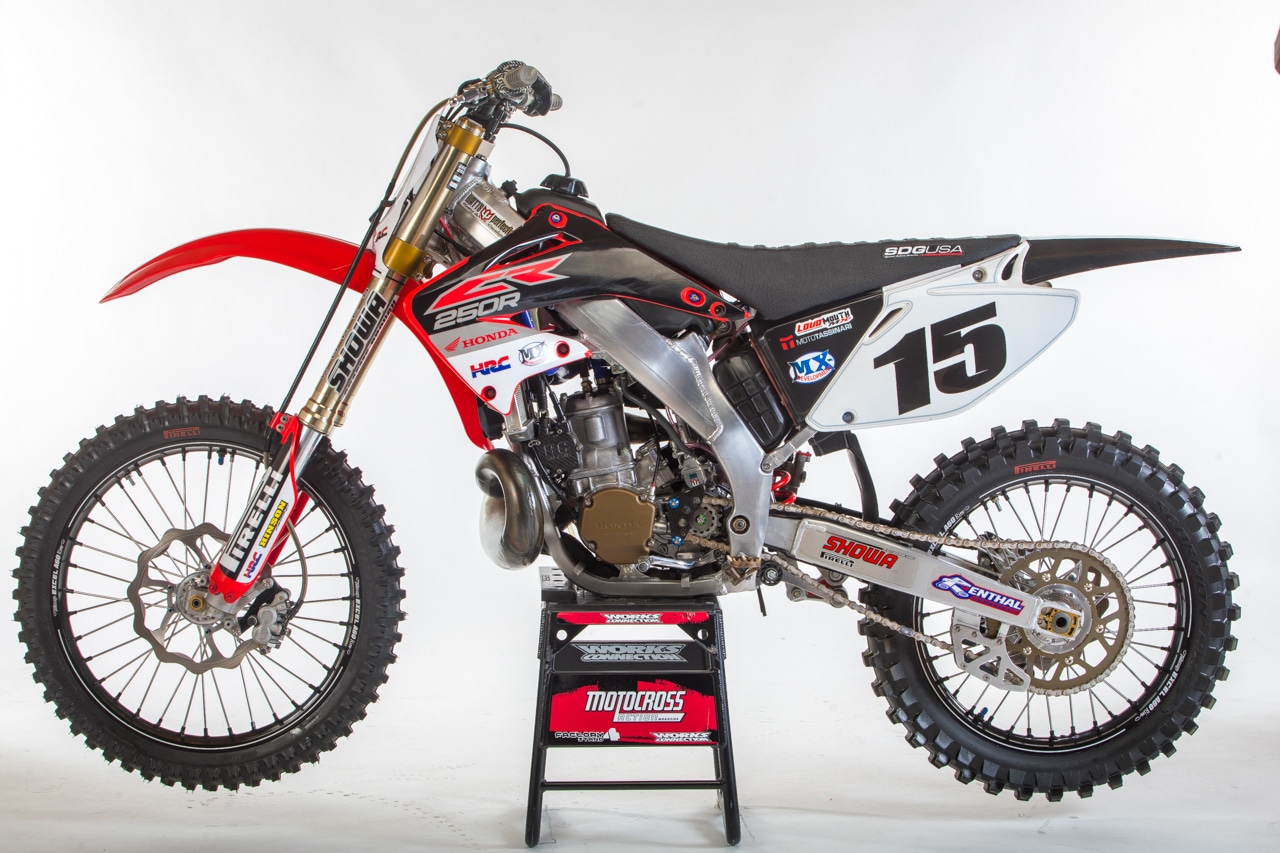 "I desperately wanted to get another Honda CR250 after mine was carted off to the junkyard, but with the bad reviews on the CR250's atrociously stiff frame and ill handling characteristics, I couldn't bring myself to buy one. Sure, I could have followed McGrath to Yamaha, but I bled red. And, in due course, life got in the way…I got married and bought a house. It wasn't until six years later, when I saw the newly redesigned 2002 Honda CR250, that it felt right to slap down my cold hard cash. What also pushed me into buying my red toy was Ricky Carmichael's perfect season on it, even though he had choppered his CR250 into a totally different machine. I rode the wheels off my 2002 Honda CR250 until I regrettably jumped on the four-stroke bandwagon. Looking back, I don't know what I was thinking. Thankfully, I was smart enough to hang on to my 2002 Honda CR250—or maybe nobody would buy it. I can't remember why, but my CR250 sat neglected in a dark corner of the garage for 14 years. Then, that all changed. 
This 18-year-old, one-owner CR250 is competitive against any current 250 two-stroke you throw at it.
"In 2016, I got to know former factory Kawasaki and Honda wrench Chad Watts, and he invited me to stay with him for a week at his place in South Carolina before the 2017 Tennessee Muddy Creek National. Being the fan I was, I jumped at the offer. After seeing the caliber of craftsmanship and infinite detail Chad put into his work, plus his secret factory knowledge of CR250s, I knew Chad was the guy to bring my 2002 CR250 back to life.
"Chad's bikes were absolute perfection, and I wanted the same result. So, I tore my CR250 down and sent the frame, carburetor, VForce intake, cylinder and head to South Carolina. He focused his attention on the frame using the same mods and techniques he used back when he wrenched for Ricky Carmichael; however, Chad was tight-lipped about the mods. He wouldn't tell me exactly what he did to the aluminum frame. All he said was that it made a huge difference in the handling characteristics of the bike, especially when setting up and getting into ruts. 
"As for the engine, VForce intake mods were added to enhance throttle response and overall performance. For the carb, Chad went up from the stock 380 main jet to a 420 main jet, a 40 pilot jet and a needle jet that is no longer available. The bike had enough mid-to-top end power for me in stock trim, so the cylinder was just cleaned up with mild porting, the head was polished, and a new piston and rings were installed. After talking with Chad about what pipe to run, he said the Pro Circuit Works pipe and 304 silencer were the best fit to help the bottom end out. From there, I built my own 5mm-longer aluminum exhaust spigot to increase low-end torque. I also ran a Loudmouth air intake system and PC carb vent canister that was routed and mounted per Chad's specs. 
"I've always liked the workmanship that went into works bikes. I admired how special one-off parts are built for each team rider, and I wanted to do the same. I wanted a bike that was tailored to my skills and stature. Given that I have access to a lathe, an index end mill and TIG welder, I went to town. I started off by cutting the subframe down 3mm and machining a 1.25mm-longer lowering link. The wide and flat stock CR250 seat foam was replaced with foam from a 2005 CRF450 (although I had to have Jeff at SDG seats make a special seat cover to fit it). I got a set of SRS stainless footpegs from Latvia and installed them with a set of hand-turned titanium clevis pins. 
Mark Chilson bought his CR250 new back in 2002, but got seduced by the four-stroke movement and parked it in his garage…for 18 years.
"To help create better turn-in, I bought a set of Ride Engineering 22mm triple clamps (stock offset is 24mm), Renthal 996 bars and an HPSD steering stabilizer from a 2008 CRF450 that was re-valved by Factory Connection. Since the ignition module was in the way of installing the HPSD stabilizer, I relocated the ignition between the frame and carb on the left side and held it in place with a hand-made carbon fiber bracket and shield. My success with the ignition bracket made me want to make more carbon fiber parts. It took me a while to master the art of laying up carbon fiber, but I custom made a carbon fiber RC cover, front sprocket cover, rear disc guard, wire guard for the kill switch and a few size-10-hole carbon fiber washers for the tank and pipe, along with a Honda Works-style rear brake clevis with a titanium pin. To install the stabilizer to the head tube of the frame, I had to fabricate an aluminum bracket that mounted onto the ignition module holes.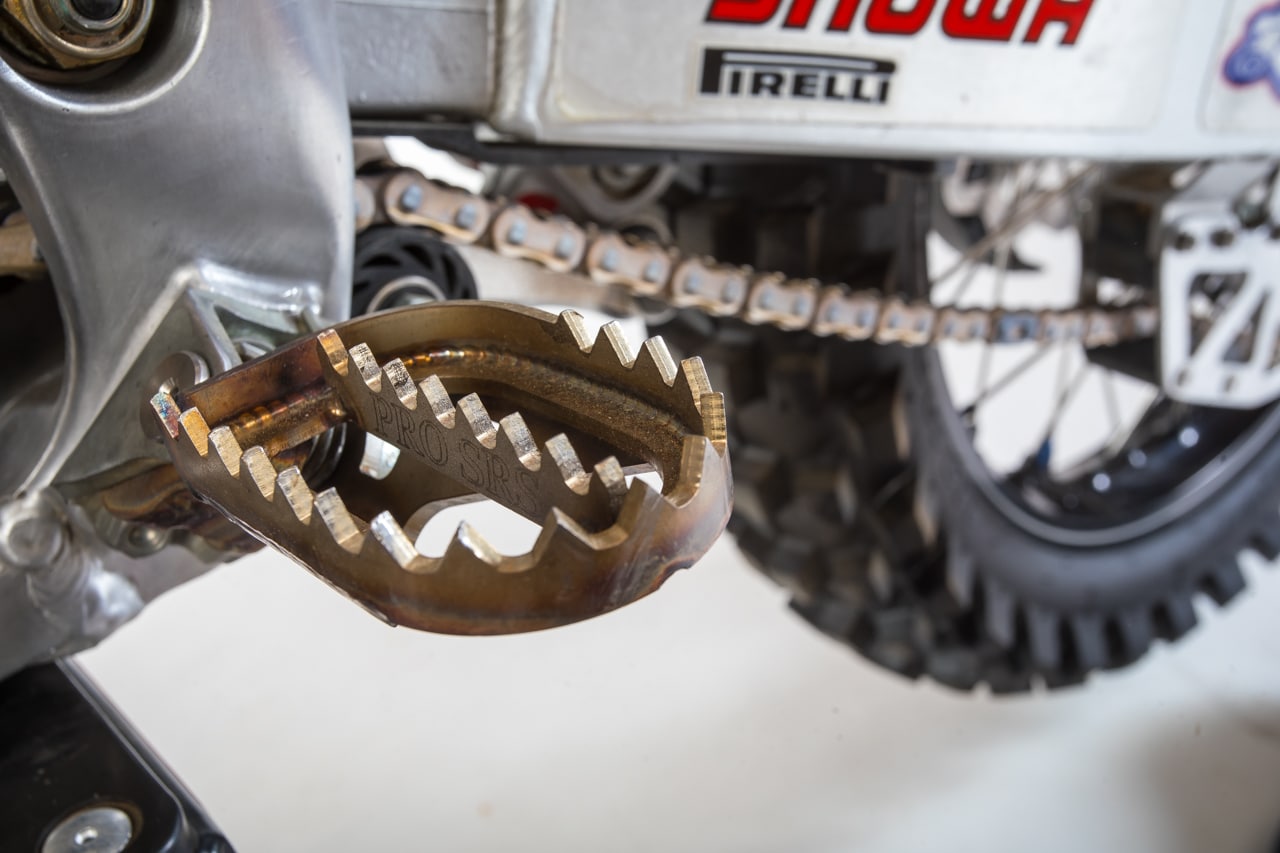 "I absorbed everything that I ever heard about CR250 tech, and although I knew that the 2001 CR250 was considered the best of the CR powerplants, I went with a 2002 CR250 because I owned one already and I trusted Chad Watts to get the carb dialed in. With the engine package buttoned up, I came up with a few tricks to aid the handling. To start off, I added 0.20 thick washers and titanium bolts between the upper head stays to help remove some rigidity. To lower the center of gravity, I took a DR.D Yamaha YZ450F radiator lowering kit and modified it to drop the CR250 radiators down a 1/2 inch. Some of these things may seem minute, but it's the sum of all the parts that adds up to a significant difference.  
"To keep the stock chain guide from wearing out so fast, I extended the length of it. I changed my gearing from the stock 13/50 (a 3.846 gear ratio) to 14/52 (a 3.714 gear ratio). I knew that this would make the gearing a little taller, and I could have just gone to a 13/49 (3.769 gear ratio) to achieve almost the same thing, but Chad informed me that the CR250 would perform better with the bigger front sprocket.
"In an effort to get the weight down, titanium nuts and bolts were used throughout the entire build. Every bolt is Ti save for the axles and swingarm bolt. Galfer wave rotors were mounted to a set of Haan wheels wrapped by Pirelli Mid-Soft MX tires, while Graeme Brough took care of the suspension needs. I sent the ignition cover, clutch cover and rear shock spring to Immersed FX hydrographics in Upland, California to have them Cerakoted. 
"The bike was finally completed late in 2019. It had taken me almost 18 years to get it where it is today. But, unlike a lot of resto-mod project bikes, I started with a bike that I bought brand new from my local dealer and raced for a year before being seduced by the four-stroke movement. Amazingly, I held on to it long enough that it became more than just a bike; it was a passion. 

"What I'm going to tell you now will seem strange, but from the moment I started to restore and modify my 2002 Honda CR250, I never rode it. I barely started it. After my 2002 Honda CR250 project was complete, I ran it through a few heat cycles to seat the piston and rings and parked it again. In a way, I couldn't bear to ride the bike myself. I had put my heart and soul into over-thinking each and every part of the bike. What if it were no good? What if I could not discern the good from the bad? As a last ditch idea, I took the bike to the track to show it to the MXA wrecking crew. I wanted them to ride it for me the first time. They had spent more time on hopped-up vintage bikes than any one I know, and are experts at telling the truth. They were busy, but MXA's Daryl Ecklund rolled my bike into his truck and said he'd get back to me. I watched it drive away."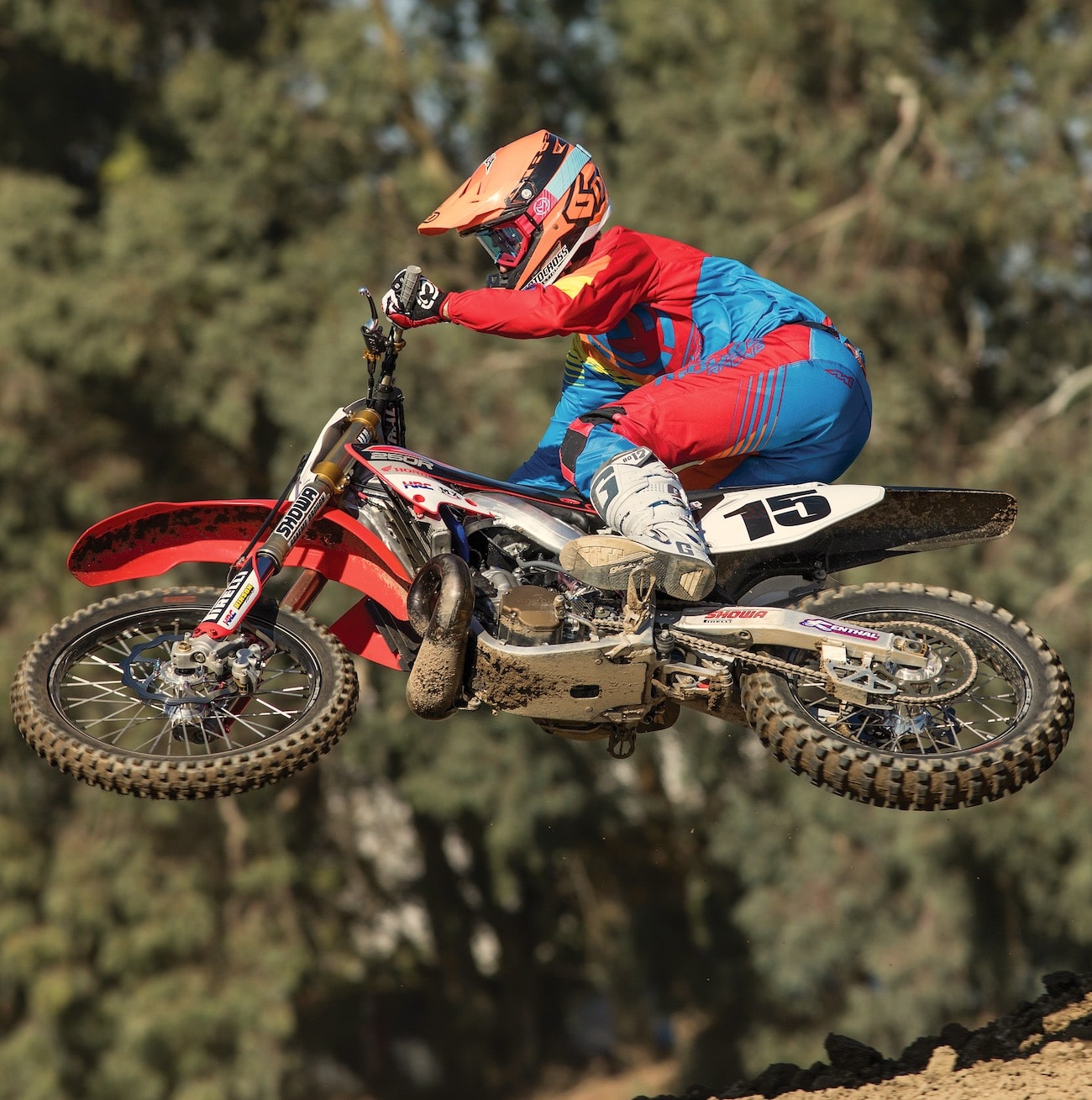 MXA test rider Josh Mosiman was 5-years-old when this Honda CR250 was built.
WHAT THE MXA WRECKING CREW THOUGHT OF MARK CHILSON'S 2002 CR250

 
"This is Daryl Ecklund. I'm sorry for interrupting Mark, but this is where he steps aside and MXA takes over. I liked Mark's story about his bike; however, do you really think anyone is going to say negative things about a bike they have spent countless hours and beaucoup money on? Of course not. I appreciate that Mark was brave enough not to ride his pride and joy but instead entrusted it to MXA for the first ride. I interrupted Mark's two-stroke tale to give you the honest truth about how this bike worked on the track, not just on paper. Plus, I put in countless hours on CR250s back in my amateur days, so I am quite familiar with them. 
"Looking closely at Mark's bike, you can see all the fine details that went into it. When I took the bike off the stand for the first time, I could feel that the suspension was going to be soft for my large stature. Mark weighs 150 pounds and has Vet Novice speed. I knew his suspension was set up for him, not me, so how could I complain? I rode it a few laps, making adjustments as I went. I ended up all the way in on the compression damping front and rear. It wasn't that the soft suspension was bottoming as much as it rode low in the stroke, making the motion feel harsh. I also went in on the shock rebound, as the rear felt fast. After that, I felt comfortable enough to see what the bike was made of. 
"The throttle response was instantaneous. When in second gear, it was almost too good, as I couldn't keep my throttle hand steady enough through corners (although when MXA's Josh Mosiman tested the bike, he loved the quick power connection). Chilson's CR250 was quick to get moving. Its power spread reminded me a lot of the current KTM 250SX engine: abrupt and in your face. Two things were different between the current KTM 250SX and Chilson's 2002 CR250:
(1) The Honda didn't give up the ghost on top end.
(2) It got the power to the ground. The KTM 250SX likes to break loose when you are hard on the throttle, and by the time you notice it, you need to shift. The CR250 power was sweet, but it was tailored for more open tracks. On tighter tracks, your left foot got tired from shifting. I found myself down-shifting one or two gears into the tight corners and then having to upshift before I was out of the corner or riding up jump faces. On tracks where I could keep the momentum up, the CR250 was a work of art. It knocks the socks off any current model 250 smoker in the power delivery department. No, the 2002 Honda engine doesn't pump out the same horsepower as a 2020 KTM 250SX, but much like a Yamaha YZ250, it doesn't have to. It has different charms. 
"The handling was also a strong suit for the old dog. If was easy to carve and find your line. What I liked most was the ability of the rear wheel to stick like glue to the ground. In the corners, it oversteered from the apex out. I would have preferred the stock 24mm offset to slow the handling down, but Mark believed that the 22s would get him into the corners much easier. I'll agree with that; however, for me, that was too much of a good thing. I struggled with the front tire climbing out of ruts. 
Graeme Brough revalved the CR250 Showa components.
"Josh and I got super comfortable on the bike, although both of our hands hurt after each ride. Our first thought was to blame the forks, but they were soft as silk. Then we remembered the rigid TwinWall handlebars, stiffer aftermarket triple clamps, very beefy bar mounts and infamously rigid Delta-Box frame. This is way too much stiffness for a Vet Novice. Apart from the soft suspension, the accoutrements were better suited to a factory Supercross racer.
"All in all, Mark Chilson's 18-year-old CR250 is incredible for what it is. It looks as good as it rides. Good job, Mark, and I'll let you get back to your story now."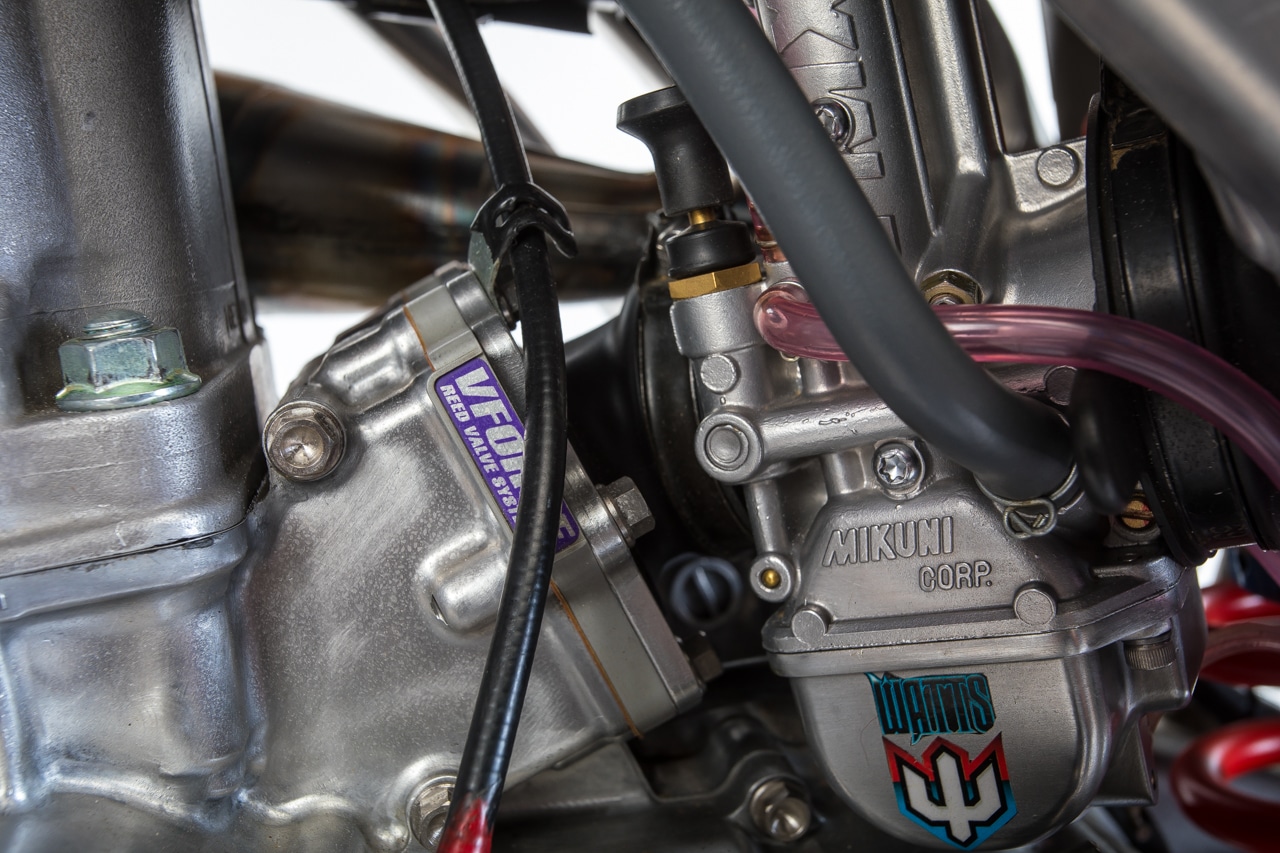 MARK CHILSON'S FINAL THOUGHTS
"I was always enamored by the works mechanics of the '70s and '80s who crafted their own parts out of aluminum and titanium. My goal with my 2002 Honda CR250 was to come as close to those works bikes as I could. With Chad Watts' guidance, I am extremely happy with the finished product. I know I will enjoy racing my bike once I get it back from the MXA wrecking crew—if I can get it back from them."
MXA'S FIRST RIDE ON MARK CHILSON'S 2020 HONDA CR250 PROJECT BIKE