WE BUILD THE ULTIMATE 2017-18 YAMAHA YZ250F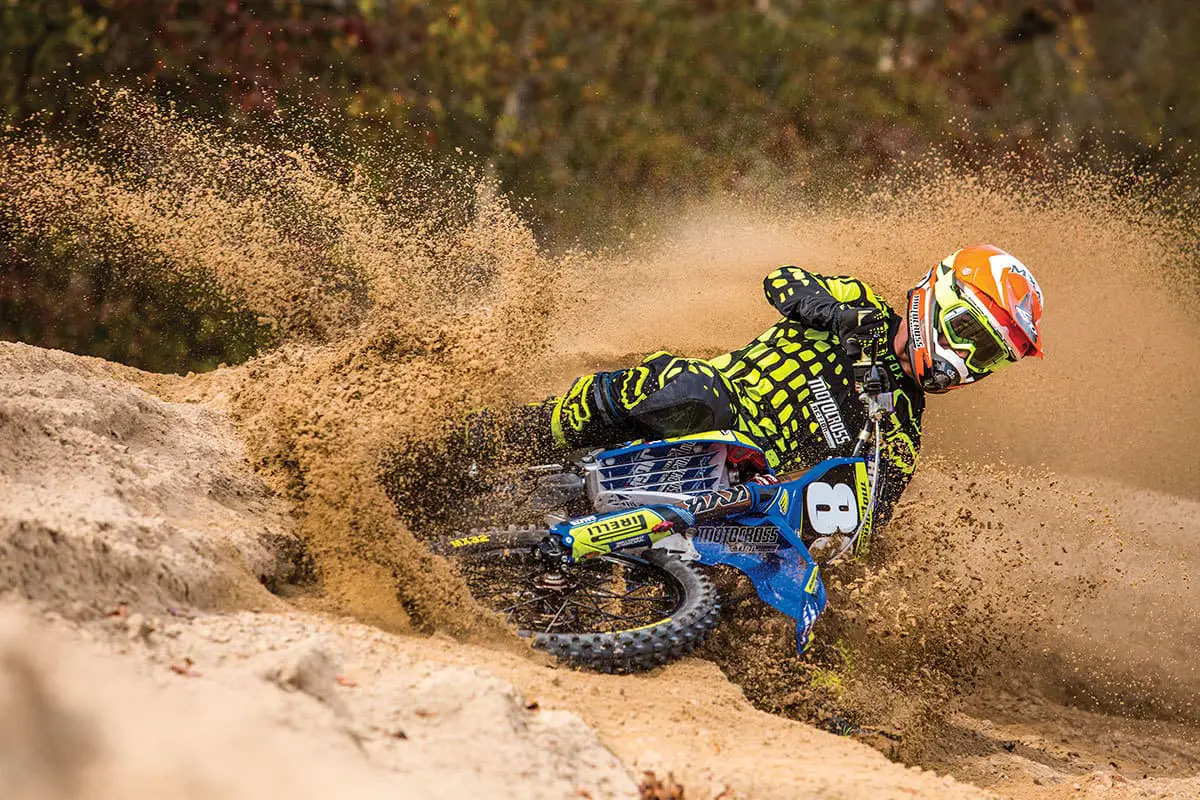 Throughout MXA's 17-year history conducting the "250 Four-Stroke Shootout," every major brand has claimed victory at least once. The Yamaha YZ250F (with seven wins) and the Kawasaki KX250F (with seven wins) stand atop the 250 four-stroke heap; however, as Bob Dylan famously crowed, "The times they are a-changin'."
For many years, KTM's engineers appeared aloof and unaware of what 250 four-stroke owners desired. As a result, the KTM 250SXF was disliked by the MXA wrecking crew and unpopular among consumers. In 2012 we wrote, "Without warning, the 2012 KTM 250SXF took a nosedive. KTM's additions of an electric starter, electronic fuel injection and rising-rate linkage packed on the pudge (the 2012 model weighs a hefty 231 pounds). Worse yet, the Austrian engine coughed out 35.52 horsepower (worst in the class). The KTM 250SXF used to be a racehorse, but now it's an old gray mare with emphysema." Other manufacturers would have sent cease-and-desist letters to the MXA gang—not KTM. KTM engineers used the vitriol as motivation.
MXA HAS AN AFFINITY FOR THE YAMAHA YZ250F. WHILE WE'RE NOT BIG FANS OF THE FUNKY BODY STYLING, REVERSE-CYLINDER ENGINE, IMPOSSIBLE-TO-REMOVE EXHAUST SYSTEM OR LOUD AIRBOX, THE YZ250F HAS ITS CHARMS.
Five years later, KTM sits on the peak of the 250 four-stroke mountain. It achieved this by building a cutting-edge 250SXF devoid of any glaring errors. Blessed with the best overall horsepower, a hydraulic clutch, incredible brakes, an electric starter and excellent suspension, the 2017 KTM 250SXF is a winner. As for its former 231 pounds, it is now an amazingly svelte 218 pounds. It produces close to 44 horsepower and revs to 14,000 rpm. All it took was some needling and R&D money. After listening to public opinion and MXA's incessant digs, KTM is finally where it always thought it should be—at the top.
There have been years when the MXA 250 four-stroke shootout winner was obvious, and other times when it came down to the wire. KTM wrapped up MXA's 2017 250 Four-Stroke Shootout award the moment the Austrians decided to equip the 250SXF with WP's outstanding 48mm AER fork. By making that notable change, KTM knocked the YZ250F off the four-stroke pedestal. Up until 2017, the YZ250F had won the MXA shootout the last two times. How quickly things change, especially when KTM continues to be invested in making radical updates on a yearly basis. In a game of one-upmanship, Yamaha was caught sleeping, thus the YZ250F finished third behind the KTM 250SXF and its nearly identical twin brother, the Husqvarna FC250.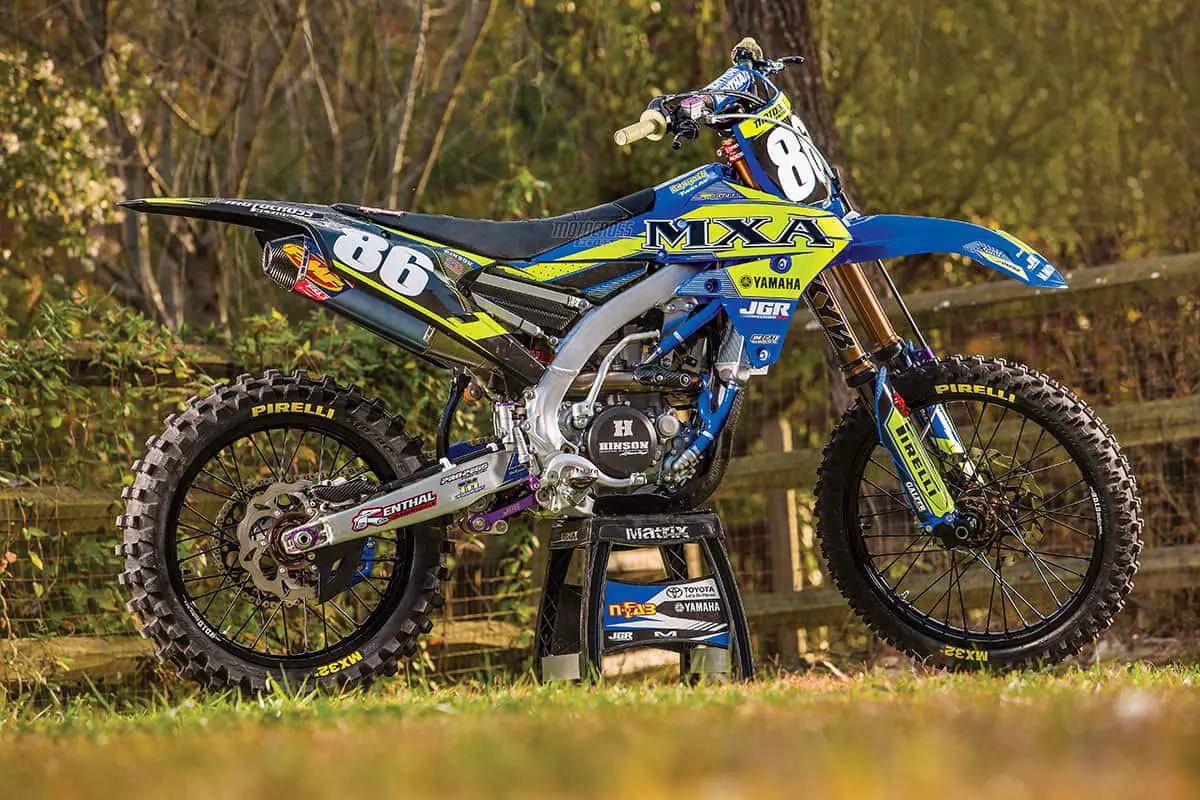 MXA has an affinity for the Yamaha YZ250F. While we're not big fans of the funky body styling, reverse-cylinder engine, impossible-to-remove exhaust system or loud airbox, the YZ250F has its charms. It produces 41 horsepower, has class-leading Kayaba SSS spring forks and decent performance in every other major area. The 2017 YZ250F is the 250 four-stroke that many MXA test riders choose to race. Why not pick the KTM 250SXF? The KTM 250SXF is the choice of most of MXA's Pro and Intermediate test riders but not the Vets and Novices. Why don't the Vets and Novices go orange like the Pros? They know that they can't ride fast enough to use the KTM 250SXF's power as effectively as the YZ250F's midrange blast. They prefer the YZ250F's ease of use and broad powerband.
Still, the obvious question is, "What would it take for a Yamaha YZ250F to leave a 2017 KTM 250SXF in the dust?" The answer? Money. Lots of money.
"RIDERS WHO HAVE NEVER EXPERIENCED THE MISFORTUNE OF A WHEEL FAILURE DON'T GIVE THEIR WHEELS A SECOND THOUGHT. THE MXA WRECKING CREW HAS BENT AND CRACKED MORE RIMS THAN WE CAN COUNT."
We vowed to build a Yamaha YZ250F that would put Yamaha back on top. We focused on 10 areas. Here is the list.
(1) Crew chief. Job one was to find someone to guide this project. Bundy Built Motorsports has years of experience building race-spec Yamaha engines. Although the JGR race team switched to Suzuki in 2017, they partnered with Bundy Built Motosports. on MXA's Yamaha YZ250Fs. MXA petitioned John "Bundy" Mitchell, best known as Nathan Ramsey's championship-winning mechanic and factory Honda four-stroke engine developer, to spearhead our YZ250F build. We brainstormed different ideas. Of course, Bundy wanted to go all out, but we shot down the use of race gas. Yes, we were leaving some ponies on the table, but we didn't want to be joined at the hip to metal cans of expensive race gas, especially when used by ungrateful and privileged MXA test riders.
What engine modifications were done to our YZ250F to make it a KTM beater? Bundy and JGRMX used a seven-pronged attack. First, Bundy tapped into his years as a factory mechanic by epoxying the intake ports of the Yamaha head. He shaped them specifically to improve bottom-end power. Then, he spent hours with a grinder porting and polishing the head ($695). Second, in went Del West titanium valves ($719.95) for more power. Third, JGRMX developed a special high-compression race piston ($349.99) and utilized it in our KTM beater. Fourth, complementing the piston was a lighter and stronger connecting rod developed in conjunction with Carillo ($279.95). Fifth, Bundy had the transmission REM-coated in Joe Gibbs' NASCAR shop, which offers a myriad of benefits, including decreased friction, wear reduction, increased durability and improved corrosion-resistance. Bundy charges $395 for this process. Sixth, they installed a GET secondary dual-fuel injector kit ($1740). A Kawasaki-inspired upstream injector was placed in the airbox cage. A fuel line for the secondary injector was connected to the primary fuel line. Seventh, a GET GP1/RX1 Evo basic programmable ECU handled all of the electronic duties. It included a two-position map switch that JGRMX and John Bundy loaded with settings they had developed through testing.
(2) Suspension. We have used Kayaba Factory Kit air suspension in the past. Kayaba sells its trick forks and shocks through Technical Touch in Pomona, California. Rick Green and Ron Hinson shipped a set of KYB AOS (Air-Oil Separated) closed-cartridge spring forks, along with a triple adjuster shock. Also included was a worm-style Xtrig preload adjuster and Xtrig ROCS (Revolutionary Opposing Clamp System) adjustable offset triple clamp.
It's hard to beat that the stock Kayaba SSS forks have come on the Yamaha YZ250F since 2006. This is the one area where the 2017 YZ250F trumps the 2017 KTM 250SXF, although the WP AER fork is right on the Kayaba SSS fork's heels. The KYB Factory Kit spring fork is an improvement on the SSS design. Functionally the same, the differences are found in the spring perch, base-valve piston, mid-speed valve, materials and coatings. The Factory Kit fork provides better bottoming resistance, a more fluid feeling through the stroke, greater durability and, most obvious to passersby, visual appeal beyond compare.
The triple adjuster shock has high-wear and performance-focused coatings, increased nitrogen volume and added clicker options. What makes it stand out from a standard KYB shock is its internal layout. Having the low-speed rebound at the top of the shock only affects low-speed movement, so you're able to adjust part of the rebound curve independently. It also has zero crossover with compression. This is imperative for dialing in a desired suspension setting for even the pickiest rider. We added a JGRMX adjustable pull-rod ($279.99), which offers five different settings—stock, 8mm, 14mm, 19mm or 23mm lower. Another unique JGRMX part is the adjustable subframe modification ($179.99). It uses heim joints to raise or lower the subframe. Given how tall the YZ250F sits, the JGRMX adjustable subframe is advantageous for shorter riders.
(3) Wheels. Dubya USA is the leader in building high-end race wheels. Many factory programs rely on Dubya for their wheel needs. For the YZ250F project, MXA opted for black D.I.D. ST-X rims with magnesium-colored, anodized Talon hubs; black Bulldog spokes; Dubya rim lock nut; and Dubya valve caps. The whole package retails for $1490. Riders who have never experienced the misfortune of a wheel failure don't give their wheels a second thought. The MXA wrecking crew has bent and cracked more rims than we can count. And while KTM has solved its 2011–2012 soft rim issue, where the rims bent with regularity around the rim lock, we still chase KTM rear spokes constantly.

MXA has never experienced a Dubya wheel malfunction. Given MXA's propensity to log more laps than any dozen racers, this record speaks volumes for the company. We tightened the spokes after the YZ250F's maiden voyage and didn't have to worry about them again. The anodizing on the rims, spokes and hubs was very durable, meaning the wheels continued looking new after repeated abuse.

(4) Clutch. It's no secret that KTM has the best clutch in the business. Its hydraulic clutch is a smooth operator and self-adjusts. Quite a few Japanese factory team riders use a hydraulic clutch system for those same reasons, but no Japanese motocross bikes come with hydraulics on the showroom floor. Fortunately, the 2017 Yamaha YZ250F has a decent clutch that stands up to abusers. Still, we wanted to beef it up to handle the increase in power, so we ordered a complete Hinson Racing billet-proof clutch. At $1119.99, it was not cheap; then again, it's the last clutch we'll ever need to buy for this bike. The kit includes a clutch cover, basket, inner hub, pressure plate, plates and springs. We had our best luck with the stock fiber and steel plates, because of their consistent feel at the lever, but the Hinson billet-proof clutch plates last longer and can take abuse.
(5) Exhaust. A few years ago, the MXA wrecking crew did an exhaustive exhaust pipe shootout on the Yamaha YZ250F. Believe it or not, the stock system was generally preferred over every aftermarket exhaust. Since that pipe test, the YZ250F engine layout has remained mostly the same. If money had been an issue on this YZ250F project, we would have stuck with the stock exhaust, but since money is never a problem for MXA, and we had pumped the stock engine up to AMA National levels, we couldn't use the stock pipe on our project YZ250F. John Bundy had an extensive database of ignition maps that were tuned specifically for our engine mods—and he felt that an FMF system would deliver the best results. We splurged on FMF's titanium exhaust with a carbon end cap for $1049.99. Unfortunately, it takes just about as much time to install a pipe on the YZ250F as it does on the KTM 250SXF. The FMF titanium Factory 4.1 RCT is a few pounds lighter than the stock exhaust, which is a definite plus. On the track, the FMF exhaust broadened the powerband at the expense of tamping down the low-end hit that the 2017 YZ250F is known for. Faster riders favored the FMF performance, while slower testers yearned for the bottom-end surge of the stock pipe.
(6) Brakes. KTM has the corner on braking. The best we could hope for was to improve the YZ250F's modulation at the front brake lever. With a Galfer 270mm Superlight Tsunami Wave rotor, stainless steel front brake line and stock brake pads, we hoped to match the KTM's awesome Brembo pucker power. Sadly, the Japanese brake engineers have fallen so far behind what KTM has achieved that we couldn't completely match the Brembos; however, our mods did give us better pucker power, grip and control than the stock YZ250F brake. We used the Galfer rotor with the stock brake pads, because we like the feel of the stock pads over aftermarket pads.
(7) Tires. Front-end feel is critical on a Yamaha YZ250F. It isn't the best-handling bike in the 250 class and needs all the help it can get. We often wonder why the manufacturers' R&D departments spend so much effort on trying to fix the frame geometry and fork offset—and then ruin it with a less-than-stellar front tire. In most cases, a better front tire would be a better fix than all the geometry gymnastics. JGR suggested that we try a Pirelli MX32 on our 2017 YZ250F. The Pirelli front tire had a looser feel than the Dunlop MX3S tires that we are most familiar with. Most MXA test riders want familiarity when it comes to tire performance. With more time on the Pirelli, the test riders would have figured it out, but they all switched back to the tried-and-true Dunlop MX3S rubber. Comfort was restored.
(8) Plastics. If you abhor the YZ250F's body styling, you don't have to live with it. Cycra Racing makes a set of plastics for the blue bike that actually improves its looks and performance. Cycra's unique PowerFlow design draws air into the radiators to decrease engine operating temperatures. The complete PowerFlow body kit includes number plates, shrouds, fenders, an airbox cover and fork guards.
Riders generally only change their plastics when they scuff up the bike. Thanks to Cycra Racing's PowerFlow kit, it makes sense to replace your plastics with something that improves your bike's performance. Not only that, but at $257.95 for the kit, it's reasonably priced compared to a stock set of plastics. Additionally, the one-piece shrouds suck in the girth of the otherwise bulbous cockpit. We also like that Cycra offers the YZ250F kit in five different color combinations, including retro lightning gold. Bob Hannah would be happy.
(9) Controls. There are MXA test riders who don't want to change anything on a bike that they must use constantly, thus levers, shifters, brake pedals and grips are often left stock to maintain consistency in the testing procedure. But, building the ultimate 2017 Yamaha YZ250F isn't the same as testing a production bike. We wanted to push the envelope, and 50 percent of the MXA test riders prefer the Works Connection Elite clutch perch, forged front brake lever and Pro Launch holeshot device. While we were at it, we mounted Renthal TwinWall 997 handlebars and tapered Kevlar half-waffle grips.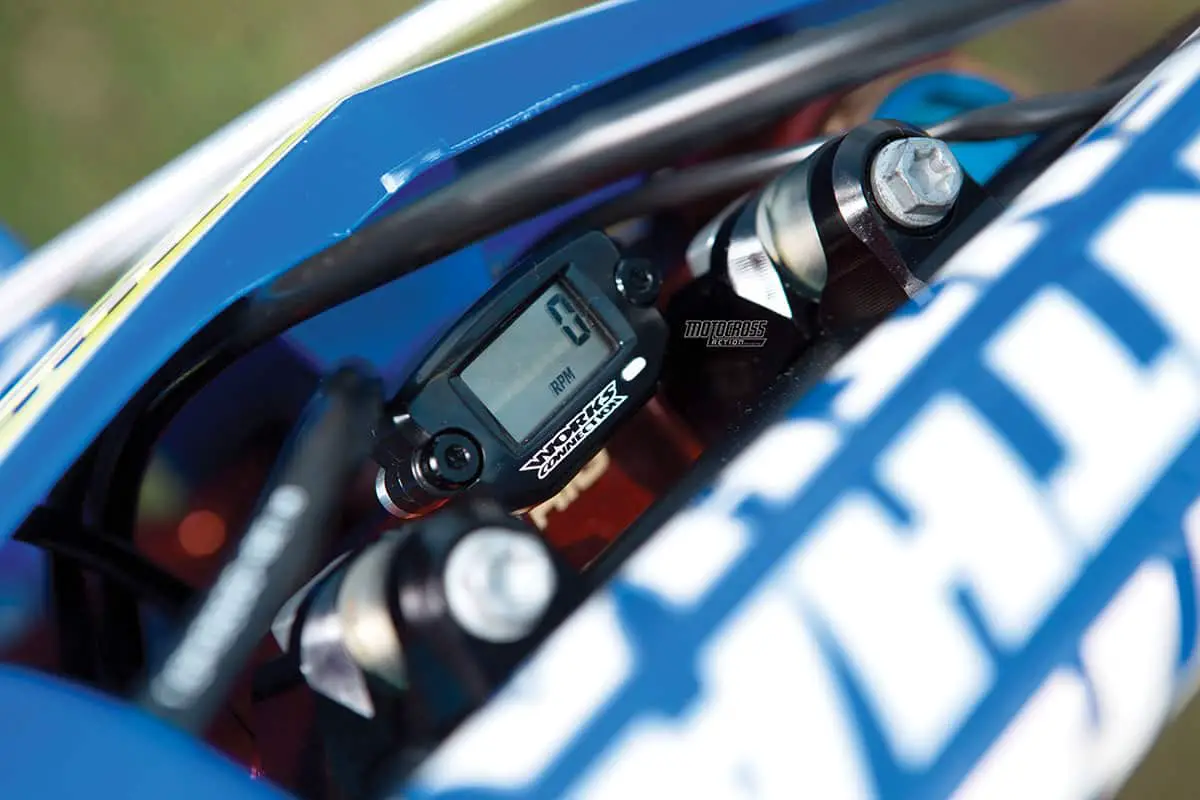 (10) Accessories. The ultimate 2017 Yamaha YZ250F wouldn't have been possible without the support of the power players in the aftermarket world. Pro Pegs, out of Holland, shipped over a set of 50mm-wide titanium footpegs ($268.00) that could double as meat cleavers. TM Designworks provided its Factory Edition two-stage chain Slide-N-Guide kit ($169.95), which happens to be used by several top offroad and motocross teams. We swapped out the stock radiator hoses for blue CV Products silicone radiator hoses ($199.95). Motoseat helped out with an all-black ribbed traction seat cover ($59.95). When it came to safeguarding our bike's engine from inhaling contaminants, we put our faith in Twin Air's dual-stage air filter ($31.95). An assortment of JGRMX carbon fiber guards were used to protect the vital parts, including a featherweight skid plate ($299.95). This component isn't merely fiberglass wrapped in a layer of carbon fiber; it is 100 percent carbon fiber. And last, the hard-working DeCal Works crew made our design vision a reality with its semi-custom complete graphics kit ($268.95).
Once the project was finished, we gathered the assorted crew and let them run free. They were given as much time as they needed to determine if we had achieved our original goal—a 2017 Yamaha YZ250F that could run head to head against a KTM 250SXF. It's amazing what a few thousand dollars in engine modifications can do. JGRMX managed to boost power at every point on the curve while maintaining the stock engine's personality. The GET secondary injector made a huge difference; however, it did lead to a failure on day one of the YZ250F test period. GET's fuel line wasn't sturdy enough to handle the increased fuel pressure and separated from the connector. When the fuel line popped off, it filled the top end with fuel and locked the engine up. JGRMX replaced the inferior GET fuel line with something better.
Bundy Built Motorsports (BBM) helped us immensely with the mapping for our exotica engine layout. We tested what seemed like an endless supply of different maps, narrowing them down in round-robin test sessions. Ultimately, we found the winner. This setting is now known as the "MXA setting" at BBM
How does the John Bundy-tuned YZ250F engine compare to other YZ250F power-plants we've tested? Cooper Webb's Star Racing YZ250F still takes the cake, but our dual-fuel YZ250F was more manageable and metered than the Grand Prix Yamaha YZ250F's that we tested last year. When it comes to the shootout against the Pro-level-targeted KTM 250SXF, we got close for skilled riders—close enough that the better low-end and midrange of the Yamaha engine could win out when the going got tough. And, our YZ250F engine was a vast improvement over the Katoom when the skill level dropped down to the Vet and Novice levels, largely because these riders don't have the go-for-broke bravado required to get the most out of the high-rpm KTM powerband. Usability goes a long way in 250 four-stroke racing, and our YZ250F had it in spades.
As far as the Kayaba works suspension goes, the thing that every test rider noticed most about the KYB Factory Kit suspension was its bottoming resistance. At the end of the stroke, where most forks feel harsh, the AOS units ramped up enough to reduce movement while providing a decent cushion. The multitude of clicker adjustments on the shock were nice, although the valving specs were nearly perfect to begin with. At $4500 for the forks and $2700 for the shock, the Kayaba Factory Kit package is expensive, but it is a must-do if you're building the ultimate YZ250F. MXA was able to widen the gap between the suspension on our obscenely expensive YZ250F and the WP AER-equipped KTM 250SXF, albeit at a cost of $7200.
Technical Touch USA shipped an adjustable offset Xtrig ROCS (Revolutionary Opposing Clamp System) triple clamp ($900) with our suspension. These are the most radically different triple clamps on the market (although Neken's SFS air triple clamps are a close second). Xtrig offers its YZ250F clamp in a 22mm/20mm offset or a 25mm/23mm choice. We opted for the stock 2018 22mm clamp, but there were riders who preferred the feel of the 25mm version. Ultimately, we found solace by adjusting fork-leg height, changing the JGRMX adjustable pull-rod length, and lowering the adjustable subframe by 3mm. Did these mods make the YZ250F handle as well as the KTM 250SXF? No, largely because frame geometry trumps Band-Aid fixes on a flawed chassis. The KTM's frame geometry is almost perfect in stock trim; the YZ250F numbers are a tick off.
Did we go overboard with our 2017 Yamaha YZ250F? Absolutely. Yes, we always do. But, when you set out to build the best Yamaha YZ250F possible, you can't skimp. We had to go for the gusto. Riding our Yamaha YZ250F back to back with a stock YZ250F shows what is possible with 20 large to spend on the best parts and technical help on the planet. If you could ride our ultimate YZ250F, you would fall head over heels in love with it. It excels in every facet of performance. For lots of people, true love is worth 20 grand. 
YZ250F SUPPLIERS LIST
Technical Touch: www.technicaltouchusa.com|
JGRMX Pro Shop: www.jgrmx.com
Dubya USA: www.dubyausa.com
Hinson Racing: www.hinsonracing.com
FMF Racing: www.fmfracing.com
Cycra Racing: www.cycraracing.com
Renthal: www.renthal.com
Works Connection: www.worksconnection.com
TM Designworks: www.tmdesignworks.com
Pro Pegs: www.motostuff.com
CV Products: www.cvproducts.com
Bundy Built Motorsports: www.bundybuilt.com
Twin Air: www.twinairusa.com
Galfer: www.galferusa.com
Motoseat: www.motoseat.com
DeCal Works: www.decalmx.com