WE RIDE BBR'S $25,000 FACTORY WORKS RACER CRF190
It is crazy to think that having fun on pit bikes with your buddies in the backyard turned into a full-blown motorsport. Going from backyard races to racing in front of a packed arena in Sin City was a big leap of faith. In 2004, riders from all over the world came to race at the first annual Mini Moto Supercross in Vegas. As the years went by, the race got so big that the promoters had to limit the entries to 700.
BBR realized early on that the mini-bike craze was going to turn into something big, so they found their niche in the market and went to work. The three Brown brothers put sweat equity into the sport? Not for the money but for the pure love of it.
Then the economic downturn hit the country, and the Brown brothers' adventure turned into a roller-coaster ride of ups and downs.
BBR's prodigy is 14-year-old Carson Brown, Duane's son. Carson is BBR's head test rider, and rightfully so. Carson got involved in the family business when he was still in diapers. He started testing products as soon as he could twist a throttle. Now, Carson is a better test rider than a lot of Pros. He is very in-tune with the bike, knowing what the bike needs and how to fine-tune it for optimum performance.
In the mini-moto heyday, business was booming, and BBR was building full-custom bikes with price tags that ranged from $10,000 to $25,000. It seemed as if the sport's expansion would never stop. Then the economic downturn hit the country, and the Brown brothers' adventure turned into a roller-coaster ride of ups and downs. When the economy hit bottom, BBR sales were down around 50 percent. The majority of pit bike riders got into the sport from their roots in riding motocross. When they couldn't afford both hobbies anymore, most opted to stick to their roots in moto. This left the mini-moto market dead in the water.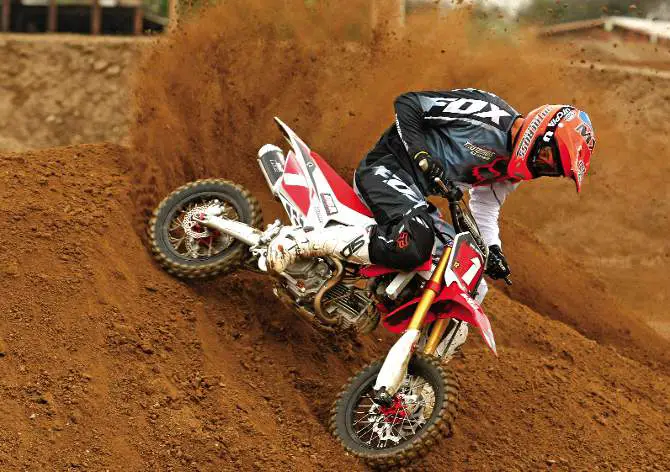 As you can see, this exotic mini bike has more than enough power to blow up berms and handle a full-size rider no problem.
Amazingly, this business debacle didn't faze the boys at BBR; instead, the BBR team focused on moving forward and have consistently refined their products to stay on top of the game.
MXA's test BBR bike was specifically built to fit the Las Vegas mini-moto rules, which were few and far between. Our test bike ran in the 12-inch rear-wheel class with only four major regulations: (1) It must have a 12-inch rear wheel. (2) The bike must be air-cooled. (3) It must have an open-cradle frame. (4) Engine development and size are unlimited. With no production rule in place, the price to build an exotic, racing mini bike can easily get out of hand.
All of this, and a love for two-wheeled things, is why the MXA wrecking crew wanted to ride the BBR bike. As Duane Brown pulled this full-factory mini bike out for a close inspection, we found ourselves in awe of the workmanship. Every part of this factory BBR bike is custom-made (which is why the price tag is so high). It has a hand-built aluminum gas tank (50 hours of manpower alone), 20-horsepower Daytona Japan 190cc engine with a decompression camshaft, in-house hubs, CNC-machined perimeter frame, aluminum swingarm tuned to BBR's own dimensions, and a list that goes on and on. Only a few bolts and the carcass (OEM plastic) are considered stock, which replicates a 2013 Honda CRF110.

The longer we gawked at this mini marvel, the more we started to understand where the $25,000 price tag came from. When we asked Duane how long it took in the testing phases to come up with this bike, he answered, "It really all started back in 1979 in our Junior High shop class when we built a custom XR75 that our shop teacher gave us an A+ on. From that day on, we never stopped learning and improved on developing our products. This custom BBR bike took us about eight months of testing and development, with Carson fine-tuning every aspect of the bike, day in and day out."
When the MXA wrecking crew finally took the fully custom BBR bike out on the mini-moto track, we were very tentative at first. The wrecking crew hasn't tested as many play bikes as we used to during the glory days of the minicycle craze. Plus, you had to keep in mind that this bike was set up for a very fast 14-year-old who weighed 120 pounds.

Higher clamps allow full grown men to hop on and feel comfortable, being able to slam berms without hitting your knees.
The bike had a four-speed all-up gearbox. When on the track with a 170-pound rider, we never used first or second gear due to the high power-to-weight ratio. Most of the time the torque of the Daytona Japan 190cc engine pulled fourth gear around the entire track. When we wanted to kick it up a notch, we downshifted to third in the corners to get the lap times down. The combination of the incredible power and the effort of going from sitting to standing was comparable to doing some deep squats at quasar speed.
The track we chose to test it on was a scaled-down Supercross track. It had mini triples, step-ons, step-offs, bowl corners and a whoop section that kept us on our toes. The BBR bike came equipped with Marzocchi forks with BBR internals and an Elka BBR works shock. We started on the smallest tabletop to see how the suspension fared, and then moved on to the bigger jumps. With each passing lap, the test riders gained trust in the bike. After jumping everything on the track and having come up short and overjumping a few jumps, we were in awe of how plush yet progressively stiff the suspension was. In the whoops section, test riders could come in hot and blitz the whoops just like a big bike.
MXA dubbed it a mini factory bike because it is just that. It is a full-custom, handcrafted machine tuned to perfection.
Having the same characteristics as a big bike, the faster you entered, the more it stayed on top and the better it handled. This BBR bike handled great. MXA dubbed it a mini factory bike because it is just that. It is a full-custom, handcrafted machine tuned to perfection. On and off the track, it is beyond impressive. To be able to justify the price tag, we had to ride the bike. We wish everyone could take a test ride on one of these BBR custom bikes; it doesn't do it justice by just talking about it. But for now, you will have to take our word for just how awesome this bike is.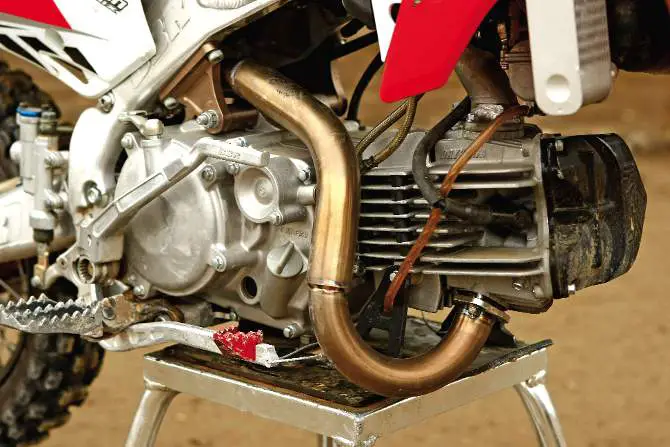 The 20-horse 190cc Daytona engine will throw you on your back faster than "Loop-out Larry" if you're not careful.
BBR isn't just a full-custom shop. They sell just about every part you can think of for the mini-bike market. Their highest-selling products are the taller-bar kits, exhaust systems and engine kits. If you have a pit bike that needs some upgrades, give BBR a call; they are a proven brand that strives for quality. For more info, go to www.bbrmotorsports.com or call (888) 668-6227.