WE RIDE DEAN WILSON'S PRO CIRCUIT KAWASAKI KX250F
Pro Circuit /Kawasaki rider Dean Wilson had a fruitful freshman season in 2010. Although he didn't win a title, the Scotch-Canadian-American won races and put himself in a position to win championships both indoors and in the Nationals. And, perhaps if Wilson hadn't missed Supercross races due to a hangup caused by an expired work visa in Canada, he might have emerged with the 2010 AMA 250 East crown.
Wilson chalked up his first pro season to experience. And, aside from a few costly rookie mistakes (e.g., his second moto brain fade at the Freestone National), he emerged as a solid threat for titles in 2011. Building a mountain of confidence pays huge dividends, and Dean climbed Mount Everest twice when he won the 2010 Budds Creek and Pala Nationals. It was no surprise that heading into the 2011 National season the youngster is riding a wave of success. He had his sights set on dominating the 2011 AMA 250 West Supercross class, but then Wilson hit a snag. Now his sights have been recalibrated to the AMA 250 Nationals.



Dean Wilson's Pro Circuit bike is a melding of factory and aftermarket components. Many of the parts can be bought, aside from several trick items.
The MXA wrecking crew thought it would be a good idea to test of Dean's race bike. Mitch Payton obliged, and before we knew it, Dean Wilson's mechanic, Paul Perebijnos, pulled up in the Pro Circuit box van with Dean's pristine KX250F.
SHOP TALK: BREAKING IT ALL DOWN
Pro Circuit/Kawasaki prides itself on brand loyalty. Many of the team's sponsors have remained with the powerhouse 250 four-stroke team for years, because Mitch Payton is a frugal, yet fair, businessman. What's Payton's proven formula for success? He believes in using what he feels are the best products. For Mitch, it's all about winning, and he spares no expense when it comes to his race team. There's a reason his squad has won more titles than any other team. It's not sheer happenstance that the Pro Circuit race team has won, on average, a title every year since their inception in 1991. That's a lot of hardware!
To demonstrate Mitch's desire to win, he has invested in a race shop that rivals the Taj Mahal, employs some of the brightest and most experienced engineers this side of NASA, hires riders with the will to win, and, to top it all off, Payton works coal miners' hours. Mitch's greatest championship commitment is found in his Pro Circuit-designed products, which are generously found throughout every Pro Circuit/Kawasaki KX250F. However, there are a slew of aftermarket companies that also help create one of the most coveted 250 four-strokes on the professional racing scene.
 
Wilson opts for 22mm offset triple clamps with standard races and a tight steering stem nut for greater stability.

 
Notice the smaller radiator taken from a stock 2009 KX250F, which provides greater cooling efficiency.


Engine: Pro Circuit is responsible for many of the engine components, including a high-compression piston, coated wrist pin, copper valve seats, ported head, camshafts and titanium valves. Carillo, a supporter of Pro Circuit for quite some time, provides the rod. The team also has their own oil cooler system that houses directly into the right center case, which is more efficient than running the cooler through the oil filter. It does, however, take a lot longer for Wilson's mechanic to rebuild the engine. The oil cooler is made in Italy, because apparently it's difficult to find the correct core and shape of the cooler in the U.S. Pro Circuit uses a radiator catch tank, which self-siphons the coolant back into the radiator to ensure that the cooling system retains the correct fluid measurement and prevents the engine from overheating. The team utilizes their own transmission with gear ratios that are different from a stock KX250F. And, not surprisingly, the tranny has been polished to prevent missed shifts and false neutrals.
Suspension: With the introduction of Showa's radically new Separate Function Fork (SFF) system comes the all-new Showa SFF A-Kit forks. Pro Circuit's suspension expert Bones Bacon was initially skeptical of the stock SFF units. He quickly came to appreciate the design and rejoiced when Showa released their works-style SFF A-Kit forks. The 49mm forks contain larger damping pistons, shims and cartridge, as well as a titanium nitrate coating and CNC-machined billet axle lugs. Wilson runs a 9.3 nM fork spring (a stock KX250F comes with a 9.1 nM spring). The exact suspension off Dean's bike is available to the public (call Pro Circuit for pricing).
In regards to the Showa shock, Wilson uses a 4.8 kg/mm spring (bear in mind that even though this is Supercross-specific, Dean only weighs 155 pounds). Pro Circuit uses a longer linkage arm of their own design to work in conjunction with the linkage. Wilson prefers his shock to be firm in the initial part of the stroke, after which the curve flattens at the end of the stroke. The subframe has been cut 5mm to prevent what would be a slapping effect on Wilson's behind while going through whoops. It should be noted that Wilson runs the tallest chassis height on the team (his linkage pullrod is 1/2 mm shorter than everyone else's), and his suspension setup is on the softer side. To improve stability, Pro Circuit places the rear axle as far back in the swingarm as possible, which lengthens the wheelbase. This setup is most beneficial to shorter riders, but Wilson, at 6 feet tall, still finds gain in running the rear wheel as far back as possible.

 
Regardless of the dirt or track layout the Pro Circuit team uses 13/49 gearing. Wilson will run this setup at every race.
 
Bones Bacon was very secretive about Dean's linkage ratio. It is different from any other Pro Circuit rider.

Factory parts: Wilson's KX250F isn't without works trickery. The Pro Circuit team uses numerous factory Kawasaki (KHI) parts to improve performance and decrease weight. Unavailable to the consumer, these parts are high on quality and equally high on price. Need proof? The kickstarter boss alone is in the neighborhood of $800. Other KHI parts are a titanium rear brake plunger, rear brake hanger, many of the titanium fasteners, aluminum hubs (with a coating that makes them look like magnesium), rear brake pedal and a   magnesium front brake caliper with larger pistons and thinner pads.
Accessories: Pro Circuit products are littered throughout Dean Wilson's KX250F, with a Ti-4R exhaust system, which is an inch shorter than their off-the-shelf exhaust, triple clamps (22mm offset), beefy footpegs, engine plugs, holeshot device, brake hose clamp, axle blocks, rear brake clevis, banjo bolts, water pump kit, thermostrips, rear brake snake, radiator hoses and engine mounts. Of course, Wilson's bike wouldn't be complete without a host of aftermarket companies. Renthal provides the sprockets (13/49 combination for the entire Supercross series), TwinWall 997 bend handlebars, grip donuts, and Kevlar grips; RK chain; LightSpeed guide plate, chain guide (with a longer rear section due to the axle being placed extremely far back in the swingarm), rear caliper guard and case saver; Excel A-60 black rims; Braking 270mm Bat Fly wave front rotor and 240mm rear wave rotor (both of which are specially made for Pro Circuit and are thinner than what's offered to the public); Hinson pressure plates, clutch basket  and inner hub; UFO plastic; VP Racing fuel; works Dunlop tires; Sunline clutch perch and levers; N-Style graphics, which are cut out and thinner than conventional graphics in an effort to save weight, and seat cover; Twin Air filter; and Maxima oils and lubricants. CMI is a fabrication company that Pro Circuit uses to make their shifter, footpeg mounts, and titanium fasteners (the bolt heads are drilled out to shave off even more weight).
It's worth noting that Pro Circuit uses a Honda front brake master cylinder, since Honda's design prevents the front brake from overheating and becoming notchy at the blade (On the KX, not necessarily on the Honda). The team also relies on 2009 model KX250F stock radiators, as the cores are smaller and lighter with more rows for improved cooling. While Dean Wilson's bike is a constant work in progress, we tested the bike before Pro Circuit utilized the GET system, so we cannot elaborate on the EFI-specific software.

MXA test riders immediately noticed the mid-to-top powerband, lightened overall weight, rigid chassis and surprisingly soft suspension. The engine performed best when revved, and the works front brake stopped Wilson's bike on a dime if needed.
         
TEST RIDE: HANGING ON FOR DEAR LIFE
The MXA wrecking crew has tested more Pro Circuit/Kawasaki bikes than those from any other race team (largely because we like to test the bikes of winning riders?and that is what Pro Circuit has the most of). We are well aware of the effort that Payton and his team put into their race weapons. When asked to list a price on Dean Wilson's bike, they retorted by saying that his KX250F is priceless. A price can't be put on the long hours taken up by testing and development. We knew that we were in for a treat when it came time to sling a leg over Wilson's KX250F.
There's something special about a Pro Circuit/Kawasaki bike. It feels unlike any other bike we've ever tested, and it's difficult to describe. Imagine riding a brand-new bike. Now imagine riding a brand-new bike that's lighter, faster, better suspended and built better than stock. Shifting through the gears was buttery smooth. The engine screams if ridden at pro-level speed. The suspension, while stiff, was still forgiving enough for every MXA tester, which is virtually unheard of. Wilson's KX250F is a racers-only bike. If you have any slow genes, then leave them at the door. To effectively describe how Dean Wilson's Pro Circuit bike runs, we need to break down the KX250F into two key areas.
 
It pays to be the winningest motocross team in history.?Braking makes special lightened rotors for Pro Circuit.

 
Everything about Wilson's shock is bigger. The shaft, piston holder and check valve system are all larger than stock.
Engine: Wilson's powerplant is extremely fast, which should go without saying. However, there is very little room to make mistakes by dropping the rpm. Falling off the powerband and dipping into the bottom end yields a fairly sluggish response. Slower test riders needed to fan the clutch to keep the revs up in order to blast out of corners. However, our pro-level tester adored Wilson's engine. By attacking corners and powering into whoop sections, we learned that fearlessness is required to properly ride Dean's bike.
Suspension: Every MXA test rider felt right at home on Wilson's setup. Believe it or not, we would feel confident riding with Dean's suspension indoors or outdoors. The forks settled extremely well into corners and absorbed small to large braking bumps. It should go without saying that the shock had a dead feeling (imagine having a fast rebounding shock kick back quickly off big jumps and monstrous whoops). It's evident that the long hours that Wilson spent testing with Pro Circuit suspension maestro Bones Bacon paid off, because the Showa SFF A-Kit suspension is dialed. Worth mentioning is the overly-tight steering stem. Bacon makes his riders run a tighter steering stem to act as a stabilizer and improve straight-line stability. It took test riders some time to get used to the tightened front-end sensation, but we could understand the benefit.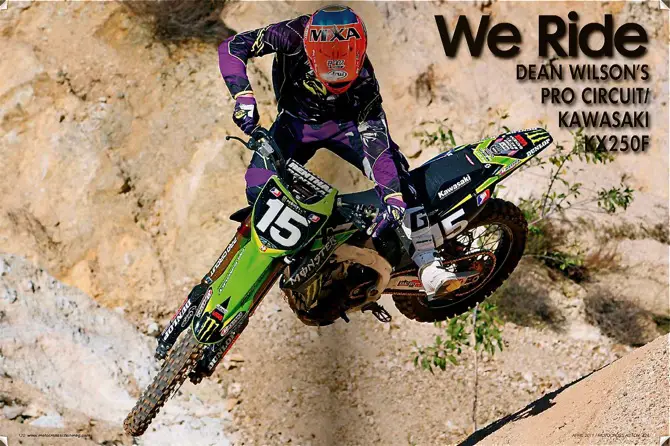 CONCLUSION: WHAT DO WE REALLY THINK?
Dean is a prime contender for the 250 National Championship?if he can overcome his own teammates (after all, they have the same bike that he has)