2005 YZ125 MAKEOVER: ALL IT TOOK WAS 16 GRAND
By John Basher
By John Basher
I have an affinity for YZ125 two-strokes. Nay, that statement doesn't fully express my feelings. I have a love so deep for Yamaha's 125cc two-stroke that it is beyond compare. Wife and children aside, there is no greater affection than my boundless love for the latest iteration—that is to say 2006 and newer—of the Yamaha YZ125. The wooing occurred not by choice. A chance encounter at a local race turned into a courtship of sorts, a magical series of trysts at tracks across Southern California.
Long before, I had been swayed by the court of public opinion that horsepower bred success. Whenever there was a big race, I jumped at the opportunity to contest aboard a 450cc four-stroke, relegating my less-serious MXA compadres to two-strokes—or so I thought. But, the mighty thumping of the four-strokes turned out to be a siren song. While I had built a modestly successful racing resume, my zest for riding began to fade. Change was necessary, because I started feeling helpless before every gate drop. Burnout was inevitable. Like a shipwrecked sailor, I searched for a beacon of light. The Yamaha YZ125 was that glimmer of hope.
I changed my ways. My right wrist no longer wanted to conduct baritone notes of humdrum four-stroke fury. Instead, the shrill, high-pitched squeal of two-stroke delight became music to my ears. I rode the YZ125 with vigor and aggression. It was the catalyst that reignited my joie de vivre for motocross. Naturally, as MXA test riders tend to do, I couldn't leave well enough alone. Swept up in the idea that modifying meant greater performance, I threw a catalog at my first YZ125 build. That was nearly three seasons ago. In the ensuing years, my grand plan evolved. I melted the company credit card as my ideas grew in scope and difficulty. Last year's YZ125 project bike was the culmination of my efforts—the pièce de résistance. Or so I thought.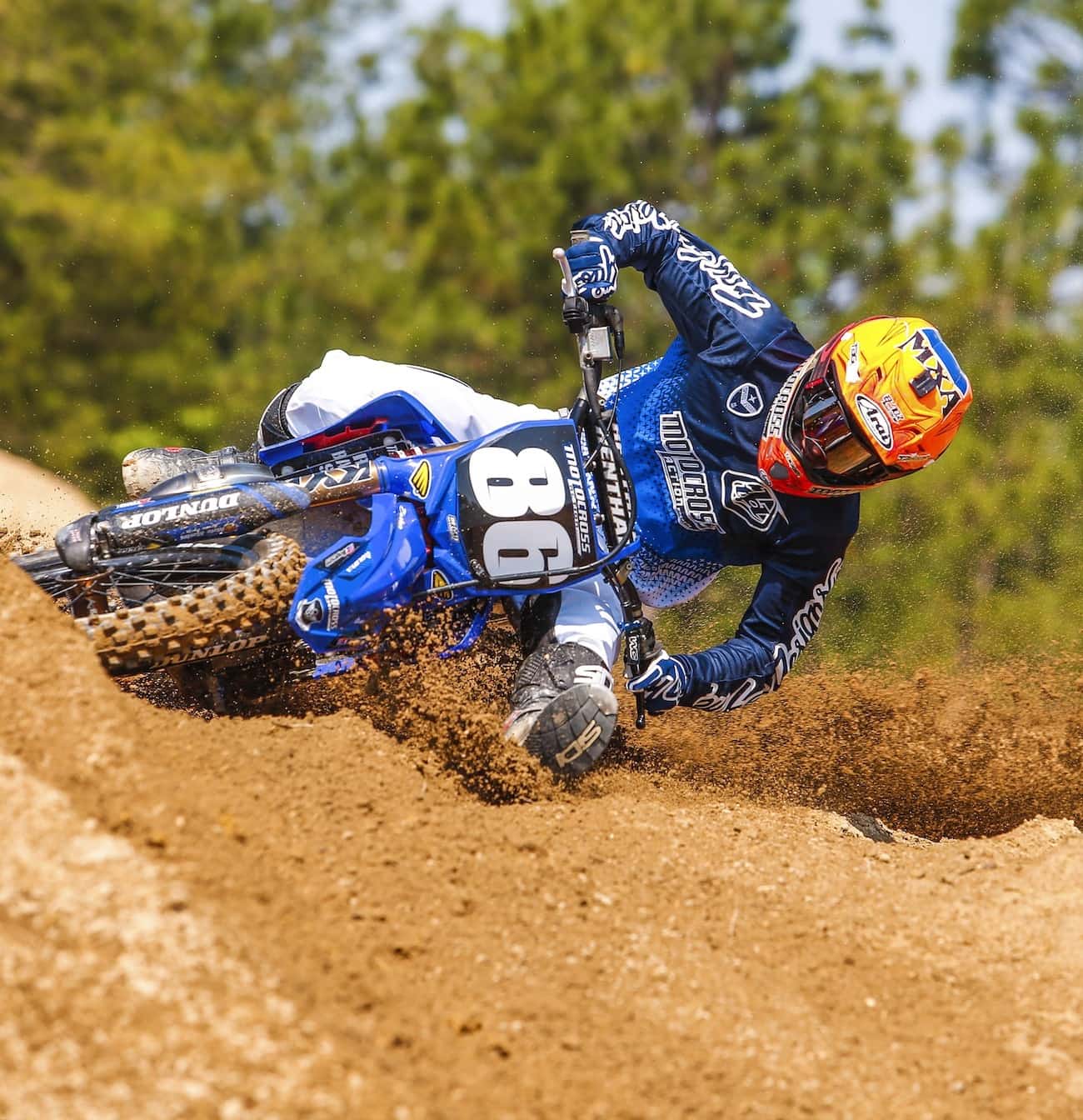 As a rule, MXA editors don't own motocross bikes. It would make no sense. We're allotted one of every new model bike, and we're allowed to test those machines for the year. When a manufacturer introduces the next year's model, we trade the old in for the new. As a result, my coveted YZ125 builds from past seasons went up in smoke. Fortunately, I had the forethought to strip off all the aftermarket goodies and horde them in my garage. It was a smart move. They say chance favors the prepared mind. When I decided to leave my command post in SoCal for greener pastures in North Carolina, the well for testing free bikes went dry. The good news was that I had enough parts to completely make over a YZ125.
Finding a used Yamaha YZ125 wasn't easy. I blame MXA for the difficulty. We are the magazine that shed light on the used two-stroke market. What was once a buyer's market is now controlled by sellers. For that reason, it took me several months to find a YZ125 that wasn't being sold by some get-rich-quick opportunist. As luck would have it, I happened across a Craigslist posting for a 2005 Yamaha YZ125. The sales price was $1500. I called the owner, stopped at the National Bank of my Wife and sped over to the guy's house. The bike still had the stock graphics, chain and sprockets. He wanted to sell the YZ125 because it scared him half to death. I talked him down to $1350, forked over the greenbacks and had the Yamaha loaded up before he could renege.
What followed next is the great part—or if you are worried about how much money someone else spends on their motocross bike, the worst part, Two months, a hundred phone calls and several dozen visits from UPS later, I finally collected everything for my Yamaha YZ125 build. Out of embarrassment, I dared not think of the bill. Still as part of the MXA wrecking crew, I called in past favors and got everything for free. You read that right. Life ain't fair, is it? The total cost came out to just over $14,500. Add in the price of the bike, and my 11-year-old project bike reached upwards of 16 grand. Crazy, yes.
(1) Suspension. In 2005 Yamaha unveiled an all-new YZ125 platform. It included a twin-spar aluminum frame and revised engine. Unfortunately, the 2005 model used Kayaba AOSS forks, which were basic copies of Showa's Twin Chamber forks. Thus, we termed them "Showaba" forks (much to the detestation of Showa and Kayaba). The reason that 2006-and-newer YZ125s are in such high demand is because of the Kayaba SSS suspension. It's far and away the best production suspension—period. Knowing that, I felt compelled to trump production standards by calling in the cavalry. In essence, out went the KYB AOSS suspension and in came Kayaba's PSF-1 A-Kit air forks and shock. Distributed by Technical Touch in the U.S., the forks ($4500) and shock ($2700) are the same setup used by the likes of Cooper Webb and Jeremy Martin when they were at Star Yamaha. The shock offers four different clicker options—high- and low-speed compression and high- and low-speed rebound. The forks shaved several pounds off while allowing for an infinite number of setting options.
Results: The Pneumatic Spring Forks (PSF) are finicky compared to springs; however, once set with the desired amount of air, they can be fine-tuned for maximum rider comfort. Please note that you will need to have the suspension set up by a tuner after purchasing the KYB A-Kit components from Technical Touch. As for performance, the forks worked very well. It took half an hour for everything to break in. Then I started dialing in the air pressure and clickers. Ultimately, I ended up with 29 psi in both chambers, with the compression turned out a few clicks. This helped the fork stay balanced in the stroke but ramp up under extreme loads for excellent bottoming resistance. Most noticeable was how coming up short over a jump was no issue with the PSF-1 A-Kit forks. The only complaint I had was when the front end unloaded and became light in transition from uphill straights heading into flat or downhill turns. The lack of front-end feel proved uncomfortable. When unweighted, air forks don't have a solid contact patch. That's not just a problem with the PSF-1 components but with all air forks. As for the shock, it tracked well and maintained composure through the ugliest terrain. I had to jump from a 46 N/m spring to a 48 N/m. It must be due to the Southern cooking.
(2) Handling. Along with Kayaba's trick A-Kit suspension, I ordered a set of Xtrig ROCS (Revolutionary Opposing Clamp System) triple clamps. At $899.99, they're very expensive. They also look like they were designed by NASA engineers. There's enough technology in the Xtrig clamps to make your head spin. Suffice it to say, you could spend all day testing different triple-clamp settings. For the YZ125, Xtrig offers the standard 25mm offset, as well as a 23mm offset. Simply—or not so simply in my case—turn the steering stem 180 degrees until you have the chosen offset. It's imperative to read the instructions, as convoluted as they are. Once I figured things out, I adjusted the bar-mount location and height. The goal was to sharpen up the YZ125's otherwise pedestrian cornering traits.
Results: I have long favored 22mm offset clamps on the YZinger. There's a reason. They bridge the gap between too extreme and not enough. While a sterling example of machining brilliance, Xtrig's ROCS system didn't do enough for me. The 23mm offset was perfect for high-speed, whooped-out tracks. That's well and good for faster riders, but I don't qualify for Nationals, which is why going a bit more radical on the offset yields greater gains when hitting ruts and carving corners.
(3) Engine. In my tenure at MXA, I've tested YZ144s and YZ167s. Guess what? I didn't like them. Going oversized neutered bottom-end zest and top-end gusto. If I had wanted to ride exclusively in the midrange, then I would have purchased a 450 four-stroke and called it a day. Prepare to be shocked: I only spent about $1000—or 1/16th of the total bill—on engine modifications. The crank and cylinder were left stock. I relied on a Vertex piston kit, Boyesen RAD valve, Boyesen X-Wing, Twin Air Powerflow kit, Pro Circuit Works pipe and Pro Circuit Ti-2 Shorty silencer to open up the engine. Of all the items, the carbon fiber silencer ($329.95) was the most expensive. I caught flack from my friends for failing to squeeze every ounce of horsepower from the YZ125. I didn't care. My project bike was built with fun in mind, not trying to see how thin I could get the cylinder lining.
Results: I chose each part for a specific reason. In my experience a Boyesen RAD valve performs best on a YZ125. The same went for Pro Circuit. My goal was to improve throttle response and broaden the powerband. Mission accomplished. I fed the beast 96-octane pump gas with Maxima Formula K2 oil at a 40:1 ratio. There wasn't any pinging. I also tweaked the carburetor settings with Wiseco's massive Mikuni carburetor jetting kits.

(4) Clutch. Don't think for one second that I slapped on a Hinson clutch cover in order to mask an otherwise stock clutch. Ron Hinson, from Hinson Racing, sent me a $1089.99 full Billetproof clutch kit. Just like a pacemaker, the Hinson clutch will last longer than the lifespan of my YZ125. The kit includes clutch plates and fibers, as well as stiffer clutch springs. Installation is a breeze, as long as you follow the instructions and have general mechanical aptitude. Removing the gear can be a challenge, but nothing a grinder can't take care of.
Results: If you're spending over a grand on a clutch, then you should expect nothing short of excellence. Hinson's Billetproof clutch didn't disappoint. It took a few laps to break in, but once set, clutch engagement was phenomenal. I'm a two-stroke clutch abuser, but my left hand is no match for the Hinson clutch. It's worth the price, as long as you plan on keeping your bike for
several years.
(5) Wheels. Dubya USA can build custom wheels, in mild to wild colors, using the latest components. The wheels aren't cheap—$594.95 for the front and $694.95 for the rear on my YZ125—but, as with the Hinson clutch, you'll never have to worry about them. I opted for D.I.D. DirtStar black rims with Talon magnesium hubs, black spline-drive nipples and black Bulldog spokes.
Results: Wheels are one of those performance items that only get noticed when they fail. Here's some food for thought: this is the third YZ125 I've built in as many years. I've used the same set of wheels since that first build. That equates to many hours spent hammering motos and casing jumps. The Dubya wheels still look brand new. Note that I had to use new front-wheel spacers, a shorter axle and different front brake hanger in order for the wheel to fit with the KYB PSF-1 A-Kit forks.
(6) Radiators. My buddy Brett Koufas from ICW Radiators lives right up the road in North Carolina. MXA tested his pristine Yamaha YZ125 in the February 2016 issue. Brett specializes in repairing bent and broken radiators. He can fix, brace, seam-weld, cage-brace and/or modify the tanks. The quality is second to none. Koufas seam-welded ($60 per radiator) and cage-braced ($70 each) my YZ125 cooling system.
Results: After unloading the 2005 YZ125 and rolling it into my garage, I noticed that the left-side radiator was bent. Not only did ICW Radiators fix the problem, they strengthened the paper-thin aluminum. As an added bonus, Brett cleaned the tanks to a sheen-like finish. ICW is a logical solution if your radiators are already banged up or if you don't want them to get destroyed.
(7) Protection. It's wise to protect an investment, which is why I ordered a bevy of products developed specifically for impact resistance and preventing wear. LightSpeed provided its carbon fiber skid plate, front disc guard and fork lug guard. They included a front brake-line guide, because I thought it looked trick. The TM Designworks Baja Rally Slide-N-Guide kit is nearly impenetrable, as are the various Works Connection engine plugs and caps. I also installed a carbon fiber ignition cover from Italy. The cover, like the pair of titanium footpeg pivot pins, isn't for sale. It's nice to have good friends in high places.
Results: I'm wary of hard-mounted skid plates, because they have a tendency to change the frame-flex characteristics and subsequently the handling traits. Fortunately, the LightSpeed skid plate had none of those effects. It did its job, all without affecting other areas of the bike. That's one of the keys to a successful product.
(8) Performance. A lot of little things add up to major upgrades. The 60mm-wide Pro Pegs titanium footpegs ($268) were light and, paradoxically, robust. A Motion Pro Titan throttle tube ($24.99) replaced the sawed-off stocker. New Motion Pro clutch and throttle cables ensured proper operation. Sunstar's Powerdrive countershaft sprocket and 49-tooth Works Triplestar aluminum rear sprocket were mated to a Sunstar 520MXR1 chain. I added one tooth to the rear sprocket in order to shorten the gap from second to third gear. I suggest every YZ125 owner do the same.
As for controls, I went with the tried-and-true Renthal TwinWall 997 bend handlebars, along with Renthal's Ultra Tacky grips. The grips are just that—tacky—and one of my new favorites. Works Connection's Elite clutch perch ($155.85) is smooth like butter. And while it's not noticeable, a Think Technology Lite crossbar pad ($69.99) shaves over an ounce off of a Renthal bar pad. I opted for Dunlop's MX3S tire pairing. These tires are the best-performing sneakers in soft-to-intermediate terrain, even if their lifespan is shorter than other tires. I also love Moto-Master's 270mm Flame oversize rotor. Don't think for one second that stopping power isn't crucial on a sub-200-pound machine.
Results: The above-mentioned items are my favorites, but things like handlebars, grips and tires are about personal preference. I've drawn on a decade of testing experience to determine what floats my boat. Take my suggestions with a grain of salt, aside from gearing the YZ125 down, which everyone should do.
(9) Aesthetics. The 2005 Yamaha YZ125 wasn't very attractive. Billboard-sized side panels and rounded edges did no favors for the bike's overall appeal. For a sleek look, I rang up Cycra Racing and ordered its redesigned Powerflow body kit ($219.99). Not only do the plastics give the YZ125 a facelift, but the Powerflow shrouds direct air into the radiators. Very cool (no pun intended). Nic Wright from DeCal Works designed a special look for the bike. The $269.90 Semi-Custom complete kit has everything you need to dress up your bike. He added a radiator louver kit, at $59.95, for that special touch.
Results: Several plastics companies make newer style kits for the YZ125. I used Cycra Racing, because they're in my backyard and were willing to work with my plastics palette. I'm sure they will do the same for you. As for DeCal Works, they are the number-one source for pre-printed backgrounds and custom graphics. It was a no-brainer.
Did I succeed in building the ultimate Yamaha YZ125? No. This isn't a Hollywood movie, after all. While I'm happy with the overall results, especially given that I began with an 11-year-old bike, there's room for improvement. In the weeks since completing the project YZ125, I've already come up with new ideas. Sure, my creation is probably one of the better YZ125s this side of the Mississippi, but that's not good enough for me. The sky is the limit, and I'm just getting warmed up.
2005 YAMAHA YZ125 PARTS LIST:
Kayaba PSF-1 A-Kit forks $4500
Kayaba A-Kit shock $2700
X-Trig triple clamps $899.99
Dubya wheels $594.95 front, $694.95 rear
Hinson Billetproof clutch kit $1089.99
Hinson oil filler cap $19.99
Pro Circuit Works pipe $239.95
Pro Circuit Ti-2 Shorty silencer $329.95
Moto-Master 270mm Flame front disc $175
Moto-Master oversize adapter bracket $74.95
Boyesen RAD Valve $179.95
Boyesen Power Wing $129.95
Pro Pegs titanium footpegs $268
CV radiator hoses $95.10
ICW reinforced radiators $260
LightSpeed front disc guard $99.95

LightSpeed fork lug guard $49.95
LightSpeed skid plate $99.95
LightSpeed front brake guide $20.95
DeCal Works graphics $269.90
DeCal Works radiator louver graphics $59.95
Works Connection Elite Perch $155.85
Works Connection rear axle blocks $49.95
Works Connection rear brake cap $24.95
Fasst Co rear brake spring return $19.95
Fasst Co rear brake clevis $39.95
Cycra Racing Powerflow plastics kit $219.99
Cycra Racing mud flap $12.95
Dunlop MX3S front tire $127.51
Dunlop MX3S rear tire $134.04
TM Designworks Slide-N-Guide kit $169.95
Vertex top-end kit $133.19
Renthal TwinWall 997
handlebars $119.95
Renthal Ultra Tacky grips $19.95
Motion Pro Titan throttle tube $24.99
Motion Pro throttle cable $12.99
Motion Pro clutch cable $17.99
Sunstar Powerdrive countershaft sprocket $24.95
Sunstar 49-tooth Works Triplestar sprocket $65.95
Sunstar 520MXR1 chain $94.95
Twin Air Powerflow kit $149.95
Motoseat seat cover $64.95
Think Technology bar pad $69.99
Total: $14,608.26
MXA SUPPLIER CONTACTS:
Pro Circuit: www.procircuit.com 
Boyesen: www.boyesen.com
Hinson Racing: www.hinsonracing.com 
Technical Touch: www.technicaltouchusa.com
Dubya: www.dubyausa.com
Moto-Master: www.moto-master.com
Twin Air: www.twinairusa.com
Pro Pegs: www.motostuff.com
CV Products: www.cvproducts.com
Cycra Racing: www.cycraracing.com
DeCal Works: www.decalmx.com
LightSpeed: www.lightspeedcarbon.com
ICW Radiators: www.icwradiators.com
Works Connection: www.worksconnection.com
Sunstar: www.sunstar-mc.com
Vertex: www.na.vertexpistons.com
X-Trig: www.xtrig.com
Dunlop: www.dunlopmotorcycletires.com
Motion Pro: www.motionpro.com
TM Designworks: www.tmdesignworks.com
Motoseat: www.motoseat.com
Think Technology: www.thinktechnology.us
Renthal: www.renthal.com