2021 KAWASAKI KX250 FIRST RIDE VIDEO: NEW ELECTRIC START & HYDRAULIC CLUTCH
2021 KAWASAKI KX250 FIRST RIDE VIDEO: FINALLY AN ELECTRIC START & HYDRAULIC CLUTCH
Out of all the 2021 250 four-stroke motocross models, the Kawasaki KX250 has received the biggest changes and we're happy to report that Kawasaki spent their time, money and energy making the improvements that we have been asking for. The Kawasaki KX250 already had nimble handling, and now with the already popular KX450 frame surrounding the smaller engine, this bike is again comfortable to ride. Thankfully, Kawasaki has also gotten rid of the kickstarter (leaving Suzuki as the only kick starting four-stroke model) and they've jumped into the modern age for 2021 with an electric start, hydraulic clutch, updated engine, updated suspension, new frame, new swingarm and new bodywork. In the video we talk about custom ECU map settings that MXA's Josh Mosiman and Daryl Ecklund developed with the Kawasaki technicians while testing on day 1 at Perris. See below for photos of the Ignition and Fuel numbers we came up with, if you'd like to try our map, you'll need to buy the Kawasaki fuel injection calibration tool, or find one to borrow. Also, see below for detailed product photos of the updated internal engine parts.
2021 KAWASAKI KX250 DETAILS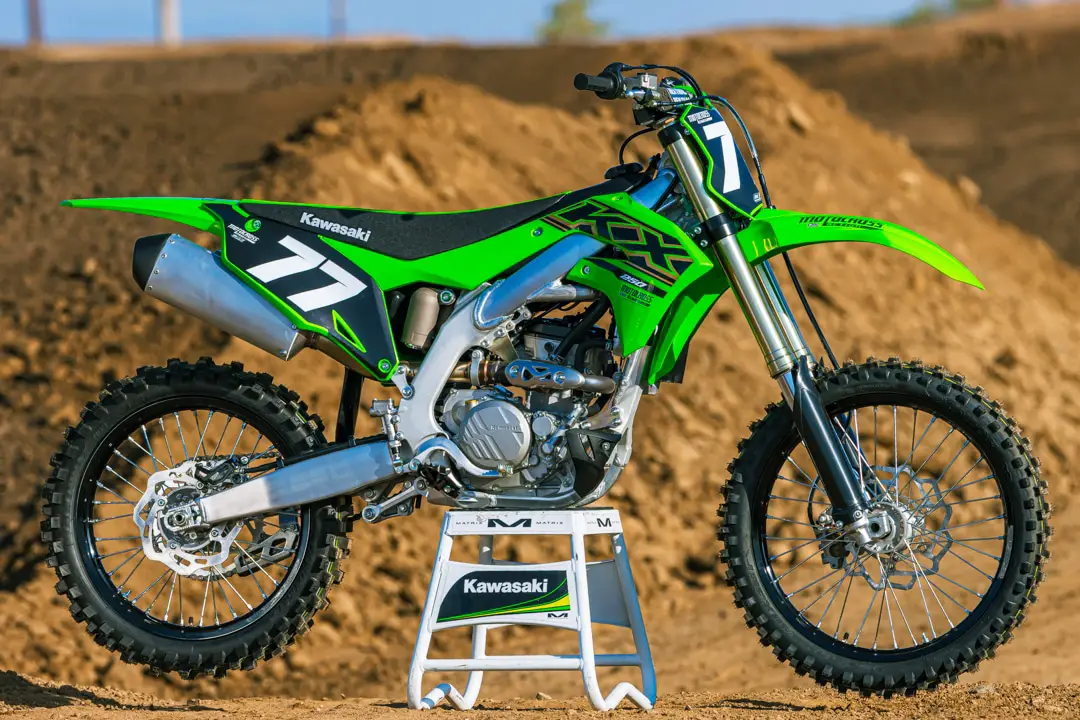 The 2021 Kawasaki KX250 looked nice and shiny before we hit the track on it. The MXA Wrecking Crew stayed late on Monday and put almost 3-hours of riding in on the bike before sitting down and talking for our First Ride video.
Two big things that MXA was looking for from the KX250 was stronger power in the bottom and mid-range and an electric start. Yes, we know the electric start doesn't really improve lap times, but it's so nice to have. For 2021, Kawasaki added the electric start and also refined the engine to gain more power. Additionally, they added a hydraulic clutch which made Kawasaki the third manufacturer in dealers (GasGas will be there soon) to sell a 250 four-stroke with a hydraulic clutch. The Yamaha and Honda 250Fs are still cable operated. (We expect the Honda CRF250 to be hydraulically actuated like it's bigger brother when it gets updated in 2022.)
MXA'S CUSTOM KX250 MAP SETTING: TRY IT YOURSELF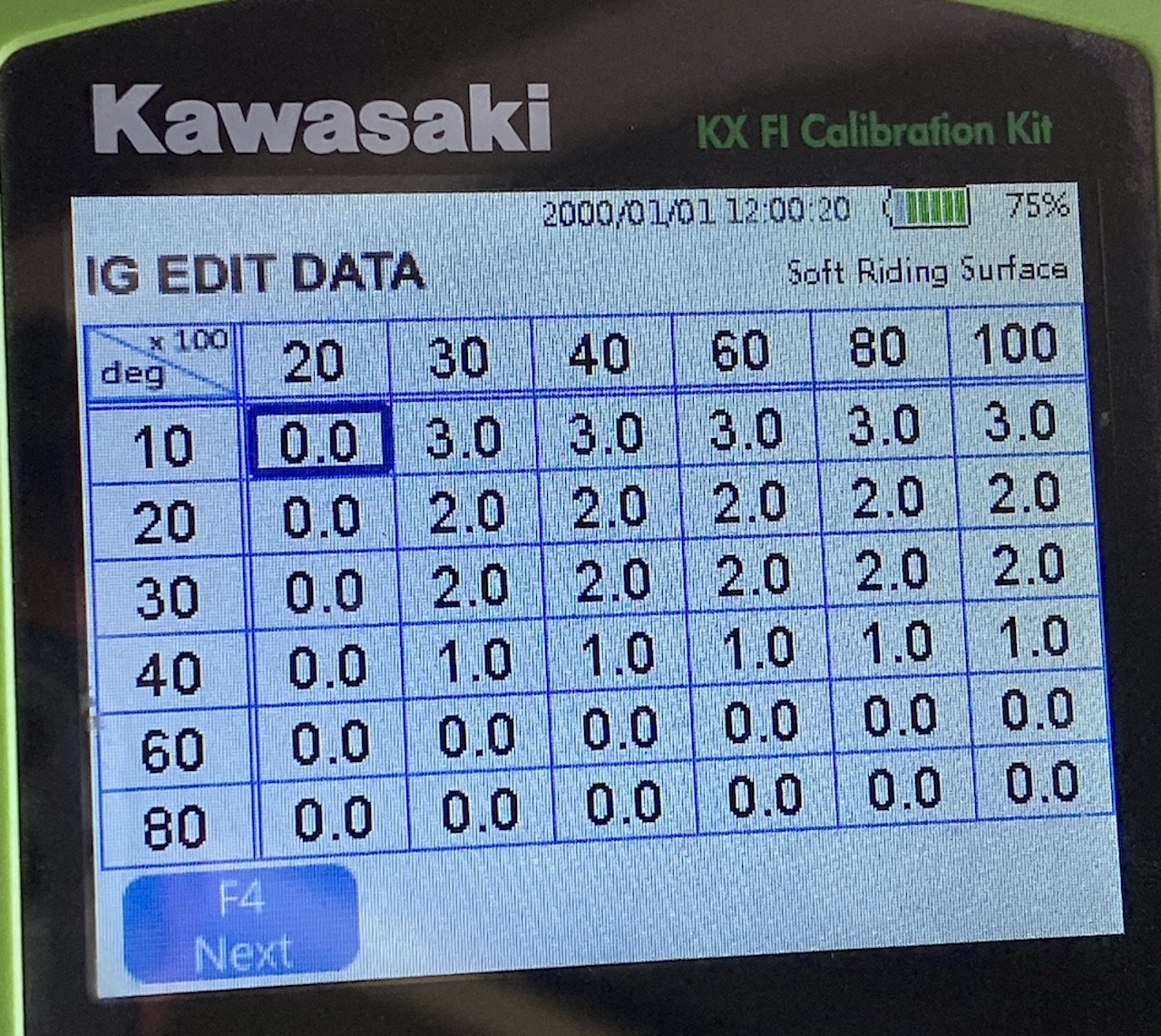 Here are the fuel and ignition numbers we used to get the most power out of our 2021 KX250 on day one at Perris. We still have many more hours and test days to go on the KX250. Stay tuned for the full MXA race test on this bike in an upcoming issue of the magazine to learn more. 
Click here to learn more and buy the Kawasaki Fuel Injection calibration tool, or send your KX250 ECU to Twisted Development and have them re-map it for you.

2021 KAWASAKI KX250 PRICE POINT: $8299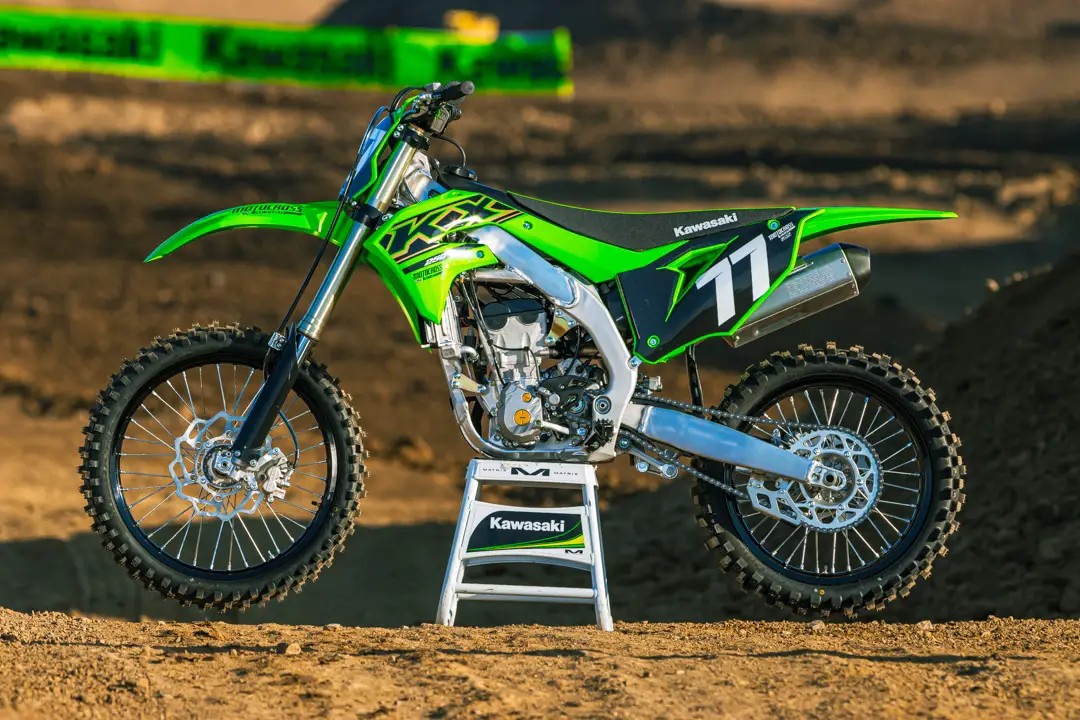 For an all-new model, the $8,299 price point isn't too bad when compared to other brands. 
The new KX250 comes with Dunlop MX3S tires and it's available in dealers now to buy for $8,299 which is the same as the new 2021 Yamaha YZ250F (coming soon), more expensive than the completely unchanged Honda CRF250 which is $7,999, and considerably less than the Husqvarna FC250 which is $9,399.
2021 KAWASAKI KX250 UPDATED HARD PARTS
The new crank (right) looks like the top got cut off and it wasn't an accident. Kawasaki engineers worked on this design to lessen weight and optimize performance to work with the new engine that now revs up to 14,500rpms, 250rpms higher than last year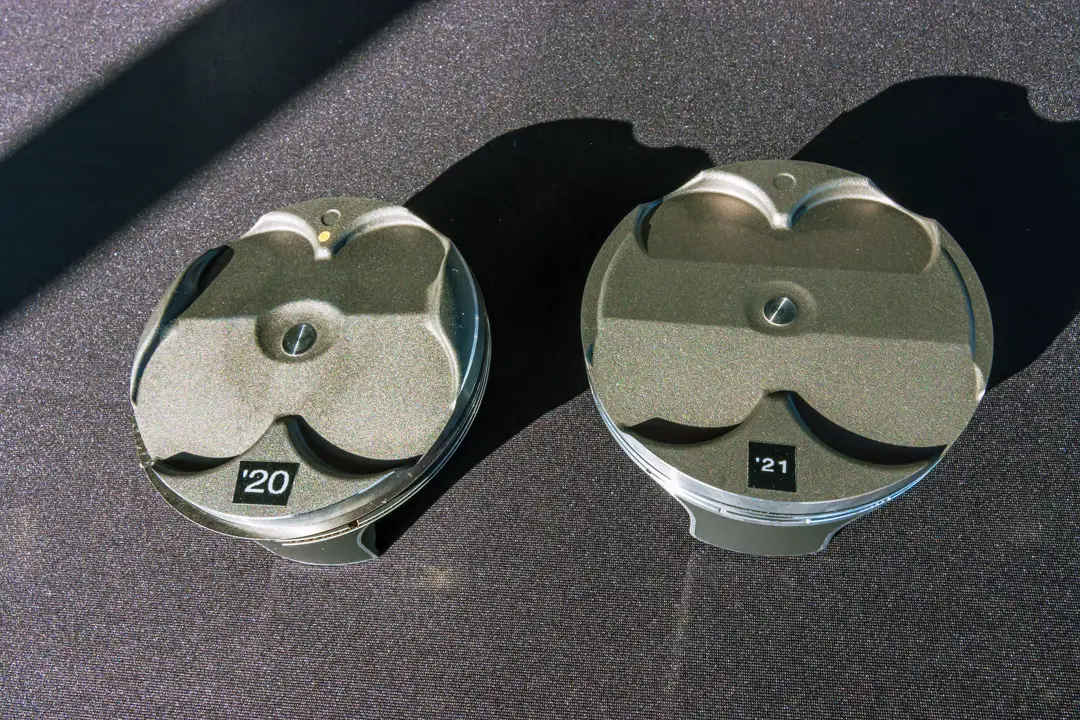 The new piston head is more flat on top to increase compression.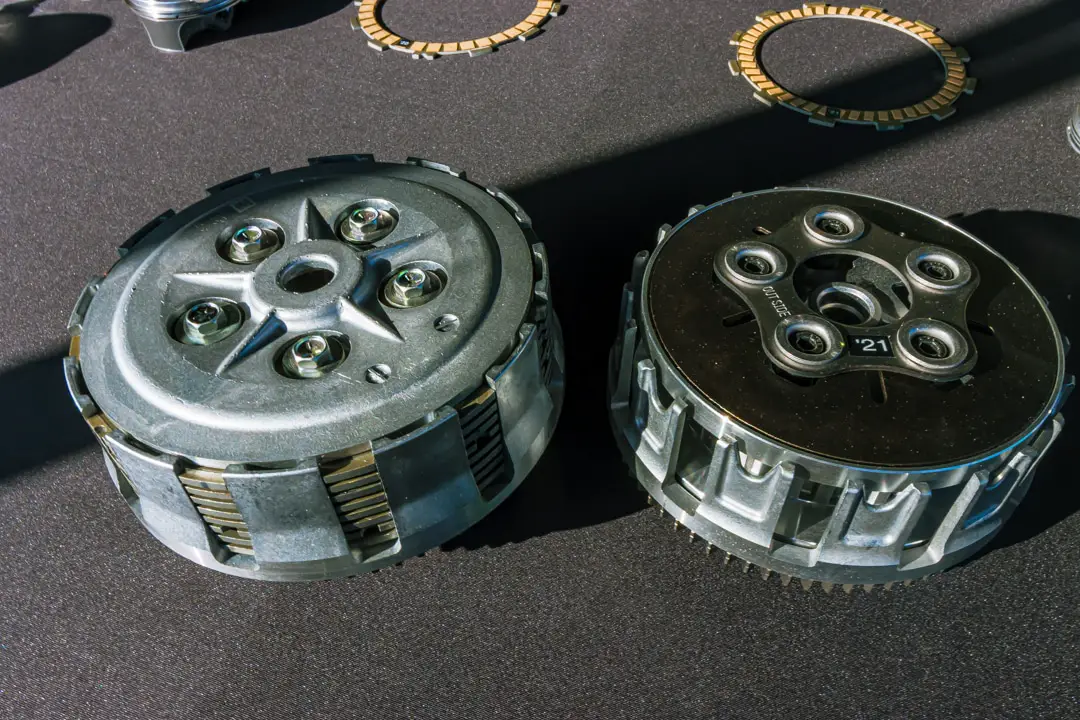 The new clutch (right) has a "coned disc spring" as Kawasaki likes to call it, but we all know it as the Belleville washer spring that has been used on KTM and Husqvarna clutches for years now. Yes, they copied another brand, but sooner or later all manufacturers have to do that and we can't complain because the design is much better than the standard KX coil clutch spring clutch.  
The new intake (right) is slightly smoother and also slightly longer. The changes made were minimal to the eye, but the make a difference on the track.