2023 LOS ANGELES SMX PLAYOFF FINALS PRE-RACE REPORT: POINTS, TV SCHEDULE & MORE

2023 LOS ANGELES SMX PLAYOFF #3 PRE-RACE REPORT: RIDER LIST, TV SCHEDULE & MORE
SuperMotocross from LA Coliseum in Los Angeles, CA, is in for an all-out battle this weekend. In the 450 Class, Chase Sexton still leads points but is followed closely by rival Jett Lawrence. The third round of the SMX Playoffs is worth triple points, making this a winner-takes-all event. With only two points separating the leaders, there is no room for error, but Ken Roczen also has a scenario where he could win, if Lawrence gets second or if Sexton gets third or worse. The 250 class is just as exciting where it is a winner-take-all all for three different riders. Hunter Lawrence, Jo Shimoda and Haiden Deegan.They are all within seven points of each other. With the points being tripled, this will also give the winner (if it is one of these three) the overall victory in the series.
---
ROOKIE UPFRONT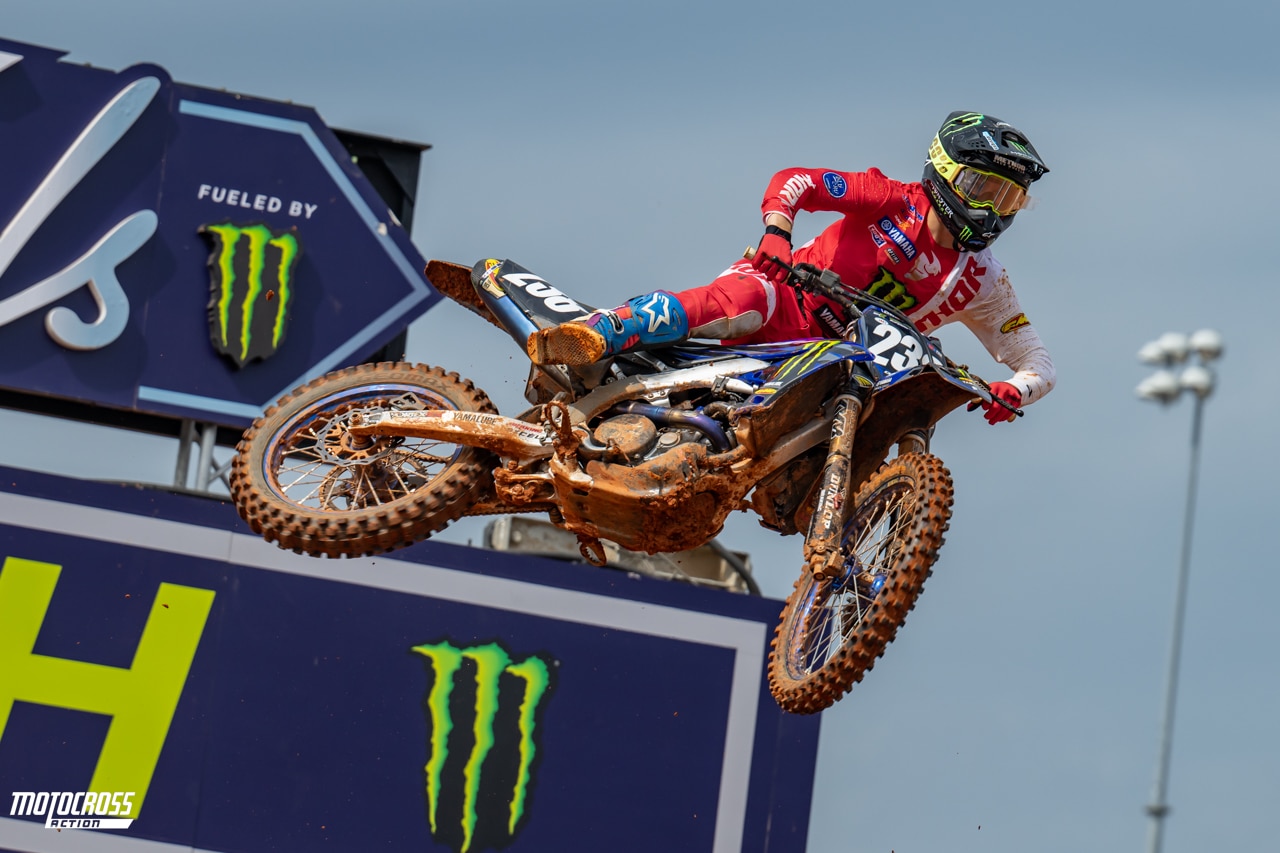 Haiden Deegan is in  uncharted territory for a rookie. We rarely see rookie sensations that are locked in championship battle with a $500,00 payoff.  Deegan has shown maturity in his riding while still being very entertaining. Only seven points out of the lead in the playoffs, it will be interesting to see how the rookie handles the pressure of the final event.
FAST ENOUGH TO WIN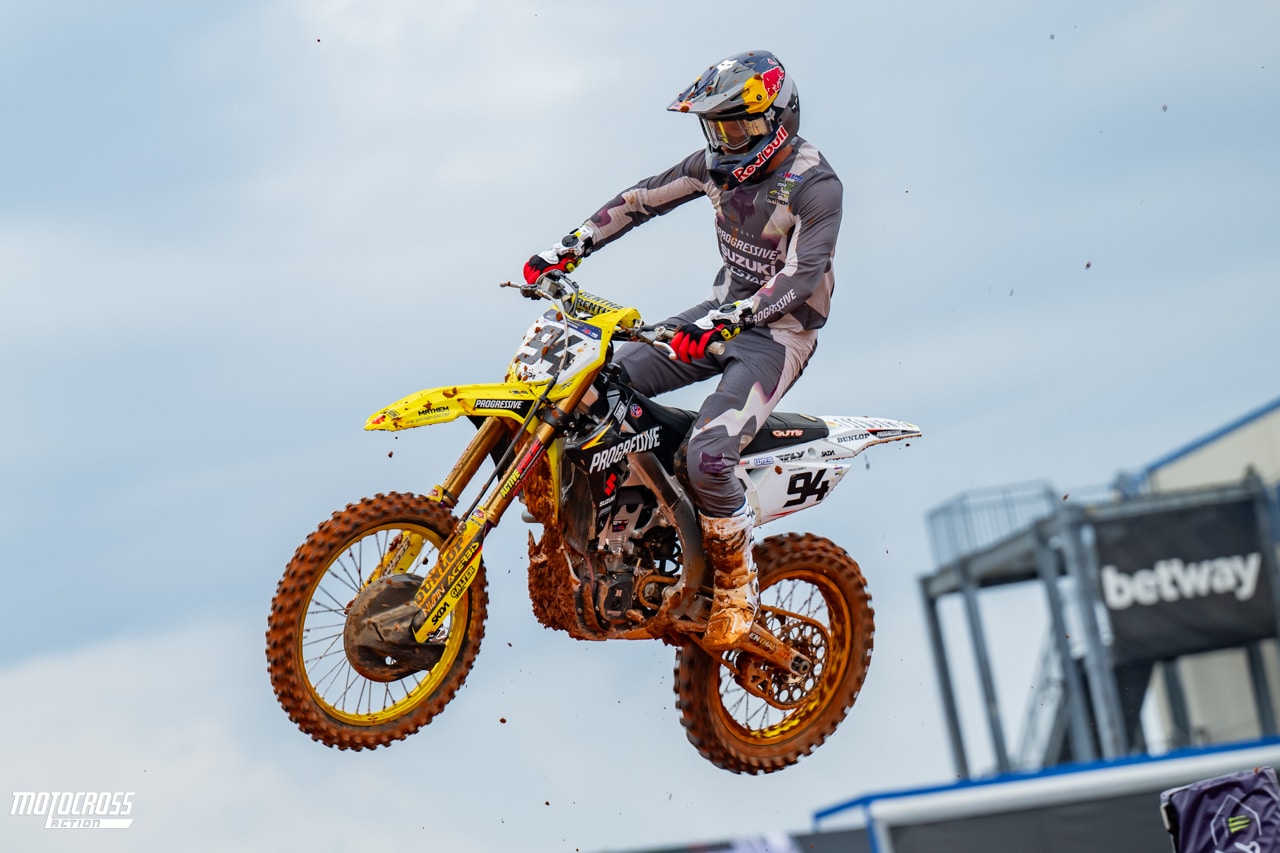 Ken Roczen was putting pressure on Jett Lawrence last week in Chicago and may have made the pass for the lead if not for Jett moving over and  letting him by in the race's closing laps. Ken wasn"t happy about it and neither were the paying fans who felt that Jett robbed them of an exciting finish.
GETTING COMFORTABLE
The time is now for Hunter Lawrence to close off an incredible year and start his journey in the 450 Class. Even with some bike issues and crashes, Hunter won both the regional 250 Supercross East and AMA 250 National motocross titles. Now, with a chance to lock up the 250 Supermotocross playoffs, Hunter looks to close out the year on top.
TV SCHEDULE: 2023 CHICAGO SMX #2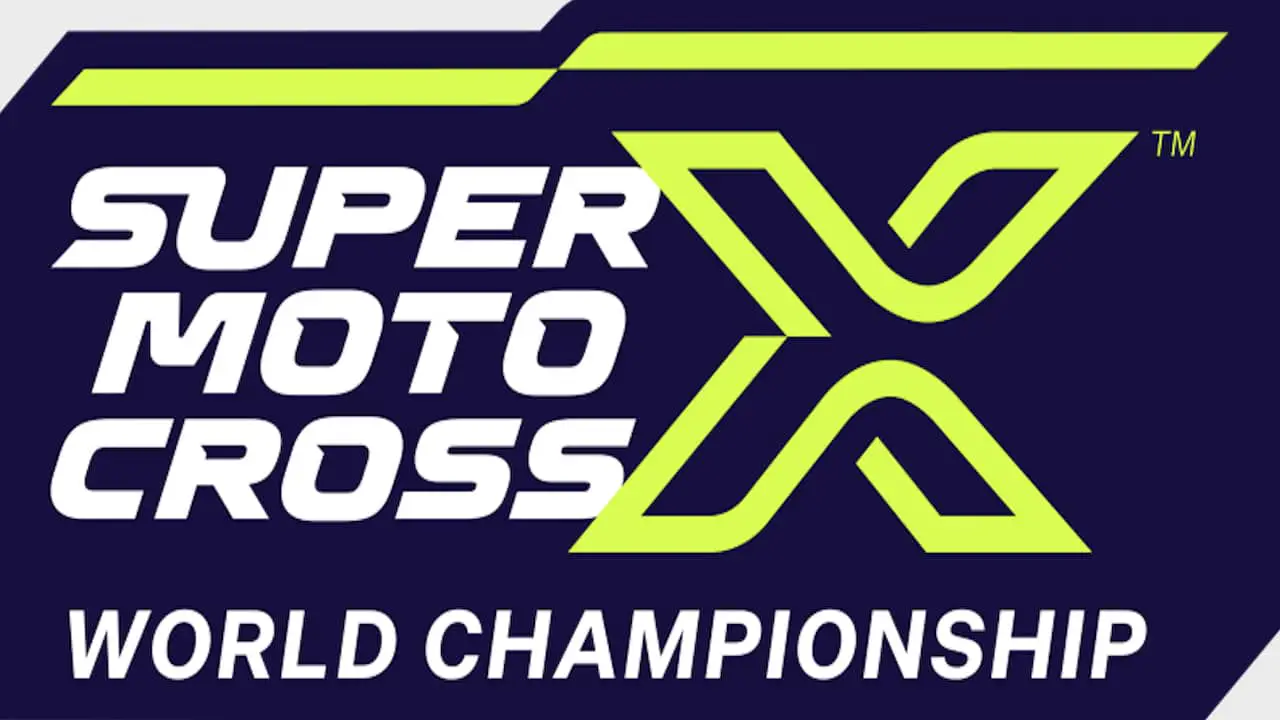 FRIDAY AND SATURDAY EVENT SCHEDULE
| Time | Event |
| --- | --- |
| 8:00AM – 5:00PM | Industry Will Call Times |
| 8:00AM – 5:00PM | Registration Open |
| 8:00AM – 10:00PM | Working Paddock Hours |
| 9:00AM – 11:00AM | Sound Testing |
| 9:00AM – 11:00AM | SuperMotocross Technical Inspection at AMA Semi |
| 11:00AM – 7:00PM | FanFest Open to Campers |
| 11:00AM – 12:00PM | Press Conference (SMX Main Stage) |
| 12:00PM – 12:10PM | 250 Futures Free Practice 1 |
| 12:15PM – 12:25PM | 250SMX Unseeded Free Practice 1 |
| 12:30PM – 12:40PM | 250SMX Seeded Free Practice 2 |
| 12:45PM – 12:55PM | 450SMX Seeded Free Practice 1 |
| 1:00PM – 1:10PM | 450SMX Unseeded Free Practice 2 |
| 1:10PM – 1:25PM | Track Maintenance |
| 1:15PM – 1:25PM | 250 Futures Free Practice 2 |
| 1:40PM – 1:50PM | 250SMX Unseeded Free Practice 3 |
| 1:55PM – 2:05PM | 250SMX Seeded Free Practice 4 |
| 2:10PM – 2:20PM | 450SMX Seeded Free Practice 3 |
| 2:25PM – 2:35PM | 450SMX Unseeded Free Practice 4 |
| 2:35PM – 3:30PM | Rider Autographs (Team Rigs) |
| 3:30PM – 4:30PM | Live Music (SMX Main Stage) |
| 4:30PM – 5:30PM | Pit Bike Superpole (Track/SRO only) |
| 6:00PM – 7:00PM | SMX Insider Live (SMX Main Stage) |
| 7:00PM – 7:30PM | Pit Bike Moto 1 / Moto 2 |
| 7:30PM – 9:00PM | Movie Night (Played on big screens) |
| 9:00PM | Lights Out |
| 8:00AM | Working Paddock Hours |
| 9:00AM – 5:00PM | Industry Will Call Times |
| 12:00PM – 12:30PM | Rider Track Walk |
| 12:00PM – 10:00PM | FanFest |
| 12:00PM | Doors for General Public |
| 12:30PM – 12:45PM | Riders Meeting (Podium) |
| 12:45PM – 1:00PM | Chapel Service (Podium) |
| 1:05PM – 1:15PM | KTM Junior Free Practice 1 |
| 1:20PM – 1:30PM | 250SMX Unseeded Qualifying 1 |
| 1:35PM – 1:45PM | 250SMX Seeded Qualifying 2 |
| 1:50PM – 2:00PM | 450SMX Seeded Qualifying 1 |
| 2:05PM – 2:15PM | 450SMX Unseeded Qualifying 2 |
| 2:20PM – 2:30PM | 250 Futures Qualifying 1 |
| 2:30PM – 2:40PM | Promoter Track Walk #1 |
| 2:40PM – 2:55PM | Track Maintenance |
| 2:55PM – 3:05PM | 250SMX Unseeded Qualifying 3 |
| 3:10PM – 3:20PM | 250SMX Seeded Qualifying 4 |
| 3:25PM – 3:35PM | 450SMX Seeded Qualifying 3 |
| 3:40PM – 3:50PM | 450SMX Unseeded Qualifying 4 |
| 3:55PM – 4:05PM | 250 Futures Qualifying 2 |
| 4:05PM – 4:15PM | Promoter Track Walk #2 |
| 4:15PM – 4:30PM | Track Maintenance |
| 4:20PM – 4:30PM | KTM Junior Free Practice 2 |
| 4:30PM – 4:35PM | 250SMX Last Chance Qualifier 5 Minutes + 1 Lap |
| 4:40PM – 4:45PM | 450SMX Last Chance Qualifier 5 Minutes + 1 Lap |
| 4:46PM – 4:56PM | Promoter Track Walk #3 |
| 4:56PM – 6:15PM | Track Maintenance |
| 6:30PM – 7:06PM | Opening Ceremonies |
| 7:00PM – 7:04PM | 250 Moto 1 Sighting Lap |
| 7:06PM – 7:26PM | 250SMX Moto 1 |
| 7:28PM – 7:39PM | 250 Moto 1 – Victory Circle |
| 7:33PM – 7:37PM | 450 Moto 1 Sighting Lap |
| 7:39PM – 7:59PM | 450SMX Moto 1 20 Minutes + 1 Lap |
| 8:01PM – 8:11PM | 450 Moto 1 – Victory Circle |
| 8:06PM – 8:10PM | 250 Futures All-Stars Sighting Lap |
| 8:10PM – 8:22PM | KTM Junior Main Event 4 Laps |
| 8:22PM – 8:32PM | 250 Futures All-Stars – Victory Circle |
| 8:32PM – 8:55PM | Intermission |
| 8:35PM – 8:43PM | 250 Futures Main Event 8 Minutes + 1 Lap |
| 8:47PM – 8:51PM | 250 Moto 2 Sighting Lap |
| 8:53PM – 9:13PM | 250SMX Moto 2 20 Minutes + 1 Lap |
| 9:15PM – 9:25PM | 250 Moto 2 – Victory Circle |
| 9:20PM – 9:23PM | 250SMX Overall |
| 9:23PM – 9:27PM | 450 Moto 2 Sighting Lap |
| 9:29PM – 9:49PM | 450SMX Moto 2 20 Minutes + 1 Lap |
| 9:51PM – 10:02PM | 450 Moto 2 – Victory Circle |
---