250 OVERALL RACE RESULTS | IRONMAN PRO MOTOCROSS NATIONAL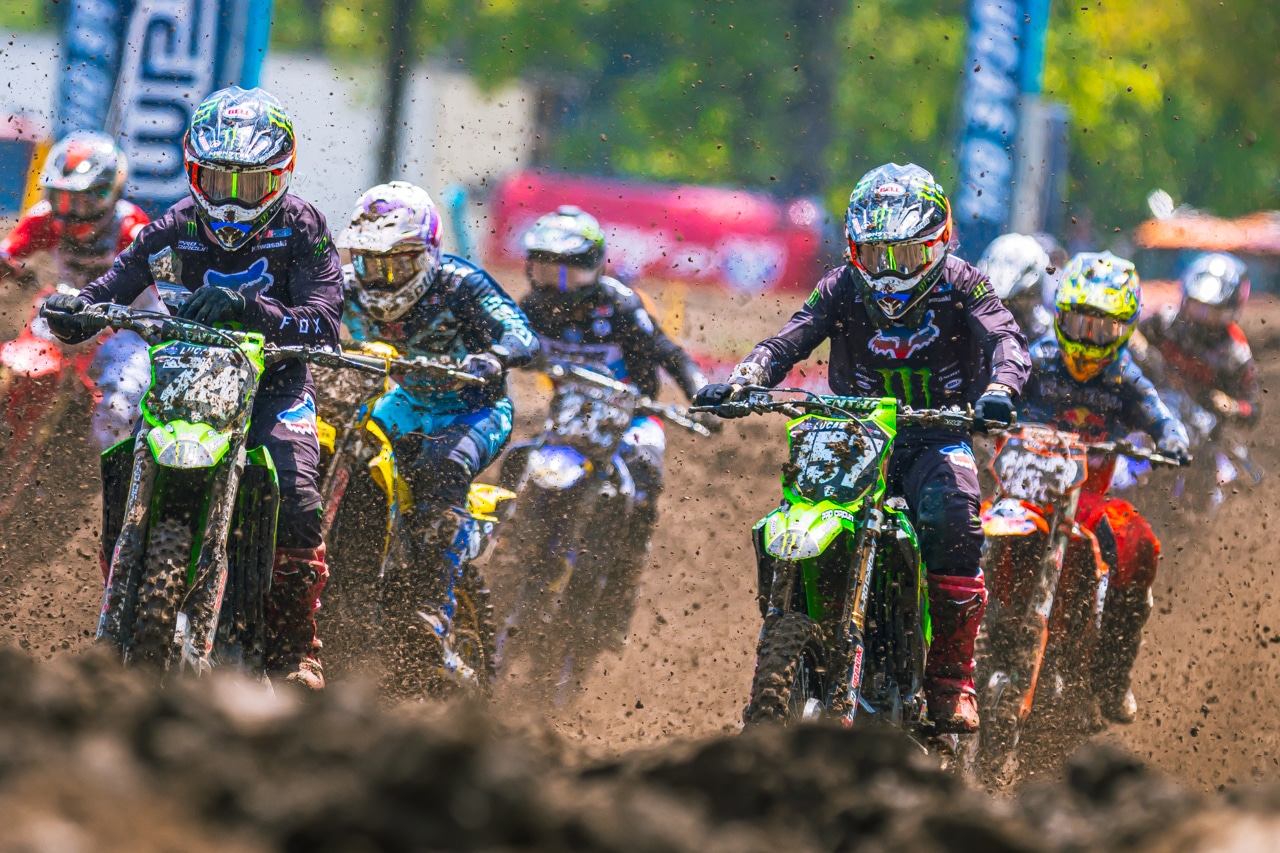 250 OVERALL RACE RESULTS | IRONMAN PRO MOTOCROSS NATIONAL
The third round of the 2020 AMA Nationals is underway in Crawfordsville, Indiana at Ironman Raceway. After brutal track conditions at Loretta Lynn's Ranch for the first two rounds of the 2020 season, riders have been blessed with clearer skies and deep ruts. Ironman Raceway features large hills and massive jumps but this time around the track is deep and doesn't take very long for lines to form in the ground. The 250 class has been very exciting to watch with riders battling for the 250 points lead and featuring Jeremy Martin, Dylan Ferrandis, and Alex Martin being the top three in the points lead. Shane McElrath threw down the fastest lap time of the day for the 250 class with his teammate Dylan Ferrandis in second and Jeremy Martin in third with two seconds behind. Here is how the 250 class performed at the third round of the 2020 AMA Nationals.
---
250 OVERALL RACE RESULTS  | IRONMAN RACEWAY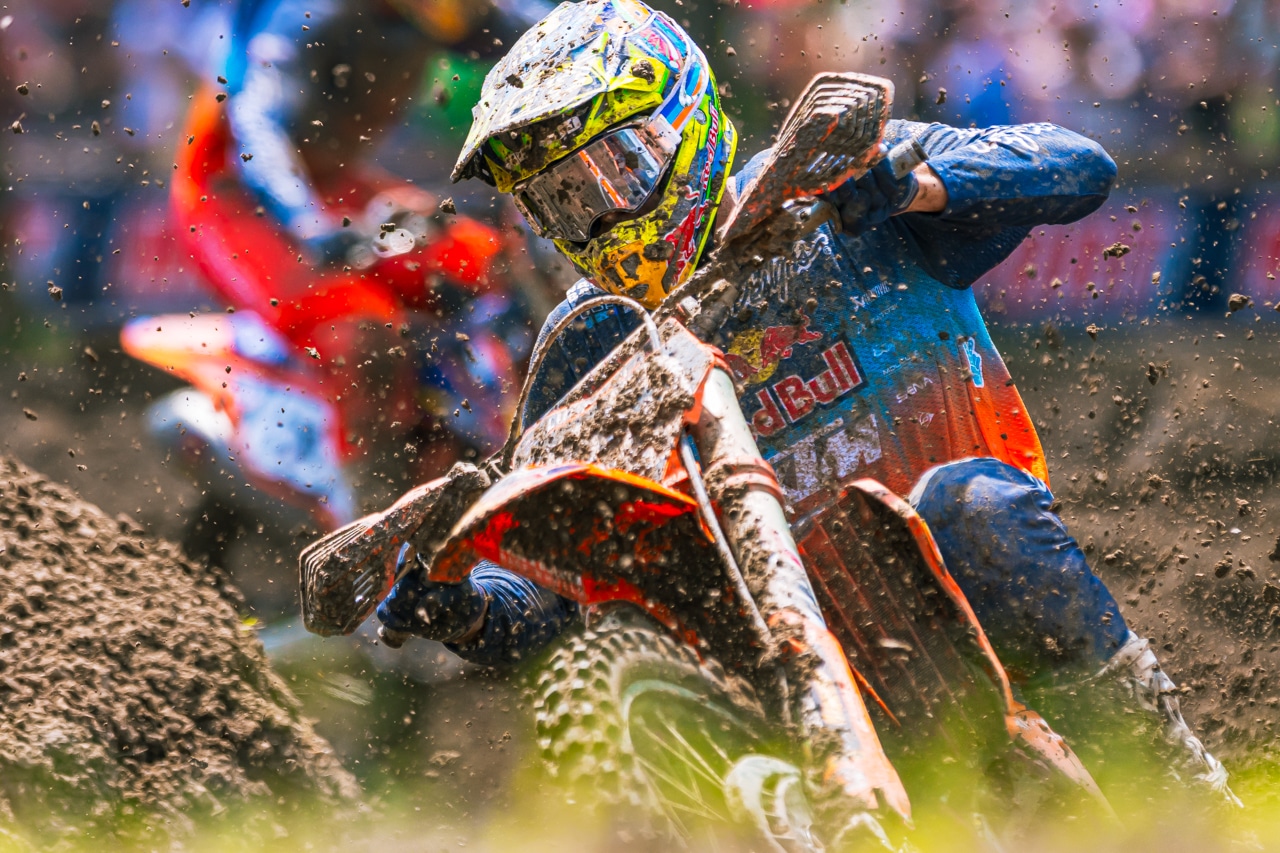 Brandon Hartranft makes his first top 3 of the season.
Jeremy Martin grabbed the holeshot and right off the start of the second moto, McElrath went down taking Ferrandis and McAdoo with him. A few laps in, Ferrandis already made his way back up to 14th after being in dead last. Jeremy Martin lead the race with Justin Cooper just behind him. After 3 laps, Ferrandis made up more than 3 quarters of the field and charged into the top 10. Brandon Hartranft got a good start like moto 1 and sat in 3rd and Mitchell Harrison sat just behind him in 4th place. FC Honda riders Jett Lawrence and Jo Shimoda put the pressure on Mitchell Harrison and eventually the two made the pass. However, Ferrandis was still on the charge and nothing was stopping him from making his way all the way up to 5th place. With less than a minute left and two laps, Ferrandis already had his eyes set on the two riders in front of him. Hartranft and Lawrence didn't really pose a threat to the Frenchman and with only two laps left, made his way to a podium position. Jeremy Martin reached the checkered flag first followed by Justin Cooper and from last to third, Dylan Ferrandis.
POS.
RIDER
M1    M2
1
Jeremy Martin
2
1
2
Dylan Ferrandis
1
3
3
Brandon Hartranft
3
4
4
Justin Cooper
8
2
5
Jett Lawrence
4
5
6
Alex Martin
7
6
7
Shane McElrath
6
10
8
Jo Shimoda
12
7
9
Mitchell Harrison
11
8
10
Carson Mumford
13
9
11
Derek Drake
10
12
12
RJ Hampshire
5
17
13
Cameron Mcadoo
9
15
14
Stilez Robertson
16
13
15
Mason Gonzales
15
14
16
Hunter Lawrence
19
11
17
Hardy Munoz
14
20
18
Jerry Robin
18
18
19
Joseph Crown
38
16
20
Pierce Brown
17
32
21
Derek Kelley
20
19
22
Joshua Varize
23
21
23
Kevin Moranz
24
22
24
Jace Kessler
21
26
25
Cody Williams
26
24
26
Vincent Luhovey
28
27
27
Lance Kobusch
22
33
28
Marcus Phelps
25
31
29
Ryder Floyd
35
23
30
Colton Eigenmann
32
28
31
Nathen LaPorte
30
30
32
Jake Pinhancos
29
34
33
Maxwell Sanford
37
29
34
Chase Lorenz
27
39
35
Dennis Gritzmacher
33
35
36
Nick Gaines
34
38
37
Mathias Jorgensen
39
36
38
Gared Steinke
36
40
39
Austin Root
40
37
40
Zack Williams
25
41
Bryton Carroll
31
250 MOTO 1 RACE RESULTS FROM IRONMAN NATIONALDylan Ferrandis charging hard and dominates the first moto!
Ferrandis grabbed the holeshot with Jeremy Martin on his tail with Mitchell Harrison chasing in third. After a couple of laps, Brandon Hartranft makes the pass on Mitchell Harrison as he charges into the top three. The top qualifier, Shane McElrath got a bad start and was stuck in the 10th position for quite some time. Some battles ensued in the top 10 between Alex Martin and Derek Drake. On the 5th lap, Alex Martin rides off the track pushing him all the way back to 10th. It didn't take long for Dylan Ferrandis to master the track as 5 laps in, he already managed to obtain a 10-second lead over the rest of the field. RJ Hampshire went down on the 6th lap and dropped all the way to 11th place. McElrath made his way up the pack and battled with Harrison for 5th place. Shane took the fast line into the rollers and passed Harrison with ease after struggling for a couple of laps. Hampshire and Cooper started running the fastest lap times besides Ferrandis and the two started making their way up the pack. Even more battles ensued when Hampshire eventually caught McElrath for 5th place as McElrath started losing his speed. With two laps to go Brandon Hartranft still held onto his 3rd spot in the race, one position better than what he had qualified in. Dylan Ferrandis gets first place in the first moto with more than a 20 second lead above Jeremy Martin who got second.
| | | | |
| --- | --- | --- | --- |
| POS. | # | RIDER | INTERVAL |
| 1 | 14 | Dylan Ferrandis | 17 Laps |
| 2 | 6 | Jeremy Martin | +26.032 |
| 3 | 30 | Brandon Hartranft | +31.373 |
| 4 | 83 | Jett Lawrence | +45.150 |
| 5 | 24 | RJ Hampshire | +51.693 |
| 6 | 12 | Shane McElrath | +52.630 |
| 7 | 26 | Alex Martin | +53.643 |
| 8 | 32 | Justin Cooper | +57.284 |
| 9 | 29 | Cameron Mcadoo | +59.190 |
| 10 | 57 | Derek Drake | +1:10.619 |
| 11 | 74 | Mitchell Harrison | +1:17.379 |
| 12 | 84 | Jo Shimoda | +1:19.021 |
| 13 | 220 | Carson Mumford | +1:19.802 |
| 14 | 373 | Hardy Munoz | +1:36.255 |
| 15 | 239 | Mason Gonzales | +1:38.063 |
| 16 | 117 | Stilez Robertson | +1:41.615 |
| 17 | 163 | Pierce Brown | +1:51.368 |
| 18 | 67 | Jerry Robin | +2:01.353 |
| 19 | 35 | Hunter Lawrence | +2:03.759 |
| 20 | 227 | Derek Kelley | 16Laps |
| 21 | 800 | Jace Kessler | +11.322 |
| 22 | 194 | Lance Kobusch | +17.740 |
| 23 | 387 | Joshua Varize | +29.869 |
| 24 | 77 | Kevin Moranz | +45.398 |
| 25 | 435 | Marcus Phelps | +48.059 |
| 26 | 167 | Cody Williams | +48.219 |
| 27 | 129 | Chase Lorenz | +1:45.982 |
| 28 | 337 | Vincent Luhovey | +1:53.564 |
| 29 | 701 | Jake Pinhancos | 15 Laps |
| 30 | 139 | Nathen LaPorte | +2:00.058 |
| 31 | 483 | Bryton Carroll | 14 Laps |
| 32 | 815 | Colton Eigenmann | +2:54.434 |
| 33 | 486 | Dennis Gritzmacher | 13 Laps |
| 34 | 68 | Nick Gaines | 12 Laps |
| 35 | 296 | Ryder Floyd | 11 Laps |
| 36 | 726 | Gared Steinke | +1:00.542 |
| 37 | 162 | Maxwell Sanford | 10 Laps |
| 38 | 355 | Joseph Crown | 9 Laps |
| 39 | 221 | Mathias Jorgensen | 5 Laps |
| 40 | 130 | Austin Root | 4 Laps |
WATCH HIGHLIGHTS FROM DYLAN FERRANDIS DOMINATING WIN IN MOTO 1