AARON PLESSINGER INTERVIEW: TALKING ABOUT THE MXDN

AARON PLESSINGER INTERVIEW: TALKING ABOUT THE MXDN
Of course, the selection of Team USA's Motocross des Nations Team has been problematic, with last year's winning American Team all sidelined with various conflicts. However, early on, many predicted that Red Bull KTM's Aaron Plessinger was a likely pick – and he is! Plessinger's patriotism combined with previous MXDN experience, and third in the 2023 450 AMA Motocross Championships solidify his resume. We tracked down AP7 at the Chicagoland speedway Supermotocross where he now lays fourth in the SMX Championship.
BY JIM KIMBALL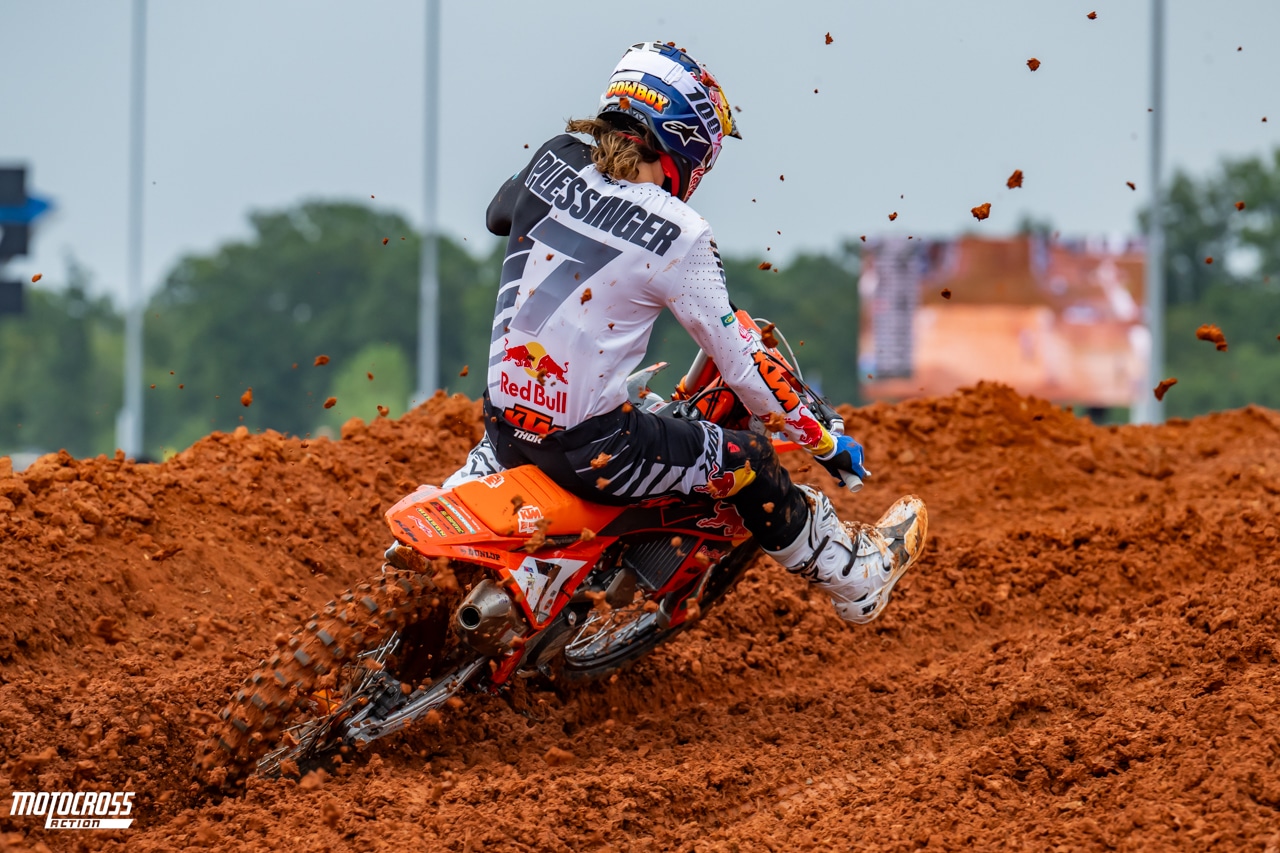 With a sixth-place finish in Charlotte and a fourth in Chicago, Aaron Plessinger maintained his valuable SMX points when it counted.
AARON, I AM NOT SURE THERE IS A BETTER AMA RIDER TO REPRESENT USA AT MOTOCROSS DES NATIONS. Thank you for that. Man, I never turned it down. Roger approached me. I can't remember when it was, but it was early in the motocross series. From then on, I knew I wanted to go. I just had to prove to myself that I was capable of going. I am so stoked to be going to this event again, and fortunately, it is overseas now. I get to take my first trip over to Europe, so that will be fun, and I am just stoked. This race is a race that I look forward to every year, even if I am not racing it. I am ready to get over to France, really do some work, and put it to the other countries. 
I CAN'T WAIT UNTIL THE FANS IN FRANCE GET TO SEE AARON PLESSINGER IN ALL HIS RED, WHITE, AND BLUE GLORY. I love my country, and I have a lot of patriotism. I can't help that it shows so much, but I am glad it does. I am glad that I am who I am, and I am ready to show France a part of what I show you guys over here. 
Aaron Plessinger making quick passes on Dylan Ferrandis.
IT IS COOL TOO, THAT YOU ARE TEAMED UP WITH R.J. AND CHRISTIAN, WHO YOU RIDE AND TRAIN WITH. It is sweet to be teamed up with R.J. and Christian, because we hang around each other all the time, and ride together. We train together, and it is just a good group.  We get along well. It is not like any of us bump heads or have our battles, but we definitely pushed each other this year. Unfortunately, Christian went down in Supercross and got hurt, but when we get back to the Baker Factory, we are going to be pushing each other— and we are going to be riding hard. So, we will all be ready. These guys have as much patriotism as I do, and just to be on this team and going, it is awesome.
YOU ARE THE ONLY ONE THAT HAS DONE THE MXDN BEFORE; CAN THAT HELP YOU PREPARE? It is hard to say because the one I did; was crazy, and the fans were wild. But I keep hearing that it is different overseas, but I don't know. I am going to go there not expecting anything other than craziness.  (Laugh). We  will see how it goes. It is obviously going to be my first trip over to Europe, and I don't know what to expect. I have watched videos, and I watched Ernee on TV when it was there in 2019. It is hard to say what it is going to be like. I hope I have some overseas fans, but you never know until you get there. I am going to be sporting my cowboy hat, and I am going to be sporting a mullet with some stuff on the sides of my head. We will come in confident and ready to rip.

Aaron with mechanic Jade Dungey, preparing for battle, smiling like always. 
WITH SUPERMOTOCROSS FINISHING, YOU WON'T HAVE A LOT OF TIME BEFORE THE MXDN. WILL YOU BE DOING ANYTHING OUT OF THE NORM BEFORE ARRIVING IN ERNEE? No, have two weeks after Los Angles to get ready. We will go back to the Baker Factory after the LA SuperMotocross Finals and ride that whole week. Then, we will leave on Tuesday night and get to France on Wednesday morning before the race.  So, nothing really crazy or special. Just ride outdoors the whole week before. We will ride outdoors one day next week and then we are basically ready. We have ridden all summer and have not stopped racing. I think we are in a good spot.