BEST OF JODY'S BOX: YOU'RE NEVER AS FAST AS WHEN YOU'RE SLOW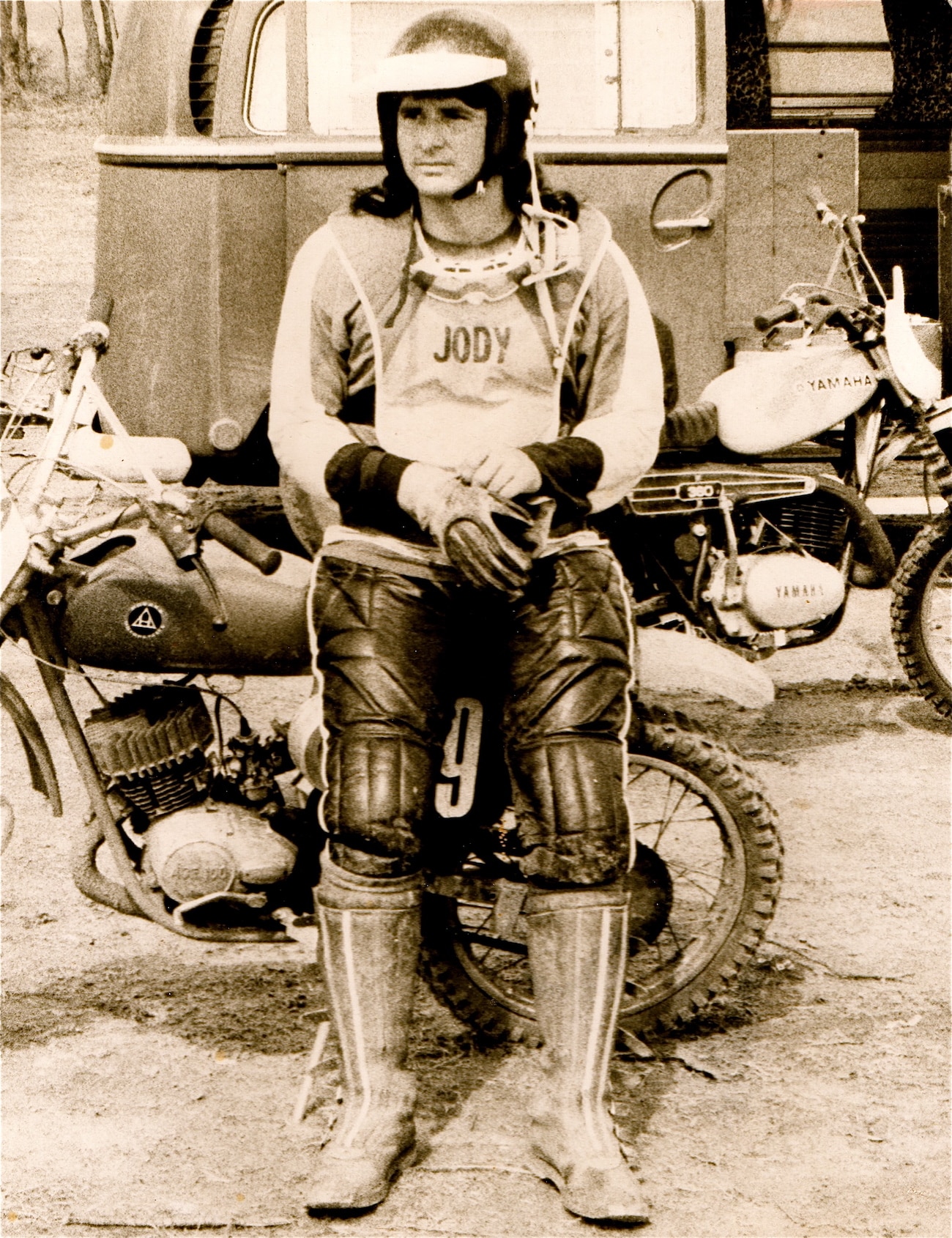 By Jody Weisel
The other day I was out at the local track testing shocks. I wasn't alone. I had an Ohlins shock technician to change the valving, a mechanic to pull my sparkling new test bike apart between rides, an ice chest full of cold drinks and a nice shady place to sit while someone else did the work.
That's when I saw him. Normally, I'm oblivious to the people around me, content to live in my own little world of me-ness, but I just happened to catch a glimpse of him as his bike darted down the hill to enter the track. Bored, I nudged my lawn chair closer to the edge of the track and watched as the kid started his first lap. He was on a beater YZ125 two-stroke. He had on a pair of torn Thor pants that looked suspiciously like the infamous Barb Wire gear of 20 years ago. I was fascinated and watched closely every time he came around.
Every part of his bike was scratched, dented or falling off. His helmet was one of those $75 models that the local moto emporium blows out at the end of the year for $34. And, there were wisps of smoke, mixed with a little steam, coming from every orifice of his ratty sounding engine.
I'd guess that he was about 16, certainly not any older, as he had that gangly string bean look that no gym membership can ever match. And, he was slow—steady, but slow. The local fast guys seemed to take special delight in running their front wheels in deep under his engine cases in every corner, but he didn't seemed fazed by their antics. He just kept going around and around.
YOU MIGHT THINK I FELT SORRY FOR A KID WHO COULDN'T AFFORD A BETTER BIKE OR A HELMET THAT WOULD PROTECT HIM IF HE HAD A HEAD-ON WITH A MONARCH BUTTERFLY. NOT SO. I FELT SORRY FOR MYSELF.
Suddenly, I felt a twinge of sadness. At first I thought that it might be hunger and I had the Ohlins technician make me a sandwich. It didn't quell my melancholy as I continued to watch the ragamuffin kid circulate the track. When the Ohlins guys tapped me on the shoulder to signal that the bike was ready for me to try again, I really didn't want to ride anymore—luckily my speed doesn't change much between when I want to do it and when I don't. Three laps later I was back, explaining to the Ohlins guy what changes were needed via the age-old art of cryptic hand signals. As he went to work on my bike, I sat back down in the lawn chair and watched the kid ride again. It bothered me to watch this kid in his ragged clothes on his beater bike. I was depressed about the whole thing.
Now, you might think that I was sad because deep in my heart I felt sorry for a kid who couldn't afford a better bike or, at the very least, a helmet that would protect him if he had a head-on with a Monarch Butterfly. Not so. I felt sorry for myself (and for Eli Tomac, Ken Roczen, Dylan Ferrandis and everybody else who thinks that motocross racing is a job).
Oh, to be unspoiled again. If only I could return to the halcyon days when I didn't know anything about the good life. And most of all, I wished that I could be slow again. Not that I'm not slow now, but I'm on the back end of the bell-shaped speed curve. Truth be told, I was slow, just like that kid, when I was 16. Then, I was fast enough to make a name for myself in the early 1970s and now I'm slow again. I started slow, went faster and now father time has returned me to my original velocity—and I did it all in the course of 50 years of racing. That brief period of speed, paradoxically, ruined my life. Speed and its rewards changed what motocross was all about for me. For the better? Yes. For the worse? Yes.
I WOULD GLADLY GO BACK IN TIME AND BE YOUNG, NAIVE AND SLOW AGAIN. WHY? BECAUSE I SINCERELY BELIEVE THAT YOU ARE AS NEVER AS FAST AS WHEN YOU ARE SLOW. SAY WHAT? I'LL SAY IT AGAIN; YOU ARE NEVER AS
FAST AS WHEN YOU ARE SLOW.
This is me at this past weekend's "Saturday at the Glen" race,  practicing what I preach.
I would gladly go back in time and be young, naive and slow again. Why? Because I sincerely believe that you are as never as fast as when you are slow. Say what? I'll say it again; you are never as fast as when you are slow. Stick with me on this because it will change your motorcycling life. When you are a total novice, you are full of potential. Yes, you are slow as molasses, but you can always get faster. Slow riders have no where to go but up. And if you don't get any faster, you don't get slower either. Not so for me—I peaked a long time ago. From the day I reach my terminal velocity, I could only get slower. Because I got faster, I doomed myself to eventually getting slower.
If only I had been lucky enough to stay slow, I wouldn't be carrying this burden around with me today. If only I had stayed slow, I would still have potential. If only I had stayed slow, I could dream about being fast. Sadly, I'm working all this angst up from my modicum of speed, imagine how hard it is for Ricky Carmichael to know that he'll never be as fast as he was back in 2006 (the last time he won a Championship). Worse yet, although he doesn't know it yet, is the fate of Jett Lawrence. Jett will peak down the road and start down the back side of speed's bell-shaped curve. As tough as it is for a local shmoe like me (or for the GOAT) to realize that their prime time has past, what will it feel like for the current Poster Boy when he isn't the cat's meow anymore.
So, as I watched the kid circulate the track at a speed that could only be compared to granny in a 2011 Mercury Grand Marquis full of groceries, a little tear fell from my eye.