TWO-STROKE TUESDAY | 2001 HONDA CR125 | COMPLETE TEST
This is an archived MXA test from the November 2000 issue of Motocross Action Magazine. Get your MXA subscription today.
QUESTION ONE: IS THE '01 ENGINE FASTER THAN THE '00?
Yes, it is, but what old-time CR125 lovers want to know is, how does the '01 compare to the class-leading CR125's of the early 90's? Very favorably, because, just like with the 2001 CR250, Honda is actively trying to return its engine to the glory of the past.

QUESTION TWO: IS THE '01 ENGINE FASTER THAN THE 1995?
That may seem like a strange question. Why would anyone compare a new bike to a six-year-old one? The reason is simple. Most of the race teams have been using '95 cylinders on their race bikes for the last couple of years. So, whether the 2001 is faster than the 1995  Honda engine is of paramount importance.
Is it? Undeniably yes. If you think Honda is making a big mistake by going backward, you must prefer 125s that aren't competitive. For 2001, you need not break out the old cylinder (if you can even find one).
QUESTION THREE: IS THE CR125 FASTER THAN A YZ125?
No, but what bike is? We can say this, Yamaha took a step backward in 2001 when they went to a 38mm carb and Honda took three steps forward with their reshaped transfer ports, power valves and intake boot. The YZ125 is still faster, but it takes a better rider to get it into the YZ powerband and keep it there. The CR125 doesn't suffer from fast-guy syndrome. Slow guys and fast guys alike appreciate the CR125's snappy throttle response, midrange grunt and top-end rev.

QUESTION FOUR: WHAT IS THE CR125 POWERBAND LIKE?
What does the 2001 Honda CR125 engine run like?
(1) If you bought a CR125 looking for bottom end, you made a serious mistake. The CR125 has no bottom. Slowly getting on the throttle will result in a bizarre, low-pitched exhaust note and not much else. Plan on using a lot of clutch to skip the bottom and get right into the middle if you want to go fast on a CR125.
(2) The midrange is where the CR125 shines. Not only is it broad and strong, but once the powerband surges to life, it does its best work in the midrange.
(3) The one thing that the CR125 got back in 2001 is the fabled top-end rev. Where the '00 engine signed off, the '01 continues to pull. At last, test riders could rev the engine to the moon rather than short-shifting it.

QUESTION FIVE: WHERE IS THE POWER GOOD AND BAD?
Hopefully, Honda has finally stopped wasting money on R&D, switching frames every few years and trying to cut-and-paste bad cylinders. Since everyone was using the '95 cylinder anyway (including their own factory-backed race team in '98 and '99), Honda's engineers got smart and used it as a baseline. From there, Honda was able to put smiles back on the faces of old and new CR125 owners alike. All they had to do was break out the old stuff and massage it.
It's at its best on tracks that don't require a lot of low-end torque (because it doesn't have any), but if your track has sweeping corners, big berms and good traction, the CR will fly.
It's at its worst on tight, tricky, off-camber, sand or technical tracks. It has a very odd quirk that every test rider mentioned. What? Compression braking. The CR125 engine felt like a four-stroke. When test riders chopped the throttle, forward momentum was lost. The bike went when the throttle was on, but it had no freewheel speed or coasting ability. To get over this problem, you have to ride the bike hard into the corners.
QUESTION SIX: WHAT ABOUT THE JETTING?
Last year, Honda stole the Mikuni TMX carb off of the YZ125 and had some jetting problems. We assumed that with a year of testing they would solve the problems. Guess again! We are still fussing with the jetting on the CR125 after two years, but we think that we have the problem licked.
Here is the best jetting for our conditions:
Mainjet: 380
Pilot jet: 45
Needle: 6BEG21-69 (6BEG20-68 stock)
Slide: 4.5 (5.0 stock)
Clip: 1st (3rd stock)
Air screw: 1.5 turns (2.25 stock)


QUESTION SEVEN: HOW ARE THE KAYABA BLADDER FORKS?
Honda has been doing the Showa thing on the CR250 and Kayaba thing on the CR125 thing for years. We don't know why, because the Kayabas work and the Showas don't. Year after year the Kayaba CR125 forks outshines their CR250 Showa counterparts. This year is no different. Okay, a little different. Not only are the Kayaba bladder forks on the CR125 better than the Showa's on the CR250, but they are also better than any set of forks we've tried on a Honda in a long time.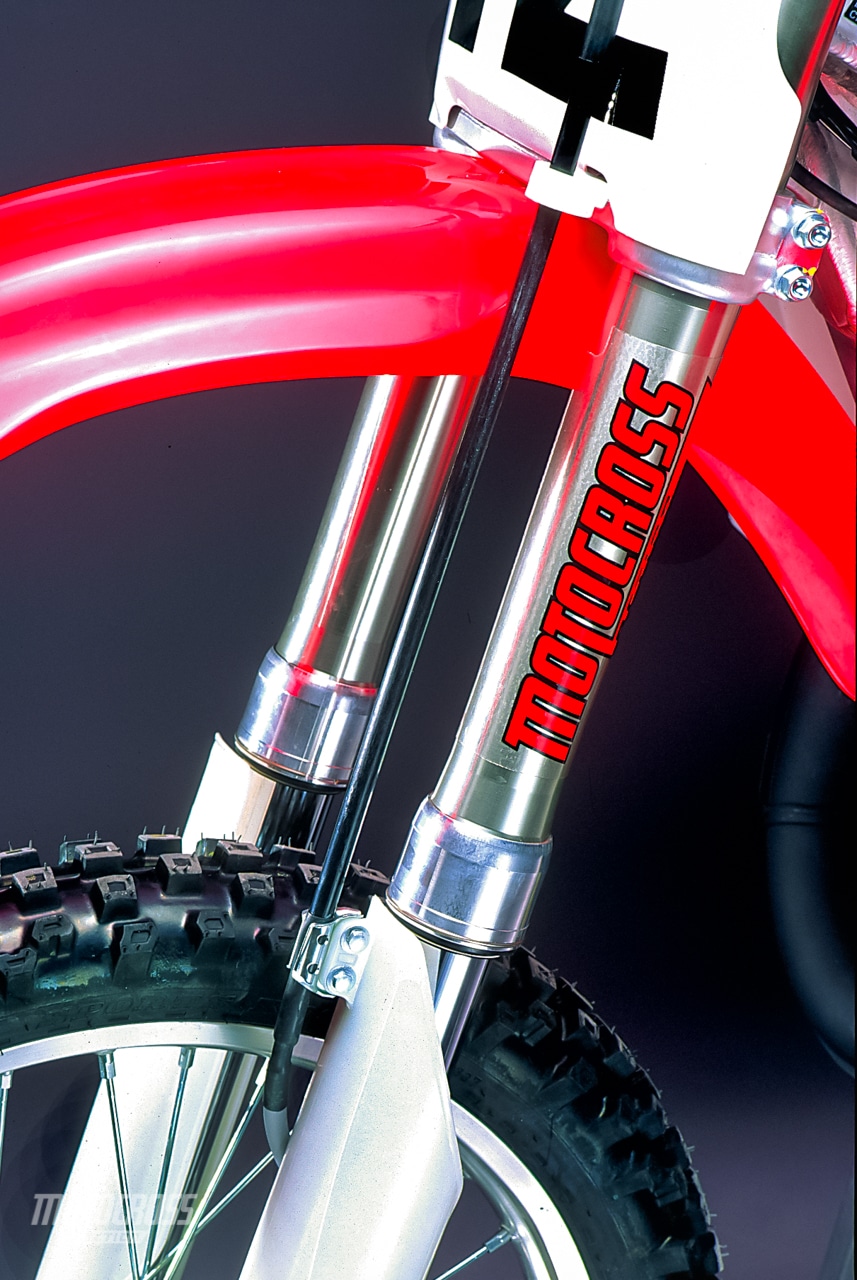 Instead of your typical harsh Honda action, the forks on the 2001 CR125 are very good. They ride high in the stroke, resist bottoming and move fluidly. Did we mention that we raced them completely stock? We did! You shouldn't have to change fork springs or play with the oil level (just the clickers).
QUESTION EIGHT: WHAT WAS OUR BEST FORK SETTING?
What was our best setting? For hardcore racing we recommend this set-up:
Spring rate: 0.43 kg/mm
Oil height: 61mm
Compression: 6 clicks out (stock 9 out)
Rebound: 11 clicks out (stock 9 out)
Fork leg height: Flush with top of stanchion if you use the 20-inch front wheel or 7mm above the clamp if you run the standard 21-inch tire
Notes: Honda has developed a set of 125 forks that don't bottom on hard landings, love little braking bumps and float over square edges.

QUESTION NINE: WHAT ABOUT THE 20-INCH FRONT TIRE?
You can't talk about the great action of the CR125 forks without mentioning the optional 20-inch front tire. We won't credit the 20-inch tires with making the forks work so well, but they definitely help. Honda should have made the 20-inch front stock, but they didn't. And that means you have to fork out $300 to get the wheel that the CR125 should have come within the first place. Don't cheap out, though, the 20-inch is worth it on this CR125.

QUESTION TEN: WHAT ABOUT THE REAR SUSPENSION?
What Honda learned about refining and returning to the days of old flew out the window when it came to the rear suspension. First, they changed the linkage. Big mistake. Last year's suspension had good action with only a slight tendency to pack and kick (that was easily rectified by speeding up the rebound). This year's suspension isn't nearly as supple. The shock has a bad habit of binding and deflecting off little bumps.
Don't think everything is bad in linkage land, though. The new linkage's more progressive ratio is much better at absorbing hard landings.
QUESTION 11: WHAT WAS OUR BEST SHOCK SET-UP?
What was our best setting? For hardcore racing we recommend this shock set-up:
Spring rate: 4.6 kg/mm
Race sag: 100mm
High compression: 1.5 turns out (1 stock)
Low compression: 8 clicks out (9 stock)
Rebound: 20 clicks out (24 stock)
Notes: For faster riders, we recommend going to a 4.7 kg/mm spring.
QUESTION 12: HOW DOES IT HANDLE?
Let's rephrase the question! Before or after you install the 20-inch front wheel? Don't think we're pressuring you into buying a 20-inch front wheel, it's just that the bike handles much better with it. Places where you are forced to run the outside with a 21-inch front wheel you can carve the inside with the 20-inch. Small braking bumps that beat your hands to death with a 21-inch you won't even feel with the 20-inch.
Honda bet the farm in 2000 that their new frame would cure their handling ills and it did. Luckily, for 2001 all they changed was the rear linkage. The trademark head shake and front-end push are gone. Although the thud-style rear suspension is back in action.
We're five years into the aluminum frame movement and iy still vibratew. Be glad that Honda's R&D department listened to the complaints and insisted on rubber-mounted bar clamps. As an added bonus, the CR125 bar mounts are offset by 3mm. Taller riders should run their bar mounts in the forward position while smaller riders will be more comfortable with the clamp rotated in the back position. For those wanting a third position, you can buy CR250 bar mounts. The CR250's bar mounts are not offset.
QUESTION 13: HOW GOOD IS THE GEARING?
Terrible as always. Unless your track is called "Fifth Gear Wide Open Raceway," the stock 13-tooth front sprocket and 52-tooth rear sprocket combo will be way too tall. The CR125 needs a 53-tooth rear sprocket to get out of most turns. You won't be able to go much higher than the 53 because there isn't any more room in the chain guide and 54-tooth sprockets are hard to find.
QUESTION 14: WHAT DID WE HATE?
The hate list:
(1) Bars: Although the stock steel bend isn't bad, the harshness of the CR125's aluminum frame can be toned down by aluminum handlebars.
(2) Gearing: The 2001 falls on its face with the stock gearing. Put on a 53-tooth rear sprocket.
(3) Shifting: Since switching to a five-speed transmission, Hondas have struggled to get the same clean shifts that were standard-issue with the six-speed tranny.
(4) Wide: If you have spent the last few years riding anything but a Honda, the bruises on your ankles will quickly clue you into how wide the CR is at the footpegs.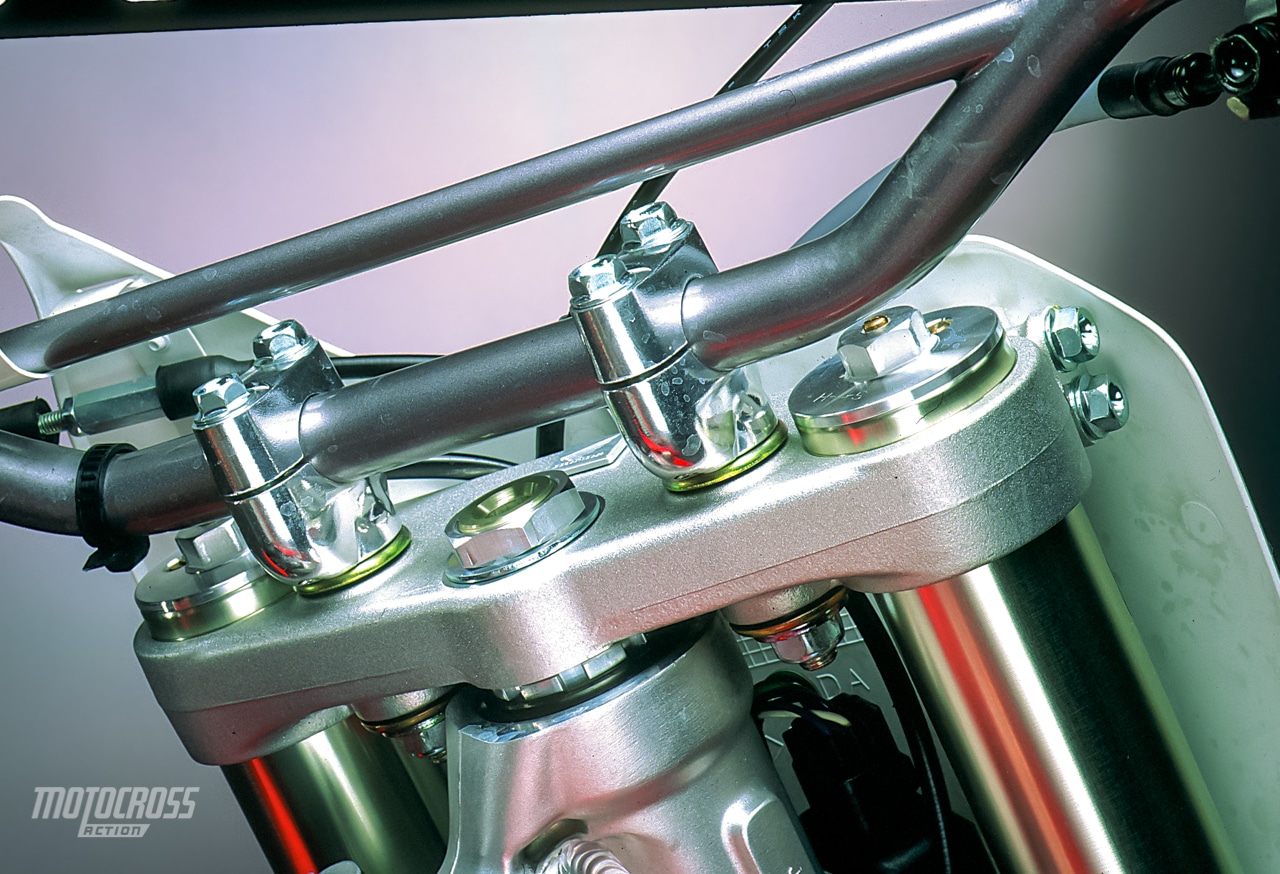 QUESTION 15: WHAT DID WE LIKE?
The like list:
(1) Brakes. They are perfect.
(2) Triple clamps: Honda of Japan said that the CR125 didn't vibrate enough to require rubber mounts, but the American R&D department thought differently. Thanks to the U.S. Honda guys, we don't feel like we're holding onto a dentist's drill.
(3) Power: Still not up to YZ specs, but we can guarantee everyone who rides the 2001 CR125 will come back with a smile on their face, thanks to the exciting power delivery.
(4) 20-inch front wheel: Even though it should have been OEM, we are glad that Honda is offering it as an option.
(5) Seat bolts: Nice 12mm head.
(6) Tires: Honda gets extra credit for sticking with the tried and true K490/695 combo instead of jumping to the new K739FA/739 combo (although if you get the 20-inch you're forced to choose between a 739FA and a 756—go with the 756).
(7) Durability: Solid construction, good metallurgy, excellent reliability.
QUESTION 16: WHAT DO WE REALLY THINK?
Honda should be commended. They took a big step backwards and ended up taking a giant leap forward. This is the first CR125 in five years that has the power and powerband to hang with the front runners.