CHASE SEXTON TALKS ON HIS DOMINANT PERFORMANCE AT UNADILLA
CHASE SEXTON TALKS ON HIS DOMINANT PERFORMANCE AT UNADILLA
Although team HRC Honda's Chase Sexton carried the red plate for much of this outdoor season, Monster Energy Star Racing Yamaha's Eli Tomac string of race wins snatched it away after Millville. So, what did chase do; he retaliated big time at Unadilla, and took it back! With a dominating day at Unadilla and two moto wins, the 23-year-old is back in charge. I'm a big fan of Sexton, but I was caught off guard with his first moto ride from mid-pack, then passing Tomac and checking out. Here is what chase had to say at the end of the day.
BY JIM KIMBALL
---
CHASE, WHAT A DEFINING RACE FOR YOU TODAY WITH DOMINATING BOTH MOTOS! Yes, it was a good day. Although, the first moto start was not good, I felt like "this is going to be a long moto!" It was difficult but I made some good passes fast and got into around sixth or so. Then I took my time, breathed a little bit and then I just tuned in, got by those guys, and caught Eli. I then made a quick pass on him. My riding has been good. I love this track, I liked the ruts, and it paid off today.  
YOU ARE THE ONLY RIDER THAT I TALKED TO TODAY THAT SAID THEY LIKED THE TRACK. Honestly, this morning, I was not fond of it. I really was struggling in practice. I think I was fifth fastest, which is really not that good. Before the motos, we made some bike changes, and I made some changes in myself. I just told myself that you can't over-ride this track as one, it will bite you, and two, it is not faster to race it that way. So, I tried keeping that in mind and it worked out. I felt like I was cruising out there. I had a lot of good momentum and that is key here.  
YOU MENTIONED CRUISING OUT THERE. YOU KIND OF MADE IT LOOK EASY. That is the goal. If I can do that, that is when you know you are riding well. When you are going fast, but it looks like it is easy, is the best. So today was one of those days and I hope that I can replicate this for the rest of the season as I am going to need it. Eli is a tough competitor and even today with him not liking this track that much, he is still hard to beat. I am going to need more of this for sure.
WHEN I TALKED TO ELI EARLIER, HE SAID, "YOU KNOW, CHASE WAS BETTER.  HE SIMPLY BEAT ME." I think Eli and I are honest about our race results. I lost eight or nine moto's in a row to him, so I had a lot of work to do. I feel like now I am starting to get better and gain more confidence. It is going to be a dog fight to the finish. He is a great competitor and races clean, so I am excited about that. 
It has been interesting to see the younger 450 rider compete with 450 veteran.
THE ICING ON TOP OF THE CAKE IS YOU HAVE THE POINTS LEAD AND RED PLATE BACK. Yes, I got the red plate back. Hopefully this time we can keep on to it because obviously, we lost it there mid-season. Keeping that on to the finish is the goal. I am ready to have that red-on-red back on the bike.  
DO YOU HAVE ANY SPECIAL THOUGHTS ABOUT COMING INTO UNADILLA, AND THESE LAST THREE RACES? Points are tight, so it is going to come down to the last race and for me, if I can just keep putting myself in a good position. Riding as I had been it is all I can do, no matter what happens. That is my goal and if I can keep doing that, we will be in a good spot.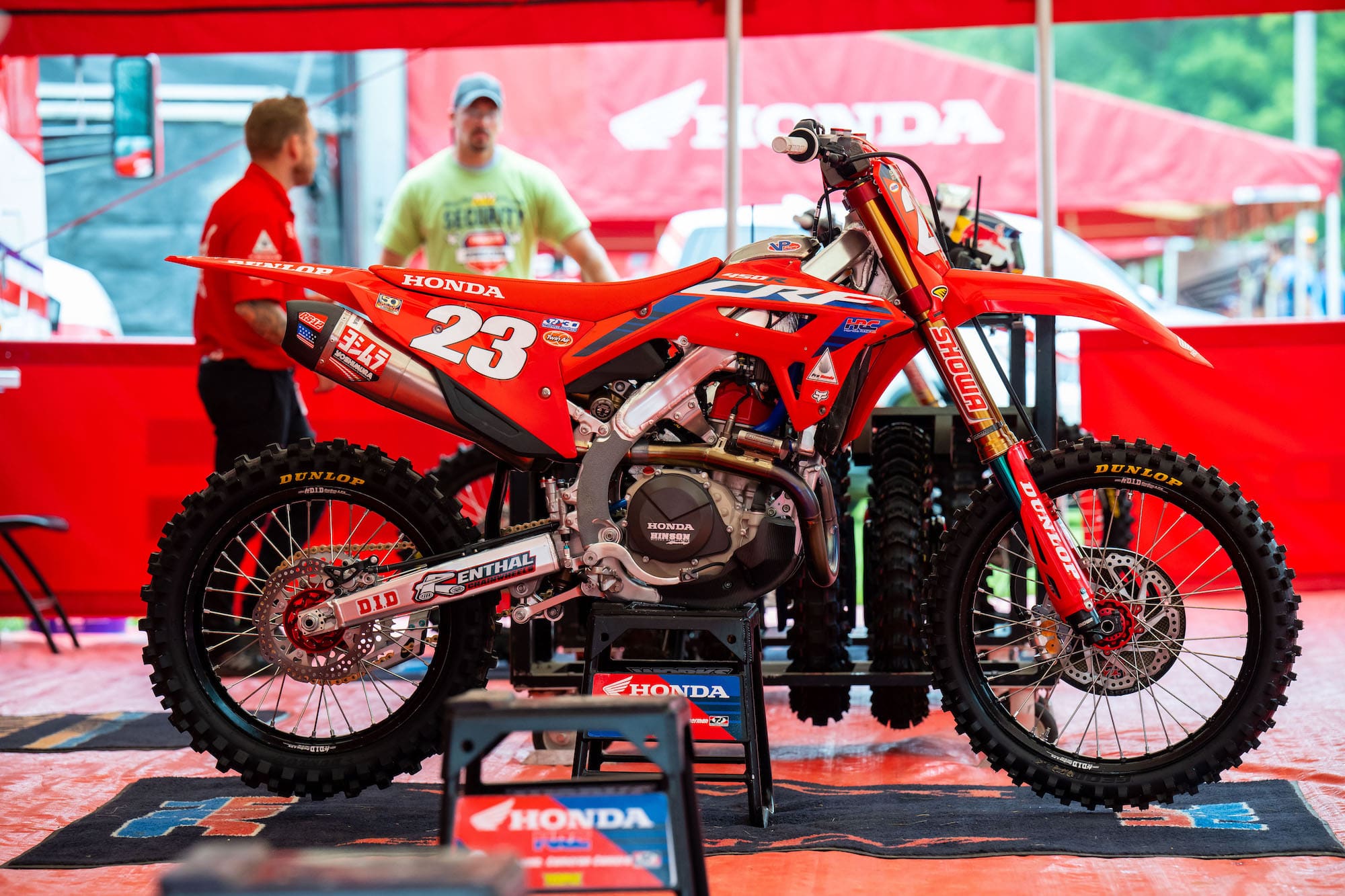 Now, Chase Sexton's CRF450 will have the red plate back.
THE MOTOCROSS OF NATIONS TEAM HAS NOT OFFICIALLY BEEN ANNOUNCED BUT IT IS KNOWN THAT YOU AND ELI WILL BE ON IT. ARW YOU PUMPED TO BE REPRESENTING TEAM USA ARENT YOU? Yes, I'm very excited. It has been a dream of mine to race for the USA, and for it to be at Red Bud is going to be cool. There is no set 250 rider yet, so for me, I am just focusing on going to go there and trying to do the best that I can, and I know Eli as well. We obviously want to win for USA and get the trophy back here because it has been a while. I am excited for Red Bud. It's a home race for me, especially because I grew-up near there. So, it is home for the USA, and it is home for me. I am really looking forward to it.  
THERE IS SO MUCH TALK ABOUT WORLD SUPERCROSS THIS FALL. DO YOU HAVE ANY INTEREST IN THAT AT THIS TIME? No, my focus is here in the United States and I want to be the best that I can for next year in Supercross. And for me, I think that is taking a little time off and regrouping. If I race World Supercross, I would be hammering pretty much all year, and eventually, that is going to catch up to me. For me being so young, I think I need to be able to regroup, and I need to be good for Supercross next year which is my main goal. That is kind of my mindset.
Will Chase and Eli make it happen for USA at MXoN?
IT APPEARS THAT WE ARE WITNESSING A CHANGING OF THE GUARD WITH ELI RETIRING, AND YOU WINNING SO MUCH. I think it is a win and a loss for me. I think that being young helps, but also think there are some parts that I lack experience in. I simply don't have as much experience as Eli or Ryan Dungey or someone like that. If I can get better in the areas that I think I am good at, and somewhat compensate where I lack, that has been my goal. Right now, my riding is good. My program is starting to form and get a little better, and I love the people that I have around me, which is key, especially when you are training all year. You want to have good people around you, and that is what I have, so I am excited.

SOMETHING I NOTICED TODAY WAS WHEN YOU WOULD GO, YOU GOT A LOT OF CHEERS! OBVIOUSLY, YOU HAVE FANS CHEERING FOR YOU, BUT TODAY WAS LIKE NEXT LEVEL. I think the better that I do, the more fans I am gaining. I have noticed it a lot, especially this outdoor season. In the past, my outdoor results have not been great, so I have not had that many fans. Now, I am starting to ride better and hopefully some people are starting to see my personality and starting to like me which is my goal. So, it is cool to see. I love coming around and those guys cheering. Especially when you are in a battle it is cool. On the last lap I always get chills when everyone is cheering. This is something that I want to repeat a lot!