CHECK OUT RYAN VILLOPOTO'S 2002 YAMAHA YZ250 FOX HILLS VMXDN RACE BIKE
2022 FOX HILLS MOTOCROSS DES NATIONS
The 2022 Vet Motocross Des Nations at Fox Hills is happening this weekend in England. As usual, Motocross Action's Dennis Stapleton is there to cover the action and race the event himself on a 2000 Honda CR250 two-stroke in the EVO Plus class, which allows riders of any age to compete on bikes from in the model year range from 1997-2002. Also, he got invited to fill-in for an injured rider on Team Belgium in the VMXdN Team Race, and for that, he'll be on a 2001 Kawasaki KX250.
The races are set to go Saturday and Sunday, August 27th and 28th. Before things got underway, Dennis scoured the pits with his camera to show off the hard work that many vintage tuners did in preparation for this race. Scroll below to see up close shots on Ryan Villopoto's DocWob built 2002 Yamaha YZ250 two-stroke with its Jeremy McGrath inspired Bud Light graphics and see Zach Osborne's Storm Works Husqvarna CR250 as well.
RYAN VILLOPOTO'S VET MOTOCROSS DES NATIONS YAMAHA YZ250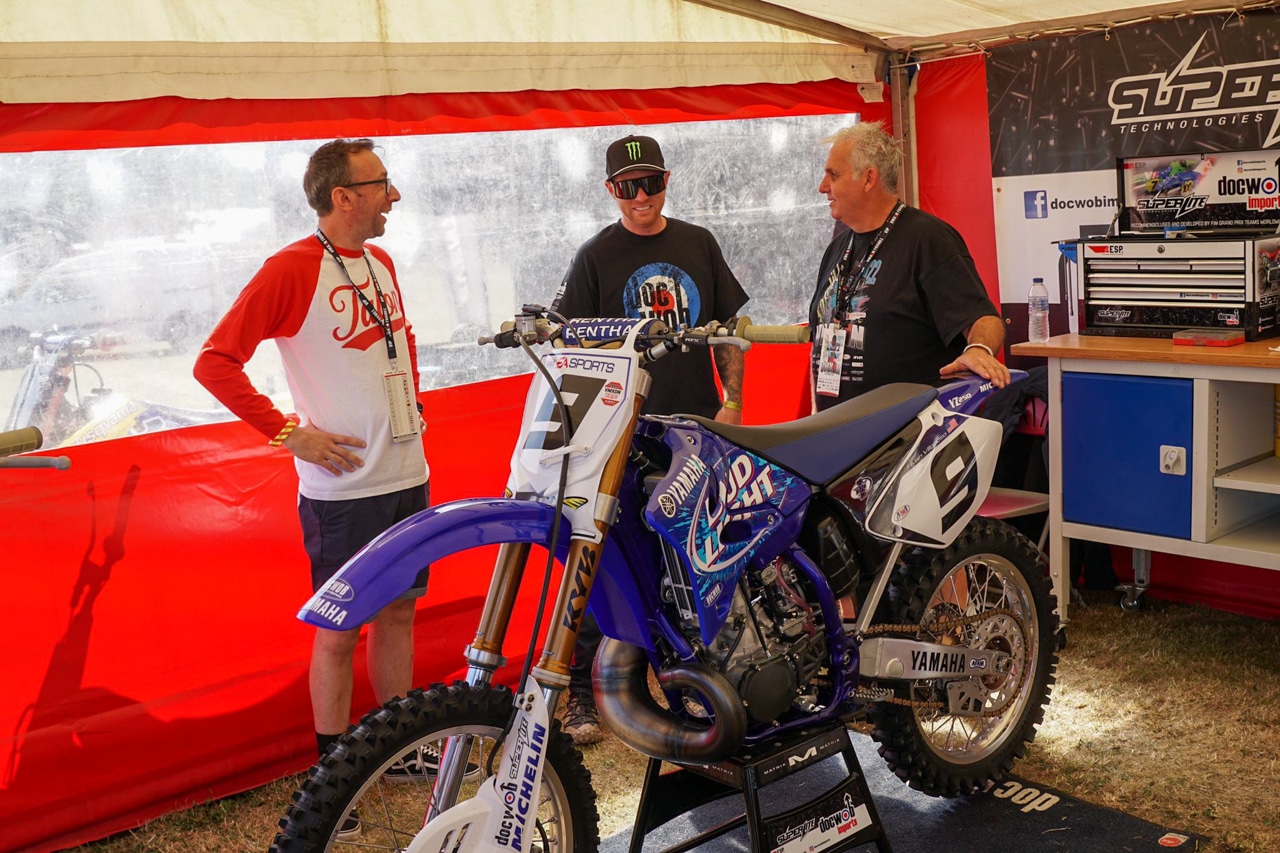 Ryan Villopoto with his race bike (#9) and the owner/builder of the bike, Rob Walters, famously known as DocWob, standing to his right. 
ZACH OSBORNE'S STORM WORKS DKNY HUSQVARNA
This is Zach Osborne's Storm Works Garage Husqvarna CR250 two-stroke for the weekend. He's teamed up with Ryan Villopoto and Mike Brown (both on DocWob YZ250s) to race the VMXdN team race for USA.
DENNIS STAPLETON'S CR250 & KX250 RACE BIKES
 MXA's Dennis Stapleton with his race bikes. The 2000 Honda CR250 was built by Phil Denton and the 2001 KX250 is the Team Belgium bike he's using for the VMXdN Team Race. The team needed a fill-in rider and Dennis was happy to race another class.  
FOX HILLS VET MOTOCROSS DES NATIONS TRACK PREVIEW
FOX HILLS VET MOTOCROSS DES NATIONS PITS
Kurt Nicoll and his Kawasaki KX500. 
Mike Vanderstraeten's Kawasaki KX500.