FIRST LOOK! THE ALL-NEW GASGAS MC 350F & GASGAS MC 250 TWO-STROKE
CLOSE-UPS OF THE ALL-NEW 2022 GASGAS MC 250 TWO-STROKE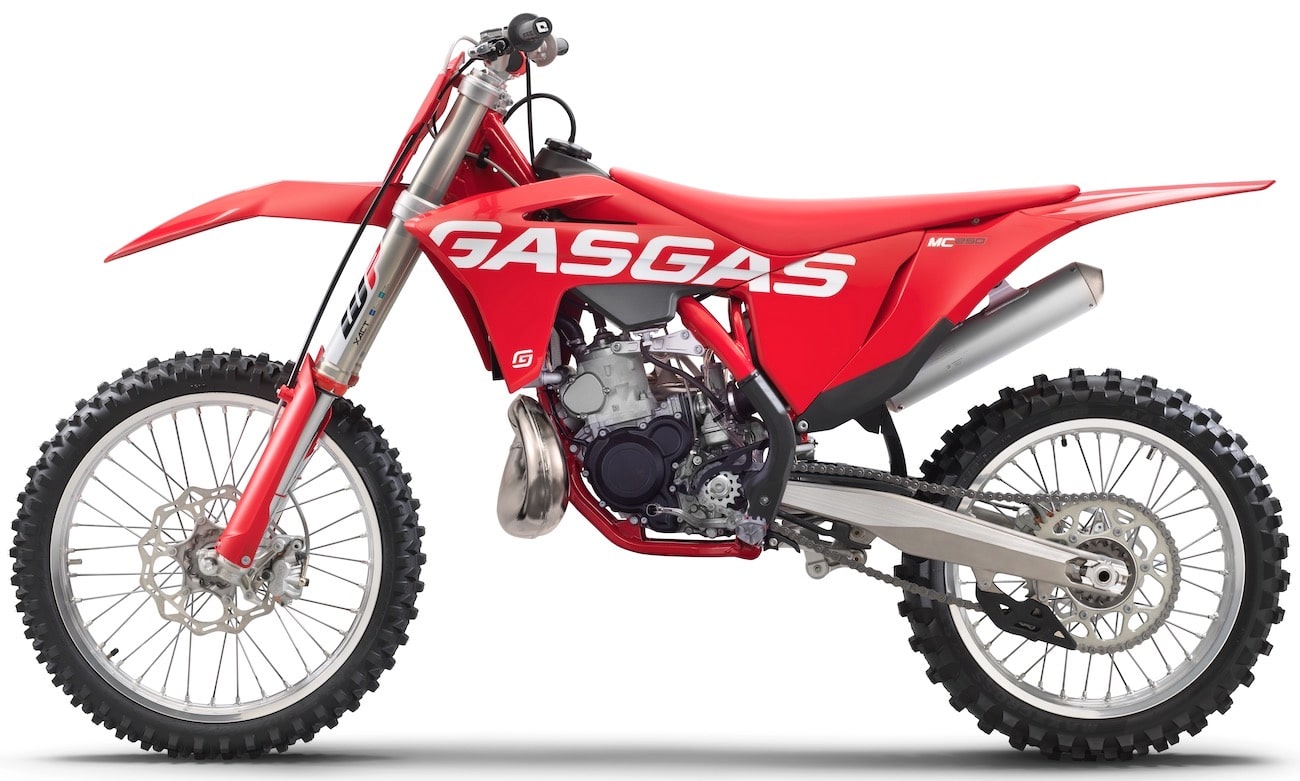 In only its second year of production GasGas was expanded its full-size motocross line-up with two new bikes—the MC250 two-stroke and the MC350F four-stroke. They will join the MC 125 two-stroke, MC 250F and MC 450F four-strokes in a five-bike lineup for 2022. There will be no major changes to the GasGas motorcycles for 2022, given that the complete line was brand new in 2021. This is your first chance to see all the 2022 GasGas motocross bikes up close an personal.
2022 GASGAS MC 250 TWO-STROKE—$7899
"The new MC 250 is for the wo-stroke lovers! Super light, super agile and with a motor than produces a ton of torquey, bottom-end grunt and plenty of top-end power, it's a bike that mixes simplicity with performance. Offering more smiles per mile than just about any other motocrosser, no matter how hard or fast a rider hits jumps or rough, whooped-out straights, the WP XACT Suspension soaks up everything. Unbelievably competitive in the hands of serious racers, everyone will enjoy an incredible riding experience on the MC 250."
GASGAS MC 250 SPECS
Engine: single-cylinder, two-stroke engine
Stroke: 72 mm
Bore: 66.4 mm
Displacement: 249cc
Transmission: five-speed
Starter: Kickstarter
Clutch: Wet multi-disc DS clutch, Brembo hydraulics
EMS: Kokusan
Weight (without fuel): 95.5 kg
Tank capacity: 7.5 l
Front brake disc diameter: 260 mm
Rear brake disc diameter: 220 mm
Front suspension: WP XACT-USD, Ø 48 mm
Ground clearance: 370 mm
Rear suspension: WP XACT Monoshock with linkage
Seat height: 950 mm
Steering head angle: 63.9 °
Suspension travel (front): 310 mm
Suspension travel (rear): 300 mm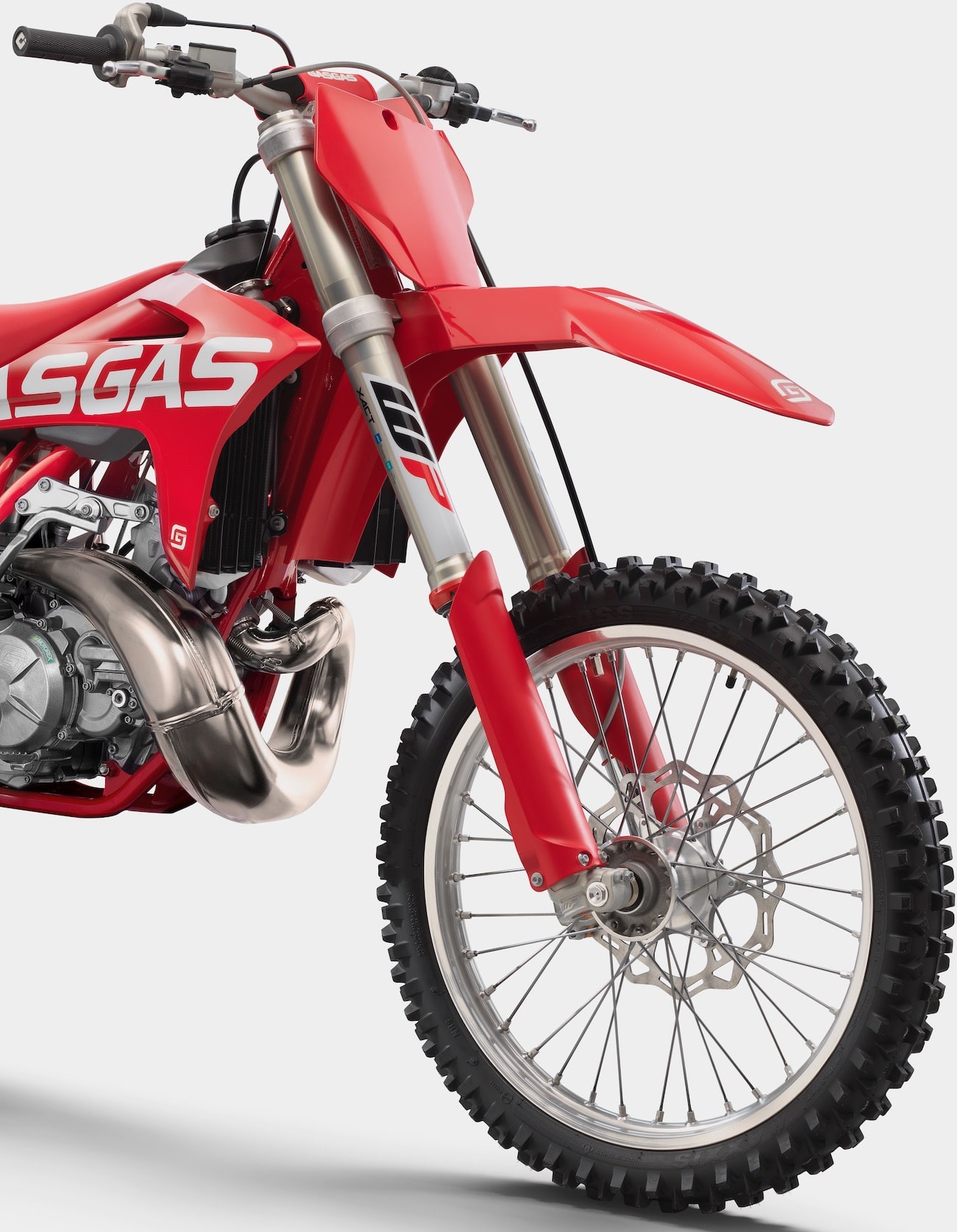 For American riders only, GasGas will introduce an EX 250 two-stroke cross-country version.
CLOSE-UPS OF THE ALL-NEW 2022 GASGAS EX 250 CROSS-COUNTRY TWO-STROKE
2022 GASGAS EX 250 TWO-STROKE—$9499
"The new EX 250 cross-country bike tackles demanding cross-country terrain with ease thanks to its agile chassis and smile-inducing power-to-weight ratio. Low on maintenance and high on fun, it's a super-easy bike to use, and start, with no need for premixing fuel or tedious jetting changes. The innovative electronic fuel injection system allows for true 'gas-and-go' riding simplicity and significantly reduces emissions. Just as important, it extends fuel range and your ride. The EX 250 features an electronic control unit (ECU) that is responsible for determining ignition timing and the amount of fuel and oil that is injected. Additionally, it receives information from the throttle position sensor, ambient air and intake pressure sensors as well as crankcase pressure and water temperature sensors and makes corrections for automatic temperature and altitude compensation. What that means in layman's terms is that riders don't need to make jetting changes!"
GASGAS EX 250 SPECS
Engine: single-cylinder, fuel-injected, two-stroke engine
Stroke: 72 mm
Bore: 66.4 mm
Displacement: 249cc
Transmission: Six-speed
Starter: Electric
Clutch: Wet multi-disc DS clutch, Brembo hydraulics
EMS: Continental EMS
Weight (without fuel): 101.3 kg
Tank capacity: 8.5 liters
Front brake disc diameter: 260 mm
Rear brake disc diameter: 220 mm
Front suspension: WP XACT-USD, Ø 48 mm
Ground clearance: 370 mm
Rear suspension: WP XACT Monoshock with linkage
Seat height: 950 mm
Steering head angle: 63.9 °
Suspension travel (front): 310 mm
Suspension travel (rear): 300 mm
CLOSE-UPS OF THE ALL-NEW 2022 GASGAS MC 350 FOUR-STROKE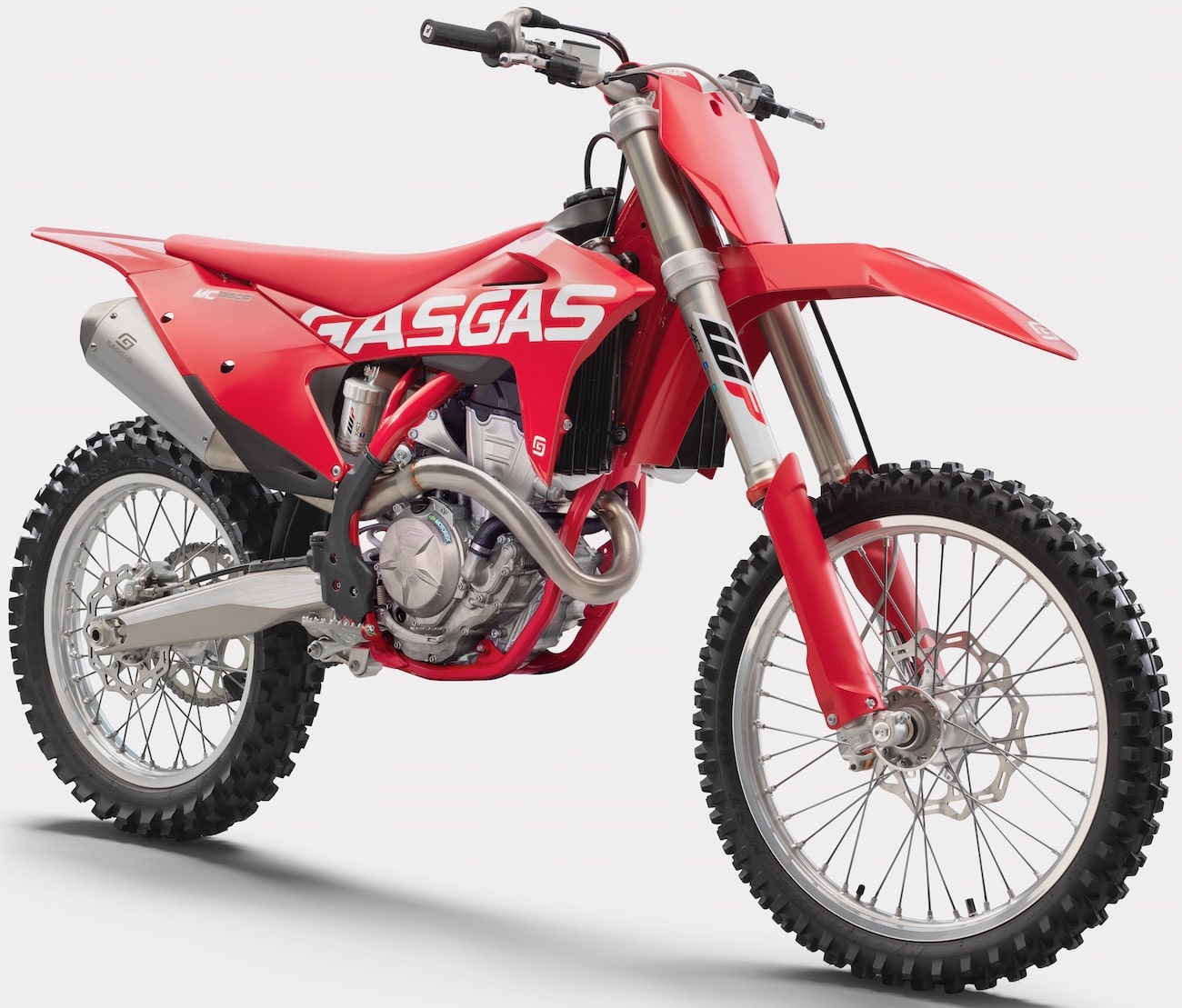 2022 GASGAS MC 350F—$9299
"In introducing the MC 350F, GasGas now offers three 4-stroke motocross models, so we've got everything you need. Sandwiched between our 'little' 4-stroke, the super fun MC 250F, and the awesome MC 450F, the new MC 350F is the bike that does it all. Super agile with great handling, the 349cc motor (we can't lie, it's not quite a 350!) pumps out seriously impressive performance, which makes it the little-big bike that isn't afraid to take it to the 450s. Featuring more proven technology than just about any other bike, on the outside we've ensured that well-thought-out ergonomics and super stylish shrouds, number boards and fenders allow riders unrestricted movement for complete comfort. The MC 350F is finished in a whole lot of red… just the way we like it!"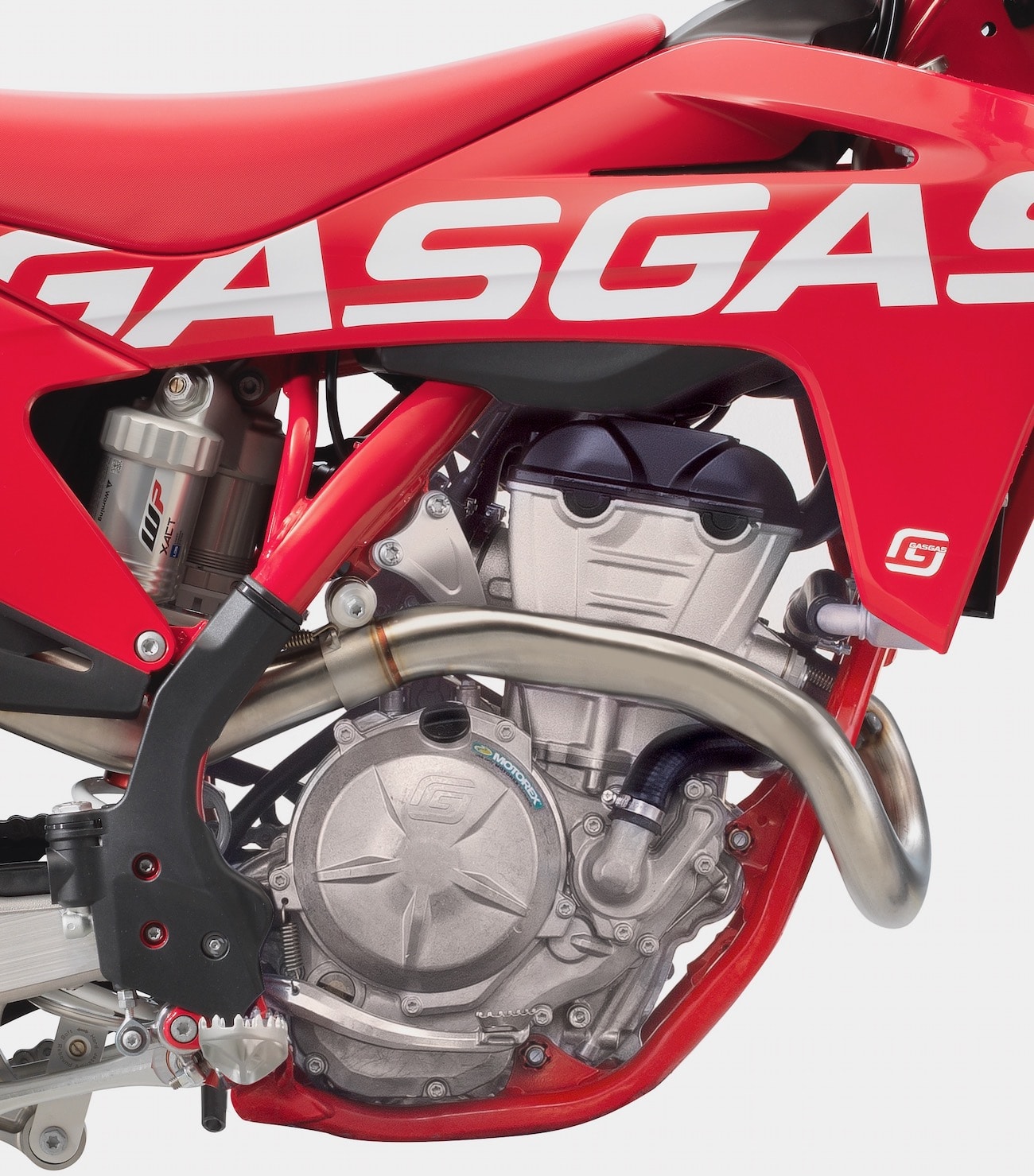 GASGAS MC 350F SPECS
Engine: single-cylinder, four-stroke engine
Stroke: 57.5 mm
Bore: 88 mm
Displacement: 349.7cc
Transmission: five-speed
Starter: electric
Clutch: Wet multi-disc DS clutch, Brembo hydraulics
EMS: Kokusan
Weight (without fuel): 99.5 kg
Tank capacity: 7 liters
Front brake disc diameter: 260 mm
Rear brake disc diameter: 220 mm
Front suspension: WP XACT-USD, Ø 48 mm
Ground clearance: 370 mm
Rear suspension: WP XACT Monoshock with linkage
Seat height: 950 mm
Steering head angle: 63.9 °
Suspension travel (front): 310 mm
Suspension travel (rear): 300 mm

THE 2022 GASGAS MC 450F FOUR-STROKE
2022 GASGAS MC 450F—$9599
"Get ready for awesome! Packed with innovative technology and pumping out seriously impressive performance, the MC 450F sure knows the meaning of fast. But with its precise and easy handling, super compact engine and class-leading electronic wizardry it's a big bike that's easy to ride and great for banging bars. Big power and monstrous amounts of torque from a compact SOHC motor that weighs just 27kg, including the electric starter! The MC 450F rips but thanks to centralization being key to the motor's design, the 62 hp power unit is positioned more centrally within the frame, ensuring a positive effect on the bike's overall handling."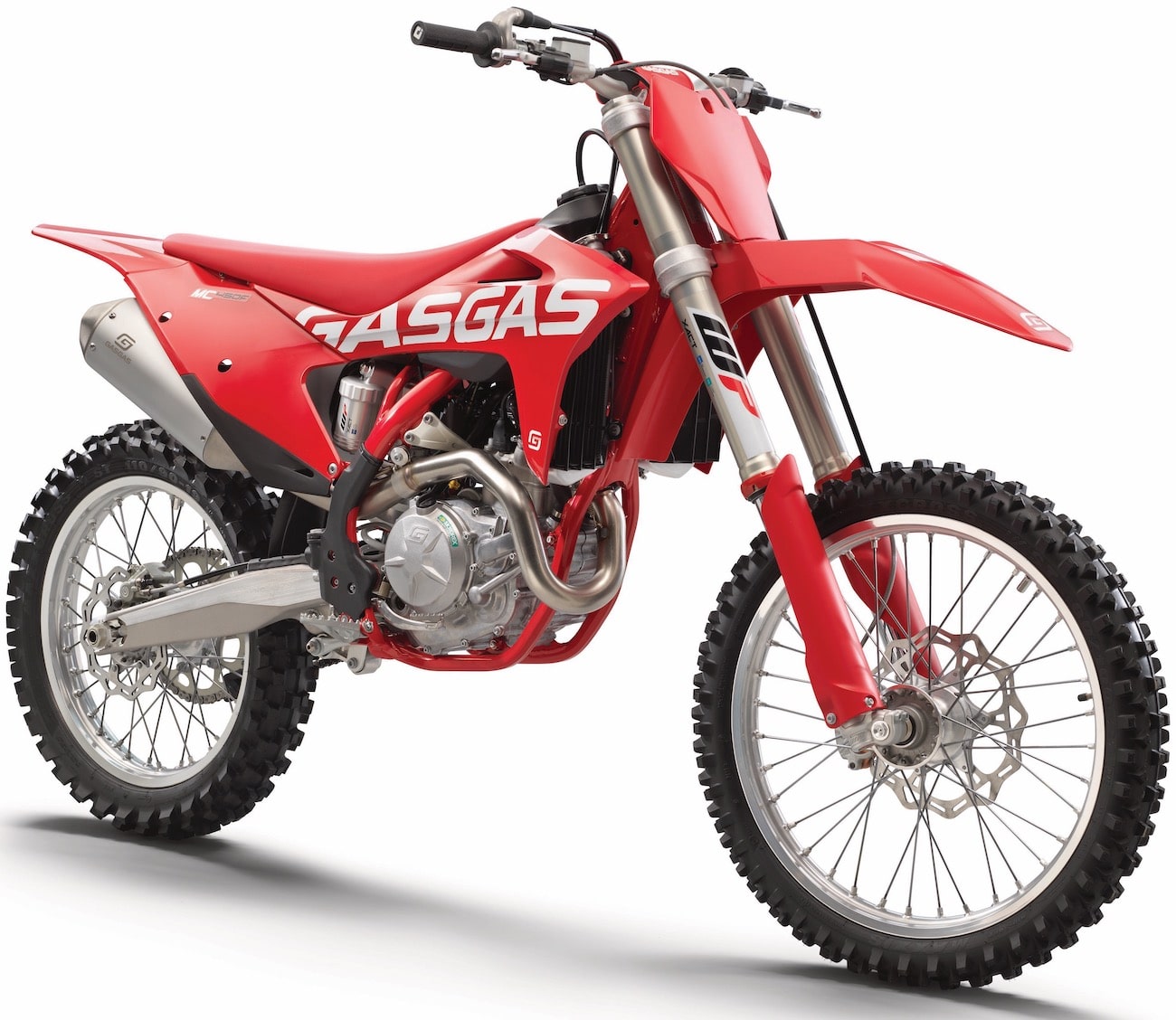 GASGAS MC 450F SPECS
Engine: single-cylinder, four-stroke engine
Stroke: 63.4 mm
Bore: 95mm
Displacement: 449.9. cc
Transmission: five-speed
Starter: electric
Clutch: Wet multi-disc DS clutch, Brembo hydraulics
EMS: Kokusan
Weight (without fuel): 100 kg
Tank capacity: 7 liters
Front brake disc diameter: 260 mm
Rear brake disc diameter: 220 mm
Front suspension: WP XACT-USD, Ø 48 mm
Ground clearance: 370 mm
Rear suspension: WP XACT Monoshock with linkage
Seat height: 950 mm
Steering head angle: 63.9 °
Suspension travel (front): 310 mm
Suspension travel (rear): 300 mm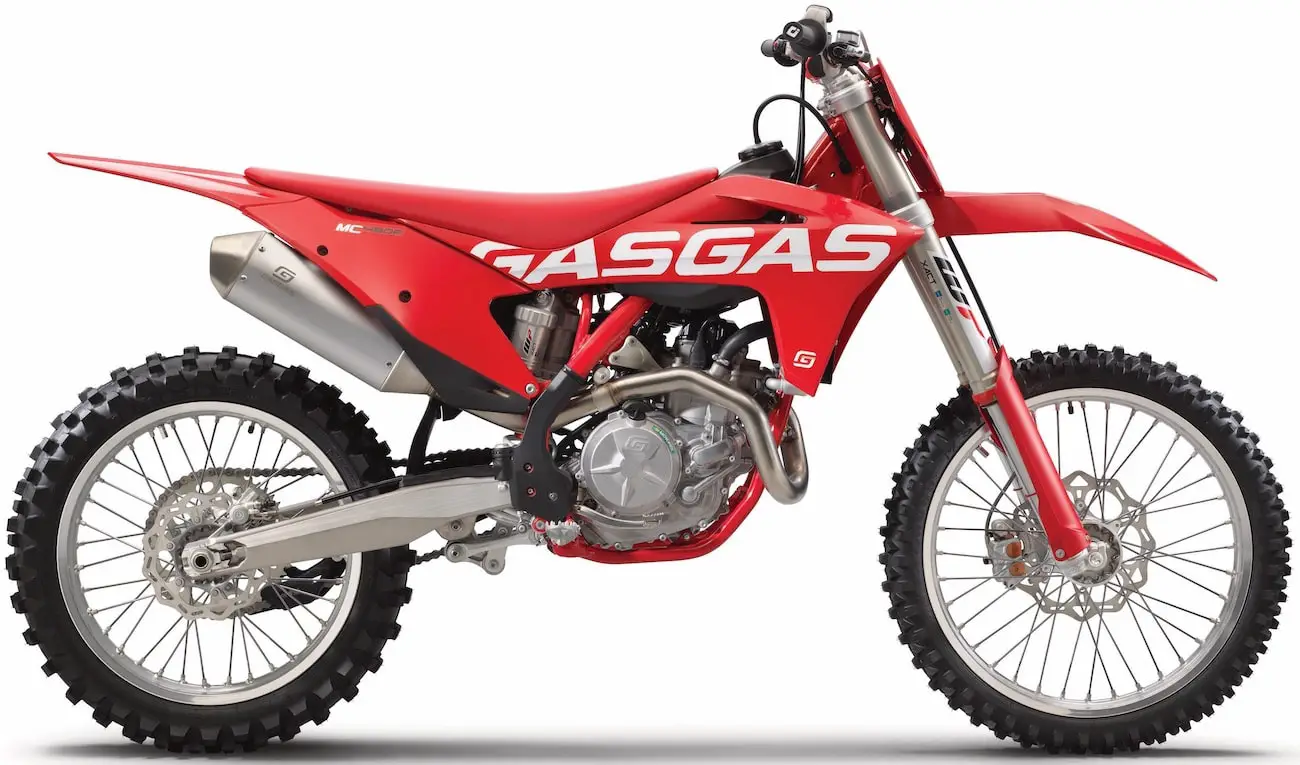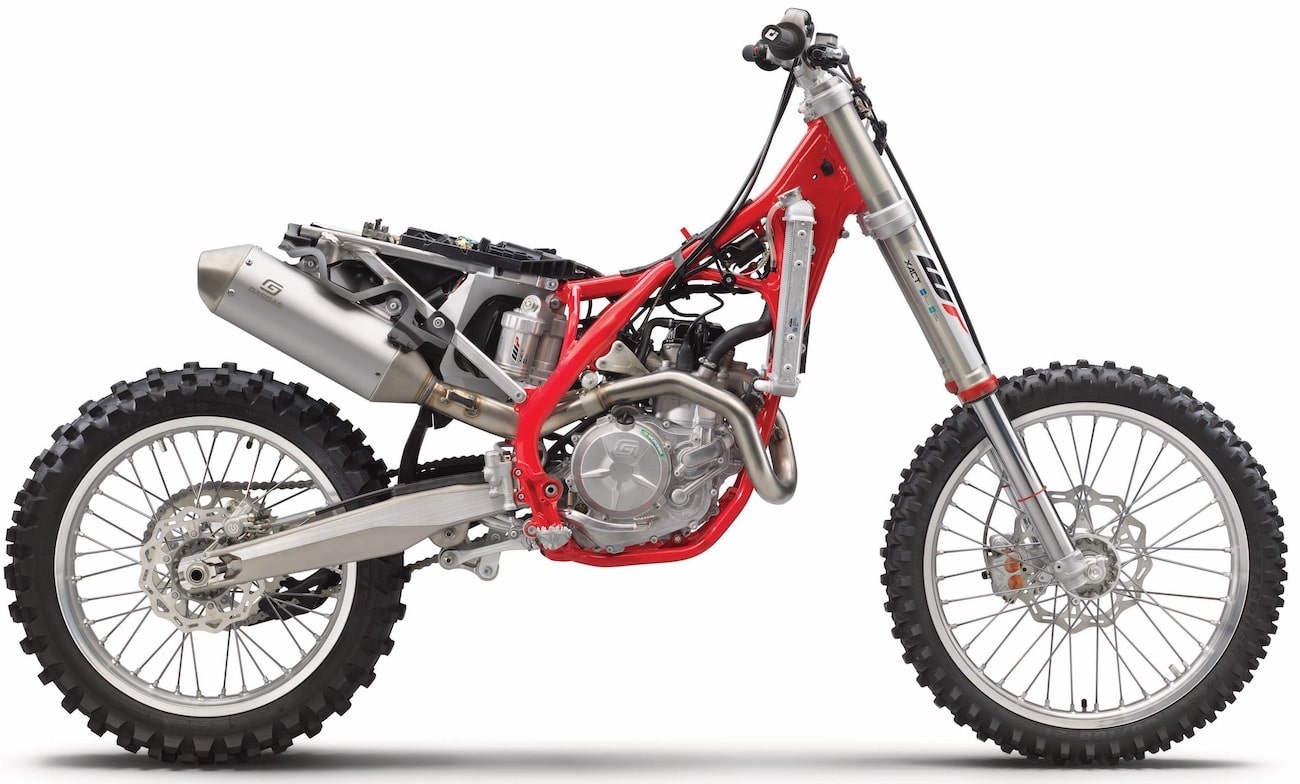 THE 2022 GASGAS MC 250F FOUR-STROKE
2022 GASGAS MC 250F—$8699
"Our 'little' four-stroke will put the biggest smile on your face. Welcoming and easy to ride yet capable of delivering impressive performance, the GASGAS MC 250F is the go-to bike for anyone that's serious about having fun in the dirt. Mixing a high-revving, fuel-injected, five-speed motor with playful and energetic handling it's a serious MX package for those who love the dirt. The performance our compact 250cc motor kicks out is nothing short of incredible. That's all thanks to clever manufacturing that allows 46hp to be squeezed from the 25.9kg power unit when revved at 14,000 rpm."
GASGAS MC 250F SPECS
Engine: single-cylinder, four-stroke engine
Stroke: 52.3 mm
Bore: 78 mm
Displacement: 249cc
Transmission: five-speed
Starter: electric
Clutch: Wet multi-disc DS clutch, Brembo hydraulics
EMS: Kokusan
Weight (without fuel): 99 kg
Tank capacity: 7 liters
Front brake disc diameter: 260 mm
Rear brake disc diameter: 220 mm
Front suspension: WP XACT-USD, Ø 48 mm
Ground clearance: 370 mm
Rear suspension: WP XACT Monoshock with linkage
Seat height: 950 mm
Steering head angle: 63.9 °
Suspension travel (front): 310 mm
Suspension travel (rear): 300 mm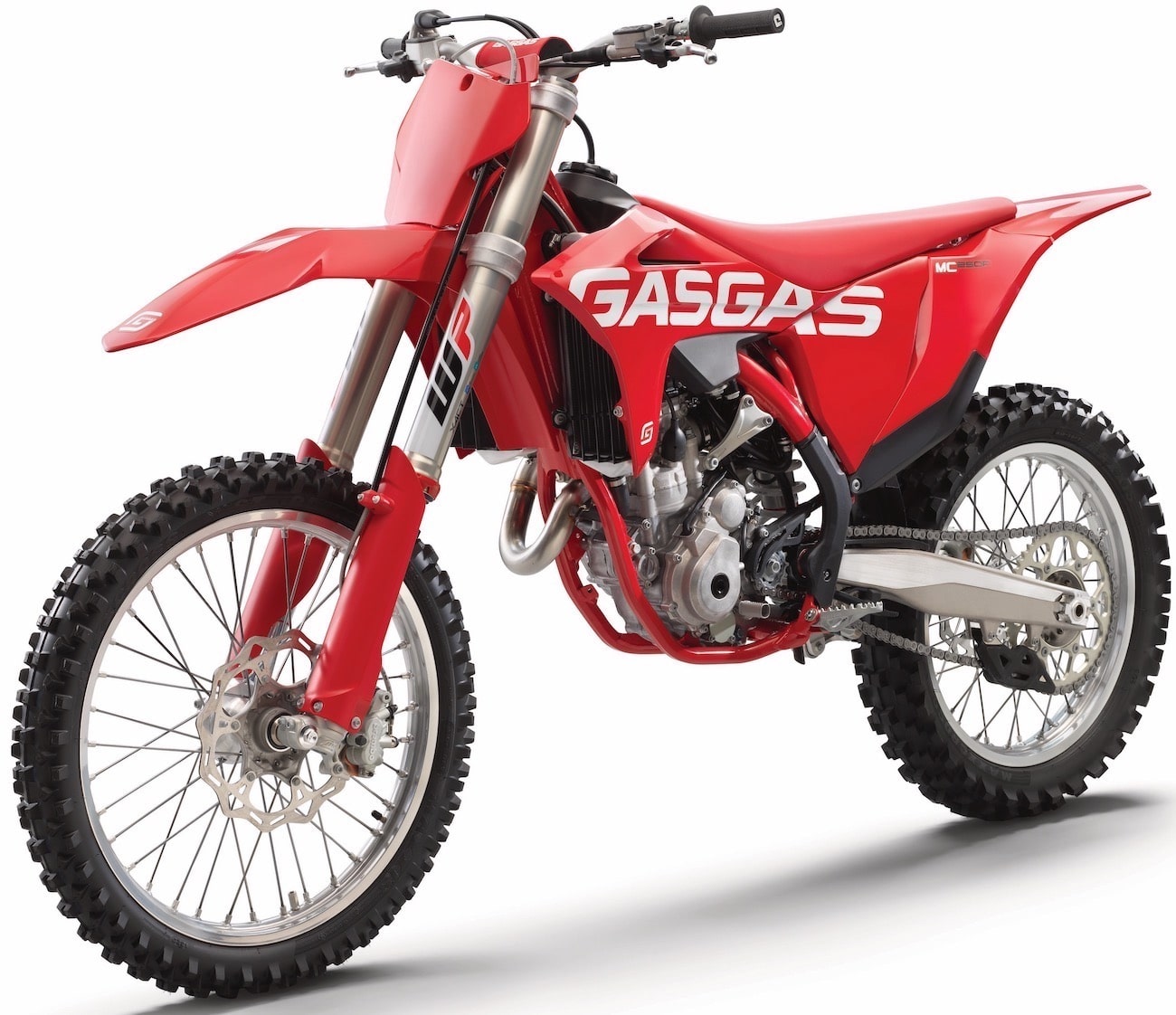 THE 2022 GASGAS MC 125 TWO-STROKE
2022 GASGAS MC 125 TWO-STROKE_$6899
"It's hard to beat the pure joy of a screaming 125cc two-stroke! The perfect bike on which to develop lifelong motocross skills, our MC 125 matches a competitive 125cc, 6-speed motor with a super agile and responsive chassis and suspension set-up to deliver fun, fun, fun. he heart of our MC 125 is a compact, 40hp, 17.2kg, 125cc 2-stroke motor. Delivering lots of torque, our power unit makes the bike super easy to use but also highly competitive – perfect for both beginners and top-flight racers."
GASGAS MC 125 SPECS
Engine: single-cylinder, two-stroke engine
Stroke: 54.5mm
Bore: 54 mm
Displacement: 124.8cc
Transmission: six-speed
Starter: Kickstarter
Clutch: Wet multi-disc DS clutch, Brembo hydraulics
EMS: Kokusan
Weight (without fuel): 87.5 kg
Tank capacity: 7.5 l
Front brake disc diameter: 260mm
Rear brake disc diameter: 22 mm
Front suspension: WP XACT-USD, Ø 48mm
Ground clearance: 370mm
Rear suspension: WP XACT Monoshock with linkage
Seat height: 950mm
Steering head angle: 63.9 °
Suspension travel (front): 310mm
Suspension travel (rear): 300mm
2022 GASGAS MC-E5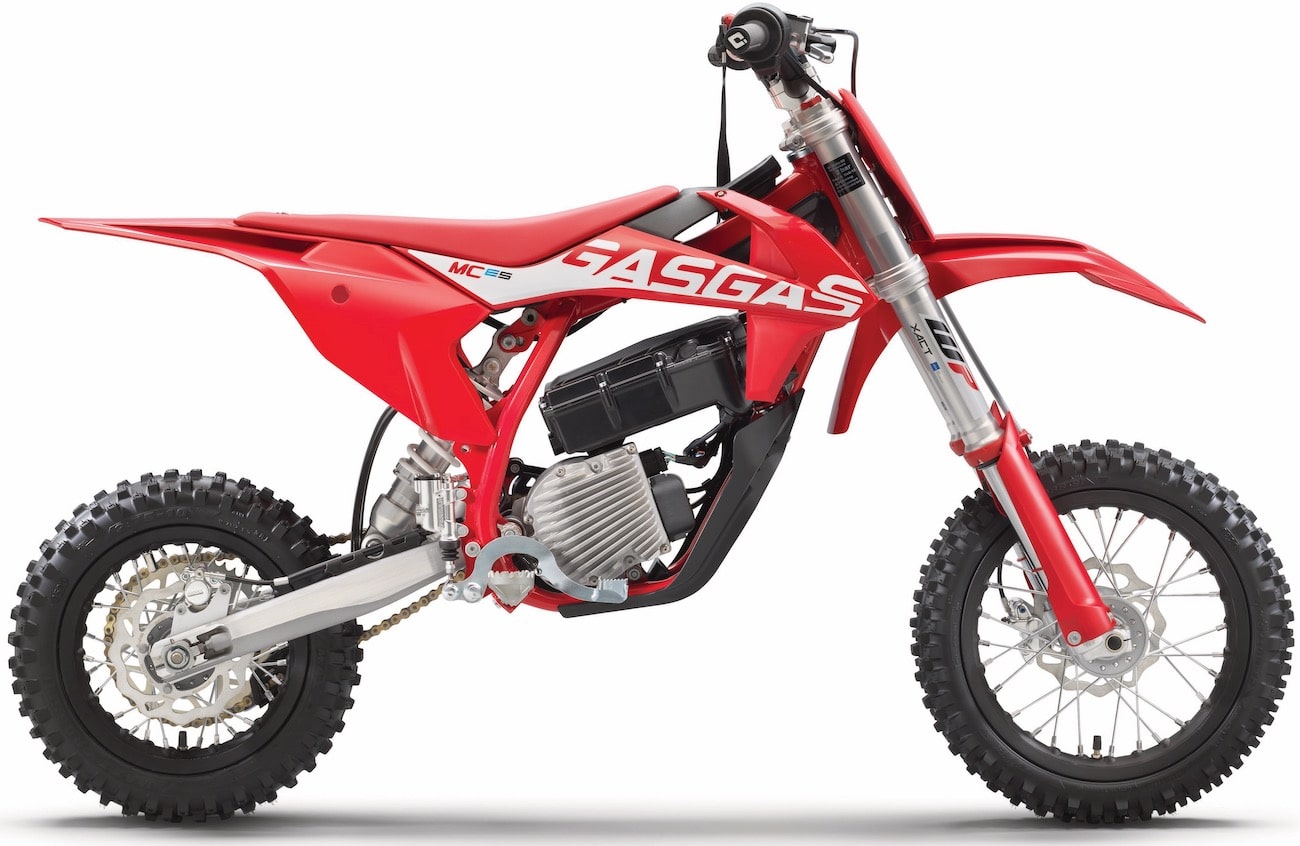 2022 GASGAS MC 50
2022 GASGAS MC 65
2022 GASGAS MC 85