FLASHBACK TO THE GOOD OLD DAYS AT THE 1966 GP'S WITH LARS LARSSON
Lars Larsson in Tilf, Belgium, banging on his old '66 Husky back in 1966.
While searching through the MXA files, we came upon a photo of a very young Lars Larsson—well before he came to America to help Edison Dye promote the sport of motocross and way before he started Thor with his buddy Torsten Hallman. We showed Lars the photo and sat back as he told us all about it. 
"Where did you ever find that photo? The year was 1966, and the photo was shot while I was camping in a small town called Tilf just outside of Liege, Belgium. That was the place where lots of Grand Prix riders stayed between races in Europe. It was the place to be, because from Tilf, you could take off on a Friday or Saturday and easily reach Holland, Germany or France in just a few hours. Then, on Sunday when the race was over, you could head back to your home away from home.
"It may seem strange to modern motocross racers, but this was the dream life for a young guy (and Tilf was the place to camp). That's where all the 'old guys' like Bill Nilsson, Sten Lundin and Rolf Tibblin were hanging out between GPs. To get to know these idols, be part of the Grand Prix community, go to restaurants with them, listen to their stories and learn from them was all that a young racer could ask for. I will never forget the beef steak avec provincial with pomme frites at the little restaurant in the village. I actually visited it some years back, and, to my surprise, it looked the same. The photos of the motocross greats were still on the walls.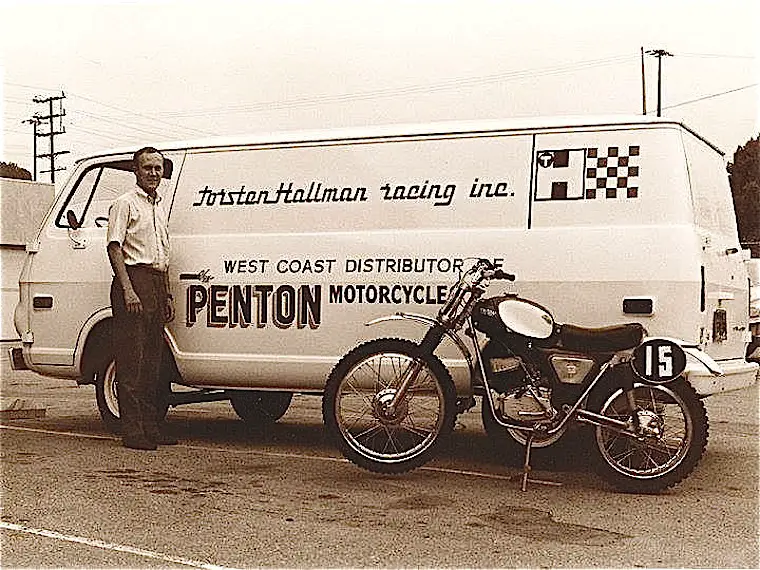 Lars in America selling Penton's across the country. 
"Naturally, there was playtime, as the picture indicates, but it was also work. Servicing our race bikes took up a lot of our time, and it was good to be around friends if you needed help or a spare part. I won the Cinzano vermouth bottle at a race in Italy that week, so I had it out to brag about it. I took that bottle back to Sweden and kept it in my parents' house until my 40th birthday in 1981. Then I opened it and used it as a welcome drink for the party guests. Mmm, it was good!
"The car in the background is a 1959 Mercedes 190D. It was an old taxi cab that I got for around $2000. I had to give my mom an IOU because she lent me the money to buy it. At night, I could fold the seats down, pump up the air mattress, put a sleeping bag on top of it and 'Hotel Larsson' was ready. In the morning, I pulled out the little gas stove to make tea and have breakfast. Behind the car, we all pulled little open trailers to carry our bikes and spare wheels. The trunk was full of parts. The trailer had an extra fuel tank underneath it that held 15 gallons of diesel. The reason we had this is because we could buy diesel fuel from farmers for much cheaper than at gas stations—almost next to nothing. In the trunk, I had an electric fuel pump, so when the Mercedes fuel gauge got close to empty, I flipped the switch and watched the gauge slowly climb up to full again!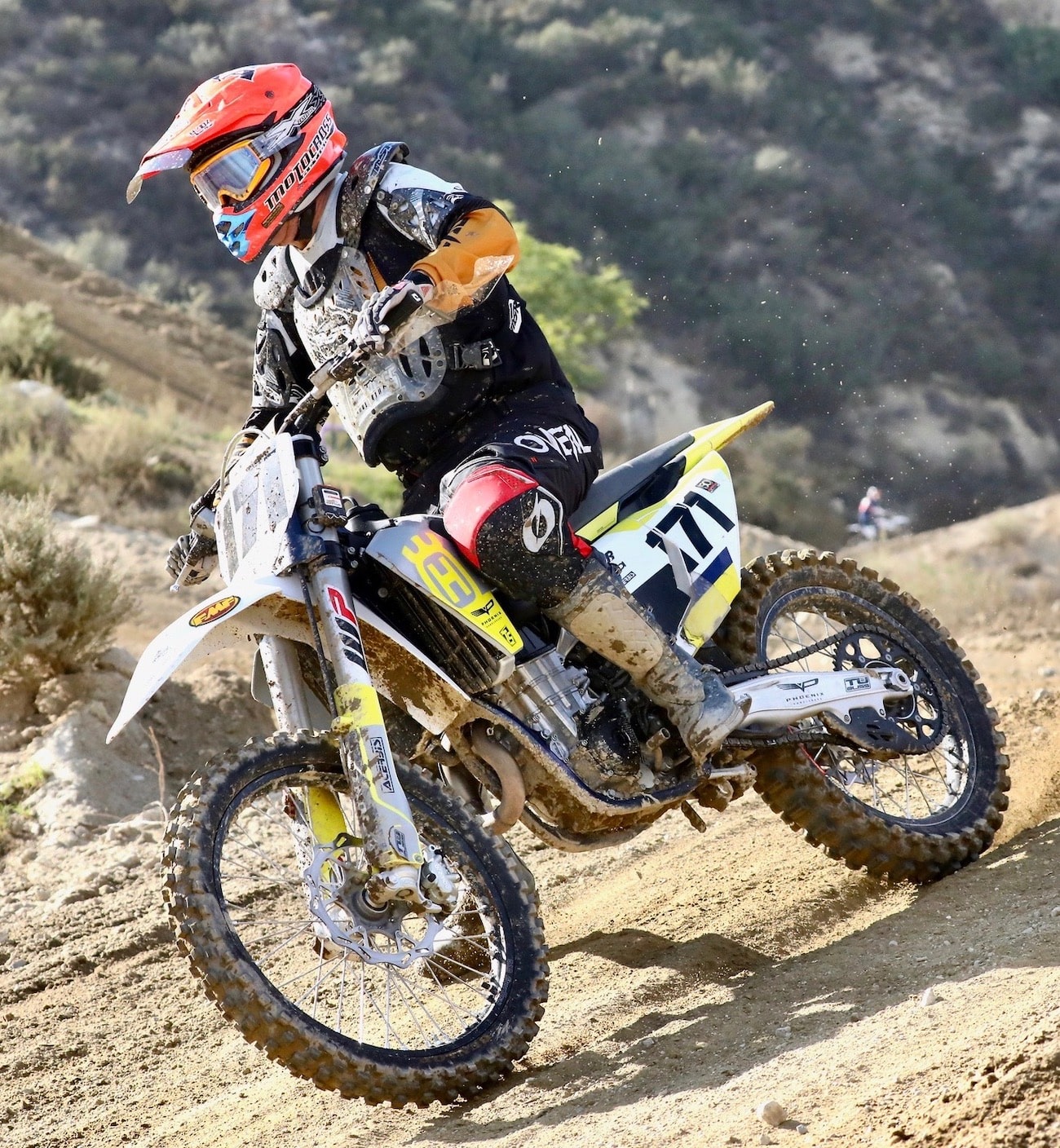 Lars is still racing today. This is 81-year-old Lars Larsson on a 2023 Husqvarna FC450 racing a Glen Helen.  
"The 1966 Husqvarna came from the factory, but there wasn't any bling-bling in those days (note my bike stand). The Girlings on the back are the only real high-tech items on that bike. My Girlings had progressive springs, plated in a gold color that a man at a spring factory made specially for me. To make a few extra dollars, I had him make me a lot of them so I could sell them to other Husky riders. It was a good little side business until Girlings made progressive springs and put me out of business. Those were the days!"