GODSPEED! DAVE MILLER (1954-2020)
GODSPEED! DAVE MILLER (1952-2020)
Former MXA cartoonist Curt Evans drew this cartoon of Dave Miller.
By Jody Weisel
It is with great sorrow that our sport mourns the passing of Dave Miller. Dave was a genius, and we mean the MIT, rocket scientist, change the world kind of genius—and we are grateful that he applied his unique view of the world and his sometimes crackpot ingenuity to motocross . If you needed something fabricated, something unique built, something off the wall or an unobtainable part made, Dave was your man. A fast Pro racer, he turned his attention to building products and hop-up parts at his signature Miller Mano race shop in the 1970s and then matured into the go-to fabricator for one-off technology and parts at DMC (Dave Miller Concepts) in the 1980s, '90s and '00s.
Dave was a blast to hang around, he had stories, ideas and concepts that only a bonafide genius could come up with. And, he had the know-how to turn them into reality. Dave didn't want to mass produce anything. He wanted to make just one of everything. And the one thing that he made would be perfect.
He helped his friends, answered questions with a chuckle and was the man you wanted working on your race bike, vintage bike or one-off dream project bike. The MXA guys would stop by is LaPalma Avenue shop, just to ogle at what he was working on and get his take on the world. We never left Dave's shop without a smile on our faces.
Other people will be able to make things, but they won't be Dave Miller. His genius was with a torch, a CNC-machine and his mind. There will never be another like him.
We want to share a tiny portion of the Dave Miller heritage, so that people who never met him, maybe never heard of him will wish that they to could have driven down LaPalma Avenue  stopped at Knowlwoods for a burger and then dropped in uninvited at Dave's workshop. Now that's a day we'd love to be able to live again, but Knowlwoods and Dave are both gone. Maybe in the next life—if we're lucky.
DAVE MILLER'S FIRST MILLER MANO FLIER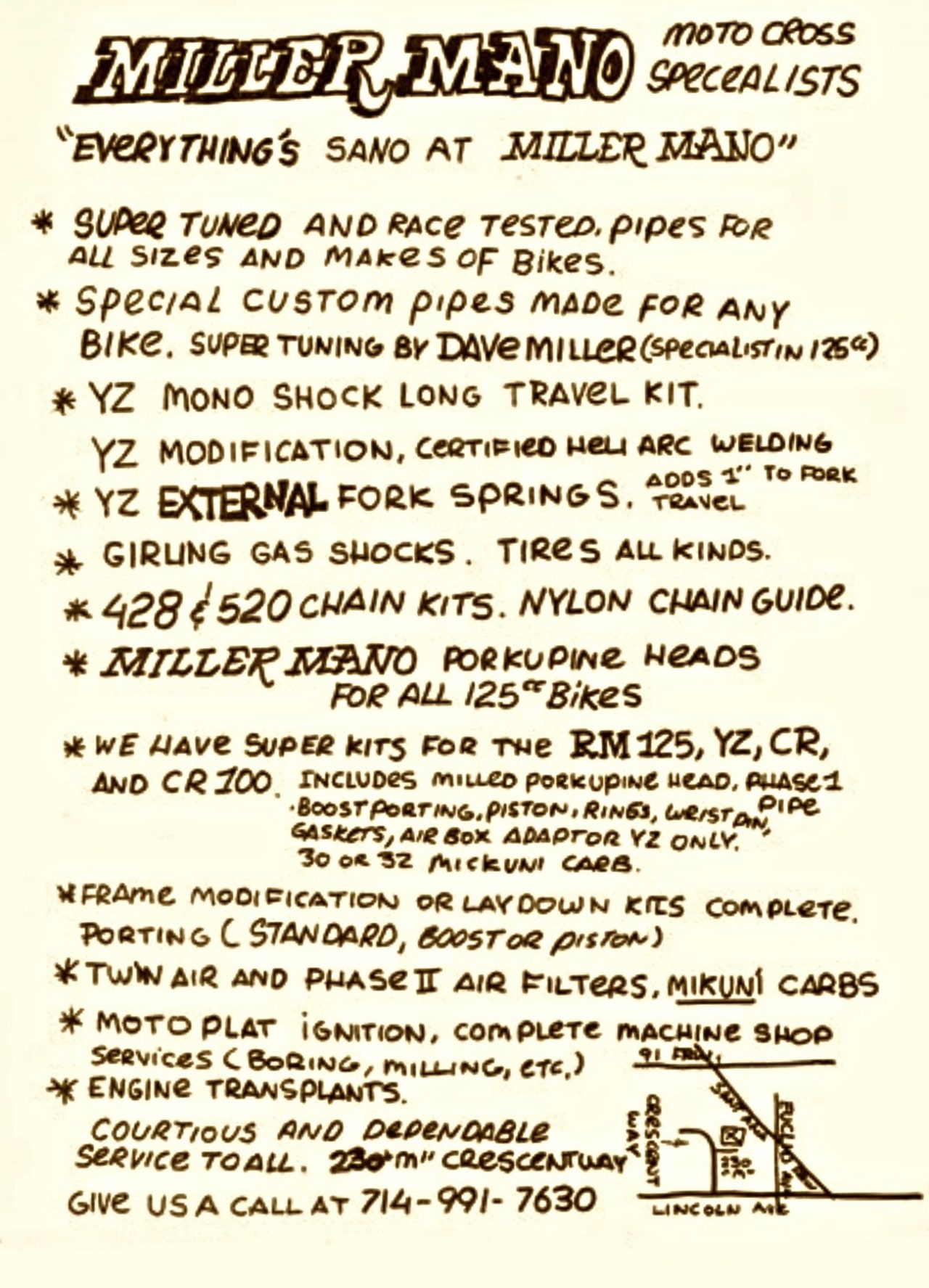 Everything you ever needed to know about Miller Mano's products, from laydown kits, to Motoplats, to "porkupine" heads, to external fork springs to Dave's "courtious" service.
DAVE MILLER'S DMC 1983 YAMAHA OW100
This is not a vintage bike…it is a vintage race bike. It is designed for racing, not admiring.
The MXA wrecking crew ran into Dave Miller of DMC and Miller Mano fame at Glen Helen's REM motocross races when he came out to do a shake-down cruise on his trick YZ100. Dave called it a Yamaha OW100. The core bike was a 1983 YZ100-K Model.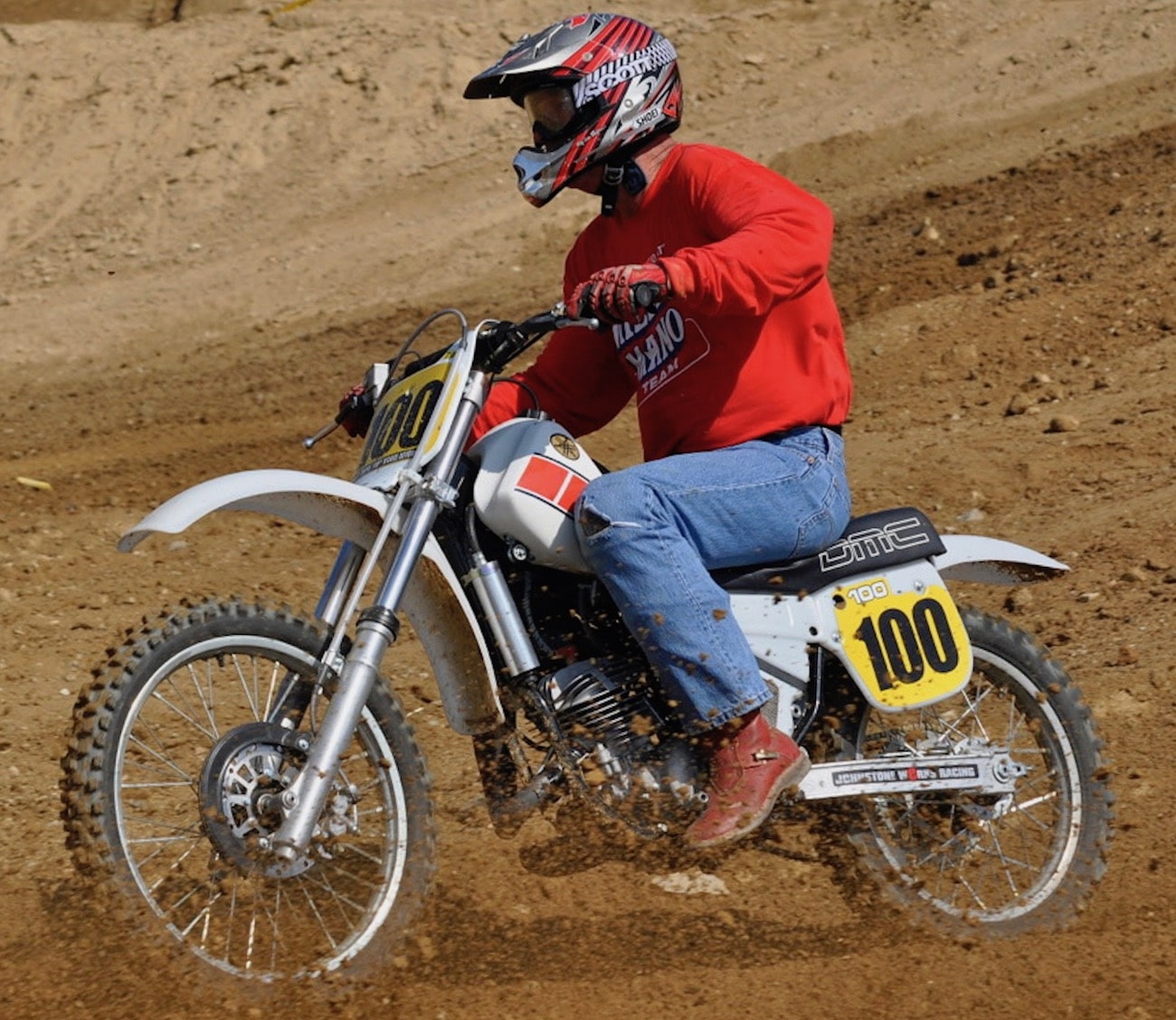 Former 125 Pro Dave Miller brought his Yamaha YZ100 to a local REM race to break it in.
Frame mods: There is some re-welding and gusseting to 'known' problem areas as well as 'jig' checking for overall spec and alignment. The frame is powder coated black.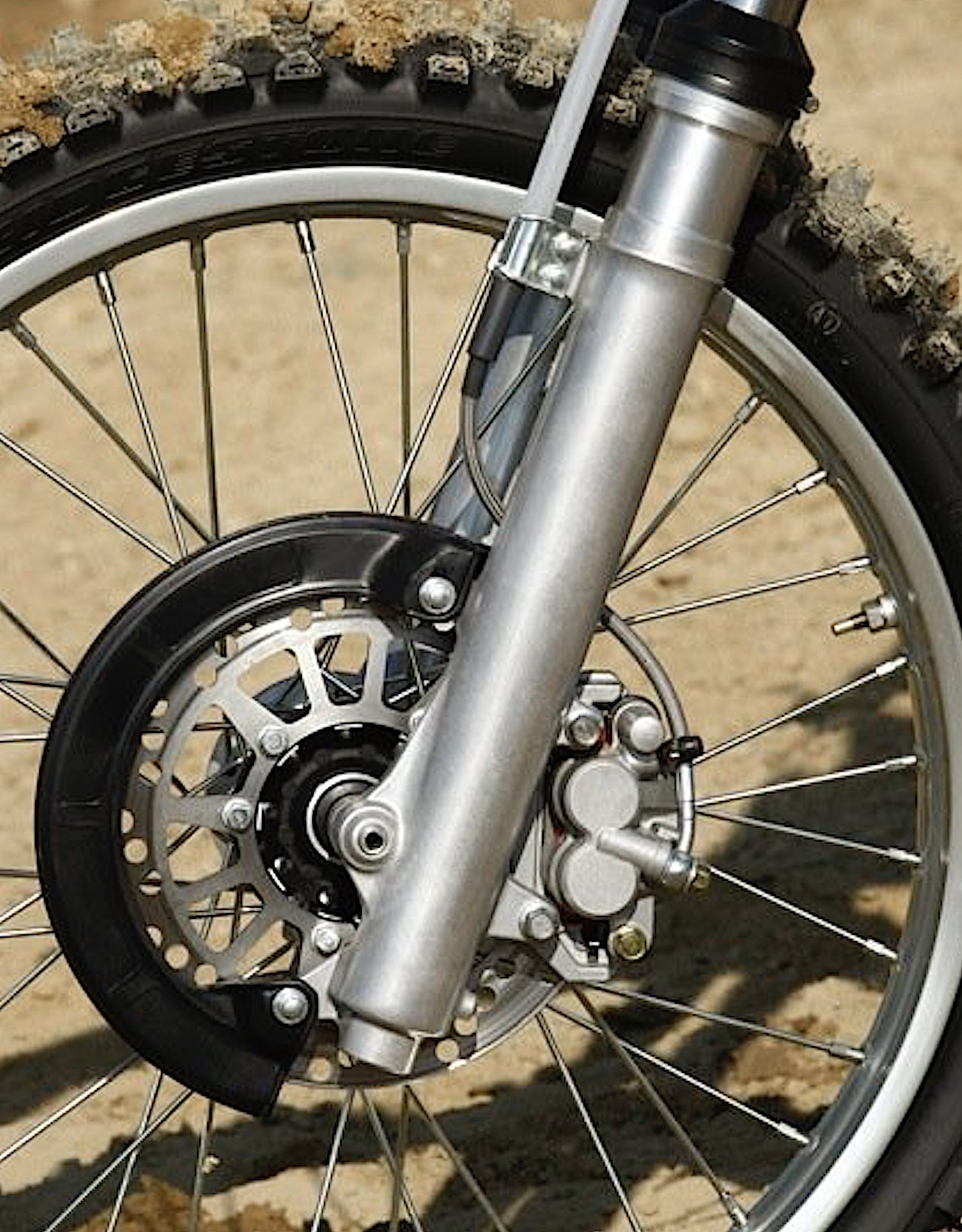 Yes, we know that a disc brake didn't come on the YZ100, but Dave wants to be able to stop. 
Forks: The 43mm forks, triple clamps and front disc brake are from a larger Yamaha 175cc model. The forks have been internally modified by Noleen J6 with heavier springs and damping  changes. The fork stanchion have been machined to reduce weight. Fork travel is 10 inches.
Rear suspension: The rear suspension uses an aluminum swingarm from a YZ125 model. The swingarm has been modified to accept the lighter non-floating rear brake assembly.  The alloy 'bell crank' linkage is from a larger YZ model. It offers different rate curves for heavier riders. It is connected to the swingarm via an adjustable DMC push rod. The shock starts out as the stock YZ-K model that is modified by Noleen J6. the shock has a hard-coated body, new piston and valve design, rider tuned spring rate and internal reservoir mod. Travel is 10.5 inches.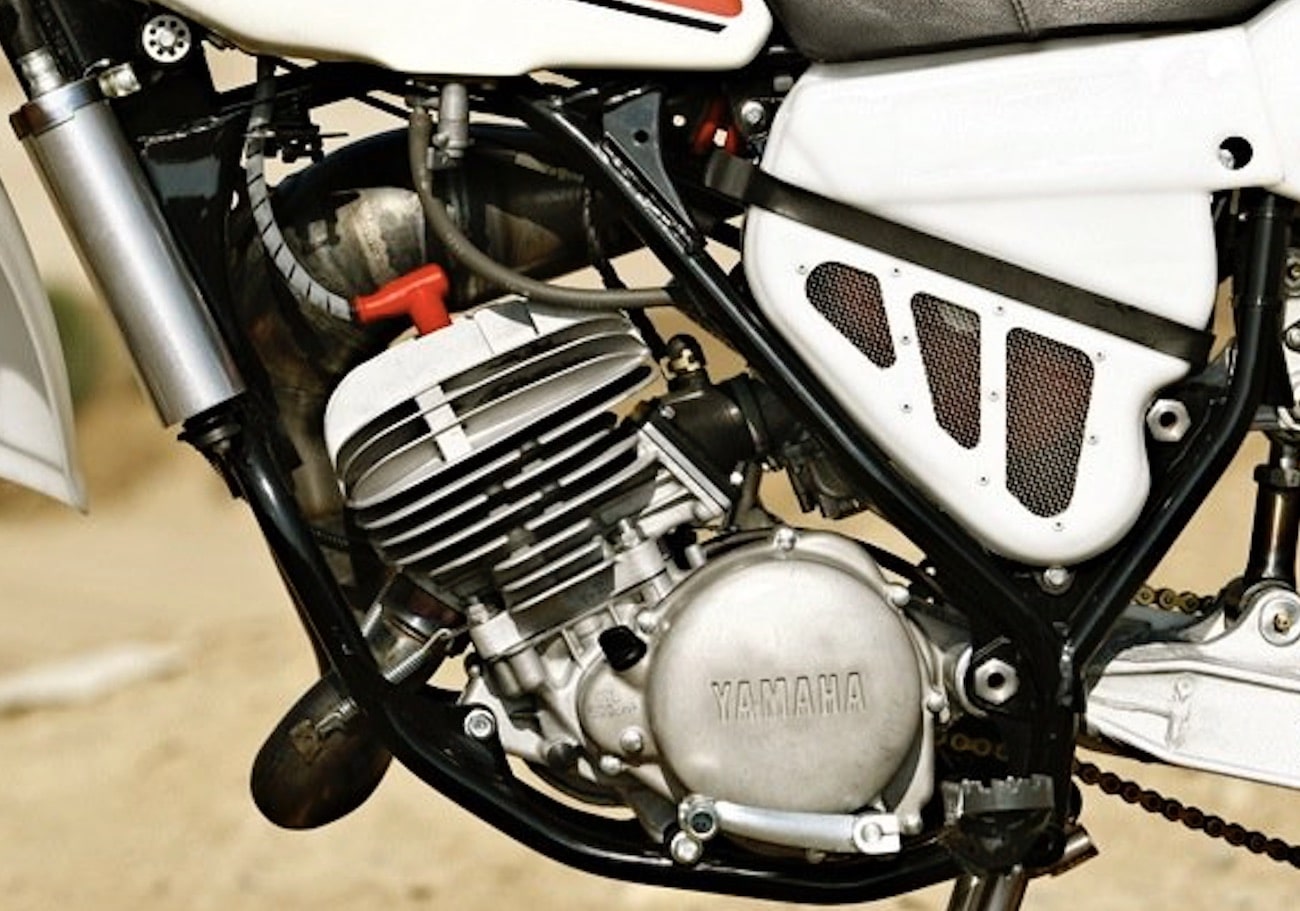 It's a clean machine.
YZ100 engine. The engine is basically a stock YZ100 engine that has been stripped of it's black finish and blueprinted. Other than the obvious DMC-tuned exhaust pipe and alloy muffler, the jetting is stock from 1983. There are plans to hop the engine up, but when we saw Dave the bike was still in the development stage and Dave was  satisfied with testing the suspension and handling with a stock engine. The engine also sports a DMC Yamaha 'tuning fork' ignition case. He also switched the drive system from the heavy  #520 to the lighter #428 chain and sprockets."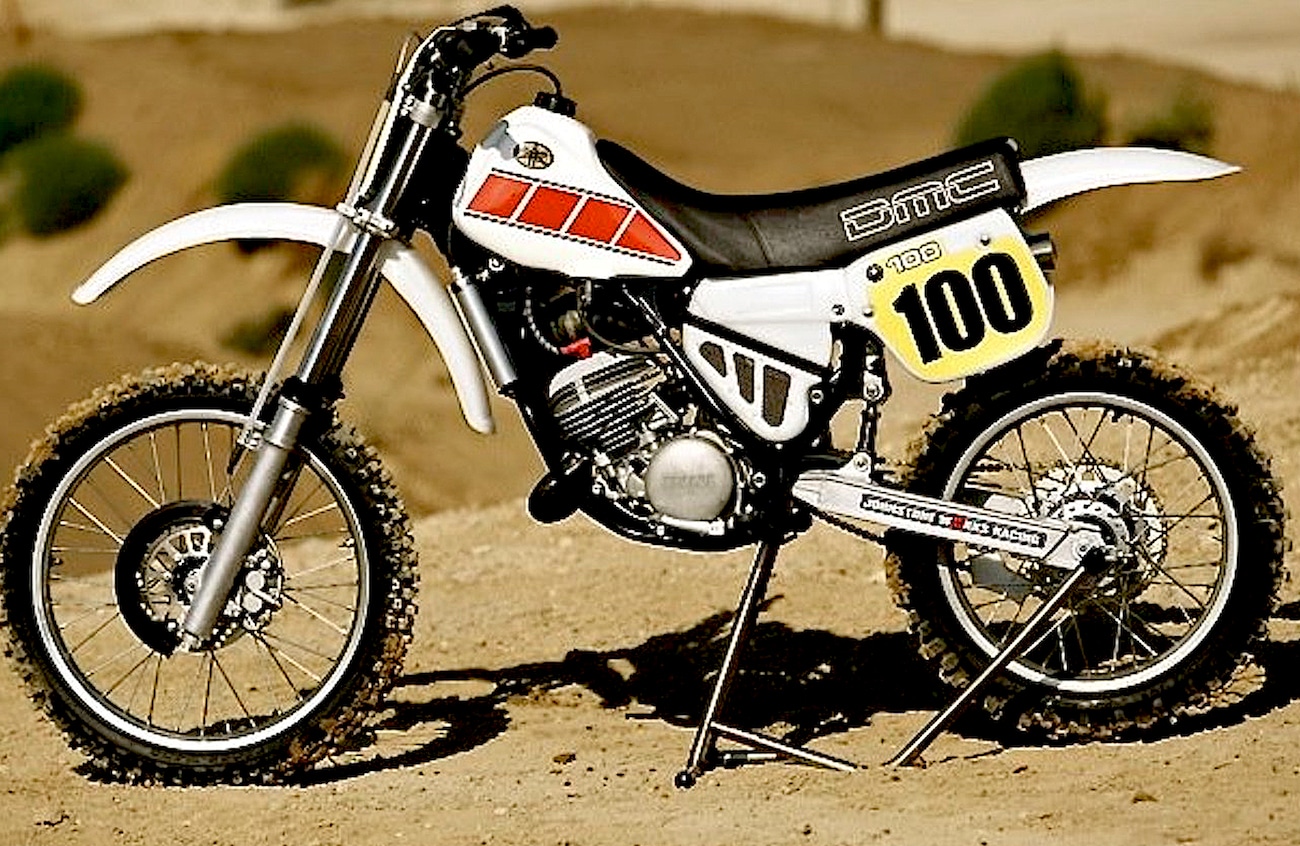 Everything is sano at Miller Mano—especially this 1983 YZ100 with a YZ125 swingarm, Yamaha 175 forks and Noleen suspension  
Body work. "The gas tank is a 'brand new' OEM tank that is correct to this model and was located at a Yamaha shop in South Africa (Dave lobes eBay). The fenders, side panels and air box cover are DC Plastic units. The air box cover has DMC venting mod. Front number plate is from a Honda CR85. All graphics, logos and backgrounds are built by Team Swolen. The seat cover is a quality replica from a Canadian company. Dave put the DMC 'tattoo' on himself. All oils (engine, suspension, drive) are from Spectro.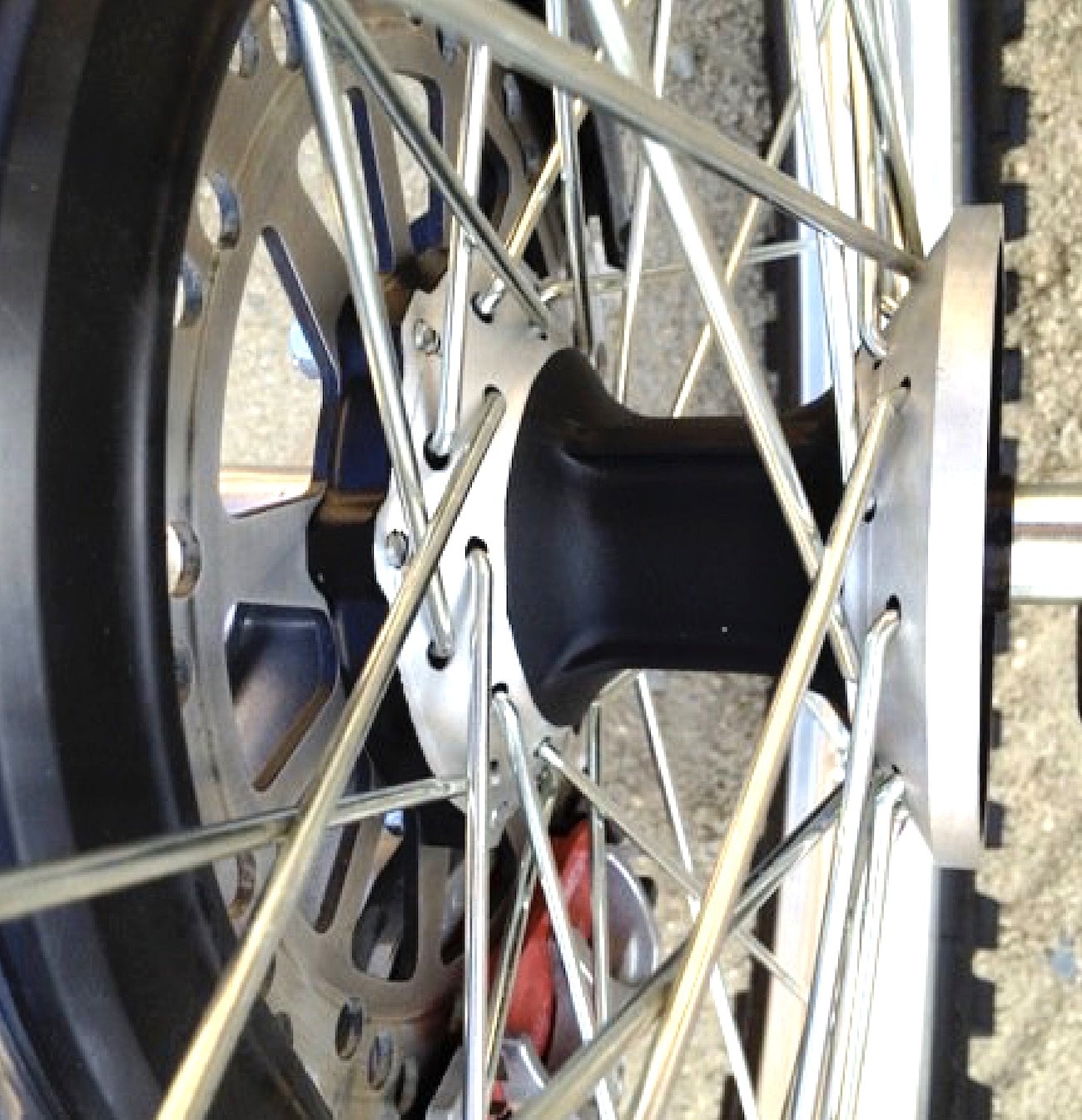 A classic Dave Miller touch. Two-tone hubs. 
This concept YZ100 bike was built to compete in the "Marty Tripes 100cc Works Revenge Series.
MXA CLASSIC IRON: DAVE MILLER'S 1969 HODAKA SUPER RAT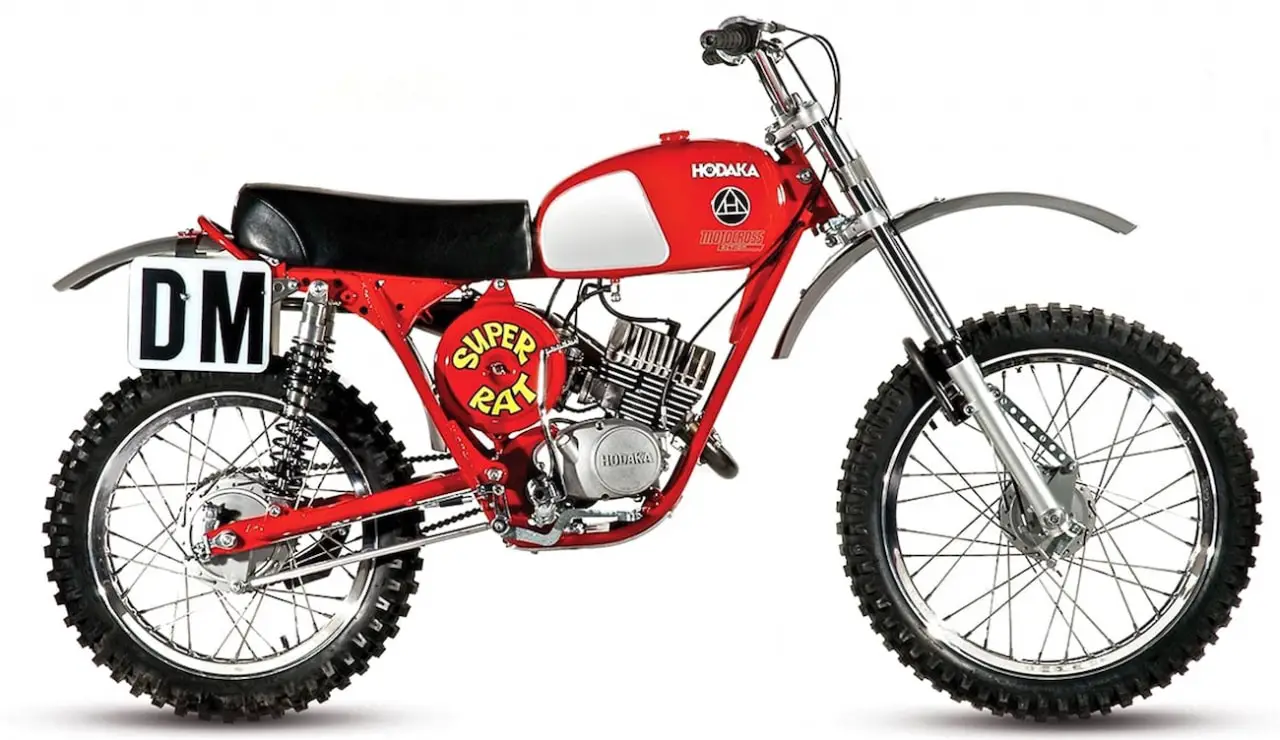 BY TOM WHITE
Dave Miller of DMC fame might never have returned to the Hodaka fold, but he was invited to participate in an invitation-only 100cc Pro class for vintage bikes at the 2004 Elsinore Grand Prix. Miller knew that if he wanted to build the best possible 100cc vintage bike, he would have to start with a Hodaka Super Rat.
Dave Miller's connection to Hodaka goes back to the late '60s when he was a three-time National Minicycle Champion. In the days before production-line Japanese minicycles, if you wanted to race minis, you had to ride a Bonanza, Steen, Bird or Indian. The powerplant of choice was often the reliable, cast-iron-cylinder Hodaka engine or its Fuji Industries lookalike.
Dave sand-cast his own Webco-style cylinder head to go on the Webco cylinder.
As Dave Miller prepared for the Elsinore Grand Prix, he started with a bare-bones 1969 Hodaka Super Rat. He found a used aluminum Webco cylinder on eBay, cut the reed block off a Honda CR80 cylinder and grafted it to the intake side of the 50-year-old cylinder. Unable to find the matching Webco cylinder head, Miller cobbled together a blank from a used 125cc head and had a special run of Webco heads sand-cast at a foundry in—of all places—Lake Elsinore. With a 26mm Mikuni carb (off the CR80) and a handmade exhaust pipe, the engine work was finished.
Dave cut the chrome toaster gas tank in half, down the center line, and made it two inches narrower.
Dave then turned his attention to the chassis. To make the bike as sleek and narrow as possible, Dave cut the stock chrome toaster fuel tank in half and removed 2 inches out of the center section before welding it back together (he did the same thing to the stock Hodaka seat). Using chromoly tubing, he extended the wheelbase by 2-1/2 inches (a common mod back in the '70s, most commonly achieved with Swenco swingarms). The 30mm Hodaka front forks were replaced with 32mm Ceriani forks mated to stock bead-blasted hubs laced to Akront rims. The rear brake was modified to make it full-floating.
Dave's DMC Hodaka Super Rat is a thing of beauty. With its slim profile and long wheelbase, it isn't an authentic restoration of a 50-year-old machine; instead, it is a modernized version of a classic.
DAVE MILLER'S FULL BODYWORK FOR PRO CIRCUIT KAWASAKI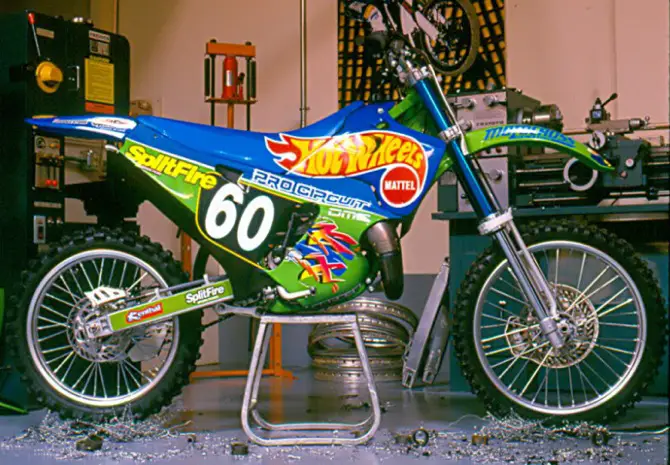 Dave Miller built this full bodywork Kawasaki for Mitch Payton's Hot Wheels team, but Kawasaki said "no " because it didn't look like a Kawasaki. Dave also built the aluminum gas tanks for the Team Peak's blue Honda CR125s, but the AMA banned Pro Circuit from using the aluminum tanks, but allowed the factory teams to use a few years later.

EDDIE HICKS' ALUMINUM-FRAMED 1984 YAMAHA YZ80 BY DMC
Dave built the most iconic minicycle ever when he built Yamaha mini star Eddie Hicks an aluminum framed, disc braked, high horsepower, aluminum gas tank, 136-pound YZ80 in 1984.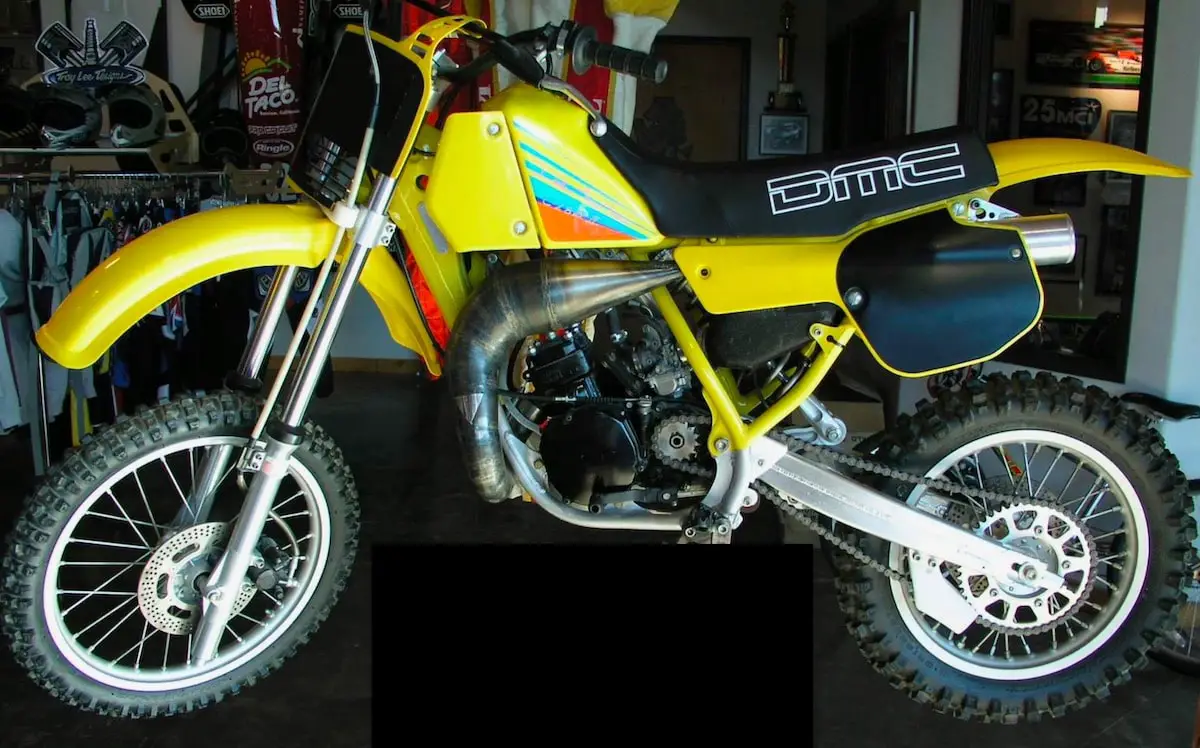 Dave's workmanship was beyond reproach.
DAVE MILLER'S AFTERBURNER CENTER-BLEED EXHAUST PIPE
Dave was the only tuner to offer center-bleed exhaust pipes to two-stroke motocross racers in the 1970s. The stinger comes out of the center cone of the pipe instead of the end cone—thus "center-cone." Yes, it works.
THE MOST FAMOUS DAVE MILLER PHOTOGRAPH EVER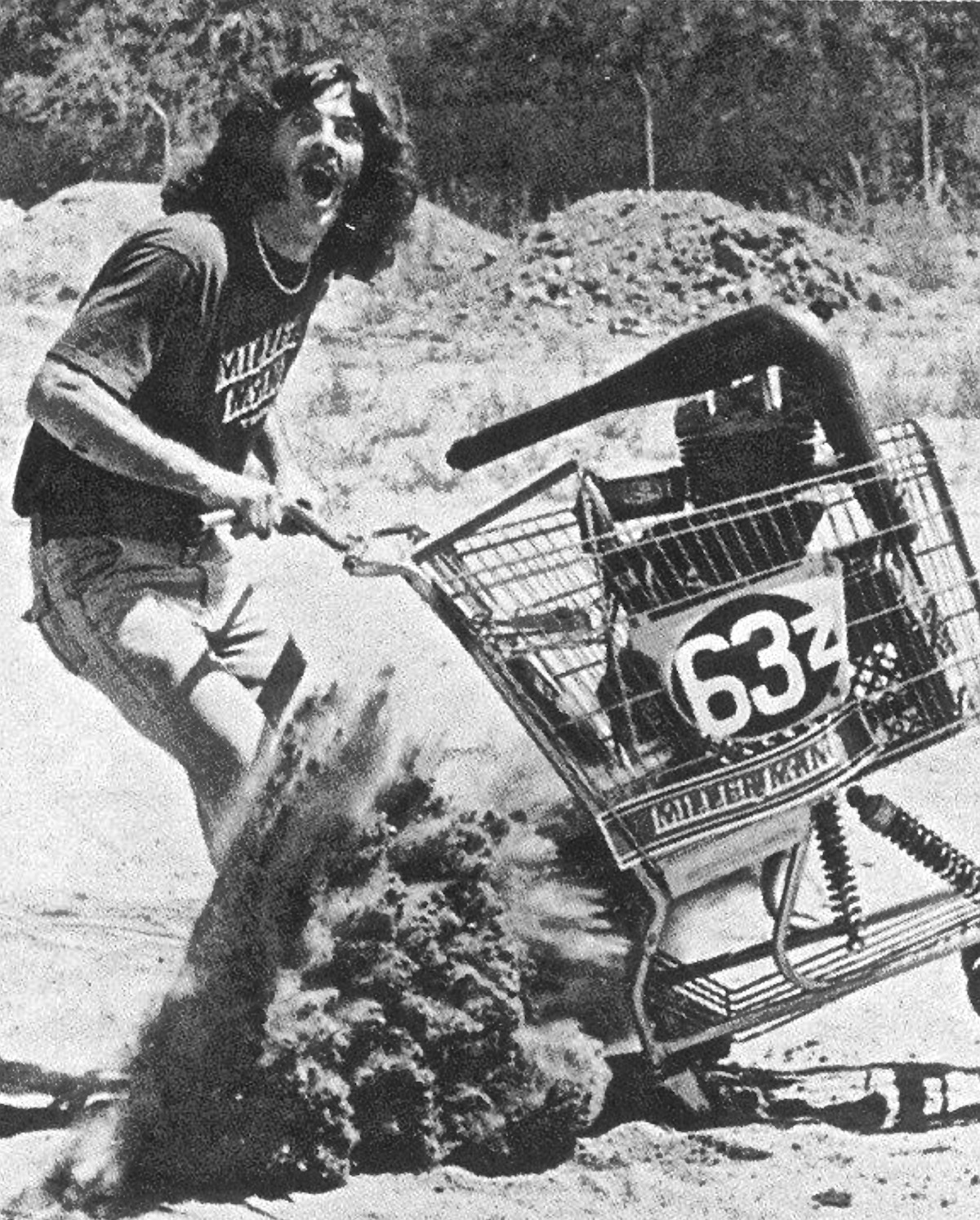 The original MXA caption read: Dave Miller of DMC fame originally started his hop-up career with a business known as Miller Mano. It's slogan was "Everything's sano at Miller Mano." Dave started the first high-performance shopping cart races that were an enormous fad in 1974. Photo by MXA's Curt Evans

DAVE MILLER'S 1974 MONARK 125


This DMC-built Monark started life as 1974 model, but the top shock mounts were moved forward, the frame cradle was rebuilt and all the bolts were dished. The swingarm was made from 30mm longer box steel and had needle bearings at the pivot and moved-up shock mounts.
The gas tank was a Husqvarna CR390 tank that Dave cut apart, narrowed, added a new tunnel, redesigned the filler neck and painted and polished.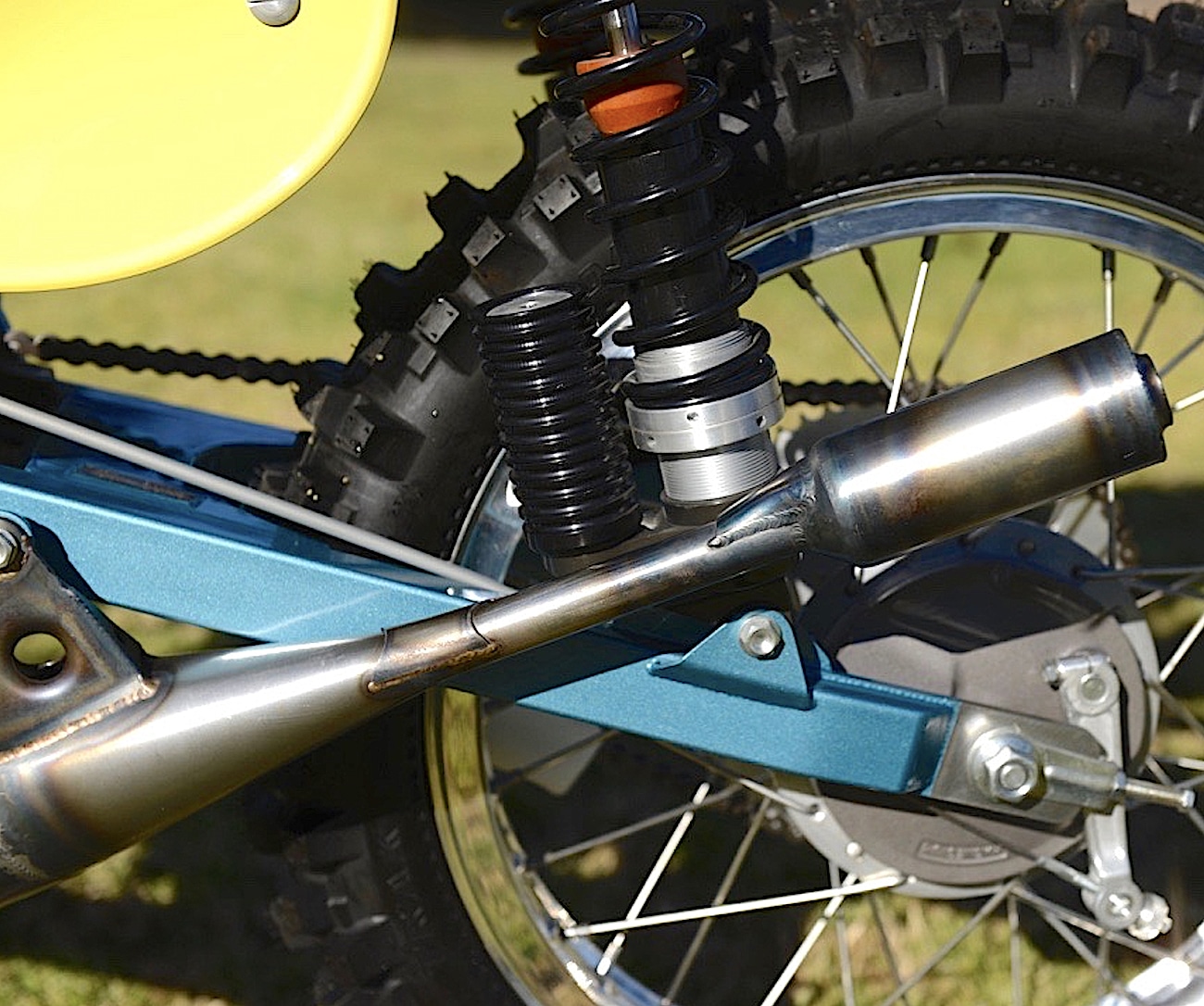 The DMC six-cone pipe featured Dave's hand grenade muffler. You can see the detail on the pipe mount in this photo. The shocks were built by Clark Jones at Noleen with the reservoir in the Thermal Flow position.
The front forks were 35mm Cerianis. The front wheel had a conical, double-leading shoe, magnesium, Yamaha front brake. The side panels were aluminum. And the rear hub, also from a Yamaha, was heavily machined to remove all casting marks.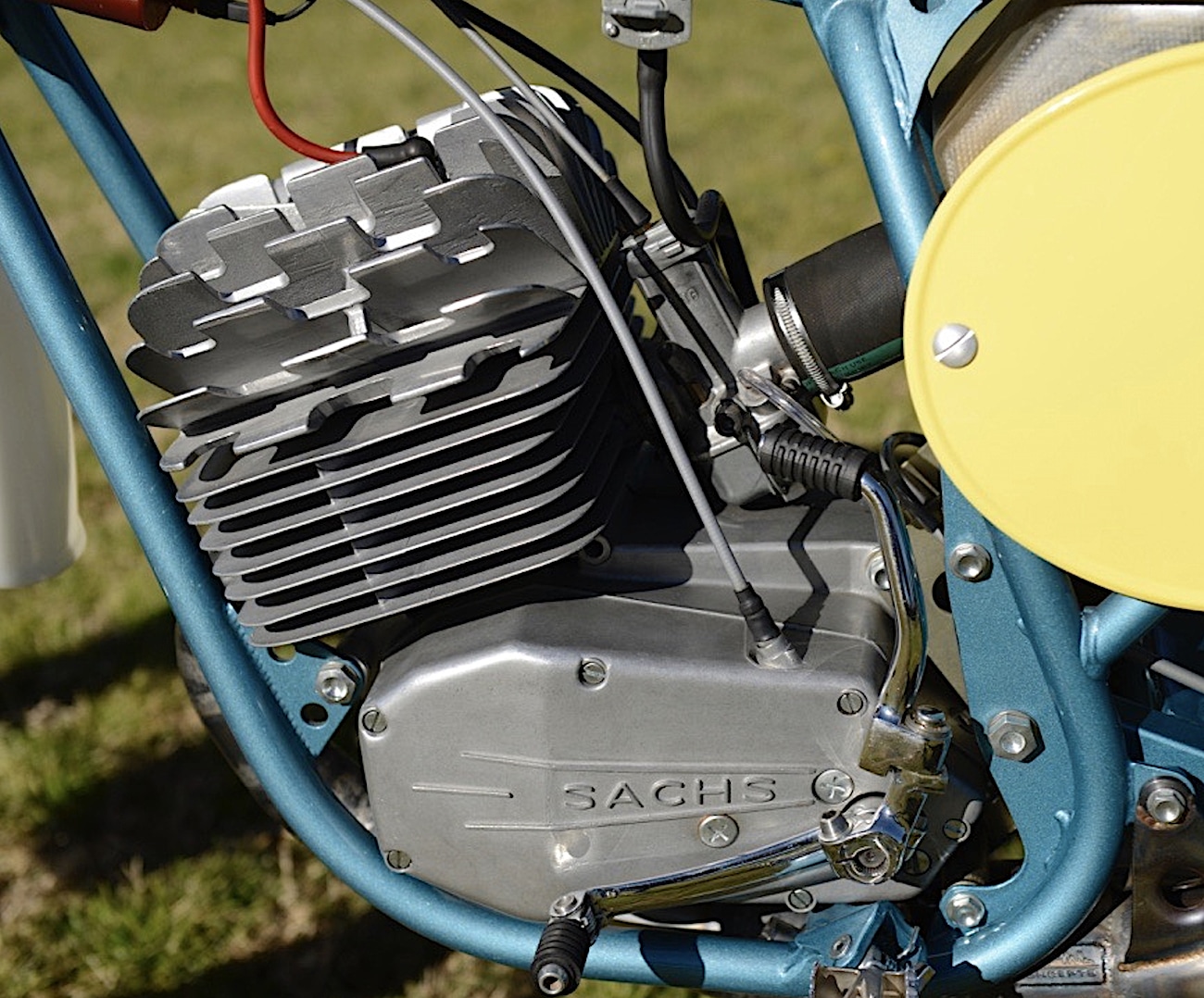 The Sachs engine had a rare five-speed close ratio gearbox with a Koba shift kit, beam rod, 30mm Bing carb, Motoplat ignition, porcupine head and boost port cylinder. DMC made this bike for Jon Spieght.
DAVE MILLER AS A SUCCESSFUL SOCAL PRO BY SCOTT HEIDBRINK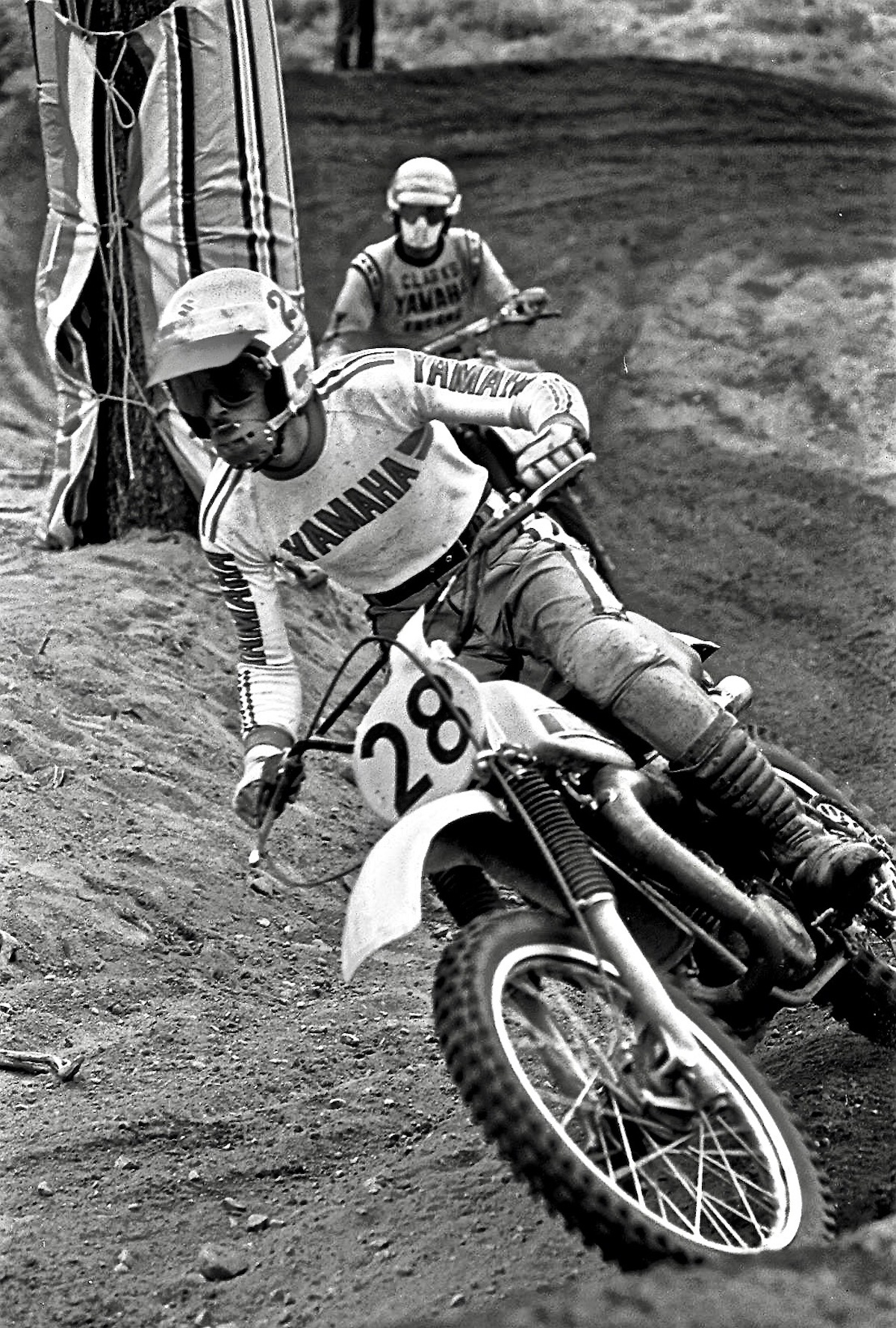 Dave was a National Minicycle Champion who pursued a pro career before finding his true calling as a fabricator. This is Dave at the Mammoth Mountain Motocross. The photo was shot by Scott Heidbrink.
DAVE ON HIS MINI BAGGER
Dave Miller is one of the most creative craftsmen in the motorcycle world.  He built this mini chopper with a 420cc, electric start, Honda generator engine hooked to a torque converter. It would do 70 mph on the road.

DAVE MILLER'S BOARD TRACK WHIZZER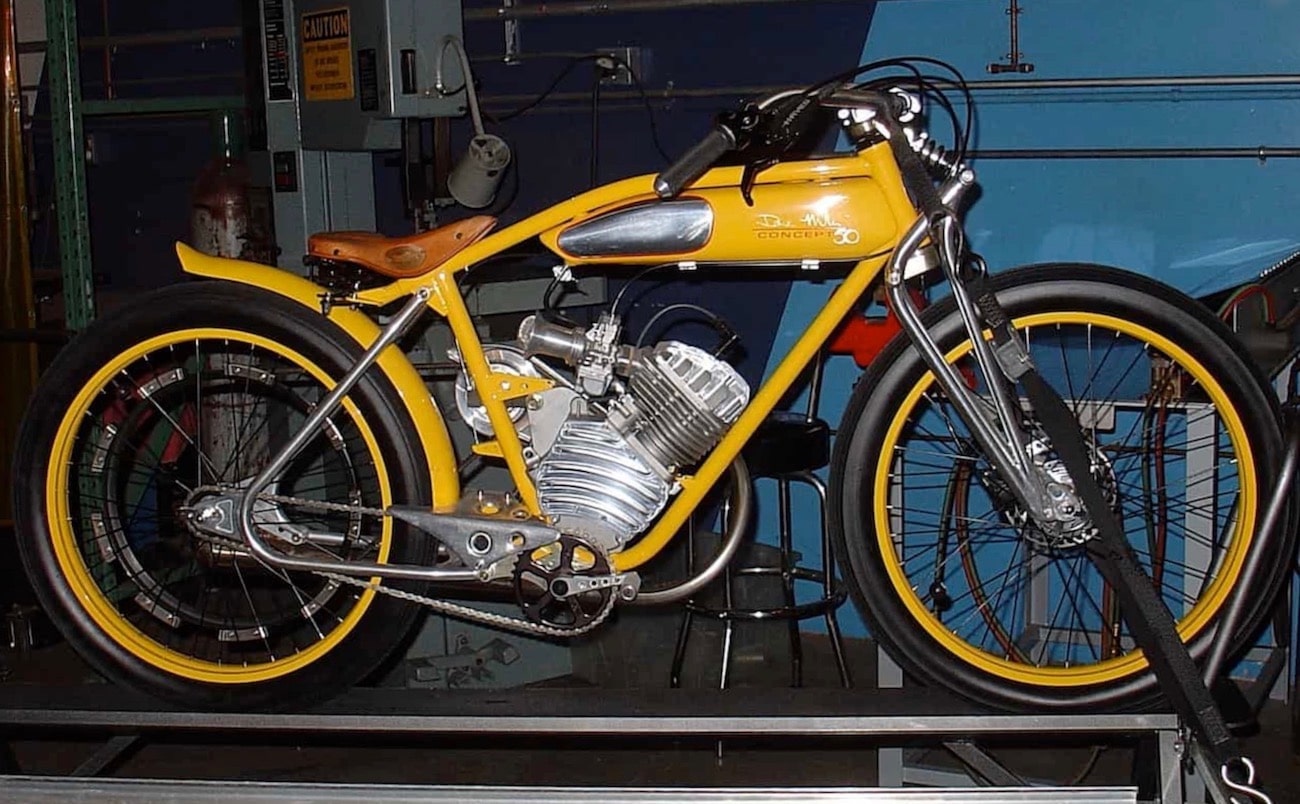 This is Dave's Whizzer-inspired, 50cc, board track racer. Dave hand-built the frame, gas tank, forks and bars, but the piece de resistence was his CNC-machined engine.
DAVE MILLER'S YAMAHA TWIN-CYLINDER JT100 DIRT TRACKER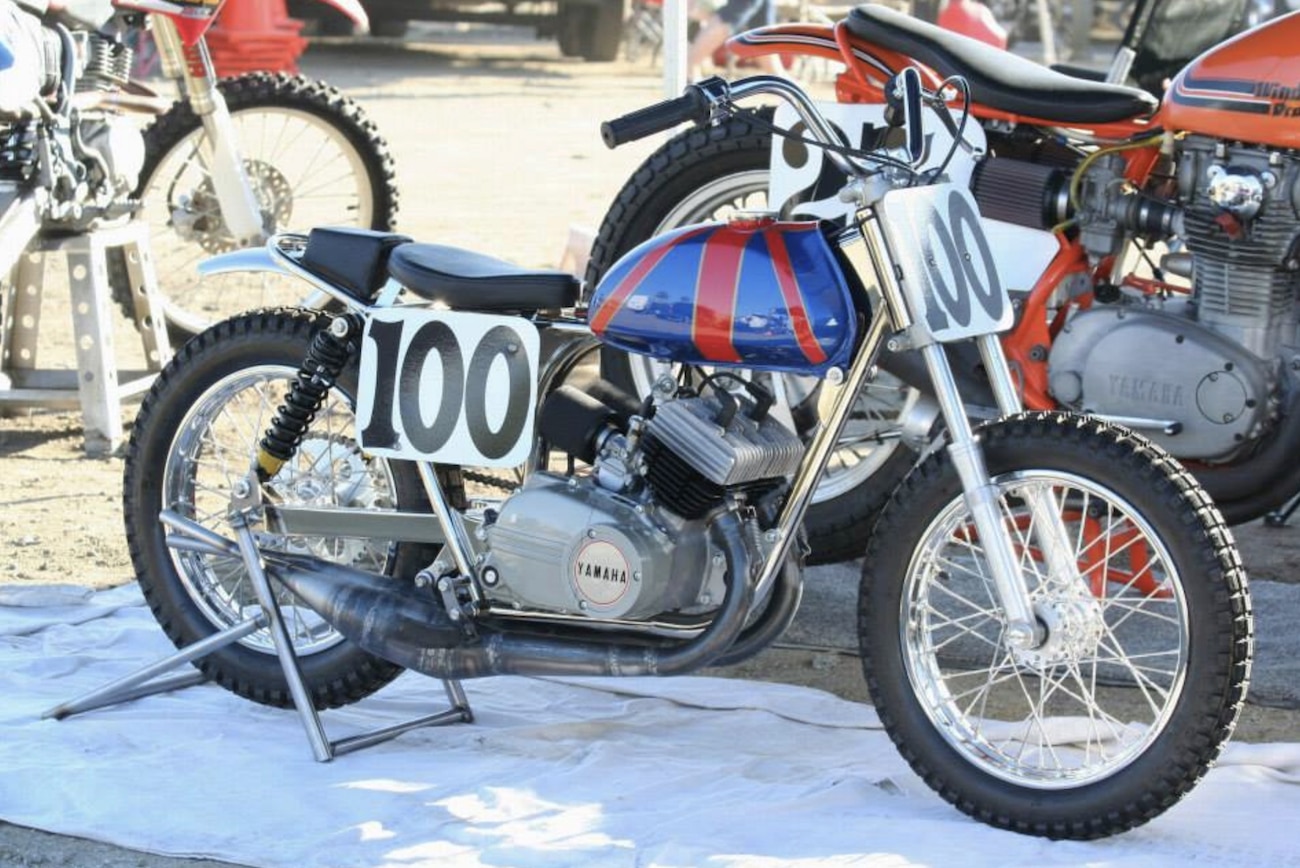 This is Dave's Yamaha 100cc twin-cylinder dirt track bike. If you wonder why he called it a JT100, look at the photo below.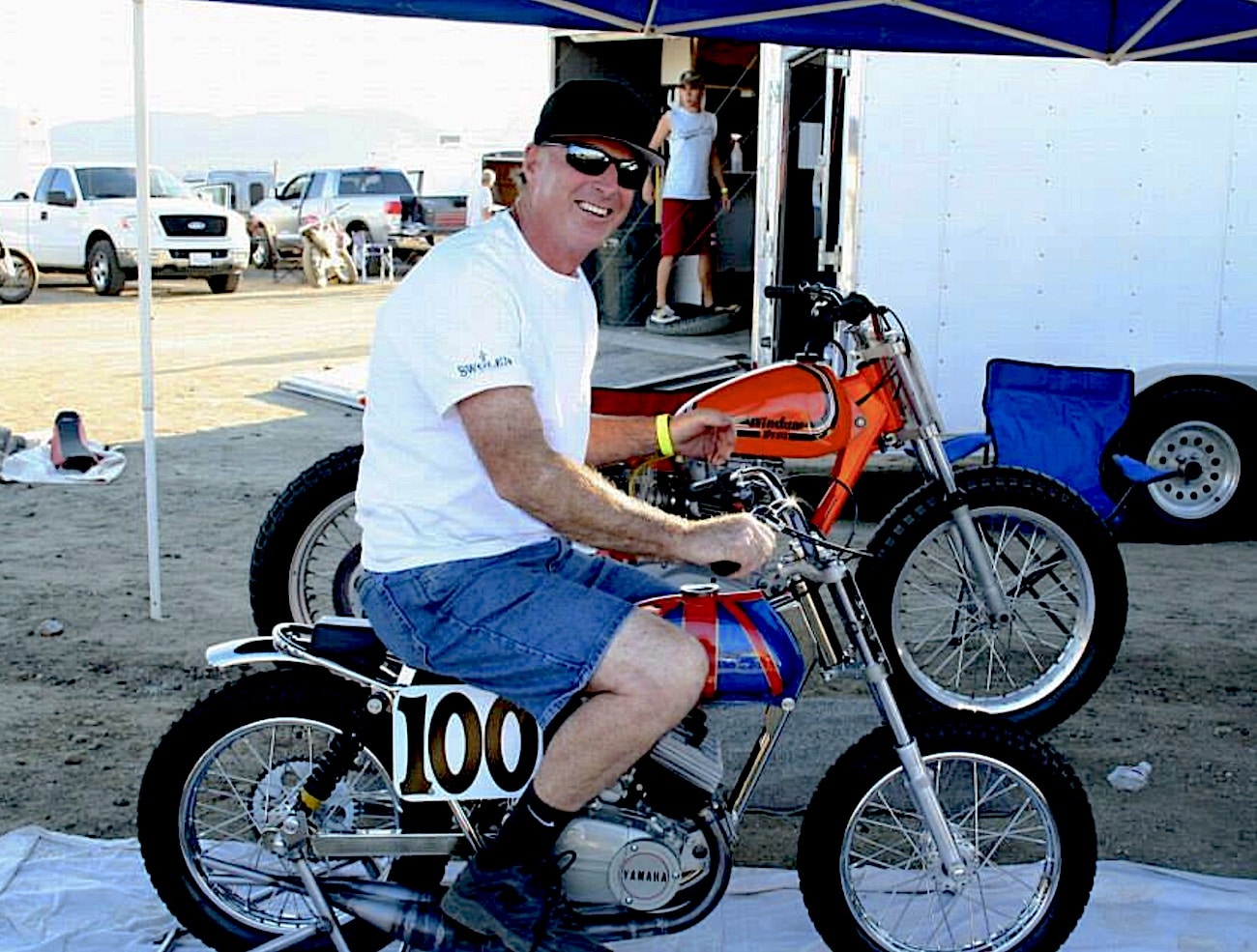 At first glance it looks like a full-size dirt tracker, but with Dave on it you can see that it's mini-mini size. The name comes from the 1971 Yamaha JT1 Mini Enduro.

DAVE MILLER'S CR85 POWERED TACO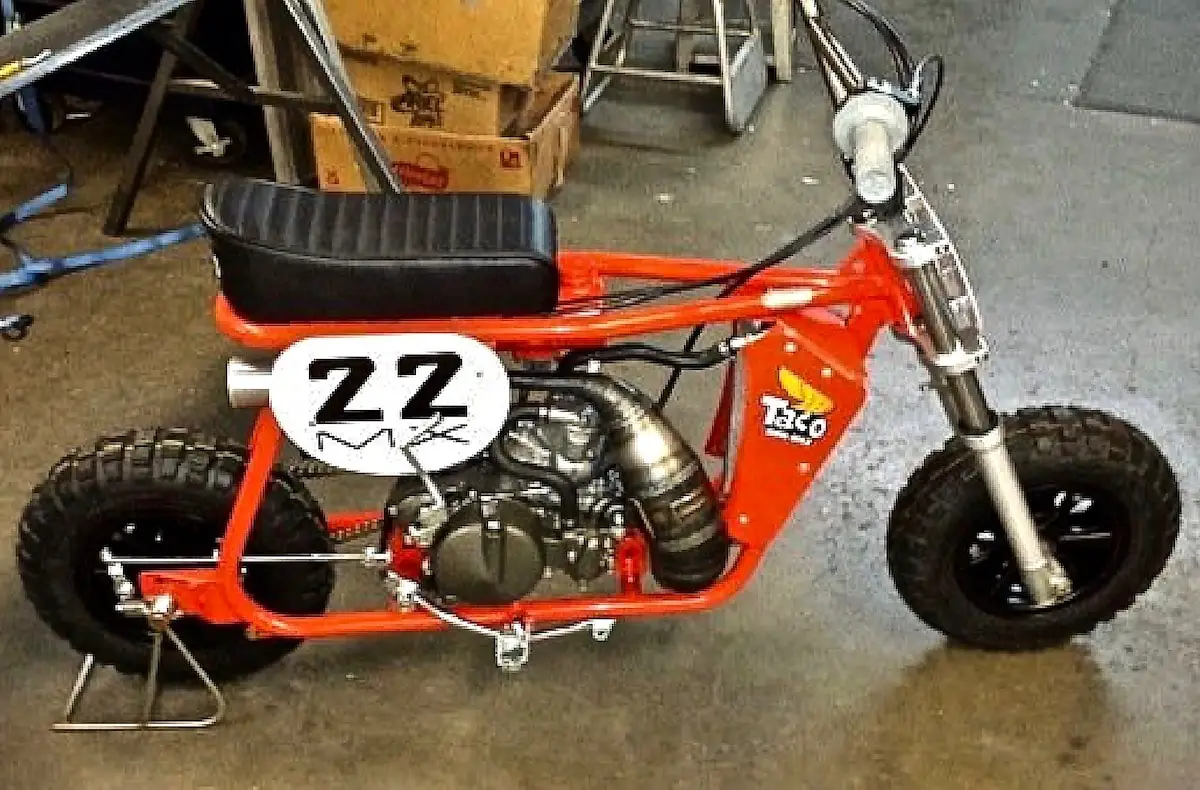 Just your basic 25-horsepower, CR85-powered, old-school, Taco mini bike from Dave Miller at DMC.
Dave often did the impossible. He tried to stuff whatever engine he could get his hands on into something that you never dreamed it would fit in.
FLASHBACK: DAVE MILLER'S 1976 MILLER MANO'S  CATALOG

You may be too young to remember Dave Miller's iconic Miller Mano race shop. Dave was definitely not a businessman — he was a hotshot 125 Pro, certified wild man and crazy inventor. But most of all Dave loved motorcycles and was a superior craftsman who could build anything. Most people still remember Dave from the exotic minis that he built for Eddie Hicks under the DMC (Dave Miller Concepts) name. Dave was the king of LaPalma Avenue — the street where hisshop was located for decades.
In memory of Miller Mano, we present a few pages out of Dave's 1976 Miller Mano catalog—"Everything's sano at Miller Mano."
REMEMBER WHEN: THE DAVE MILLER T-SHIRT COLLECTION BY TEAM SWOLEN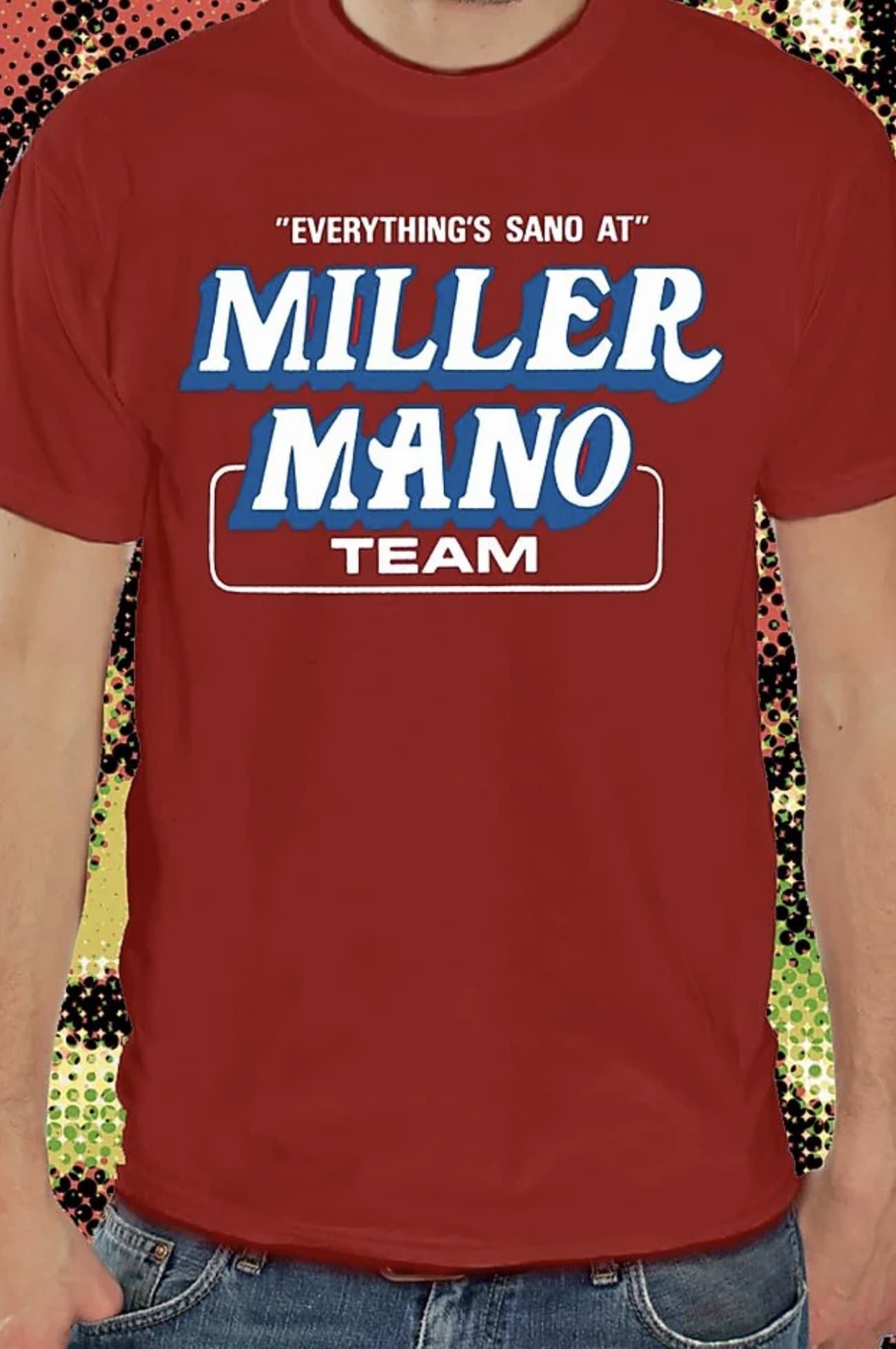 Everything's Sano at Miller Mano—$20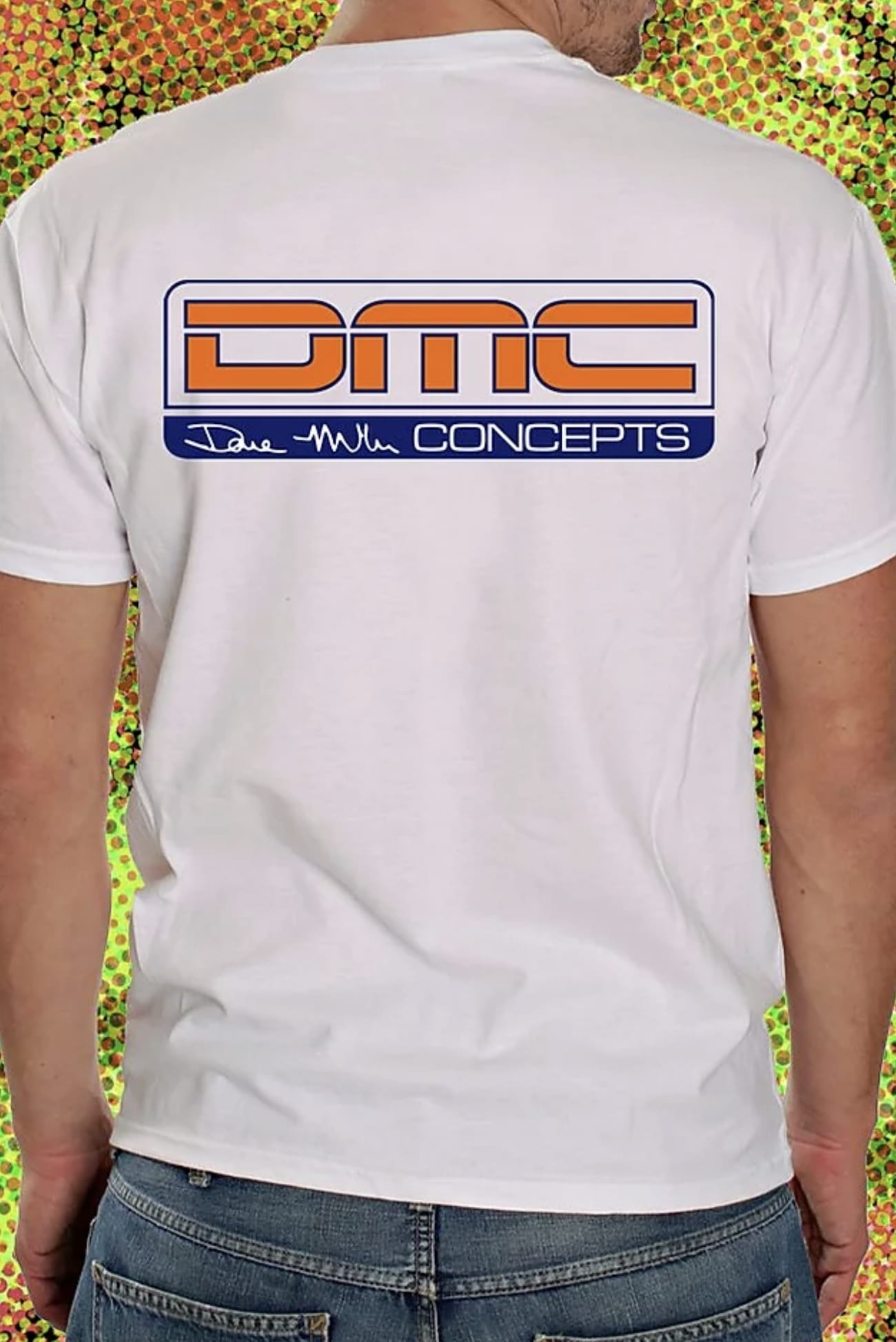 DMC—$20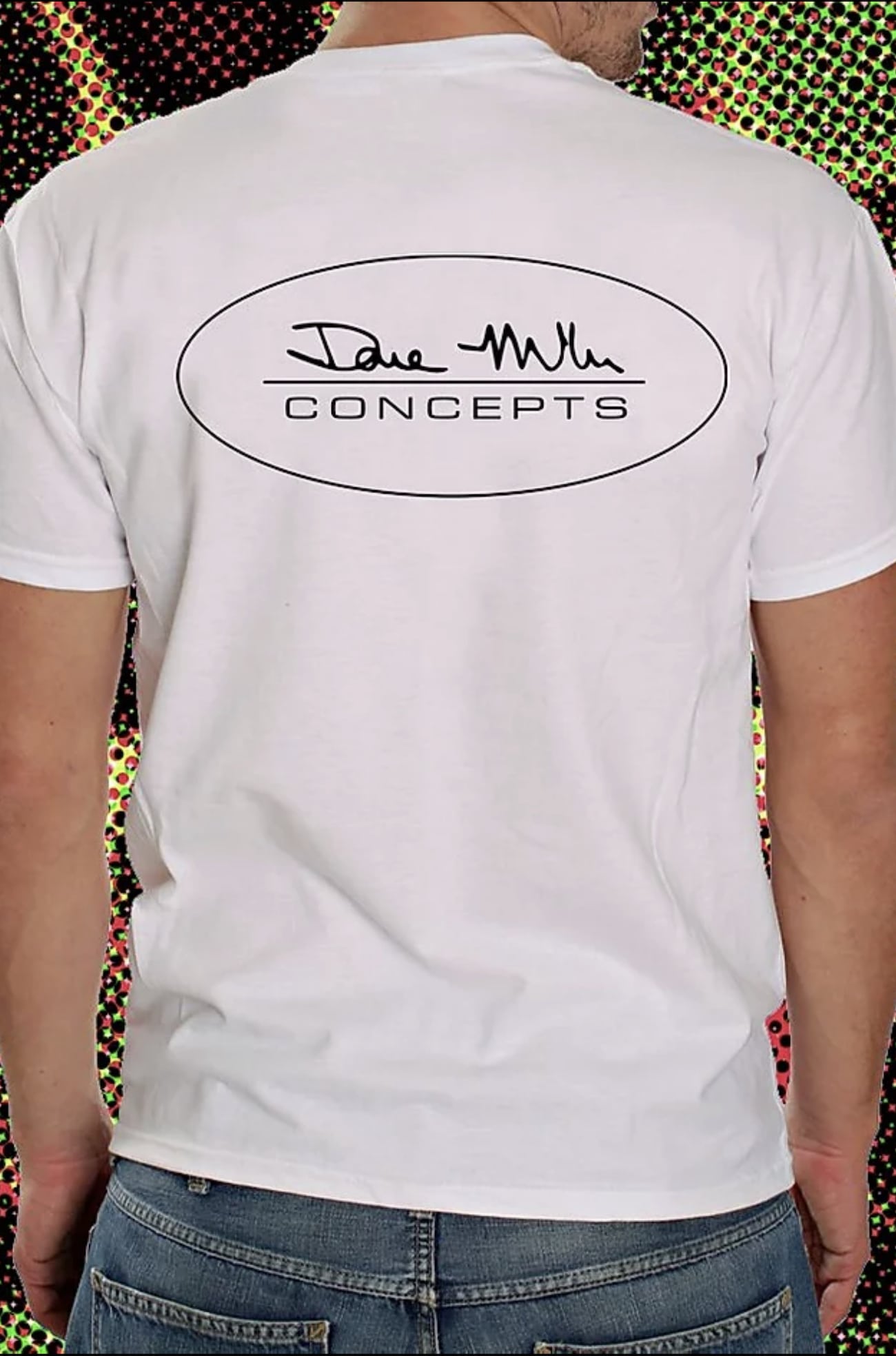 Dave Miller Concepts—$20
Dave's buddies at Team Swolen have developed a complete line of Dave Miller T-shirts. For more info or to order Click Here.
THE VIEW THAT MANY RACERS SAW OF DAVE MILLER…HIS BACK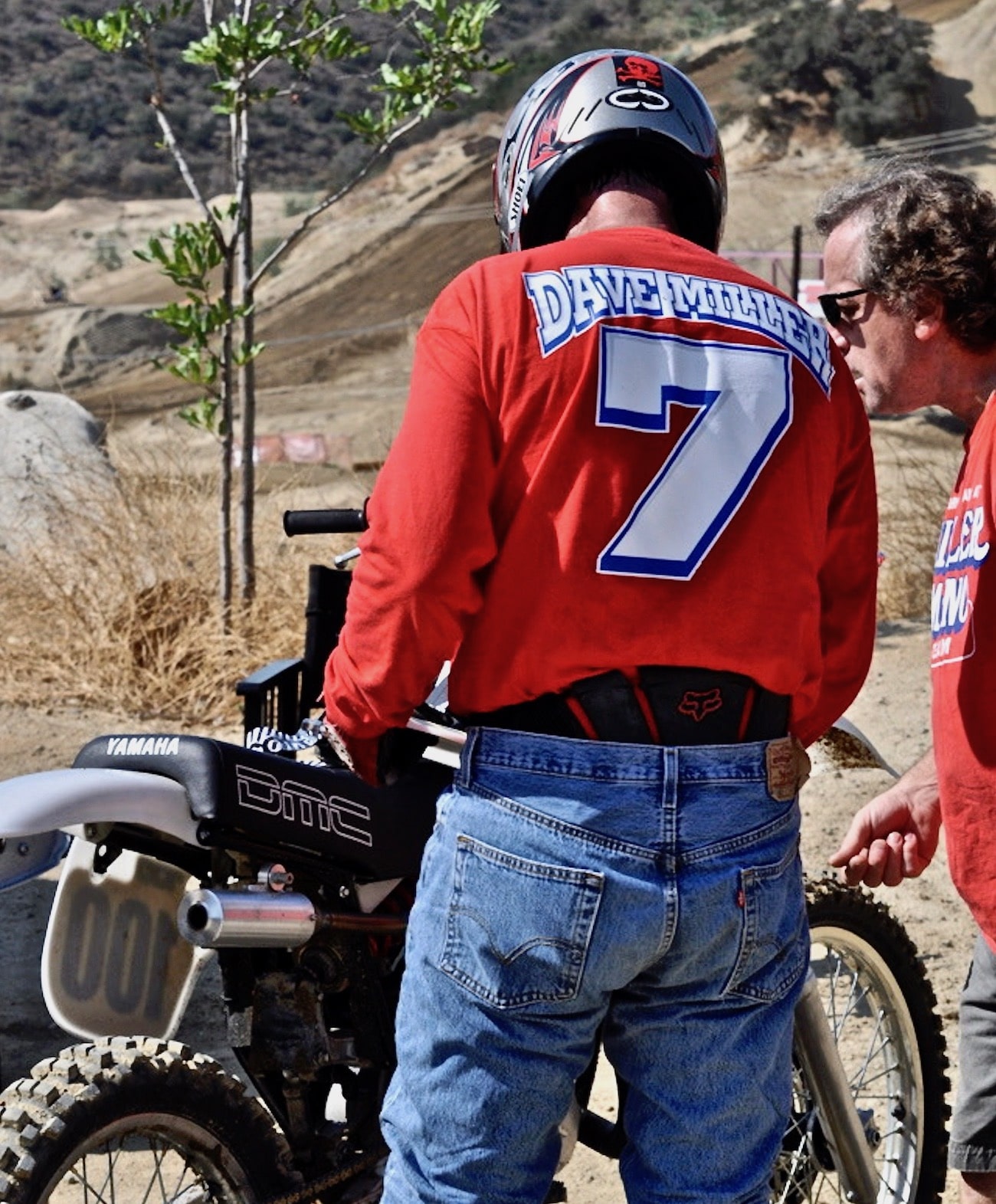 So long, Dave.