HOW GOOD IS THE 2018 HUSKY ROCKSTAR EDITION FC450? FIND OUT IN THE NEW MXA
Not only did MXA test the first 2018-1/2 Husqvarna Rockstar Edition FC450 in the country, but we matched it with a magazine full of killer two-stroke tests—including the 2018 KTM 125SX, 2018 TM MX125, 2018 KTM 250SX, 2018 Yamaha YZ250 and Carson Brown's hand-built 2018 KX125.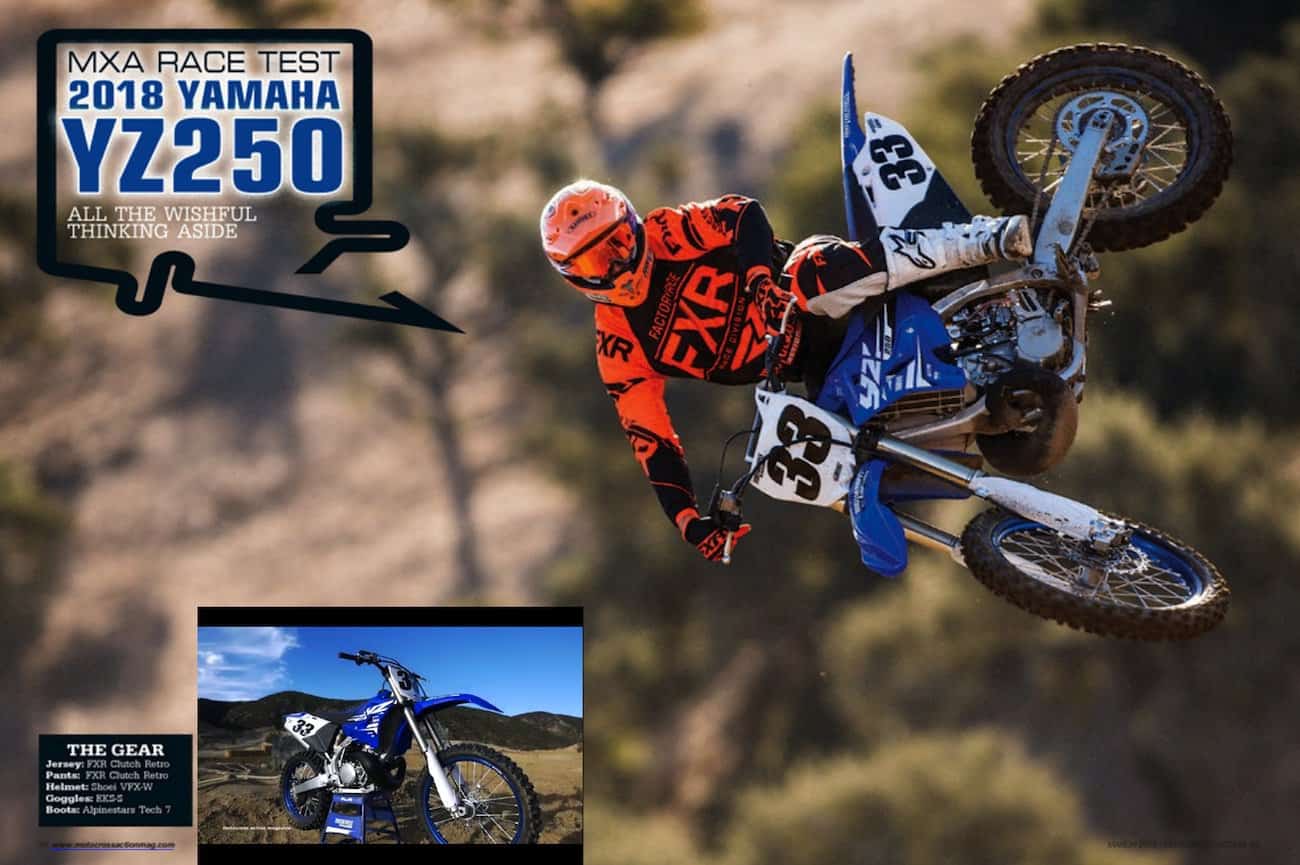 The king of the workshorse two-strokes, the 2018 Yamaha YZ250 may not be the newest 250cc smoker on the showroom floors, but it is an iconic bike that has the largest following in the world—see what they see in it.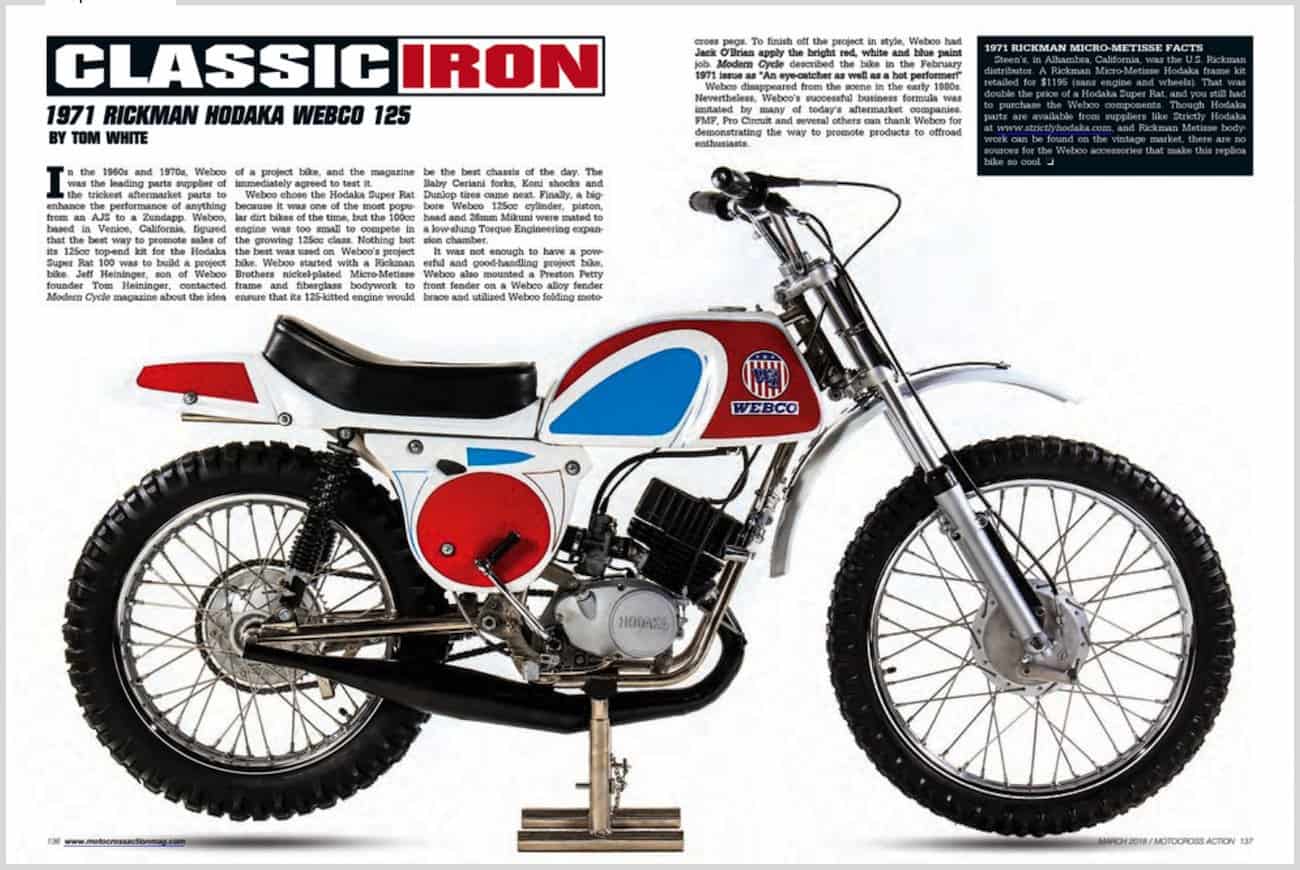 You were the coolest kid on the block if your had a 1971 Hodaka Super Rat—but the coolest kid in the world if you put that Hodaka engine in a Rickman Micro-Metisse frame. Better yet, if you ordered a Webco 125cc engine kit you would be the coolest kid in the galaxy. Before Tom White passed away, he left us with a massive stockpile of Classic Iron bikes to do stories on from his museum.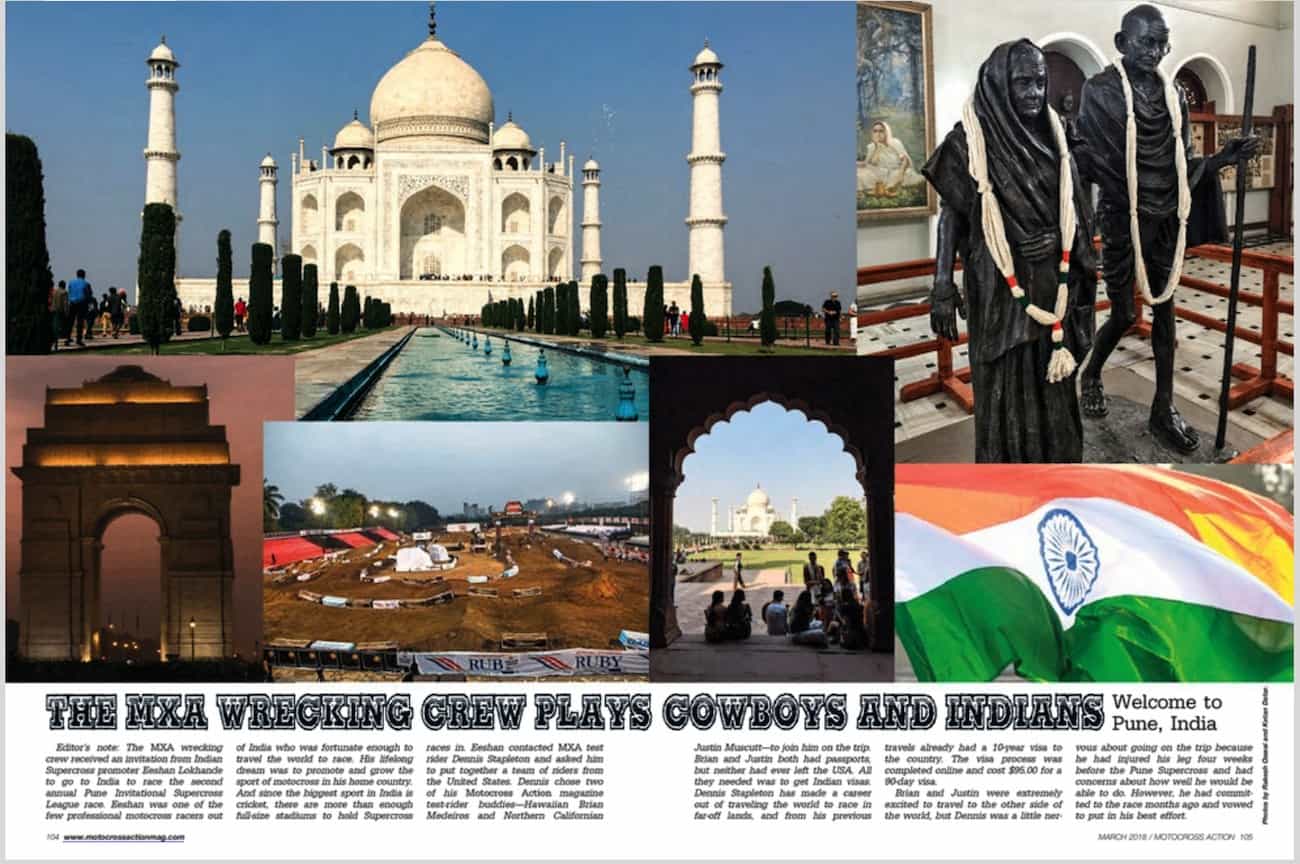 The MXA wrecking crew flew to India to race the Indian Supercross Championship in Pune. We had a great time, raced three days and only suffered a broken pinkie and a severe case of WiFi deprivation while seeing the sights that this amazing country has to offer.
Do you know the real story behind the disappearance of leaded gasoline or how the 2018 CRF250 engine differs from the 2017 CRF250 mill? Find out from the MXperts.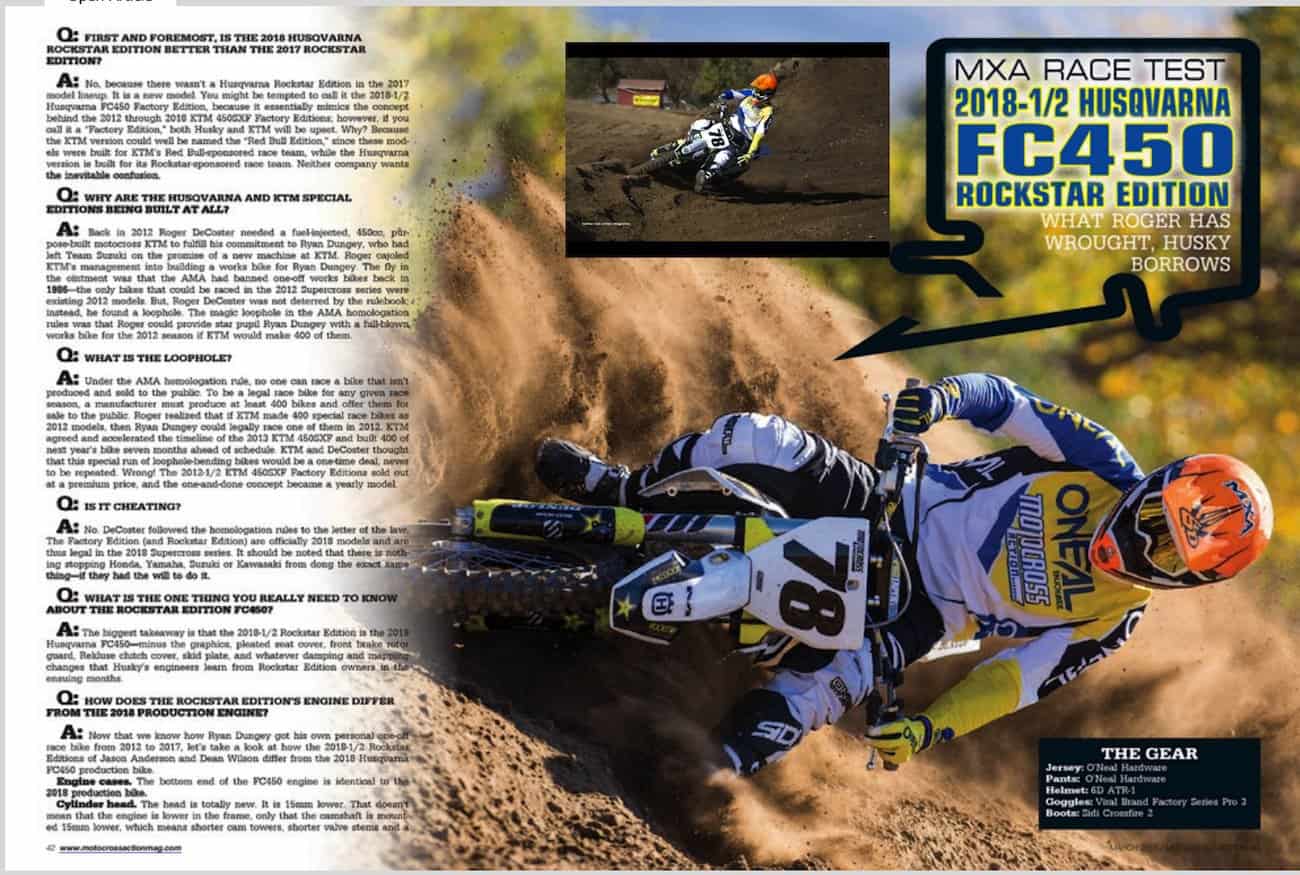 This is the bike that Husky racers have been waiting for. It is the Husky version of the KTM Factory Edition that made Ryan Dungey unbeatable. Now it's in the hands of Jason Anderson—and could be in your hands too. How good is it? Read about it in this issue.
This is the midrange monster of 250 two-strokes. It barks out of corners to the tune of five horses more than a Yamaha YZ250. That's a lot of power to be focused in one spot—but at least it's the perfect spot. In the YZ250's defense, the peak horsepower difference between the KTM and the Yamaha isn't much. but by the time you get to peak the Katoom is long gone.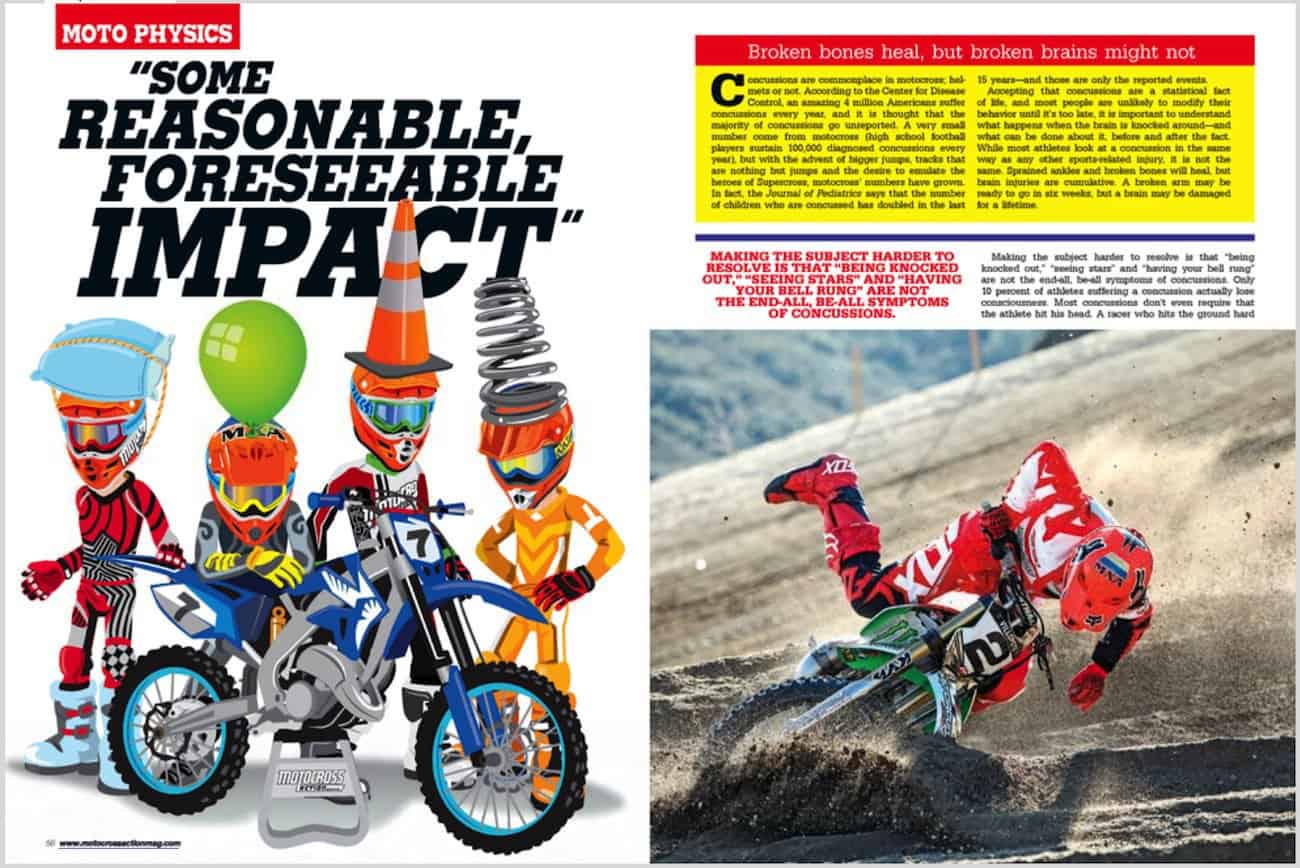 Concussions are what caused Davi Millsaps to retire. Concussions are what kept Justin Bogle from starting the 2018 Supercross series. Concussion are no bueno. But, they are even worse if you don't understand how they happen, how to avoid them and what do do once you get one.
The 2018 KTM 125SX isn't just another pretty tiddler. It is the fastest 125 two-stroke in captivity. If you can make six gears sound like one gear melded into sonic oneness—this is the bike for you.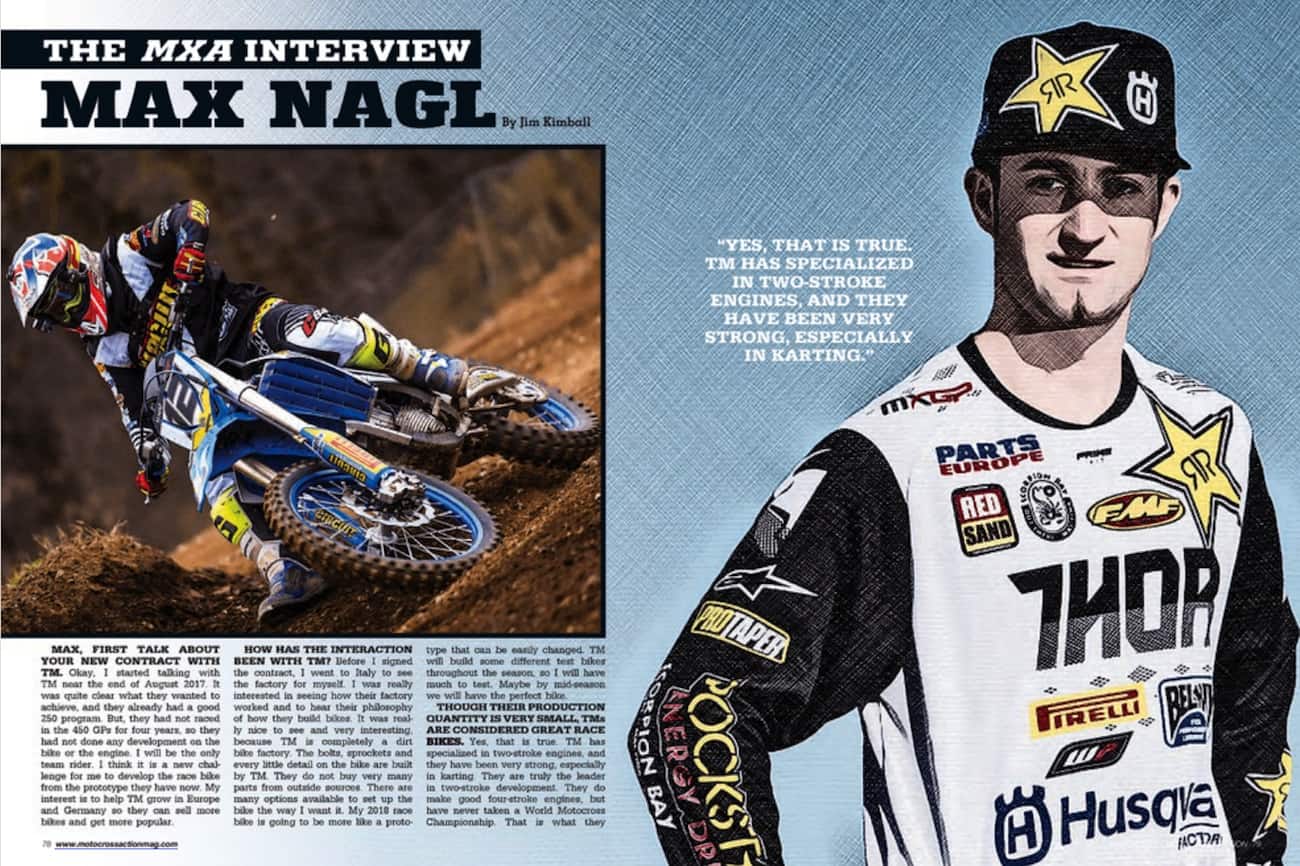 Max Nagl gets to develop his very own bike for the 2018 450 Grand Prix season. He will be the sole TM MX450 racer and will have the might of TM's Pesaro, Italy, factory behind him. He says, "Give me a few races to get it dialed and I'll be back up front."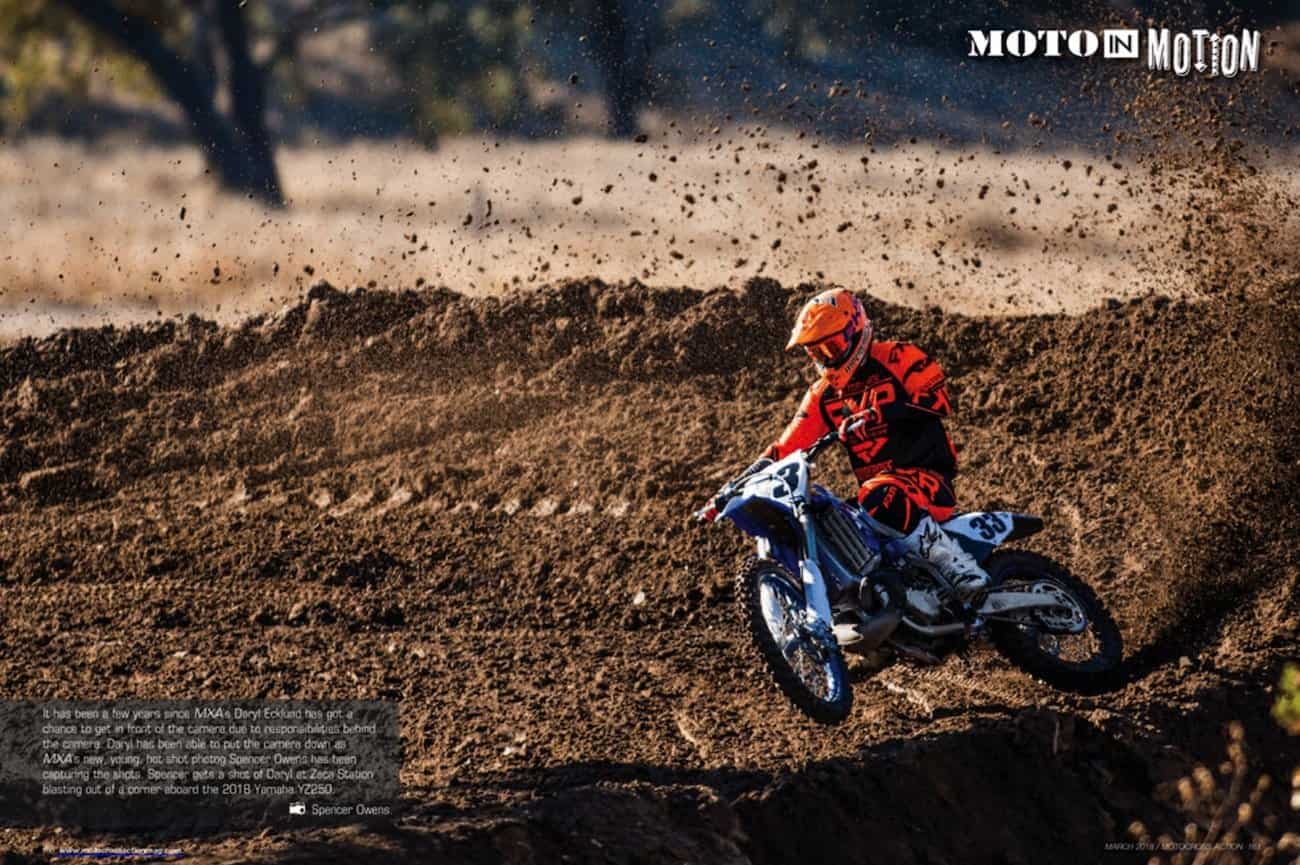 Sometimes its lonely to be an MXA test rider. Here, Daryl Ecklund pounds at laps on our YZ250 at the fabulous Zaca Station track in central California.
Don't you wish that Kawasaki made the KX125 two-stroke again? Carson Brown got tired of waiting and had his BBR family build him the ultimte Kwacker 125. We let Carson tell how he built it and why he used the parts he chose.
The MXA wrecking crew has a long history with TMs. We have tested every one that they brought in to the USA—and come away from each test both thrilled and disappointed. This time were were thrill and tickled pink. It is better balanced, more supple in the bumps and blazing fast. It's a serious contender.
PLUS THESE STORIES AND MANY MORE
For "Fork Works" we put Kayaba Factory Kit forks on our KTM 450SXF.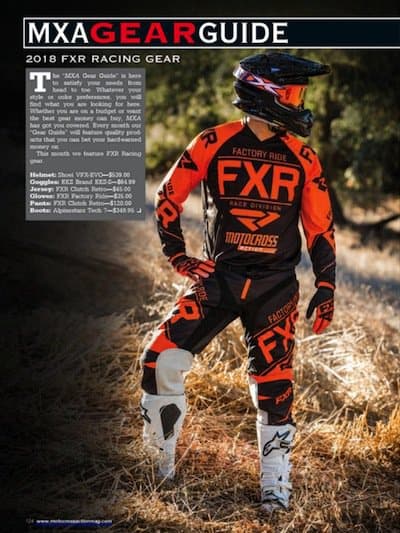 In the "MXA Gear Guide" we wore orange and black FXR gear.
We tell you ten things about the new Shoei MEDS system
Lars Larsson tell you about the life of a Grand Prix racer (circa 1966).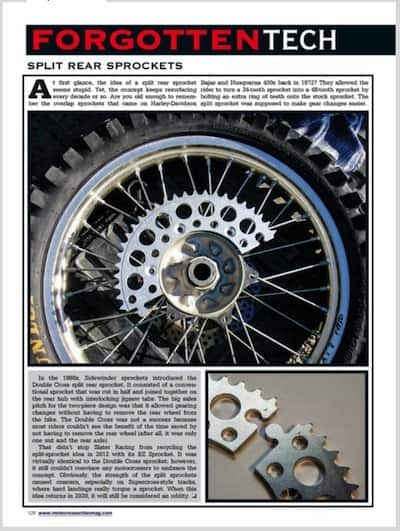 You may not remember the split sprocket, but rest securely in your ignorance.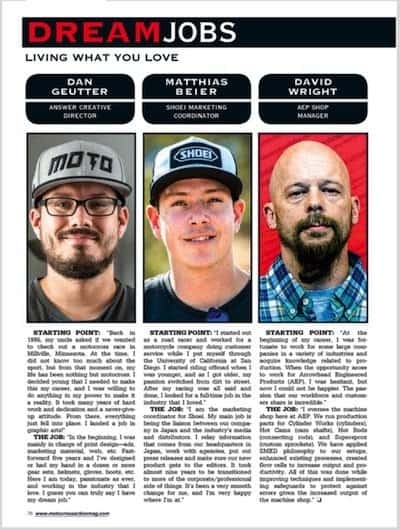 In "Dream Jobs," Dan, Matthias and David tell you about designing gear, working for Shoei and making hard parts.


HOW TO SUBSCRIBE TO MXA
Do you subscribe to MXA? You should. We know that you think that print magazines are dead and that the internet will fill the void, but most of the stuff in the current issue of MXA won't appear on the web for several months, if at all. Luckily, you can get all of MXA on your iPhone, iPad, Kindle or Android by going to the Apple Store, Amazon or Google Play or in a digital version. Even better you can subscribe to Motocross Action and get a $25 Rocky Mountain ATV/MC gift card to spend on whatever motorcycle parts or products you need. You can call (800) 767-0345 or go to www.hi-torque.com/product/motocross-action-holiday/.
OR CLICK ON THE BOX BELOW