INTERVIEW OF THE WEEK: ERIC PERONNARD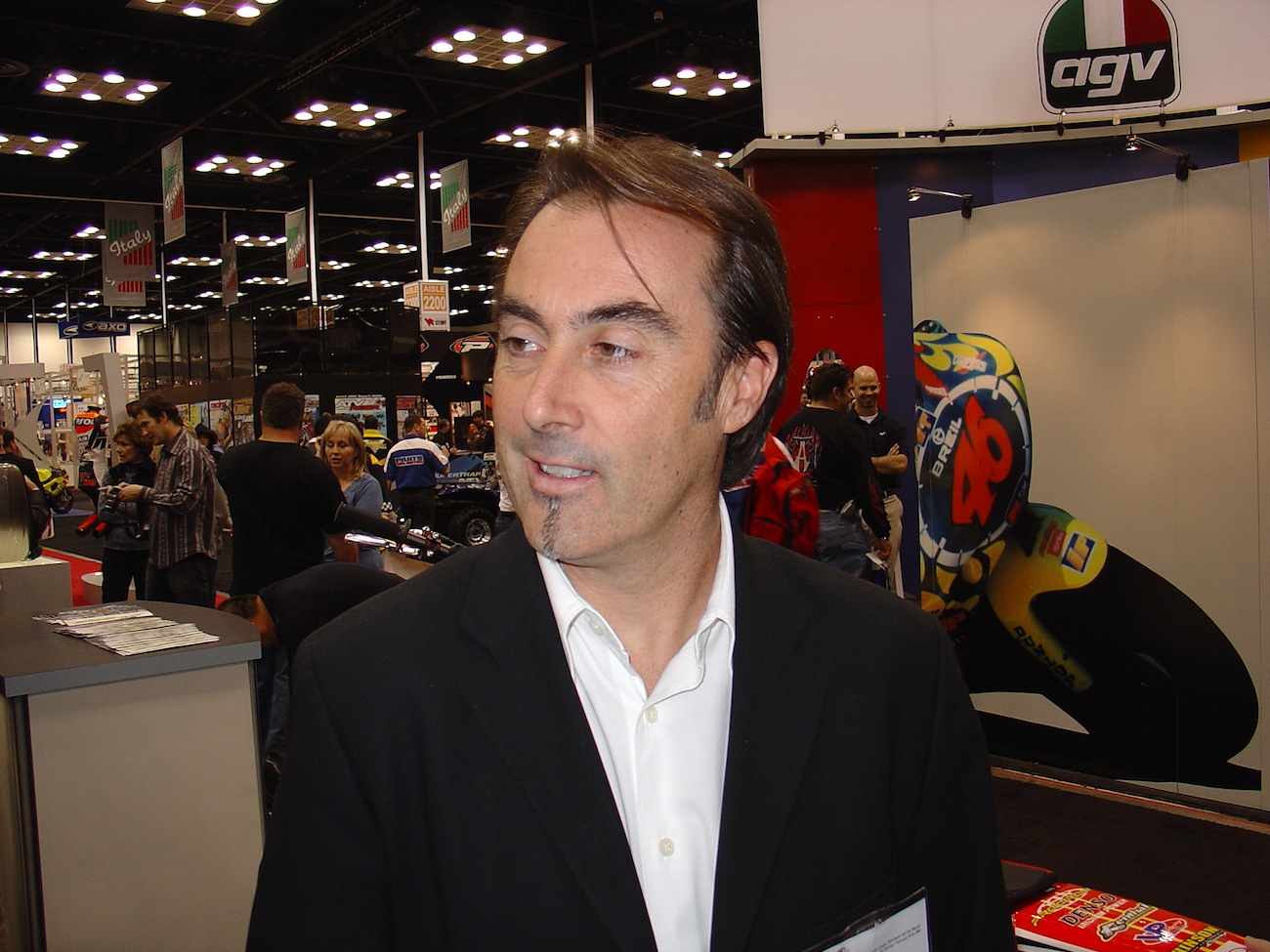 Supercross is over and the AMA Nationals won't start until next weekend, but that's doesn't mean there's a lull in the racing action. This weekend the Lazy E Arena in Guthrie, Oklahoma, will host the inaugural Junior Moto X indoor amateur motocross race. There are 21 classes, featuring some of the top amateur prospects in the country. There are several truly unique features about Junior Moto X. For starters, the track is completely indoors. As for the layout, it will be a tame version of Supercross. You must be 18 or under to compete, and any displacement larger than 250cc isn't allowed. Junior Moto X has received support from brands like Honda, KTM and Kawasaki, with stars like Jeremy McGrath and Travis Pastrana putting their name behind the event.
In order to get the full skinny on the inaugural Junior Moto X indoor amateur motocross race I rang up event creator, Eric Peronnard. You might not know this, but Peronnard has been instrumental in myriad two-wheeled events for the past 30 years. Hear what Eric has to say about the race this weekend, and get the inside scoop on what's changing with the upcoming summer X Games in Austin, Texas.
By John Basher

Where did you get the idea to create the Lucas Oil Junior Moto X indoor amateur motocross race?
I wanted to put an amateur race indoors and in a premium environment. We chose Guthrie, Oklahoma, because it's the center of America. It's 1000 miles away from 90 percent of the U.S. The race will be held at the Lazy E Arena, which provides an exceptionally large racing area. I wanted to offer amateurs the opportunity to race in something similar to what would be found in Supercross. We're pulling some of the top amateurs from around the country. Our dates conflict with some of the other events going around the world, so we're getting the best amateurs in the nation.
There are a lot of amateur classes being offered at the Junior Moto X; however, anyone older than 18 years old isn't allowed to race. Why is that?
We want to keep it pure. This event is for the kids. We didn't want there to be any confusion by having adults racing. There isn't a big displacement allowed, either. The maximum displacement is 250cc. It was a decision that was made for the sport. I'm trying to do things right, and I believe these decisions were the right way to go.
In your mind, what will determine whether Junior Moto X is a success?
My concept was to make amateur racing better. I wanted to provide a nice environment with great dirt. There are a lot of good people involved, too. From the sponsors to the partners and staff, we're really trying to make this a great event for our racers. By executing those things as we planned, then it will be a success.

Will the track be a replica of what you'd see at places like Anaheim or Atlanta?
It's a very mild version of Supercross. We made it more hybrid, because the Loretta Lynn qualifiers are going on. We didn't want people to rethink their suspension settings. The track is going to be easier than a full-blown Supercross track. We just want to give the kids the feel of Supercross. We'll have the Tuff Blox lining the track. John Gallagher, the Director of Supercross, will be officiating. The Lazy E Arena is a little bit smaller than a Supercross venue, but the track is 1600 feet long. It's already a pretty large size, with lap times around 40 seconds.
Talk about your history in the sport, because you're one of those behind the scenes industry magnates that a lot of people don't know about.
I have been involved in offroad racing for close to 30 years. I'm part of the backbone of the Bercy Supercross. The same goes for Geneva. I have been involved in a lot of international races. I created the U.S. Open in 1998, which was done for the riders. I also came up with Endurocross, Mini Moto, Extreme Enduro, and amateur motocross is something I wanted to get involved with. I felt there were ways to do a great job, and we're trying the best we can.
What's the most difficult part about race promotion?
There are so many moving parts. From sourcing all the right equipment and the right people in the venue at once to make them work together to the best of their abilities is the challenge.
You're instrumental on the two-wheel side of X Games. What can you tell us about what's coming up for Austin in less than a month?
X Games has been changing a lot. It's kind of back to its roots now. We're back to freestyle, freestyle and more freestyle. It's really exciting. We'll have Freestyle back, as well as Best Trick, Quarterpipe, Best Whip, Step Up, and also flat-track racing. We're already looking for a future location after Austin. This will be our third year in Austin, so X Games is going to bring its excitement to somewhere else in America starting next year.
For more information, visit www.juniormotox.com. Registration will be held on Wednesday, practice takes place on Thursday, and the racing goes from Friday to Saturday. There are also spots open if you want to be part of Junior Moto X. Click here to sign up.