INTERVIEW OF THE WEEK: PEKKA VEHKONEN

Click on images to enlarge
Pekka Vehkonen wasn't the most famous Grand Prix racer ever. In fact, he wasn't even the best motocross racer to come out of Finland (that honor belongs to Heikki Mikkola). However, Vehkonen had a prosperous career as a factory Yamaha and Cagiva racer. Pekka won the 1985 FIM 125 World title in 1985, seven 125 GPs, along with 12 FIM 250 GPs. Not only that, but the fast Finn finished second place four consecutive times in the 250 class. MXA's European correspondent, Massimo Zanzani, attended the annual Transborgaro event in Italy. He ran into Vehkonen and sat down with the ex-champ to talk about racing in the 1980s.
By Massimo Zanzani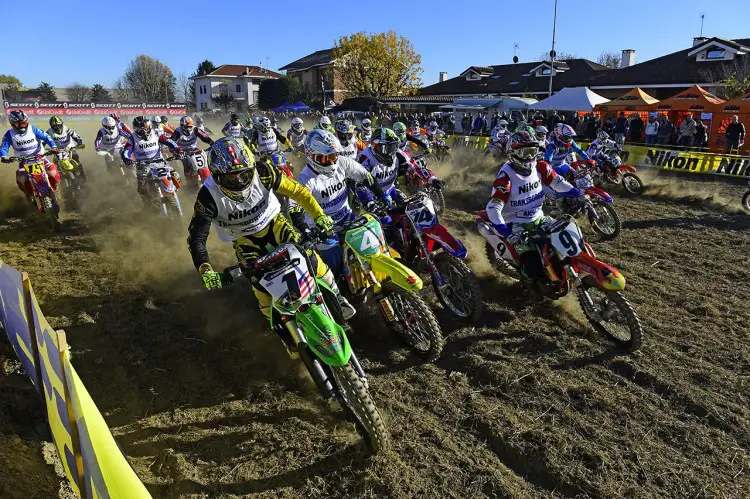 Vehkonen (2) finished sixth in the 1980s division at the Transborgaro race in Italy. Jeff Matiasevich (1) led a Team USA sweep of the event. However, "Chicken" doesn't have a 125 World title to his credit like Mr. Vehkonen. 
How did you get involved in motocross? My uncle Kalevi Vehkonen was a very good Grand Prix rider. In 1972 he finished fourth in the 250 Grand Prix series. Heikki Mikkola was a four-time Champion in those days, but my uncle did a little too much drinking. He liked to party [laughter]. My dad started buying bikes for me, and I began riding many small tracks in the area. In 1972 I was seven years old, and I rode a Montesa trials bike. That was my first bike. My first race was when I was 13.

Pekka's uncle Kalevi was a factory Montesa racer for whom the Montesa 250VR was named (VR for Vehkonen Replica).
Where did you ride in Finland? We had a motocross track half a kilometer from my house. It was a great place to start riding. I started winning races my first year. The next year I was Champion in the mini motocross series. Then I went to the 125 class when I was 16 in 1980 and won the Finnish 125cc National title. The next year I raced my first Grand Prix. I was 17 years old. Before that I had a knee accident, so I only did one GP in 1981.
When did you start winning on the GP circuit? I started winning GPs in 1983 with Yamaha. I was with Jim Gibson on the Yamaha factory bike. Believe it or not, things weren't so good in the beginning of the year. By the end of the year I started winning races. I won in Germany, and also I believe the Swedish GP. I should have won the Russian and Finnish Grand Prix rounds, but I had many crashes.
Why so many crashes? I tried too hard. I was going wide open!
You made the move to Cagiva in 1984, correct? Yes. We did the first four races and I did well. There was a little gap in the series, so I went home. Then I broke my leg, and that was it for that year.
"CAGIVA HAD THE STRONGEST BIKE IN MY OPINION. I WAS A LITTLE BIT SCARED, THOUGH, BECAUSE THEY DIDN'T HAVE BIKES FOR ME. IT TOOK A WHILE TO GET THE BIKE. FORTUNATELY THE BIKE CAME STRAIGHT TO THE FIRST GRAND PRIX, AND I FINISHED ON THE PODIUM IN THAT RACE. OF COURSE IT WASN'T GOOD THAT THE BIKE SHOWED UP LATE, BUT IT WAS STILL A GOOD BIKE."

Was it a big change when you switched from Yamaha to Cagiva? Yes, but in 1982 there were a lot of factory Japanese 125s. It was hard for me to go with the standard. After 1983 Yamaha nearly stopped their factory team, although Michele Rinaldi got a factory bike. I had to choose between KTM or Cagiva for 1984. Cagiva had the strongest bike in my opinion. I was a little bit scared, though, because they didn't have bikes for me. It took a while to get the bike. Fortunately the bike came straight to the first Grand Prix, and I finished on the podium in that race. Of course it wasn't good that the bike showed up late, but it was still a good bike.
VIDEO: VEHKONEN VS. STRIJBOS
In 1985 you won the FIM 125 World title over Dave Strijbos. It wasn't easy, though. We had a very hard fight with Strijbos for the title in 1985. At the beginning of the year I had many problems, but after the middle part of the season I started to make good results. In the beginning of the year I had many crashes and broke bikes.
You only finished fourth overall in 1986. Why? I had a very bad race in Italy. At the Belgian GP I crashed and destroyed the bike. At the Spanish GP I was winning, but then I broke my ankle. That year I also crashed while training.

After that you finished second place four consecutive years in the 250 class. I had a big fight with Eric Geboers in 1987. We split a lot of wins. At the French GP I broke a wheel. At the USGP I finished second in the first moto to Ricky Johnson. I had beaten Eric Geboers, so that helped in the points, but things just never worked out. I had a lot of crashes and mechanical problems. In 1989 Jean-Michel Bayle won and I was second. Then in 1990 Alessandro Puzar won and I finished second.
Why was 1990 your last strong season? Maybe I lost a little bit of focus. There were other things going on. I was usually stronger towards the end of the season, but by that time I started thinking of other things. I would train in Spain, but there was too much fun there [laughter]. Sometimes I would train too much at the beginning of the year and over-condition. I believe I lost several races because I didn't have any energy left.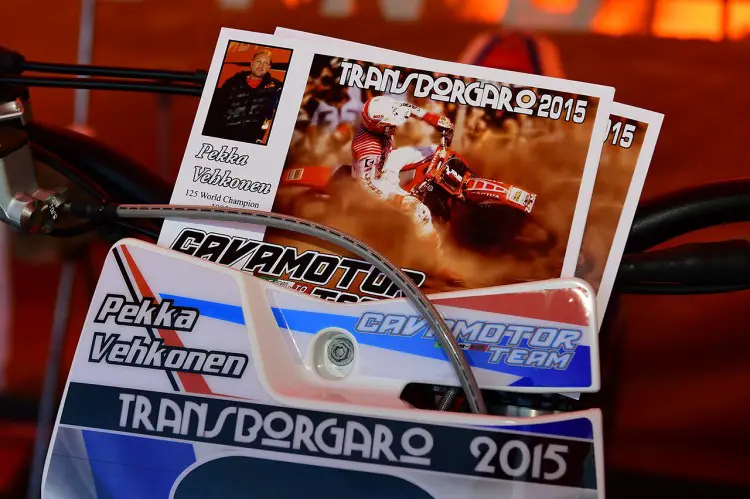 What was the strongest part of your riding? I was always very motivated, and I was very conditioned. I remained strong throughout the races. Some other riders, like Strijbos and Geboers, were also in very good shape.
What were your weak points? I didn't know my limit. I lost several titles because I crashed out and made too many mistakes. I was a hard fighter, but sometimes I fought too hard.
Who was the most difficult racer you ever lined up against? Dave Stribjos was very hard for me. He had his best years when I was also at my peak. Also, in 1987 I had a big battle with Geboers. Those two guys stand out to me.
Is there one race that stands out? In 1985, when I was winning the 125 World Championship, it was Argentina and Brazil that stood out to me. They are fond memories from a very good year.
What about any bad races that stick out? I have a couple of worst races [laughter]. I remember Argentina in 1987. I broke my bike, and I also wasn't riding well there.
What's your favorite bike ever? It's hard to say. We had a very good Cagiva in 1985. It still brings back good feelings. I also had some good bikes while racing for Yamaha. When I was racing for Cagiva I spent a lot of time in Italy. It was like my second home. I did a good amount of testing and training in that country. I stayed near the Cagiva factory and rode the test tracks. Italy is much different than Finland. I had a house in Belgium, but most of my time was spent in Italy.
You weren't a very smooth rider, but you still won the Genoa Supercross in 1983. How did you do it? I used to train at home on small tracks with jumps. At that time I believe I was one of the best European Supercross riders. It was very easy for me to ride those events. In 1982 Roger DeCoster brought some American Honda guys over to the Genoa Supercross, and I beat them. Roger offered me a contract to race in America, but I had already made a deal. When I got to Cagiva I discovered that the bike was not very good for Supercross.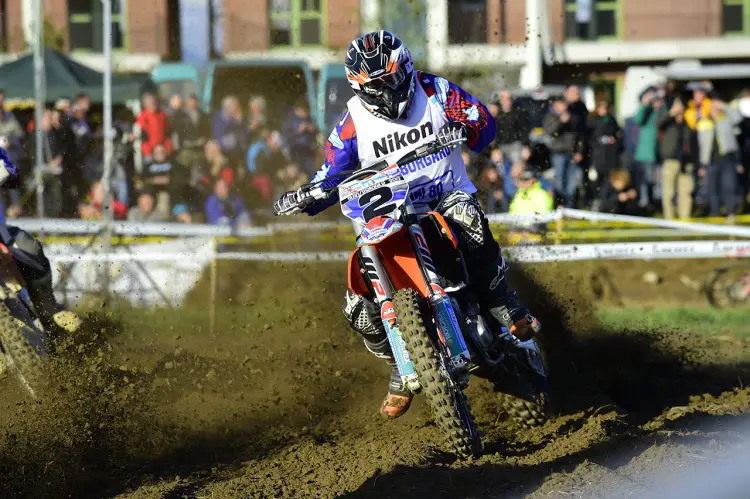 Do you have a funny story? In 1982 I went to the Genoa Supercross when I was a young rider. There were two classes. Andre Malherbe was there. I passed him and he crashed. He was very mad, and so he tried to make me crash. Instead he crashed again! That was something else.
Did you do well financially as a racer? I did quite well with money. I had good deals with Yamaha and Cagiva. The last two years of professional racing I had cigarette sponsors, and that was good money. I had several really good factory deals. I was lucky for that. In Finland I was kind of like a hero. I would get start money for some of the international Supercross races.
Were you a superstar in Finland? The newspapers followed me. If I won a race then I would get on the front page. It was nice. Now it seems like no one follows motocross. That's too bad.
What were your decisions and reasons for retiring? I raced the Unadilla 250 USGP and crashed very hard in timed practice in 1992. I broke several bones in my back, and I was very close to being paralyzed. I underwent a major operation, and I was so lucky that I could walk afterward. I knew it was time to quit. In 1993 I did race some of the 500 Grand Prix series. I wasn't in very good shape, and at the Holland GP I tried to pass for second place and had a big crash. I broke my neck in two places. That's when I realized it was time to stop racing, pick up the tennis racquet, and have some fun [laughter]. Goodbye motocross!
What do you do these days? I spend a lot of time boating in the summer. In the winter I ride snowmobiles. With one of my businesses I charter big yachts to Monaco for the Formula1 race. I have several businesses that allow me to make money.
Do you still follow the sport? I still get excited to watch motocross. I should come to more races, because I enjoy following the sport. I went to Valkenswaard this past year. It's nice to see how fast the racers are. I would say the guys are faster these days. I would like to see more riders on the same gate, like how it was in the old days. Then again, things are changing.