MOTOCROSS ACTION'S MID-WEEK REPORT (03/28/12)
By John Basher
TWEET (AND PHOTO) OF THE WEEK:
Proof that Eli Tomac is back riding (and having fun)



WHAT WE DID LAST WEEK
Here's a hint…


Still haven't figured it out? Here's another clue.

Look for our test on Ryan Dungey's Red Bull KTM 450SXF-FE in an upcoming issue and read our thoughts on the Austrian machine.
WHAT WE'RE DOING THIS WEEK
Glen Helen Warm-Up


Thursday's track awaits open practice.
    The Two-Stroke World Championship takes place at Glen Helen on Sunday. Naturally, the MXA wrecking crew is heading out that way on Thursday to get in the final laps on the Jody Weisel-designed track. We're also testing a Service Honda CR250AF. Say what? The CR250AF has a CR250 two-stroke engine tucked inside a CRF250 chassis. Look for a test on the bike, as well as a video from our own Travis Fant, shortly.
Saturday REM


The REM race will be held on the historic Arroyo Cycle Park track at Glen Helen,plus the front track will be open for two-stroke practice from 8 to 4 (four-strokes are welcome).
    Just because there's a race on Sunday doesn't mean that the MXA wrecking crew won't be racing at REM on Saturday. We will be busy testing a host of new products, dialing in the two-strokes for Sunday's race, and learning more about the 2012 models. Although the 2013 bikes are just around the corner (we expect to begin testing new bike in the early part of June), we're still trying to find out the most we can about the current crop of bikes. Testing is never over.
Houston Supercross


No, I won't be in a rap video this weekend.
    Do you remember the part in the movie "Tropic Thunder" where Les Grossman (played by a hilarious Tom Cruise), tries to buy off Rick Peck (Matthew McConaughey), the agent for Tugg Speedman (Ben Stiller), with a G5 private jet? The Gulfstream G550, valued between $40 and $75 million, depending on how extravagant you want to go, is the most sought after "toy" for the rich and famous. You might recall Peck refusing to sell out and instead save Speedman from a life of playing Simple Jack for drug lords.
    If I were in Peck's position I'd probably take the bait. G5? Yes, please! For five years I've had the fortunate luck of traveling in a private jet to a race, and I've loved every minute of it. DeCal Works owner Ron Joynt charters a private jet and we fly out of his local airport near Chicago to places like Dallas, Atlanta, Steel City, New Orleans and Mt. Morris. The experiences have been nothing short of amazing.

The ultra-cool DeCal Works crew, led by "Captain" Ron Joynt (third from left).
    This weekend I'm going with the DeCal Works crew to Houston by way of Chicago from Los Angeles. The plan is to fly out of LAX on Friday morning, meet with the DeCal Works guys in Chicago, and fly to Houston on Saturday morning. After spending all day at the Supercross we'll hop back in the jet Saturday night and go to Chicago. Sunday morning I'll go back home to Los Angeles. So, while I'll miss out on the Two-Stroke World Championship, I'll be sure to make motorcycle noises while drinking champagne at 40,000 feet (I'm totally kidding about the champagne part).
Two-Smoke Sunday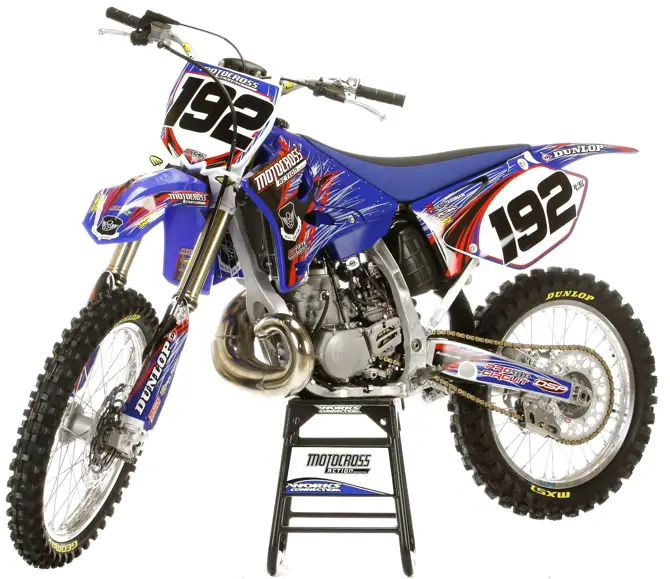 MXA's 2012 Yamaha YZ250 is all shiny and waiting for Sunday.
    Currently we possess eight two-strokes in our test fleet (and had it been a few years ago we could claim another six bikes, but that was before most of the manufacturers drop-kicked their two-strokes), and they are all getting used in multiple classes at the World Two-Stroke Championship. We even had a late edition to the mix with the Service Honda CRF250AF.
AT HOME WITH JUSTIN BARCIA

UNADILLA NEWS: RACING ROYALTY TO RETURN TO ?DILLA


 
    Fifteen former racing legends, many of whom have International and National Championships to their names, have committed to attend MX Rewind at Unadilla, which is taking place June 1-3, 2012. The racing legends will be led by "Bad Brad" Lackey, the first American to win a World Motocross Championship, and Danny LaPorte, who became the second American to win a World Championship, the list of champions is both long and distinguished, and reads like a whose-who of Motocross. Joining Brad and Danny will be Gunnar Lindstrom, Barry Higgins, Gary Jones, Mark Barnett, Mike Bell, Tony D, Donnie Hansen, Mickey Kessler, Gary Semics, Marty Smithand Jimmy "The Jammer" Weinert.
 
    From the 1980's and 1990's, Jeff Stanton and Ron Lechien will make an appearance along with legendary film producer Todd Huffman. Todd continues to make an extraordinary contribution to the preservation of MX racing history through his impressive documentary series, The Motocross Files.
 
    "We are very excited and amazed at the response. To have this impressive and formidable list of former racers joining us for the inaugural MX Rewind weekend is unbelievable", states Unadilla's Greg Robinson. "For those of us who grew up going to the track to watch these heroes back in the day, this is like a dream come true. They represent four decades of motocross racing history from back in the early days, to the beginning of the American domination of the MX des Nations. To have America's first two World Champions here on the 30th Anniversary of their championship runs, and four members of winning American MX des Nations teams, is simply unprecedented. It is a wonderful opportunity for fans of motocross both young and old to hear from and celebrate this great sport of ours. Those in attendance will be blown away by the access they have to these legends and what they have to say." All of the legends plus Huffman will be in attendance from Friday through Sunday taking part in a variety of meet and greet opportunities, a Saturday and Sunday vintage and post vintage champions race, racer awards ceremonies, and a Saturday night Dinner of Champions.
 
    Advance sale tickets, camping passes, and event information can be found at: www.unadillamx.com/rewind.
BREAK OUT THE SMOKER & WIN A WORLD TITLE!


The new school flyer….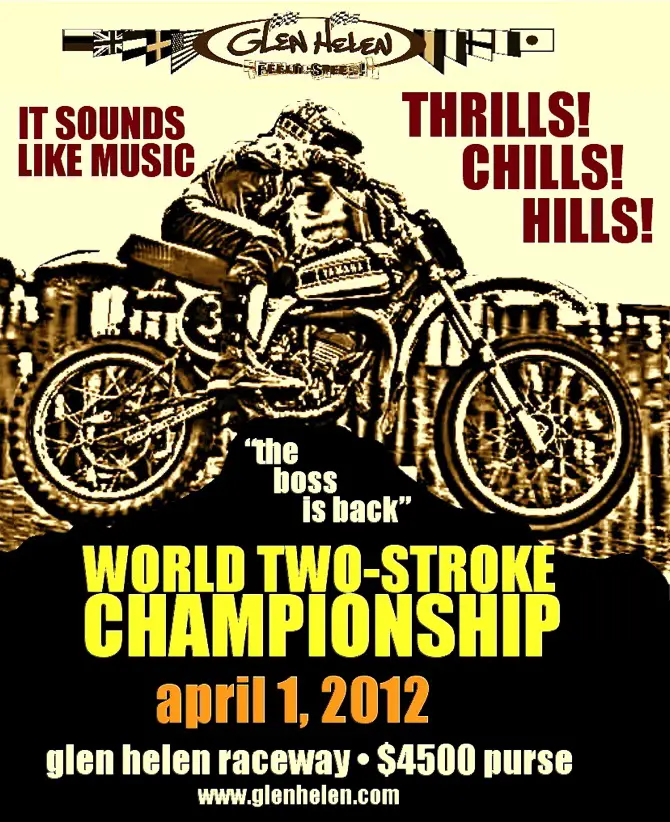 The old school flyer…
    As if you need any more reasons to race, aside from racing for the fun of it, this weekend at Glen Helen you can go battle on a two-stroke and have the opportunity to win a distinguished title?Two-Stroke World Champion! There are classes for every two-stroke size and rider skill level. There will also be a Pro class. Look for Ryan Hughes, Michael Leib, Doug Dubach, Mike Sleeter, Dennis Stapleton and more to rub elbows and get a little crazy.
CAN RYAN VILLOPOTO WIN THE TITLE THIS WEEKEND?


If the stars align on Saturday for Villopoto, he will retain the number one plate in Supercross for another year.
    In a hypothetical situation, if Ryan Dungey and James Stewart fail to line up to the gate this weekend in Houston (it's a certainty that Dungey is out), and Ryan Villopoto finishes second or better, he will win a second consecutive 450 Supercross title. How mind boggling is that? After Houston there are still four rounds remaining (New Orleans, Seattle, Salt Lake City and Vegas). And to think that only seven rounds ago Villopoto, Chad Reed and Ryan Dungey were separated by ten points. A lot has changed since then, aside from RV's attrition.

Justin Brayton is movin' on up.
    Who has the most to gain from the depleted field? Justin Brayton. The Honda rider has finished on the podium at three of the last four races. Not only has he gained confidence, but he is also steadily climbing up the points ladder. Now Brayton is only 12 points out of third place. He could finish as high as second overall in the standings.
450 POINTS STANDINGS
(After 12 of 17 rounds)
1. Ryan Villopoto, Poulsbo, Wash., Kawasaki ? 271
2. Ryan Dungey, Belle Plaine, Minn., KTM ? 192
3. James Stewart, Haines City, Fla., Yamaha ? 177
4. Davi Millsaps, Murrieta, Calif., Yamaha ? 169
5. Kevin Windham, Centreville, Miss., Honda ? 166
6. Justin Brayton, Murrieta, Calif., Honda ? 165
7. Jake Weimer, Rupert, Idaho, Kawasaki ? 150
8. Brett Metcalfe, Lake Elsinore, Calif., Suzuki ? 145
9. Mike Alessi, Hilliard, Calif., Suzuki ? 136
10. Chad Reed, Dade City, Fla., Honda ? 128
WHEN WILL RYAN DUNGEY BE BACK?


The KTM team hopes for more smiles, like this shot from Phoenix, in the not-too-distant future.
Direct from Roger DeCoster:
    "Ryan has an X-ray in the middle of next week. At that time his doctors will decide when he can start riding. I would like to see him come back before the Supercross series is over, but I also don't want him to take the chance if there's a possibility that the plate or screws would come loose. If he can come back healthy and not take any extra chances then it would be great for him, as well as for us, to go Supercross racing."
HERE'S A COOL IDEA: WORKS CONNECTION PERSONALIZED CLUTCH SYSTEMS

    Works Connection's new Elite Perch 1-2-3 EZ Build Product Line is now available. The 1-2-3 EZ Build Perch Body, Thumbwheel and Lever are sold as separate components to allow you to create an Elite Perch in any of the18 possible color ways. In addition, the levers are now designed with leverage ratios specific to your Honda, Kawasaki, Suzuki or Yamaha clutch systems.
PIVOT WORKS LIFETIME REPLACEMENT OFFER

PHOTO OF THE WEEK (OF ALMOST ANY WEEK)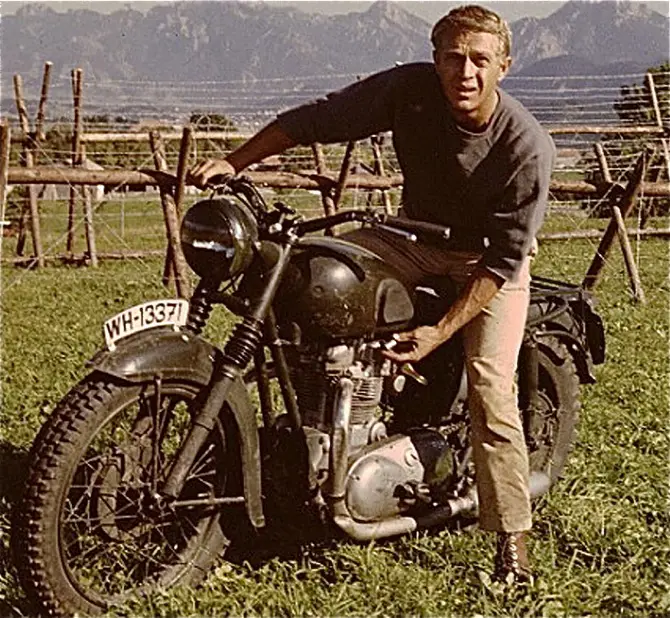 Steve McQueen would have celebrated his 82nd birthday this week…he remains our sports most recognizable star. His motorcycle part in "The Great Escape" made off road motorcycling cool. We thank the King of Cool for funding "On Any Sunday."  Steve died in 1980.

PRO CIRCUIT INTRODUCES KTM TRIPLE CLAMPS


    The triple clamp has been re-mastered. The new Pro Circuit KTM Triple Clamps are everything you've wanted and more from a suspension accessory. Race team looks and options for customization are just a few things we've been toiling with, and we know you'll love what we've come up with. The Pro Circuit KTM Triple Clamps are leaving old-school clamp designs in the dust. Isn't it time you upgraded?
 
The triple clamps feature a clear anodized finish gives the Pro Circuit KTM Triple Clamps a works look, and creates a durable finish that helps retain the like-new luster. The legendary Pro Circuit Race Team currently uses the same design on its championship-winning machines. Plus,the Pro Circuit KTM Triple Clamps incorporate a light and compact reversible bar mount that allows you to choose from one of four mounting positions, and gives you the ability to customize the ergonomics of your machine. The Pro Circuit KTM Triple Clamps are only available for select KTM models, and can be purchased at your local dealer as well as ProCircuit.com. Additional product specifications are included below. More information on this and other Pro Circuit products can be found at ProCircuit.com.
 
    * Made in the USA
    * Engraved with the iconic Pro Circuit logo on both the top and bottom clamp
    * Manufactured out of billet 6061 Aluminum
    * Bar mount is offset 5mm to allow for handlebar adjustment in either one of two different bar mount positions
    * Bar mount is reversible for a total range of 30mm of articulation
    * Available for 1 1/8″ handlebars
    * Bottom clamp includes pre-assembled steering stem and bearing
    * Kit includes: Clear anodized top clamp, clear anodized bottom clamp, black bar mount, Pro Circuit stickers for further customization
    * Retail price: $699.95
    * Fitment: '11-12 350SX-F, ?10-12 125-250SX, ?10-12 250/450SX-F, '10-12 300XC
    * Part #: 39512253
"ON PACE WITH PASTRANA" PREMIERES THIS MONTH ON RED BULL YOUTUBE CHANNEL
    This April, four new original episodic series, including "On Pace with Pastrana," "Positively Kai," "Wizard of Aus," and "Behind Bars" make their debut on "The Red Bull Channel" on YouTube (www.youtube.com/redbull). Each series will chronicle the competition and daily lives of the world's best action sports athletes including the highly-anticipated April 2 debut of action sports legend Travis Pastrana's original 20-episode series called "On Pace with Pastrana," which will go live every other Monday at 10 a.m. PT / 1 p.m. ET.
    "The premise of the show is about Travis Pastrana's life and his transition to being a married man and into NASCAR, and the struggles that come with that," explains Andy Bell, one of Pastrana's best friends and series producers. "We're going to show the guy that nobody ever has seen before; totally raw, really funny and amazingly dorky. This is absolutely the real Travis Pastrana." Since launching the original programming on The Red Bull Channel on YouTube in January 2012, the channel's subscription rates have climbed 40% since this time last year. In February, the Red Bull Channel generated 20,000,000 views, with an average of 42,000 views per episode on the original series programming.
    The exclusive programming developed as part of the YouTube original channels rollout can be found on The Red Bull Channel under "Featured Playlists" by title, with new 6 to 15 minute episodes airing consistently throughout the year. Additionally, the Red Bull Channel is also a destination for previously aired episodes of popular series including "Drake's Passage," and popular television sports magazine, "Momentum," with the first episode airing on April 17. For tune-in reminders for new episodes and updates on new series premieres, viewers can subscribe to The Red Bull Channel or follow the series' cast members on Twitter.
Red Bull Channel programming set to premiere in April includes:
    "On Pace with Pastrana" follows super athlete (and super human) Travis Pastrana as he works to reclaim his status as Mr. Action Sports following the injury he sustained at X Games 17, including getting back into rally car racing, NASCAR, and motorcycles and also his return to the Nitro Circus live tour and premiere of Nitro Circus 3D.
    Tune In: April 2 (20 episodes, airing every other Monday at 10 a.m. PST)
    "Positively Kai" takes viewers to the tropics where 19 year-old Maui resident and surfing phenomenon explores what really can be done on a board ? in the water, with a sail and in the air.
     Tune In: April 4 (18 episodes, airing every other Wednesday at 10 a.m. PST
     "Wizard of Aus" showcases Australian native and one of the world's top BMX riders, Corey Bohan, as he mingles in the Hollywood scene, travels the world with his friends and rides in his sport's top competitions.
    Tune In: April 18 (12 episodes, airing every two weeks on Wednesday at 10 a.m. PST)