MOTOCROSS ACTION'S WEEKEND NEWS ROUND-UP: VILLOPOTO ISN'T PERFECT (SEE THE PROOF), TOMMY SEARLE BREAKS HIS ARM, GODSPEED! DRINO MILLER & MUCH MORE
RYAN VILLOPOTO'S DAYTONA PRACTICE CRASH: THIS ISN'T WHIPPING IT, IT'S GETTING WHIPPED
AMA SUPERCROSS RESULTS: DAYTONA SUPERCROSS
Villopoto is in command.
DAYTONA RESULTS: 450 CLASS
1. Ryan Villopoto (Kaw)
2. Ken Roczen (KTM)
3. Ryan Dungey (KTM)
4. Broc Tickle (Suz)
5. Andrew Short (KTM)
6. Wil Hahn (Hon)
7. Dean Wilson (Kaw)
8. Matt Goerke (KTM)
9. Justin Brayton (Yam) (Suz)
10. Josh Grant (Yam)
Points leaders: Ryan Villopoto (209); 2. Ryan Dungey (181); 3. Ken Roczen (180); 4. James Stewart (157); 5. Justin Brayton (155).
Pro Circuit has had five different riders win so far in the 250 Supercross classes—Blake Bagget is the latest.
DAYTONA SUPERCROSS RESULTS: 250 EAST
1. Blake Baggett (Kaw)
2. Adam Cianciarulo (Kaw)
3. Martin Davalos (Kaw)
4. Blake Wharton (Hon)
5. Justin Bogle (Hon)
6. Jeremy Martin (Yam)
7. Matt Biscelgia (Hon)
8. Vince Friese (Hon)
9. Kyle Cunningham (Hon)
10. Matt Lemoine (Kaw)
Points leaders: 1. Adam Cianciarulo (72); 2. Martin Davalos (67); 3. Blake Baggett (54); 4. JustinBogle (56); 5. Vince Friese (48).

TOMMY SEARLE BREAKS ARM IN BIG THAILAND GET-OFF
Tommy Searle's 2014 GP season has come to a violent end.
Tommy Searle broke his arm in Thailand when his KX450F reportedly sputtered because of what was blamed on local fuel. Searle's crash was so violent that the forks were ripped off his bike as it cartwheeled down the track. Searle will fly home later this week. Because of civil unrest in Thailand, the Thai government banned the import on foreign fuel—thus the teams were forced to use locally-sourced race fuel, but many riders suffered engine troubles in Thailand. Searle's team manager Harry Nolte said, "This fuel has affected so many teams.
WORLD CHAMPIONSHIP RESULTS: GP OF THAILAND
Cairoli lost last week in Qatar, but he was dominant in Thailand. Photo: Ray Archer
THAILAND RESULTS: 450 CLASS
1. Tony Cairoli (KTM)………………….1-1
2. Clement Desall (Suz)………………2-2
3. Jeremy Van Horebeek (Yam)……3-3
4. Max Nagl (Hon)………………………6-4
5. Gautier Paulin (Kaw)……………….4-9
6. Evgeny Bobryshev (Hon)………..11-5
7. Todd Water (Hus)…………………..10-6
8. Davide Guarneri (TM)………………8-8
9. ShaunSimpson (KTM)……………..7-11
10. Xavier Boog (Kaw)………………..9-10
Points leaders: 1. Tony Cairoli (92); 2. Max Nagl (76); 3. Gautier Paulin (75); 4. Jeremy Van Horebeek (72); 5. Clement Desalle (71).
Herlings lost last week in Qatar, but he was dominant in Thailand. Photo: Ray Archer
THAILAND RESULTS: 250 CLASS
1. Jefffrey Herlings (KTM)………..1-1
2. Glen Coldenhoff (Suz)…………2-4
3. Max Anstie (Yam)……………….6-2
4. Dylan Ferrandis (Kaw)…………4-5
5. Romain Febvre (Hus)………….5-4
6. Arnaud Tonus (Kaw)……………5-6
7. Jordi Tixier (KTM)……………….4-5
8. Alessandro Lupino (KTM)…….8-7
9. Aleksandr Tonkov (Hus)……….7-8
10. Jose Butron (KTM)……………13-10
Points leaders: 1. Jeffrey Herlings (97); 2. Dyland Gerrandis (74); 3. Glenn Coldenhoff (69); 4. Romain Febvre (66); 5. Arnaud Tonus (65).
WHERE IN THE WORLD WAS THE MXA WRECKING CREW?
As is normal for the MXA gang, they split for different locales this weekend—They were at Daytona and Glen Helen, while Dennis Stapleton was in Ecuador and Basher and Ecklund were in the high mountains of Montana. This is Daryl Ecklund working up a sweat in two feet of powder.
Dennis Stapleton (184) was at the Los Tres Guabos Motocross track in Quito, Ecuador. Last weekend he was in Qatar.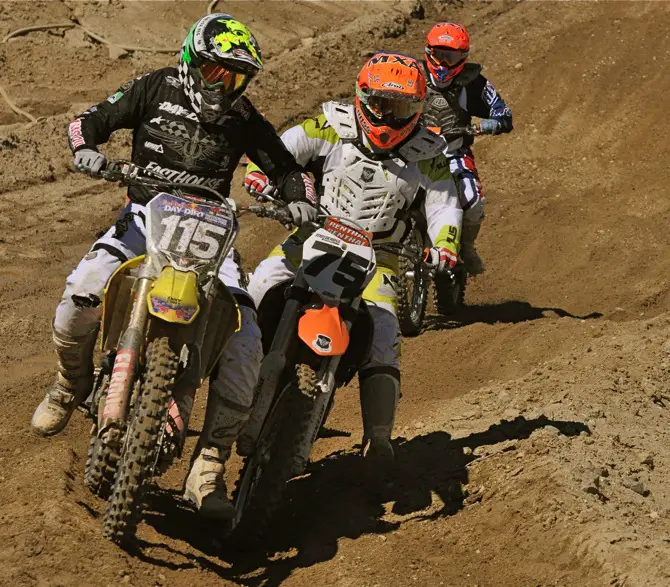 Jody Weisel (75) tries to force his way past Hollywood stuntman Mic Rodgers (115), while AMA Hall of Famer Lars Larsson lurks in the background at Glen Helen's REM races this weekend. Photo: Mark Chilson
GODSPEED! DRINO MILLER (1941-2014):THE MASTER OF SPEED, ENGINEERING AND CREATIVITY
Drino Miller at his desk at Pro Circuit. What was his job at Pro Circuit. Thinking. He thought up new ideas for the Pro Circuit engines.
Drino Miller passed away this week after a struggle with cancer. Drino was a mechanical ace—you could easily use the word "genius"— and played a major role in racing history. He was from the old school, hand-on, design it yourself, build it yourself and race it yourself school of racing. He will be missed.
You may have never heard of Drino Miller. But he will be mourned by many of the old timers in the offroad world. For the youngsters in the crowd, most recently Drino was the engineer and designer behind Pro Circuit's most creative engine developments. Drino was the slide rule guy at Mitch Payton's right hand, but Drino was more than that—he was a true offroad legend.
Need Proof? Drino Miller developed the first single seat racing buggy, which he co-drove to victory in the 1969 Mexican 1000 and to further victories in 1970 at the Mint 400 and Baja 500. The vehicles he engineered or developed changed the face of offroad racing and would eventually lead him to a career that his seen victories in Indy cars, F1, Pikes Peak, Baja, GTP sports car racing and Supercross.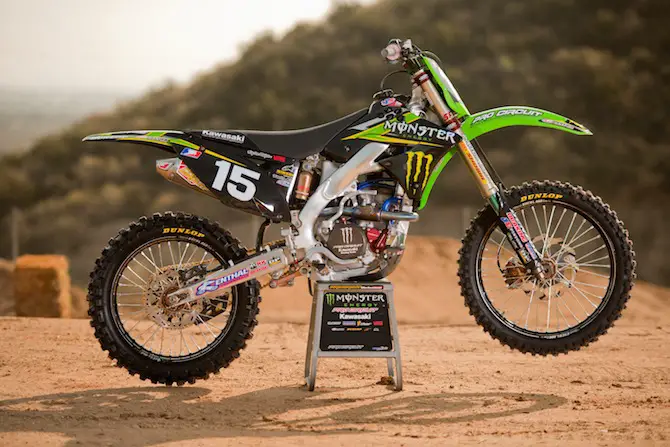 There is no way to measure the impact that Drino's ideas have had on Pro Circuit's engines, but the success ratio is undeniable.
Born July 30, 1941, at age ten Drino purchased a 1929 Model A Sport Coupe for $10 and began his life long pursuit of understanding how vehicles work by trial and error. Later in life, Drino went to UCLA and attended law school after graduation. His brother was a friend of Bruce Meyers (of Meyers Manx fame) who introduced Drino to the wilds of Baja—with a record setting attempt in a Myers Manx. From this experience, Miller got offered a job in General Motors' pickup truck division and, even though GM had a ban on racing activities at the time, Drino and GM manager Vic Hickey decided to build an Baja offroad race truck—with financing by Hurst shifters—the truck was the famous "Baja Boot."
The Baja Boot was a backdoor General Motors project that GM didn't know about. It was raced by Steve McQueen.
Steve McQueen behind the wheel of the 450 horsepower Baja Boot.
The Baja Boot used a Corvette rear drive assembly, Olds Toronado axle shafts, collapsible steering column, 11-inch Hurst-Airheart disc brakes, and the 350ci V-8 was installed backward in the chassis (in front of the rear axle shafts). Drino Miller and Al Napp raced the GM truck in Baja, but suffered mechanical problems with the rear suspension struts. The men had to drop out of the race. Eventually, Steve McQueen raced the "Baja Boot" to fame (fame because McQueen raced it), while Drino turned his focus to building a purpose-built single-seat race car for offroad racing (something that up to this time had never been done).
With a 84-inch wheelbase and double roll cage, the single-seat offroad race buggy was pioneered by this Drino Miller design (which he raced).
Drino in his single seater. Back in the day Baja race buggies carried a driver and co-driver and raced against the big Stroppe Broncos and other V8's. Drino's idea was to do away with the co-driver. To get rid of the extra mass, he built a tube frame single-seater. He got sponsorship from Dune Buggies Magazine and went out and changed the offroad racing world. When Drino finished second in the Mint 400 in his hand-built single-seater the first time out, the competition protested that it was "unfair." The sport was changed forever by Drino Miller.
The Toyota DTP Eagle was the product of Drino's team at TRD. Drino stayed at TRD for six years and left when they closed down the racing program.
With a successful offroad racing career, Drino started Drino Miller Enterprises where he built off-road vehicles, sports cars, midgets and Indy Cars. Then, he moved to the Andial team to work on their sports cars, which attracted the attention of Toyota. Miller went to Toyota and managed the Toyota Racing Development (TRD) Program for six years. At Toyota Drino's projects won in Grand Prix, Indy Cars, NASCAR, Sports Cars and Pikes Peak. When Pro Circuit switched to four-stroke engines from their KX125 two-strokes, Mitch Payton hired him to design engine parts and come up with creative ideas for the team's engines.

JGR/TOYOTA YAMAHA'S JEREMY ALBRECHT TALKS ABOUT DAYTONA PREP
Jeremy. Photo: Cameron Baird
Jeremy Albrecht has been around the sport of motocross his entire life. His older brother Joel was an amateur MX standout in the '80s and into the '90s, and Jeremy raced from early childhood until he stopped racing to become a mechanic for his brother Joel in the pros in 1993. He won nearly a dozen professional championships as a mechanic before becoming team manager for Joe Gibbs Racing's startup motocross effort in 2008.We caught up with Albrecht today just before he headed out for some testing for this weekend's Daytona Supercross:
LEADING UP TO THE SEASON, HOW MUCH PREPARATION AND WHAT KIND OF PREPARATION DID YOU GUYS HAVE TO PUT IN TO GET THINGS READY, ESPECIALLY WITH THE NEW BIKE?
Jeremy Albrecht: Well, I mean we definitely put in quite a bit of testing, but it's normal with a new bike. So, we were excited. I wouldn't say we did more than normal, but starting out we had a lot of new things: We switched to KYB suspension, which took quite a bit of testing, and it was a new model, so we were trying to get all the parts together and trying to figure out what works going on the dyno plus trying it on the track. So, there's definitely a lot to do, but it's no different than any other year, except we just had some new things to work with. You don't know how it works until you get to the races. When we got there, we were happy.
HOW MUCH DO YOU GUYS HAVE TO CHANGE STUFF AROUND FOR DAYTONA?
It depends on the rider. Some guys like to leave it. Some guys want to change some things. I mean, we're going tomorrow actually to test for Brayton. Jonny Oler, our suspension guy, has been working all day to build some different settings to go try. We took a day prepping the track, making something different; bumps, kind of like they do at Daytona. We're trying to see if we can be more prepared than normal this year. So we'll see how it goes, if we prepared correctly. But we're trying, I would say, harder this year than normal to do something just specific for Daytona. In the past few years we kind of go with maybe just a little bit softer than the normal setting and maybe a gearing change, but nothing too crazy. Brayton really wanted to work harder on making stuff specifically for Daytona. Some people do, some people don't, but he's wanting to test, so we're doing it. We're willing to test. It's usually we don't have a guy here wanting to do it, but he's wanting to, so it's great.
A LOT OF SUPERCROSS TEAMS NOWADAYS USE THEIR SUPERCROSS SETTINGS AS A BASELINE FOR OUTDOORS, TOO. HOW DIFFERENT ARE BRAYTON'S OUTDOOR SETTINGS COMPARED TO SUPERCROSS?
His stuff is quite a bit softer for outdoors. It's not really that close. I mean, this is the first start to outdoor testing. We did a little bit when he first started riding the bike, before we started Supercross testing, to get a baseline. So we'll be starting from there when we start outdoor testing. But probably what we learn from Daytona, and then where we were at when we ended last year, we'll be able to come up with something for outdoors to start. But he's quite a bit softer outdoors than he is in Supercross. He really likes a stiff bike in Supercross.
SINCE DAYTONA IS SIMILAR TO AN OUTDOOR NATIONAL, DO YOU EXPECT THAT THOSE SETTINGS WILL BE SIMILAR ONCE YOU GUYS DO GET TO OUTDOOR TESTING?
Yeah, we're thinking probably a hybrid between Supercross and motocross that would work. That would be a good baseline to see how we start outdoor testing. But back in the day, when I worked for Jeff Emig, he actually won Daytona with the outdoor suspension. So it seems like they're stiffer now than they used to be. But I think softer stuff, if you get the right settings, should definitely work better.
WHEN EMIG DID THAT THE SUPERCROSS SEASON WAS BROKEN UP BY THE GATORBACK NATIONAL RIGHT BEFORE DAYTONA
That was hard, to go race an outdoor race right in the middle of Supercross. I mean, it definitely made it difficult on the teams, but the good thing is everybody is in the same boat. So it's hard on everybody. It wasn't just one team that had the problem.
PHIL NICOLETTI IS TRYING REALLY HARD AND JOSH GRANT HAS SHOWN SOME SPEED THIS YEAR, TOO. HOW DO YOU EVALUATE THOSE TWO SO FAR THIS YEAR?
It was nice to have Phil so we could let Josh heal up. He wanted to keep riding, but we felt like it would be better to let Josh heal and be able to show his speed, rather than keep limping through it. So, I got him talked into one week and then after that, he agreed to do two. And I think it actually helped because I felt like the last two weekends, Josh rode a lot better. It looks like he can hold on in the whoops now, so I'm happy his shoulder is healing.
AND PHIL?
Phil was making the mains no problem, but he's definitely had some tough main events. I think maybe he's just trying a little too hard, but he's not doing bad. I do expect him to do better than he has been. He's actually going to be racing Daytona, so we'll have three guys at Daytona. I'm hoping that he can get up there, for himself, to show what he's capable of. The last race, Phil was in like 12th or 13th the whole race, looked like he was finally going to do pretty well, and then he just slid out and crashed and hurt his knee that was already injured. So, we're kind of excited to see him do what he can do. And then obviously Josh, he rode better last week. He was in seventh and he crashed with two laps to go or something. So, they're both doing better than what it's looking like on paper. They're both getting healthy, so maybe Daytona is the weekend.
IS THIS THE MAGIC WEEKEND?
Yeah, the magic weekend. We did go first and second here before, so maybe we can do something like that again. That would be awesome.
PHIL SHOWED A LOT OF SPEED DURING THE OUTDOORS LAST YEAR, SO MAYBE THAT WILL ALSO TRANSLATE A LITTLE BIT…
Yeah, that's what I was thinking when we picked Daytona for one of his races. He definitely seems more comfortable outdoors and I feel like this is one that he should be able to do pretty good at. He's in shape, cool kid, and I hope he can do something.
PASCAL RAUCHENECKER TO REPLACE THE INJURED TYLA RATTRAY AT TEAM HUSKY
Since Tyla Rattray is out of the GP's until April 13, the Ice One Husqvarna team will put Austrian rider Pascal Rauchenecker on Rattray's bike. The Austrian rider has experience because in the last few years he has ridden in the 250 World Championship Series. Rauchenecker, 20-years-old, scored points in 12 or 18 GPs in 2013 and finished 17th overall in the 250 World Championships. His highest finish in 2013 was 9th in Holland.

KYLE CHISHOLM INJURED BEFORE DAYTONA
Kyle Chisholm.
Kyle separated his shoulder while riding at Chad Reed's track in Florida on Tuesday. He tried to race at Daytona, but couldn't do it.
TUK-TUK RACING IN THAILAND COULD WIPE OUT THE GP FIELD
Team Suzuki hangs on for dear life during the Thai Tuk-Tuk race. The event was won by the team of Xavier Boog and Klemen Gercar.

Accidents do happen—courtesy of Matiss Karro. After this crash the race was changed from an oval to a drag race.
Before the Thailand Grand Prix they host a Tuk-Tuk race, where the Grand Prix riders race on the ubiquitous three-wheel taxis that abound in Asia. Above, the complete Suzuki team looks like they are afraid of what might happen if the Tuk-Tuk they are riding in does what three-wheelers always do.

DESIGN YOU OWN GRAPHICS & SEE WHAT THEY LOOK LIKE INSTANTLY
The world of motorcycle graphics has changed drastically over the years—and DeCal Works is responsible for the trend in customized graphics. They have an all-new, easy to use, interactive design system that lets you play around until you reach perfection. For more info go to www.decalmx.com
THE LEAST EXPENSIVE KTM'S ON THE PLANET, BUT JUST BARELY
KTM Scarp Carbon 29—$2547
KTM Revelator Prime-22 —$7495
KTM has been making bicycle for decades, but they have not imported them to the USA in any numbers. It's important to note that while KTM Bicycles and KTM Motorcycles were once one company, but due to bankruptcy in 1992 the company was divided into four independent divisions (radiators, motorcycles, bicycles, tools). Thus KTM bicycles are not sold at KTM motorcycle dealerships—although an enterprising dealer could make a deal with the new North American Bicycle distributor—Imperium Bicycles. For more info about KTM bicycles go to www.imperiumbicycles.com
DAYTONA SUPERCROSS TV SPOT OF THE LOCAL FLORIDA STATIONS
STOP THE PRESSES: IT'S NOT NEWS UNLESS IT'S NEW TO YOU
BILLY GRAY: The former child star who played Bud on "Father Knows Best" and starred in the original "The Day The Earth Stood Still" had a post-acting career as a Speedway racer. Billy has recently had quadruple bypass heart surgery and is recovery at home. Gray is now 76 years old.

Billy Gray wins a speedway race
CRAIG ANDERSON: Husqvarna Australia has chosen 13-time Australian National champion Craig Anderson to be the team manager of the new Husqvarna motocross team. Anderson will lead Brock Winston (450 class), Nick Sutherland (250 class), Egan Mastin (Under-19 class) and Connor Tierney (Junior 250) in the 2014 Aussie Nationals.
DENNIS STAPLETON: MXA's Dennis Stapleton, the 2013 Arab National Champion, won the final round of the 2014 Arab National Championship on the Losail Grand Prix track in Qatar. "I am very happy to win this race. The track was very muddy and you had to be very cautious in the corners. I got the holeshot, so I had a clear vision and I was able to ride my own race. Unfortunately, I missed the first two rounds living so far away in California, but I'm happy to finish third overall for the season." Dennis came home for one day and is now on his way to Ecuador.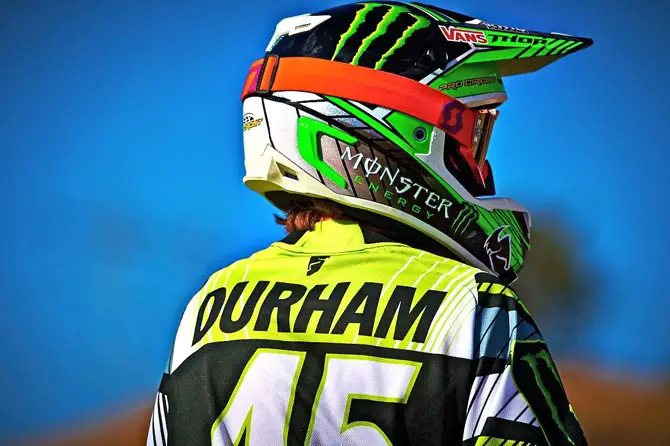 DARRYN DURHAM: Darryn had to sit out the majority of the 250 West after suffering a concussion, but he passed his imPACT test and is cleared to ride again. He will be on the line when the 250 West starts up again in Houston on April 5.
TYLA RATTRAY: Tyla Rattray will not make the trip to Thailand or Brazil, but will stay in Europe and wait for his broken finger to heal. Rattray had surgery after the Qatar GP to have two pins inserted in the finger he thought he had only cracked in an Italian warm-up race. Tyla tried to race at the opening round last week, but his finger broke completely. He will have to sit out until the Italian GP at Arco de Trenton on April 13.
KILLY RUSK: During his 450 Semi at Indianapolis, Killy Rusk took the center rut going up the triple and a hit a hole. This caused him to come up short. Killy came down hard against the tank and bars. The Asterisks crew accessed his injuries and sent him to the ER. Killy had emergency surgery late Saturday night. Killy is now back in Murietta, California, after a long flight Tuesday. The doctors say he should be fine in few weeks.
VALENTIN TEILLET:
Bud Racings' Valentin Teillet is using the break in the 250 West Supercross to go home and race the French Elite Championship series. Teillet won the 450 class in Ernee in front of Sebastien Pourcel, Milko Potisek and Nicolas Aubin. Teillet's Bud Racing teammate Benoit Pasturel won the 250 class.

Teillet wins in France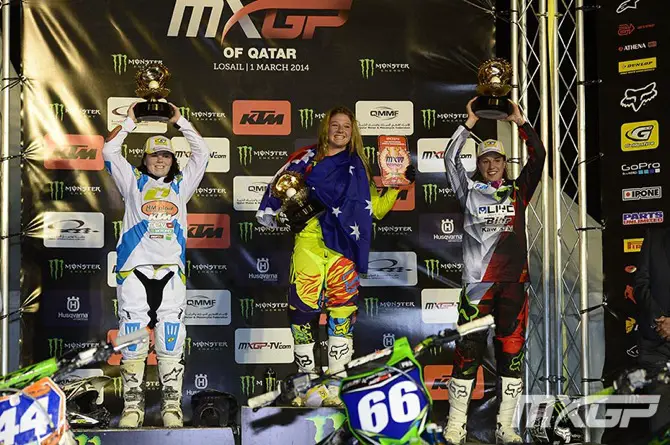 MEGHAN RUTLEDGE:
Australian Meghan Rutledge (center) won both motos of the Women's MX series in Qatar. Natalie Kane (2-3) was second, Livia Lancelot (7-2) third, Steffi Lauer (4-5) fourth, Nancy De Van Ven (3-7) fifth and current World Champion Chiara Fontanesi (6-4) sixth. The women don't race again until Italy on April 13. The American Women's Championship starts this weekend in Daytona, but is now paired with the amateur races.
MAX ANSTIE:
Max Anstie was leading both motos of the Qatar 250 Grand Prix when he had bike troubles. Equally amazing was that Max was riding a rocket ship carbureted 2013 Yamaha YZ250F. According to team owner Steve Dixon, Max preferred the 2013's power, but will switch to the 2014 YZ250 at some date in the future after Cosworth has more time to develop parts for it. Also, Dixon, said that the first moto failure was caused by Anstie over-revving the bike. The second moto failure was blamed on Anstie's inability to kick start the bike after he stalled it.
RYAN DUNGEY:
Ryan's win at the Indy Supercross made him the fifth rider to win a Supercross this year. The record for most different winners in a season is seven riders back in 1985. The riders who won those seven races were Broc Glover, Johnny O'Mara, Ron Lechien, Mark Barnett, Bob Hannah, Jeff Ward and Rick Johnson.
MAX NAGL:
After winning the first moto in Qatar, Max Nagl will not go to this weekend's Thailand GP until the very last minute. Why? Last year Max got sick in Thailand and could not race at all. This year he isn't taking any chances with the Thai Two-Step. Max said he will skip all the pre-race activities and show up in time for practice. "I will have to learn the track fast because there will only be 20 minutes of practice. Going home to Germany between Qatar and Thailand means I get to ride the bike a bit more and do some more training."
HAVE YOU SEEN THE NEW MXA? INTERESTED IN THE KTM FACTORY EDITION III?
The April 2014 edition of MXA is in the mail. It has the first tests on the 2014 KTM 450SXF Factory Edition and the Husqvarna FC450 (and these test won't appear on the MXA website any time soon). If you don't subscribe you can go to the home page and sign up for the print version, Apple version, Android version or digital version.
AT A GLANCE: 2014 AMA SUPERCROSS SERIES

Adam Cianciarulo is the points leader in the 250 East.
DATE               EVENT                       450                                    250
Jan. 4…..Anaheim I……Ken Roczen……..Jason Anderson
Jan. 11…Phoenix………Ryan Villopoto….Jason Anderson
Jan. 18…Anaheim II…..Chad Reed……….Cole Seely
Jan. 25…Oakland………Ryan Villopoto….Jason Anderson
Feb. 1…..Anaheim III….Chad Reed……….Dean Wilson
Feb. 8…..San Diego…..James Stewart….Justin Hill
Feb. 15…Dallas…………James Stewart….Adam Cianciarulo
Feb. 22…Atlanta………..Ken Roczen……..Martin Davalos
Mar. 1…..Indy…………….Ryan Dungey……Adam Cianciarulo
Mar. 8…..Daytona………Ryan Villopoto……Blake Baggett
Mar. 15…Detroit
Mar. 22…Toronto
Mar. 29…St. Louis
Apr. 5…. .Houston
Apr. 12.. .Seattle
Apr. 26. ..New York
May 3……Las Vegas
450 points leader …………..Ryan Villopoto (Kaw)
250 East points leader …..Adam Cianciarulo (Kaw)
250 West points leader ….Jason Anderson (KTM)
USED IT, ABUSED IT, TESTED IT: ALPINESTARS TECH 10 BOOT
The revised Tech 10 is the fourth generation of the popular boot. It has a host of updates aimed at improving performance. For 2014 Alpinestars redesigned the panels, buckles, straps, gaiter, shin plate and Velcro closure. Paradoxically, the new Tech 10 doesn't look dissimilar from its predecessors, but it is a step above.
VERDICT: The new Tech 10 has a slightly better feel than the previous generation. The cushioned footbed and revised torsion bars are the main reasons. Most MXA test riders liked the bootie, as it increased comfort, while everyone raved about the new buckles.
DIGITS: $579.95—www.alpinestars.com or (800) 727-8277.
2014 AMA NATIONAL MOTOCROSS SCHEDULE

Glen Helen is back on the National circuit after a four-year break.
DATE                       TRACK                                    PLACE
May 24………Glen Helen……………San Bernardino, CA
May 31………Hangtown………………Sacramento, CA
June 7……….Thunder Valley……….Lakewood, CO
June 14………High Point…………….Mt. Morris, PA
June 28………Muddy Creek…………Blountville, TN
July 5…………Red Bud……………….Buchanan, MI
July 12……….Budds Creek………….Mechanicsville, MD
July 19……….Spring Creek…………Millville, MN
July 26……….Washougal……………Washougal, WA
August 9……..Unadilla………………..New Berlin, NY
August 16……Indiana…………………Crawfordsville, IN
August 23……Miller Motorsports….Tooele, UT
WANNA BE AN AMA NATIONAL FLAGGER? AT GLEN HELEN? HERE IS YOUR CHANCE

To sign up, send an email to [email protected]
MXA TECH TIP: HUSQVARNA FC250/FC450 AIRBOX MOD
The airbox cover on the 2014 Husky FC250 and FC450 is shared with the Husqvarna enduro bikes. The problem is that the enduro airbox cover is sealed against water, logs, squirrels and other offroad debris—thus, it doesn't breathe as well as it should for motocross. The MXA test crew drills holes in the cover to improve throttle response and low-to-mid power. It's an old school trick, but it works.
THE CURRENT SUPERCROSS INJURY LIST: WHY DOESN'T IT GET SMALLER?
Killy Rusk and Dean Ferris (111) are the latest additions to "The List."

RIDER                     INJURY
Trey Canard……………Broken arm
Davi Millsaps…………..Knee injury
Joey Savatgy…………..Broken wrist,collapsed lung
Marvin Musquin……….Knee injury (ACL)
Casey Hinson………….Broken hand, facial fractures
Broc Schmelyun………Broken legs
Ben Lamay……………..Dislocated wrist, broken jaw
Austin Politelli………….Broken femur
Dillon Huddleston……..Broken thumb
Shane Sewell…………..Broken foot
Justin Lee……………….Broken arm
Brett Hottel………………Broken femur
Zach Bell…………………Broken collarbone
Cody Gilmore…………..Broken collarbone
Les Smith………………..Dislocated ribs
Kevin Weisbruch……….Crushed trachea
Ronnie Ray………………Broken leg
Darryn Durham…………Concussion
Zach Osborne…………..Broken collarbone
Kyle Partridge…………..Torn ACL
Brady Kiesel…………….Broken jaw
Kristoffer Palm………….Broken collarbone
Jake Weimer…………….Wrist injury
Chad Reed……………….Shoulder/collarbone
Anthony Rodriquez…….Broken collarbone
Dean Ferris……………….Broken wrist
Killy Rusk………………….Internal injuries

THIS WEEK'S IMPORTANT RACES: USE THOSE FREQUENT FLIER MILES

DATE                                                 EVENT
March 9-10……………….WMX Daytona
March 9-12……………….GNCC Florida
March 14…………………..X-Fighters Mexico City
March 16………………….Glen Helen Two-Stroke Revival
March 14-16……………..WORCS Lake Havasu
March 14-16……………..Hidalgo Texas Arenacross
THIS WEEK'S BIRTHDAY BOYS:

Mar. 7…Beau Bamburg
Mar. 13…Josh Demuth 1979
THE TOP TEN! WHO'S WHO IN THE MOTOCROSS ZOO

Gautier Paulin lost the 450 Grand Prix points lead in Thailand.
CURRENT AMA 450 SUPERCROSS POINTS STANDINGS
(After 10 of 17 rounds)
1. Ryan Villopoto………209
2. Ryan Dungey………..181
3. Ken Roczen………….180
4. James Stewart………157
5. Justin Brayton…………155
6. Andrew Short………..125
7. Justin Barcia…………..118
8. Chad Reed……………111
9. Broc Tickle……………111
10. Wil Hahn……………..108
Other notables:
11. Weston Peick (68);  12. Josh Grant (67); 13. Josh Hill (64); 14. Mike Alessi (62); 16. Matt Goerke (54).
CURRENT AMA 250 EAST SUPERCROSS POINTS STANDINGS
(After 4 of 9 rounds)
1. Adam Cianciarulo……..72
2. Martin Davalos………….67
3. Blake Baggett…………..54
4. Justin Bogle……………..56
5. Vince Friese…………….48
6. Blake Wharton………….33
7. Cole Thompson………..40
8. Kyle Cunningham………33
9. Jimmy Decostis………..34
10. Matt Lemoine………….37
Other notables:
11. Mitchell Oldenburg; 12. Matt Biscelgia (35); 13. Alex Martin (34); 15. A.J. Cantazaro (25); 19. Jackson Richardson; 21. Gavin Faith (11).

AMA 250 WEST SUPERCROSS POINTS
(After 6 of 9 rounds)
1. Jason Anderson…….131
2. Cole Seely…………….127
3. Justin Hill………………107
4. Dean Wilson…………..98
5. Cooper Webb…………92
6. Malcolm Stewart……..89
7. Jessy Nelson………….76
8. Shane McElrath………71
9. Zach Osborne…………69
10. Dean Ferris…………..63
450 WORLD CHAMPIONSHIP POINTS STANDINGS
(After 2 of 18 races)
1. Tony Cairoli…………………92
2. Max Nagl……………………..76
3. Gautier Paulin………………75
4. Jeremy Van Horebeek….72
5. Clement Desalle…………..71
6. Evgeny Bobryshev………..51
7. Kevin Strijbos……………….50
8. Steven Frossard…………..49
9. Todd Waters………………..43
10. Joel Roelants……………..38
Other notables:
12. Shaun Simpson (34); 13. Xavier Boog (31); 13. Tommy Searle (29); 17. David Philippaerts (17); 18. Jake Nicholls (16).    
250 WORLD CHAMPIONSHIP POINTS STANDINGS
(After 2 of 18 races)
1. Jefffrey Herlings………….97
2. Dylan Ferrandis………….74
3. Glen Coldenhoff…………69
4. Romain Febvre………….66
5. Arnaud Tonus……………65
6. Jordi Tixier…………………59
7. Aleksandr Tonkov………58
8. Jose Butron……………….50
9. Alessandro Lupino……..42
10. Max Anstie……………….41
Other notables:
11. Thomas Covington (33); 13. Christophe Charlier (32); 15. Mel Pocock (23); 16. Maxime Desprey (22); 18. Petar Petrov (18).
Photos by John Basher, Joh Ker, Spencer Rathkamp, KTM, Pro Circuit,