MWR | 1994 RM125, 2018 CRF250 INTRO, THE GOAT, NICKY HAYDEN

#WHIPITWEDNESDAY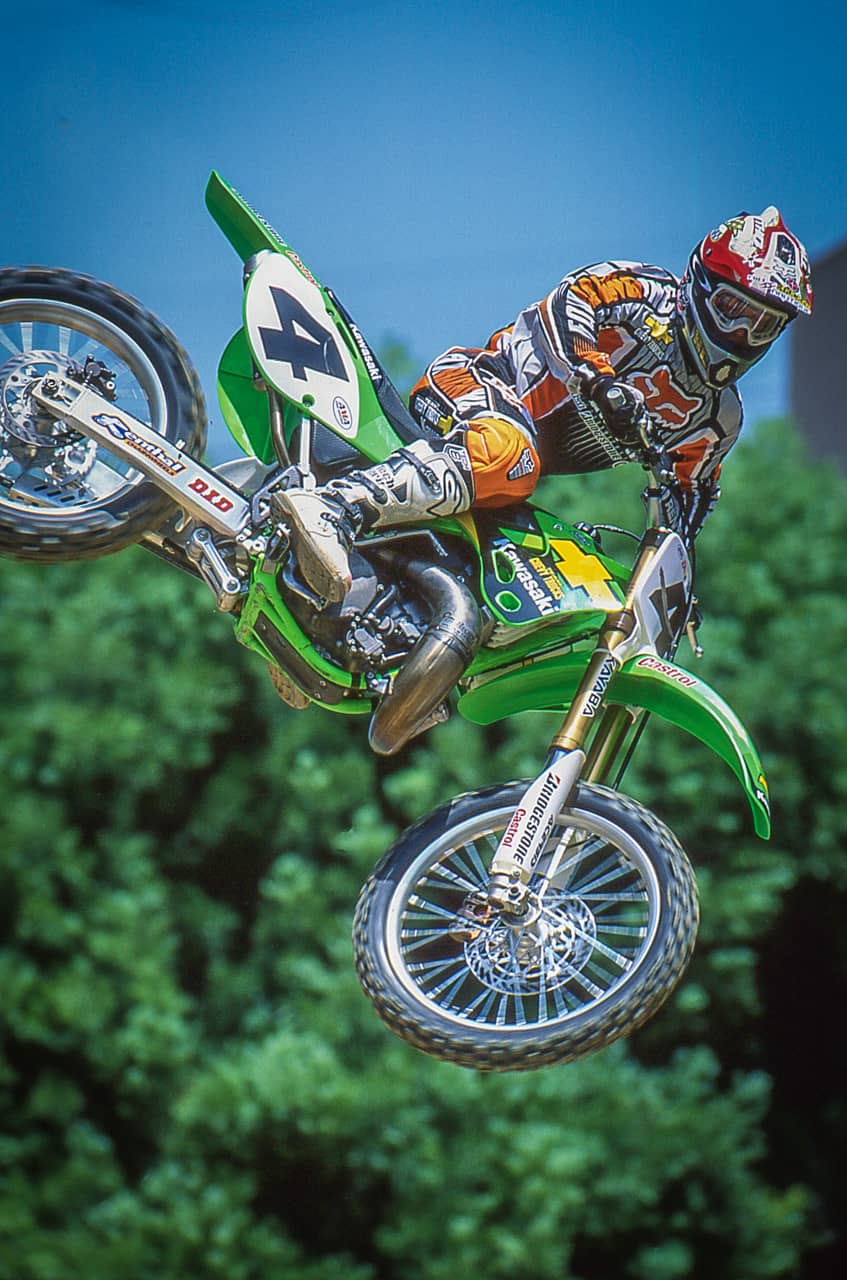 Photographer: MXA Achives
Rider: Ricky Carmichael
Where: Jay Leno show in 2001
Bike: Factory Kawasaki SR250
TWO-STROKE SPOTLIGHT: MATT WELLER'S 1994 SUZUKI RM125
The 1994 RM125 after its transformation. 
"I wanted to share another one of my project bikes with you (check out his last project, a 1992 Yamaha YZ250 Damon Bradshaw replica). This one is a 1994 Suzuki RM125, I went with a Retro Mod look for this one with a combination of new school and old school design. I was a big fan of Damon Huffman and Ezra Lusk growing up and have always liked the looks of the '95 RM's. I went with a combination of new school and old school.
It looks pretty close to a Damon Huffman 1994 RM125 replica bike. 
The bike was pretty beat when I picked it up and had actually considered parting it out, until being talked into proceeding with the build by a close friend. The first hurdle was sourcing a new frame since the original frame had several stress cracks that I did not feel comfortable having fixed. Once I was able to locate a frame, it was sent out for powder coating, and reassembled using all All Balls Racing components.  The engine was completely disassembled and rebuilt, the cylinder was sent out to Eric Gorr Racing to receive a 144 big bore and port work.  As pictured the bike is 99% finished until I can locate a works finish pipe." –Matt Weller.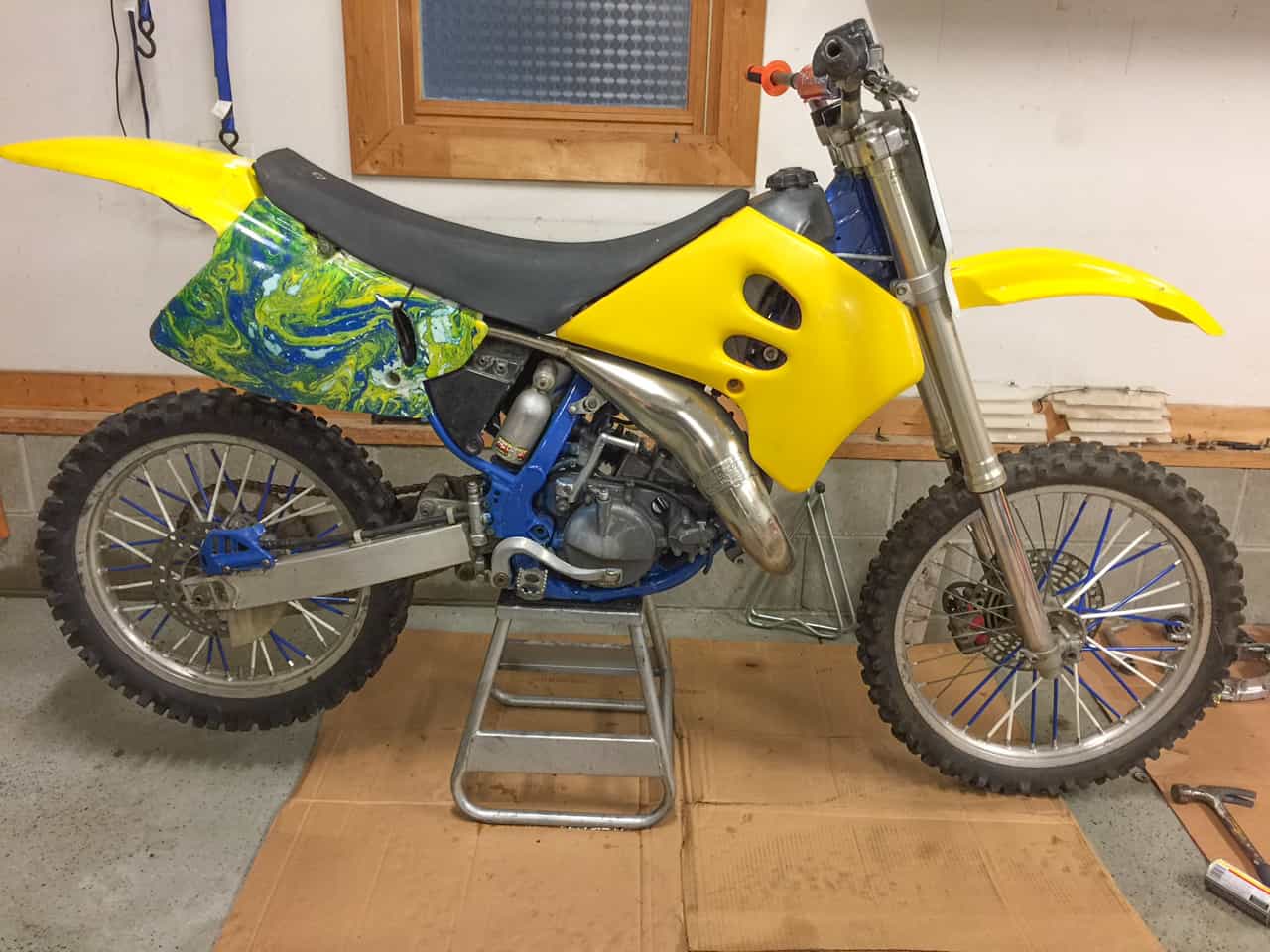 The before picture.
Contributors:
Primal X Motorsports
Rocky Mountain MC
reTusk Brake Rotors
Tusk Brake pads
Tusk clutch kit
OEM Suzuki parts
All Balls Racing
All chassis bearings
Renthal bars, grips rear sprocket
Supersprox
Editors Note: Please keep those submissions coming. If you would like your bike to be featured in the "Two-Stroke Spotlight," please email me at [email protected]. All I ask is that you give a breakdown of your bike and a detailed description of the build. Please also send a few photos of your steed. By submitting your bike for the "Two-Stroke Spotlight," you agree to release all ownership rights to the images and copy to MXA. Please don't email me spam or try selling me Taylor Swift concert tickets or email me spam. Happy submitting your smoker.
WHY USE TWIN AIR PRODUCTS?
NICKY HAYDEN'S CUSTOM SPECIALIZED BICYCLE TO BE RAFFLED TO SUPPORT HIS MEMORIAL FUND


Press Release: Nicky Hayden, AKA "The Kentucky Kid", was an American Icon with many professional motorcycle racing accolades; most notably the Moto GP World Championship title – won on American soil – in 2006. He began his road-racing career at a young age in the CMRA series before progressing to the AMA Supersport Championship, and then on to the AMA Superbike Championship. He won the AMA title in 2002 and was approached by the Repsol Honda team to race for them in Moto GP, where he continued to push the limits of the sport and his achievements. Hayden inspired millions with his natural talents on a bike and his easygoing smile.
The motorcycle community was rocked on May 17, 2017 when news broke of Nicky Hayden's tragic passing as a result of a collision with a motorist while training on his bicycle in Italy. The loss of such a bright star has affected so many. Nicky was so much more than a racer; he was a son, a brother, a fiancé, a friend, and a role model to many. Wanting to keep his memory alive and continue to spread the positive messages that were important to Nicky, his family has started the Nicky Hayden Memorial Fund. Nicky loved where he came from, loved to give back, and cared deeply about supporting children. The fund was set up in order to help local children in the community he loved so much. You can support the fund by making a donation here.
Specialized was in the process of creating a custom S-Works Venge ViAS road bicycle for Nicky Hayden at the time of the accident. Bicycles riding is an essential part of most professional motorcycle athletes' training programs and Nicky was an extremely avid cyclist. The component spec on this bike features the absolute best for the true champion that Nicky was, including the brand-new Shimano Dura Ace Di2 R9170 electronic drivetrain with hydraulic disc brakes, Roval CLX 50 Limited Edition carbon fiber wheels with gold outline graphics, Specialized SWorks Venge ViAS Special Edition Peter Sagan World Champion Frame set, and every other bell and whistle you would expect to find on an SWorks, Tour de France-level pro road bike. This bike is valued at approximately $10,000 USD.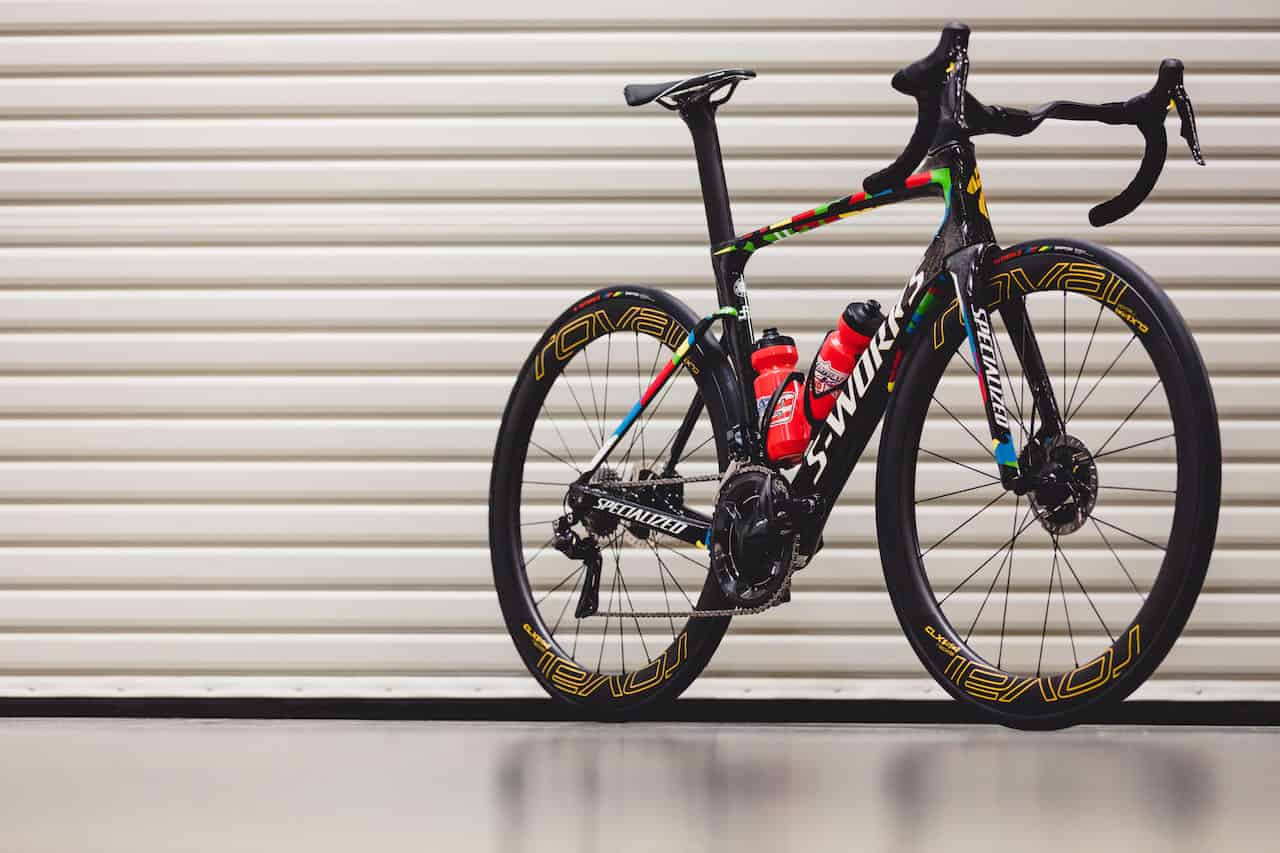 The Hayden family wanted Nicky's bicycle to be shared with the world and would love for it to end up with one of Nicky's fans. They decided a fundraiser to benefit the Nicky Hayden Memorial Fund would be a great way to accomplish this. The Hayden family has teamed up with Specialized, Shimano and The Road 2 Recovery Foundation to offer a truly one-of-a-kind bicycle for raffle, with 100% of proceeds going to The Nicky Hayden Memorial Fund. To participate, go to nickyhaydenmemorialraffle.comand with a minimum donation of $5 for a ticket, you can get enter for a chance to win. This two-month long raffle is open worldwide with free shipping to the winner courtesy of Specialized. The raffle closes on December 29th, 2017. The winner will be pulled and announced on Saturday, January 6th, 2018 on Road 2 Recovery's Facebook and Instagram live stream @Road2Recovery.

This one-of-a-kind Venge ViAS was designed specifically to fit Nicky Hayden and meet his training needs; however, some parts can potentially be modified to suit riders ranging in height from approximately 5'6" to nearly 6' tall. The Venge ViAS is a high-performance racing bicycle with servicing required by a mechanic who has undergone specified training protocols. Any desired fit adjustments should be performed by an authorized Specialized retailer, and any associated expenses are the responsibility of the raffle winner.
About Road 2 Recovery:
The Road 2 Recovery Foundation is a 501 (c) 3 non-profit organization that was founded in 2000, and is dedicated to helping AMA licensed
Professional Motocross/Supercross riders and Action Sports Athletes with financial assistance if they sustain career-ending injuries as well as providing motivational, emotional, and spiritual support to these individuals and their families. To make a donation click here. For more information on Road 2 Recovery and upcoming events visit www.road2recovery.com
SHOT RACEWEAR 2018 GEAR LAUNCH
The 2018 Shot Racewear collection is here. We took a ride out to LACR Raceway for the 2018 Shot intro. They showcased all the new gear lines and had fresh sets for us to ride in. It was an awesome day of fresh gear and riding.
2018 Shot Optica mint/orange jersey. 
2018 Shot Optica mint/orange pants. 
2018 Shot Infinite blue/neow orange jersey. 
2018 Shot Infinite blue/neow orange pants. 
The X11 Shot boot.

REC MX BILLET OIL FILTER COVER NOW AVAILABLE FOR 2018 HONDA CRF250
Features:
-Cooling fins added for larger cooling surface area
-Oil feed hole designed for optimal oil flow
-3D CAD designed
-CNC machined from 6061 T6 aircraft grade aluminum (made in the USA)
-Stronger design than OEM cover
-Lighter weight than other billet oil filter covers
-Billet has better heat transfer than cast aluminum
-Anodized red, blue, or black, and laser marked logos to look sharp and for longevity
-Uses OEM bolts, oil filter, and o-ring (new o-ring included)
-Fits 2018 Honda CRF250R
Suggested Retail $54.95 www.rec-mx.com
2018 HONDA CRF250 INTRO
Early mornings at Zaca Station. 
Last week Honda invited us  to join them for the 2018 Honda CRF250 intro up at Zaca Station. Wednesday they wined us and dined us up in Solvang, where they went over the new Honda CRF250 in detail and then guided us to a motorcycle museum.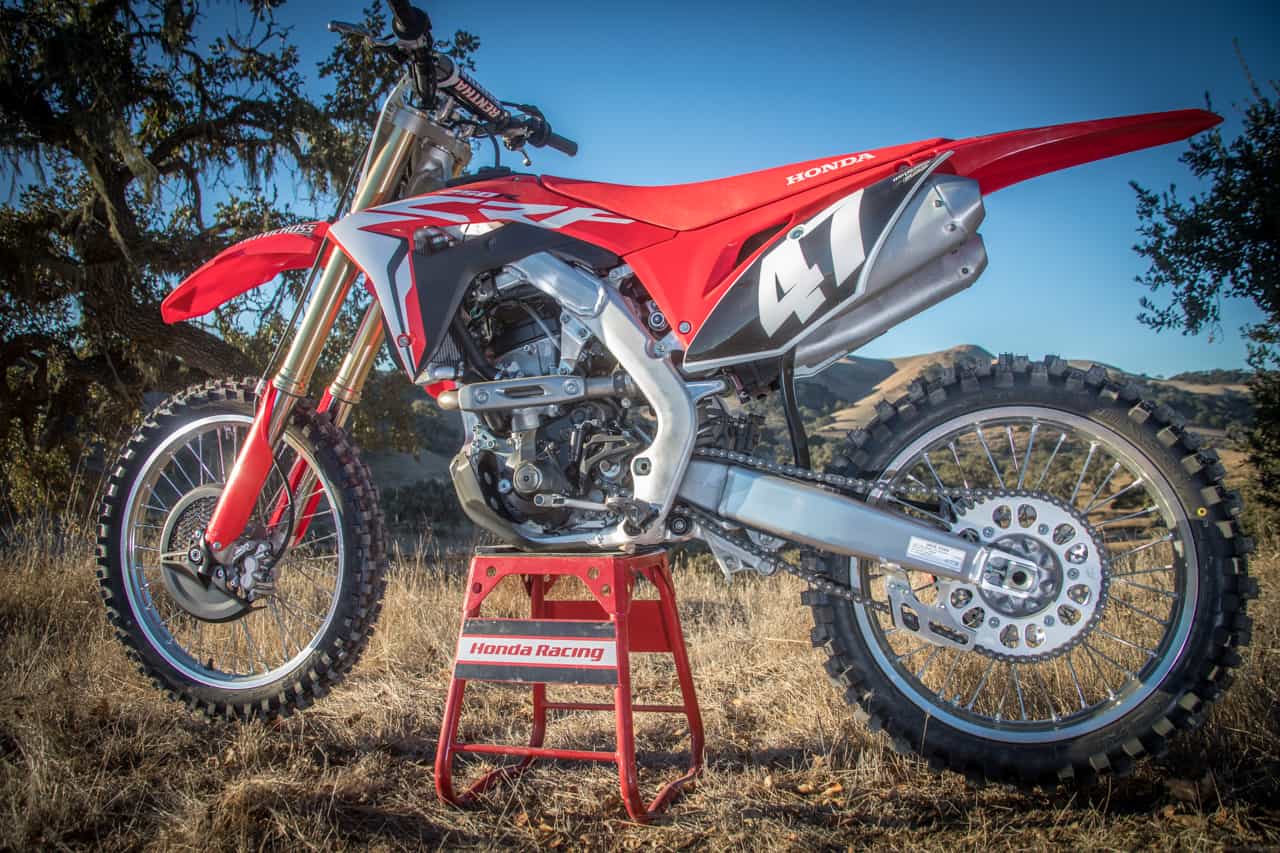 The 2018 Honda CRF250. 
Thursday morning we got up bright and early and headed to the scenic Zaca Station track. We got the backgrounds on and shot stills of the bike, then we got to hit the track. This bike feels a lot like the 2018 CRF450, but better in the handling department. Our testers barely made any changes. The engine is deceiving. Some other websites claim that the high revving engine is on par with the KTM 250SXF. Not so. The engine definitely pumps out much bigger numbers and revs out further than it did in 2017, but not the KTM's 44 horsepower or 14,000 grand. It sounds like it though. The dual overhead cam engine is loud when you are holding the throttle to the stops. It seems like you are going faster than you actually are.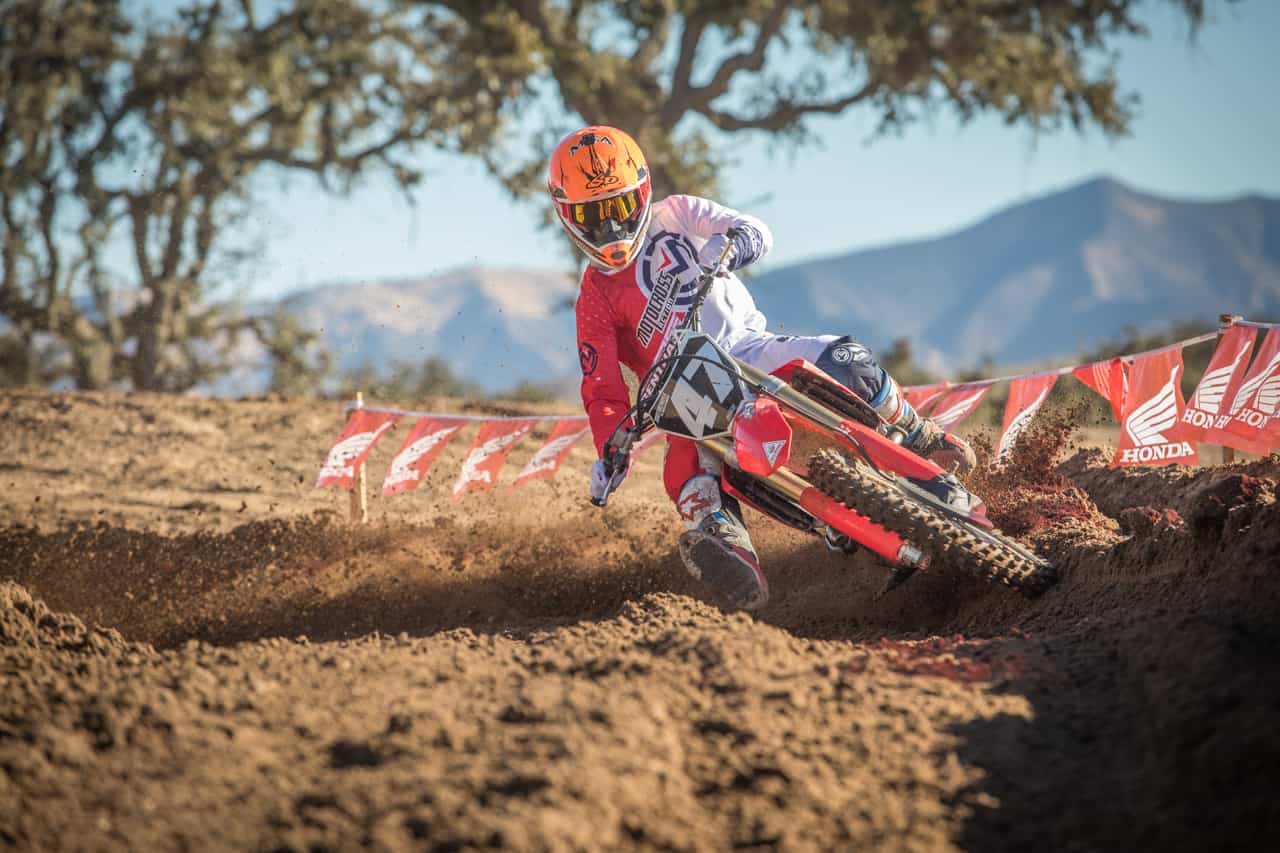 Our MXA tester Justin Muscutt got first dibs on the CRF250. 
Honda brought out two of their semis for the media to lounge and hang out under. 
Although the CRF250 is the heaviest bike in its class, it doesn't feel like it. 
The day is not complete without a standard MXA berm shot. 
We give a lot of details about the bike in the video below. For a full test of the 2018 Honda CRF250 check out the February issue of MXA.
RIDE ENGINEERING PERFORMANCE LINKS NOW AVAILABLE FOR 2017-18 KX250F & 450F 

Press release: Our new KXF links stiffen the initial part of the stroke for better control and less wallowing in rough sections of the track. Handling is improved in flat or off-camber turns and it allows the rear end to squat so the wheel can follow the ground better. Less effort is required to initiate turn-in and the bike going straighter through the whoops. The rear also stays more planted in breaking bumps as front to rear balance is improved. Recommended sag is 100-106mm. $209.95 www.ride-engineering.com
JOIN MXA'S SNAP CHAT FEED
If you are a Snap Chat user then add us to your stories. Get sneak peaks of everything moto. Our Snap Chat name is motocrossaction. Or just take a Snap of the picture above and it will add MXA automatically to your feed.

APPLY FOR THE CASELLI FOUNDATION SPRING 2018 SCHOLARSHIP NOW
 In less than two weeks, the Kurt Caselli Foundation (KCF) will be sitting down to select the recipient of the Kurt Caselli Memorial Scholarship for the 2018 Spring semester. The last day to apply for the Spring 2018 Scholarship is November 8th. Now is the time to apply for the Scholarship, visit www.KurtCaselli.com/Scholarship to start your application. It's free and easy to apply!
Earlier this year, the KCF awarded Colorado State University student Luke Bender the Fall 2017 Scholarship to assist him in his major of Construction Management. Luke is very involved with various CSU programs including the mountain bike team, the United States Green Building Council Club and CM Cares. With CM Cares, Luke donates his time alongside other construction management majors to help people in the community with construction projects that they have such as handicap access to their homes. You can find Luke racing AA Pro in the Rocky Mountain Enduro series, Colorado Off-Road Championship series and select EnduroCross Series events.
Our mission is protecting and supporting the lives of off-road riders. The Kurt Caselli Scholarship will support one current or former racer with a scholarship gift of $2,500 for the upcoming Spring 2018 semester. We are looking for applicants who embody perseverance, integrity, generosity, commitment, humility, and professionalism-all the same character traits that Kurt Caselli exemplified on and off the motorcycle.
Eligibility:
At least 2 years racing experience
Between 18-35 years of age
A legal US resident
Acceptance and successful completion of at least one semester of ongoing schooling (at any accredited school)
Willingness to be present to receive the scholarship award
Commitment to attend at least one future safety event with the Kurt Caselli Foundation
How to Apply:
Candidates must submit the online scholarship application form. at http://www.kurtcaselli.com/scholarship/.
Award Amount:
$2,500 scholarship award will be given to the winning candidate.
Application Deadline:
The deadline for spring semester applications is November 8th, 2017. Recipients will be announced no later than January 30th. Application must be filled out in its entirety for acceptance.
For more information, please visit http://www.kurtcaselli.com/scholarship/.
JUSTIN HILL ON NEW BIKE AND NEW GEAR
Last Tuesday news broke that Justin Hill signed with O'Neal Racing for next year. Justin has been spending a lot of time on the Suzuki RM-Z250 in anticipation for the upcoming Supercross series. Check out the full interview of what Justin Hill thinks of his new ride coming into 2018.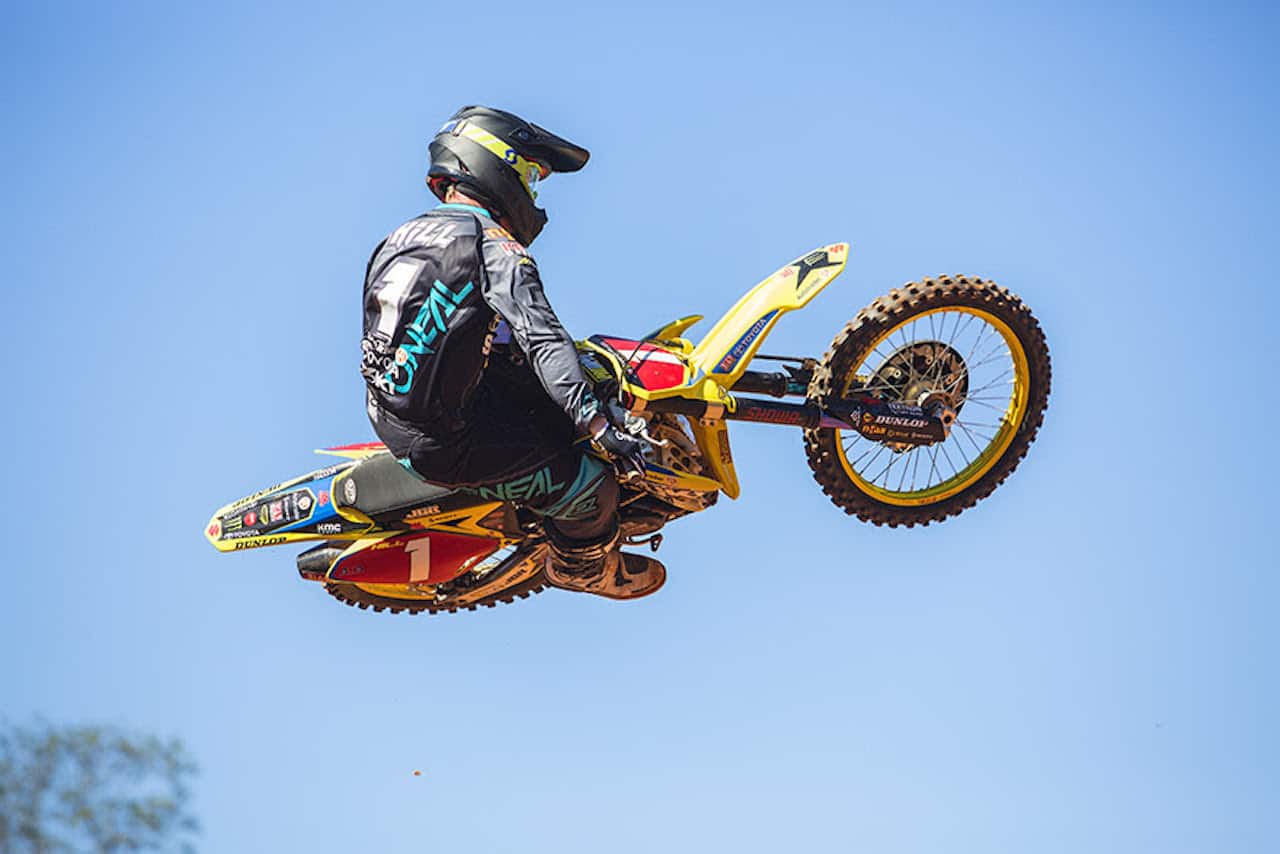 That number 1 looks awfully good with the red backgrounds. As you might have guessed, Justin Hill is slated to defend his 250 Supercross title on the West. The series begins on January 6th in Anaheim, Calif.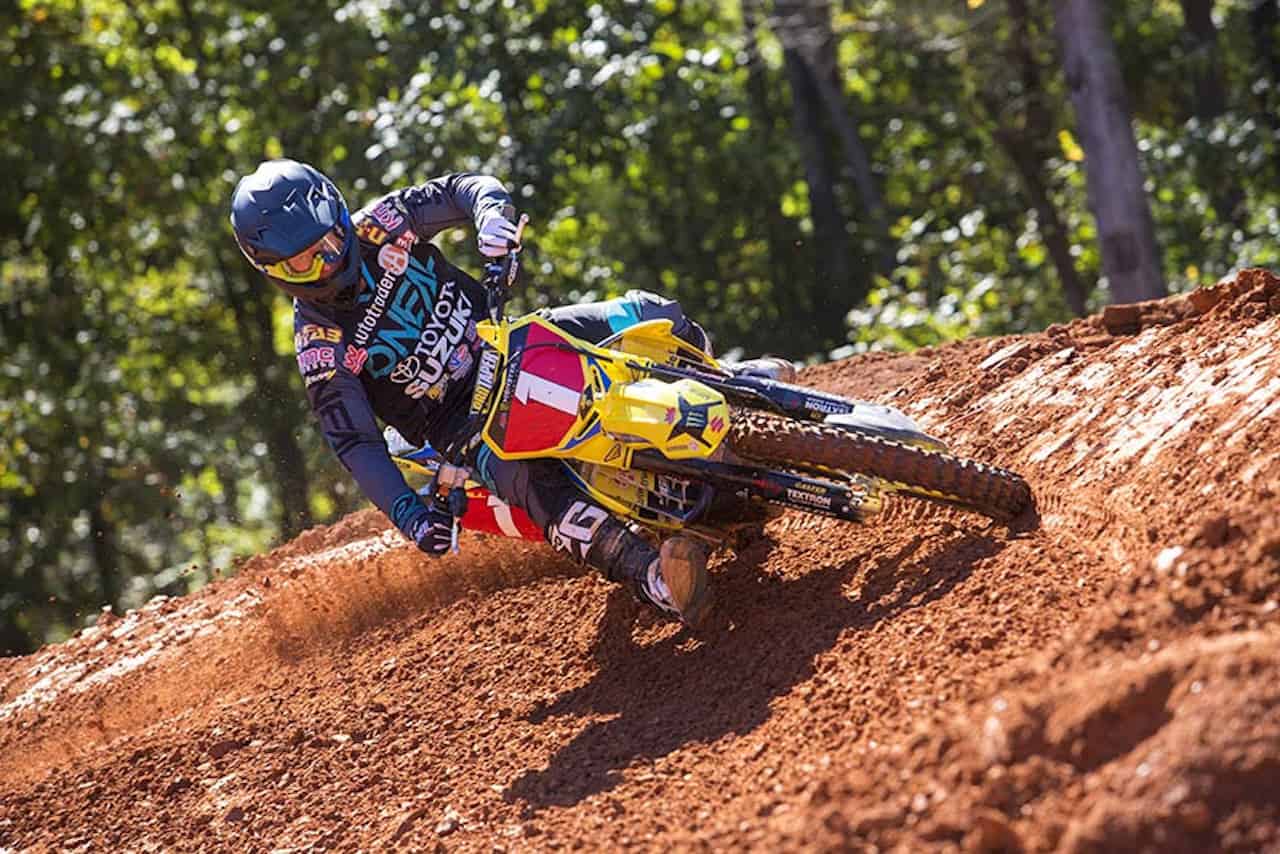 There's nothing quite like North Carolina red clay…unless you live in South Carolina or Georgia, in which case you know how much traction it can offer.
This image should effectively illustrate how comfortable Justin Hill looks on the Suzuki RM-Z250.

TALK MOTO WITH MOTO MINDED PEOPLE. JOIN MXA'S FACEBOOK GROUP CHAT

We love everything moto and want to bring all moto junkies together into one place to share their two cents, ideas, photos, bike fixes, bike problems and much more. To check it out first you must need to or already have a Facebook account. If you don't, it isn't much work and you could even have an alias so nobody knows it is you. To join click HERE. After you request to join we will accept your request shortly after.
WHAT WE WORE ON THE 2018 HONDA CRF250
Head to toe: 6D helmet, Viral goggles, Moose Racing pants, jersey and gloves, Alpinestars Tech 10 boots. 
MINDFX SCIENCE – HAPPY HALLOWEEN
If you haven't tried Mind FX check out MXA review of the organic sports supplement. 
Press Release: MindFX Science, the industry leader in organic sports supplements, is celebrating the Halloween spirit by slashing prices 50% on all Orange Mango Flavors. No tricks here, only treats from MindFX this holiday season. Enjoy these scary good savings on our website all weekend, from now until November 1st.
Orange Mango flavors are offered in 4 sizes; Sampler (3 Sticks), Performance (15), Performance Pro(20), and our best selling Combo Pack (20 sticks of Performance Pro and 15 of Performance).