MXA MINI-VIEW: JUSTIN HILL
Justin Hill was out practicing at Glen Helen last Thursday.
Justin Hill is one of the newer riders on the Troy Lee Designs Red Bull KTM team. His brother, Josh, had a modestly successful racing career, scoring a 450 Supercross win at Minneapolis. Justin turned Pro in 2013 and won his first 250 Supercross race a year later in San Diego. Hill is one of a few riders on the team that seem to be plagued with multiple injuries this year, but he looks to overcome that by allowing his body to heal properly before he races.
Where are you from? I'm originally from Oregon, but am currently based in Murrieta, California. It is a lot of fun in Oregon. We have around six tracks up by my folks' place. When we get a chance to drive up there it is cool.
What is the dirt like in Oregon? It can't really be compared to anything. It is not like Florida or California at all. The tracks are all clay, but they stay wet throughout the year. You get way gnarlier ruts that are much deeper. They are not soft ruts like Red Bud, but instead they are solid and fun to ride.
Justin Hill practicing at Pala right before the Nationals.
How did you get started in racing?  I started around four or five. My brother was already racing, so it was a family thing. I had been riding since I was three, putting around in the parking lots of tracks and places like that. I kept getting better and my parents wanted me to give it a shot. I was obviously gung-ho about dirt bikes, so we did it and had some good years on the little bikes. I won a lot of 50 championships and 65 championships. I wouldn't say I had a break, but a few injuries, a growth spurt and some little kid stuff kept me from riding as much going into the 85 class. By the time I was 14, I was on big bikes and racing was starting to get real. I was training a lot and really getting into it.
Does your brother, Josh, still ride a lot? He rides sometimes. He is pretty much just working these days. He knew when he was done racing, because he had accumulated a lot of injuries over the years and he decided it was just time. His body was pretty beat up and there wasn't a good enough ride for him to make it worth his while. So he decided to take a job in the industry, which I think he really likes, but deep down I still think he wants to come back someday. He wants to at some point. I just don't know when and if it will happen, but he goes out and rides these electric bikes and just messes around.
Justin Hill finished 17th overall at the Hangtown opener.
Do you consider an electric dirt bike the real thing? Yeah. I think it is the future. The technology isn't quite there yet, but if they get to a point where they are effective at making and selling with a good profit, I think a lot of the bigger companies will get into it. Some of the pioneers would be smart to patent all of it. That way they have the monopoly. It seems like that is the way everyone does it now. I do take them seriously and I think they are for real.
Have you ridden one? I have not ridden one. My brother tells me all the time I need to ride one, but don't think I actually can. We grew up racing motorcycles that run on gas motors and I don't know if you can easily make that transition. It is a grey area, because it is more like an electric mountain bike. I mean, it is not like a competitive brand motorcycle. My brother rides an Alta. I don't think they gave him one, but they let him test them from time to time. I don't think he owns one. If he did own one, I would have snuck a ride on one. They are very weird in that I don't think they have gears. They are just one speed, but he says that they are fast. They are probably as fast as a 250, but a little bit heavier with the batteries. It makes it obviously a little heavier. He says the bike has a lot of torque, which I wouldn't imagine an electric bike having.
Justin Hill won the Toronto Supercross. Photo: Scott Mallonee
How long have you been with Troy Lee Designs KTM? This is just my first year. Last year I signed with factory KTM to ride in the 450 truck and TLD got the opportunity to take over the 250 team for 2016, so they moved me over. They are the factory team now and we ride for them. It kind of shook down like that. The bikes are the same, if not better, and we had a lot of work to do, but this is only one year. I split my years in half–one year over there and one year here.
You had an injury in Supercross. Can you talk about it? This year in Detroit, I hit my head and had a pretty bad concussion. I tried to ride the week before the next round, but I really wasn't ready to do it. My head wasn't quite right and I ended up sitting out. Obviously, we were pretty deep into the season, so we decided that it was time to focus on outdoors. I had another crash before Hangtown that was completely unrelated, which kind of contributed to my back problems. Coming into Hangtown I only had three days on the bike and wanted to give it a shot. It wasn't enough time. I kept tweaking my back. I decided to let it heal properly. Usually I try to come back a little too soon and this time I'm just going to chill and get myself sorted out so I can go do something great and not just be out there.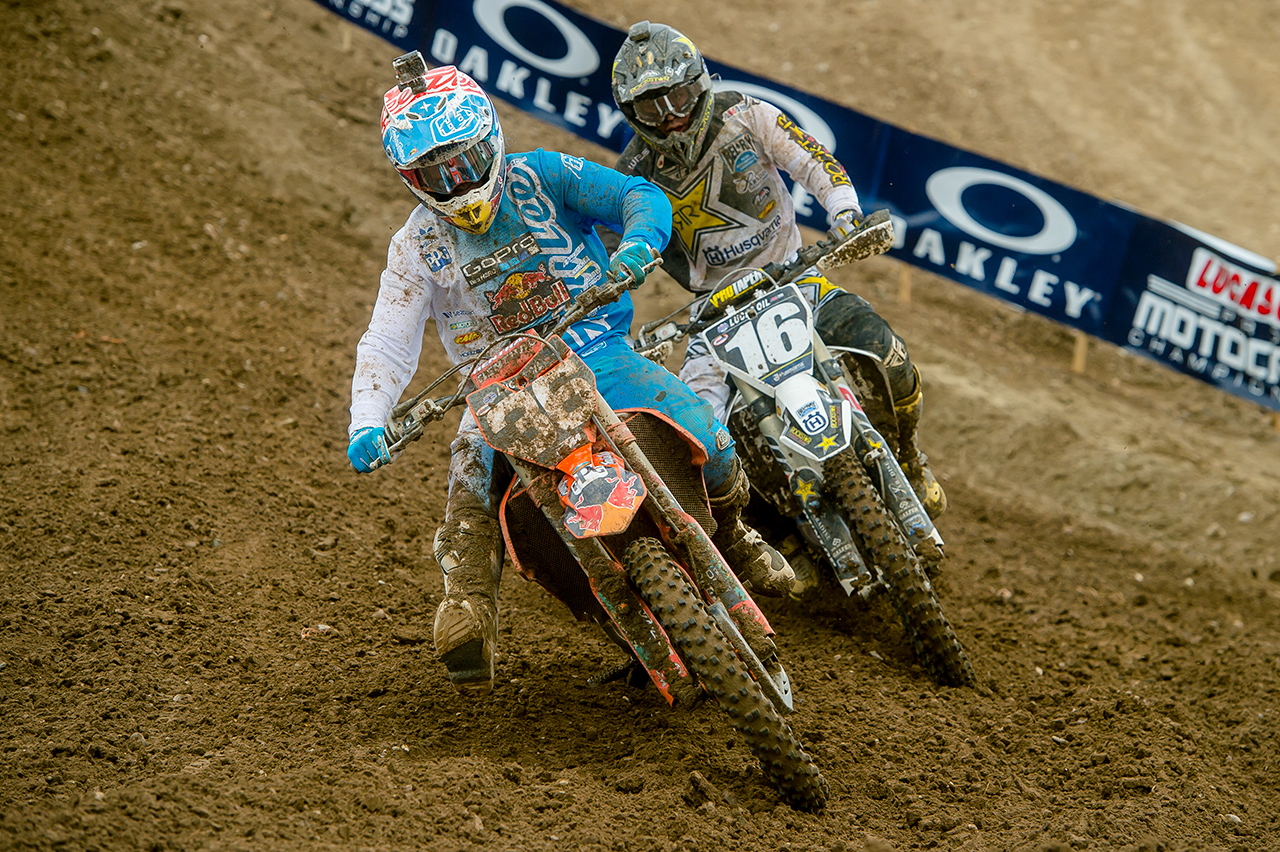 Justin Hill battled with Zach Osborne at Hangtown.
Do you think the 250 class is more competitive near the top than the 450 class? I've only really raced one 450 race and that was the Monster Energy Cup a few years ago. It seemed to be more separated. The guys that were fastest were riding far out front and there weren't any major mixups in the 450 race, but I'm going off just a three moto night. A 450 is my bike of choice, but not necessarily my bike of experience. The 250 class is just so stacked right now. You have 15-20 hungry seeded guys. You know, back in the day there were only like three guys at the top, and the rest were just out there having a good time racing. Now everybody has their programs in order, everybody is on good equipment, everybody has a nutritionist, as well as a trainer and a mentor. It is very elevated in the 250 class. The new era is coming up and obviously it's already flooded in the 450 class quite a bit. You have young guys entering and already challenging the top, like Jason Anderson, and many more that are looking like they can really be the next top guy. Obviously, Kenny (Roczen) is young. It is definitely intense. This is just the new wave.
When are you returning to the National series? I haven't quite decided yet, but I think either Millville or Washougal. Washougal is my home race, so obviously it would be comfortable to come back to that. We will see how it goes. I am riding well at this point. I'm also getting in shape, so it is just a matter of time.
Justin Hill at Hangtown.
How is it being on the same team with Jessy Nelson and Shane McElrath? I've known those guys for forever and they are my friends. They are all good dudes and they are definitely really good riders, so when you are on a team with them it is a little different. Maybe you don't race them the same. With teammates I always hear that the teammates race each other harder, but it is not optimum for the team. However, you want to be top dog on the team. Maybe everyone races each other a little harder these days, but I don't know. I have yet to really race with Jessy since I have been on this team. I've just raced with Shane (McElrath) and Alex Frye, which were my teammates in East Coast Supercross.
Are you racing either of US Grand Prix rounds? I don't know yet, actually. It falls in this grey area of contract time, so that is to be determined.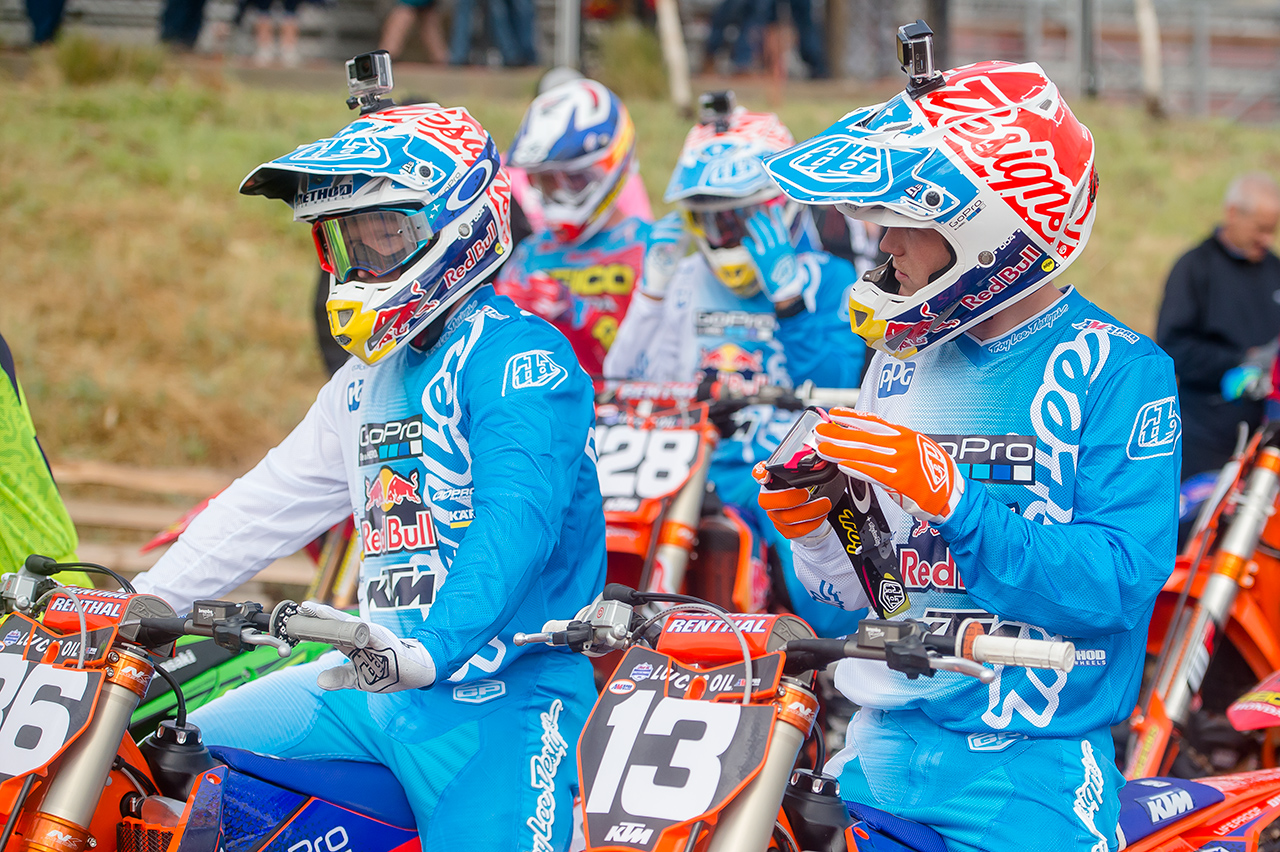 Justin Hill (36) and teammate Jessy Nelson (13) wait to do their practice run. That's teammate Alex Frye in the background on the 128 bike.

Are you on a strict diet or do you have fun food every once in a while? I think I'm the inner fat kid. We put in a lot of work, but if there is a time where there are sweets sitting nearby it is kinda irresistible for me. I am on that "every-once-in-a-while-is-not-going-to-kill-you" basis. If you eat clean and well, with the amount of calories we burn every day, it kind of sets us in an area where we are just burning it all off. I definitely don't take my health lightly, but I try to not make it miserable. I don't wasn't to shut out a possible advantage. I think the gnarliest guys with nutrition are probably Ryan Dungey and all of Aldon's (Baker's) guys. All of those guys are really gnarly. I don't know about [Gareth] Swanepoel and what his guys are on, but I imagine that if you are training with somebody and paying them to do it, they are probably going to be a little strict on your diet.
Ryan Dungey is in the ESPN body issue. What are your thoughts on that? I don't know. I don't necessarily get it, but I think Tarah Geiger did it once way back in the day. That was alright. I don't really get it, so I don't have an opinion. I saw an Instagram photo of Dungey naked riding around and I was like, "Oh, that is interesting." I think Hurricane [Bob Hannah] did it back in the day, too. He did some big jump in just his underwear and that was pretty funny. It is less like an ordeal if you just throw your underwear on and you are just being funny. I don't think it had a meaning. He was just doing it as a joke. Hurricane was the man [laughter].
What was the hardest race to sit out? The hardest race to sit out was definitely the weekend after I hit my head, which was Indianapolis. I came into Detroit after a win and two points separated me and Martin for the lead. We were both ahead of Malcolm (Stewart) at the time. It was just one of those things where it was going well and we were in a championship battle. I decided to try to take it home. It was the hardest one to sit out. I knew my head wasn't right and I shouldn't do it, but it was still hard to sit out, man. It took way too much thought and I shouldn't even have considered it. In the Nationals, I'd say Red Bud. I'm very patriotic and it is such an iconic motocross race and to miss it was a bummer. A lot of people told me it was really gnarly, so I should be glad I missed it, but it has really good dirt. With real soft stuff, it is definitely one of the better spots to run on in the country. My favorite track is still Washougal, beause it's my home track.
Justin Hill hit the launch button at the Atlanta Supercross. Photo: John Basher