MXA RETRO TEST: JEREMY McGRATH'S 1998 CHAPARRAL YAMAHA YZ250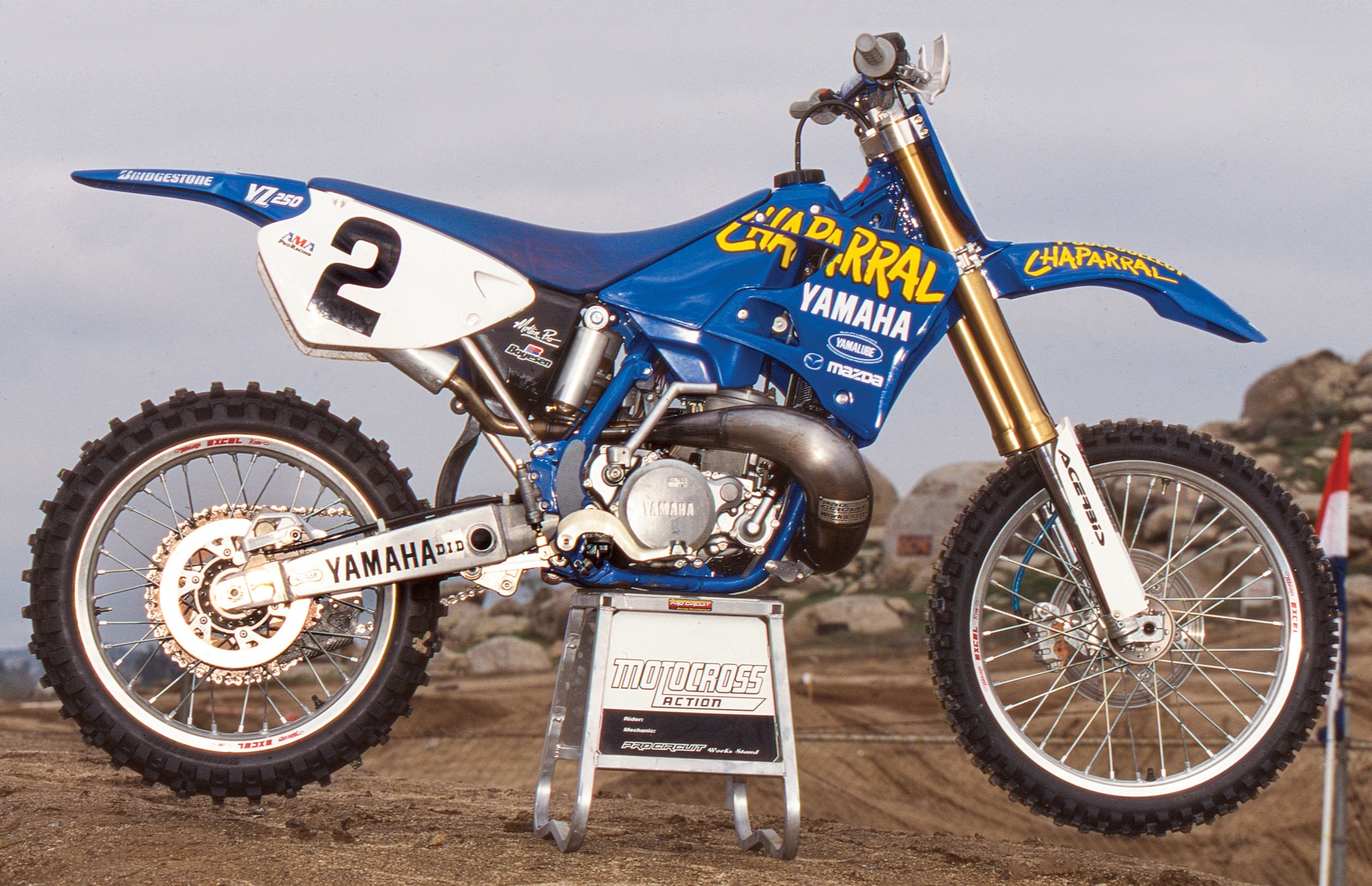 Works wonder: The MXA test crew expected Jeremy's Supercross-ready shock to be as forgiving as a Harley hardtail. Wrong! McGrath's YZ250 had the best-performing rear shock we have ever ridden on a Yamaha.
We get misty-eyed sometimes thinking about past bikes we loved and those that should remain forgotten. We take you on a trip down memory lane with bike tests that got filed away and disregarded in the MXA archives. We reminisce on a piece of moto history that has been resurrected. Here is the test of Jeremy McGrath's 1998 YZ250.
Van Gogh couldn't have painted a better picture of Jeremy McGrath's bike waiting in the pits for the MXA wrecking crew to throw a leg over it. Even more surreal, the bike still had some Los Angeles Coliseum mud on it that mechanic Randy Lawrence missed when he washed the bike at 1:00 a.m. after the race. We couldn't wait to ride Jeremy's bike. It had rained the day before, and Perris Raceway's soil was at its choicest. It was going to be the kind of day you would cut an ear off for.
THE MXA TEST CREW HAS A LOT OF EXPERIENCE WITH JEREMY'S BIKES. TO START WITH, JEREMY WAS AN MXA TEST RIDER BACK IN '90 AND '91,SO WE PREPPED THE BIKES THAT HE TESTED.
The MXA test crew has a lot of experience with Jeremy's bikes. To start with, Jeremy was an MXA test rider back in '90 and '91, so we prepped the bikes that he tested. When Jeremy moved to Team Peak, where he won two 125 Supercross Championships, we rode his race bike many times. Luckily, the MXA gang rode several Team Honda bikes during Jeremy's string of Championships for the red team. Last year, we were the only outsiders allowed to test Jeremy's works Suzuki—and the same holds true for "Super Mac's" new Yamaha.
To avoid any confusion, it should be noted that while Jeremy McGrath rides for Team Chaparral, his bike is from Team Yamaha. Whatever Kevin Windham, John Dowd and Doug Henry have, Jeremy gets. Ezra Lusk's former mechanic, Steve Butler, was assigned to work as a liaison between the Yamaha factory and Chaparral mechanic Randy Lawrence, while long-time MXA test rider Larry Brooks manages the Chaparral team.
The MXA test crew was chomping at the bit to find out just how good Jeremy's bike was.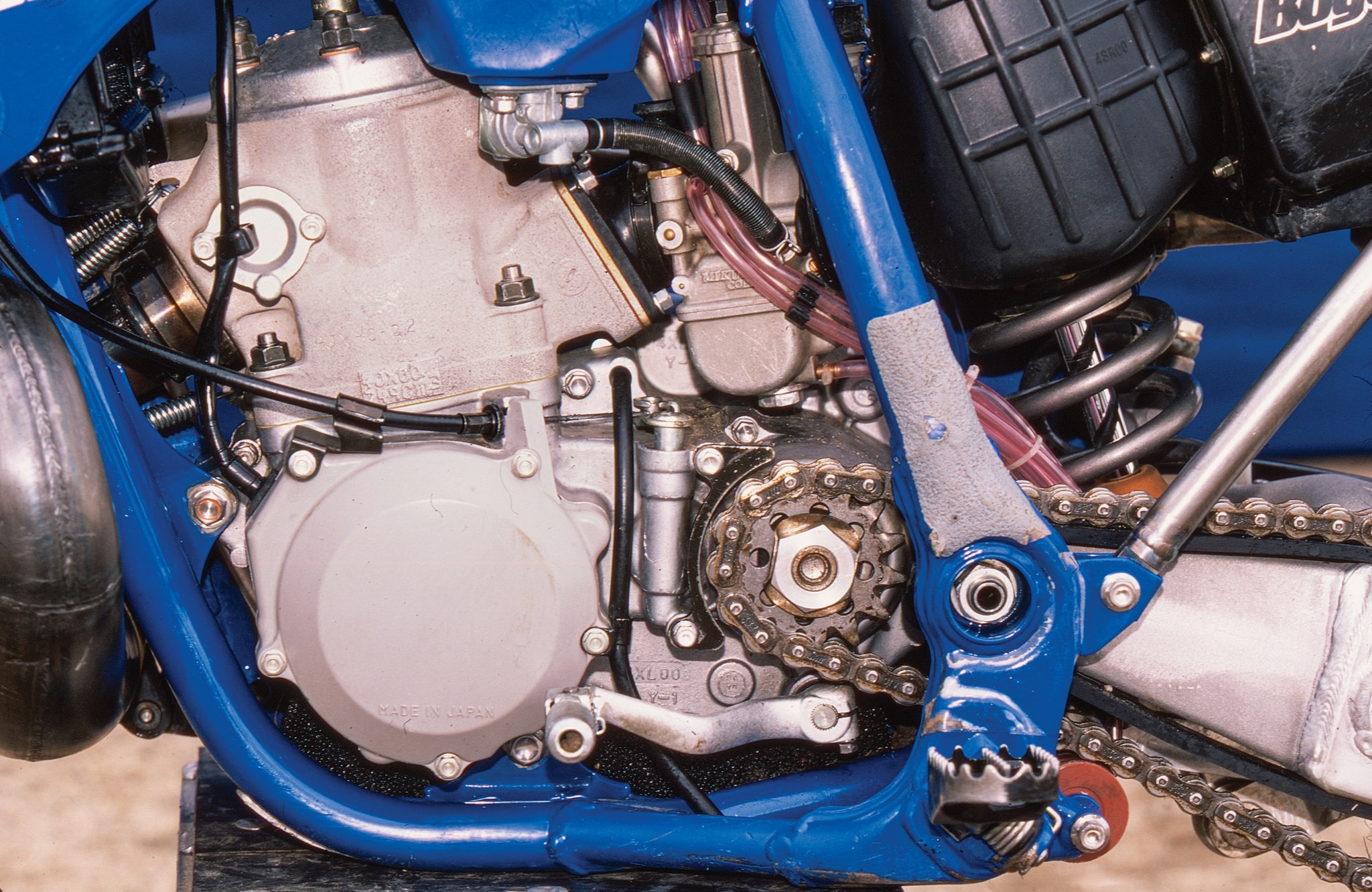 It was hard to tell Jeremy's factory engine apart from any other '94-cylindered YZ. There was no magnesium clutch cover, special footpegs, kickstarter or rear brake pedal. Why? Yamaha thought it would be a waste of money when all the stock parts worked flawlessly.
HOW ARE JEREMY'S CONTROLS? The first thing every rider does when he even gets near a bike is grab a handful of throttle, squeeze the front brake and fan the clutch lever. We are no different, except that when you squeeze the levers of a factory-prepped race bike, everything feels crisper. If McGrath's bike didn't have the smoothest throttle, strongest front brake and easiest clutch of any YZ250 we had ever felt, we would have been disappointed. We weren't, thanks to an aluminum throttle barrel, works Nissin front brake and a TZ250 road-race clutch lever.
THE FIRST THING TEST RIDERS NOTICED ABOUT MCGRATH'S ENGINE WAS HOW EASY IT WAS TO RIDE, BUT DON'T BE LULLED INTO THINKING THAT JUST BECAUSE IT'S EASY TO RIDE IT IS SLOW, BECAUSE IT'S FAST.
WHAT ABOUT THE HANDLEBAR POSITION?  You can tell a lot about a rider by his handlebar position. A few years ago Jeremy bought into the Bradshaw-inspired bar position (high, forward and angled up on the ends). Not anymore! McGrath's Renthal Twinwall oversized bars are positioned smack dab in the middle; nothing weird about them.
Jeremy is proud of the fact that he has brought his bars back into the realm of normalcy. The first thing Jeremy asked us after we rode his bike was whether we liked the bar position or not. When we said yes, he smiled knowingly.
Another fad that has hit the factory boys hard is a very high lever position; Jeremy has never bought into that. His lever position was a little higher than is traditional, but it was still in the ballpark.
Because McGrath uses stock footpegs (albeit made of titanium), the rear brake pedal and shifter are left alone—not to say that the bike doesn't shift better than the standard YZ or stop faster (it does).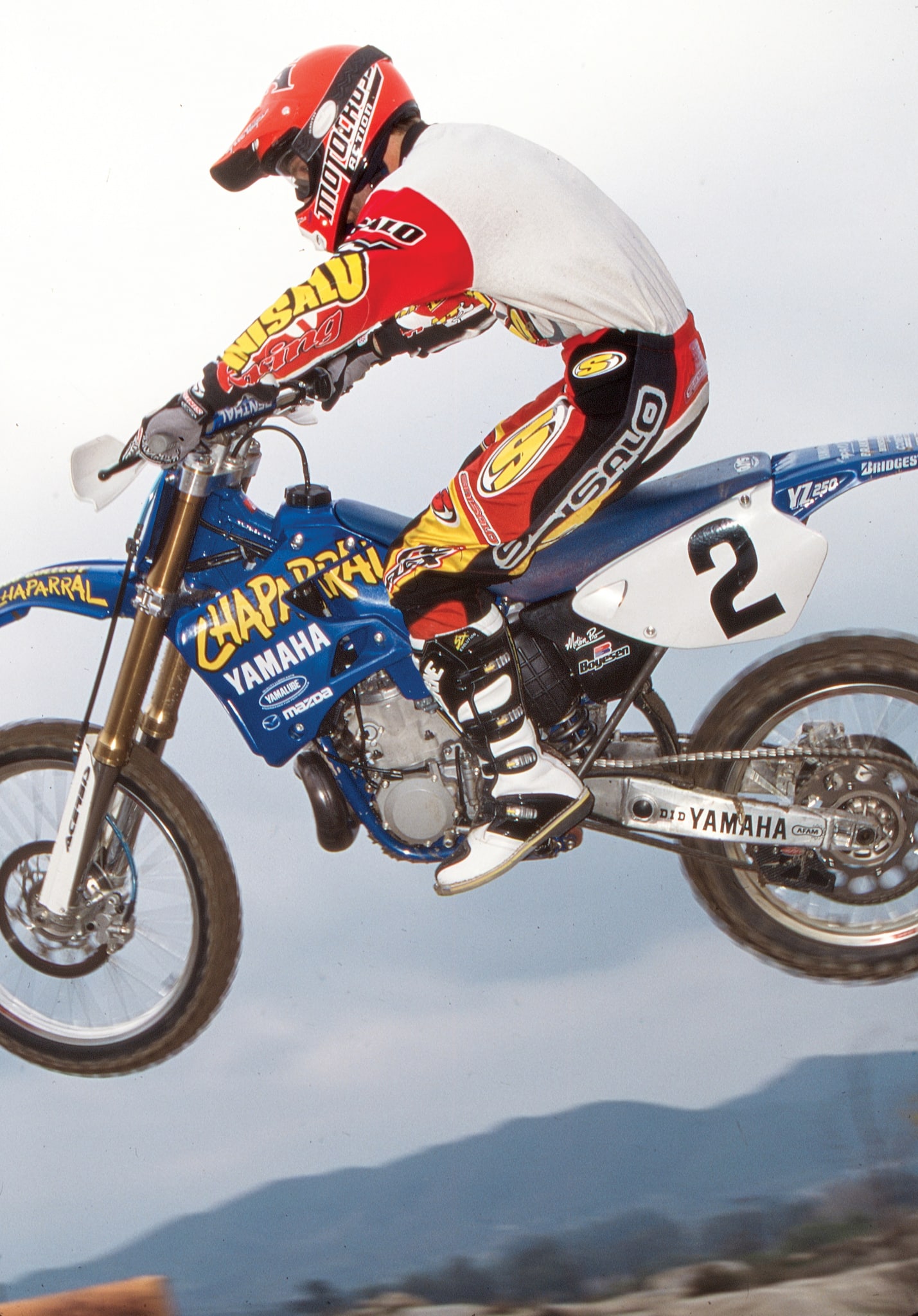 WHAT'S DIFFERENT ABOUT McGRATH'S ENGINE? Jeremy gets his engines from Team Yamaha, which means that he should have the exact same YZ250 engine as the factory guys, but he doesn't! After a winter of testing, he elected to use last year's Team Yamaha engine, while Windham and Dowd elected to use the '98 version. What's the difference between the engines? Windham and Dowd use a '98 cylinder, while Jeremy stuck with the proven '94 cylinder.
HOW DOES JEREMY'S ENGINE FEEL? The first thing test riders noticed about McGrath's engine was how easy it was to ride, but don't be lulled into thinking that just because it's easy to ride it is slow, because it's fast. Not just fast, blazing fast. A quick blip of the throttle results in a powerful forward surge. How can it be both blazing fast and easy to ride? Simple. The power delivery is almost electric. You roll the throttle on and it goes; leave the throttle on and it goes more. Pretty soon, you are hoping it will sign off.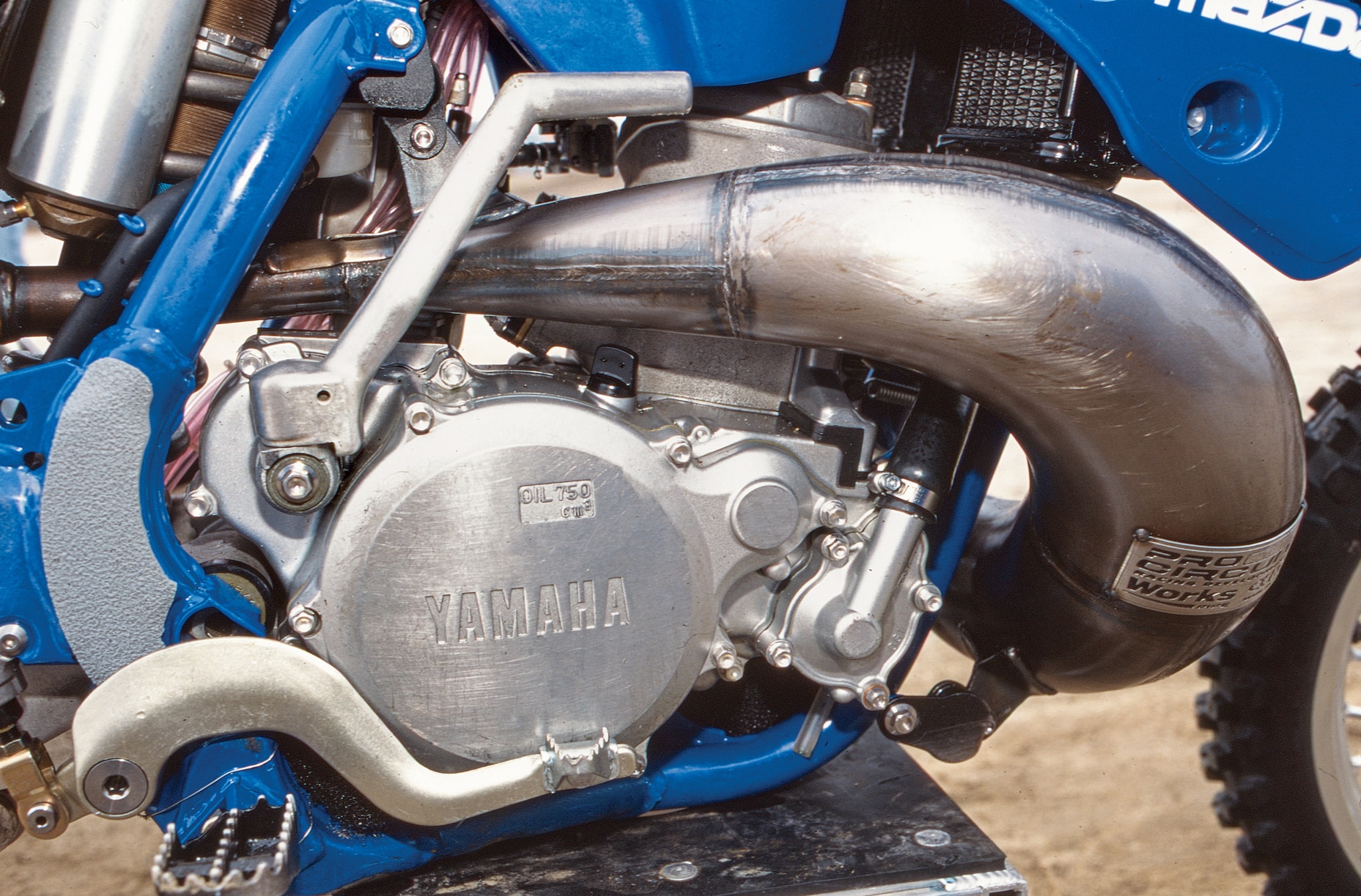 McGrath's works Yamaha engine could be found in the used-bike classifieds. The cylinder is from a '94 YZ250. While Team Yamaha's Kevin Windham switched to a '98 cylinder, Jeremy went with what he was used to.
HOW DOES IT COMPARE TO A STOCK YZ250? Very favorably. The stock YZ250 engine has the same easy-to-ride, flexible power delivery as the Team Yamaha race bike; however, the stock YZ250 isn't as powerful. What Team Yamaha has achieved with its Bob Oliver-ported cylinder and Pro Circuit pipe is a YZ250 with KX250-style output. McGrath's engine has enough bottom end to let you roll the throttle on through the turns (without abusing the clutch), and then as you exit the turn, it reaches full stride.
The impressive thing about Jeremy's engine is the strength and breadth of the midrange. It is awe-inspiring. The midrange is long and strong, but don't mistake Jeremy's bike for a high revver. It's not all that free in the upper rpm range; it doesn't have to be. The midrange is timed to deliver so much power that Jeremy can do most of a Supercross track in second gear.
WHAT ABOUT THE SHIFTING? When it comes to shifting and clutch action, Jeremy's YZ shines. The gears, shift forks and dogs are polished to make his bike shift without effort. Jeremy can't complain about the YZ250's Hinson clutch. The pull is silky smooth, and the action is progressive.
McGRATH'S BIKE FEELS SIMILAR TO A STOCK YZ250, BUT IT IS FASTER AND STIFFER, AND EVERY PART EXECUTES ITS FUNCTION PERFECTLY.
HOW GOOD IS JEREMY'S SUSPENSION? Stiff. Even Jeremy agreed that at Perris Raceway we could have taken a few clicks of compression out of the forks (we were thinking maybe about 20 clicks). The fact that Jeremy's works Kayaba forks were super stiff didn't surprise us, though. For the rigors of Supercross, the only time you really use the front forks is when you come up short on a jump, and Supercross whoops cater to forks that stay as high and rigid as possible. Stiff forks make it all that much easier to skim along the tops of the whoops instead of falling in.
However, the opposite is true of Jeremy's rear shock. Although we took Jeremy's bike straight from the Los Angeles Supercross, the rear shock worked exceptionally well (on both the Perris outdoor track and Supercross track). It handled all the obstacles, big or small, with ease. The works Kayaba shock has adjustable high- and low-speed compression damping, as well as a works shock linkage (with a slightly stiffer rising rate at the end of the stroke).
Is there anything we didn't like about Jeremy's suspension (other than the fact that you had to ride hard to make the forks move)? Yes. Jeremy runs very light rebound damping, both front and rear. Even with him aboard, the bike has a tendency to unload when the suspension springs back. The light rebound works in the whoops, where it allows the suspension to re-cock in time for the next bump, but the MXA test crew was surprised by how quickly the suspension was set up.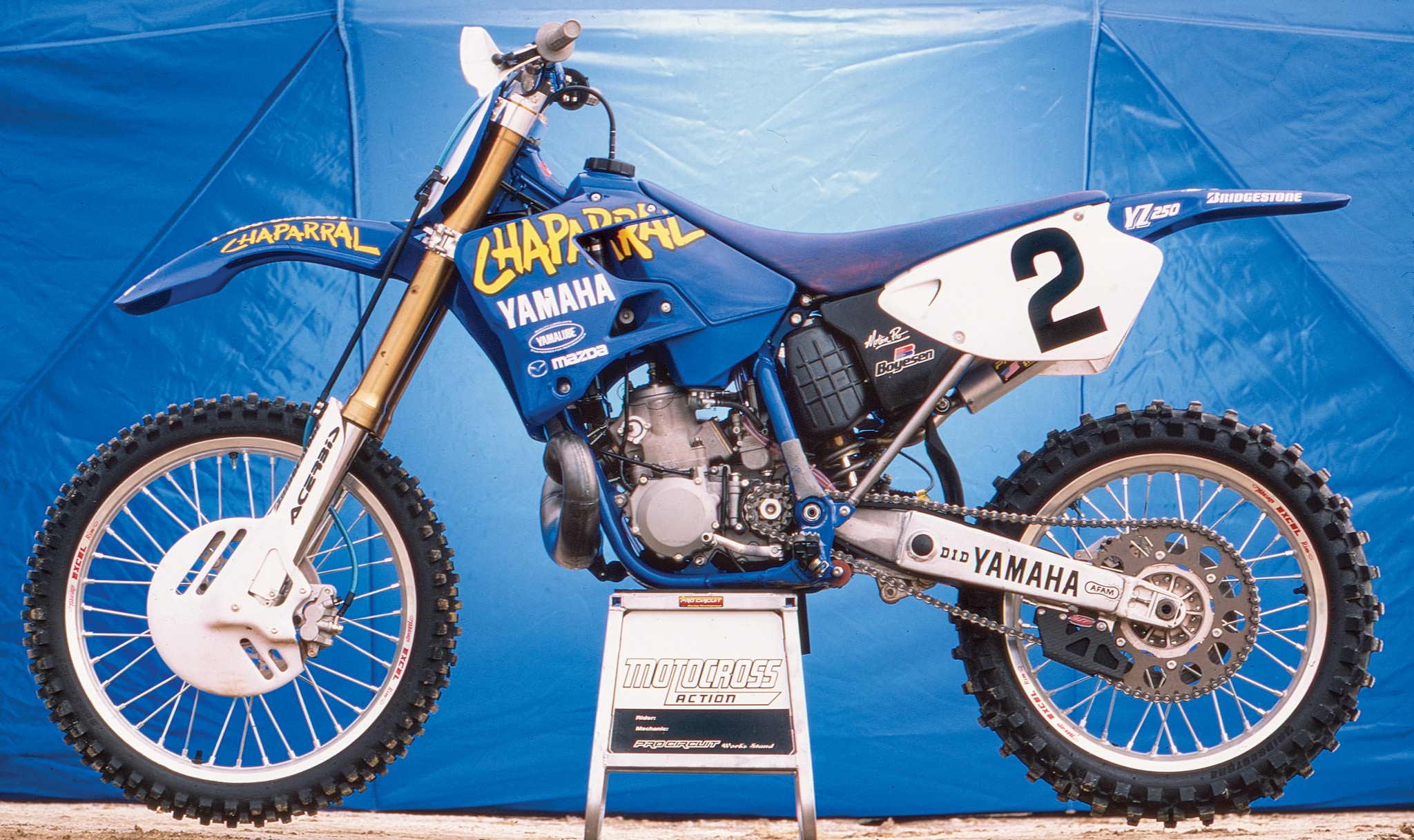 At first glance, McGrath's Chaparral YZ250 looks "plain," "boring" and "uninspired."
WHAT'S IT LIKE TO RIDE McGRATH'S BIKE? Fun, intimidating, crazy, stupid and exciting all rolled into one. Sure, you would love to ride McGrath's works bike, but could you handle the pressure of having Jeremy's team manager, mechanic and factory engineer standing by the side of the track scrutinizing your every move? Even worse, Jeremy and Chaparral teammate Jimmy Button came out midway through the day to watch. Riding a works bike is a pressure-packed situation. Will you do the bike justice? What happens if you wad it up? Do you have to jump every triple on the track?
McGrath's bike feels similar to a stock YZ250, but it is faster and stiffer, and every part executes its function perfectly. The brakes are stronger than stockers (Jeremy runs a 270mm front disc instead of the stock 240mm rotor). Turning on McGrath's bike is a dream. The fork offset is the same as stock, but the handlebars are moved 15mm forward in the triple clamps (and the bar clamps are 10mm taller). Apart from these few changes, McGrath's YZ feels like a standard YZ250 on steroids. To tell the truth, an enterprising YZ owner could build a bike almost as good as Jeremy's. "Almost" is the keyword, though. Almost as fast, almost as well appointed, almost as crisp, and almost as good. McGrath's YZ is just what it should be—the perfect dream YZ250.