MXA TEAM TESTED: BOXO USA 97-PIECE MOTOBOX TOOLBOX
WHAT IS IT? The Boxo MotoBox toolbox is the first complete toolbox specifically tailored to moto needs. The 97-piece set comes complete with many of the tools you'll need for just about any dirt bike brand. Plus, it comes with a limited lifetime warranty.
WHAT'S IT COST? $750.00 (white or black).
CONTACT? www.boxousa.com or your local dealer.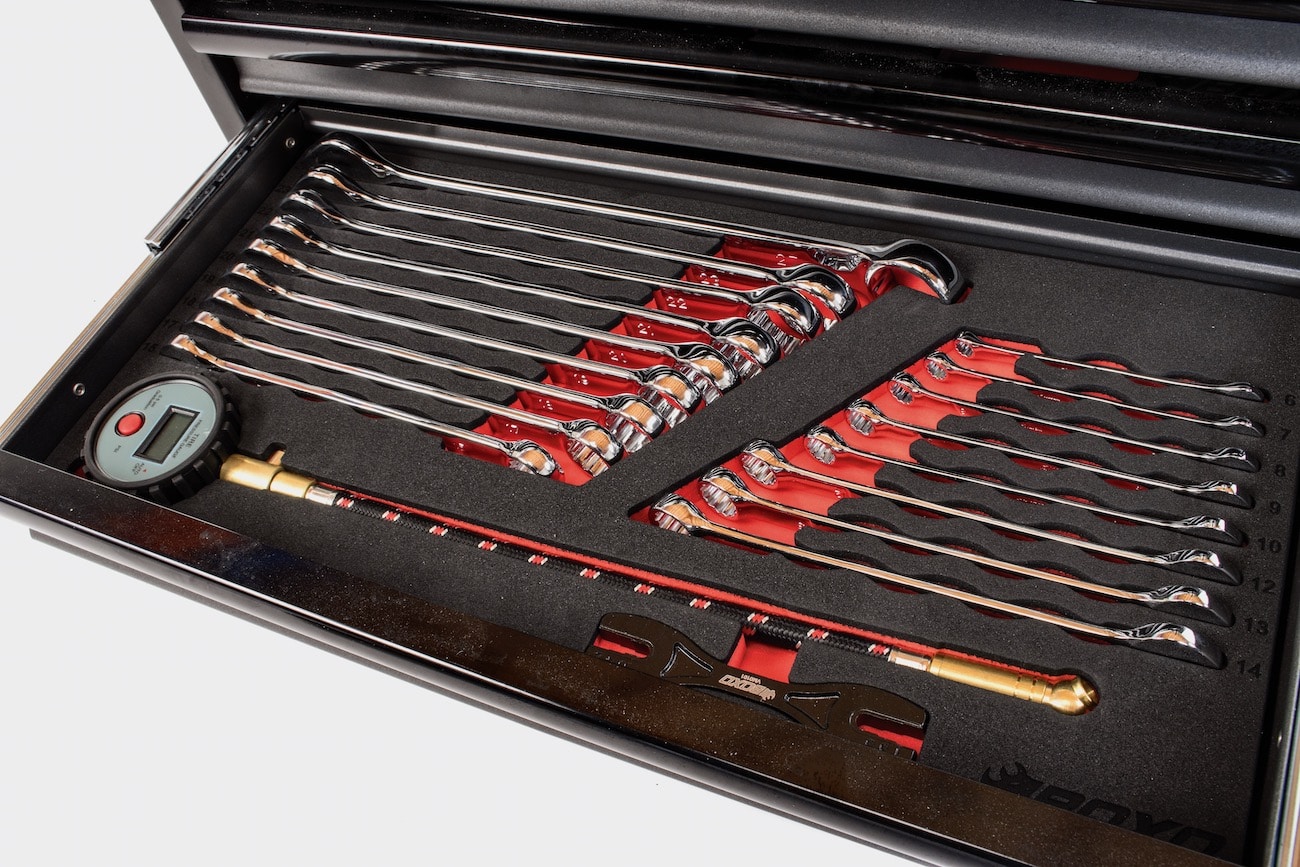 WHAT STANDS OUT? Here's a list of things that stand out with the 97-piece Boxo MotoBox toolbox set.
(1) Being skeptical. We were immediately skeptical about the Boxo MotoBox toolbox. Why? We weren't familiar with the brand, and no tool company has ever made a moto-specific toolset that was high quality. We have to admit that we were impressed by the laser-cut foam tool cutouts and etched size markings, but looks are one thing. What mattered most was if the tools were worth the money and if the 97-piece set had everything we needed on race day.
(2) Moto tools. The MXA wrecking crew's tools have been collected over the years. One toolset never covered every tool that the "Big Seven" brands required. We've all had to go shopping for Torx wrenches, a 13mm open-end and 32mm socket for the rear axle. The real question was, could Boxo live up to its claim of having everything a motocross racer would need in its MotoBox? Just about.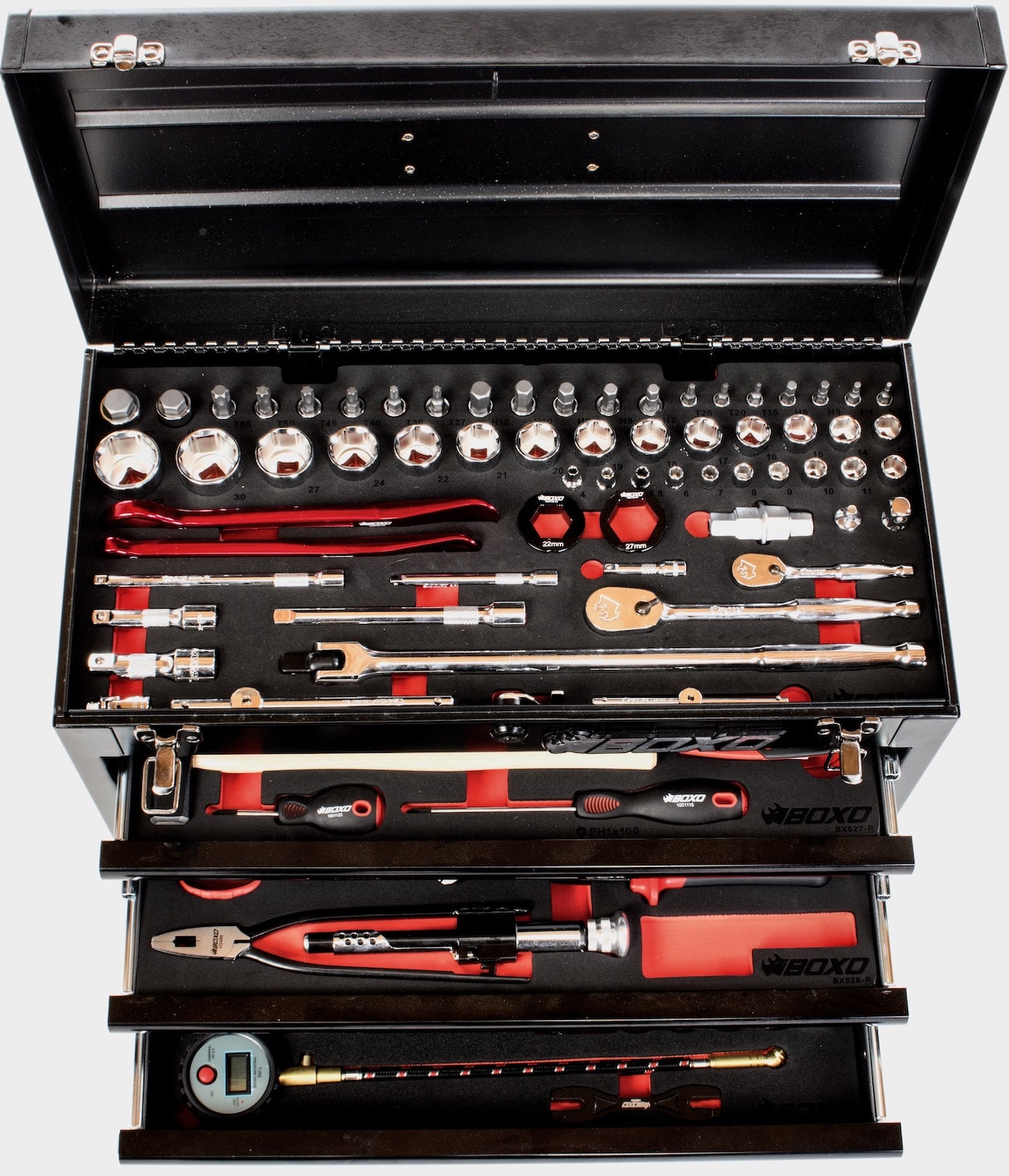 First, the three-drawer toolbox is made from heavy-duty 20-gauge steel. It features ball-bearing drawer sliders and a smooth latch locker drawer system that retails for $160 if you want to buy it without the tools. 
Second, the set comes with 1/4-inch and 3/8-inch ratchets and a 1/2-inch breaker bar. There are 24 1/4-inch, 3/8-inch and 1/2-inch metric drive sockets (with nine extensions and adapters) from size 4 to 32. For KTM riders, Torx sockets from T15 to T55 are included with a set of hex sockets as well. Boxo didn't forget the T-handles, but these aren't your normal T-handles; they are slide T-handles that you put together with the included extensions and sockets, which saves lots of room. There are 17 open-end metric wrenches from sizes 6 to 27. With those come a 7-piece foldable hex key wrench, three pliers and six screwdrivers.
Third, the loose tools consist of a hammer, scissors, digital tire gauge, safety-wire pliers, spoke wrench, axle step-down tool and two tire spoons (that have box-end 32mm and 10mm wrenches on their ends and include 17mm and 27mm inserts. 
(3) The missing tools. We may have expected Boxo to include every tool on our must-have list, but the things that weren't included were a fork air-pressure gauge for our KTMs and Huskys, a pipe spring puller, valve stem remover, Robertson wrench for the KTM smokers and a spark-plug socket. Additionally, the spoke wrench wasn't the right size for our KTM, GasGas, and Husky wheels or our Yamaha front wheel. The missing tools weren't deal-breakers, though, because we already had them. We just took the select tools out of our old, messy, unorganized toolbox and placed them nicely into the Boxo MotoBox. There is a small empty space for personal items in the second drawer, but we wish it were big enough to hold more tools. 
(4) Durability. Boxo's tool quality is better than the popular brands', save for Snap-On.
(5) Options. Boxo offers many different toolsets in all shapes and sizes with prices ranging from as high $9000 for roll-aways. And, Boxo allows you to completely customize your toolbox. Boxo will even laser-cut the foam to your custom order.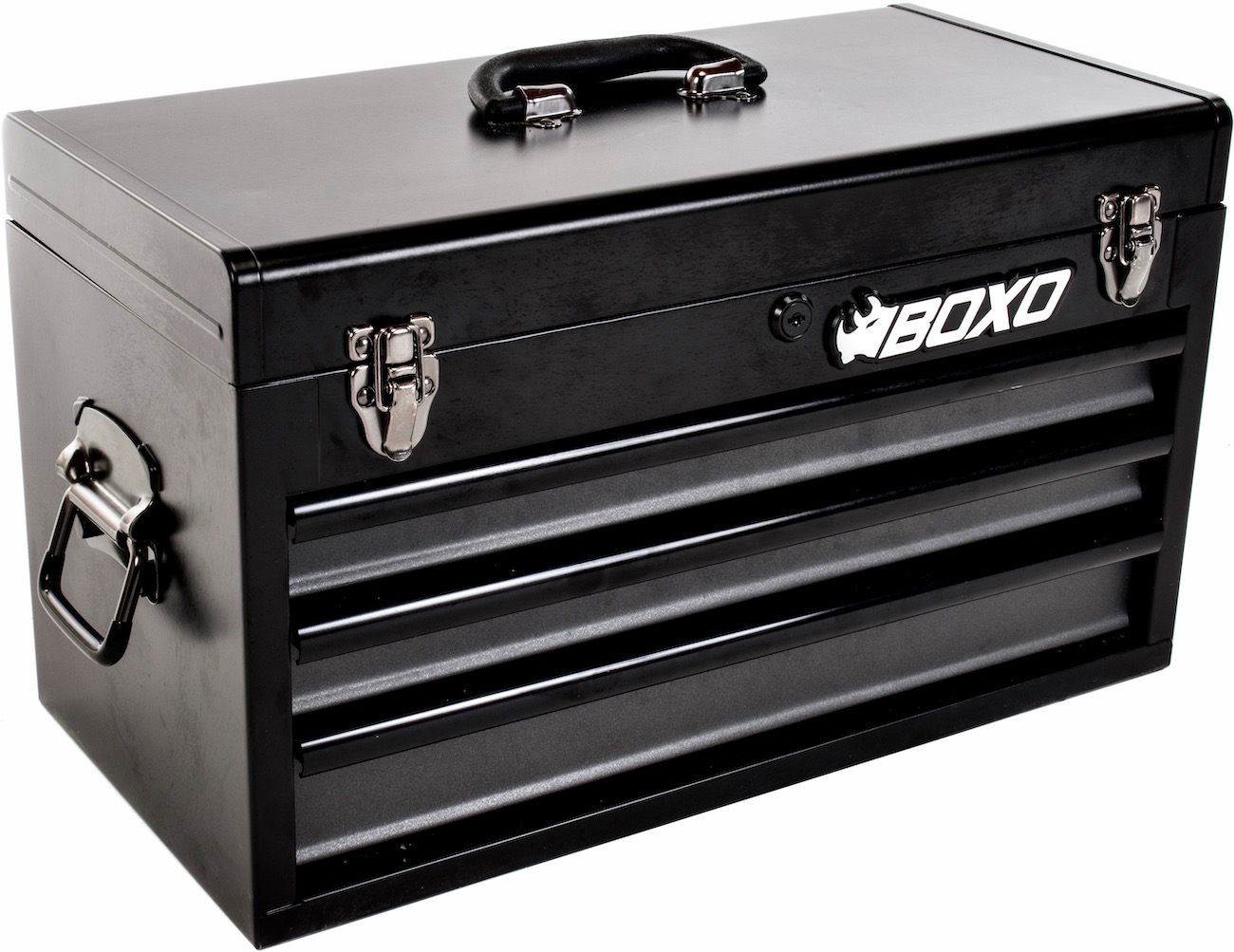 WHAT'S THE SQUAWK? The spoke wrench needs to be offered in sizes to fit all the common bikes. To be truly moto-ready, the Boxo set needs a spring puller, valve-stem remover, torque wrench and spark-plug socket at the least.  
MXA RATING: Boxo MotoBox tools are a steal for the price, and with a lifetime warranty, you can breathe easy. This is the most durable, most organized and most complete moto toolbox that has ever been put on the market, hands down. It is on the expensive side, but you'll never have to go to Harbor Freight again.