MXA TEAM TESTED: SPLITSTREAM HI-FLOW YZ250F IMPELLER

WHAT IS IT? The 2014 Yamaha YZ250F's water pump had a weak link in its design. The shaft that held the impeller and water-pump gear located itself via a drift pin that was inserted through a hole in the shaft. Unfortunately, the shaft would often break at the hole. Netherlands-based Splitstream experienced this problem often because of the high-load sand tracks of Holland. So, Splitstream made a special YZ250F water-pump shaft and impeller from high-grade steel, and it doesn't have a hole in it. Best of all, you can order it with the stock impeller or with an oversized impeller to flow more water.
WHAT'S IT COST? $199.95 (stock YZ250F impeller size), $259.95 (Hi-Flow impeller and spacer plate), $148.95 (KTM, Yamaha, Kawasaki Hi-Flow impellers and spacers).
CONTACT? www.motostuff.com or (503) 830-6433.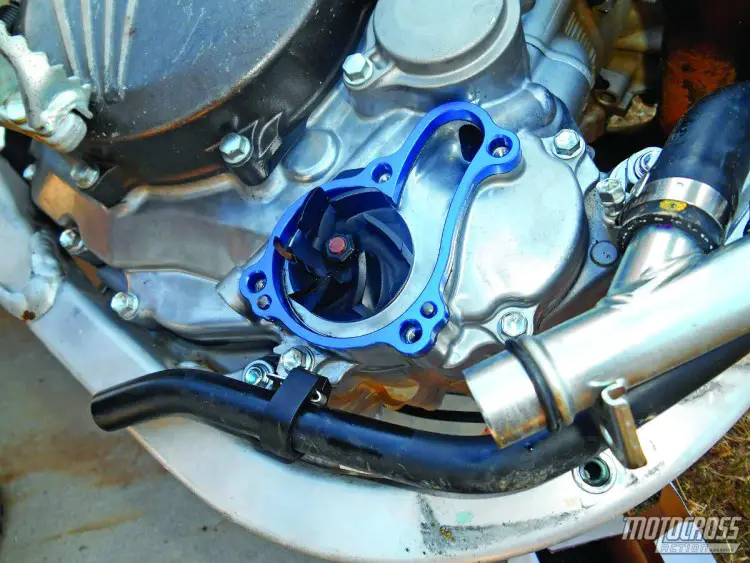 WHAT STANDS OUT? Here's a list of things that stand out with Splitstream's Hi-Flow YZ250F water pump kit.
(1) Problem. Once the stock impeller shaft breaks, it is too late to do anything about it. You might hear some clatter, but most likely you won't know what happened until your YZ250F seizes from lack of water. To Yamaha's credit, it sent out replacement parts as part of a recall. Did you get one?
(2) Stepping up. Splitstream makes a billet-steel impeller shaft with an alloy impeller that is vastly superior to Yamaha's plastic impeller. Plus, you can get Splitstream's oversized impeller in a Hi-Flow version.
(3) Hi-Flow kit. The Hi-Flow kit includes the billet shaft, upsized impeller, spare gaskets, spacer plate (to increase the water-pump cover size) and longer bolts. The Hi-Flow kit reduces average water temperatures by 15 degrees to allow for harder and longer riding times. This product was developed in Holland because of the high-
temperature loads associated with sand tracks.
(4) Installation. The hardest part of installing the Splitstream kit is removing the stock Yamaha impeller, which requires removing the right side case. Unlike the Splitstream kit, where the impeller threads onto the billet shaft, the stock impeller is bonded to the shaft and can't be removed until you take the system apart. The most important step is removing the drift pin and the wire spring clip that hold the shaft in place. Once you get the old impeller and shaft out of the cases, the Splitstream shaft and gear can be installed and the oversized impeller threaded on (with a dab of low-threshold Loc-Tite). Reuse the original water pump cover gasket with the supplied gasket to move the water-pump cover over enough to clear the larger impeller.
WHAT'S THE SQUAWK? Removing the stocker is hard.


What's not to like? It eliminates a potential failure and keeps the engine cooler.