MXA WRECKING CREW WINS THE XVI LAS VEGAS SUPER NATIONALS OF KARTING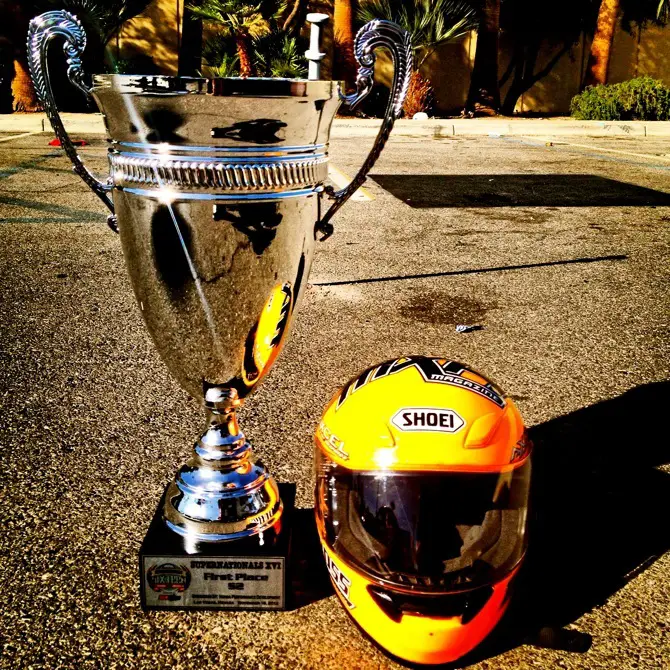 Billy Musgrave's Super Nationals of Karting trophy.
In the world of karting, the dates of November 14-18 at the Rio Hotel in Las Vegas mark the biggest race of the year. It is called the "Super Nationals of Karting" and it's so much more than just a race. It is the karting version of an AMA 450 National. It has everything everything that makes racing great, with factory  teams, every manufacturer and the best drivers from around the world. Motocross Action doesn't just have a motocross test team, but we also have a kart team made up of motocross racers?led by Willy and Billy Musgrave, but including a total team of five MXers turned drivers.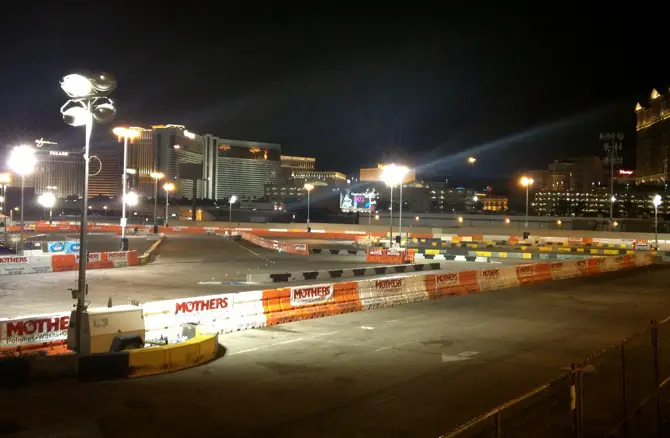 The race course was built in the parking lot of the Rio Hotel and had a 95 mph back straight.
Willy is a former pro motocrosser and Billy, his son, is a 250 Pro, both have been MXA test riders for many years (Billy started as a minicycle test rider and Willy began back in the early ?90s). A couple months ago, Billy Musgrave broke his femur…in a karting crash. While waiting for his leg to heal to return to motocross, he discovered that he could still race karts. Billy and the MXA team set the SoCal world on fire in the Honda CR125-spec class. The next step was the big-time…where stars are born in the driving world…and Billy Musgrave became a karting star at the 2012 Super Nationals when he won the S2 class.
HERE IS BILLY'S STORY IN HIS OWN WORDS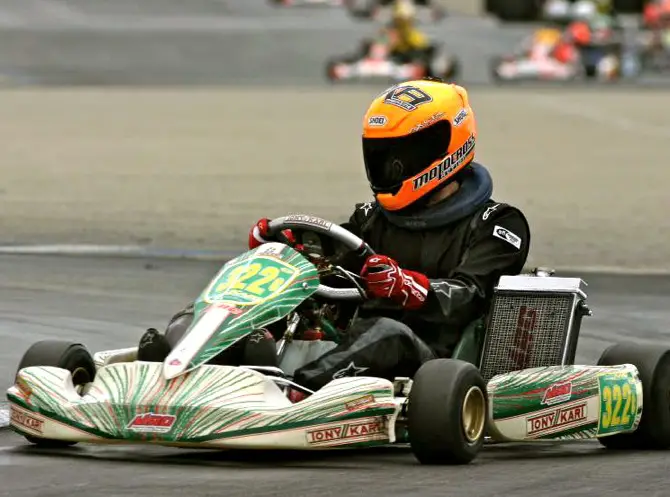 Billy's S2 Tony Kart uses a Honda CR125 two-stroke engine and parts from Musgrave Racing Company (MRC).

"After racing and becoming a part of the karting industry for the past five years, the MXA kart team was finally able to make the trip to the pinnacle of the sport. Similar to professional motocross, in karting you have to prove yourself and your speed before you are allowed to run in the true professional ranks. This is typically done by winning a National Championship in the S2 class or by taking the victory in S2 at the Super Nationals. My Super Nationals victory last weekend in Las Vegas has allowed me to obtain my professional S1 license.
"Upon arriving in Las Vegas and pulling into the famed Rio Hotel, it was immediately apparent that we would have our work cut out for us. Being a small unknown team, we were pitted in a corner far in the back of the pits. Most of our competition had semi-trucks, full factory support and giant tents to work out of. We were lowly privateers, but that made it all the more motivational for my dad, who was racing in the S4 class and for myself in S2. It was exciting to go it alone against the best teams in the world, while pitting out of a trailer pulled by a pickup truck.
"The Super Nationals consist of five days of driving on a temporary circuit built in the Rio's parking lot; two days of class-specific practice sessions, and three days of competition sessions including qualifying, heat races, LCQ's and the Main Event. After the two days of practice, my dad was able to qualify 6th in S4 (which can be equated to Vet Pro in motocross), and I was able to qualify on Pole in S2. More important to me was that my qualifying time was faster than any of the real Pro's in S1. As we progressed through our respective heat races, my dad was able to manage a third and two fourths, placing him 6th overall on the 80-man grid for Sunday's S4 Main. As for myself, I came close to achieving the perfect week by taking first in heats one and two, but I missed the chassis setup in the cold night air of the third heat race would end up with a third place finish, but my 1-1-3 was good enough for pole position in the S2 main.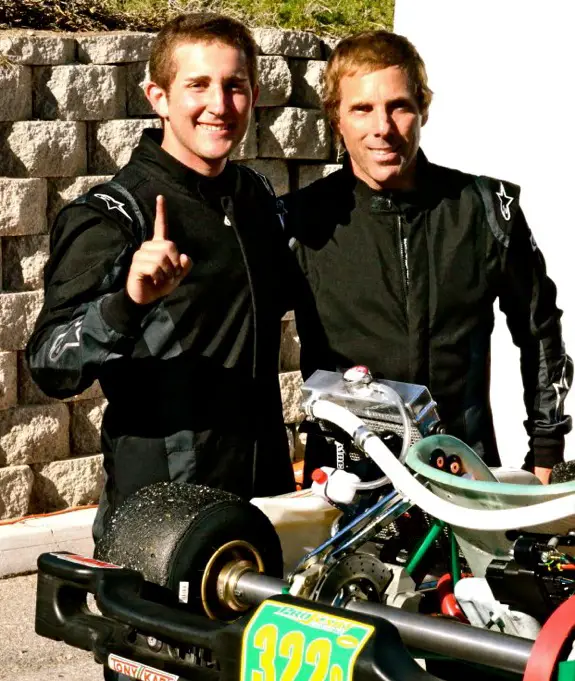 Father and son. Billy (left) and Willy have spent their lives together racing motocross. Willy won a round of the FIM World Supercross series in India back in the 1980s.
"Since we were a 'little team' there were lots of competitors, sponsors and industry types who began to wonder who those motocross racers in the bright orange helmets were. The S4 race was up first, and it was sure to be a great race with intense competition from several multi-time champions and many former S1 drivers. From the beginning my dad had his work cut out for him, and after a clean start he was in the midst of an eight-kart race for second. Second through ninth were nose-to-tail around the entire track and changing positions constantly. After multiple passes and re-passes, the S4 drivers began to get frantic in the closing laps. A failed passing attempt directly in front of Willy saw two drivers crash and almost take him out. After losing time on the front-runners from avoiding the incident, he was unable to make any moves to further his position, and ended up a solid 7th place. Pretty impressive for his first attempt at the big-time. Any time you make the top ten in the Super Nationals against 80-drivers, you can be very proud. I'm even more proud that he finished in the top ten in the MTA World Vet Motocross Championships one week and in the top ten in the Super Nationals of Karting the next week.
I HOPE THE S2 FINAL WOULD BE A LOT MORE RELAXED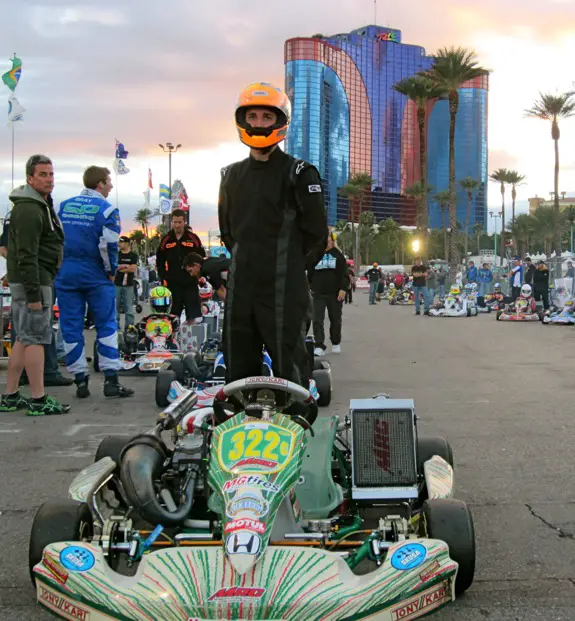 Billy won the pole position and got to start at the front of the 80-man field.
 
"After witnessing my dad's hectic race I hoped that my S2 final would be a lot more relaxed?especially since I would be starting in front of 79 other guys. I was half-right. I ended up dropping to second on the start after losing the holeshot to Sabre' Cook (the daughter of former motocross racer Stacey Cook, who used to race against my father Willy Musgrave back in the day; I guess motorsports really are a small world…). Anyway, I knew we had set the kart up to come in for the end up the race, so for the first few laps I just played a smart race as the two of us built a small gap on the field behind us.
"I made my move on lap 7 going into turn one. It stuck and I never looked back. It was an incredibly smooth race, and I was able to build a gap of just over a second by the end of lap 20. By the time I arrived back in the pits I already had my sights set on the S1 class next year.

The thrill of victory. This is Billy's victory lap.
"It was a lot of work, and thanks to the help of my dad's karting company, Musgrave Racing Company (MRC), I feel like I have achieved a lot in a short period of time. I hope that Super Nationals XVI will be the beginning of big things for my dad's company and for my racing career.

For more info on MRC go to www.musgraveracing.com or www.facebook.com/musgraveracing
IF YOU'D LIKE TO SEE WHAT IT'S LIKE TO DRIVE A TEAM MXA/MRC HONDA CR125 SHIFTER KART…WATCH BELOW

AND HERE IS THE MXA/MRC TEAM PRACTICING TOGETHER…