"PASHA 125 OPEN" TWO-STROKE RACE REPORT: 107-DEGREES IN THE SHADE & EVEN HOTTER ACTION
The charge of the light brigade. Sean Collier (207) has the jump. Photo : Dan Alamangos
Motorsports are full of benefactors, who spend their own money to make the sport better, help struggling racers and expand motocross in different directions. Hollywood actor Pasha Afshar, stage name Tony Panterra, is a hard-core racer. He spends every weekend at the track racing against his buddies and enemies in the weekly moto wars. He also helps a cadre of privateer racers with everything from bikes to financial stipends to keep them racing.
Last year, Pasha decided to hold a special 125cc-only two-stroke race that paid the riders to shine on 125 two-strokes. After the successful launch of the first-ever "Pasha 125 Open" race back in February of 2020, Pasha decided that it was time to do it again.
Patrick Evans gets a bird's eye view of the men he is chasing. Photo: Dan Alamangos
So, on a 107-degree day at Glen Helen, not only did he pay the $4500 purse out his own pocket, but he piggybacked on an Old Timer's Motocross Club race and gave them all of the entry fees that the 125 Open drew. Pasha is a bad guy in the movies, but a good guy in life.
Boiling in the sun, Derek Kelley (227), Matt Cerami (11), Broc Shoemaker (48), Josh Fout (36) and Max Groom. (959). Photo: Dan Alamangos
All Pasha wanted for organizing the 125cc race, paying the purse money, getting the trophies and taking care of the race promotion was the right to call the shots. Being in charge was important to Pasha, because what he wanted to do was weird by contemporary race standards. How weird? He only had three classes, and each one got a one-third share of the purse money.
IF YOU FELT THAT YOU COULD RUN WITH THE PROS YOU COULD ENTER THE 125 PRO RACE—AND IF YOU WERE UNDER
THE AGE OF 40, IT WAS THE ONLY CLASS THAT YOU COULD ENTERED
The first downhill—aptly named The Falls. The front four are Connor Eddy (144), Bradley Denton (129), Josh Mosiman (12) and Derek Kelley (227). Photo: Jody Weisel
The premier class was the 125 Pro class. If you felt that you could run with the Pros you could enter the 125 Pro race (and paradoxically, if you were under the age of 40, it was the only class that you could enter). If you were young, you lined up in the 125 Pro class (which also allowed 150cc engines to race) or you didn't line up.
Derek Kelley and Colton Aeck share a dirt bath. Photo: Dan Alamangos
The second class in the program was the Over-40 125 class. It was open to riders over the age of 40. There were no Novice, Intermediate or Expert class division. There were no eligibility rules—other than you had to be 40-years of age or older. If you were fast, more power to you. If you were slow, just enjoy the race, because at least 2/3rds of the class will be slower than the fast guys.
Justin Hoeft, (27) Josh Mosiman (12) and Sean Collier with the Velodrome corner in the background. Photo: Jody Weisel
The final class was the Over-50 125 class. Riders over the age of 50 have become a powerful force in SoCal racing, and especially at Glen Helen Raceway. Proof positive of this age bracket's pulling power was that three times as many riders signed up for the Over-50 125 class than for the Over-40 125 class.
There was a 250 two-stroke class, but it was more of a Support Class for the 125s, and didn't get a share of the $4500 in purse money or even trophies—they weren't the focus of Pasha's dream project—but he knew that in the two-stroke world they deserved a place in his race.
WITH THE TEMPERATURE PUSHING THE MERCURY TO 107-DEGREES, EVERY RIDER WAS AFRAID OF BURNING OUT, BUT DEREK KELLEY, ON HIS JMC HUSQVARNA TC125 DIDN'T SEEM PHASED BY THE HEAT
Derek Kelley was unbeatable in the 125 Pro class, by the competition or by the heat. Photo: Jon Ortner
Matt Cerami (110) chasing Justin Hoeft (27). Photo: Jon Ortner
This is intensity! Josh Mosiman on his way to second in the second 125 Pro moto. Photo: Dan Alamangos
When the gate dropped for the first 125 Pro moto, February's "Pasha 125 Open" winner Broc Shoemaker rocketed to the front and opened up what looked like an insurmountable lead over the pack. But, things were happening in the chase group as some riders fell backwards and others came forward. With the temperature pushing the mercury to 107-degrees, every rider was afraid of burning out during the 20-minute moto. Derek Kelley, on his JMC Husqvarna TC125 didn't seem phased by the heat and he came up through the contenders and, to the surprise of everyone, passed Shoemaker with three laps to go. Just as quickly as he was by, he opened up a gap to the checkers. Broc Shoemaker held on to second, but who finished third was a little mixed up because of lapping, but the second moto would straighten all that out.

A cold beer hits the spot for Justin Hoeft (27). Photo: Jon Ortner
Colton Aeck went 4-4 for third overall in the Pro class. Photo: Dan Alamangos
Dylan Chaussee had a 14-13 day. Photo: Dan Alamangos
Josh Mosiman blows up a berm heading into the sand section. Photo Jon Ortner
Arizona's Derek Kelley didn't waste any time with the first moto dramatics in the second 125 Pro moto as Kelley and MXA's Josh Mosiman set sail from the drop of the gate and ran one-two to the checkered flag. Broc Shoemaker finished third with Colton Aeck fourth. Kelley's 1-1 secured an easy win and $750 in purse money. Shoemaker made $500 for second overall and Aeck got $250 for third. Josh Mosiman's bad first moto cost him a podium spot and a piece of the pie.
125 Pro podium: Colton Aeck, Derek Kelley and Broc Shoemaker. Photo: Jon Ortner

PASHA 125 PRO RESULTS
1. Derek Kelley…Hus
2. Broc Shoemaker…Yam
3. Colton Aeck…Yam
4. Josh Mosiman…Yam
5. Sean Collier..KTM
6. Bradley Denton…Ym
7. Max Groom…Suz
8. Matt Cerami…Yam
9. Justin Hoeft…Yam
10. Patrick Evans…Yam
IT WAS UP TO THE FIELD OF OVER-40 RIDERS TO PROVE THAT THEY COULD BEAT A MAN WHO WAS AT LEAST
TEN YEARS OLDER THAN THEM. THEY COULDN'T.
Kurt Nicoll. Photo: Jody Weisel
When the Over-40 class headed for Glen Helen's 70 mph first turn, there was one favorite on the line—Kurt Nicoll. Although in his mid-50s, Nicoll had been the 2015 Over-40 World Vet Champion, not to mention, a four-time runner-up in the 500 World Motocross Championships. It was up to the field of Over-40 riders to prove that they could beat a man who was at least ten years older than them. They couldn't.
Kurt made quick work of the youngsters to go 1-1 with Jeremy Chaussee second and David Hughes third, Joel Tokarsky fourth and Chris Heinrich rounding out the top five. Kurt got the $750 for his troubles .Chaussee took home $500 and Hughes $250.
Over-40 Podium: Jeremy Chaussee, Kurt Nicoll and David Hughes. Photo: Jon Ortner
PASHA OVER-40 RESULTS
1. Kurt Nicoll…KTM
2. Jeremy Chaussee…Yam
2. David Hughes…Yam
4. Joel Tokarsky…KTM
5. Chris Heinrich..Hon
6. Kenny Hernandez..Yam
7. Jared Handrick..Yam
8. Ron Deeds…Yam
9. Glen Yardley…KTM
10. Robert King…Yam
IT IS IMPOSSIBLE TO SAY THAT THE OVER-50 125 CLASS OUTSHINED THE 125 PRO CLASS, BUT IN MANY WAYS
IT DID BECAUSE IT HAD LOTS OF FORMER AMA NATIONAL RIDERS.
Those Aussies know how to beat the heat—white bike, white boots, white gear and white open…no make that "wide open." Dan Alamangos demonstrates. Photo: Jody Weisel
It is impossible to say that the Over-50 125 class outshined the 125 Pro class, but in many ways it did. It had lots of former AMA National riders including, but not limited to Robert Reisinger, Will Harper, Chris Heinrich, Jon Ortner, Pete Murray and Craig Canoy. There were also riders from other countries with Holland's Ralf Schmidt representing TM Motorcycles, South Africa's Alan Jullien, Australian Dan Alamangos and Great Britain's Kurt Nicoll.
Pete Murray (7) and Jon Ortner (10) fighting over the last spot on the Over-50 podium as they climb Shoei Hill. Photo Dan Alamangos
Ralf Schmidt rarely faces 107-degree race days back home in Holland. Photo: Jody Weisel
The nagging question was whether three-time Over-50 World Vet Champion Kurt Nicoll could be beaten by three-time Vet Champion Pete Murray (who had won in the Over-40, Over-50 and Over-60 classes over the years) or by AMA Pro Craig Canoy, Dutch Champion Ralf Schmidt or three-time REM number one Jon Ortner. But there was no doubt once the gate dropped and Nicoll went 1-1, Canoy 2-2, Murray 3-3, Ortner 4-4 and Chris Heinrich 5-5.
Jon Ortner drops back onto the starting straight on his way to fourth in the Over-50 class. Photo: Jody Weisel
Kurt Nicoll fillled his coffers with an additional check for $750, making his total for the day $1500.
The Over-50 podium: Pete Murray, Kurt Nicoll and Craig Canoy. Photo:Jon Ortner
PASHA OVER-50 RESULTS
1. Kurt Nicoll…KTM
2. Craig Canoy…Yam
3. Pete Murray..Yam
4. Jon Ortner…Suz
5. Chris Heinrich..Hon
6. Dan Alamangos…Hus
7. Scott Murphy…TM
8. Pete Vetrano…Hus
9. Ralf Schmidt…TM
10. Alan Jullien…Yam
SEAN COLLIER WANTED A CHANCE TO SHOW WHAT THE MAN THAT MANY CREDIT WITH BRINGING THE KAWASAKI KX500 TO THE FOREFRONT OF
THE TWO-STROKE REVIVAL COULD DO. HE GOT THAT CHANCE
IN THE 250 SUPPORT RACE.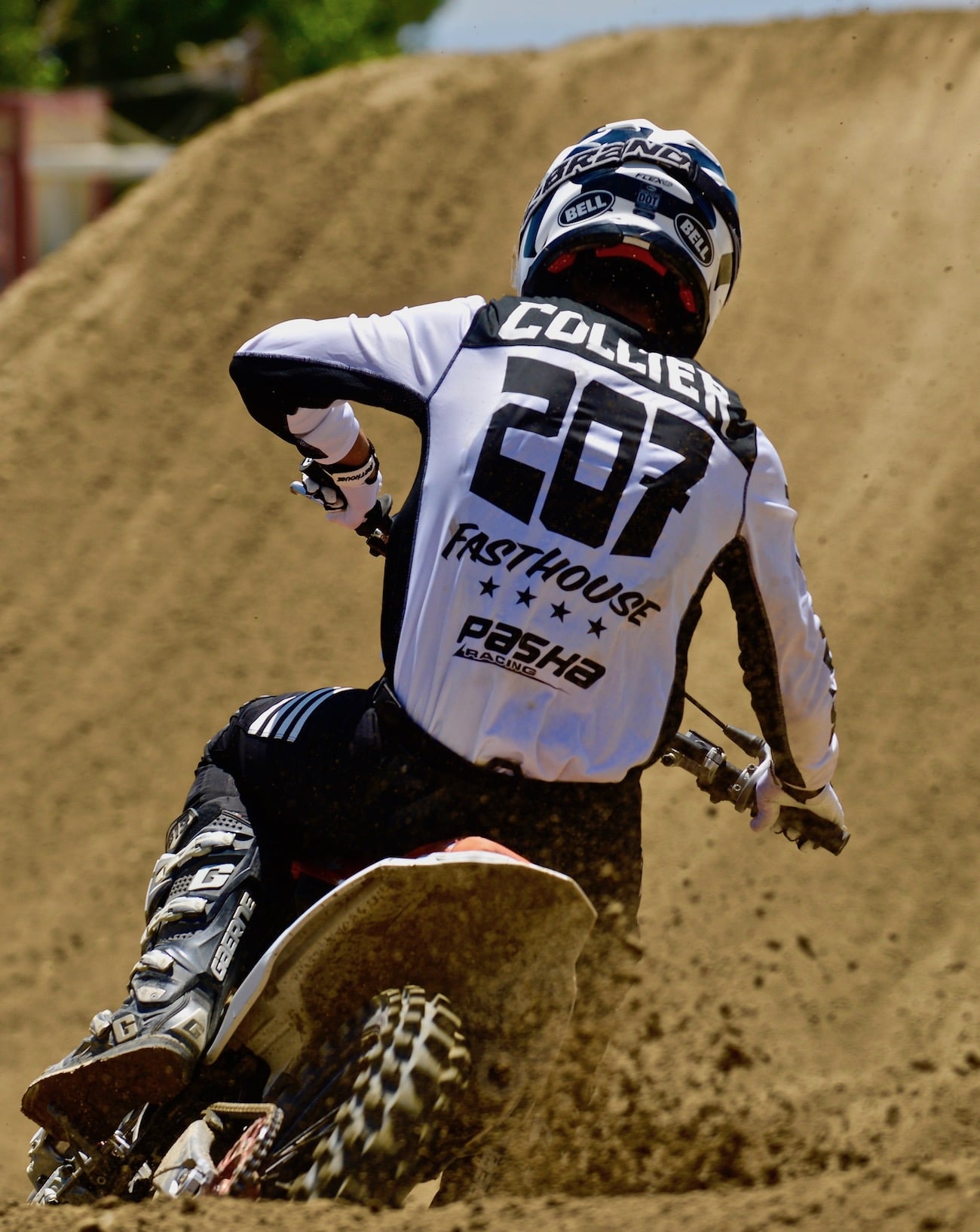 Sean Collier. Photo Dan Alamangos
The 250 class was never Pasha Afshar's focus, but as the race got closer he realized that it was important to add a 250 two-stroke class to allow riders who own 250s instead of 125s a chance to enjoy the day with their little tiddler friends. Sean Collier had finished 5th overall in the 125 Pro race, but the day had been full of issues and Sean  wanted a chance to show what the man that many credit with bringing the Kawasaki KX500 to the forefront of the two-stroke revival could do. He got that chance in the 250 Support race—it had no real rules, and could be ridden by anything from 125 to 250 to KX500s. And Collier got his moment to shine out front.
250 TWO-STROKE SUPPORT RESULTS
1. Sean Collier…KTM
2. Jason Spriggs…Hon
3. James De Ridder..Yam
4. Rocky Hash…Yam
5. Mark Sandzimer..KTM
6. Chris Cumbo…KTM
7. Morgan Pierce…Yam
8. Duane Joice…Hon
9. Alan Jullien…Yam
10. Mike Monaghan…KTM
Pasha Afshar in action on what was a very busy day for him. Photo: Dan Alamangos
Pasha is not done with his "125 Open" race concept. He plans to use his formula at the 2020 World Two-Stroke Championship on October 3 to revitalize the 125 Pro class—with whatever it takes to get the tiddlers to be the biggest class of the day.