REM RACE REPORT: A HISTORIC TRACK & EPIC RACES
Click on images to enlarge
Photos by Dan Alamangos, Rich Stuelke and Debbi Tamietti
Justin Jones, son of four-time 250 National Champion Gary Jones, won the 450 Pro class. Justin doesn't live in the shadow of his famous dad, he led Team USA to ISDE Gold and has won the Baja 1000. Photo: Dan Alamangos
Saddleback is gone. Indian Dunes is gone. Carlsbad is gone. Baymare is gone. Rawhide is gone. Claude Osteens is gone. Ascot is gone. But, hallelujah! The last of the famous SoCal natural motocross tracks of the 1970s remains in action — Arroyo Cycle Park is as busy today as it was when it was the site of the first-ever 125 National Motocross Championship back in 1973. Over the last 44 years all of its fellow tracks have become housing projects or vacant lots, but Arroyo has remained active all of these years.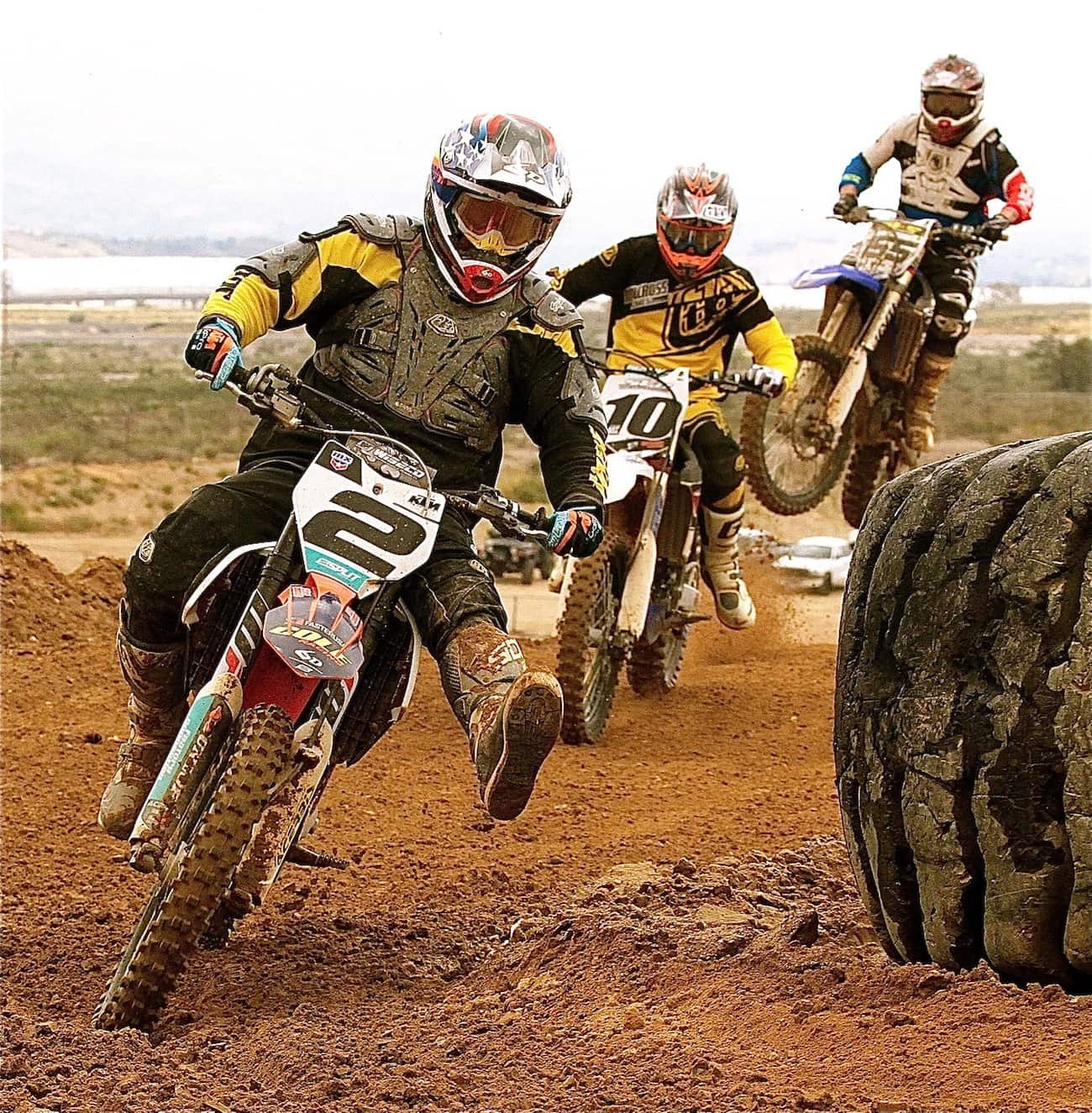 This was how close the battle in the Over-50 Elite class was in both motos. Luther French (2) leads Jon Orter (10) and Eddie Davis (155). By the end of the day the final result was Davis first, Ortner second and French third. Photo: Debbi Tamietti
The big moment in the Over-50 Elite class, and we mean big, came when Luther French and Jon Ortner (10) jumped up-and-over this massive hilltop at the same time. The backside of this hill is much steeper than the front. As they both arced to go down to the left, they clicked off each other. Luther cartwheeled, Jon saved it and Eddie Davis (bottom of photo) missed the crash. Photo: Rich Stuelke
It is a legendary place in motocross history and remains to this day the last bastion of motocross as it was meant to be. For decades the Arroyo track, now known as the REM track, has been tucked away in the upper corner of Glen Helen Raceway. It should receive historical status, because it is still in action almost 50 years since it was first opened. The old Arroyo track has been raced weekly by a hardcore group of REM racers, who are thrilled by the natural terrain track that goes over hills, through valleys and isn't littered with a jump every 50 feet to ruin the flow of the course. A true motocross track, not an artificial invention, is a rare sight in SoCal these days.
Brian Calhoun, respondent in all-white, Tim Olson (27) and Mark Taylor (127) form a Husqvarna sandwich. Photo: Debbi Tamietti
At every weekly REM race you can see the lost battalian of Indian Dunes regulars, Saddleback specialists and Carlsbad guys. It is amazing to see the stars of the 1970s still battling it out on a natural terrain track. Oh, don't get us wrong. Arroyo Cycle Park has been changed a lot over the last five decades, but its original intent, hilly terrain and decomposed granite dirt remains as they once were.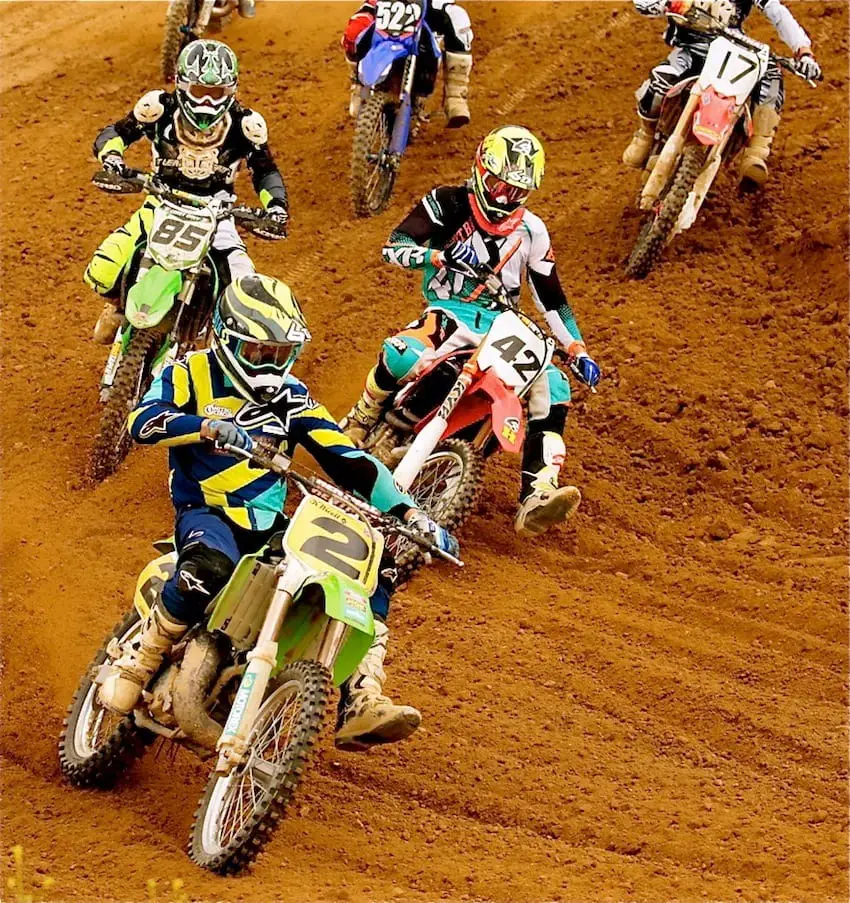 Former 500 Grand Prix star Kurt Nicoll (2) brought out his smoker to warm up for next Saturday's World Two-Stroke Championship. Kurt gave Justin Jones (42) a run for his money for two laps. Unfortunately, Kurt, the current Over-50 World Champion, got caught up in the after-effects of a lapper's crash and ended up road rashed. Photo: Rich Stuelke
This week was no different. A casual stroll through the pits would reveal former factory riders, motorcycle industry execs, more than a few AMA Hall of Famers and riders who were once the rage of the sport back in the 1970s—with them were their sons, and daughters, who were carrying on the family racing tradition…at a traditional place. It's a cool race. An unspoiled race.
MXA's Jody Weisel (54) leads Kirk Bassett (V93) and MXA's Lars Larsson (192). Photo: Debbi Tamietti
The REM races are run by the Thomason family — they, like lots of racers at REM are immigrants from Carlsbad Raceway, where Frank Thomason raced, while wife Myra ran the Carlsbad events. When Carlsbad closed down, they moved REM to Glen Helen. The Arroyo track was the big draw to the Thomasons. They were joined, at first, by the Carlsbad guys, but soon the Saddleback remnants joined, which drew what was left of the Indian Dunes contingent. From this small group, REM built its following.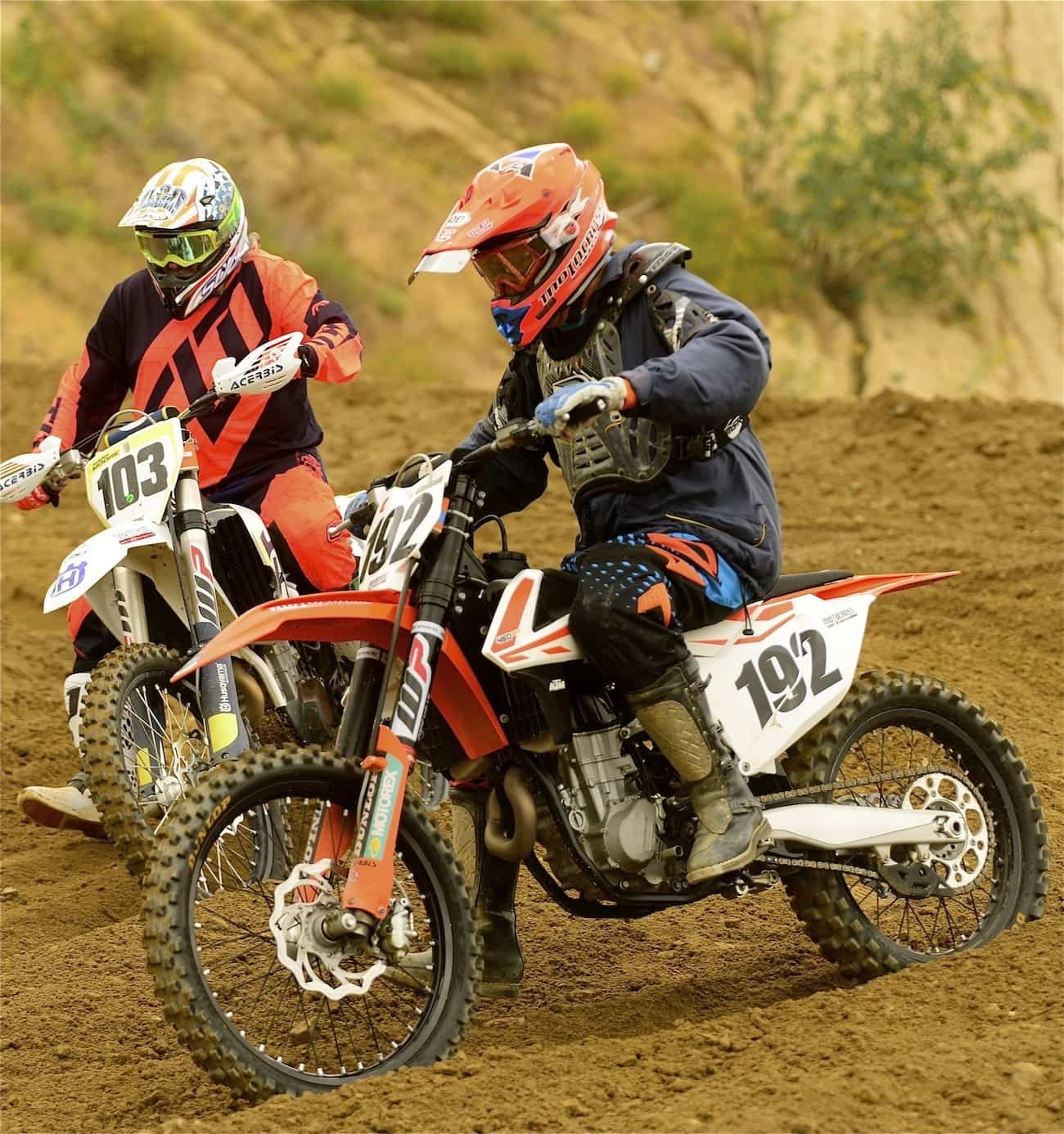 Lars Larsson was the most famous motocross racer in the USA back in the 1960s—because he was the only Grand Prix motocrosser in America. Lars was the Swedish GP racer that Edison Dye hired to move to America to demonstrate the sport to American teenagers. It is kind of funny that the guy who invented the Hallman Flip Visor when he owned Thor Racing tapes a goggle lens to his visor. Photo: Dan Alamangos
Today, REM is known all around the motocross world—and racers come from Australia, Japan, Sweden, Norway, Canada, England  and South Africa just to be able to go home and tell people that they raced at REM. Every week, a former racer brings his kids out to show them what motocross is supposed to be like—and a week later he's back to try his hand at racing again after a 20-year lay-off. Every racetrack has history—this one just has more.
The REM track does have jumps, but it is best known for terrain like this. Photo: Rich Stuelke
Zach Randolph (214), Josh Fout (39) and Dillon Ziegler (114) jockey for position. Dillon was racing his late father's RM250—which family friends had rebuilt for him. Photo: Debbi Tamietti
We know that you are thinking that KTM's David O'Connor is out of control. Not true. This is how they do it in Ireland…and we have proof. See the next photo. Photo: Debbi Tamietti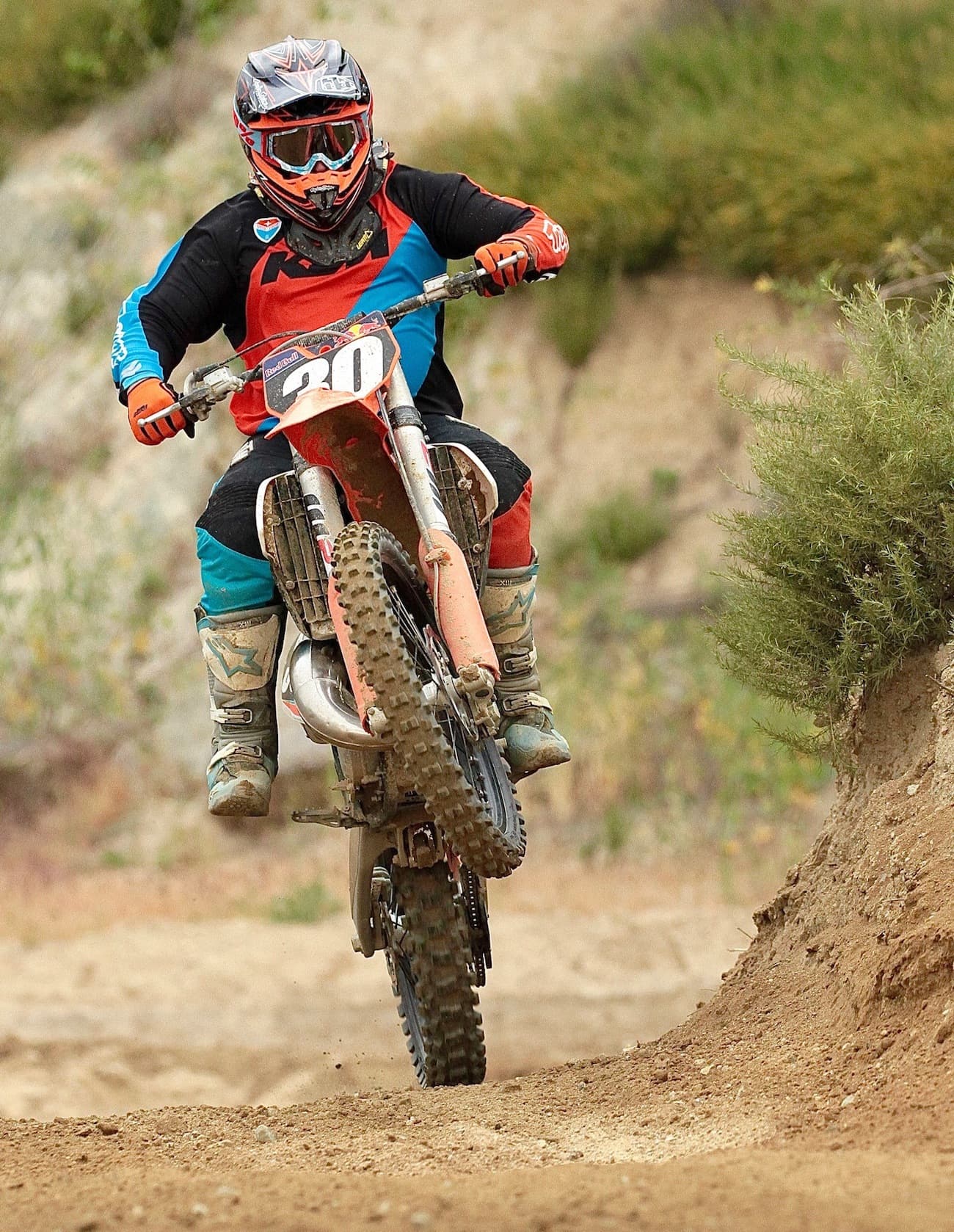 This is David O'Connor on the very next lap at the very same spot on the track — note that he is doing the exact same leg drag. This is called the Dublin two-step. Photo: Debbi Tamietti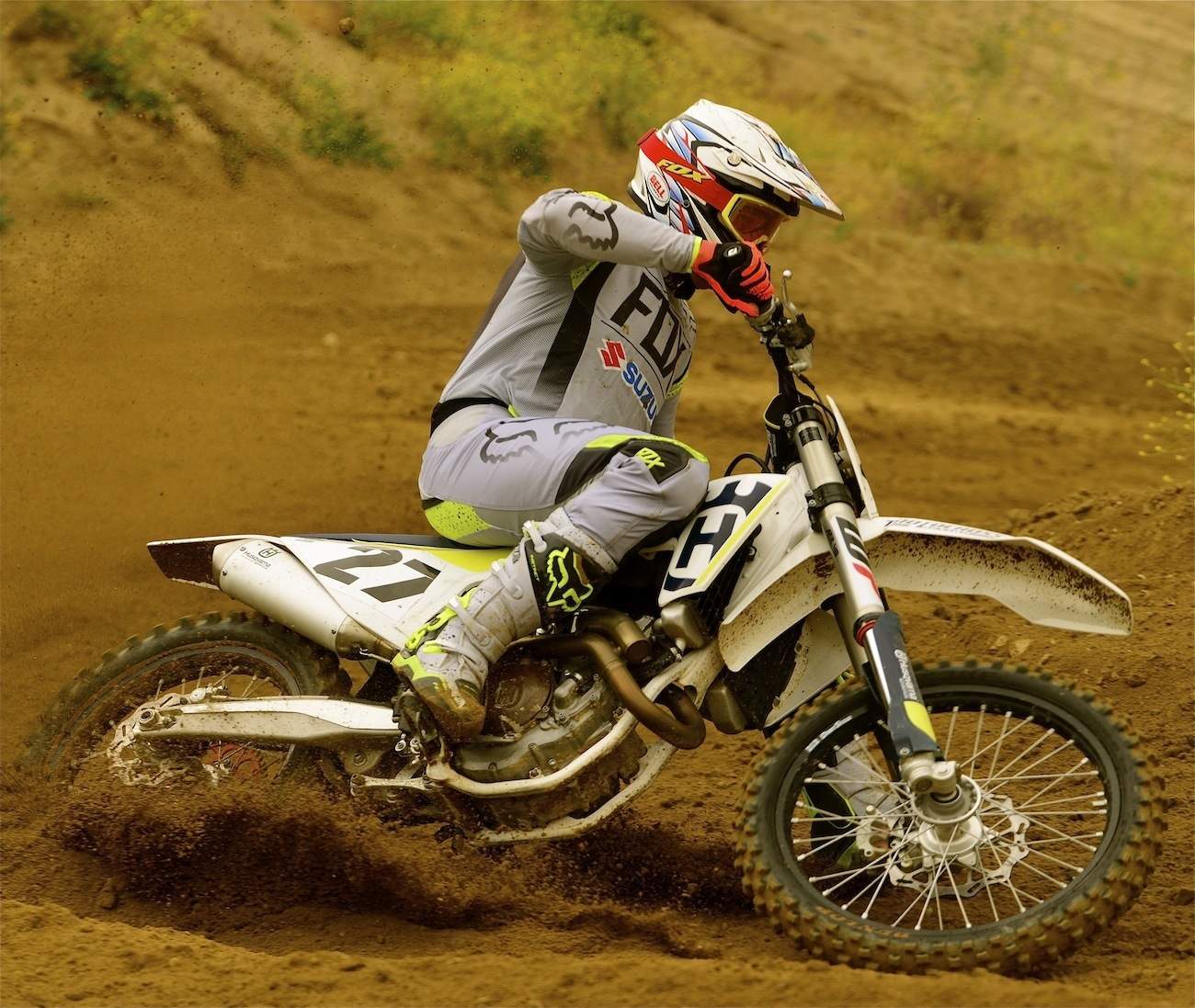 Tim Olson is the son of nine-time World Vet Champion Alan Olson, who was also Chad Reed's mechanic. As for Tim, he worked at MXA for 14 years before moving to Yamaha, then Suzuki and now works for Mazda. Tim was second in the Over-40 Intermediates behind Mike Carter. Photo: Dan Alamangos
Val Tamietti was the number one Pro rider at a Saddleback Park back in the good old days. He was famous in the 1980s. Today, he is famous because he is married to famous moto-photographer Debbi Tamietti—who was kind enough to shoot a photo of him. Val swept the Over-60 Expert class. Photo: Debbi Tamietti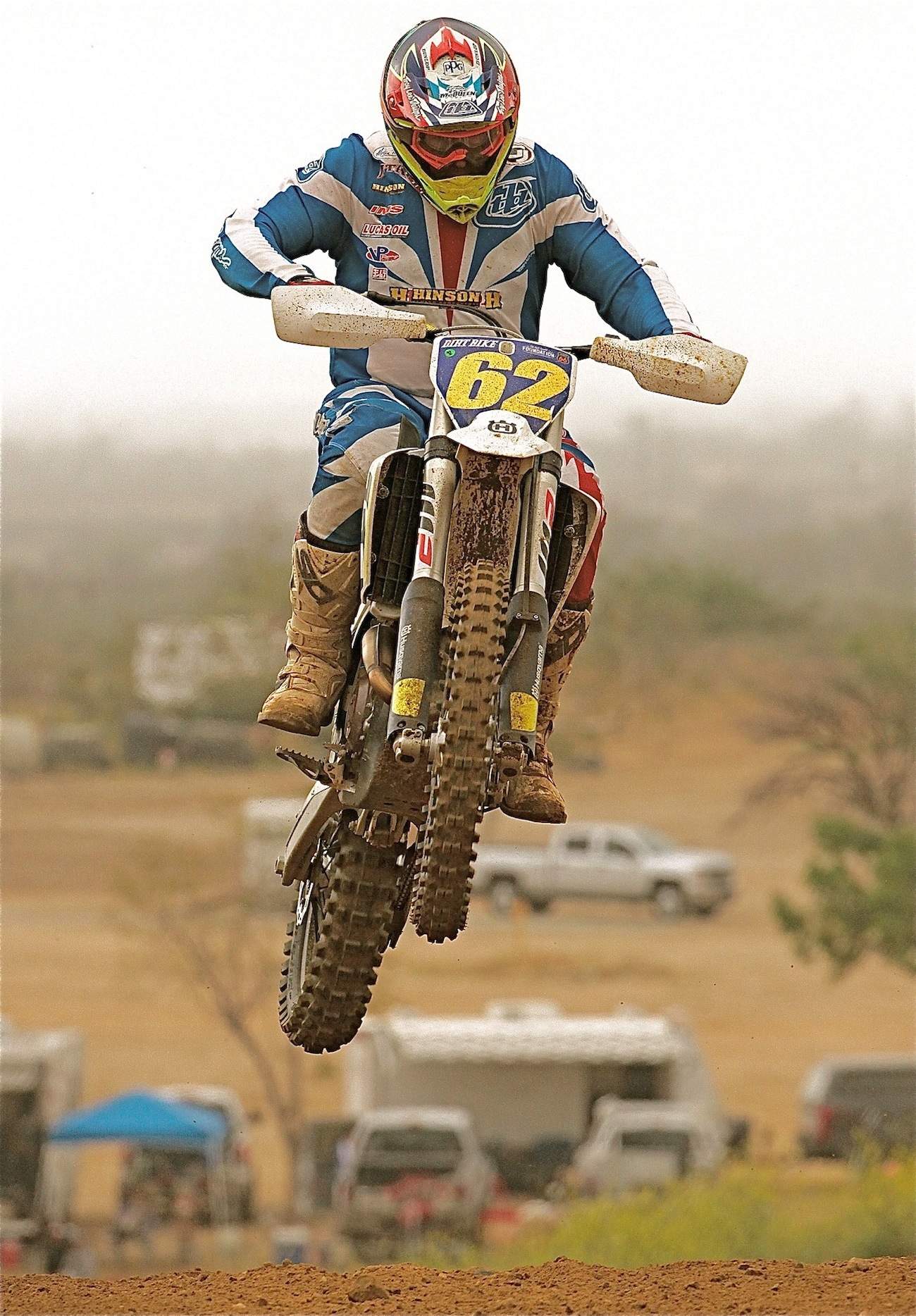 Gary Jones was a four-time 250 National Champion, winning titles on a Yamaha, Honda and Can-Am. When Gary was the number one rider in America the motorcycle manufacturers sold 1,000,000 dirt bikes a year. Today, they sell less than 100,000. So, you can imagine how famous he was compared to a modern star. Photo: Debbi Tamietti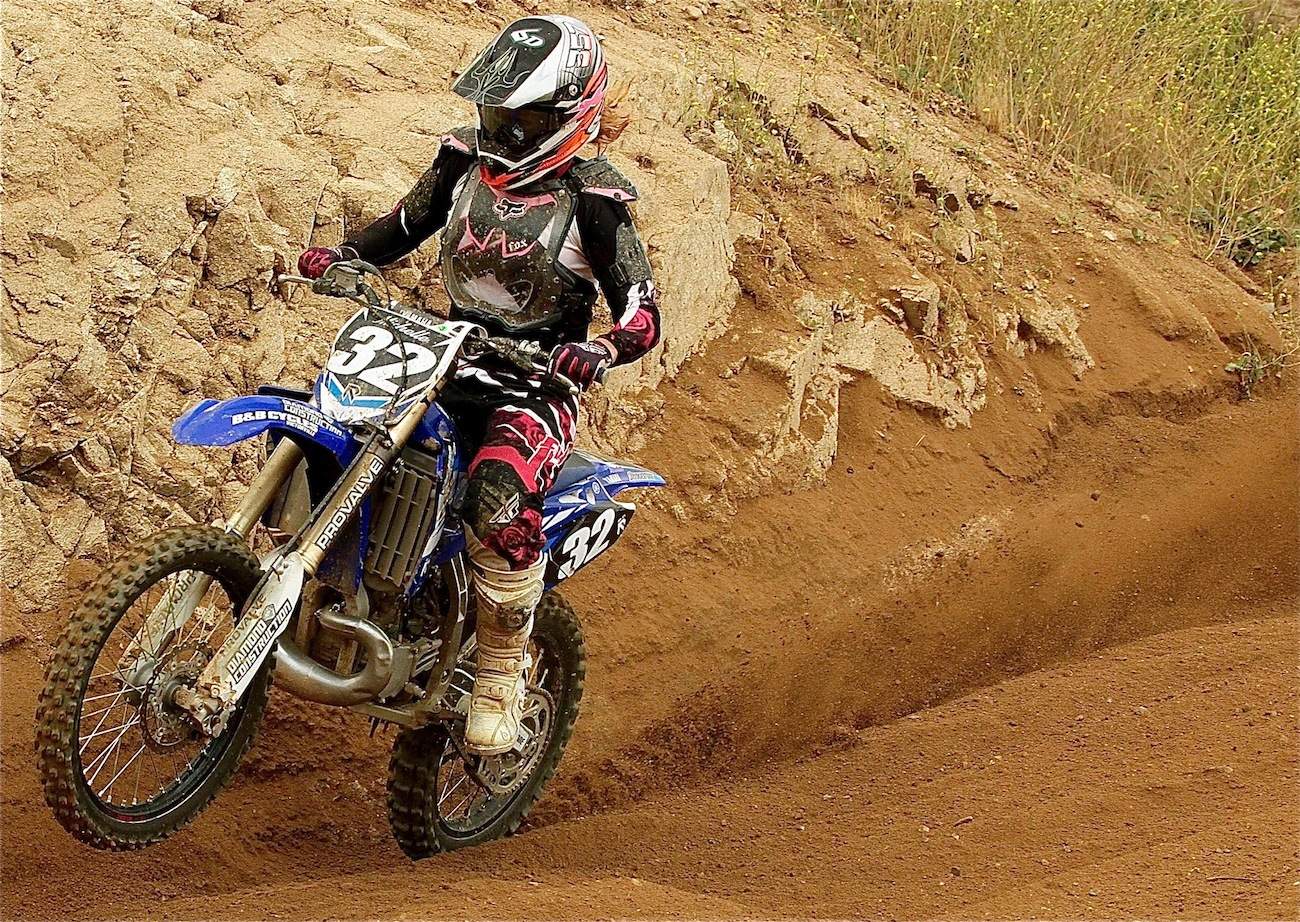 Michelle Horton (32) went 6-5 in the Over-50 Expert class on her YZ250 smoker. Photo: Debbi Tamietti

There was a blizzard alert at Glen Helen on Saturday. Australian Dan Alamangos (24) rides through a hail storm of roost with D.R. Clement (7D), Pasha Afshar (L7) and Joe Sutter (right). Photo: Debbi Tamietti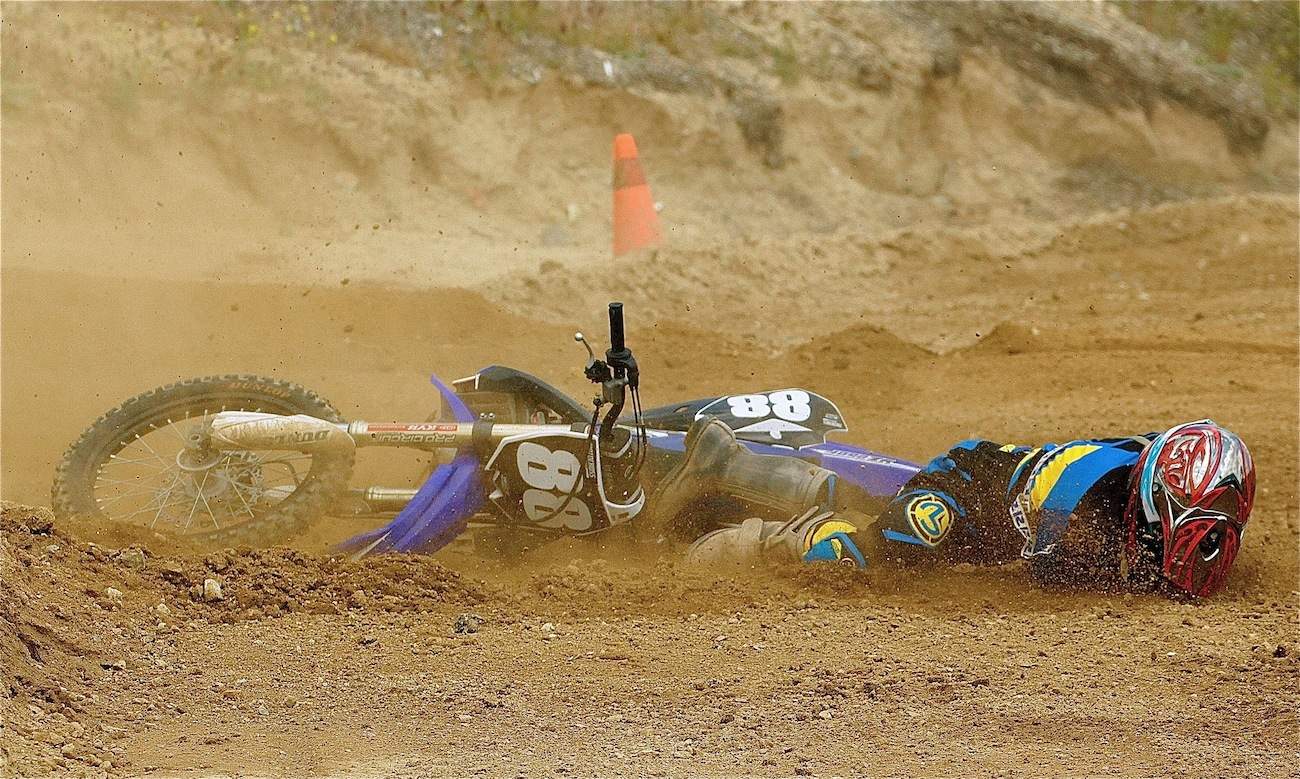 Welcome back! Former Saddleback Pro Luc Deley decided to come back to motocross after taking 30 years off. He loved every minute of it, but this 15 seconds had him questioning his decision. Luc went 1-5 in this class. You can guess why he got 5th. Photo: Debbi Tamietti
You don't have to wonder where Kaysen Winger is riding—there is a sign above his head. Photo: Debbi Tamietti
When Jon Ortner had troubes with his bike, a crowd gathered to help him solve the problem. You will find it hard to believe, but he had issues with his air filter. Photo: Debbi Tamietti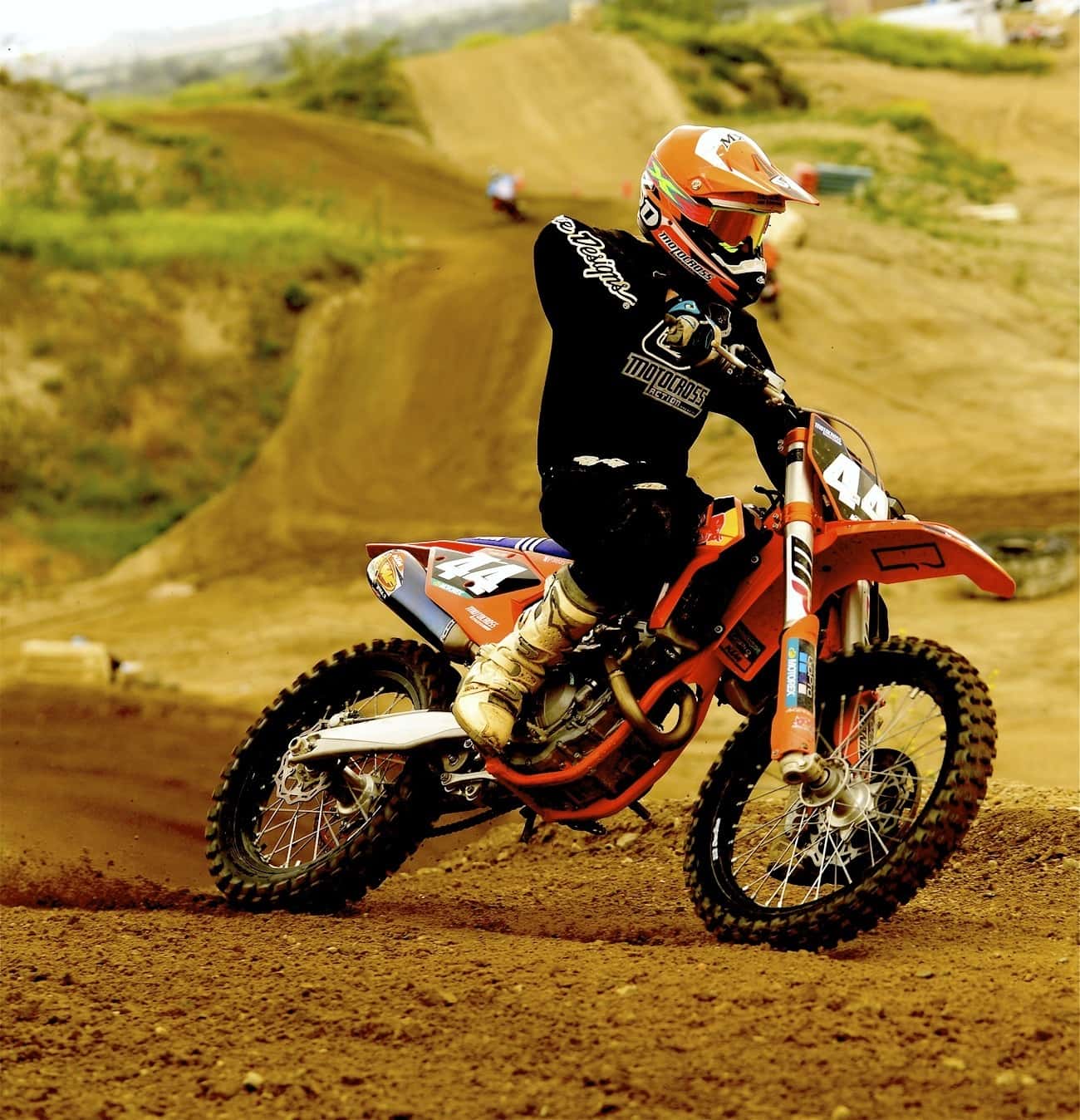 Randel Fout crashed in the same corner twice on Saturday. You can see the corner that bit him—it's the one the rider in the background is exiting. The second time he separated his shoulder. Photo: Dan Alamangos
Rafael Rivera (129) catches a sneak peak at the riders chasing him. Rafael went 7-5 in the Over-40 Intermediates. Photo: Dan Alamangos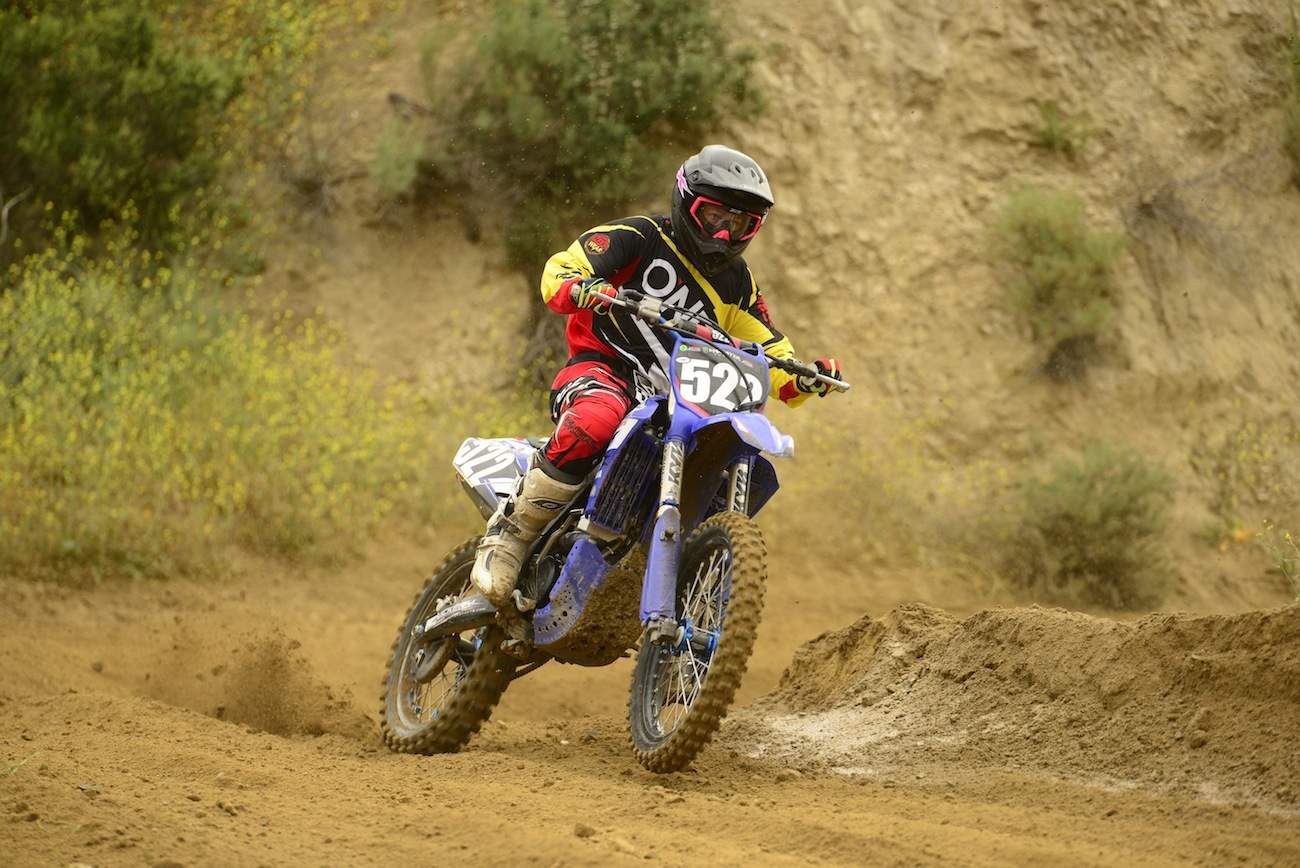 Cole Zitterkopf came down from Fruita, Colorado, to go 2-2 in the 250 Pro class. Cole's dad is Greg Zitterkopf, who rose to fame racing the booming ATK four-strokes in the AMA Nationals in the 1990s. Photo: Dan Alamangos
There is no doubt that Aiden Olson has a future career as a motorcycle mechanic—he can already break a rock. Photo Dan Alamangos
For more info about REM motocross go to www.remsatmx.com