REM GLEN HELEN RACE REPORT: THE ULTRA-RARE FIVE-PEAT ACHIEVED IN REVERSE
In the 450 Pro class Todd Sibell (82) took the win, but Dana Dreier (289) didn't make it easy for him. Photo: Debbi Tamietti
Photos by Debbi Tamietti, Jon Ortner & Dan Alamangos
When REM Motocross returned to Glen Helen Raceway after a three-week break, the park was jam-packed. Not only was REM on their hillside motocross track, but the "Sprint Hero" off-road series was using the interior of the rest of the park, while the SRA GP riders were waiting around for their night Grand Prix race. These three events on the same day (and night), were joined by a full-on SRA Grand Prix on Sunday.
The big news of the day was an amazing battle in the Over-50 Elite class. The "Elite" classification is only use at REM for the former AMA Pros who have too much speed to race with the normal Over-50 Experts. So what happened in the Over-50 Elite class at Glen Helen this past weekend? In an almost impossible set of circumstances, the top five riders all tied on points—but in reverse order.
Jon Ortner was gonna win the Over-50 Elite class, but he crashed four times too many in the second moto. Photo: Dan Alamangos
In the first moto Craig Davis got the holeshot and led Jon Ortner, Ron Shuler, Robert Reisinger and Luther French across the line. But in the second moto, it was totally different as Craig Davis got the holeshot, but fell at the bottom of the biggest downhill, allowing Jon Ortner to take over the lead. Ortner led for four laps laps and then got stuck in a tight uphill rut. By the time he got going again Shuler, Reisinger and Davis were on his tail. As Ortner began to pull away, Craig Davis worked his way by Reisinger and Shuler and got back to second place thanks to a second Jon Ortner crash. With Davis pressuring him, Ortner began to push, unaware that he had a flat front tire. In the back portion of the track, Ortner lost the front end and almost fell down, but got crossed up enough the Craig Davis ran into the back of him—knocking Davis down. Davis got up in fifth place. Orter continued to lead, still unaware of his flat front tire, only to crash again. This crash sent him back to fourth place, while ESR's Ron Shuler took over the lead. Guess what? Ron crashed in a rutted right-hand sweeper and got passed by Luther French and Robert Reisinger. The second moto ended with French, Reisinger, Shuler, Ortner and Davis rounding out the top five.
Ron Shuler (33) was going to win the Over-50 Elite class, but he crashed one time too many. Photo: Debbi Tamietti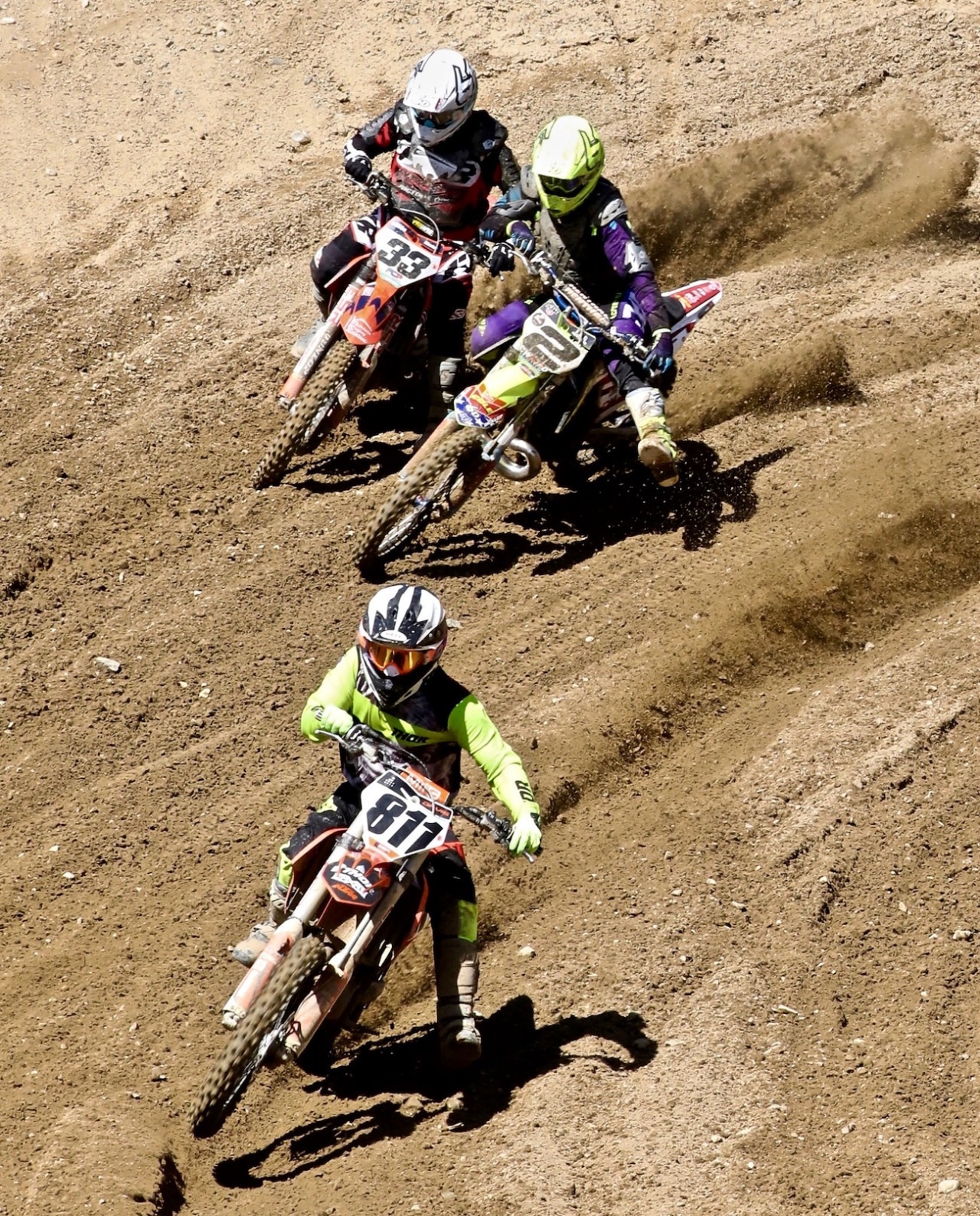 REM's Over-50 Elite class is not for the faint of heart. As Craig Davis (811) leads, Luther French (2) stuffs his 300cc-kitted KTM 250SX two-stroke in front of Ron Shuler (33). Luther would win the Over-50 Elite class. Photo: Debbi Tamietti
When both moto scores were added up, Luther French, in his first race back since quitting the sport more than a year ago, took the overall win with a 5-1, 6D Helmet's Robert Reisinger got second with a 4-2, Ron Shuler's crash cost him the overall win and he ended up third with a 3-3, Jon Ortner said that he crashed five times in all during the second moto, but managed to finish the moto for the 2-4 score, while Craig Davis went 1-5. Every rider had 6 points and, in another weird event, the top five results from the first moto (Davis, Ortner, Shuler, Reisinger and French) were the mirror opposite of the overall scores—with French first, Reisinger second, Shuler third, Ortner fourth and Davis fifth—in a total reversal of their first moto scores.
Dan Alamangos took the Over-50 Expert win on a Husky FC350. Photo: Debbi Tamietti
You might remember Pasha Afshar as the bad guy in the "Bennett's War" movie. Pasha went 7-4 in the Over-50 Experts. Photo: Dan Alamangos
Craig Davis (811) lost out in Over-50 Elite Roulette. His 5-1 got him fifth overall. Photo: Debbi Tamietti
Meanwhile, in the Over-50 Expert race, Australian Dan Alamangos used a 2020 Husqvarna FC350 to take the overall victory with a 2-3. First moto winner Paul Krause DNFe'd the second moto, while second moto winner Nick Waters had a fifth in moto one. The overall went to Alamangos (2-3), Waters (5-1), Joe Sutter (4-2), Mike Monaghan (3-6) and Pasha Afshar (7-4) rounding out the top five.
WHAT ABOUT THE OVER-60 RIDERS…WHO WERE BORN BEFORE THE 1960'S
MXA's Jody Weisel wasn't born in the 1950s, 1960s or 1970s. If you are guessing 1980s, guess again. Photo: Debbi Tamietti
How committed are the 60-year-olds at your track? Here Randel Fout (61) decides to cut back between Val Tamietti (31) and Bob Rutten (83). It takes a lot of nerve to thread the needle while wide open in fourth gear. Photo: Debbi Tamietti
Immediately following the Over-50 Elite battle royale, the Over-60 Experts blasted off the line. It was packed with talent, including Dirt' Bike's Ron Lawson, Scalvini's Pete Vetrano, former Pro Circuit Husqvarna rider Mike Monaghan (riding back-to-back motos in the Over-50 and Over-60 Expert classes), Speedway racer Randy Skinner, Baja Champion Bob Rutten, former CMC number 1 Maico rider Val Tamietti (who parked his YZ250 two-stroke for a 2020 KTM 50SXF), 1970's 125 hot-shot Dave Eropkin, Indian Dunes ace and Hollywood stuntman Will Harper (back in SoCal after living in North Carolina for a year) and Michigan Pro Randel Fout (who doesn't want to be scored).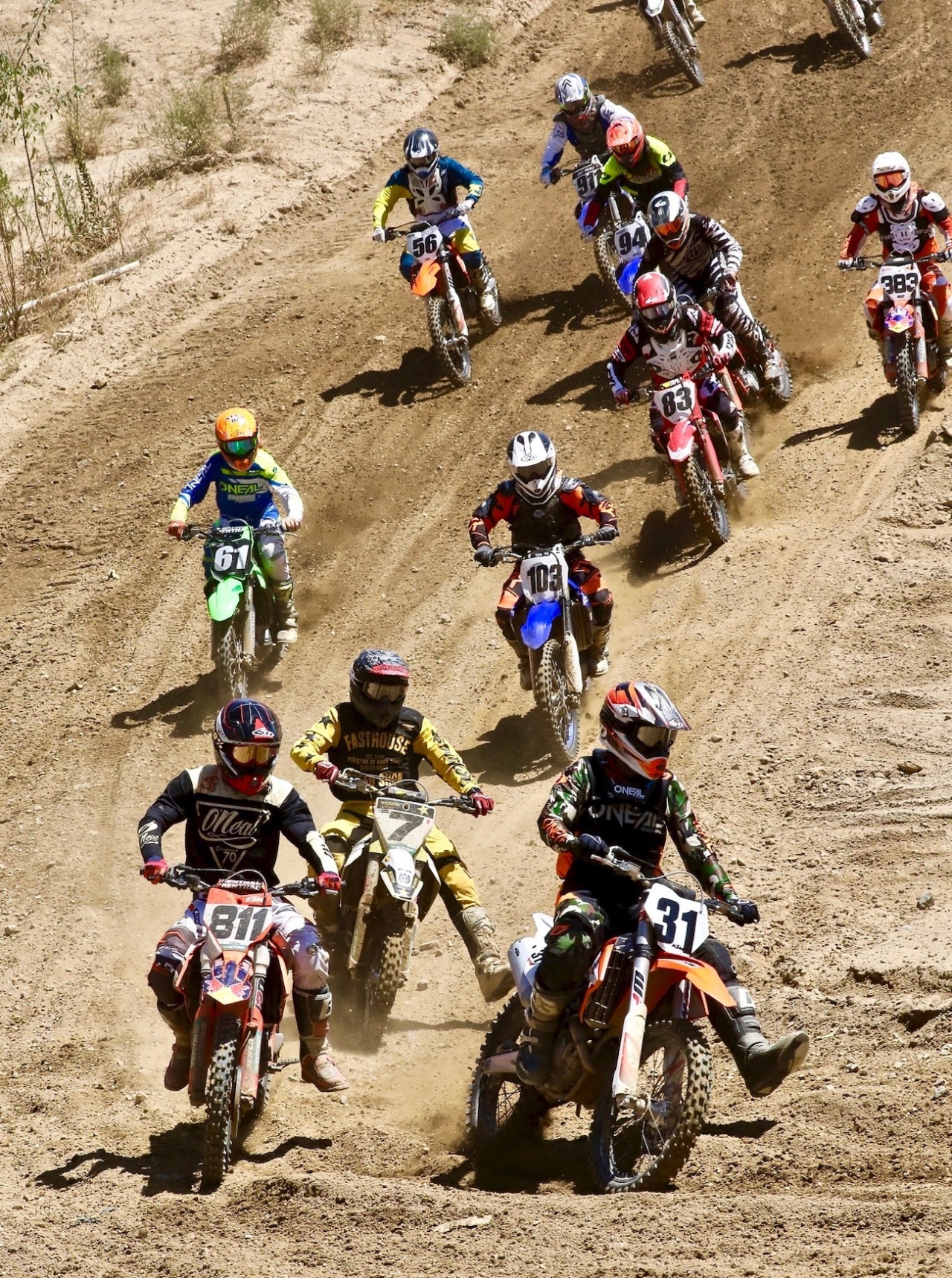 Val Tamietti holeshots the second moto of the Over-60 Expert class with Dave Eropkin (811), Will Harper (7), Ken Ehlers (103), Randel Fout (61), Jim Hanson (83), Bob Rutten (behind Hanson), Randy Skinner (383) and Mike Monaghan (94) tucked into his draft. Photo: Debbi Tamietti
When the gate dropped for the first moto Eropkin, Tamietti, Rutten, Harper, Skinner and Fout were nose to tail for the whole race. Will Harper started in fourth place, but managed to pick off the guys in front of him in dribs and drabs as the moto progressed. Harper finally got to the front by the checkered flag with Val Tamietti second, Bob Rutten third, Dave Eropkin fourth, Randy Skinner fifth and Mike Monaghan, who was riding a 450 four-stroke for the first time in years, sixth.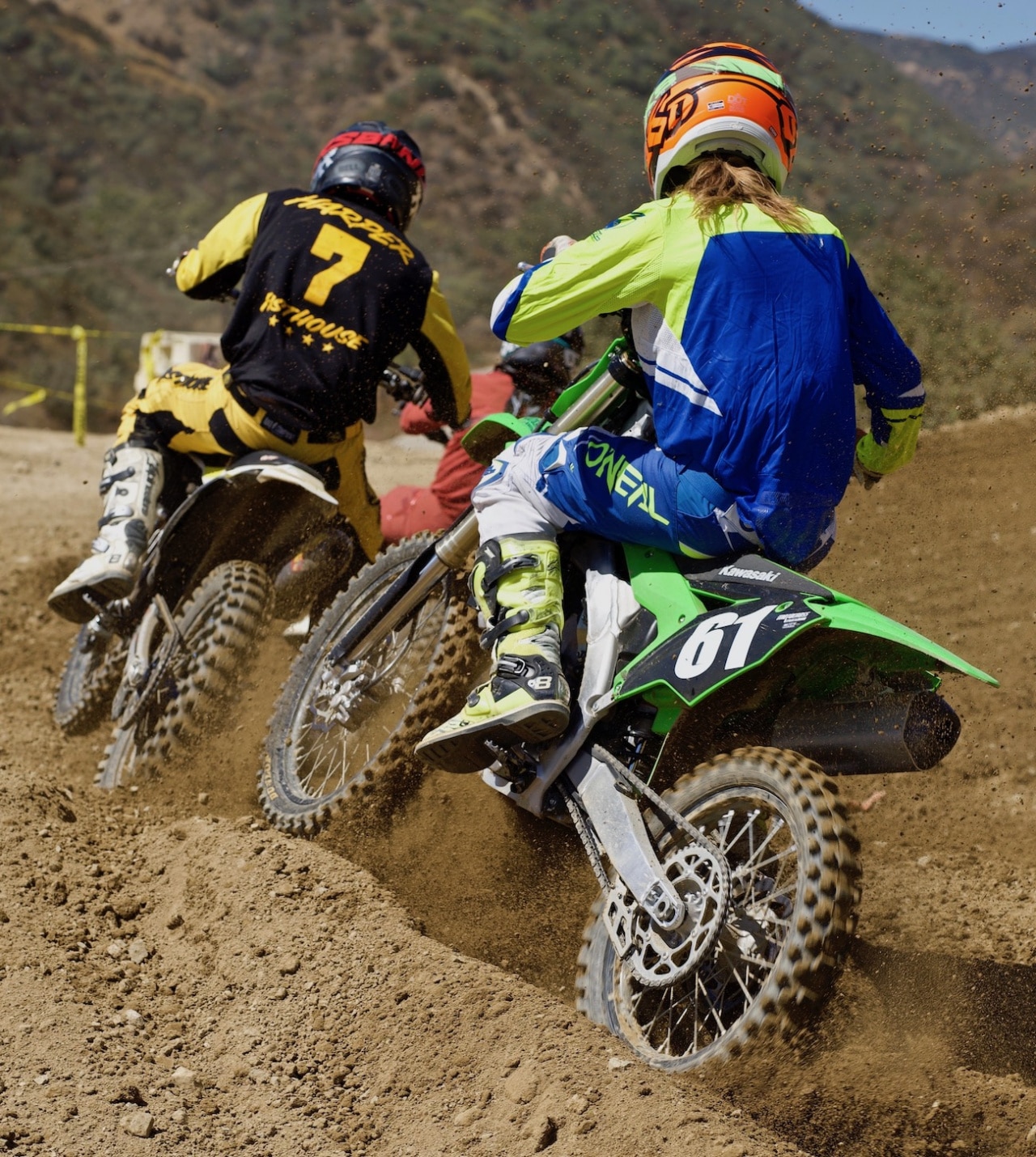 Will Harper (7) won the Over-60 Expert class with a 1-2 day. Randel Fout (61) doesn't keep score. Photo: Jon Ortner
Former Baja desert ace Bob Rutten now lives in New Harmony, Utah, but drives down to SoCal to race with his buddies. Photo: Debbi Tamietti
Val Tamietti holeshot the second moto and led for four laps, although Will Harper pressured him in every corner. Bob Rutten got a bad start and was working his way through the pack, while the invisible (on the scoreboard) Randel Fout, on a Kawasaki KX250, was running the wildest lines imaginable to pass the faster 450s on the hilly track. Harper made his move on Tamietti at the midway point, but it went wrong for both of them as they got balked by a lapper and Dave Eropkin went by both of them to take the lead. Not only did Dave get to the front but he opened up a five-second lead.
Dave Eropkin (811) won the second moto of the Over-60 Expert class, but his 4-1 got beat by Will Harper's 1-2. Photo: Jon Ortner
With two laps to go Randel Fout passed Tamietti and Harper and at the white flag Randel was in second place about five seconds behind Dave Eropkin—he closed that gap to five feet with two corners to go, but said that he didn't want to take Dave out to get a meaningless win (to him), so he followed Eropkin to the flag. In the final score the win went to Will Harper's 1-2 (REM doesn't count Fout's score) with Eropkin's 4-1 good enough for second overall in front of Val Tamietti (2-3), Bob Rutten (3-4), Randy Skinner (5-5) and Mike Monaghan (6-6).
THE FASTER & YOUNGER CLASSES
Since Glen Helen was going to hold a night Grand Prix after the REM motocross, Matt Cerami showed up to race the 450 Pro class in the daylight and the cross-country race in the dark. Photo: Debbi Tamietti
In the 450 Pro class, Todd Sibell swept both motos with David Dreier second, Matt Cerami third and Josh Kaller fourth. The 250 Pro's were won by Daniel Vanderziel. Zach Randolph won the 450 Intermediates and Cole Gress the Over-40 Intermediates.
Cole Zitterkopf (522) came over from Fruita, Colorado, to race. Photo: Debbi Tamietti
You may not remember Cole Zitterkopf's dad Greg from his days on the AMA 500 Nationals, but Greg Zitterkopf raced 28 AMA 500 Nationals and scored in the top 20 in 22 of the 28. His best finishes were a 7th at the 1985 Mt. Morris National and a 10th at the 1990 Millville National. He is most famous for racing the booming ATK 604 four-stroke. Greg was the World Four-Stroke Champion in 1989 and 1990. Photo: Dan Alamangos
Always an attractive look. Photo: Dan Alamangos
KTM's David O'Connor holeshot both Over-40 Novice motos by big margins. He ran away for the first four laps and then Steve Coster (959) and Chad Jeffrey (221) closed in, but they left it too late to pass the Irishman. Photo: Debbi Tamietti
David O'Connor's KTM 250SXF isn't just any KTM — it is as close to  factory 250SXF as a normal human can get and as you can tell from the holeshot photo above—it's fast. If you like to see what's been done to it Click Here. Photo: Jon Ortner
Ralf Schmidt took the Over-40 Expert win, Mike Marion won the Over-60 Experts, Steven Chandler got the Over-60 Intermediates gold, Tony Parsons swept the Over-65 Intermediates, David O'Connor won both motos of the Over-40 Novices, Jamie Mitchell won the Over-50 Novices and Luke Woodman was the Vet Intermediates winner.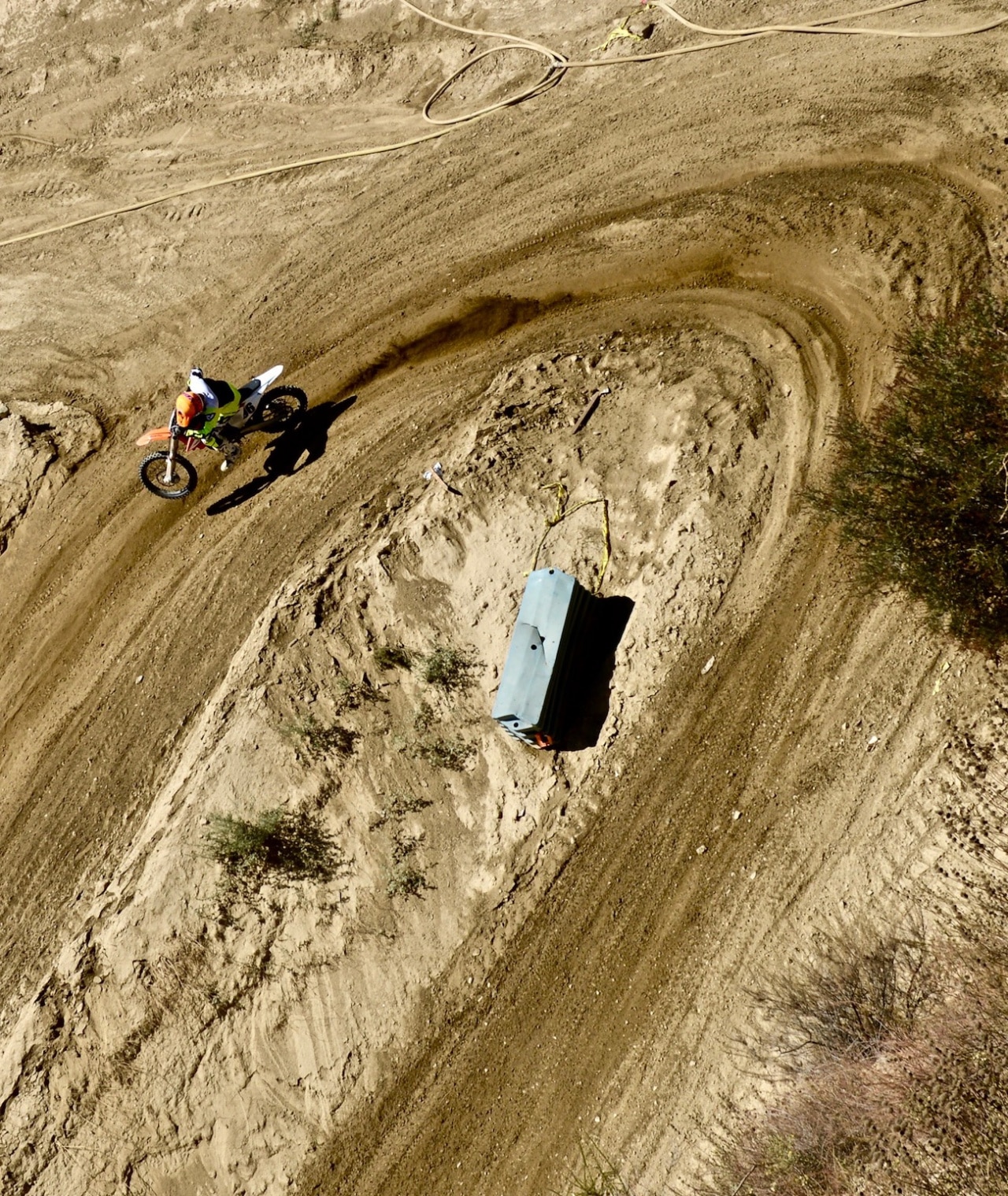 No question that Open Vet winner Josh Fout was on the gas in the corners. Photo: Dan Alamangos
Luis Macias pitches his TM two-stroke into a downhill bend. Photo: Dan Alamangos
Owin Wright (left) and John Huegel (right) came together on the last lap of the Over-65 Intermediate race. Both had their legs trapped until Jon Ortner set down his camera and lifted their bikes up.  Photo: Jon Ortner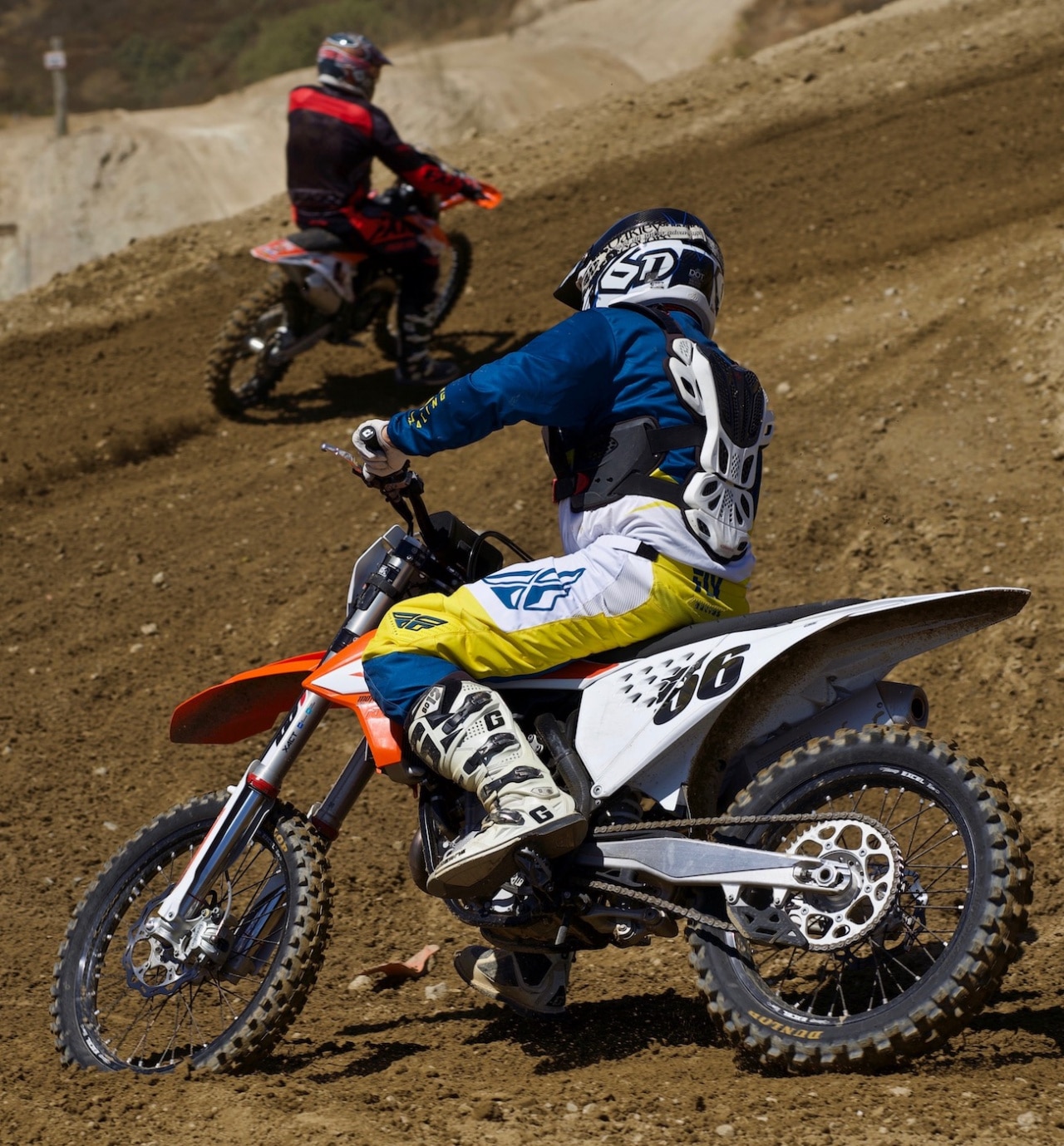 Marc Crosby (56) slides forward so that his 2020 KTM 350SXF can get big gulps of air through the vents. Photo: Jon Ortner
Tony Parson notched his first "W" in the Over-65 Intermediate class since his comeback from injury. Photo: Debbi Tamietti
KTM mounted Cole Gress (19) used a 3-1 to beat Kiel Mattison's 2-2 for the Over-40 Intermediate victory Photo: Dan Alamangos
Val was the hero of the two-stroke cult when he was winning every week on his YZ250—now he is a traitor. More accurately, he is a trader. He traded his YZ250 for a KTM 350SXF. Photo: Debbi Tamietti
When Tom White realized that he was losing his fight against cancer, he called Mike Marion out of the blue and gave him his Yamaha YZ250 two-stroke. Mike outfitted it in silver 1974 Yamaha colors and put Tom's number on it. Seeing it on the track reminds all the REM racers of Tom. Photo: Debbi Tamietti
REMAINING 2019 REM RACE SCHEDULE
Sept. 28…Glen Helen
Oct. 12…Glen Helen
Oct. 26…Glen Helen
Nov. 16…Glen Helen
Nov. 23…Glen Helen
Dec. 14…Glen Helen
Dec. 21…Glen Helen
REM will be back at Glen Helen next Saturday on September 28. . The previously schedulef October 5th race has been moved to October 12. For more info about REM motocross go to www.remsatmx.com or their Facebook page by Clicking Here.