REM GLEN HELEN "UN-RACE VI" REPORT: CAN YOU HEAR THE JUNGLE DRUMS?
Click on images to enlarge
Photos by Jon Ortner & Motohead.com's Adam Duckworth

Jon Ortner on MXA's box-stock 2108 Yamaha YZ450F. Well, that's not entirely true, we do have a special map in the black box. Photo: Adam Duckworth/motohead.com

We know that last week we said, "We promise you that we are not holding "Un-Race 6.0″ next Saturday, September 2…really, we aren't." But, of course we did. Actually we couldn't help it, we had no choice. With REM's regular race schedule on the second weekend of a four-week summer break, the plan was to hold "Un-Races" on alternating weekends, but as with most impromptu plans we failed to look at what was happening at Glen Helen during REM's four weekends off.
Justin Muscutt was one of four MXA test riders (and a handful of guest riders) who tested suspension settings on the 2018 Suzuki RM-Z450. Photo: Adam Duckworth/motohead.com
For example, the first weekend off that REM took, there was an offroad truck race scheduled for the whole park on the day we would normally hold the "Un-Race." So, at the request of Tom White, we moved "Un-Race V" to Sunday. Thus, we didn't plan on doing another "Un-Race" this Saturday, September 2, because we told each other that we were only going to do it on alternating weekends (we don't want to do "Un-Races " on every weekend that REM doesn't race because Glen Helen is doing us a favor by prepping the REM track at the same time that they are doing other things in the park—this weekend they had an rally car race in the Lucas Oil Truck track parking lot, a truck team had rented the Lucas Oil Truck Track, there was an open practice on the Glen Helen National track and there was a Labor Day Grand Prix scheduled for the holiday).
Doug Dubach has been riding his YZ250 two-stroke a lot lately to get ready for the Vet MXDN at Farleigh Castle in two weeks. Don't mistake the REM track at Glen Helen for the National/USGP track. The REM track situated on a hill north of the Glen Helen National track. Photo: Adam Duckworth/motohead.com
We appreciate that Glen Helen is willing to go the extra effort for the REM regulars, but they need a break occasionally (and so do we). However, it turns out that Glen Helen is hosting a WORCS round next Saturday and Sunday and a Lucas Oil Offroad Truck Championship round the following weekend. Both of these events will take up the whole park (and that includes the REM track)—so, this weekend, September 2, was the last time we could do it. After the WORCS and Lucas Oil Truck races, REM starts back up again. And we'll all be happy.
The best way to stay cool on a 102-degree day is to join as many EZ-Ups together as possible. Then stuff as many 2018 test bikes as possible under them. Photo: Adam Duckworth/motohead.com

An "Un-Race" isn't really a race (there is no sign-up, no entry fee, no scoring and no checkered flag). It's just a bunch of lonely and bored REM racers who want to ride on their regular race track—even though it is closed and unprepped. If it's closed, how do we hold an "Un-Race"? That's simple—MXA asks Glen Helen to open the track up and prep it—with the promise that the riders who come will keep it watered the rest of the day (so that the Glen Helen track crew can go back to work on the other racetracks). Not every rider at the "Un-Race" actually helps water the track — there are a lot of freeloaders — but Randy Skinner, Robert Pocius, Marc Crosby and the MXA guys dutifully tug the fire hoses around (in fact, Robert Pocius showed up two hours early and had the track almost completely watered when the riders showed up).
Steve Butler (63) is the man responsible to the test program on the 2018 Yamaha YZ450F. Here he puts it through its paces. Photo: Jon Ortner

People refer to it as a "secret" practice day for REM racers. But it is not secret, it's just that it is never announced—because that would require organization (and apart from MXA scheduling it as a test day for their 2018 bikes, there is no secret society behind it). It may be true that you have to know someone who knows that it is going to happen to be there—but nobody knows until Friday. The word is passed by jungle drums from one REM racer to another. Sometimes there are 100 riders and sometimes there are 30. We wouldn't be telling a fib to say that most of the in-the-know "Un-Racers" prefer 30 riders to 100 riders. So, the sound of the jungle drums doesn't always travel very far beyond the REM regulars.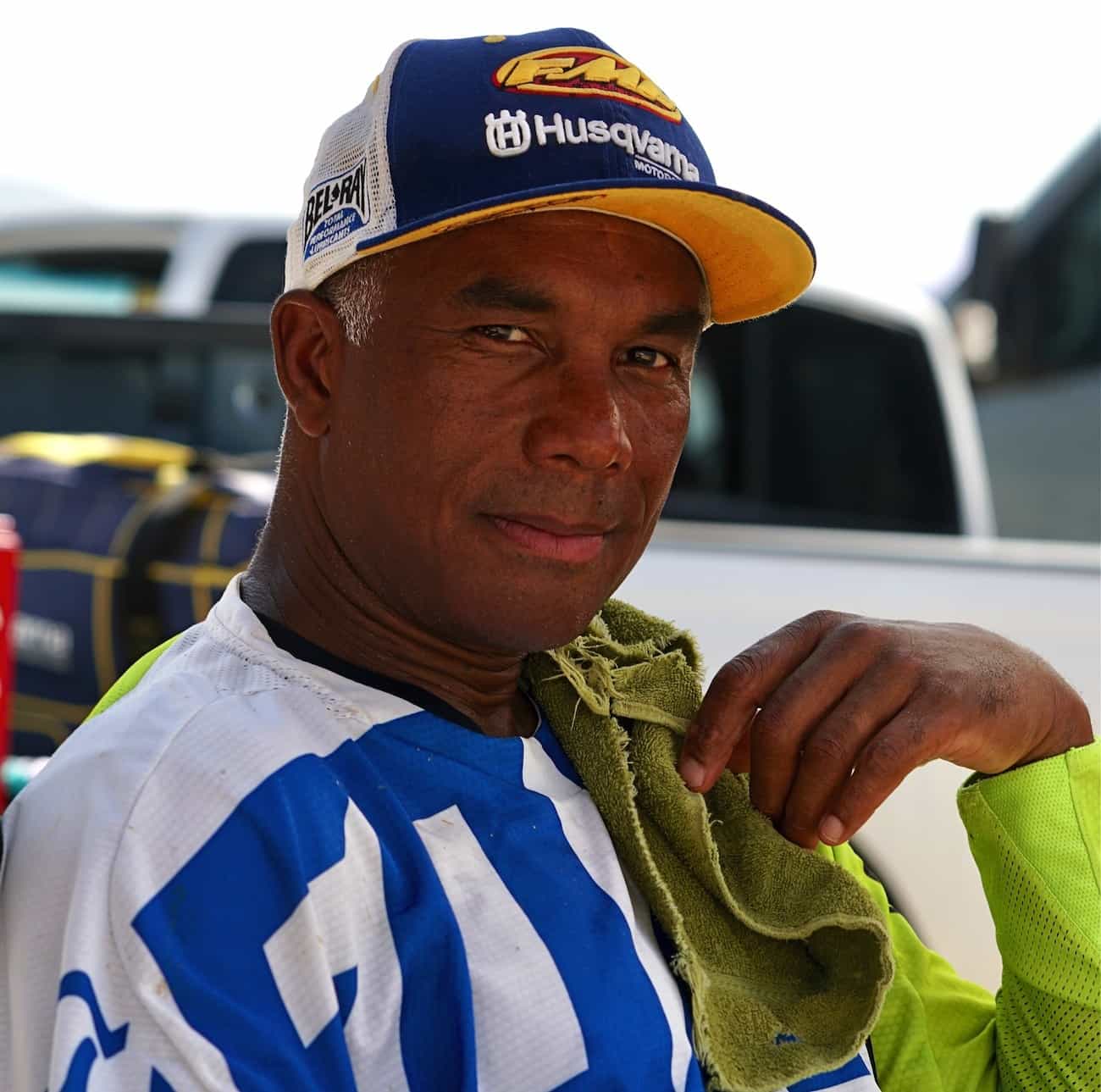 Andy Jefferson claims that he's not as fit as when he was an AMA Pro back in the 1980s, but looks must be deceiving. Photo: Jon Ortner
All of those who attend owe a debt of gratitude to Glen Helen's Lori Wilson for going the extra mile to get the track ready—especially on the same weekend when they have four other events to prepare for. Glen Helen's John Allen was ever ready to bring the Cat or water truck out to help. We don't ask for the complete REM race track to be prepped, because our volunteer fireman would die in the hot temperatures if we made them drag hoses up and down both sides of Mt. Whitney—but we have more than enough track to give the REM gang a dose of Vitamin REM.
MXA was testing two different Honda CRF450s at the "Un-Race"—a fully modified Pro Circuit CRF450 that produces 64.24 horsepower and a stock CRF450 with an FMF single-sided exhaust. MXA's Dennis Stapleton (above) spent the day coordinating test riders on both versions. Photo: Adam Duckworth/motohead.com

If you 'd like to race the REM track, as opposed to "Un-Racing" it, go to www.remsatmx.com or show up when the series resumes on September 23. REM caters to young families, old Pros and the largest Over-40, Over-50 and Over-60s weekly turnouts in the world. And, we promise you that we are not holding "Un-Race 7.0" next Saturday, September 9…really, we aren't.
The Dentist to the Stars, Marc Crosby, suffered a debilitating lawn chair accident to his finger in the morning and almost couldn't ride, but then he realized he had 9-3/4 fingers left. Photo: Jon Ortner

Carter Dubach can easily be mistaken for his father, Doug Dubach, on the track. They have the same style, same number and same gear — there is 40 year difference though. Photo: Adam Duckworth/motohead.com
MXA's Jody Weisel on the 2018 Husqvarna TE250i. The "i" stands for "fuel injection." It is a box-stock, off-the-showroom-floor, enduro model that MXA has been racing motocross with for the last six weeks. Photo: Adam Duckworth/motohead.com
Young Carter Dubach. Photo: Jon Ortner

James Lavender works for Neken (the French  handlebar and triple clamp manufacturer). James races at REM every week — and when there isn't an official race he comes to the "Un-Races." Photo: Adam Duckworth/motohead.com
Hawaiian Champion Brian Medeiros flies MXA's 2018 Yamaha YZ450F over the hump jump. It should be noted that Brian is looking where the landing is—while the front wheel is aimed at Santa Catalina. Photo: Jon Ortner

British moto-journalist Adam Duckworth (left) met MXA's Jody Wesiel for the first time at Saddleback Park in 1977 (when Adam was 12). They have kept in touch all these years. Adam is on holiday in SoCal with his family, but came to Glen Helen to hang out for a day. Photo: Jon Ortner

South African Alan Jullien shows the advancements that have been made in shoulder surgery over the years. Photo: Jon Ortner

Joe Melton is also headed to England for the Vet MXDN vintage race. He obviously got his helmet painted for the occasion. Photo: Jon Ortner
It was really pleasant at Glen Helen on Saturday—unless you were British. It was only 102-degrees in the shade, which is 39 centigrade where Adam Duckworth flew in from. Surfer Randel Fout and son Logan weren't the least bit bothered by the heat. Photo: Jon Ortner

Husqvarna's Andy Jefferson came to the "Un-Race" to help the MXA wrecking crew with their 2018 Husky FC450 and TE250i fuel-injected two-stroke. That required Andy to spin a few laps. Photo: Jon Ortner
We are still trying to figure out how Pasha Afshar keeps finding out when there will be an "Un-Race." He was stricken from the Jungle Drum list when he started mixing and matching his color palette. Not that we don't love blue, yellow, pink, orange and gray gear—just not all at once. Photo: Jon Ortner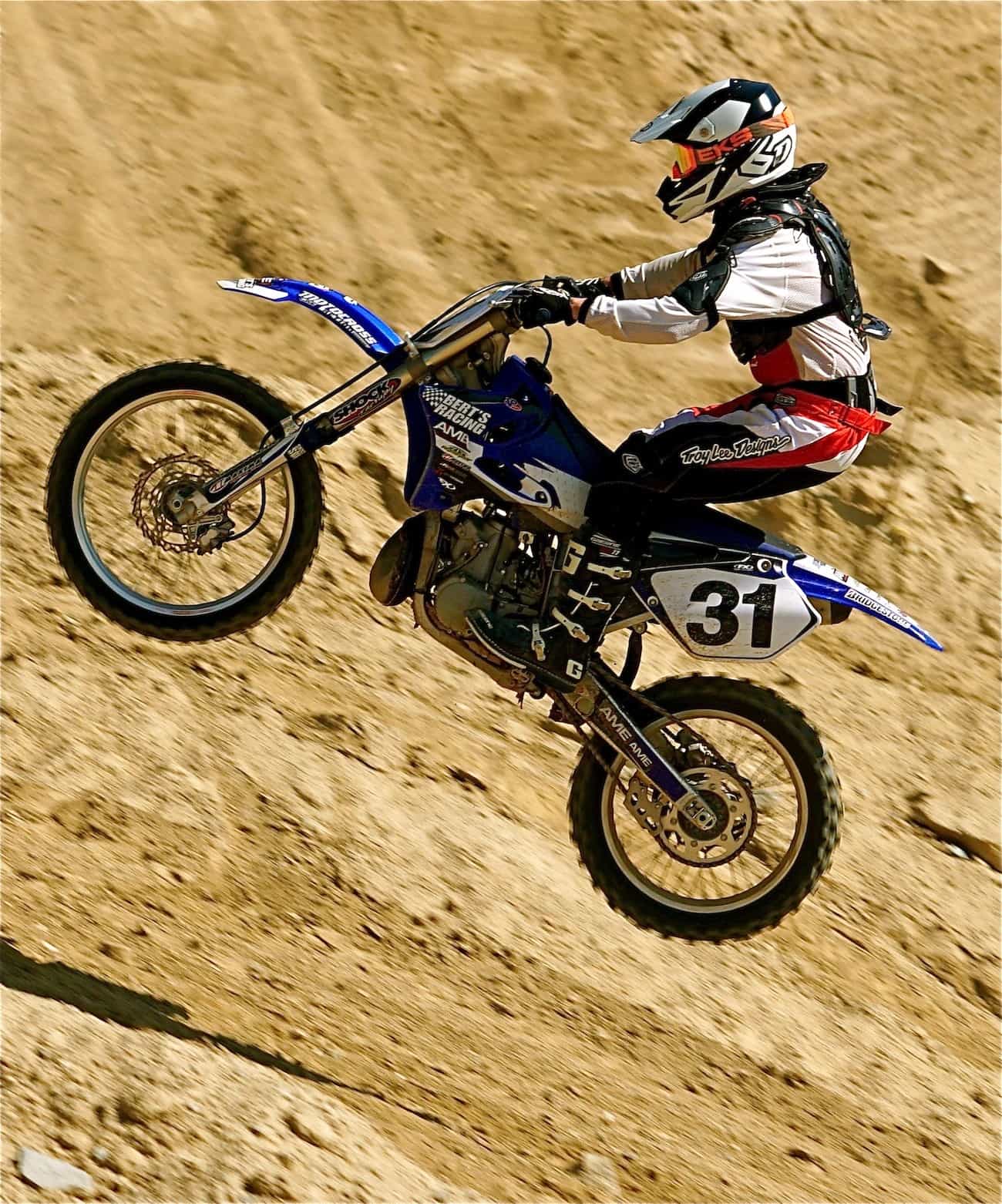 Val Tamietti owns a KTM 350SXF, but he has a really long win streak going on his YZ250 two-stroke and doesn't want to switch bikes until he loses. No word on whether this extends to his socks also. Photo: Jon Ortner

If you ever raced at Saddleback Park you've seen Val Tamietti race. He was CMC number 1 and Maico's best salesman back in the 1970s. Photo: Jon Ortner
Kordel Caro floats a 2018 Husqvarna FC450 down a REM drop-off. Photo: Adam Duckworth/motohead.com
ADAM DUCKWORTH'S REM "UN-RACE" VIDEO FOR THE BRITS