MOTOCROSS ACTION WEEKND NEW ROUND-UP: WHAT'S NEW, WHAT'S OLD, WHAT'S BIG…YOU GET THE IDEA

Click on images to enlarge
FIRST LOOK! 2016 HONDA CRF450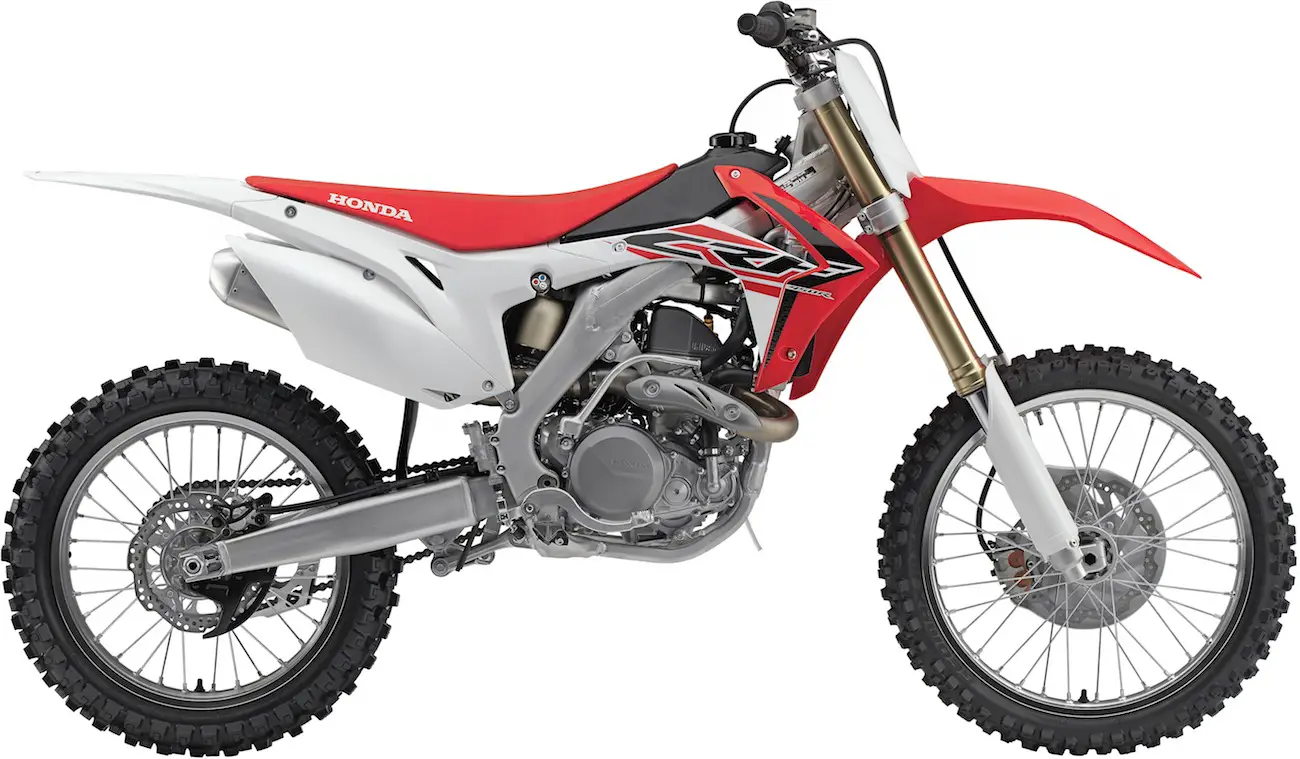 Modest changes highlight the 2016 CRF450, but in the aesthetics department it is a carbon copy of last year.
TOP 24 MXA VIDEOS OF THE LAST YEAR
The big numbers? 232,000 for the 2015 CRF250, 223,000 for the YZ250 and 201,000 for the KTM Factory Editions.
THE MID-DAY RACE FUEL OF THE SEMI-FAMOUS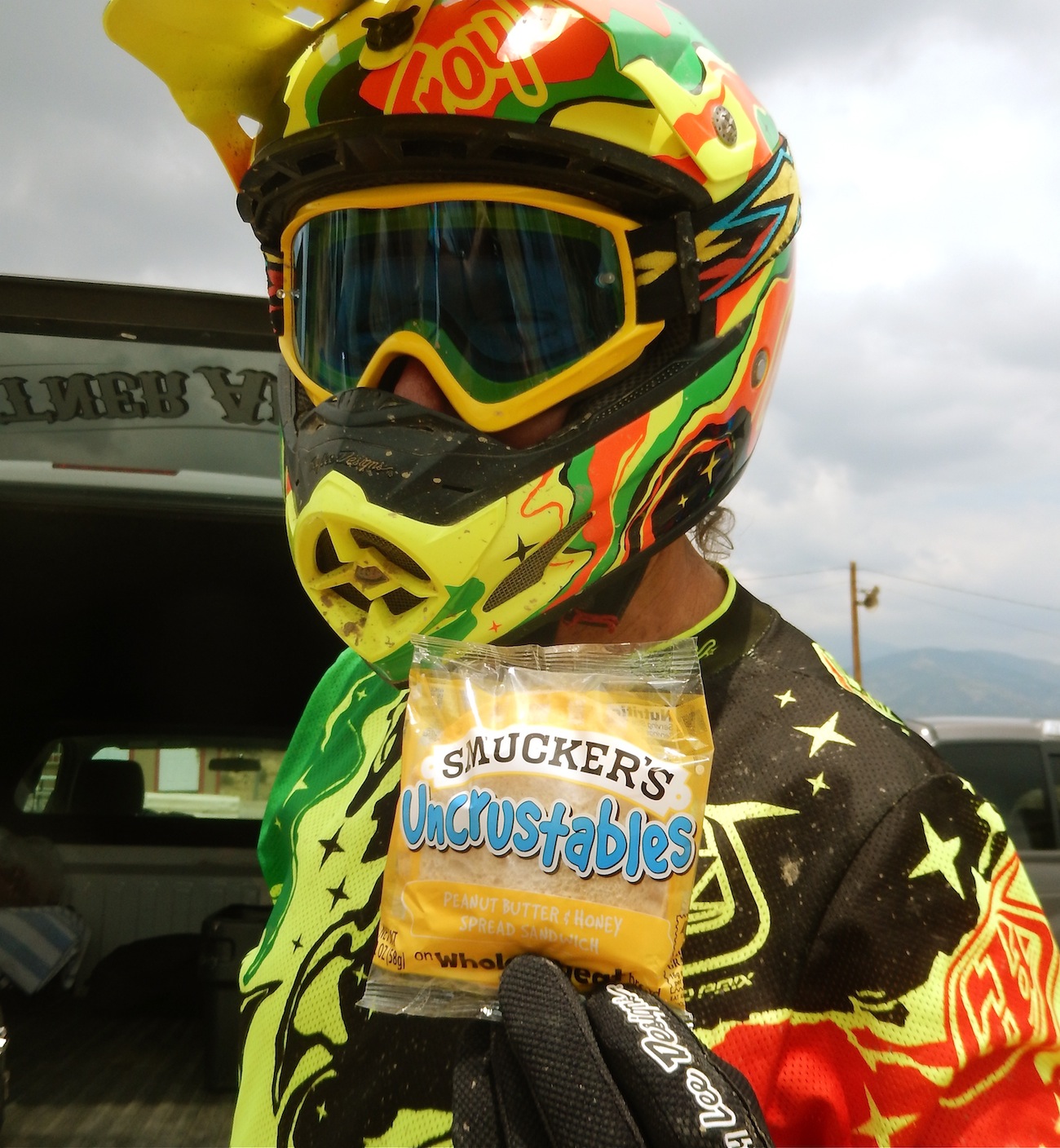 What do you call a sealed, frozen, PB&J sandwich with the crust cut off? Uncrustable.
The Uncrustables craze has hit motocross. What is an Uncrustable? It is a peanut butter and jelly sandwich that you keep in your freezer. On the way to the races, you throw it in your gearbag and eat it between motos. Smucker's Uncrustables come in whole wheat or white bread versions with honey, strawberry, raspberry or grape jelly inside the sealed round sandwich. There are also reduced sugar and fat versions. You could make a healthier PB&J sandwich on race day (and cut the crust off yourself), but you probably won't.
MXA PRODUCT SPOTLIGHT: PRO CIRCUIT TRAILER HITCH COVER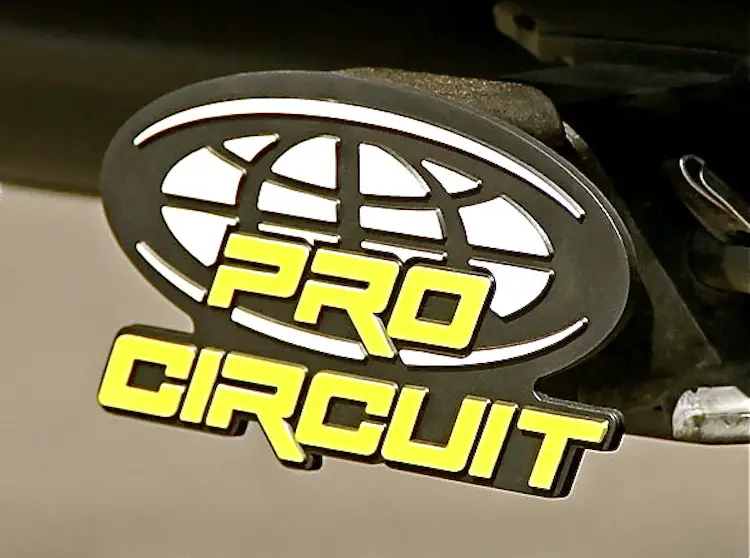 Whether on your way to the office or to the race track, you can show everyone you ride with the best with the new Pro Circuit Trailer Hitch Cover. Made from high-quality plastic, the bright yellow and white Pro Circuit globe design stands out in traffic and lets you show off your Pro Circuit pride while cruising the freeway, Main street or the drive-thru. Battle traffic in style with the Pro Circuit Trailer Hitch Cover and show everyone behind you why you're leading the pack. It fits all Class 3 hitch receivers, is 6-3/4×3-1/4-inches, is made from quality plastic material and the retail price in $12.95. For more info go to www.procircuit.com
WHAT THE MXA WRECKING CREW HAS BEEN UP TO THIS WEEK
MXA's Daryl Ecklund spent last week in Crawfordsville, Indiana, riding every 2016 KTM made.

Jody Weisel stayed home, but wouldn't you if this was your workshop. Yes, that is a 2016 KTM 450SXF in the middle.
John Basher was in Austin, Texas, where he was the head judge of the X Games motorcycle competitions.

Daryl, Jody and John reunited at Glen Helen on Tuesday to ride Cooper Webb's Rockstar/Star Racing Yamaha YZ250F.

The MXA gang brought Johnny Jelderda along to share some of the riding duties on Webb's missile.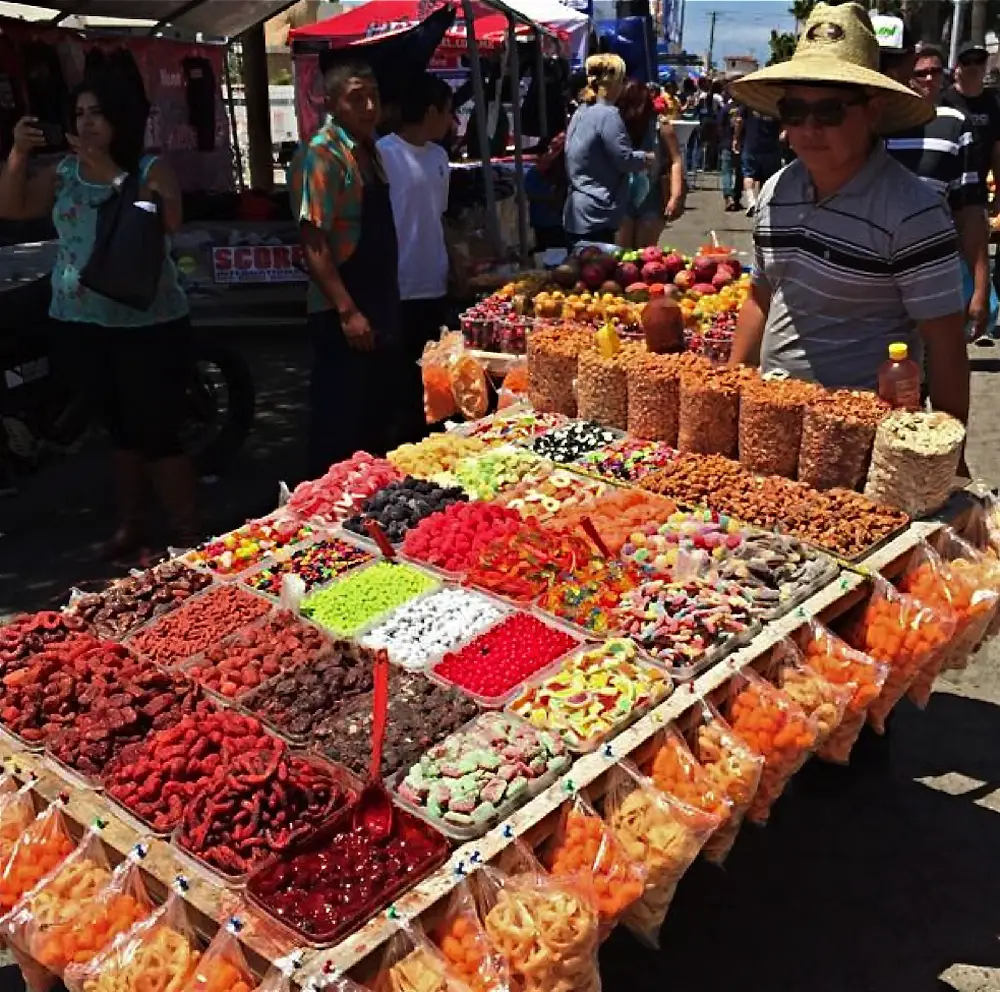 While Dennis Stapleton is waiting for his knee and wrist surgery to heal he took a part-time job in Ensenada in the portable restaurant business. Actually, Dennis went to the Baja 500 this week, but he did eat at this fine dining establishment.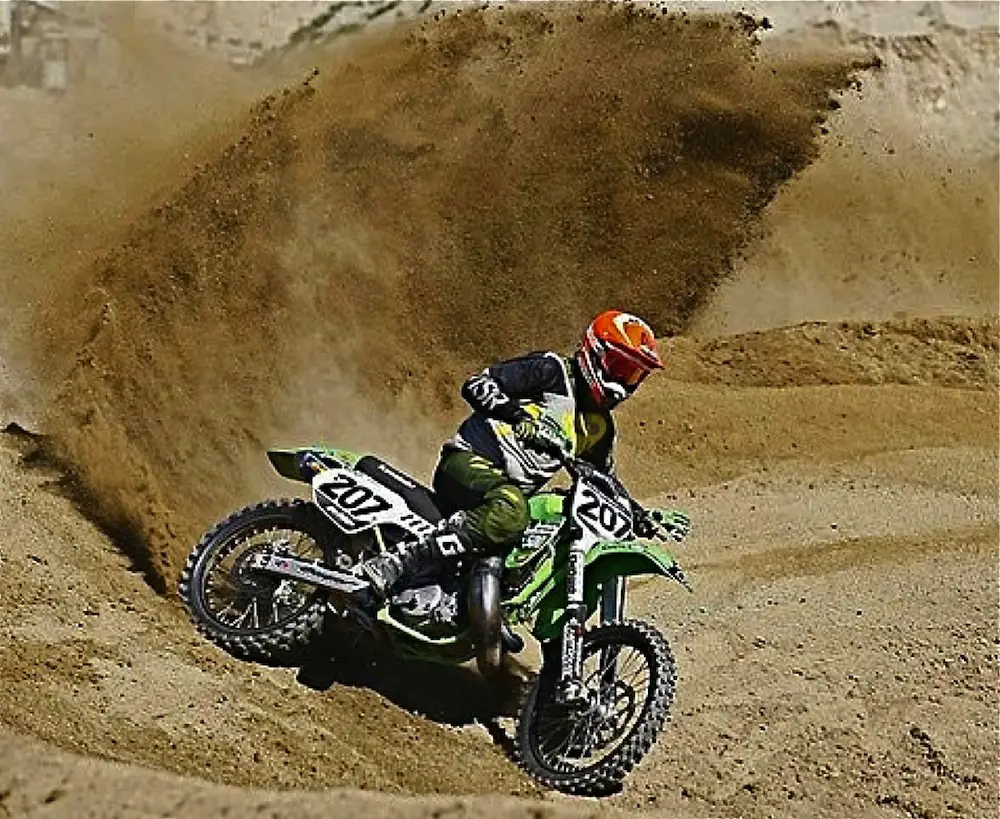 And for people who keep asking, we did take Sean Collier's KX500 and his KX450F and held a special MXA Kawasaki shootout. This massive KX500 roost is courtesy of Daryl Ecklund.


THIS WEEK'S BIRTHDAY BOYS: DICK MANN IS NO BOY


June 13…Tommy Searle 1990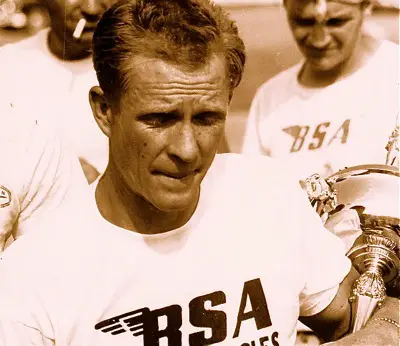 June 13…Dick Mann 1934
June 14…Keith Johnson 1982
June 14…Nick Evennou
June 14…Jeff Gibson 1982
June 14…Jimmy Button 1973

June 15…Julien Lieber 1994
June 15…Willy Browning

June 16…Jimmy Albertson 1988
June 16…Greg Berg

June 16…Grant Langston 1982
June 17…Arnaud Tonus 1991

June 18…Jeff Stanton 1968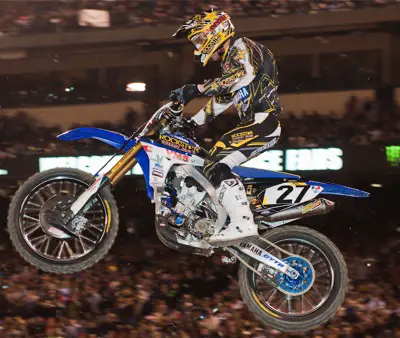 June 18…Nick Wey 1980
June 19…Jason Thomas 1979
AT A GLANCE: 2015 AMA NATIONAL CHAMPIONSHIPS
Marvin Musquin is going to face a long summer racing against Jeremy Martin…and vice versa.

Date             Venue                                        450                                    250
May 16…..Hangtown, CA………….Eli Tomac…….….Jeremy Martin
May 23…Glen Helen, CA………….Eli Tomac…….….Marvin Musquin
May 30…Thunder Valley, CO……Ryan Dungey……Jeremy Martin
June 6…Muddy Creek, TN………..Ryan Dungey……Jeremy Martin
June 13…Mt. Morris, PA
June 27…Budds, MD
July 4…Red Bud, MI
July 18…Millville, MN
July 25…Washougal, WA
Aug.t 8…Unadilla, NY
Aug. 15…Miller Motorsports, UT
Aug. 22 …Crawfordsville, IN
450 Points Leader…Ryan Dungey (KTM)
250 Points Leaders…Jeremy Martin (Yam)
MEMORIES OF THE WAY WE WERE
Today, Ivan Tedesco is Adam Cianciarulo's riding coach, but many people forget that Ivan has played a big role in American motocross history. Not only did he win the 2005 AMA 125/250F National Championship (in one of the craziest final races ever) and 2004 &2005 125 West Supercross crowns, but he raced on three winning Motocross des Nations team (2005, 2006 & 2009).
BE THERE OR BE SQUARE: UPCOMING RACES
2015 AMA NATIONAL CHAMPIONSHIP
June 13……………..…….Mt. Morris, PA
2015 CANADIAN NATIONAL CHAMPIONSHIP
June 14…………………..Wild Rose
June 21…………………..Moto Valley Raceway
2015 WORLD SIDECAR CROSS CHAMPIONSHIP
June 14……………..….Czech Republic
2015 FIM WORLD MOTOCROSS CHAMPIONSHIP
June 14……………….…..Maggiora, Italy
June 21……………….…..Teutschenthal, Germany
2015 AMA SUPERMOTO CHAMPIONSHIP
June 19-21…………………Loudon, NH
2015MAMMOTH MOUNTAIN MOTOCROSS
June 19-28………………….Mammoth Lakes, CA
2015 BRITISH NATIONAL CHAMPIONSHIP
June 28………………….…Blaxhall Circuit
2015 REM 4TH OF JULY SPECTACULAR
July 4…………………….…Glen Helen, CA

DEBBI TAMIETTI'S PHOTO OF THE WEEK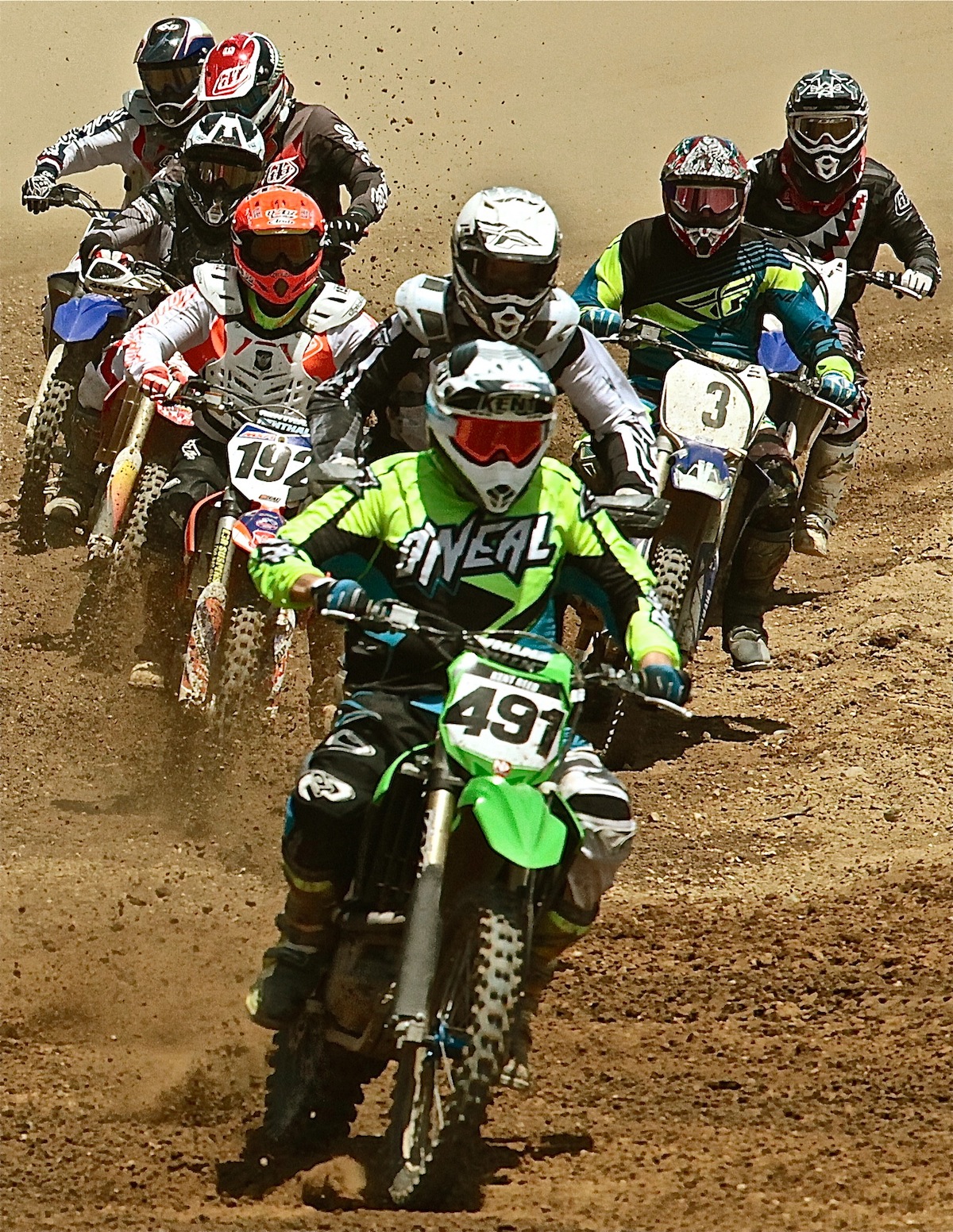 The Flying Wedge was first used by the Scythians in ancient Greece as a military formation. This is the motocross version of it as executed by Kent Reed (491), Jody Weisel (192), Mike Marion (3) and their cohorts.
THE DANCE THAT TYPICALLY ENDS IN A BLOWN ENGINE
2015 GP'S AT A GLANCE: HEADING TO MAGGIORA ON SUNDAY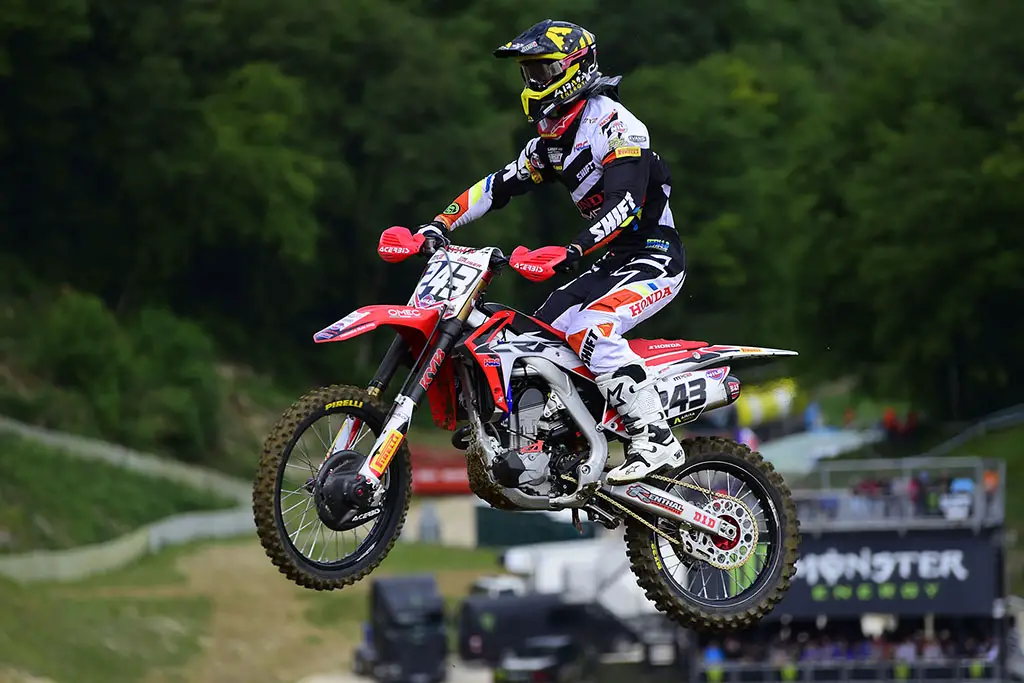 Tim Gajser (243) is one of 3 riders to beat Jeffrey Herlings in 2015.

Date             Venue                          450                                    250
Feb. 28……Qatar………….Max Nagl………………Jeffrey Herlings
March 8..…Thailand…….Ryan Villopoto………Jeffrey Herlings
March 29…Argentina……Max Nagl……………..Dylan Ferrandis
April 19……Italy…………..Max Nagl………………Tim Gajser
April 26……Holland……..Gautier Paulin………Jeffrey Herlings
May 10…….Spain…………Tony Cairoli……………Valentin Guillod
May 24…….England….…Tony Cairoli……………Valentin Guillod
May 31….…France……….Romain Febvre………Jeffrey Herlings
June 14……Italy…………..
June 21…..Germany…….
July 5………Sweden……..
July 12…….Latvia………..
July 26……Czech Rep….
Aug 2……..Belgium……..
Aug 23……Italy………….
Aug 30……Holland………
Sept. 13….Mexico………..
Sept. 20…Glen Helen….
450 Points Leader…Max Nagl (Hus)
250 Points Leaders…Jeffrey Herlings (KTM)
CURRENT 250/450 WORLD CHAMPIONSHIP POINTS
Big things were expected from new Honda recruit Gautier Paulin (21). Paulin had one brilliant weekend at Valkenswaard, but has lived up to the promise he showed at Kawasaki. Paulin is 80 points behind Max Nagl and only 5 points ahead of teammate Russian Evgeny Bobryshev (777)

2015 FIM 450 POINTS STANDINGS
(After 8 of 18 races)
1. Max Nagl…332
2. Tony Cairoli…313
3. Clement Desalle…291
4. Romain Febvre…282
5. Gautier Paulin…252
6. Evgeny Bobryshev…247
7. Shaun Simpson…169
8. Todd Waters…138
9. Glenn Coldenhoff…134
10. Ken de Dycker…133
Other notables: 11. Tyla Rattray; 12. Jeremy Van Horebeek; 13. Ryan Villopoto; 14. David Philippaerts; 15. Dean Ferris; 28. Mike Alessi.
In his first year in the 250 GPs, Pauls Jonass is currently third in points behind Herlings and Guillod.

2015 FIM 250 POINTS STANDINGS
(After 8 of 18 races)
1. Jeffrey Herlings…358
2. Valentin Guillod…246
3. Pauls Jonass…245
4. Jordi Tixier…229
5. Aleksandr Tonkov…218
6. Tim Gajser…209
7. Jeremy Seewer…208
8. Dylan Ferrandis…205
9. Julien Lieber…184
10. Max Anstie…183
Other notables: 12. Thomas Covington; 13. Benoit Paturel; 15. Robert Justs; 20. Mel Pocock; 21. Ben Watson;  27. Harri Kullas.
MOTORCYCLE AD OF THE WEEK: HANNAH, BELL & KLEMM AT DG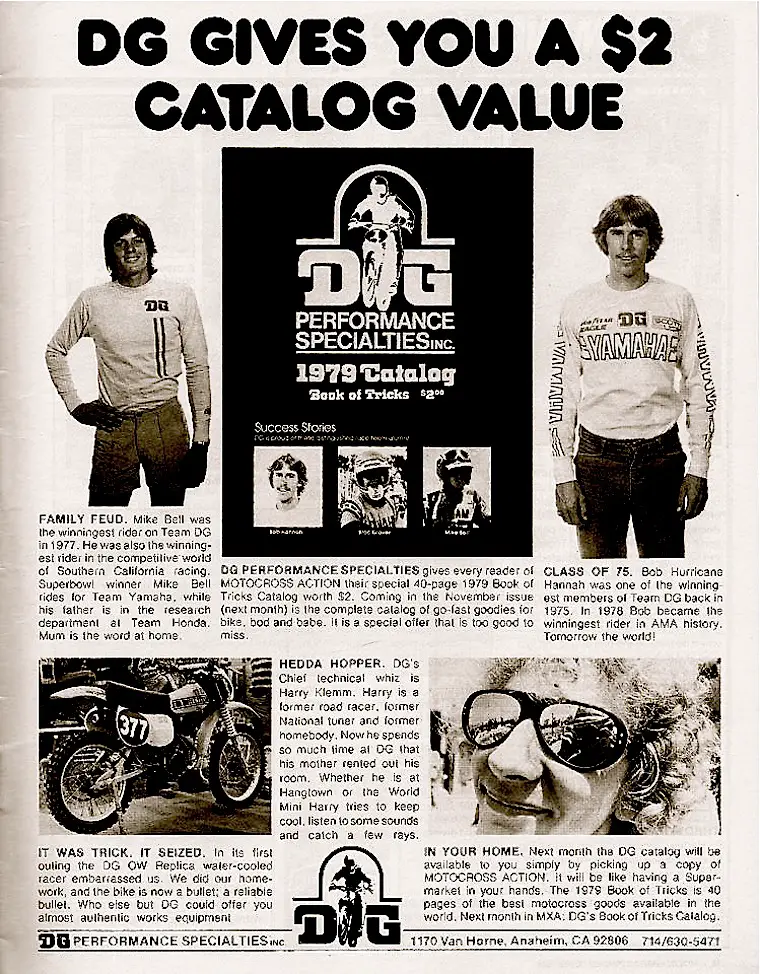 Under the command of Gary Harlow, the "G" in DG, DG Performance Specialties was the powerhouse aftermarket company in 1979. TheY sponsored three guys named Broc Glover, Mike Bell and Bob Hannah.
HOW TO SUBSCRIBE TO MXA AND MAKE MONEY
The July 2015 issue of MXA is coming to a mailbox near your front door, but only if you subscribe. And you should, just to see MXA's all-two-stroke, all-the-time, July smoker issue. Plus, subscribers get a $25 Rocky Mountain gift card which pays for their subscription and then some.

Do you subscribe to MXA? You should. We know that you think that print magazines are dead and that the internet will fill the void, but most of the stuff in the current issue of MXA won't appear on the web for several months, if at all. Luckily, you can get all of MXA on your iPhone, iPad, Kindle or Android by going to the Apple Store, Amazon or Google play, but better yet get the Digital desktop version at https://hi-torque.com/product/motocross-action-digital-edition/ or click on the link below to get the print version delivered to your door for only $15.99 (plus you get a free $25 Gift Card from Rocky Mountain ATV/MC just for subscribing). There is a profit to be made in this deal for you. For the Print magazine go to: http://hi-torque.com/product/subscribe-to-motocross-action-magazine/

AN ECLECTIC COLLECTION OF REM RACE POSTERS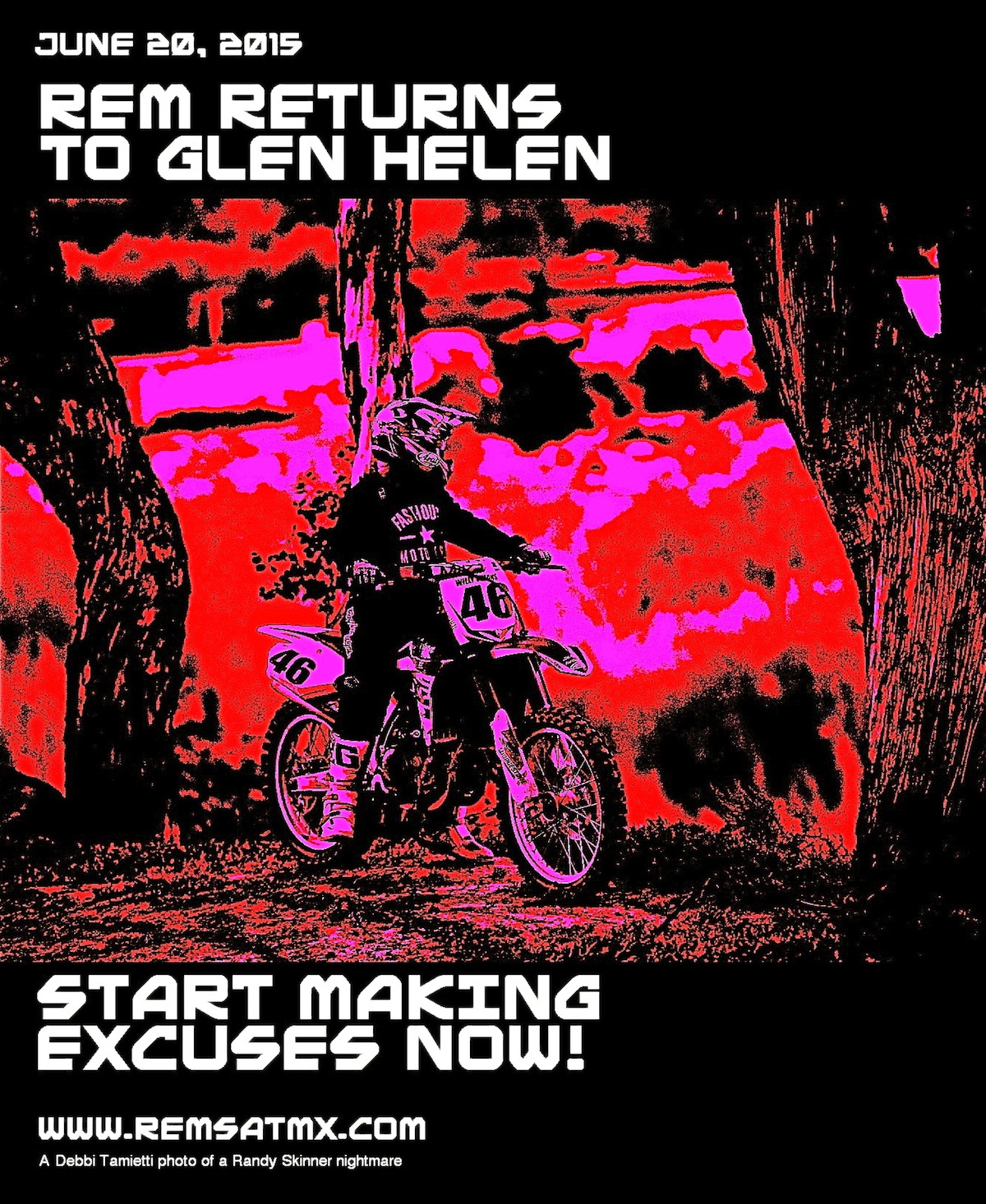 "Start Making Excuses Now!" — Next weekend's race, June 20, 2015.

"Don't Make Frank Angry" — December 20, 2014.
"Words To Live By" — February 7, 14, 21, 2015.
"The Final Battle" — December 28, 2013.
"Join The Remolution" — October 26, Octobercross, 2013.
"Motocross The Way It Was Meant To Be" — June 21, 2014.
"Summer Is Over" — October 4, 2014.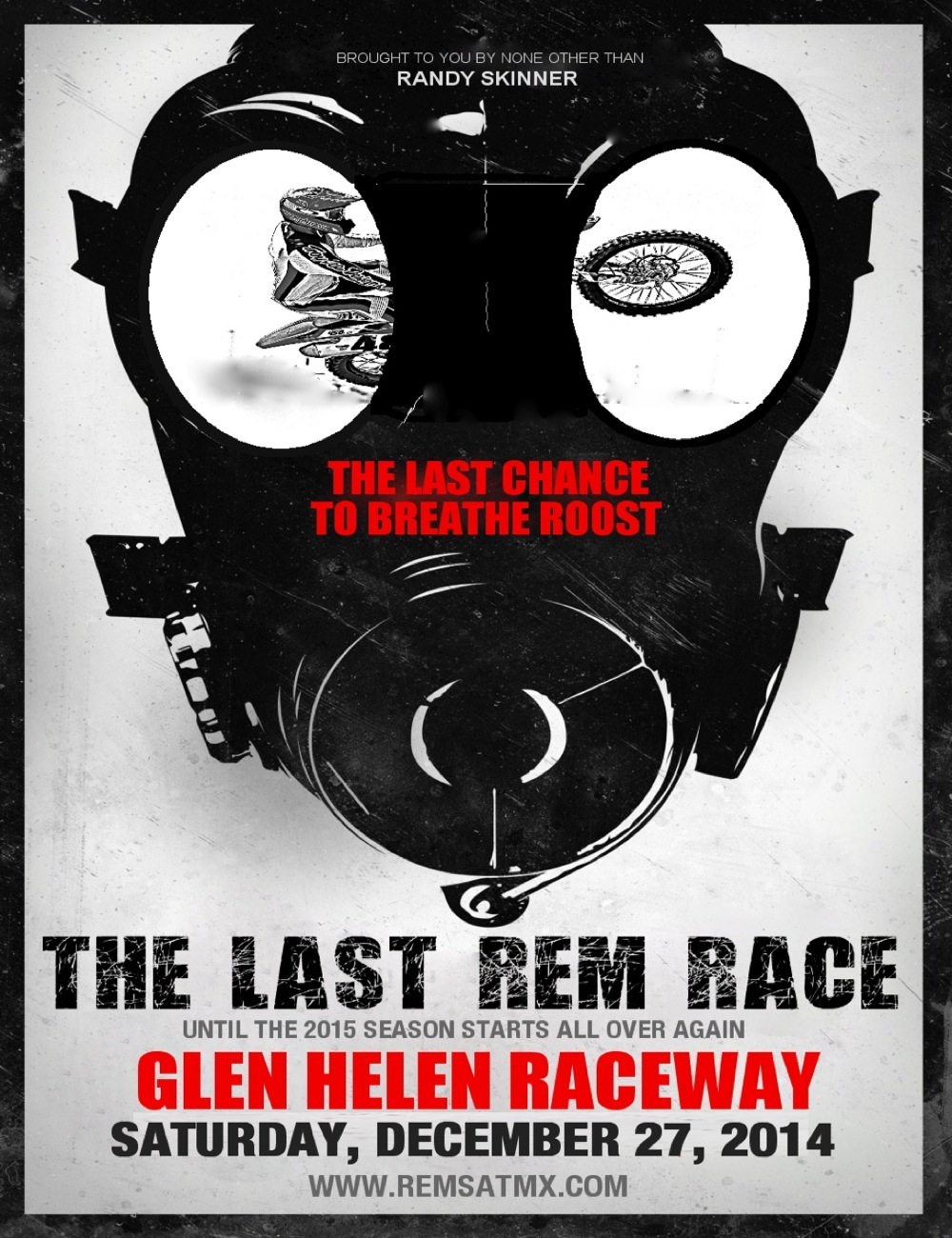 "The Last Chance To Breathe Roost" — December 27, 2014.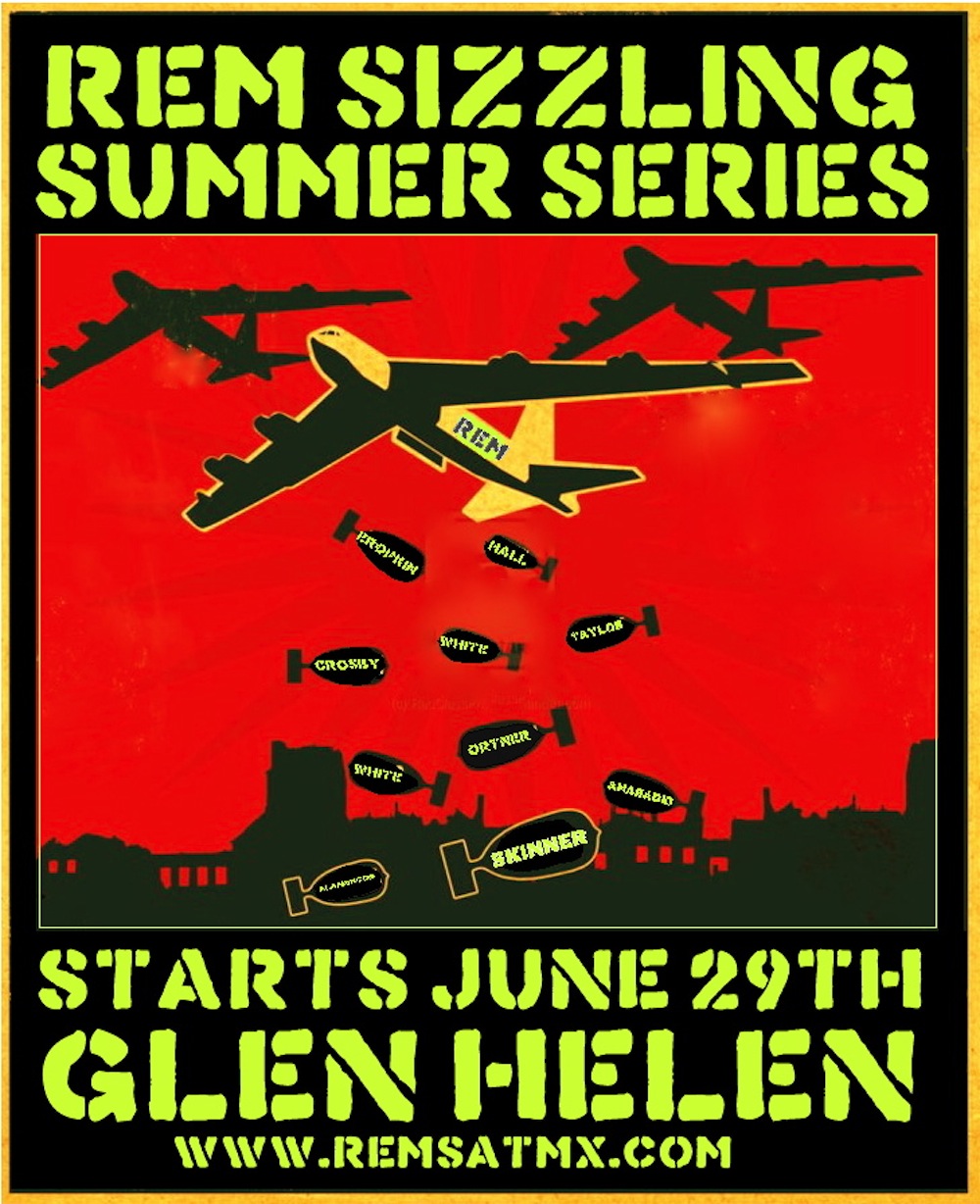 "Sizzling Summer" — June 29, 2013.
Photos: John Basher, Debbi Tamietti, Ray Archer, Geico Honda, Husqvarna, Yamaha, Kawasaki, Massimo Zanzani, KTM.