MXA'S WEEKEND NEW ROUND-UP: LET THEM EAT CAKE
BIKES YOU'VE NEVER SEEN BEFORE: CAKE KALK ELECTRIC OFF-ROAD BIKE
The Cake Kalk bike, built for light off-road performance, uses an industrial standard IPM motor, customized for Cake and made in Europe. It´s a 15 kW mid motor, powered by a 51.8 Volt, 50Ah battery. The frame is made from 6061 extruded, forged and CNC-joined and welded aluminum. The swingarmm is extruded aluminum. It weighs 154 pounds, using a single pivot direct drive, reducing the number of heavy and moving parts. Battery charging take 2-1/2 hour son a standard wall outlet to 100%.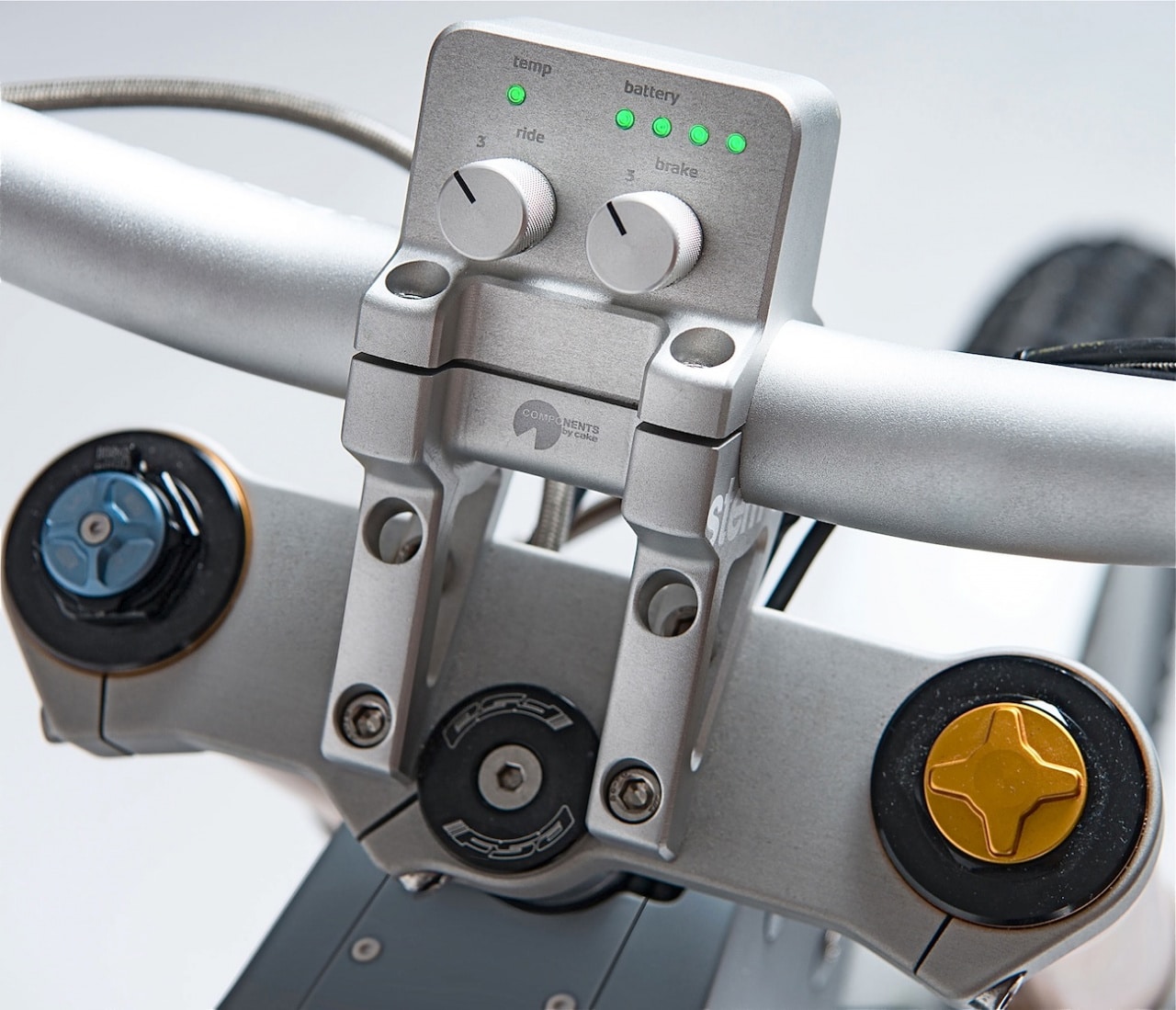 You can dial in the amount of power and brake response to fine tune the ride.
The Ohlins suspension consists of 38mm air forks with adjustable compression and rebound. The shock is an Ohlins TTX22 mountain bike with rising rate linkage. There are three different power mods: Explore (2-hour battery life), Excite (1 to 2 hour riding time) and Excel (up to 1 hour of riding time).
In a design studio the Cake look might be considered cutting edge, but to an off-road rider it looks a lot like a $13,000 erector set.
The Cake Kalk is not a motocross bike—it is largely outfitted with downhill mountain bikes parts'especially the suspension. The retail price is $13,000 for more info go to www.ridecake.com
MXA PRODUCT SPOTLIGHT: PRO CIRCUIT YAMAHA PARTS

Pro Circuit has an all-new assortment of Yamaha engine parts and accessories. These include a radiator hose kit and high-compression piston for a 2019 YZ250F, a billet shift lever for a 2019 YZ250F, 2018-19 YZ450F and 2019 YZ450X. Also included are clutch springs and billet shift levers for the YZ65 and YZ85 models.
The Standard Radiator Hose Kit features premium-grade silicone throughout, which can operate at higher temperatures and pressures than the stock rubber hoses. The hoses are topped off with a highly pigmented bright blue that will stay vibrant and not fade over time. Retail price: $119.95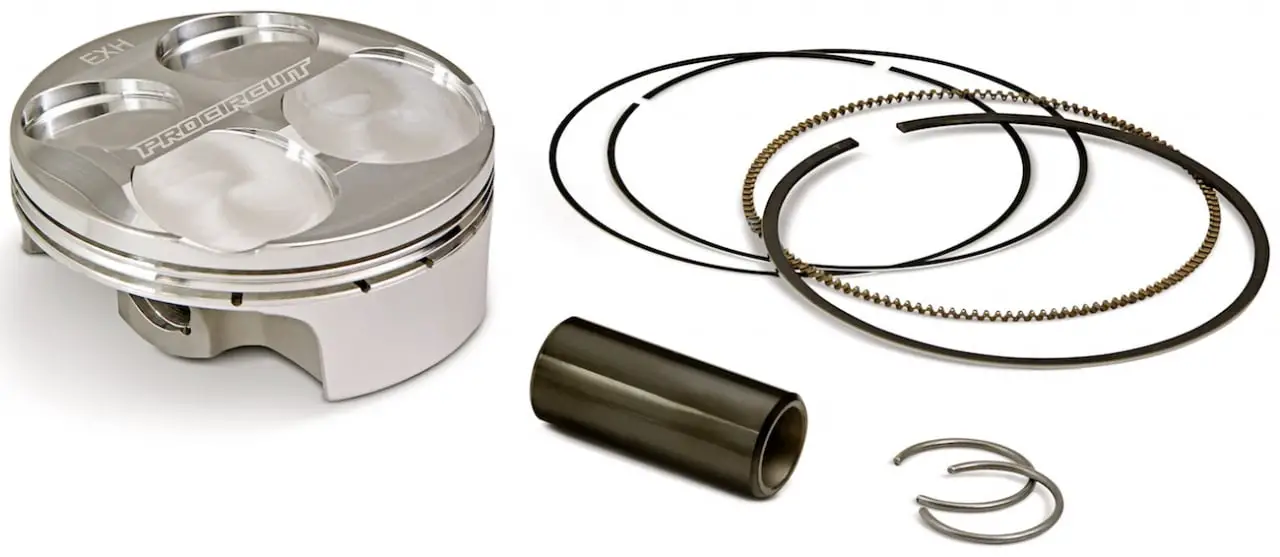 Pro Circuit's high-compression piston kit is manufactured by JE Pistons to our exact specifications, Pro Circuit pistons are forged from high-quality aerospace aluminum alloy using advanced CNC-machined technologies. The result is a significant gain in low-end torque and high-RPM performance. Retail price: $394.95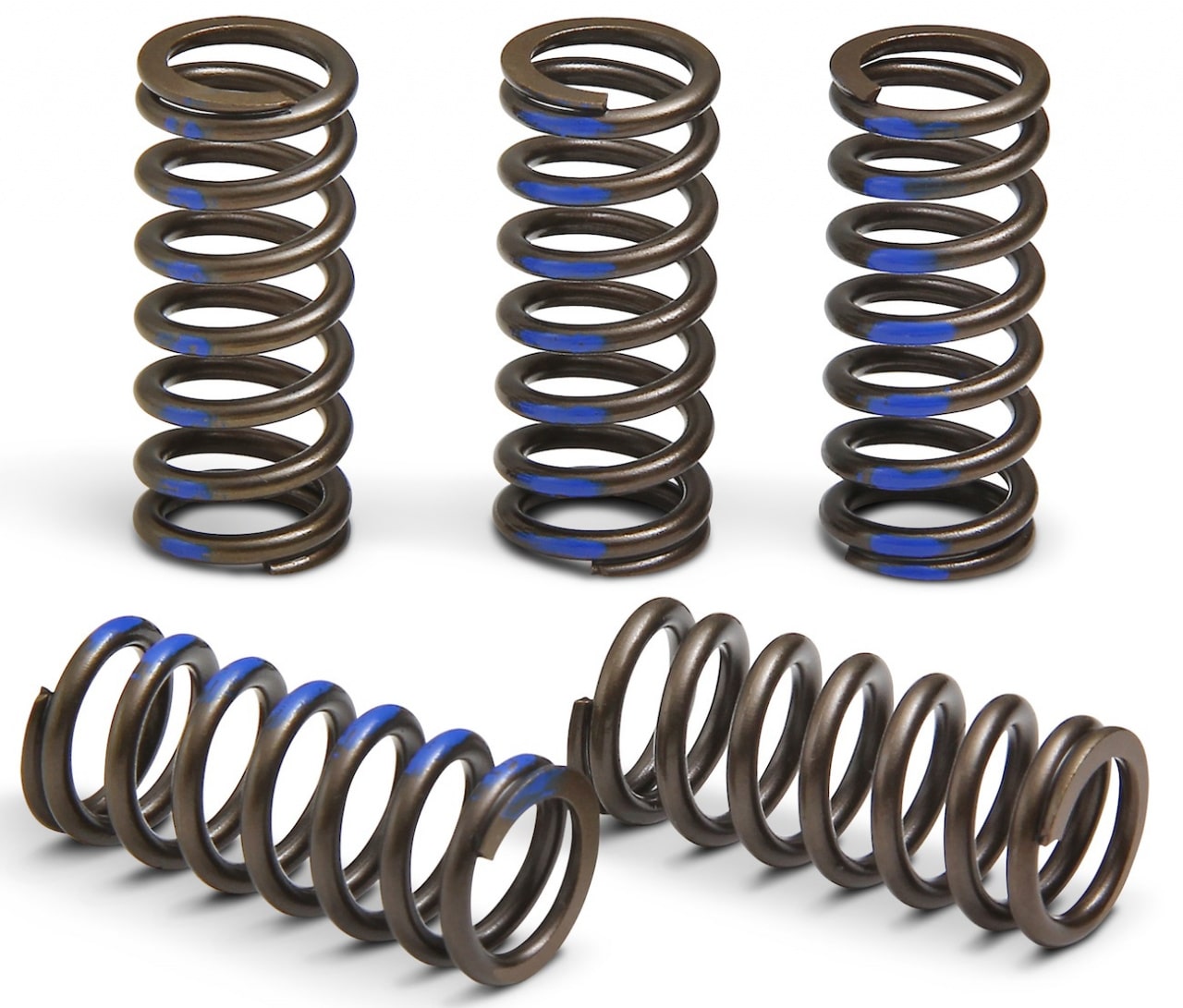 Pro Circuit clutch springs offer customers increased clutch life, decreased clutch slipping and improved engagement over a stock setup for any rider. Retail price: $69.95

Pro Circuit's shift levers are CNC-machined from 6061-T6511 billet aluminum and hard anodized. The have a with stainless steel spring and hardware, making it stronger than a stock part and more able to resist wear, bending and corrosion. The free-folding, knurled shift tip is replaceable and completely rebuildable. In addition, this design helps prevent dirt from clogging and interfering with the shift lever functionality. Retail price: $99.95 (YZ65, YZ85, YZ250F, YZ450F, YZ450X. For more info go to www.procircuit.com
MXA PHOTO OF THE WEEK: 1984 CAGIVA AT COUNTRY VILLAGE ROAD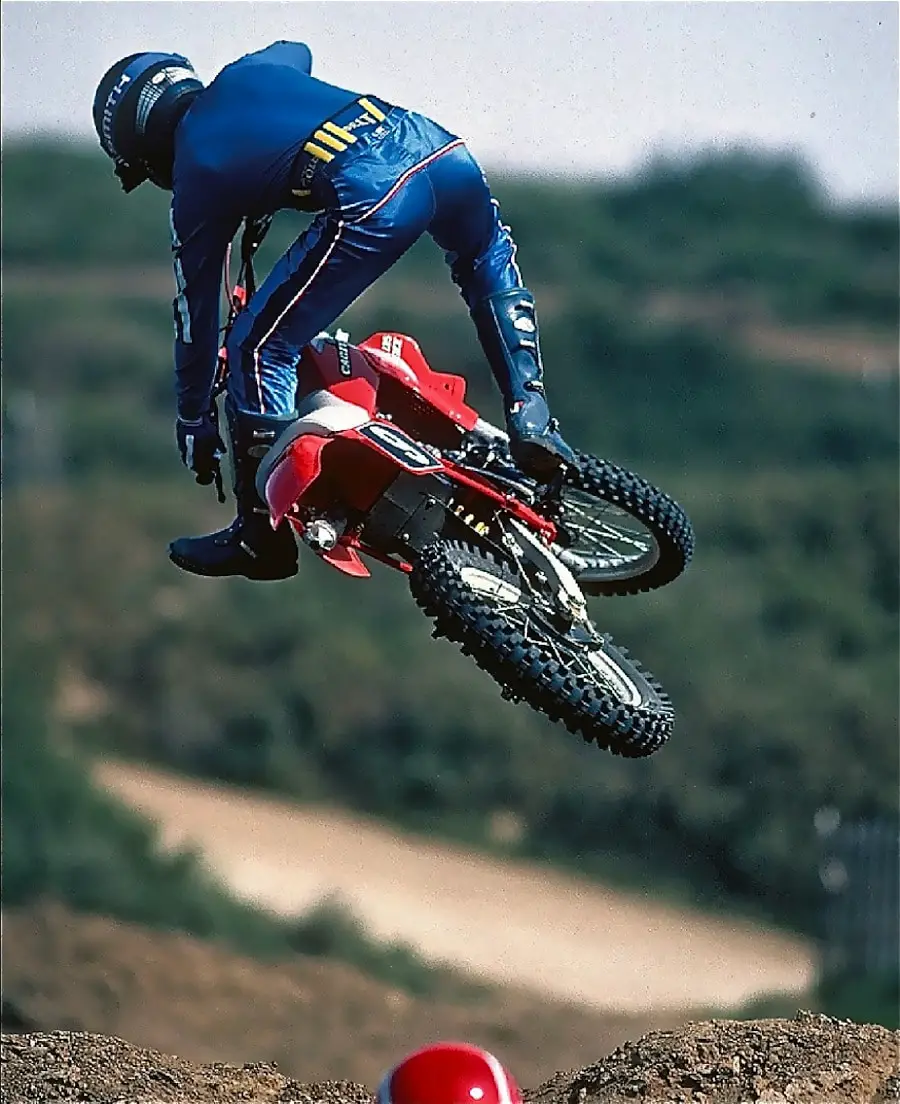 Lance Moorewood whips a Cagiva 125 WMX at Country Village Road, but what's cool about the photo is that he is dressed in blue from head to toe. Blue helmet, Blue Smith goggles, Blue MXA jersey, Blue Hallman pants, blue/yellow Gold Belt and blue Hi-Point Champion boots. Fashion was simple in the 1980s.
2019 RACE SCHEDULE: FOR THOSE WHO CAN'T WAIT THREE MORE WEEKS


Justin Hill got his wish to race the 450 class at selected eents in 2018. He was impressive the first time, but crash and injury prone after that. For 2019 he will be a full-time 450 rider for the JGR Suzuki team

2019 AMA SUPERCROSS SERIES
Jan. 5…………………………….Anaheim, CA
Jan. 12………………………….Glendale, AZ
Jan. 19………………………….Anaheim, CA (3-moto race)
Jan. 26………………………….Oakland, CA
Feb. 2……………………………San Diego, CA
Feb. 9…………………………..Minneapolis, MN
Feb. 16………………………….Arlington, TX
Feb. 23………………………….Detroit, MI (3-moto race)
Mar. 2……………………………Atlanta, GA (250 E/W Shootout)
Mar. 9……………………………Daytona Beach, FL
Mar. 16………………………….Indianapolis, IN
Mar. 23………………………….Seattle, WA
Mar. 30………………………….Houston, TX (3-moto race)
Apr. 6……………………………Nashville, TN
Apr. 13………………………….Denver, CO
Apr. 27………………………….East Rutherford, NJ
May 4……………………………Las Vegas, NV (250 E/W Shootout)
2019 AMA NATIONAL CHAMPIONSHIP
May 18……………………Hangtown, CA
May 25.…………………..TBA
June 1..……………….….Thunder Valley, CO
June 15..…………………Mt. Morris, PA
June 22.………………….Jacksonville. FL
June 29..…………………Southwick, MA
July 6.………………….….Red Bud, MI​
July 20.……………………Millville, MN​
July 27.……………………Washougal, WA
Aug. 10..………………….Unadilla, NY​
Aug. 17..………………….​Budds Creek, MD
Aug. 24.…………………..Crawfordsville, IN
2019 FIM MOTOCROSS WORLD CHAMPIONSHIP
Mar. 10……………………………Argentina
Mar. 24……………………………England
Mar. 31……………………………Holland
Apr. 7……………………………..Italy #1
Apr. 21……………………………Hong Kong
May 1……………………………..Shanghai
May 12……………………………Italy #2
May 26……………………………France
June 9…………………………….Russia
June 16…………………………..Latvia
June 23…………………………..Germany
July 7……………………………..Indonesia #1
July 14……………………………Indonesia #2
July 28……………………………Czech Republic
Aug. 4…………………………….Belgium
Aug. 18………………………….Switzerland
Aug. 25…………………………..Sweden
Sept. 8……………………………Turkey
Sept. 22………………………….Italy #3
2019 MOTOCROSS DES NATIONS
Sept. 29…………………………….Assen, Holland
2019 WORLD OFF-ROAD CHAMPIONSHIP (WORCS)
Jan. 18-20……………………….Primm, NV
Feb. 1-3……………………………Glen Helen, CA
Mar. 1-3…………………………..Lake Havasu, AZ
Mar. 22-24………………………Peoria, AZ
Apr. 12-14……………………….Las Vegas, NV
May 24-26………………………Mesquite, NV
Aug. 2-4…………………………..McCleary, WA
Sept. 13-15…………………….Glen Helen, CA
Oct. 4-5…………………………..Milford, CA
Nov. 15-17………………………Las Vegas, NV
2019 AMA NATIONAL AMATEUR CHAMPIONSHIP
July 29-Aug. 3………………….Loretta Lynn, TN
2019 BRITISH ARENACROSS CHAMPIONSHIP
Jan. 18-19………………………….Belfast, Irl
Feb. 1-2……………………………..Birmingham, GB
Feb. 15-6…………………………..Sheffield, GB
2019 BRITISH NATIONAL CHAMPIONSHIP
Mar. 10……………………………FatCat
Apr. 14…………………………….Lyng
May 5……………………………..Canada Heights
June 2…………………………….Blaxhall
June 30…………………………..Desertmartin
July 21……………………………Hawkstone Park
Aug. 11……………………………Foxhill
Sept. 15………………………….Landrake
2019 AMA VINTAGE MOTORCYCLE DAYS
July 5-7…………………………….Lexington, Ohio
2019 AMA NATIONAL AMATEUR CHAMPIONSHIP
July 29-Aug. 3………………….Loretta Lynn, TN
2019 RYAN VILLOPOTO AMATEUR MOTOCROSS CUP
Aug. 22-25………………………..Grays Harbor, WA
2019 GERMAN MX MASTERS CHAMPIONSHIP
April 14…………………………….Princely Drehna
June 2………………………………Moggers, Austria
June 30…………………………….Molln
July 21……………………………..Tens
Aug. 11…………………………….Gaildorf
Sept. 1……………………………..Biel
Sept. 15……………………………Wood Gerlingen
2019 MONSTER ENERGY CUP
Oct. 21……………………………..Las Vegas, NV
MXA PRODUCT SPOTLIGHT: STEP RAMP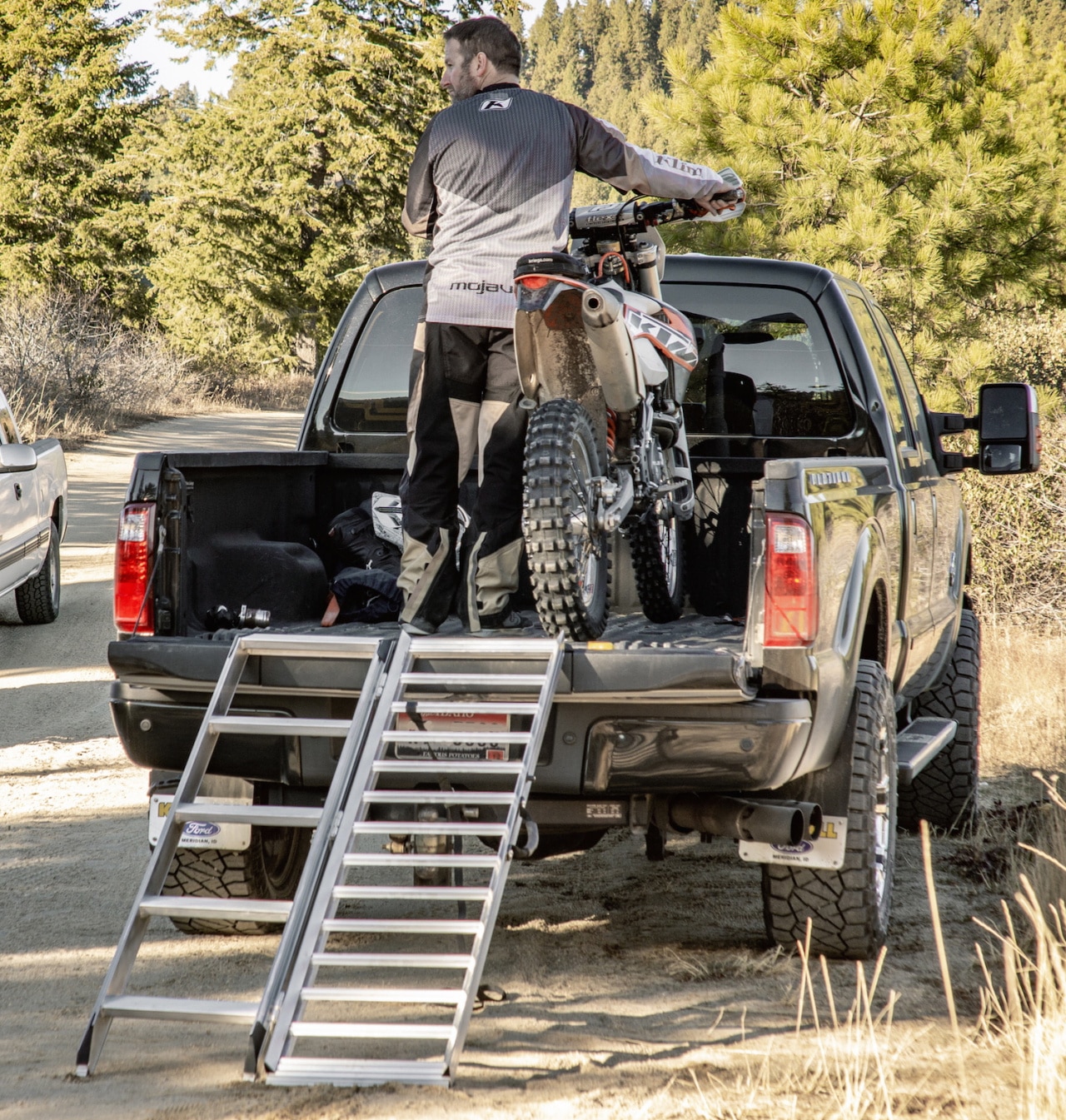 Step Ramp addresses the danger and difficulty in loading and unloading motorcycles into tall vans and pickuptrucks by neatly integrating ergonomically-spaced stairs into a traditional motorcycle ramp. "The Step Ramp creates a natural-motion loading and unloading experience that simplifies the process entirely" says creator and co-owner, Bryan Herrera. "I've spent years hearing horror stories of loading ramp accidents from friends and colleagues. There is no need for this process to be so dangerous. Getting your bike in your truck is a no reason to get hurt. I created the Step Ramp to help address this problem." The Step Ramp has been in development for over a year and is now available for preorder at www.stepramp.com (with a ship date in early spring 2019).
TOMAC, REED & ROCZEN ARE THE ONLY ACTIVE SUPERCROSS RACERS ON THE LIST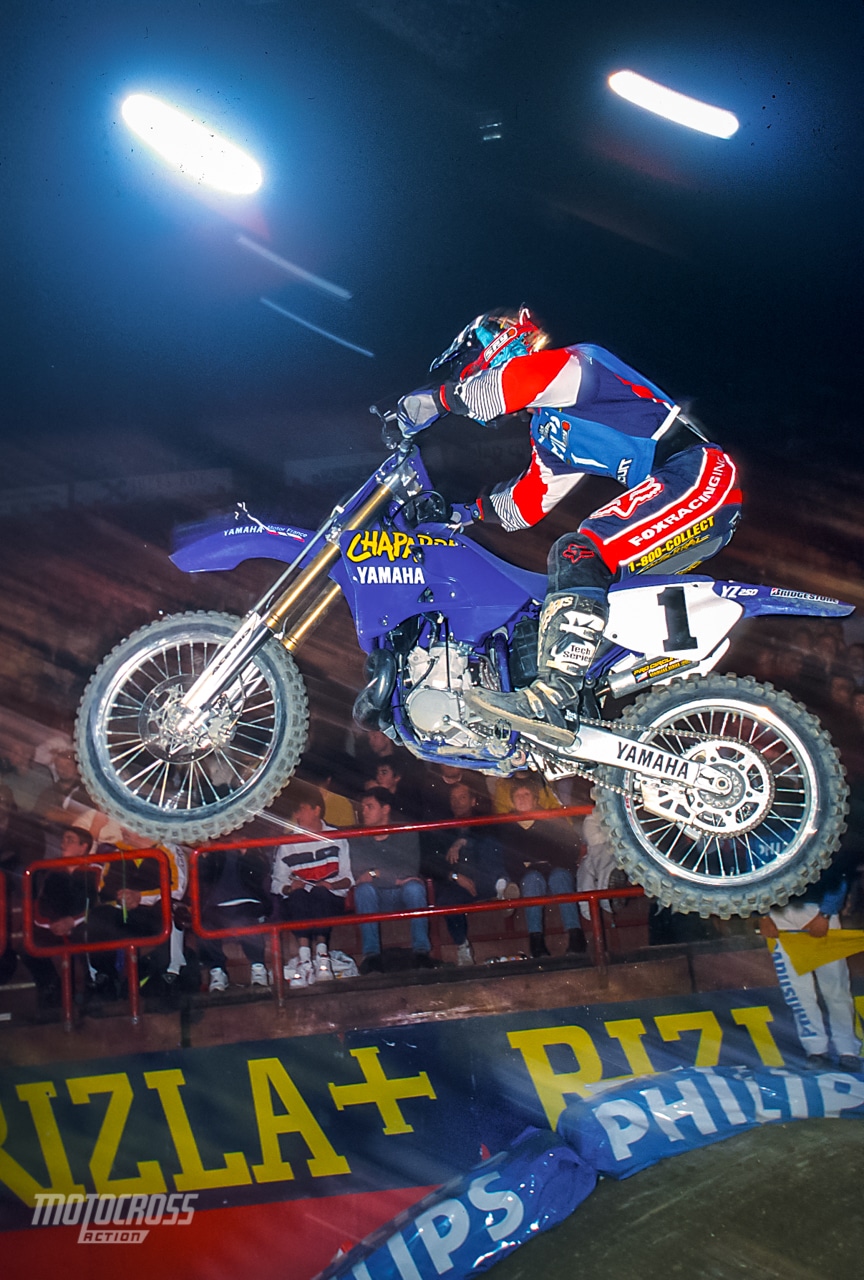 Jeremy McGrath is the winningest racer in Supercross history.
How dominant was Jeremy McGrath in Supercross? The closest active Supercross racer to his 72 wins is Chad Reed at 44 wins. No offense to Chad, but he isn't going to win 28 more Supercross races in his career. The next closest is Eli Tomac at 21 wins. Eli is 51 wins adrift of Jeremy. Eli would need three perfect seasons, where he won all 17 rounds, to catch up to McGrath's 72 wins. Ken Roczen has won 11 Supercross races, that is 61 races short of SuperMac.

1. Jeremy McGrath…72
2. James Stewart…50
3. Ricky Carmichael…48

4. Chad Reed…44
5. Ryan Villopoto…41
6. Ryan Dungey…35
7. Rick Johnson…28
8. Bob Hannah…27
9. Eli Tomac…21
10. Jeff Ward…20
11. Damon Bradshaw…19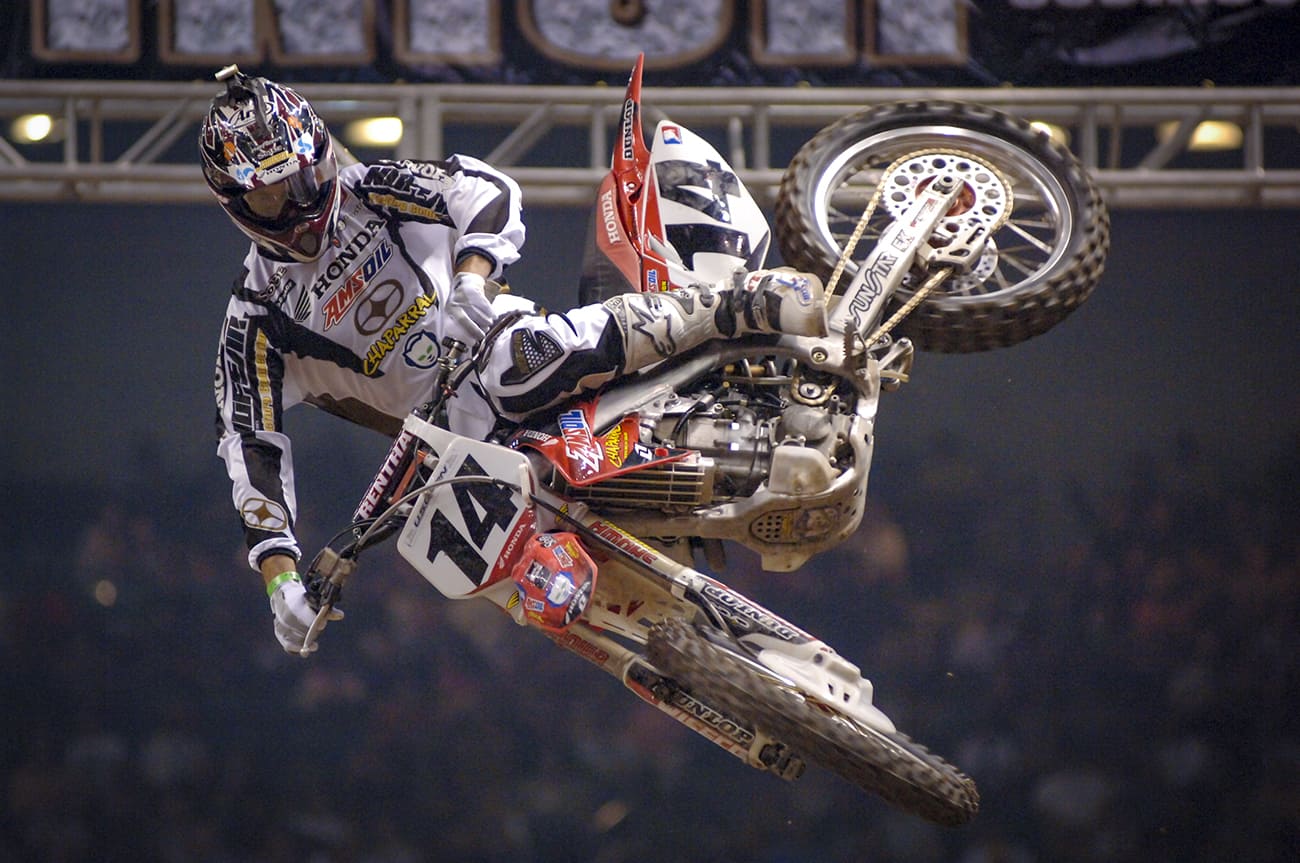 12. Kevin Windham…18
13. Mark Barnett…17
13. Jeff Stanton…17
15. Jean-Michel Bayle…16
16. Ezra Lusk…12
16. David Bailey…12
18. Mike Bell…11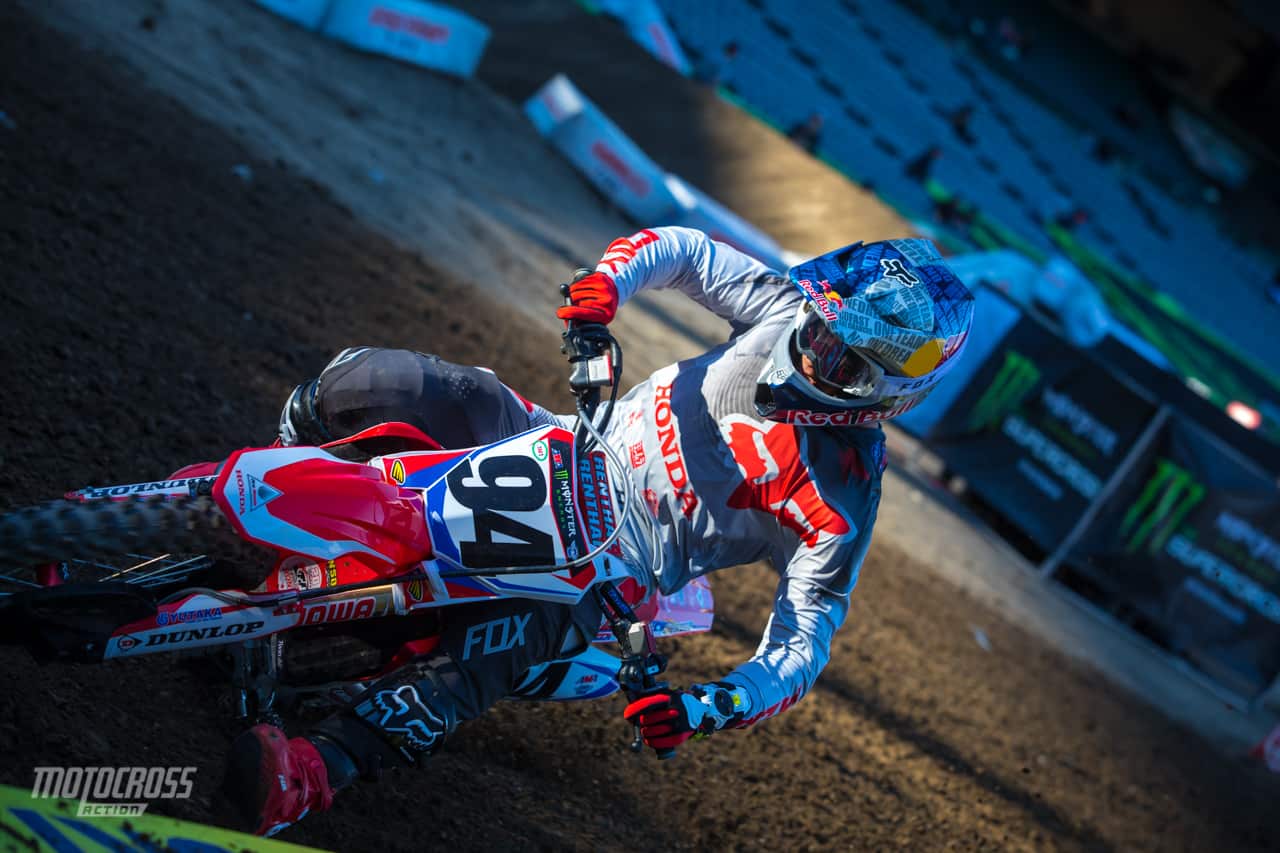 18. Ken Roczen…11
20. Broc Glover…10
20. Mike Larocco…10
MXA PRODUCT SPOTLIGHT: POLISPORT PLASTICS

Polisport releases a new special and exclusive color – Nardo Grey. With this new color in Polisport's Special Colors line, riders will be able to make their bike shine and customize their graphics to stand out from the crowd. Give your bike a sleek, stylish and totally different look with this new plastics color. The Nardo Grey kits will also include the fork protections and will be available for some selected Brands and Models. Now, this special color kit is also available for the 2018-2019 YZ450F and 2019 YZ250F
MXA'S HOLIDAY SUBSCRIPTION DEAL: ONLY $16.95 (AND WE GIVE YOU A $25 CHRISTMAS GIFT)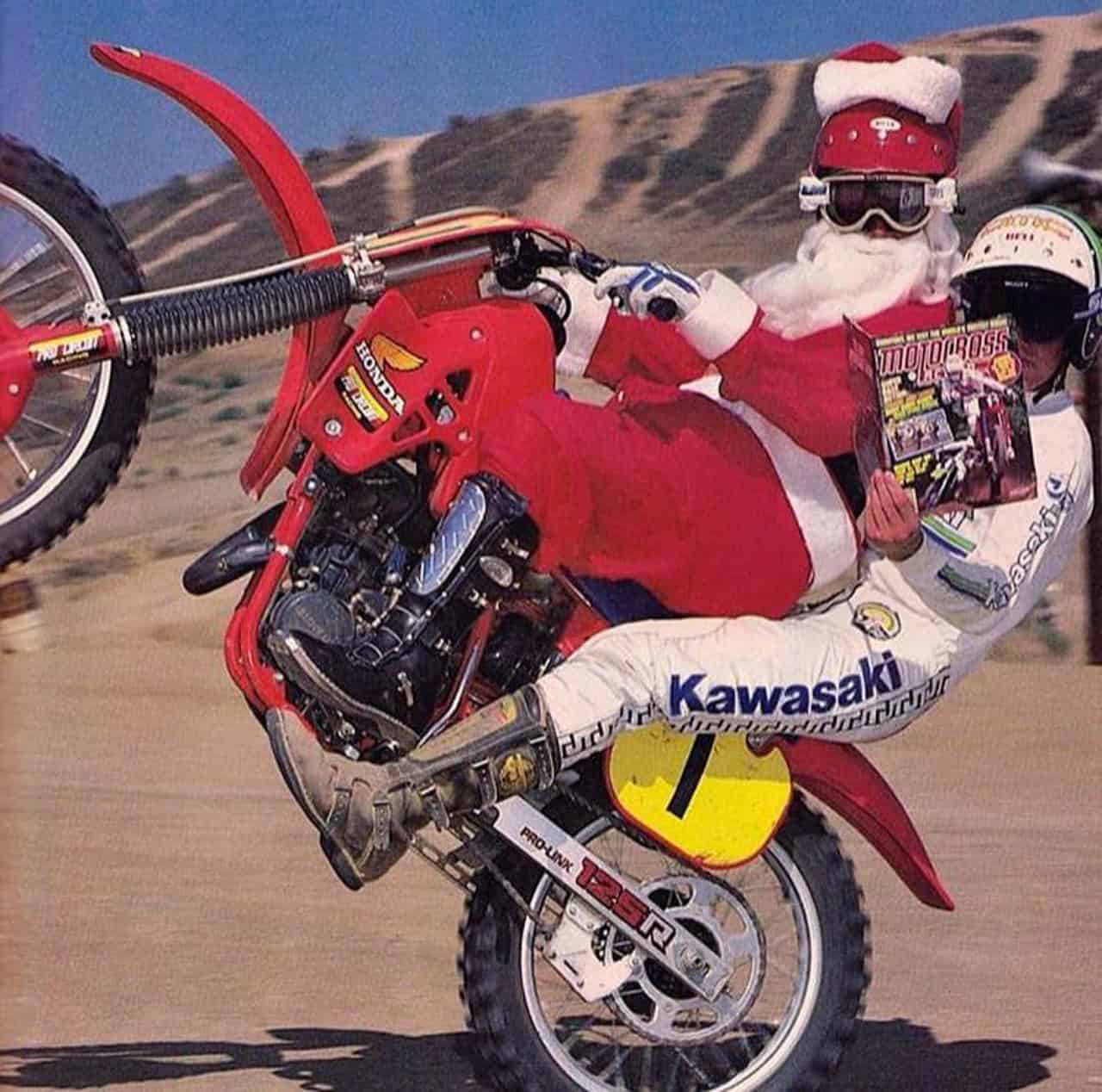 This year let Santa wheelie into your home with a subscription to the world's leading motocross magazine.
Right now, a subscription to Motocross Action Magazine is on sale for $16.99 just in time for the holidays. With that subscription you will receive a $25 Chaparral Gift Card to spend on whatever motorcycle parts or products you need. This is a deal that you will make money on. This is the lowest price for 12 issues of MXA. Don't miss it.
You can get  MXA on your iPhone, iPad, Kindle or Android by going to the Apple Store, Amazon or Google Play or in a digital version. Or,  you can call (800) 767-0345 or go to www.hi-torque.com/product/motocross-action-holiday or click on the box at the bottom of this page to subscribe.
GONE BUT NOT FORGOTTEN: TANK BADGES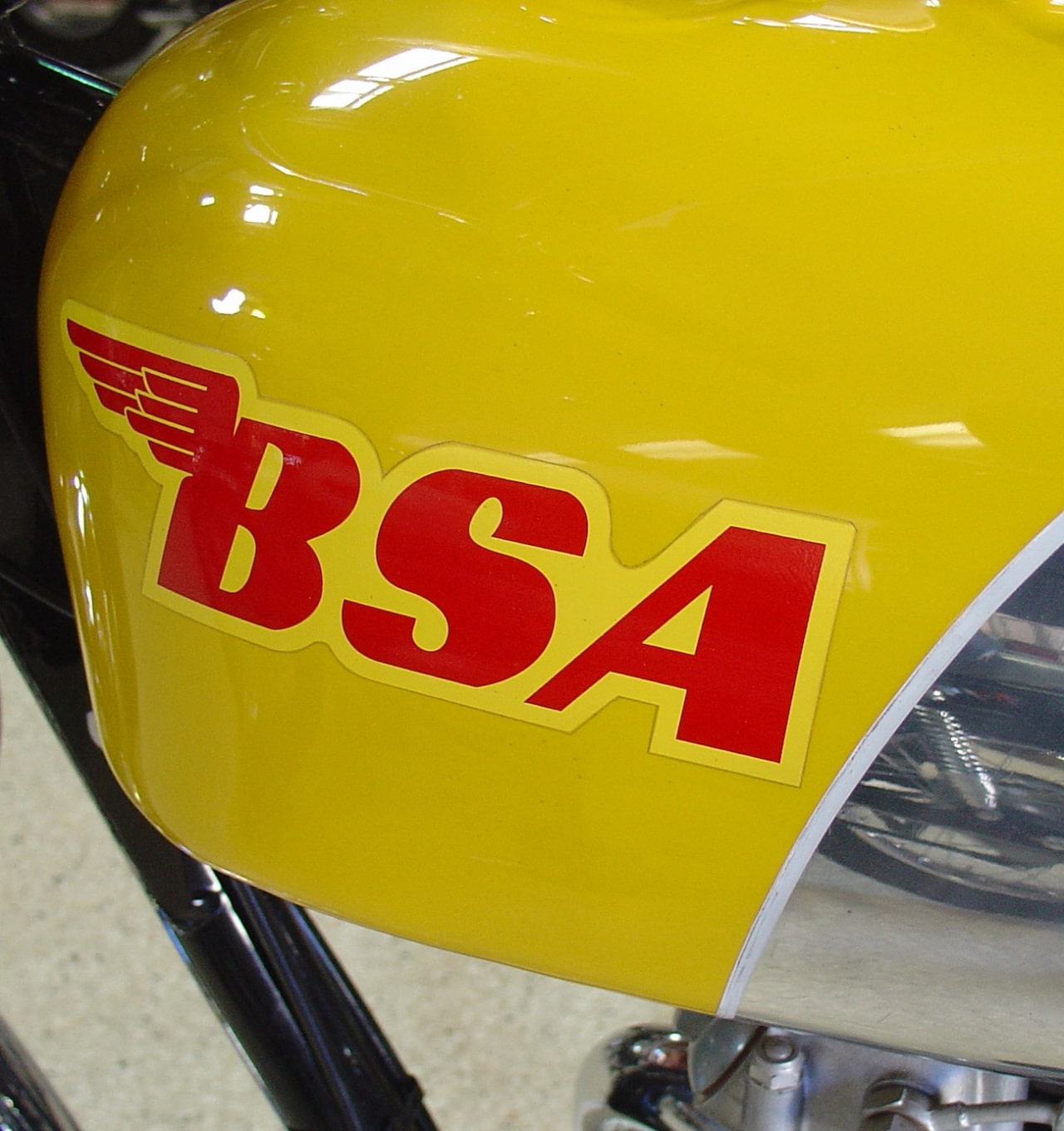 BSA—England.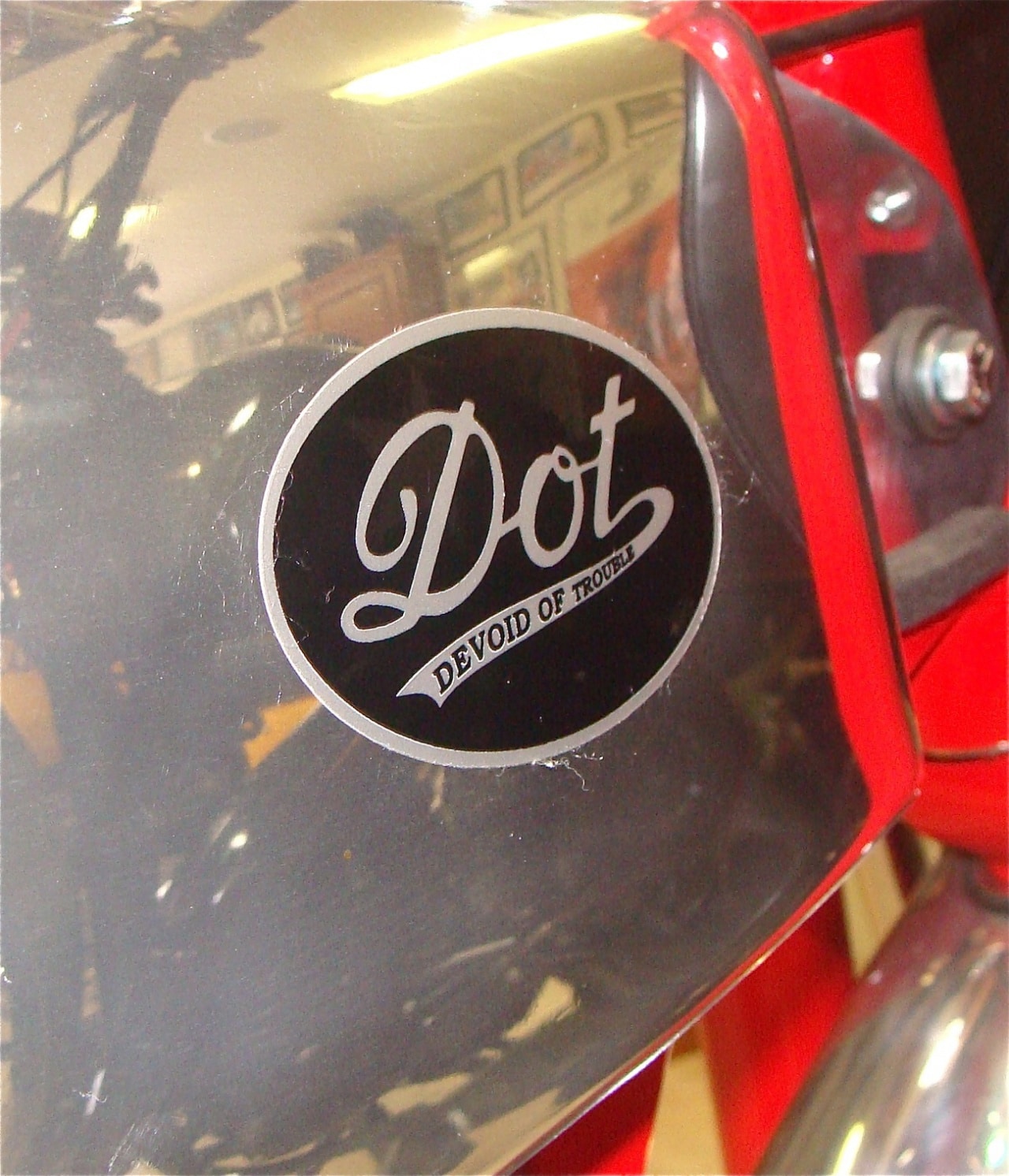 DOT—England.
ESO—Czechoslovakia.
Greeves—England.
Hodaka—Japan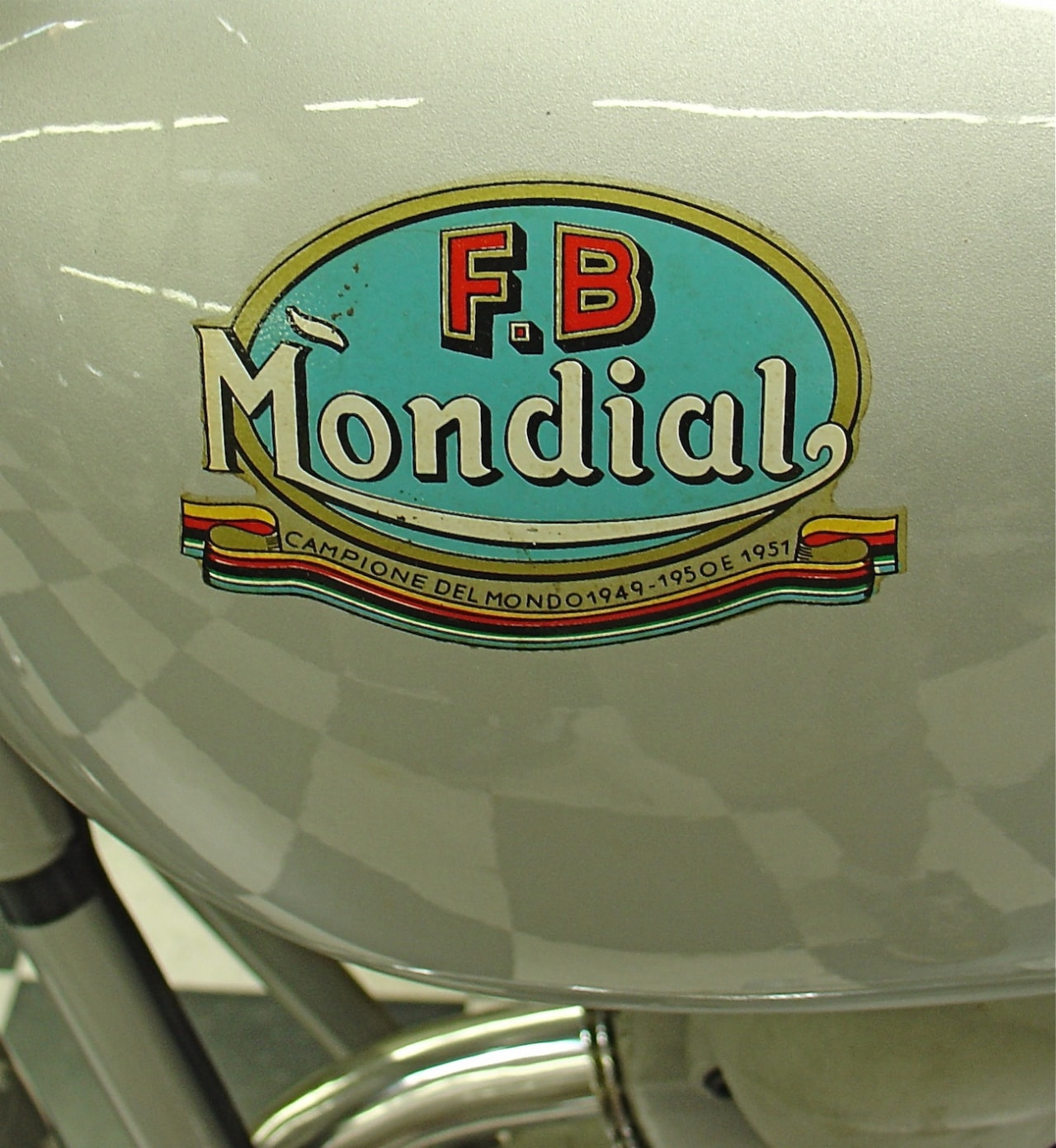 Mondial—Italy.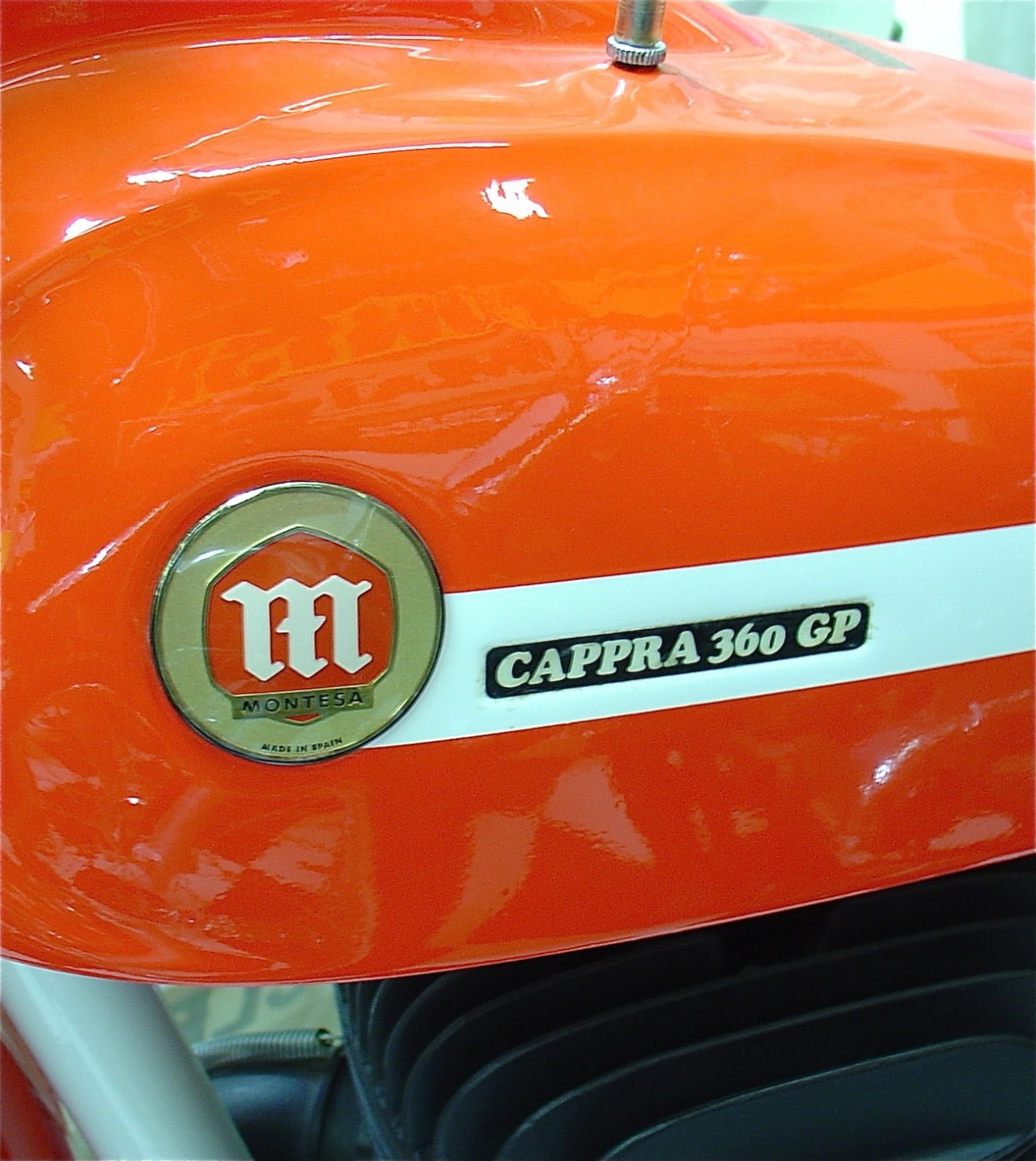 Montesa—Spain.
Puch—Austria.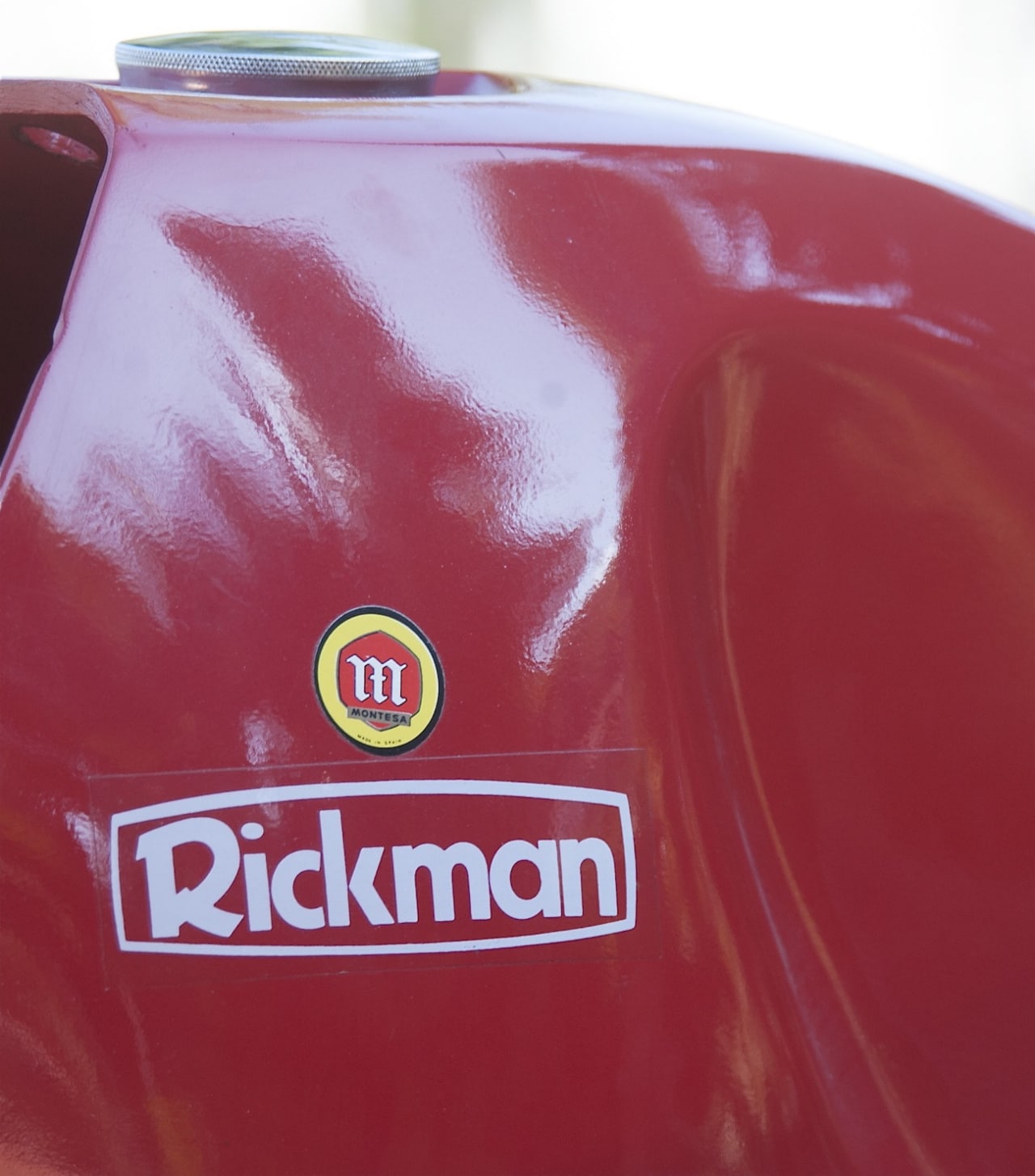 Rickman Montesa—England/Spain.
Triumph—England.
MXA TEAM TESTED: SCALVINI KTM 250SX/HUSKY TC250 CONE PIPE

Scalvini pipes are unique in that they are handmade cone pipes that hark back to the glory days of factory two-strokes. They are expertly welded in Italy by a team of experienced artisans. We ran the Scalvini cone pipe and silencer with 91-octane pump gas. The bike ran just as well as it did with the stock exhaust. We were pleased that no tuning was needed.
Cone pipes, like the Scalvini, are a rare breed in modern times. They are labor-intensive to make, as each of the steel segments must be cut, trimmed, rounded and welded together to create the desired shape of the expansion chamber. Scalvini saves some work by using a stamped head pipe for the first and most difficult section.
The 2017 Austrian 250 two-strokes are head over heels better than their predecessors. But, for some, the bike can be a handful. It hits hard in the middle, signs off fast and then falls on its face. The powerband needs to be more usable for mere mortals.
The Scalvini system is the best-looking system on the market. The Scalvini gave up some on the bottom but had a smooth transition into the mid with a strong pull all the way to the top. Over-rev was much better with the Scalvini than with the stock pipe. This helped lengthen the shift points from gear to gear, which made the bike easier to ride. This is not an overly fast pipe, but it gives the 250SX and TC250 power where they need it, making them easier to ride. Sometimes that is more important than sheer power.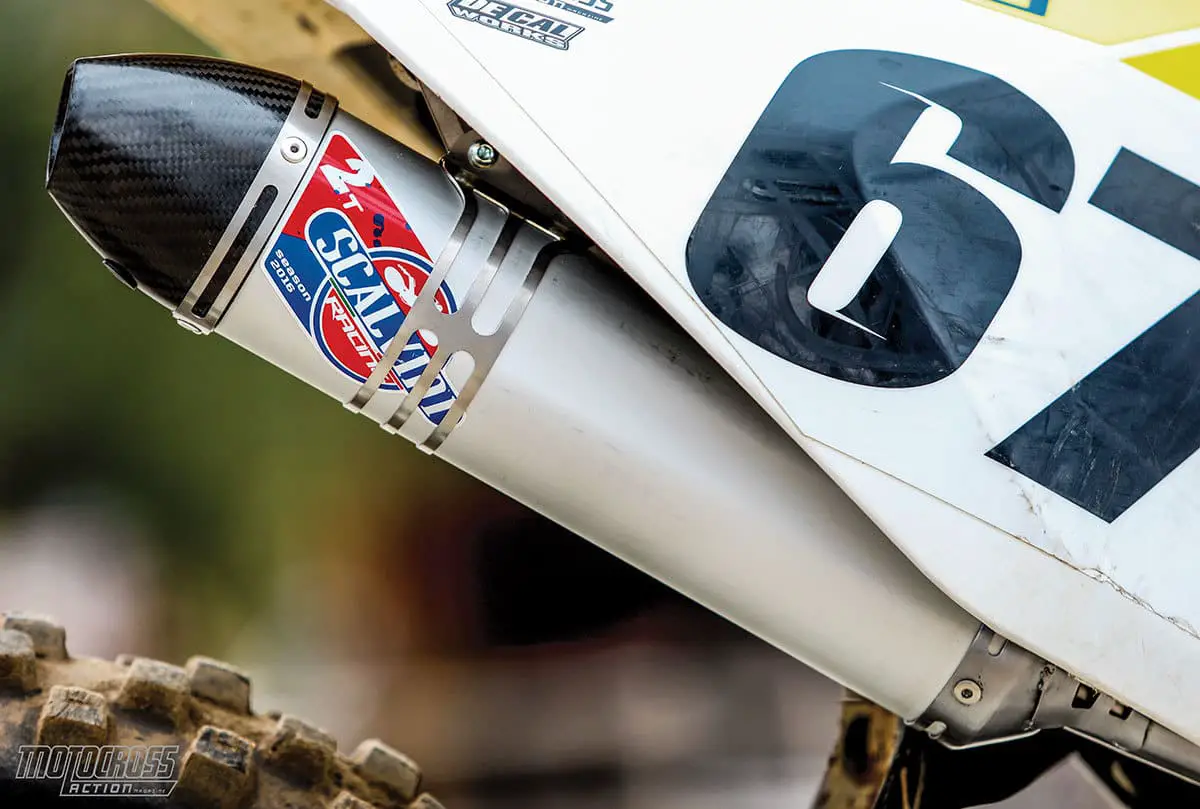 Scalvini also offers a full-carbon silencer for $72 more than the aluminum silencer, which is the one we tested. We suggest the aluminum silencer if you are looking for increased longevity. We have not had any issues with the Scalvini full-carbon silencer, but we almost always have issues with full-carbon fiber silencers in terms of durability.
DIGITS: $329.00 (cone pipe), $175.00 (aluminum silencer with carbon tip), $247.00 (full carbon fiber silencer)—www.scalvinipipes.com or (760) 949-0941.
MXA RATING: The Scalvini pipe is not the best-performing 250SX or TC250 pipe on the market, but there are times when usability trumps power. The Scalvini makes the Husky and KTM two-strokes easier to ride by adding more mid, top and over-rev.
THIS WEEK'S BIRTHDAY BOYS: THE SWINKSTER TURNS 46


Dec. 16…Brian Swink 1972
Dec. 16…Andy Harrington 1977
Dec. 16…Gordon Crockard 1978
Dec. 16…Cassidy Anderson

Dec. 17…Bill Nilsson 1932
Dec. 17…Danny Dobey



Dec. 17…Justin Buckelew 1981
Dec. 17…Barry Hawk 1972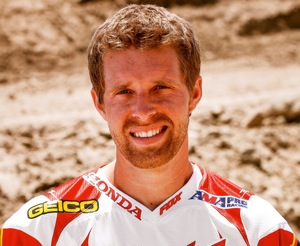 Dec. 17…Tommy Hahn 1985
Dec. 18…Gerrit Ordelman 1980

Dec. 18…Valentin Guillod 1992
Dec. 18…Tim Weigand 1978
Dec. 18…Kei Yamamoto 1991

Dec. 19… Austin Stroupe 1990
Dec. 20…Jesse Casillas 1984
3RD ANNUAL JESSY NELSON MOTOCROSS SCHOOL ON DEC. 14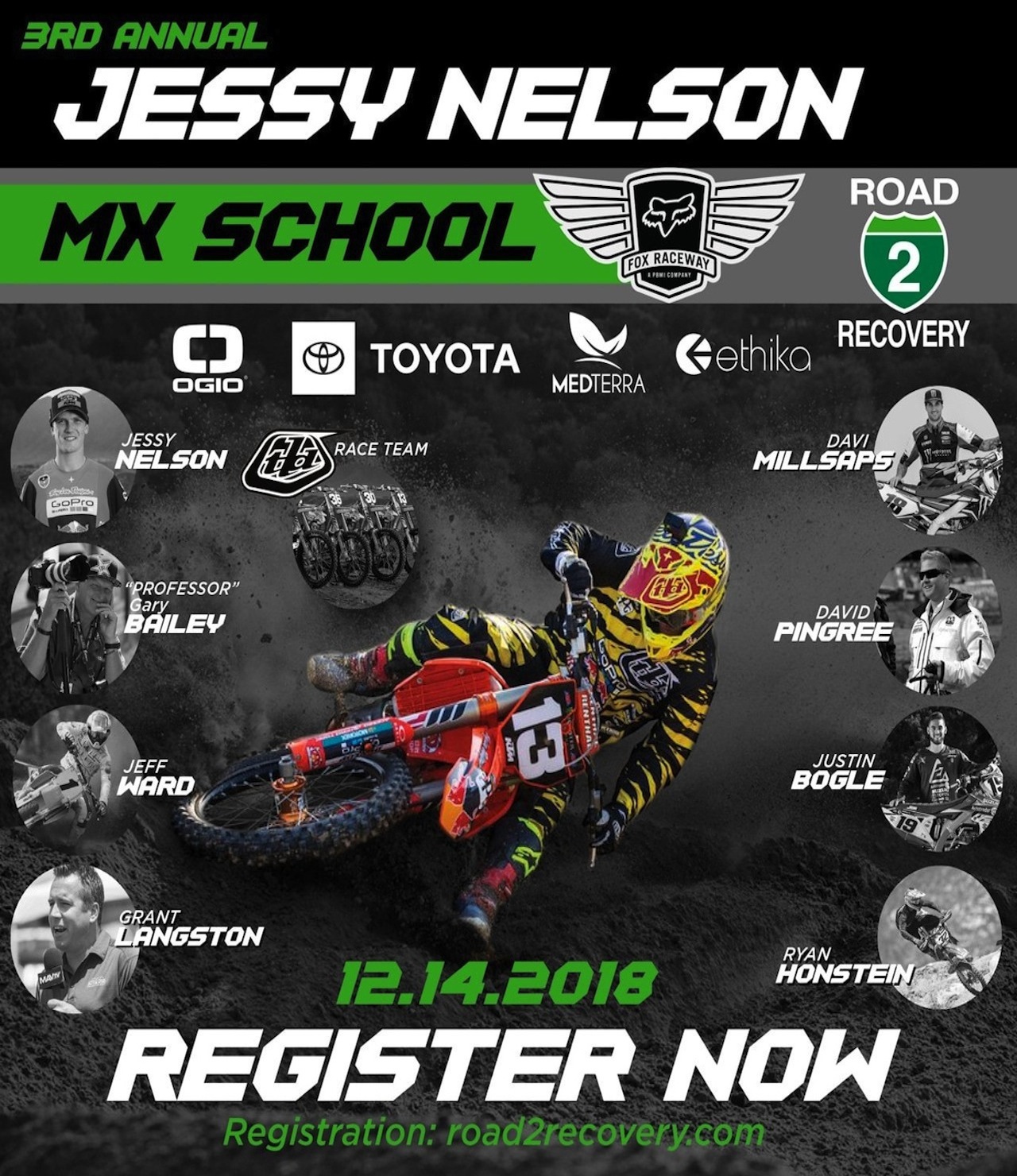 To register Click Here
REM WILL RACE AT GLEN HELEN ON DEC.15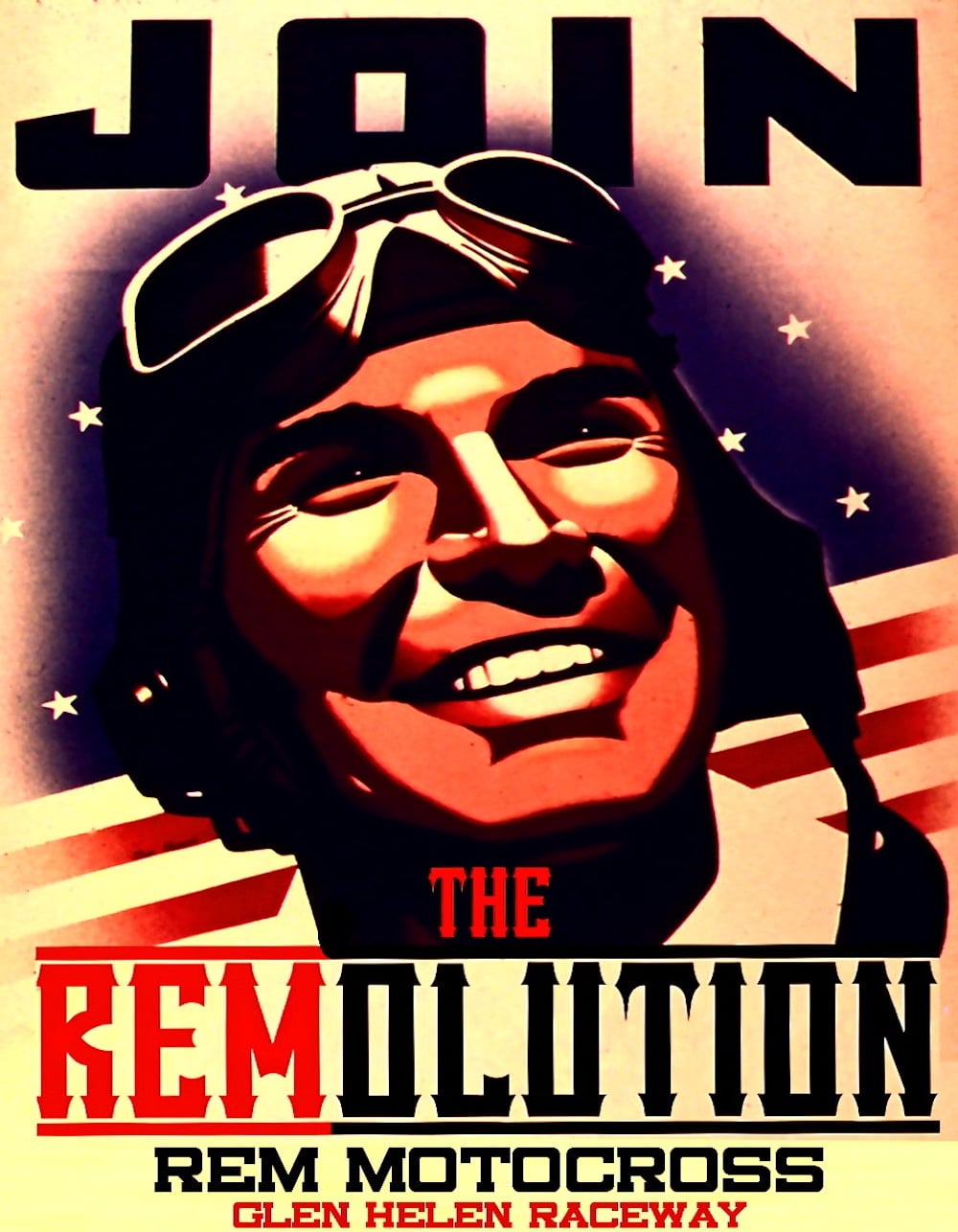 REM will hold four straight races in December starting on December 8 and running through Dec. 15, Dec. 22 and ending on December 29. For more info go to www.remsatmx.com.
OLD SCHOOL SCRAMBLES 2019 SEASON STARTS ON JAN. 12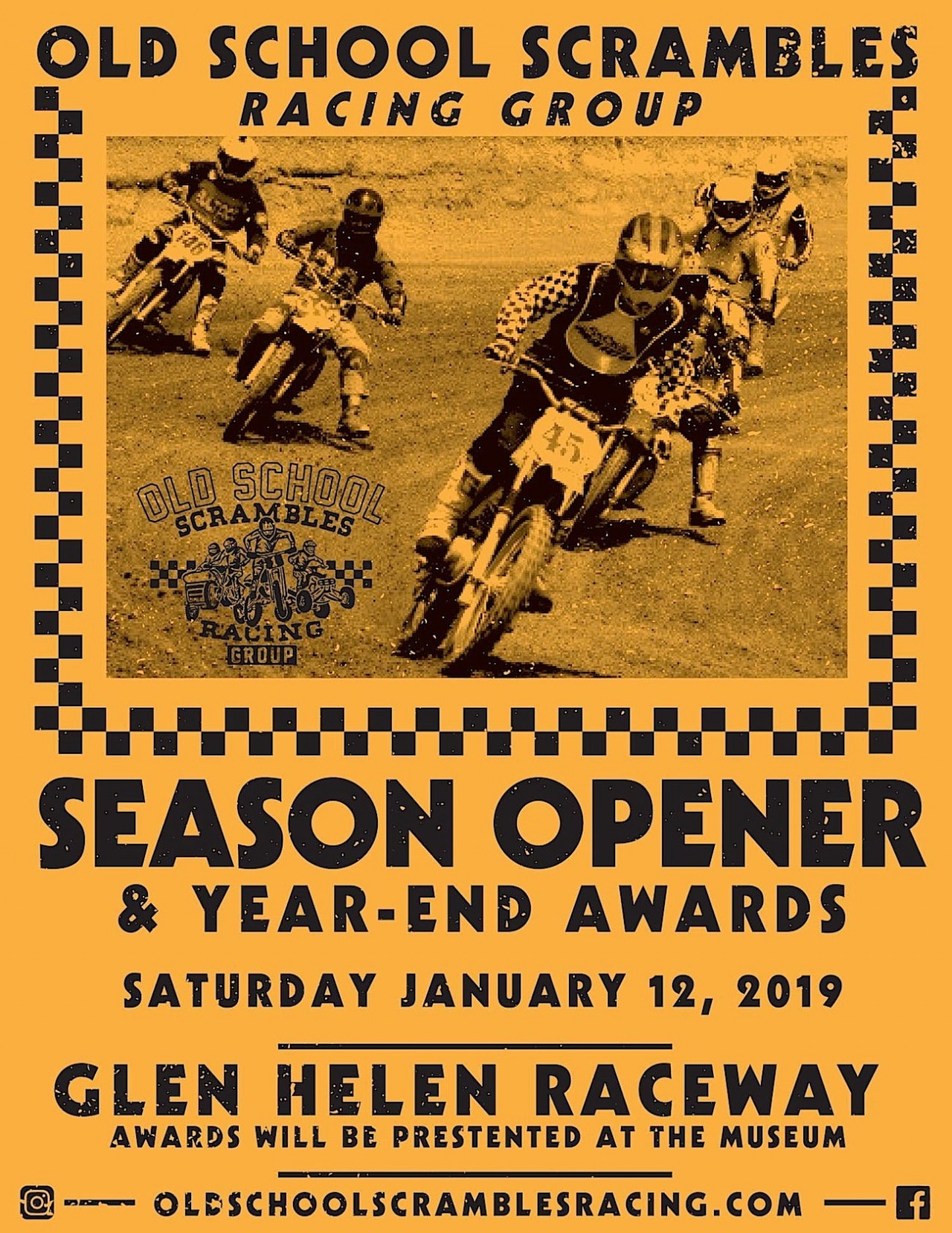 For more information go to www.oldschoolscramblesracing.com
MALCOLM SMITH'S "NO WIMPS IN BAJA" TOUR ON JAN. 27 TO FEB. 1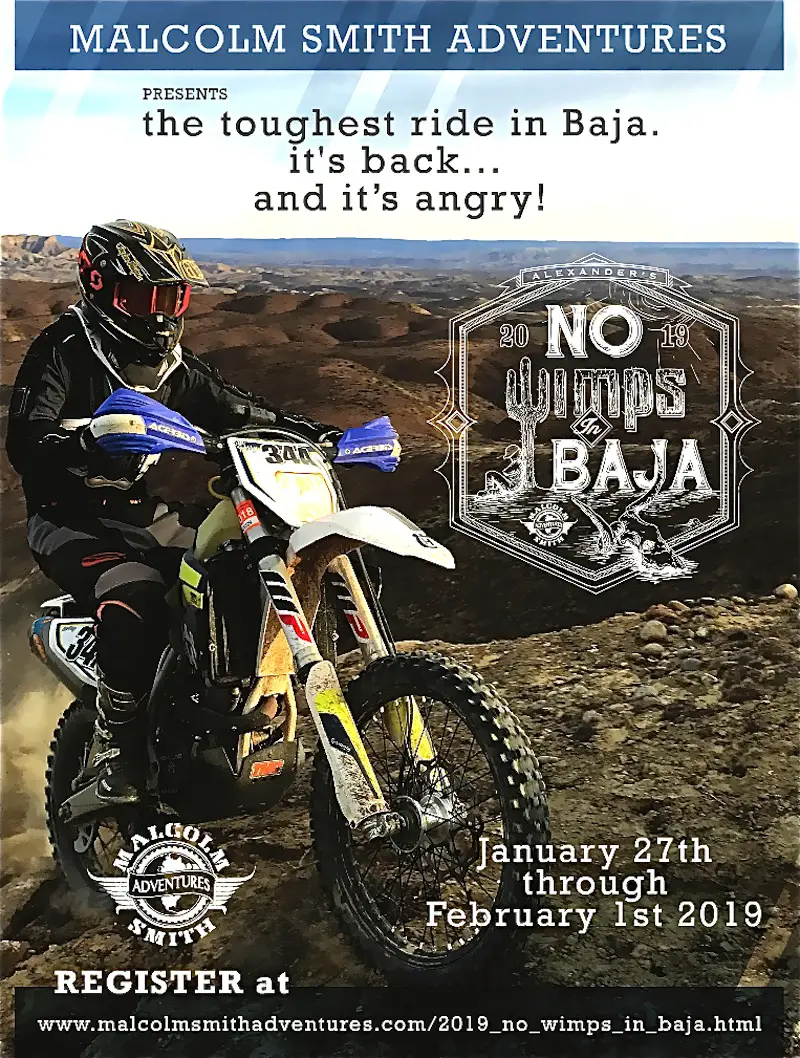 To register or get more info go to www.malcolmsmithadventures.com
28TH ANNUAL MECUMS VINTAGE MOTORCYCLE AUCTION IN LAS VEGAS ON JAN. 22-27, 2019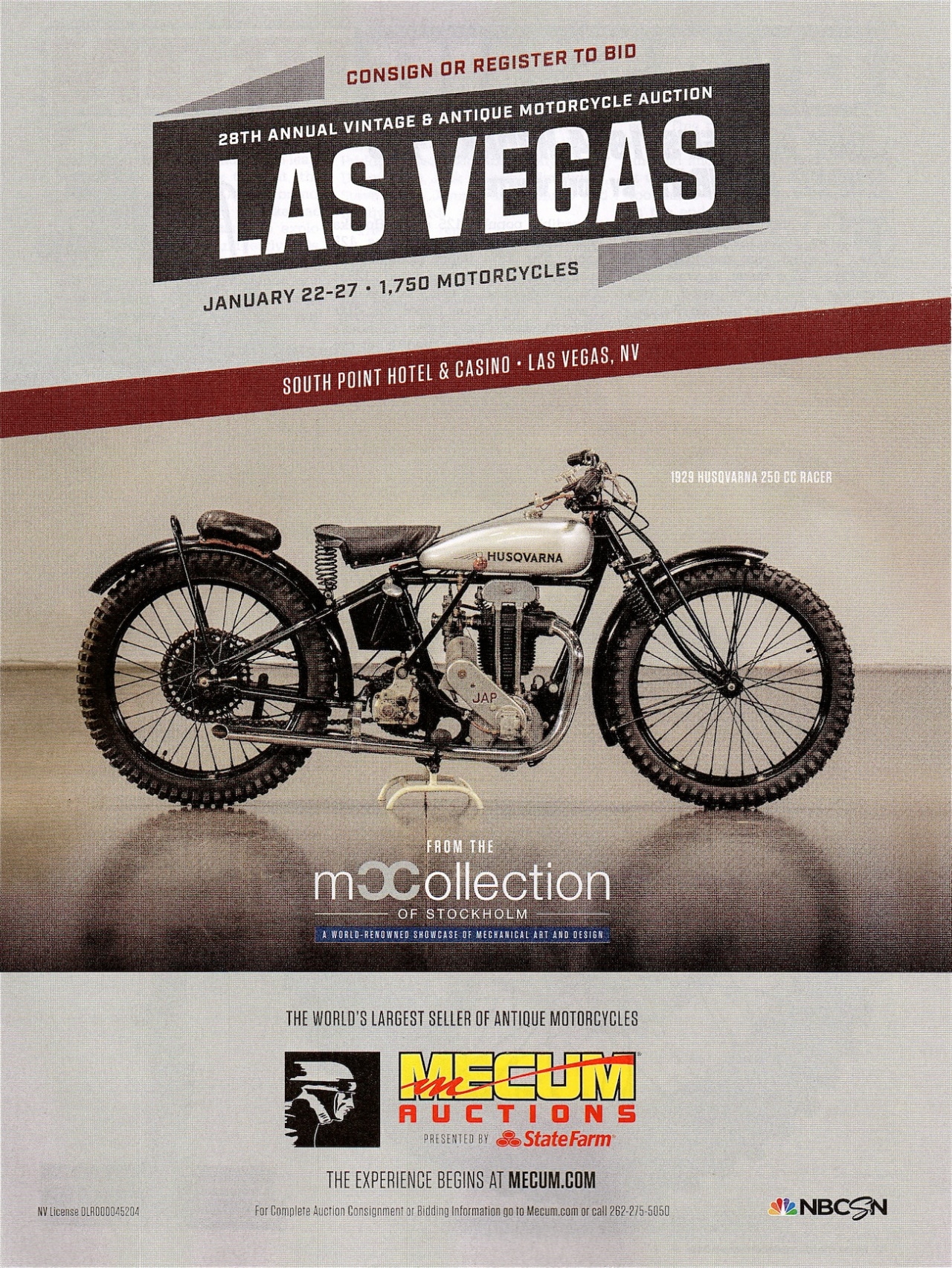 For more information go to www.mecum.com
JOIN MXA'S FLIPBOARD PAGE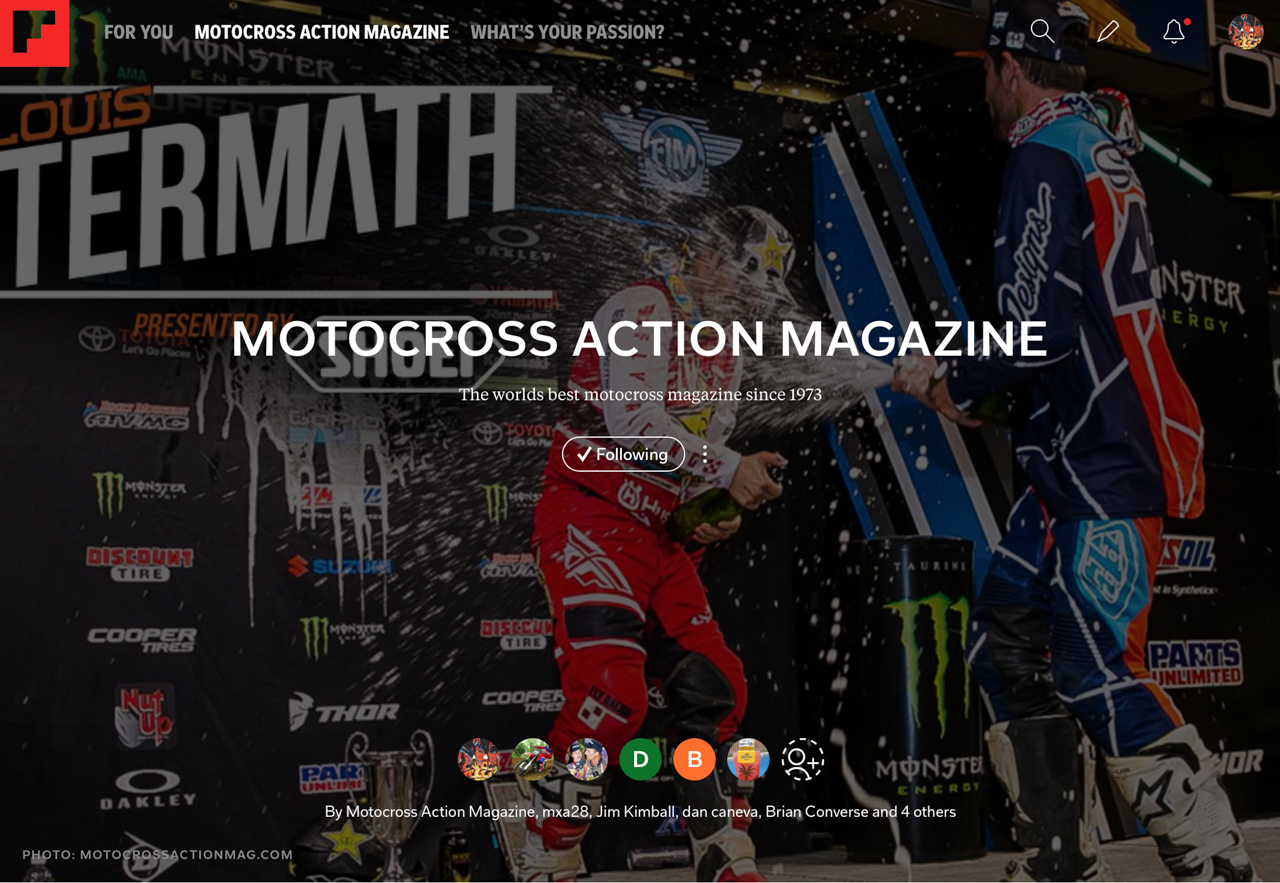 If you use Flipboard make sure to subscribe to the Motocross Action page for all the updates on our website. Click HERE to check out the page.
FOLLOW MXA ON TWITTER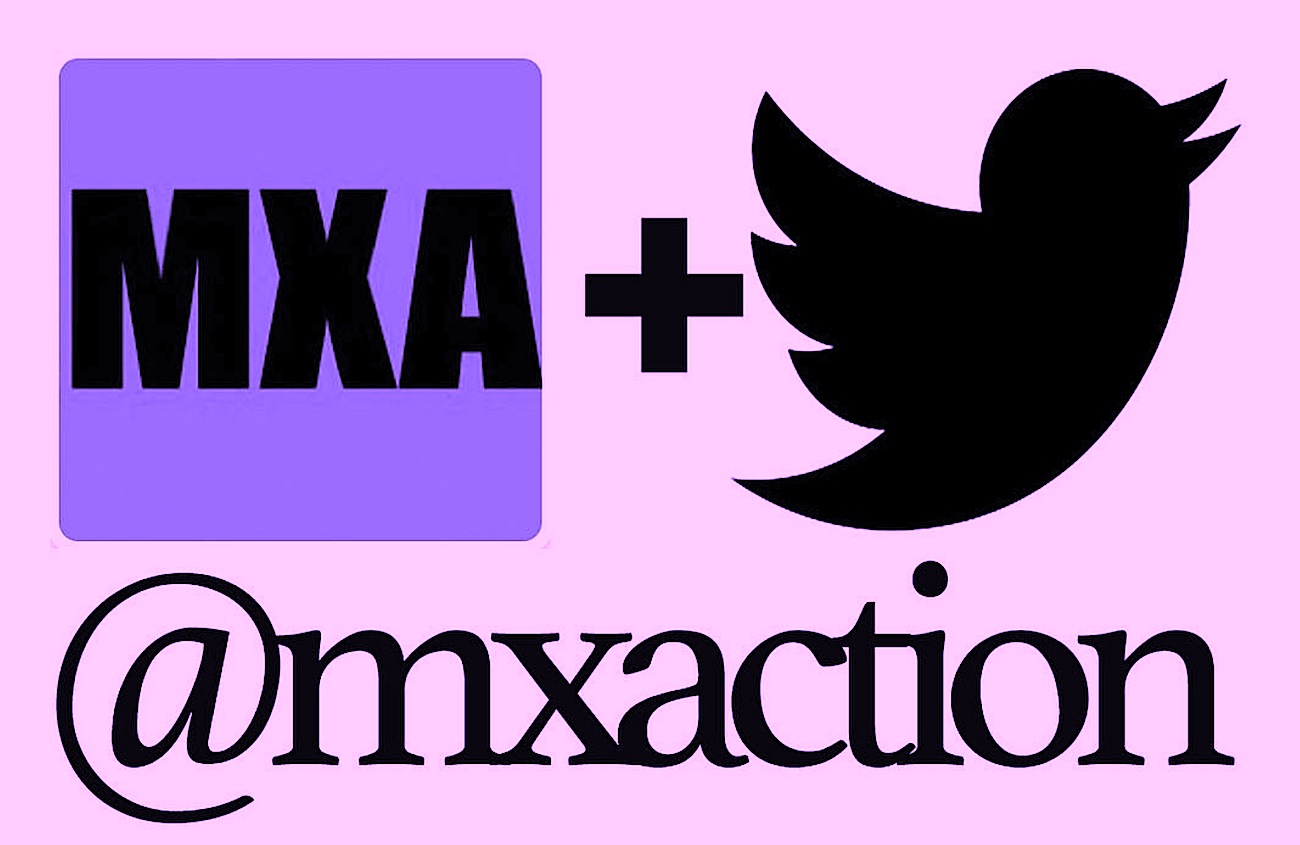 Follow us to see fresh content every day at www.twitter.com/MXAction or on twitter at "MXAction."
TALK MOTO WITH ON MXA'S FACEBOOK GROUP CHAT

We love everything moto and want to bring all moto junkies together into one place to share their two cents, ideas, photos, bike fixes, bike problems and much more. To check it out first you must need to or already have a Facebook account. If you don't, it isn't much work and you could even have an alias so nobody knows it is you. To join click HERE. After you request to join we will accept your request shortly after.
SUBSCRIBE TO MXA & GET A $25 CHAPARRAL GIFT CARD—YOU MAKE A PROFIT BY READING MXA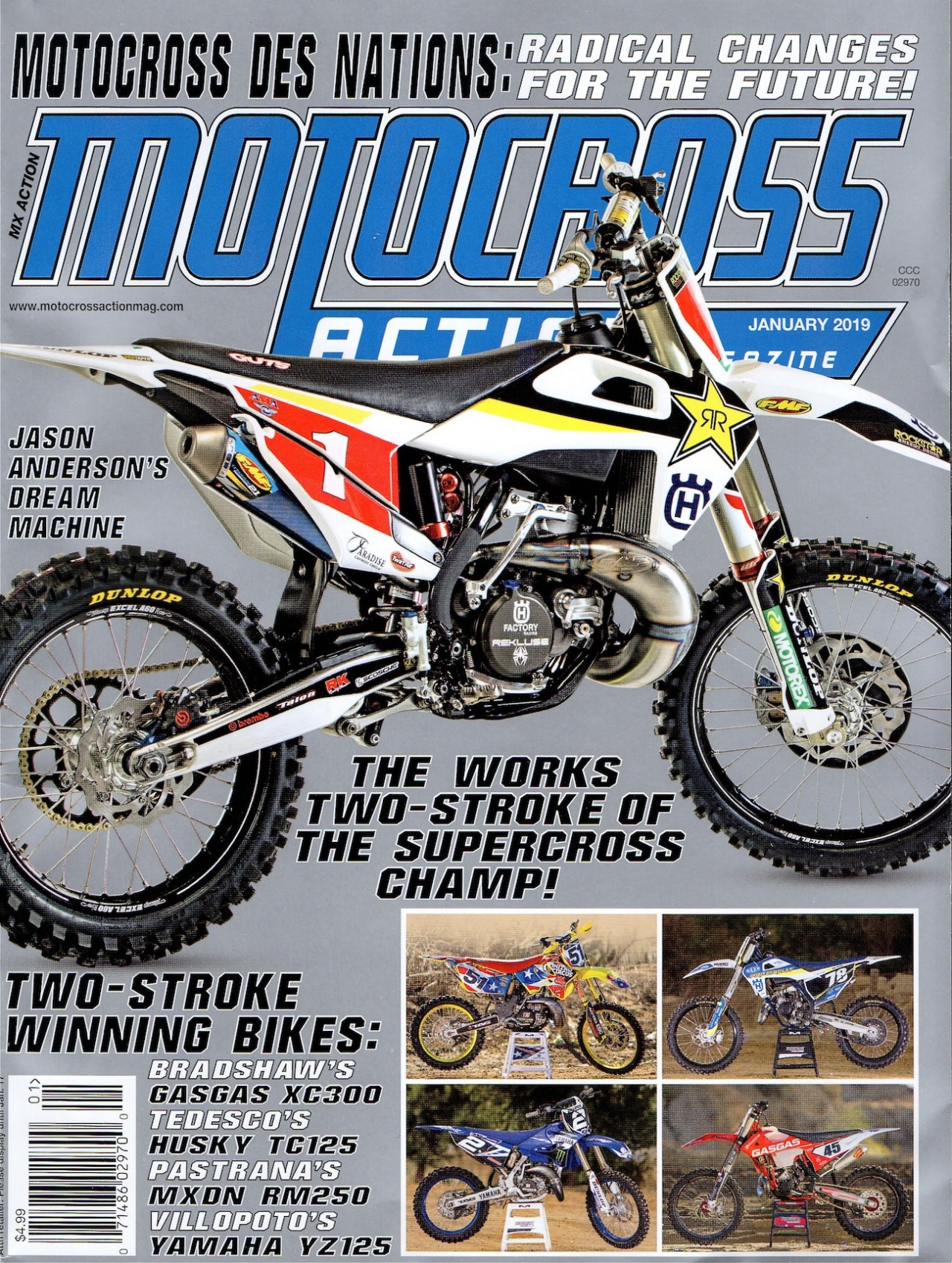 If you had subscribed to Motocross Action, the January 2019 issue of MXA would have already been in your mailbox, computer or iPhone.
It is jam-packed with bike tests, product reviews and moto-info. Not only do we test the works Husky TC250 two-stroke that Husqvarna built for Jason Anderson, but we also got Ryan Villopoto's, Ivan Tedesco's, Travis Pastrana's and Damon Bradhaw's current two-strokes—the bikes they are racing now, not back in their glory days. Plus much, much more.
Do you subscribe to MXA? You should. Especially during our Holiday susbscription sale. We know that you think that print magazines are dead and that the internet will fill the void, but most of the stuff in the current issue of MXA won't appear on the web for several months, if at all. Luckily, you can get all of MXA on your iPhone, iPad, Kindle or Android by going to the Apple Store, Amazon or Google Play or in a digital version. Even better you can subscribe to Motocross Action and get a $25 Chaparral gift card to spend on whatever motorcycle parts or products you need. You can call (800) 767-0345 or go to www.hi-torque.com/product/motocross-action-holiday or click on the box at the bottom of this page.
MXA AD OF THE WEEK: RS TAICHI GEAR

RS Taichi was a Japanese clothing brand that surfaced in the early 1990s with some high profile riders—not the least of which was Jean-Michel Bayle. It never caught on with the rank and file of local racers—evven though it was dustribted by JT Racing.
MXA'S SNAP CHAT FEED
If you are a Snap Chat user then add us to your stories. Get sneak peaks of everything moto. Our Snap Chat name is motocrossaction. Or just take a Snap of the picture above and it will add MXA automatically to your feed.
SAVE THE DATES! THE LAST 3 REM RACES OF 2018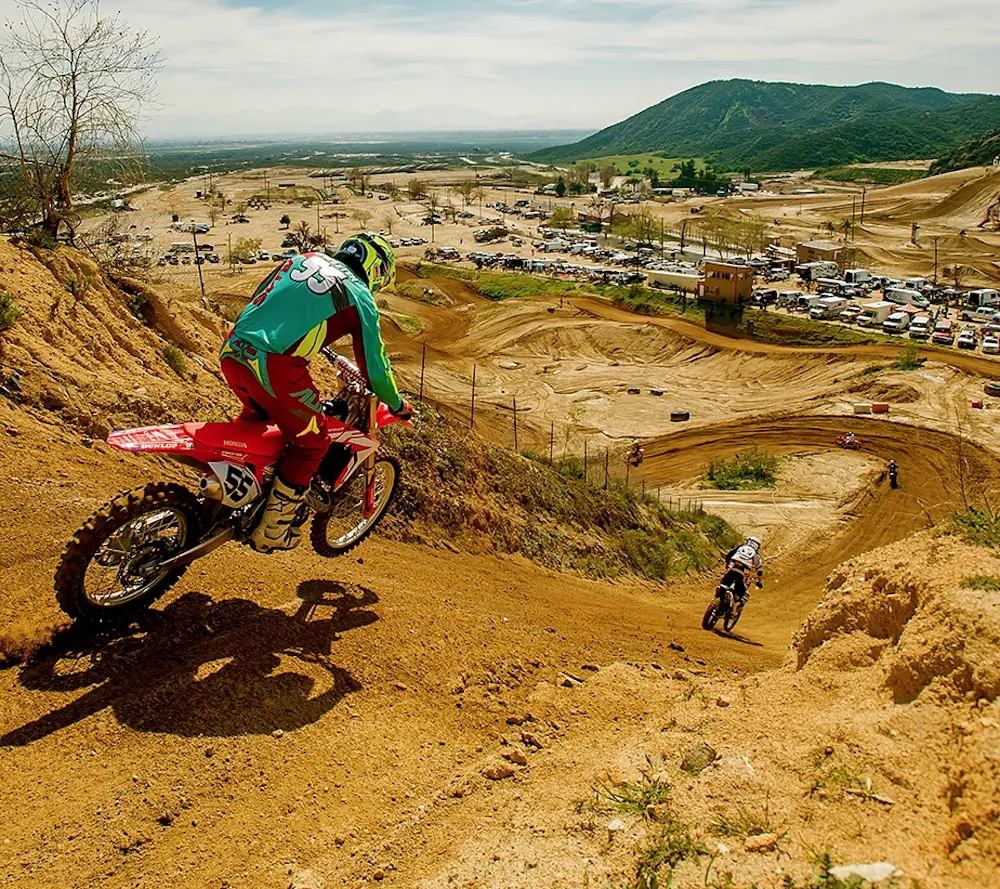 The REM racetrack is situated in an amphitheater with  a ridge of big hills on one side and the cliff-like REM pits on the other. Across the pits and down another cliff is the Glen Helen USGP track. In the upper center, the bleachers for the Lucas Oil Offroad Truck track are visible, while in the upper right, beyond the USGP track, are Pro Circuit's two Supercross test tracks.
2018 REM GLEN HELEN CHAMPIONSHIP
Dec. 15……………………Glen Helen, CA
Dec. 22……………………Glen Helen, CA
Dec. 29…………..…….…Glen Helen, CA
For more info go to www.remsatmx.com
MXA'S FIRST RIDE VIDEO: 2019 YAMAHA YZ250 TWO-STROKE
IN THE KNOW: 2019 MXA 450 SHOOTOUT VIDEO
Photos: Debbi Tamietti, Jon Ortner, Ketchup Cox, Brian Converse, Jody Weisel, Travis Fant, Daryl Ecklund, MXA, MXGP