TALON HAWKINS INTERVIEW: RESULTS MATTER, THEY ARE 90% OF YOUR CAREER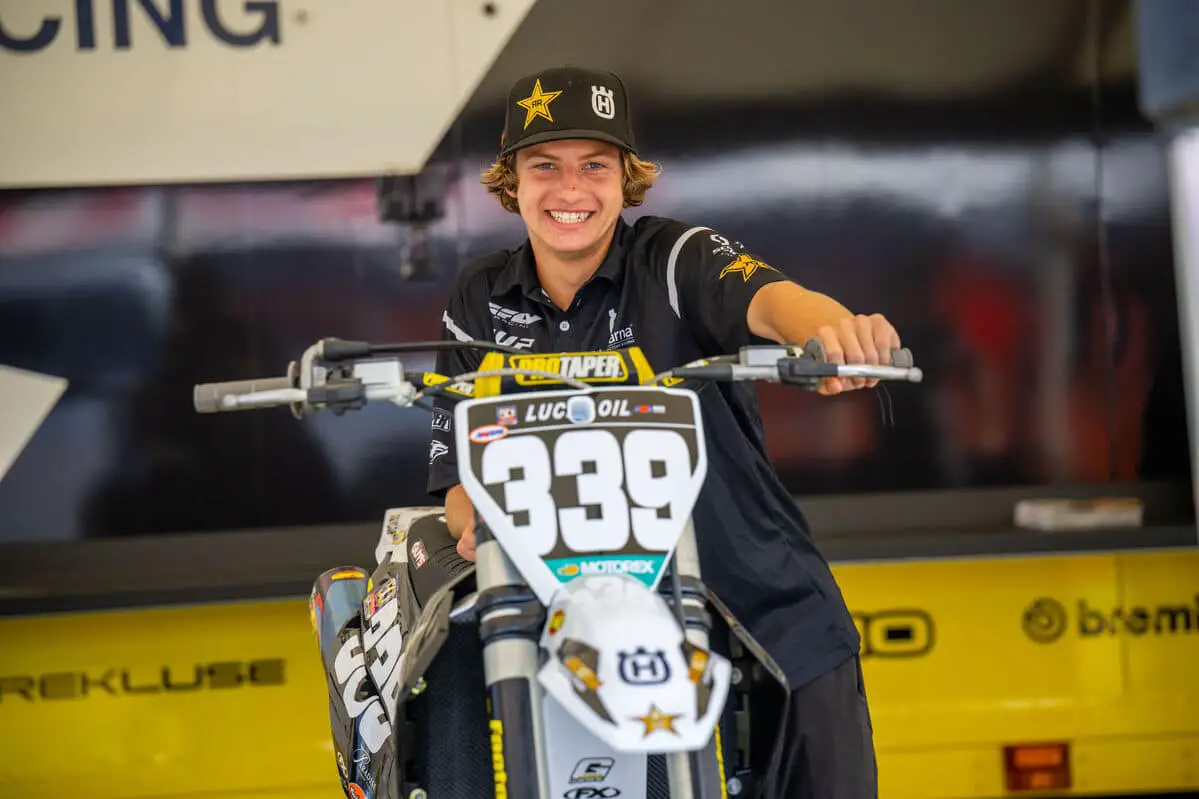 TALON HAWKINS INTERVIEW: RESULTS MATTER, THEY ARE 90% OF YOUR CAREER
One of the best parts of the motocross season is watching the new rookies make their pro debut later in the series. I first met Rockstar Husqvarna amateur Talon Hawkins when he raced the moto combine race. Although the 18-year-old had a crash, he nonetheless plugged away. Later at the Millville national, where Hawkins would finish nineteenth overall, I had a chance to get some insight into the well-spoken California native.
BY JIM KIMBALL
---
TALON, LET'S BEGIN WITH A LITTLE HISTORY OF YOUR AMATEUR RACING. Back in November, I was able to walk away with the Mini-O's 250 Pro Support Supercross Division Championship. But I ended up tearing my ACL going into the motocross portion of it. I had a big high, and a little low there. My first big race back from my ACL injury was Mammoth Mountain. I was able to walk away with a third overall in the 250 Pro Sport. This team (Rockstar Husqvarna) has helped me so much. The guys have helped me so immensely with the bikes and everything. 
HOW DID YOU FEEL ABOUT THE RECENT RED BUD MOTO COMBINE? I had a rough day, but there is good to take out of it. There are a lot of ups and downs in this sport, and it is how you bounce back from them that really shows how you can move on from things. It is a big part of the sport. I did not have the best day at Red Bud, but I have a lot of positives to take from it. 
Talon would break into the top 20 at Millville for his first Pro National.
LET'S HEAR MORE ABOUT RED BUD. I had a big slide out over the finish line. Turns out I had a flat tire, which contributed to that. In the crash my shift lever broke, so I had to do a "Ryan Dungey" and shift with my hand. It was a mess of a race, but prior to that, I was in second. 
DID YOU DO ANY PREVIOUS MOTO COMBINES? Yes, I did the Moto combine at Pala Raceway last year. That was the first one I ever did and again it the same thing as Red Bud; I did not have the best of luck. I just did not ride the way that I know I can, but I was able to bounce back and keep riding. I just keep training hard and do my best everywhere I go.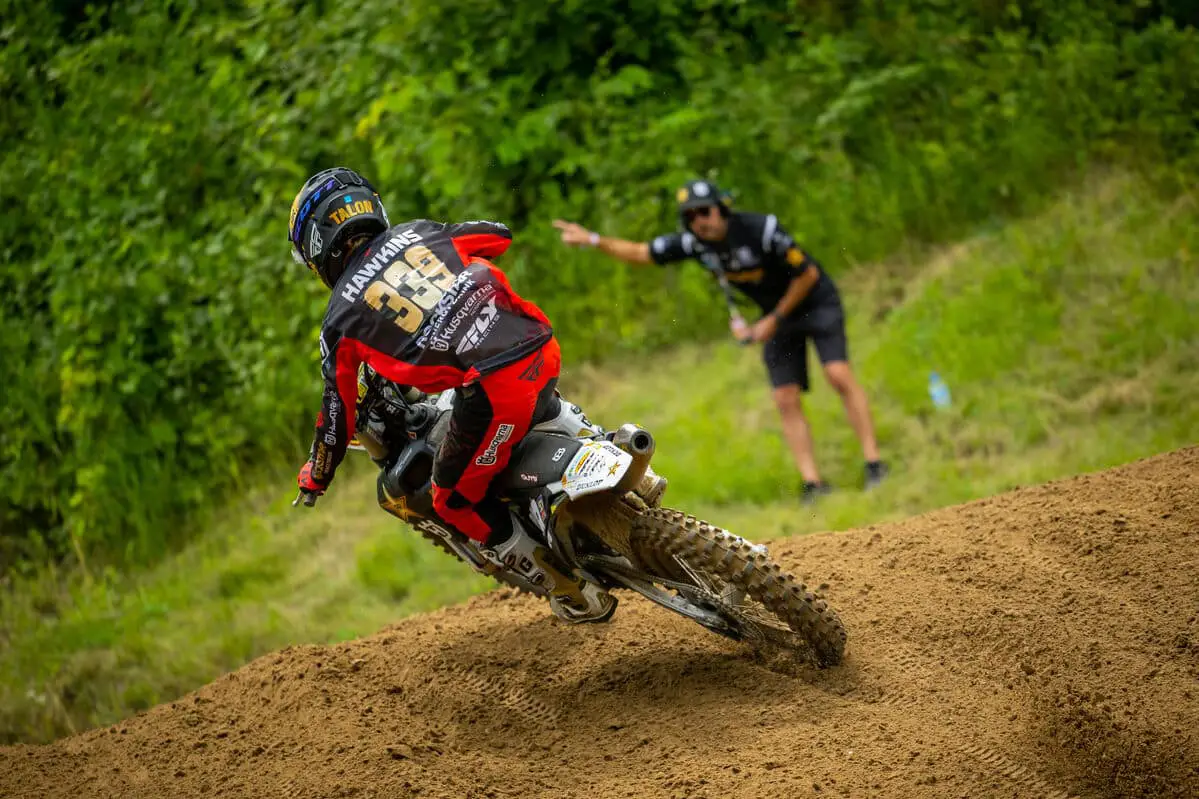 MOTO COMBINE IS I NOT GOING TO MAKE OR BREAK YOUR CAREER MOVING FORWARD. Well, results matter, they are pretty much 90% of your career and is what determines if you are going to have a career or not. There is also the part of it that shows how you bounce back from stuff. If you keep training hard, keep your head down, or if you lose and give up, you have lost the battle. You must stay positive, just bounce back, take everything with a grain of salt and learn from your mistakes.
YOU HAVE THE OPPORTUNITY TO TRAIN WITH ALSON BAKER, RIGHT? Aldon Baker has really taken me under his wing, and I am so stoked that the Rockstar Husqvarna Team set that up.  It is an insane opportunity that not many people get to experience, so I am trying to take hold of it, make the most of it, and try my hardest every single day I am there. Every day that I show up, I don't cut corners. There is no cutting corners in this sport. If you don't do that one bicycle training ride, it reflects on yourself. You don't feel confident. Say that you go and do bad at a race, you are going to blame it on that one bike ride you did not do. It is about putting in the work to get the results later.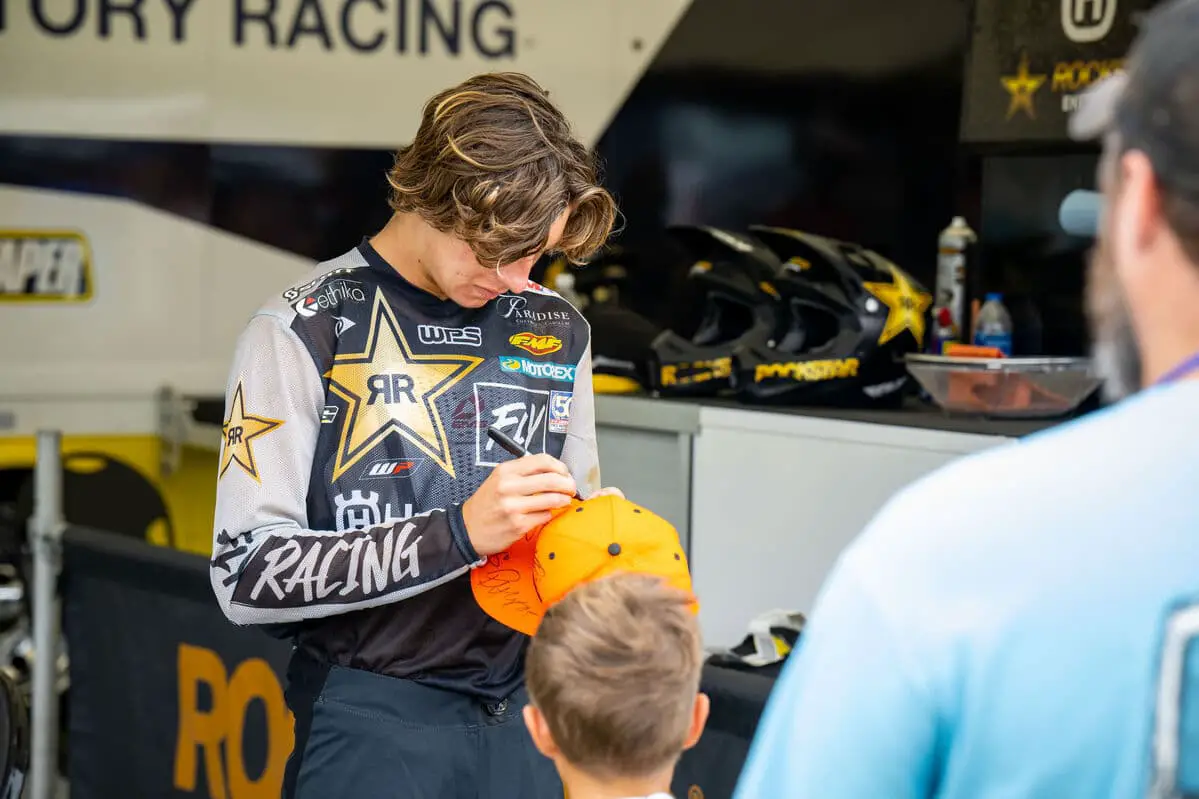 Talon is popular amongst the moto community as he has had an exceptional amateur career. 
TEAM MANAGER NATHAN RAMSEY SEEMS LIKE THE IDEAL PERSON TO GUIDE YOU. Over the past few years, I have gotten to know Nate well. He has been a big supporter of mine and I cannot thank him enough for giving me the opportunity to ride for the team. He has given me so many pointers. Even before I was on the team, he has been such an amazing guy and I would not be here without him. So, I have to give my praise to him. He is a super good man.  
TELL US ABOUT YOUR PRO DEBUT AT MILLVILLE. I had so much fun out there. I am so stoked that the Rockstar Husqvarna Team gave me this opportunity! I was lined up with many of the great 250 riders, and it is a very stacked class.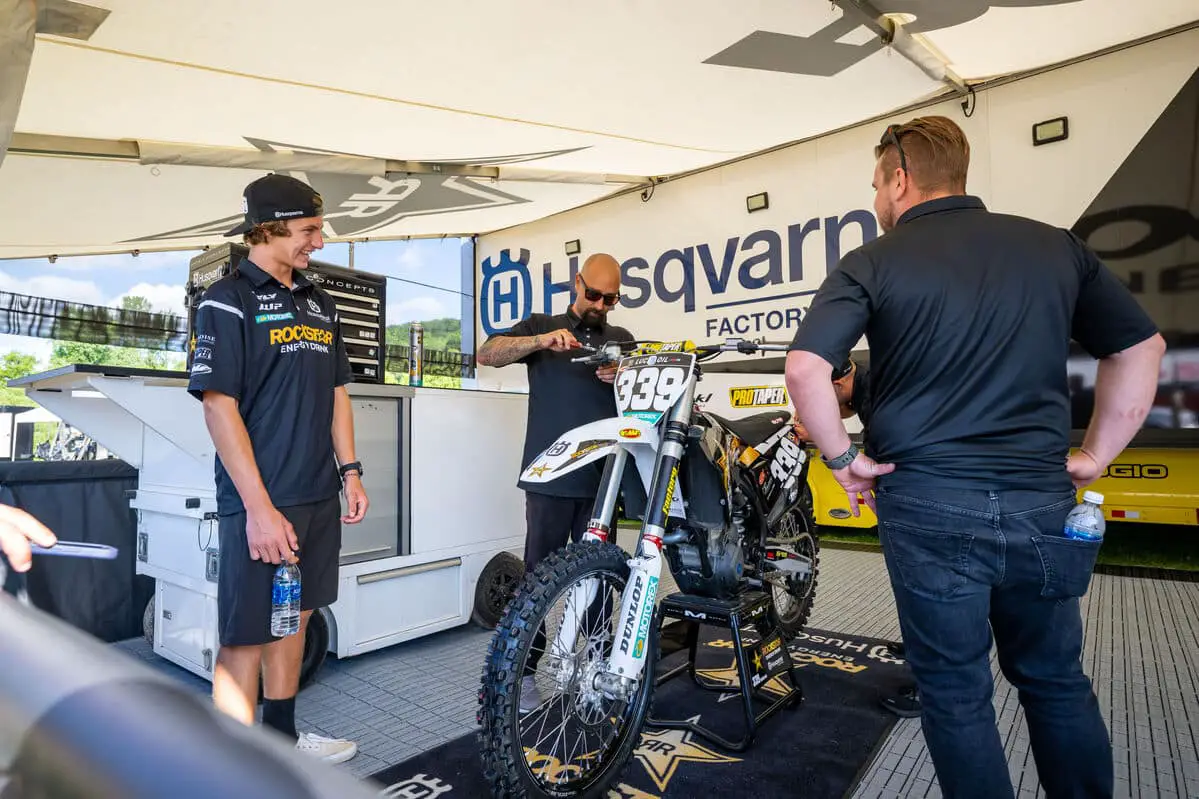 Similar to a handful of amateurs like Ryder DiFrancesco, Talon is still be racing at Loretta's despite racing an AMA National already. 
BUT AFTER YOU PRO DEBUT, YOU RETURNED TO THE LORETTA LYNN'S AMATEUR NATIONAL. WHEN WILL YOU GO FULL-TIME PRO? It's all up in the air right now. It depends on how well Loretta's goes. We will decide after that. But I am hoping to do some of the AMA Nationals coming up. I will hopefully be with the team, transfer over to the Pro side, and be full-time when I am ready.  There is no set-in-stone deal right now. I don't want to rush into pros when I am not ready. I am going to train my butt off out of Baker's Factory and go Pro when I am ready.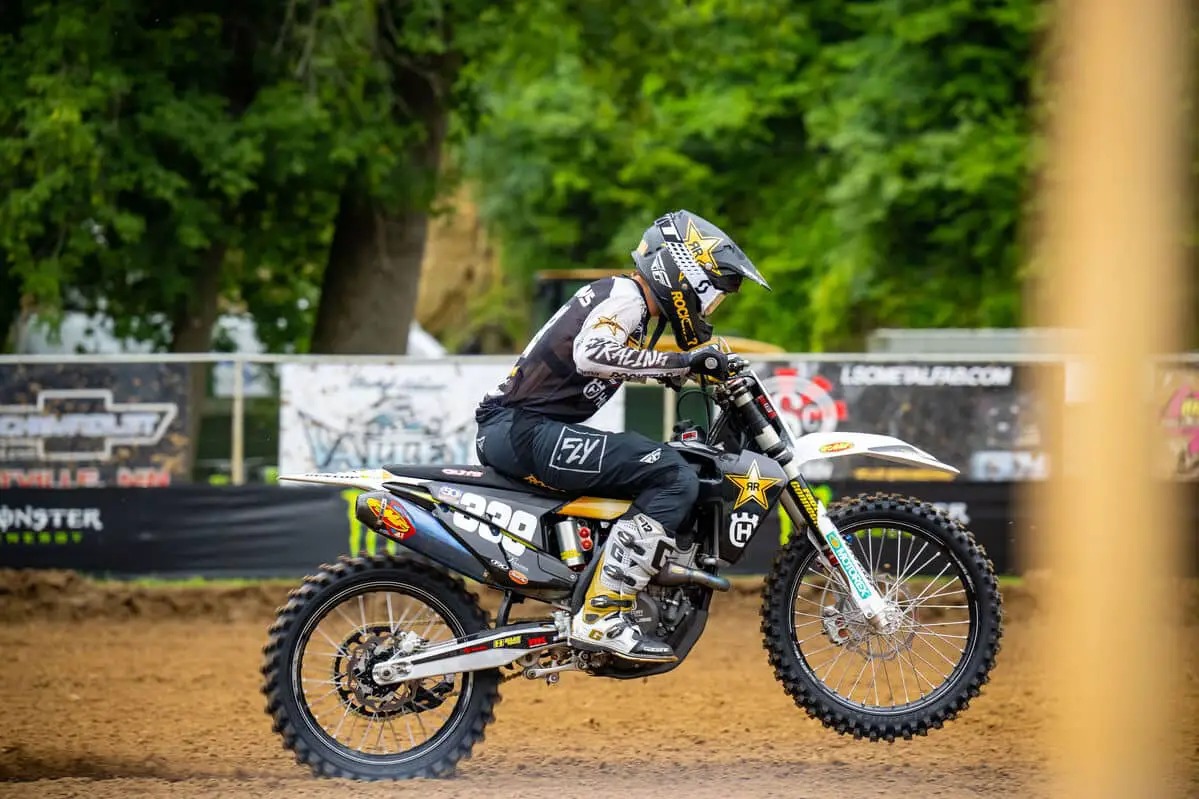 We hope that Talon and many of the other younger riders showcase their skill at the upcoming motos at Loretta's.
ANY FINAL THOUGHTS?  IT SEEMS LIKE YOU HAVE A GREAT MINDSET. Thank you, I appreciate that. We are going to get back to work and do what I can do at Loretta's. I'm not going slack off at all. I want to just make the most of these years. Not many people get the opportunity that I have been given to race at a level like this on a team like this. .