TEN THINGS ABOUT GUILT-FREE FAST FOOD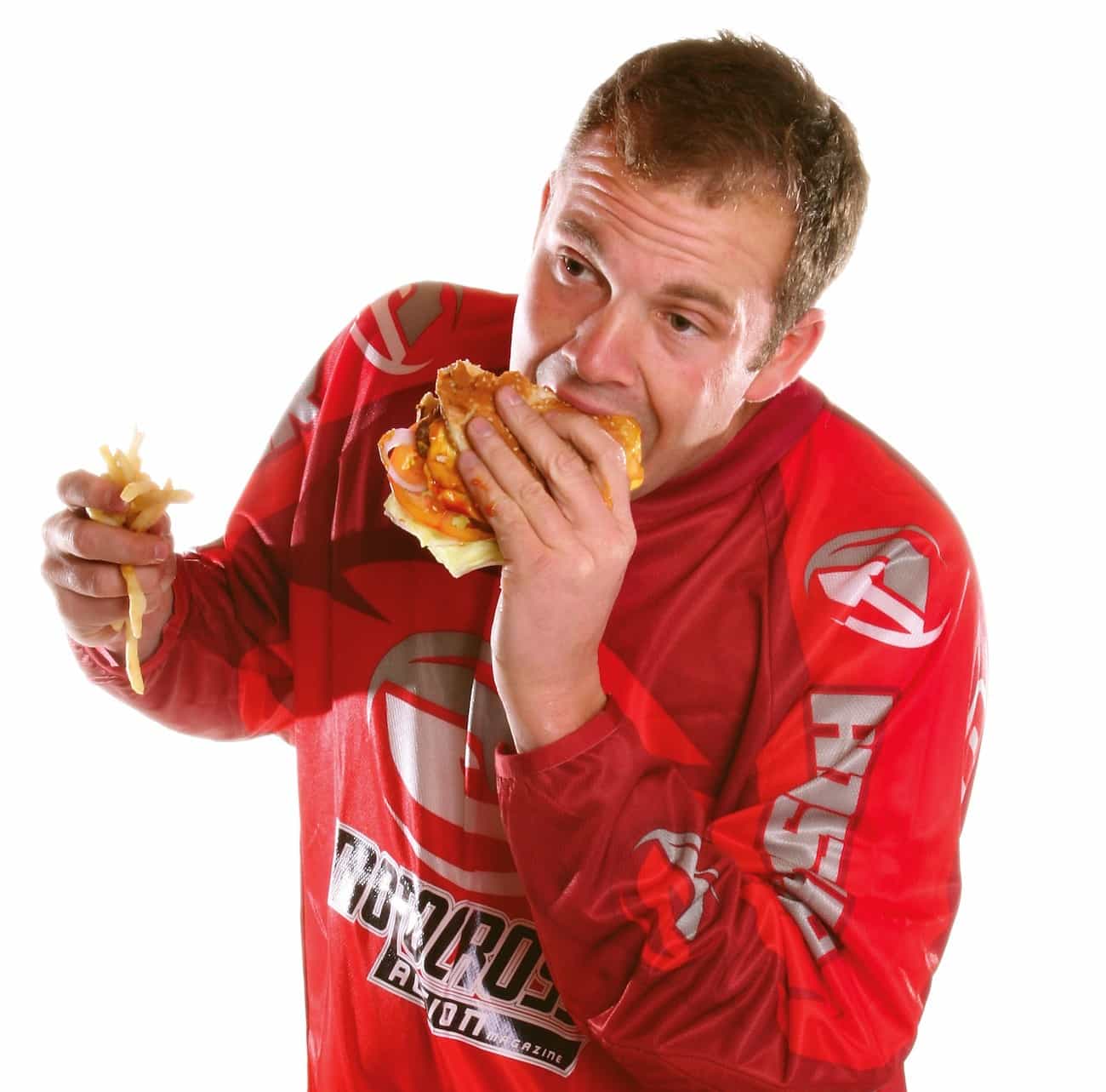 (1) McDonalds. Many items on the McDonalds' menu are less than healthy, but there are also items that can help you lose inches off your waist line. A Double Quarter Pounder with cheese meal (with fries and a drink) totals over 1300 calories, 60 grams of fat and a staggering 2000mg of sodium. On the healthier side, you can order the Grilled Chicken Sandwich or Southwest Salad with apple slices . Both choices have under 400 calories—skip the fires and Coke.
(2) Jamba Juice. Jamba Juice is a popular spot for people in gym clothes. Why? After a workout, many people want to refresh themselves with something healthy. What they don't know is that they might need another hour on the treadmill to justify the sugar content in many Jamba juices. For example, a 28-ounce peanut butter smoothie can have over 100 grams of sugar and carbs (with up to 910 calories per smoothie). Most of Jamba Juice's most popular smoothies are the biggest culprits. Next time, go for a Strawberry Whirl smoothie. It has 210 calories and 45 grams of sugar..
(3) Carl's Jr. Don't let the commercials with the skinny girl eating a Carl's Jr. Bacon Thickburger fool you. This burger alone is packed with over 1250 calories, 88 grams of fat and 2290mg of sodium. The amount of fat in this burger is way over your daily intake limit. According to the Food & Drug administration, a healthy adult's fat grams per day should not exceed 65. Daily calories should not exceed 2000, and sodium should not exceed 2400mg. There are better alternatives, like the Charbroiled BBQ chicken sandwich and the Charbroiled Chicken salad—both under 400 calories and 12 grams of fat.
(4) Subway. Did Jared Fogle, the former spokesman for Subway, really lose 245 pounds eating over 700 sub sandwiches in less than a year? Yes, and this amazing story made Subway the brand name it is today. But what did Jared order from the menu to shrink his waistline? Not the Meatball Marinara or Spicy Italian sandwiches. They have over 480 calories, 20 grams of fat and 900mg of sodium. And those numbers are for the 6-inch subs' without condiments or cheese — if you get a foot long and then double those numbers. Jared lost his weight by eating 6-inch Veggie Delights and Turkey Breast sandwiches with no added condiments or cheese.
(5) Chick-Fil-A. Chick-Fil-A makes deciphering the good and bad food rather easy, as they only serve chicken. If you order a fried chicken sandwich meal, you can get upwards of over 1200 calories, 50 grams of fat and 2000mg of sodium. Stay away from the fried menu and soft drinks and order the Grilled Market salad and Grilled Chicken sandwich. They are under 320 calories and 5 grams of fat.
At Wendy's, Dave's Triple burger contains 1070 calories, 72 grams of fat and 1930 milligrams of sodium.
(6) Wendy's. The menu at Wendy's can either put you on the fast track to bigger pants or help you get that summer body. Dave's triple burger has 1070 calories, 72 grams of fat and 1930mg of sodium. On the other hand, Wendy's offers apple slices, chili, chicken sandwiches and salads. Their baked potato with cheese has 320 calories, 2.5 grams of fat and 35mg of sodium.
(7) Burger King. The biggest culprit on the Burger King menu is the Double Whopper totaling 1140 calories, 75 grams of fat and 1120mg of sodium. Breakfast is the most important meal of the day, so start it off right. Order Burger King's Quaker oatmeal at 140 calories, 4 grams of fat and 100mg of sodium or the Croissan'wich egg and cheese sandwich at 320 calories.
(8) Arby's. The Arby's menu has a Market Fresh selection that contains salads, sandwiches and wraps. Everything on the Market Fresh menu looks healthier than what's on the regular menu, but it isn't. The Market Fresh Roast Turkey Ranch and Bacon sandwich has more calories than anything else on the entire menu—with 800 calories, 34 grams of fat and 2420 mg of sodium. We advise sticking to the salads and plain roast beef sandwiches.
(9) El Pollo Loco. El Pollo Loco is a popular spot for getting quick Mexican food. They have numerous salads, burritos, tacos and chicken meals that are under 500 calories. But just like every other fast food chain, they have their heavy hitters. Watch out for their stuffed chicken quesadilla. It has 990 calories, 60 grams of fat and 1790mg of sodium. The healthiest food they offer is the Grilled Chicken Salad without dressing or tortilla strips. It is only 170 calories. If you add ranch dressing be forewarned that the ranch dressing by itself has 230 calories and 390mg of sodium.
(10) Starbucks. Just coffee, right? Wrong. Starbucks has more than 21,000 stores that are feeding people high-calorie, high-sugar drinks that are expanding people's waistlines. Plain tea and coffee have fewer than 5 calories combined. Most items that are mixed or have the word "Frappuccino" attached to them have around 500 calories and 70 grams of sugar.