TWO-STROKE TUESDAY | 1978 KAWASAKI SR125 REPLICA
PATRICK JOHNSON'S 1978 KAWASAKI SR125 REPLICA
---
"Hello MXA! Forty years ago, Kawasaki Motor Corporation hired a renowned Open Class specialist, Gaylon Mosier to contest the 1978 125cc Championship. KMC armed Gaylon with a "one-off" SR125, arguably a blend of the 1978 KX125 A4 and the yet to be released 1979 KX125 A5 production bikes. The SR125 used many parts off of Kawasaki's production bikes but also incorporated unique design features intended for the future UniTrak rear suspension. Like most works bikes of the day, at the end of the 1978 season, the bike was destroyed and put into a dumpster in the back of KMC's race shop.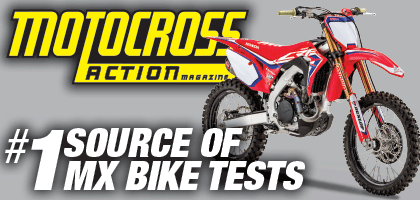 To commemorate the 40th anniversary of Gaylon's 1978 125cc campaign (placing 2nd behind Broc Glover), I created this exact replica of the 1978 SR125. To quote Marty Tripes, it's a "works bike made in America". Starting with a 1979 KX125, I reverse-engineered the chassis and engine into a replica works racer." –Pj
EDITORS NOTE: Please keep those submissions coming. If you would like your bike to be featured in the "Two-Stroke Tuesday" please email me at [email protected]. All I ask is that you give a breakdown of your bike and a detailed description of the build. Please also send a few photos of your steed. By submitting your bike for the "Two-Stroke Spotlight," you agree to release all ownership rights to the images and copy to MXA.