TWO-STROKE TUESDAY | THE HOT PINK TM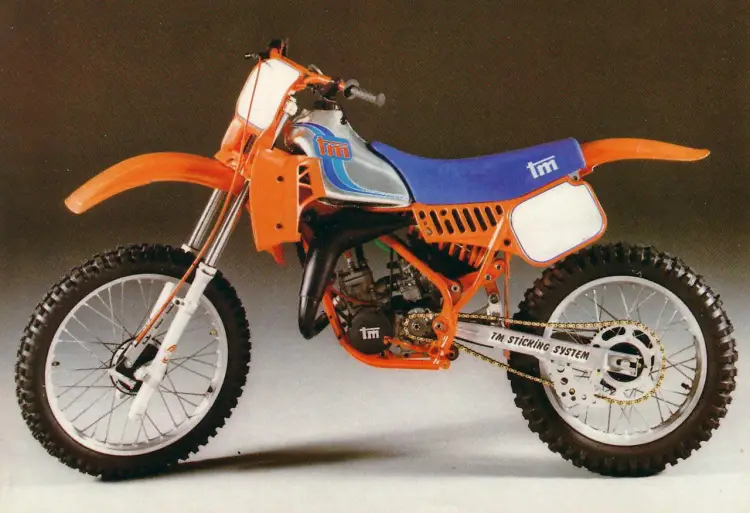 It is rare to find a picture of a TM motorcycle before the 1980's. Pictured is a 1984 TM with an 80cc engine that rests in a 125cc chassis. This engine/chassis combination was and still is popular in Europe. Notice the aluminum gas tank and shock placement. 
TM motorcycles have been around since 1976. Two men, by the names of Claudio Flenghi (who is known as Mr. Engine) and Francesco Battistelli (known as Mr. Frame) from Italy, were childhood friends with a passion for the world of motorcycles. They came up with the TM name from the initials of the names of their sons–Thomas and Mirko.
Honda? Look again! The red and blue color scheme as well as the plastics make this 1991 TM look like a Honda replica. This is TM's 1991 80cc in a big bike chassis model. Notice the cone pipe, Excel rims and Ohlins shock. 
In 1977, their motocross bike showed unexpected success at the Milan Motorcycle show. From this success, they moved the TM company from Flenghi's small workshop to an equipped factory and team. In 1978, the company produced a total of 200 motocross bikes.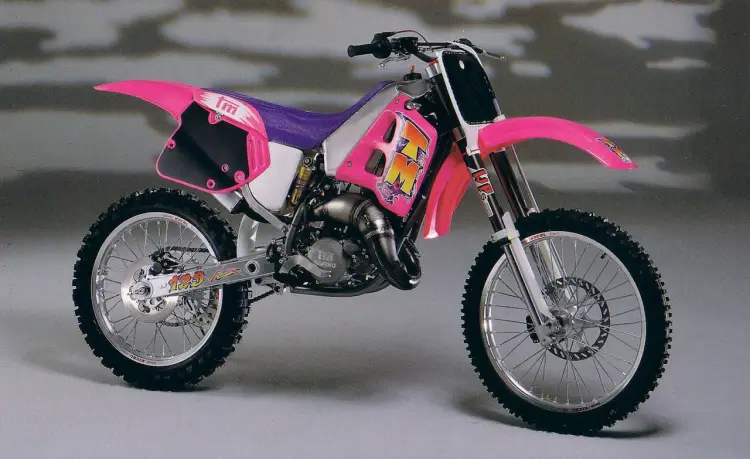 In 1993, TM went with a hot pink color scheme. It was loud and exotic, but not a popular color choice among men. Notice the WP upside-down forks, cone pipe, aluminum tank, Ohlins shock and solid rear disk.
You have to realize, it was never the dream of these two to take over the motocross industry. Their philosophy was to be different. They spared no expense using the highest grade materials to make a quality brand that was, and still are built by hand–and they don't want to change that. They couldn't pump out the production numbers that Yamaha or KTM do, nor do they want to. They take pride in the legacy of Italian handmade craftsmanship.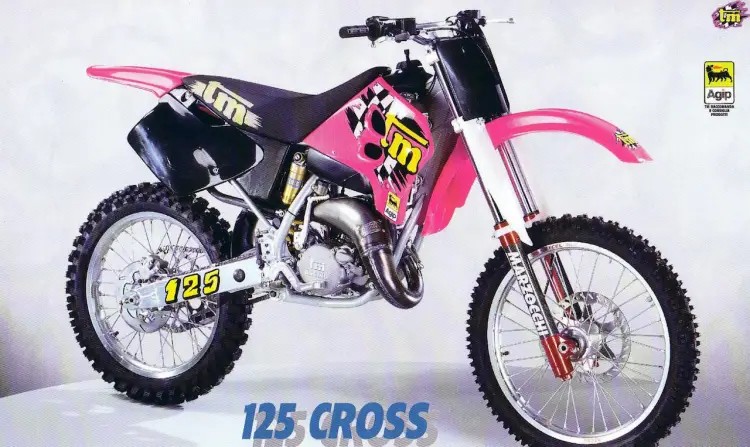 1996 was the last year of TM's hot pink color scheme. Notice the Marzocchi forks, and Excel rims.
Dare to be different they did in 1993. Before then they looked much like an exotic Honda with their red and blue color scheme, aluminum tank, cone pipe and Ohlins shock. Choosing to change the color scheme to differentiate themselves from other brands was a smart move, although choosing the feminine color hot pink was over the top. Boy did it catch the eye, but it also turned some off. The motto, "Only real men wear pink," didn't catch on until the 21st century. They might have been early to the show, but the bold statement made the TM brand buzzworthy. Maybe not the attention they wanted, but for a small boutique brand, any attention is good attention, especially if they had a product that performed.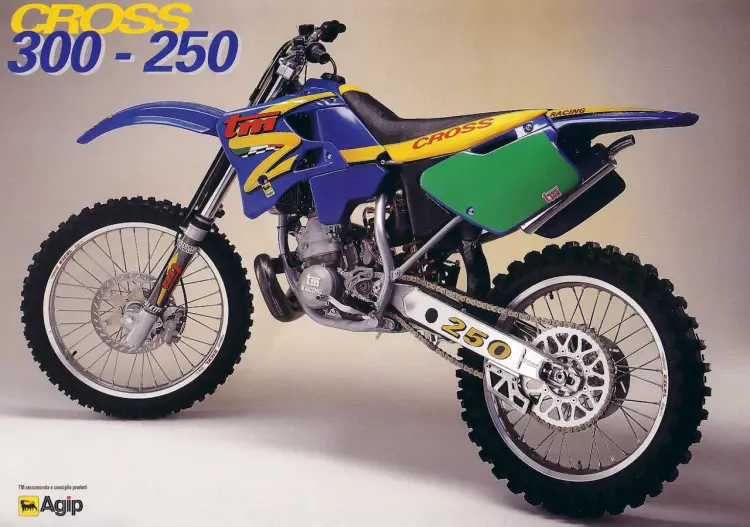 In 1996, TM went from pink to blue as well as a changed plastic design. Or did they borrow one from another manufacture? It sure resembles a Yamaha YZ250, doesn't it?
The hot pink color scheme lasted four years until 1996. They then moved on to a Yamaha blue that had Yamaha plastics. They went back to looking like another brand. After a few years, the color then changed to more of a fluorescent blue which it is today.
PAST TM'S WE TESTED THROUGHOUT THE YEARS. 
Here is a 1980s TM.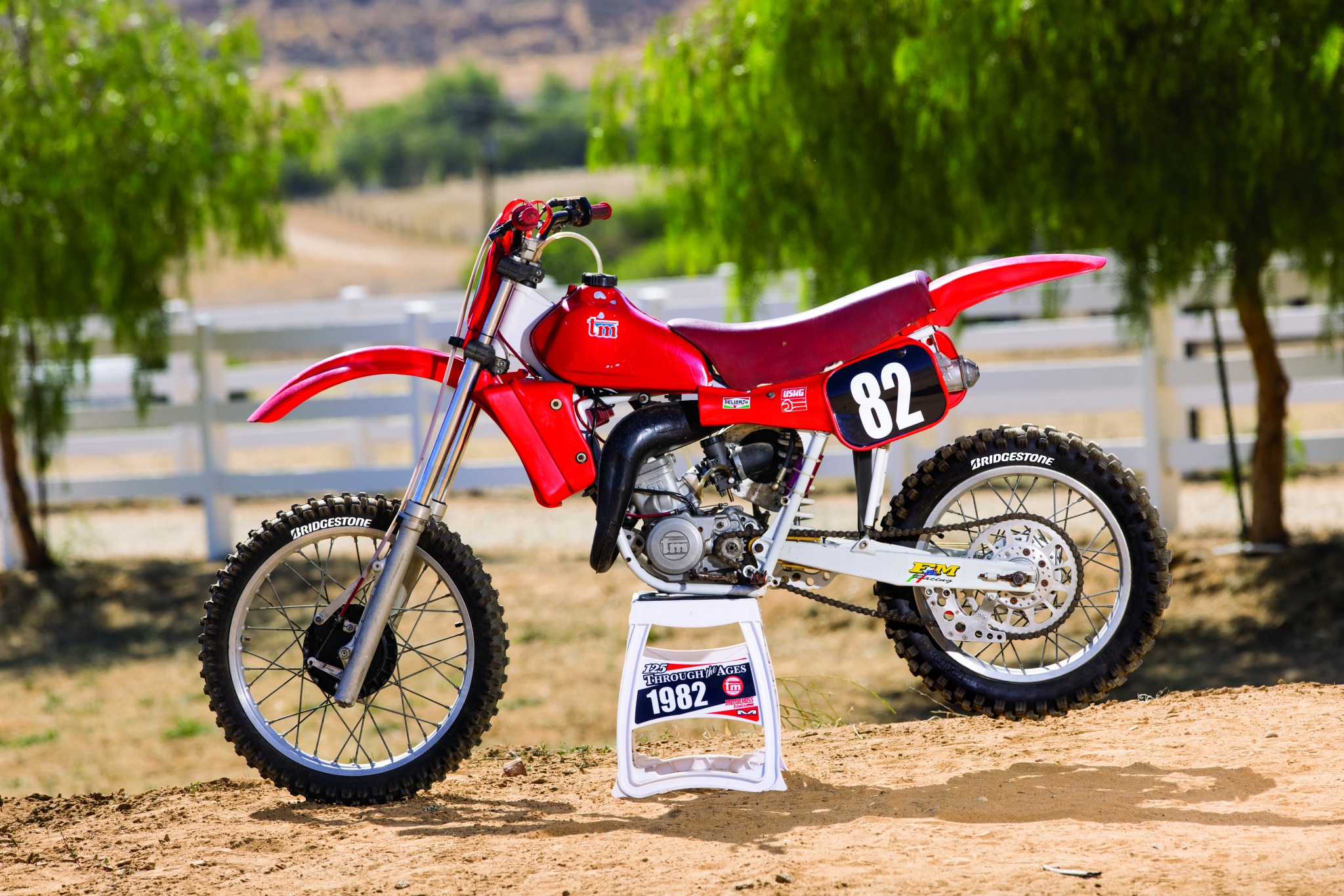 We are not sure the exact year on this one. but we believe it is a 1989 or 1990 TM 80 enduro. 
1985 TM 125.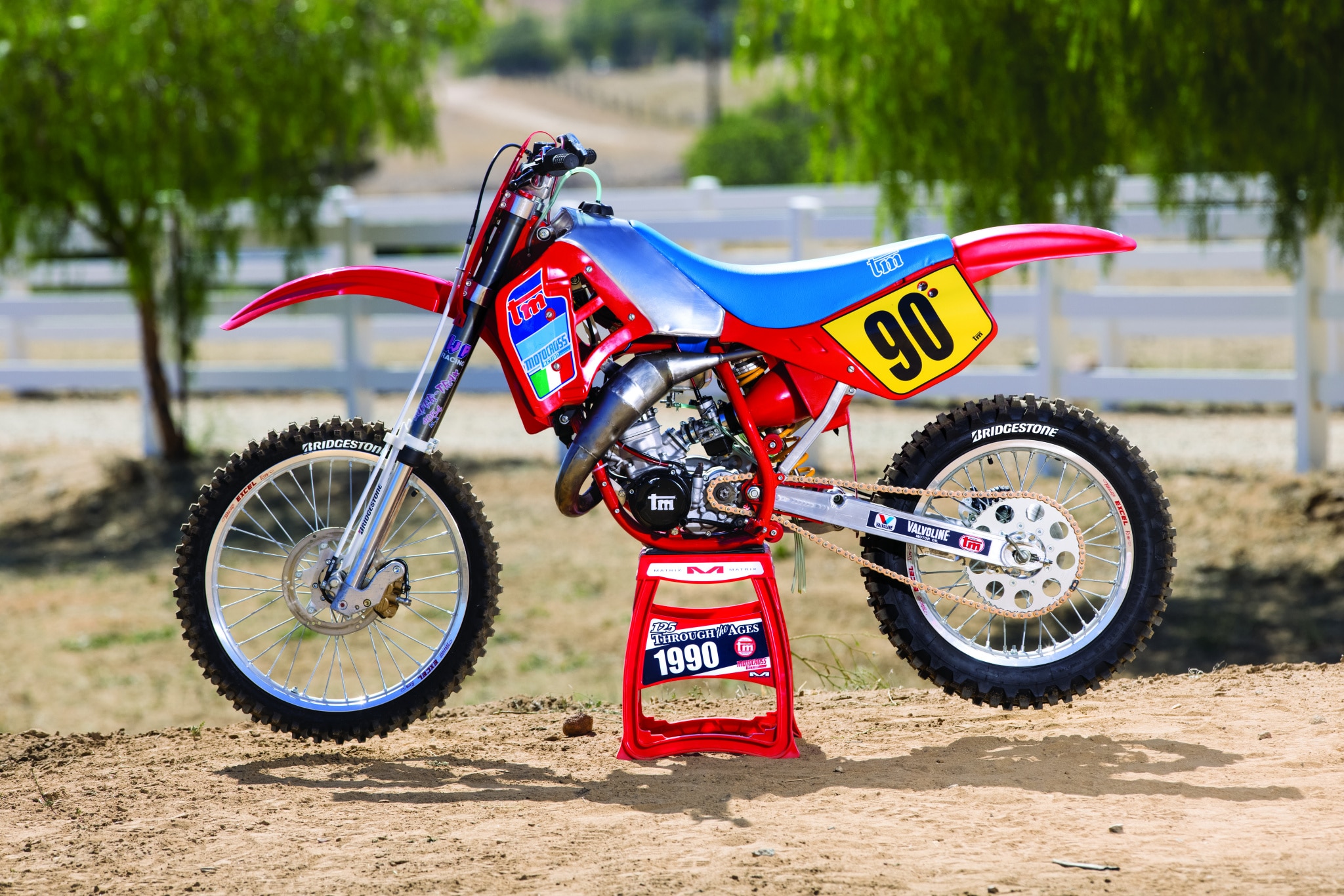 We even tested a 1995 pink TM back in 2018 to see what we thought of one. And our testers were surprised how much they liked it.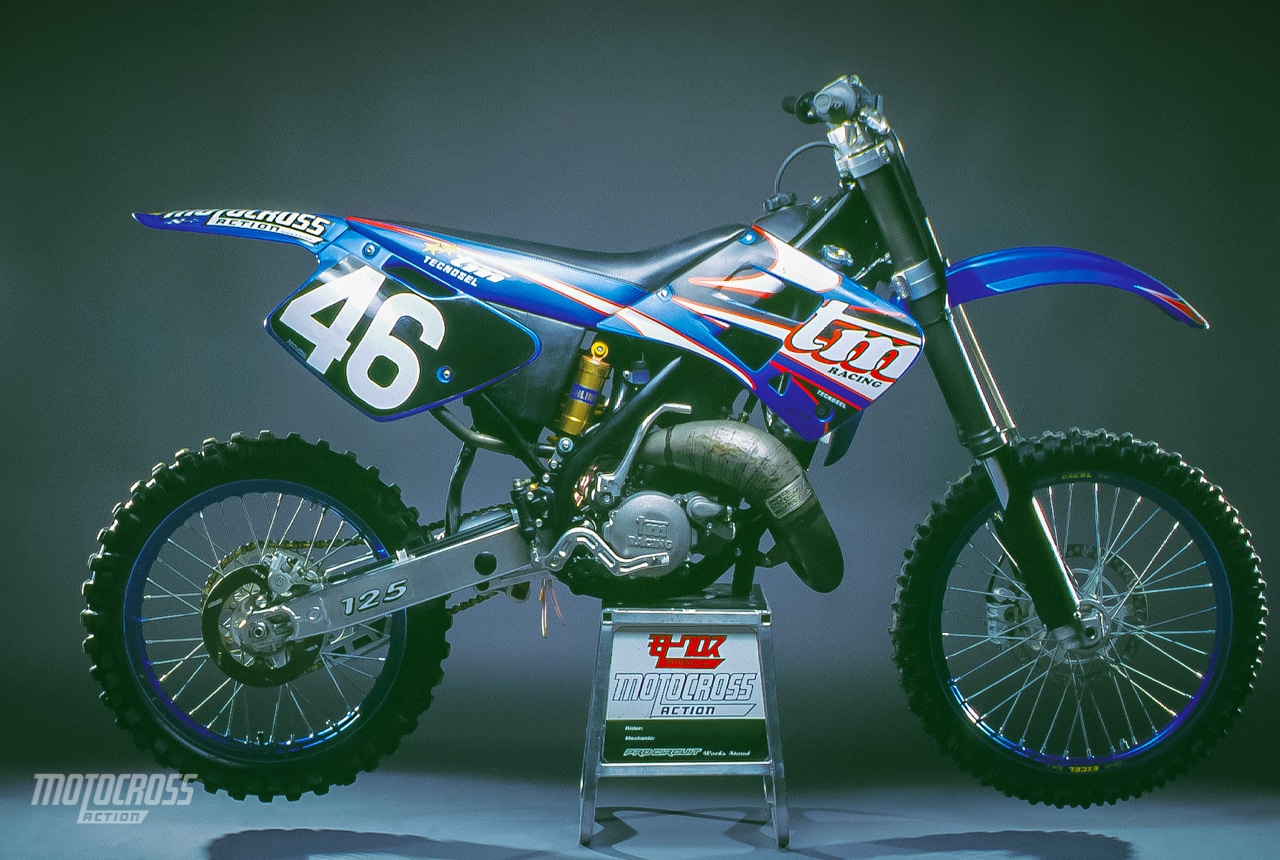 1999 TM 125. Check out MXA's full test.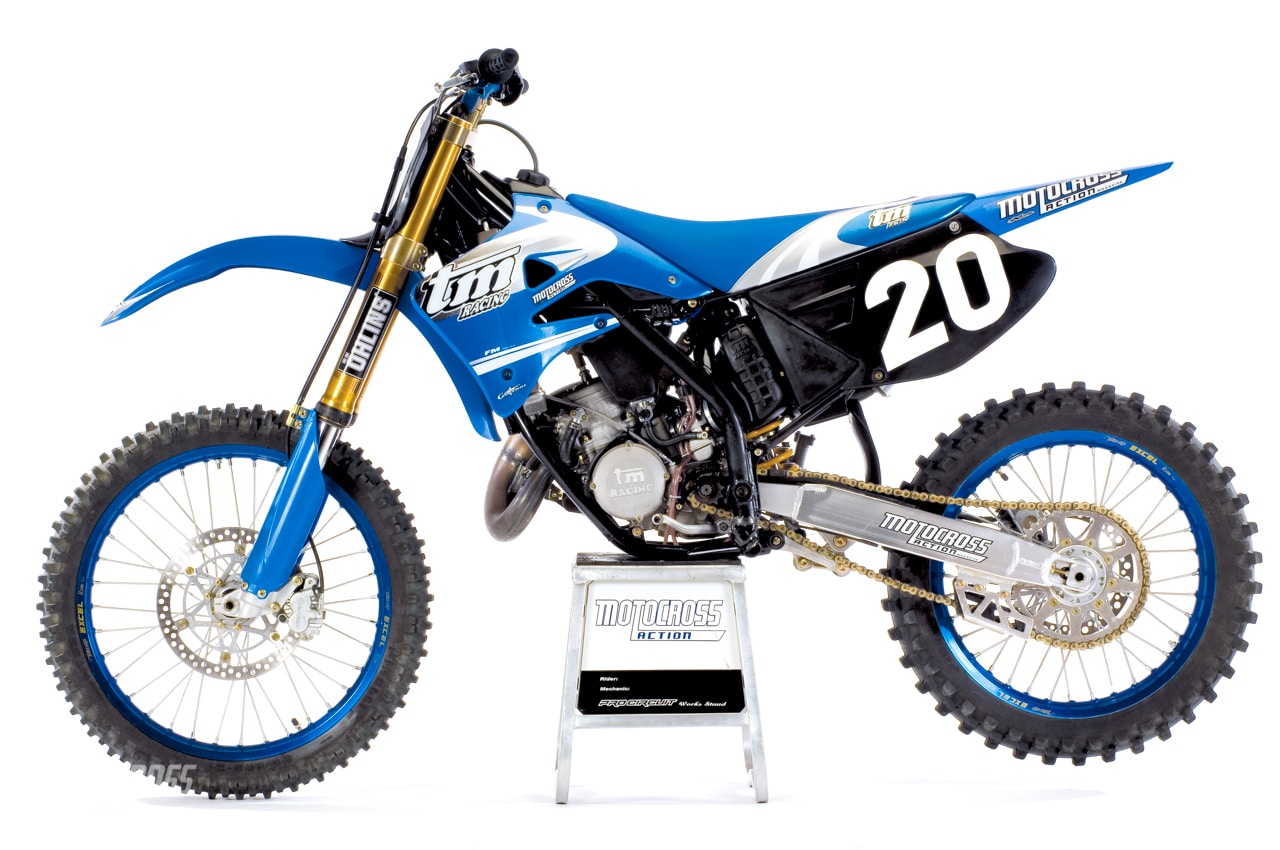 Here is the 2006 TM 125 MX that we tested.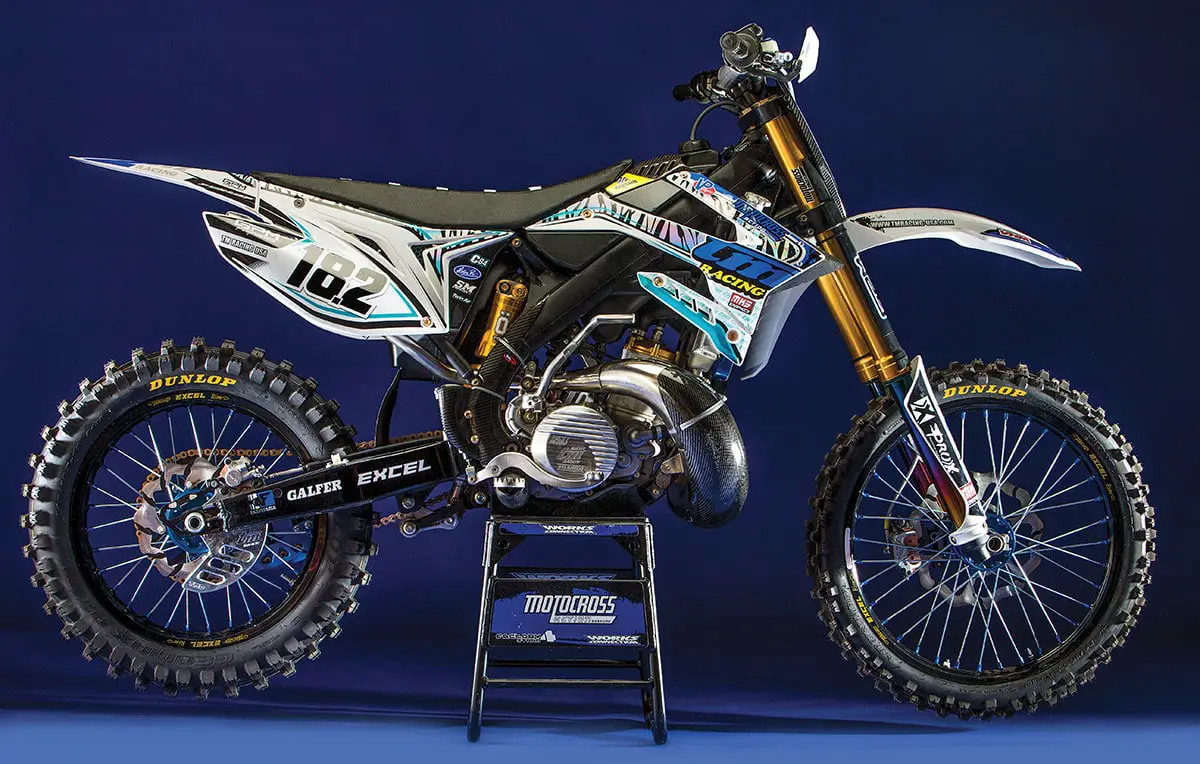 This is a project bike that Ralf Schmidt built for us to race the two-stroke national in. 
2019 TM 300. 
Ralf again built us a cool project bike out of a 2019 TM 300 to test. 
The TM 144 that Ralf built for us to test.