(UPDATED POINTS) REM GLEN HELEN RACE REPORT: THE PENULTIMATE ROUND OF 2020, SHORTEST REM SERIES EVER
Pretty as a picture!  REM's mini-Talladega first turn can run a slight banking, as at this week's race, or have the riders go in deeper to rail around the steep banking to their left. Photo: Jody Weisel

PHOTOS BY DAN ALAMANGOS, JON ORTNER & JODY WEISEL
The 2020 REM race season was abbreviated by the coronavirus pandemic and the normal 30-race season was cut in half as California's lock-down edicts and government regulations left each week's race in doubt. In fact, REM stopped racing in mid-March and didn't return until late July. Now, all these months later, REM has come down to the last two races of 2020—the race we are reporting on now and the final race on December 19 (and with California governor Gavin Newsom announcing a new round of lock down restrictions, racing could end again). The good news, for REM racers, is that REM hopes to get off to a running start on the 2021 racing season by starting with a bang on the day after New Years. The January 2, 2021, date will be followed by races on January 16, January 23, January 30 and February 6. That gives REM five races, weather and Covid restrictions permitting, to start the year off.
Take a close at Marc Crosby's left foot.  As he wheelies out of the right-hand corner, he grabs the the next gear to carry the front wheel over the acceleration chop on the downside of this hump. Frank Emerson (75) takes a tighter line. Photo: Dan Alamangos

The only important fact remaining about the 2020 season is who will win the number one plate. REM keeps points on every race throughout the year in every class and every age group. We don't actually know who is leading the points with one race left, but an educated guess (which could be wrong) narrows it down to  four riders with a chance at earning the number one plate. They are,  according to guesstimates,  Val Tamietti, Dave Eropkin, Will Harper and Robert Reisinger (all four Pros with solid credentials and all in the Over-60 Experts class). But that number doesn't take into account the bare facts about the four rider's 2020 seasons:
(1) Val Tamietti suffered a hand injury in a crash on November 14. He hoped to be healed up enough to race this week, but Val's doctors says that he has a torn "Saggital Band" (that holds the tendons in place over the knuckle) and may have to have surgery if it doesn't heal in the next couple weeks in a brace. So, Val, who was the 2017-2018 number one rider is out of the running.
Randy Skinner takes moment, while dropping into the Mt. Whitney downhill, to take a look back to see if anybody is coming. They were. Randy went 4-3 for third in the Over-60 Expert class. Photo: Dan Alamangos

(2) Dave Eropkin, the 2019 Champion, came into the 2020 season a little cooler than the previous year. He didn't win any of the races before the Covid-19 break, and only won once from July to December. Worst yet, he skipped the big Octobercross race, which paid double points. Dave would need a big, big day on December 19 and a bad, bad day from his competitors.
Chris Corum (3) doesn't believe in all those new-fangled electronic gizmos on modern bikes. He prefers to race his clean 1989 Honda CR125. Photo: Dan Alamangos

(3) Robert Reisinger was the winningest rider in the Over-60 Expert class in 2020, and historically the number one riders have consistently come from the older classes, most notably the Over-50 Experts or the Over-60 Experts—because they race every week without fail and always race against the largest number of riders. But, Reisinger raced the first five race of 2020 via a loophole in the age rules that allowed him to race the Over-60 class even though he was only 59. That raises some important questions about the season-long points.
This week's REM track went behind the Triple Step-Up bleachers. Even with the impressive wall of haybales separating the riders from the grandstand, Steven Chandler (306) keeps a wide berth. Photo: Dan Alamangos

(4) Will Harper won  four times in 2020, finished second six times, third twice, fourth once, out of the top five twice and didn't miss a single race. The Hollywood stuntman was incredibly consistent.
Who is going to be the number one rider at Glen Helen for 2020? We will all find out after the last moto of the year on the afternoon of Saturday, December 19, 2020.
Update: REM sent clarifications on the current 2020 points standings. Here are the top points getters with one race left—and it pays double points. Point are based on finishes with points allotted by how many riders are in a class—a win in a large class pays 24 points with smaller classes getting progressively less points for a win. Additionally, points can only be accumulated in one class (you cannot race three classes and add  those point together). However, Val Tamietti raced two classes and made the top ten independently in both classes.

2020 REM GLEN HELEN POINTS STANDINGS
(with one double points race left on Dec. 19)
1. Will Harper (Over-60 Expert)…384
2. Robert Reisinger (Over-60 Expert)…356
3. Dave Eropkin (Over-60 Expert)…344
4. Val Tamietti (Over-60 Expert)…294
5. Giovanni Spinali (Over-50 Expert)…250
6. John Griffin (Over-50 Expert)…234
7. Randy Skinner (Over-60 Expert)…224
8. Lonnie Paschal (Over-60 Int)…214
9. Val Tamietti (Over-50 Expert)…206
10. Gene Boere (Over-65 Int)…200
Other notables: 11. Joe Sutter (199); 12. Mike Monaghan (192); 13. Bill Reimer (186); 14. Mike Phillips (180); 15. Ron Lawson (174).
The "Greg Groom Creative Line Award" this week goes to Ron Shuler who cut this corner every lap by leaving the course and making a bee-line between the haybale and K-rail. He thought that because it was way out back by the Jeep Trail that no one would ever see him do it. Strangely enough, Greg Groom, who built a world-wide reputation for cutting the track, was also entered in the race, but failed to make it to the starting line. Photo: Jody Weisel
Brit Tony Parson (68), Marc Crosby (54) and Lamont Dusseau (217) come down and down and down at Glen Helen. Photo: Jon Ortner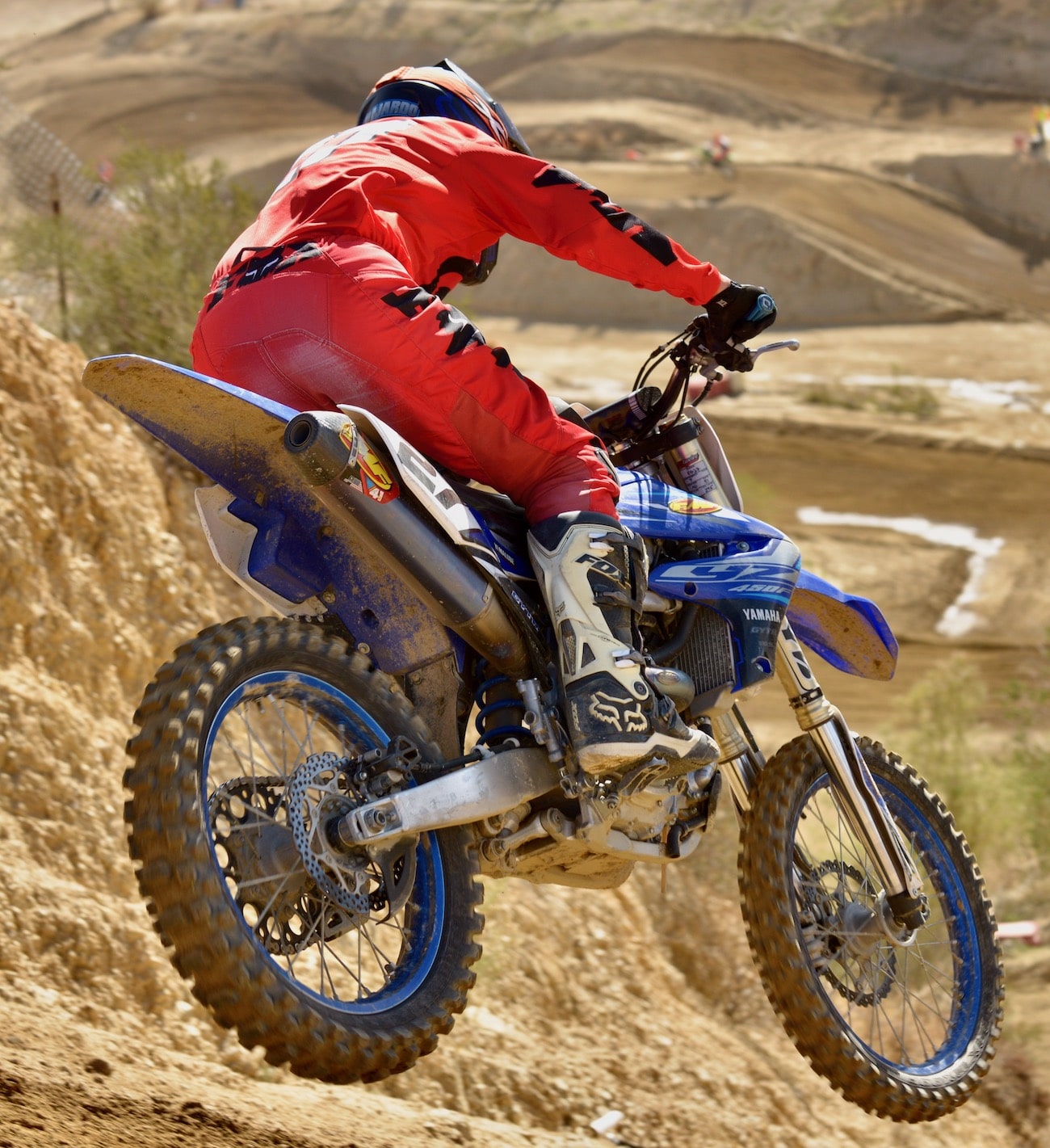 Ed Guajardo (27) used to run the fabulous Zaca Station track before it closed last year. Now, he makes the long trip from Santa Barbara to REM Glen Helen to race. Photo: Dan Alamangos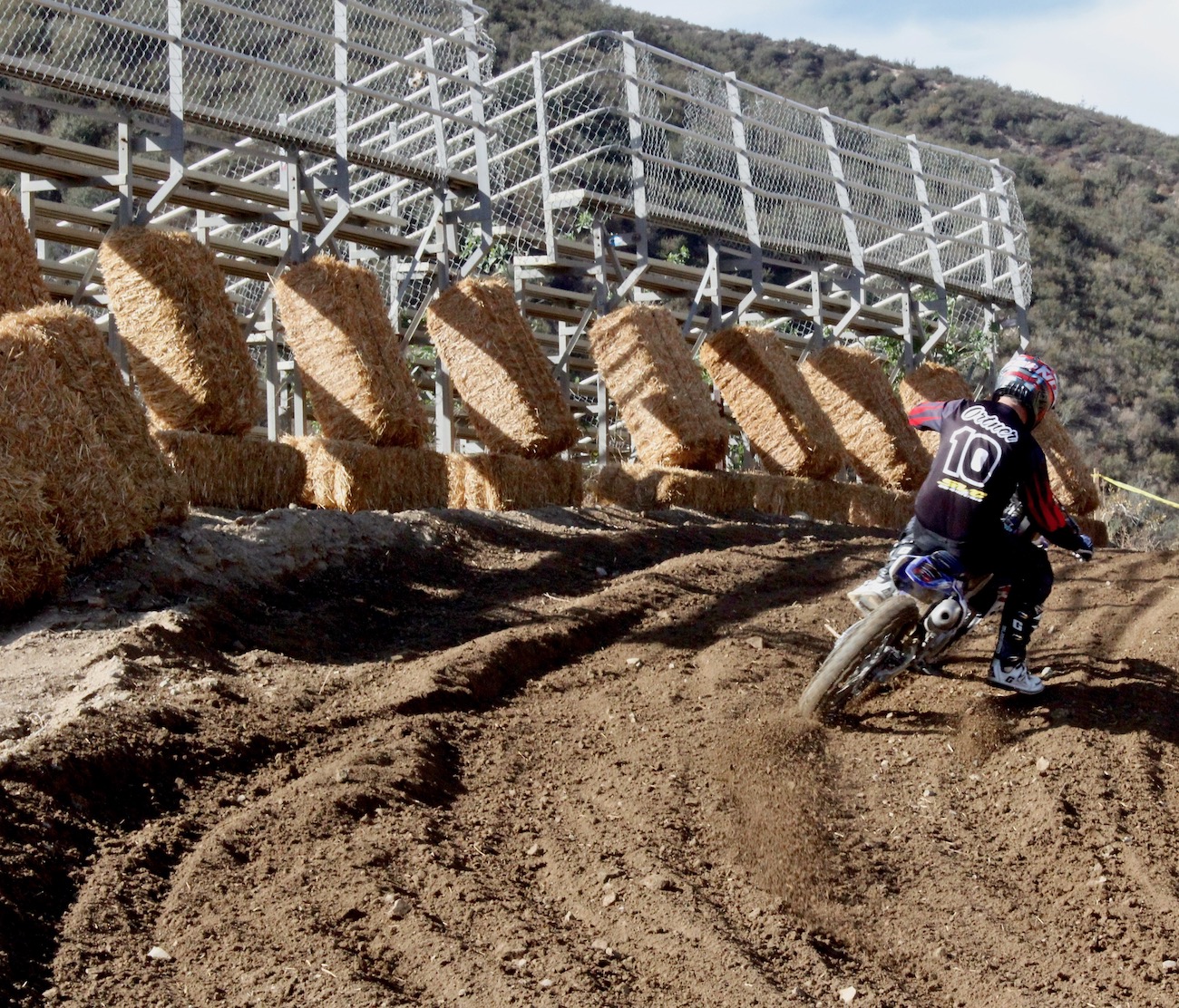 Jon Ortner (10)  is another Santa Barbara resident who makes the long 142-mile drive to Glen Helen every week. Ed and Jon might want to car pool and pick up Joe Sutter when they get to Calabasas to have company for the last 75 miles. However, former Baja star Bob Rutten takes the cake. His drive from New Harmony, Utah, is 370 miles. Ortner was second in the Over-50 Elites, Sutter third in Over-50 Experts and Rutten first in the Over-65 Experts. Photo: Jody Weisel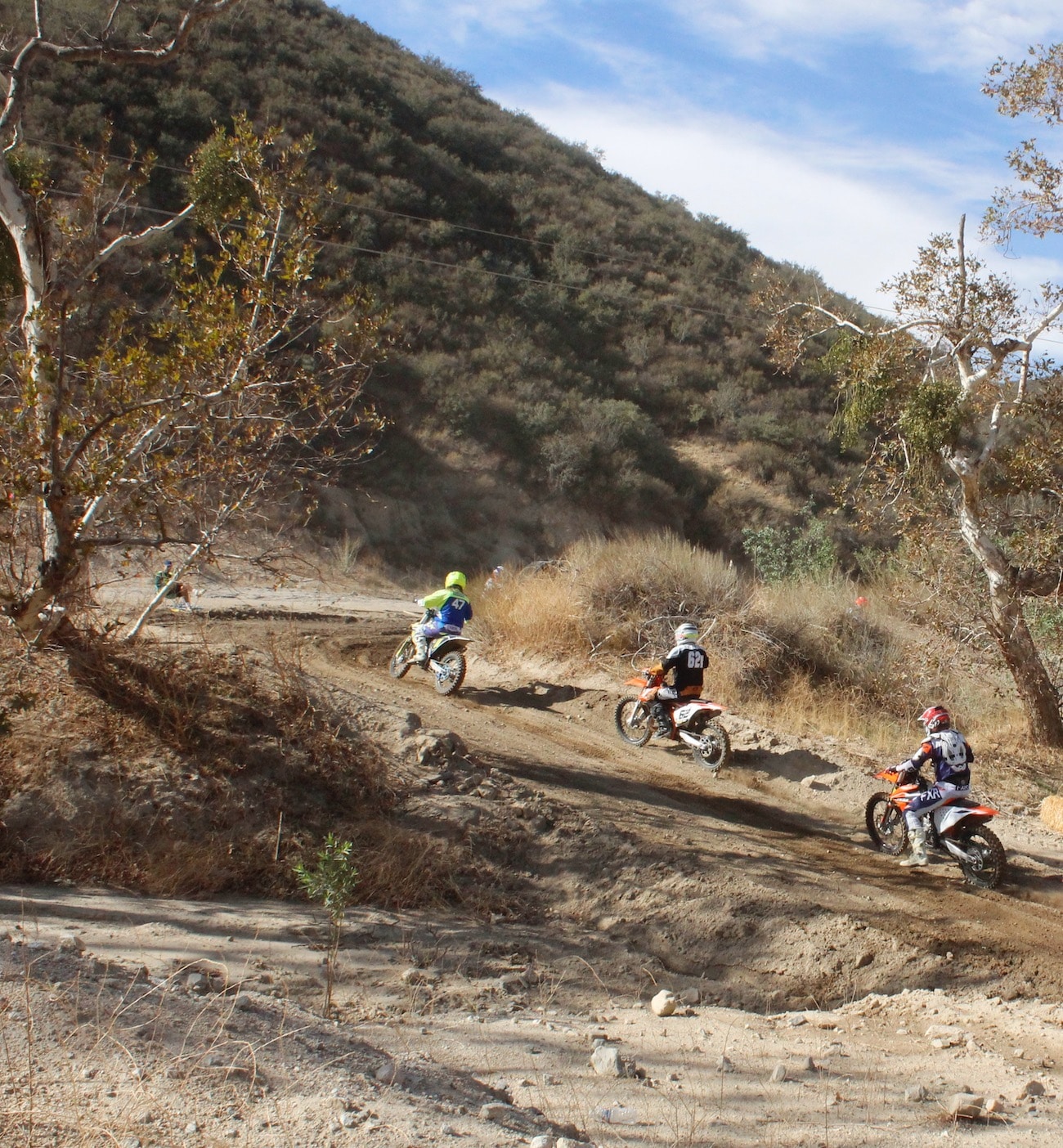 Mike King (47), Gene Boere (62) and Bill Seifert would go one-two-three in the Over-65 Intermediate class, but not in that order. This river bed part of Glen Helen's Bud's Creek section was added to the REM layout this week. Boere would take the overall with a 2-1 to King's 4-2 and Seifert's 3-3. Photo: Jody Weisel


Gene Boere  (62v) is a two-stroke racer through and through. Photo: Jody Weisel

Bill Seifert switched to a 2021 KTM 350SXF from a Husqvarna FC450, and is lovin' it. Photo: Jon Ortner
Randy Skinner (383) is the man who builds the race shop and semi truck interiors for many race teams. It keeps him busy until he can decided on a color scheme for his plain wrap Arai helmet. Photo: Dan Alamangos

Dirt Bike Magazine's Ron Lawson holeshot the second moto of the Over-60 Expert class and styled for a while. But trouble is already brewing behind Ron, as Zaca Station's Ed Guajardo (red jersey) and Robert Reisinger (96) closed the gap on lap one and eventually pushed Ron back. Ron, running his National Grand Prix Championship (NGPC) number plate, would later get passed by Randy Skinner and Will Harper before the moto was over to end up fifth overall. Photo: Dan Alamangos

Randel Fout is a study in concentration on MXA's 2021 Honda CRF450. Randel is the fourth MXA test rider to be assigned to race the CRF450. Each rider had to spend three weeks adapting to the bike and the bike to them. Photo: Dan Alamangos

Will Harper (7) will be heading to Atlanta to make a movie later this month, but right now he is focused on scoring points in the battle to be the number one rider at Glen Helen in 2020. Photo: Dan Alamangos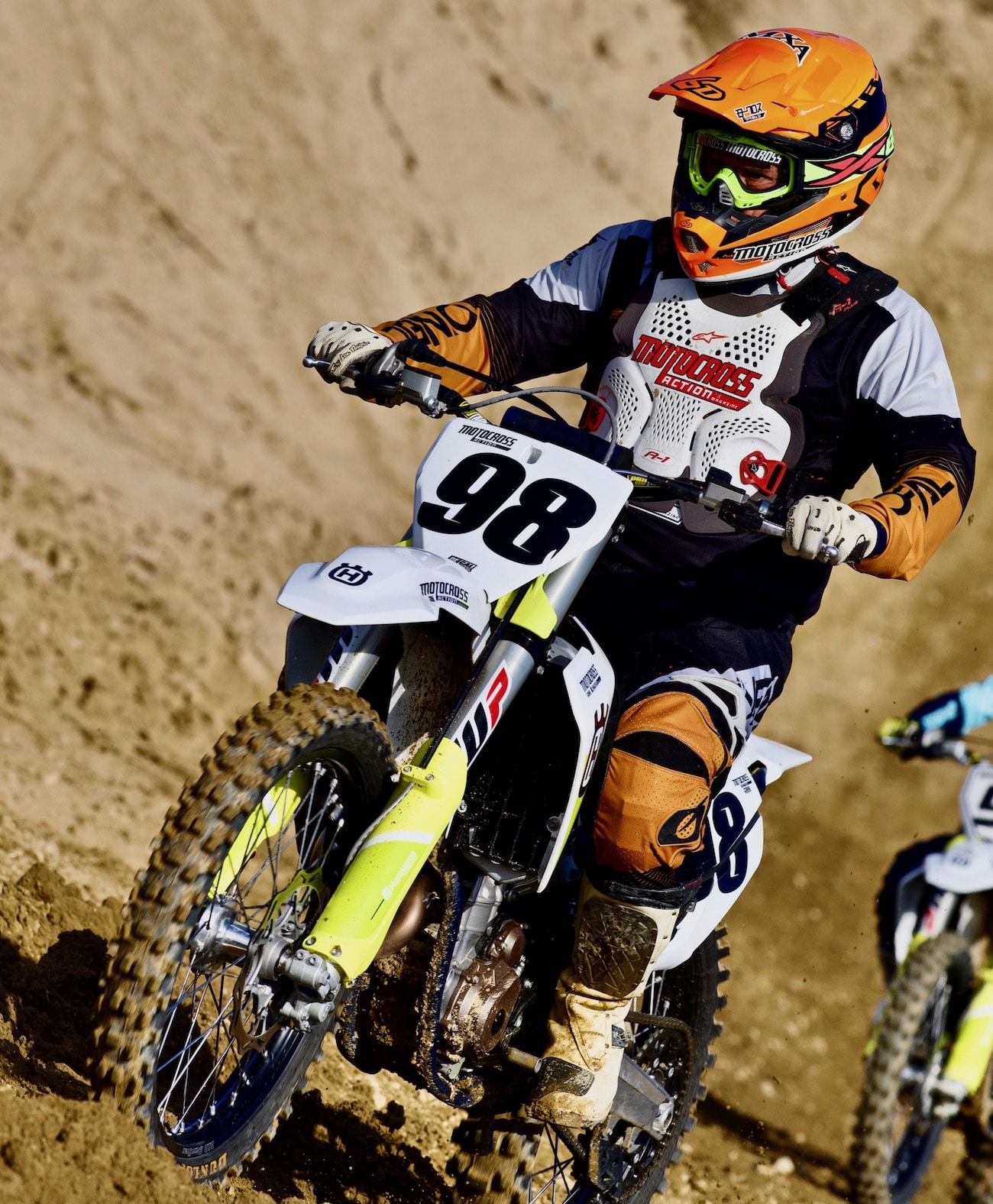 MXA's Jody Weisel was the REM number one rider back in 1998, which was 22 years ago. If that makes him seem old, he was the CMC number one Vet Pro in 1984, which was 36 years ago. Photo: Jon Ortner

Scott Murphy (17) went 1-1 in the Over-50 Novice class. Here, he leads Owen Wright (473) up a hill with the REM pits and Glen Helen National track in the background. Photo: Dan Alamangos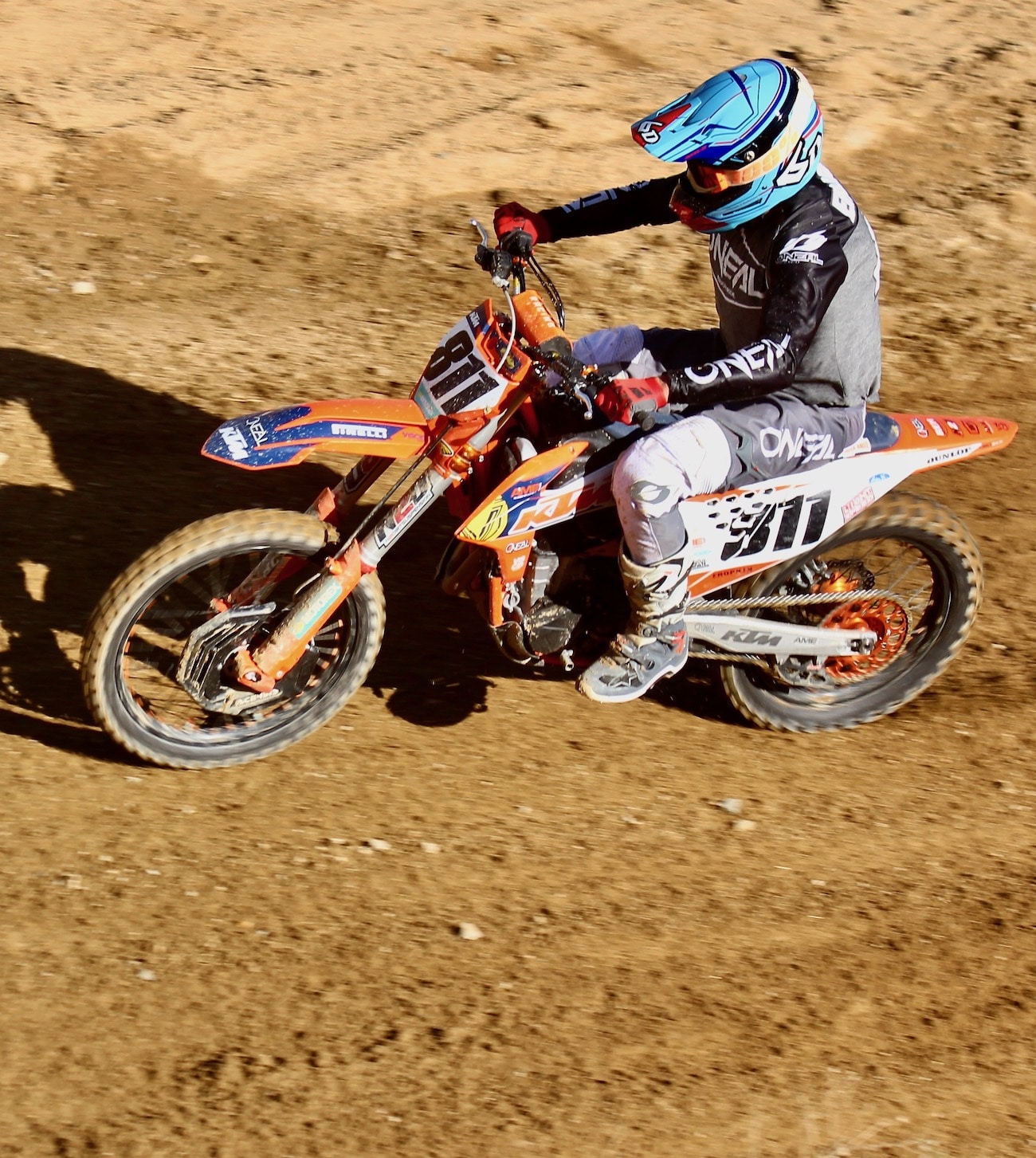 Dave Eropkin (811) had the kind of day that the current REM number one rider would rather forget. Dave went 8-7 for his worst score in a couple years. Photo: Jody Weisel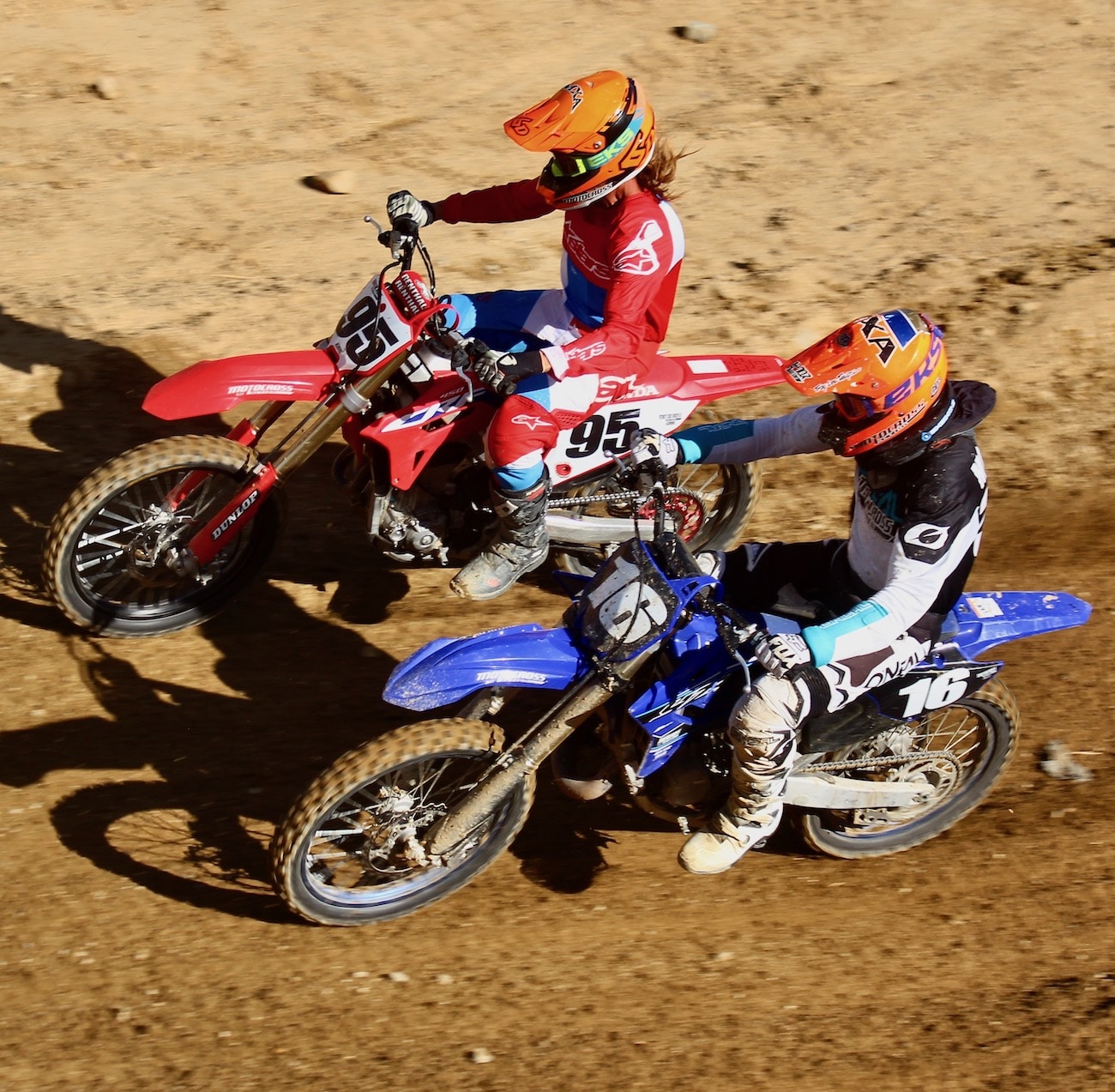 The MXA guys must be magnetized because they are drawn to each other in the middle of almost every moto. Here, former Pro Circuit Husqvarna rider Mike Monaghan (16) and former Michigan Pro Randel Fout (95) fly in formation. Photo: Jody Weisel

Lonnie Paschal (51) swept both motos of the Over-50 Intermediate class. Here, he heads to an almost vertical drop-off that was added to the REM track this week. Photo: Jody Weisel

The 250 Pro class was won by Josh Kaller (115). Photo: Jody Weisel

Stephen Johnston (525) and Tony Parsons (68) should take a moment to enjoy the view, but the two riders at the bottom of the hill are closing fast. Photo: Dan Alamangos

Luc De Ley, a name from the Saddleback days, won the Over-60 Intermediate class with a 1-1 over Lance Sloan's 2-3 and Marc Crosby's 4-2. The outcome was in doubt until the last lap when Luc came from third to first, as Sloan and Crosby dueled. Photo: Dan Alamangos

Incredibly resilient Lars Larsson (58) was the first Grand Prix racer to move to America in 1967 and he's still racing today. Lars will turn 80 years old this coming July. Photo: Dan Alamangos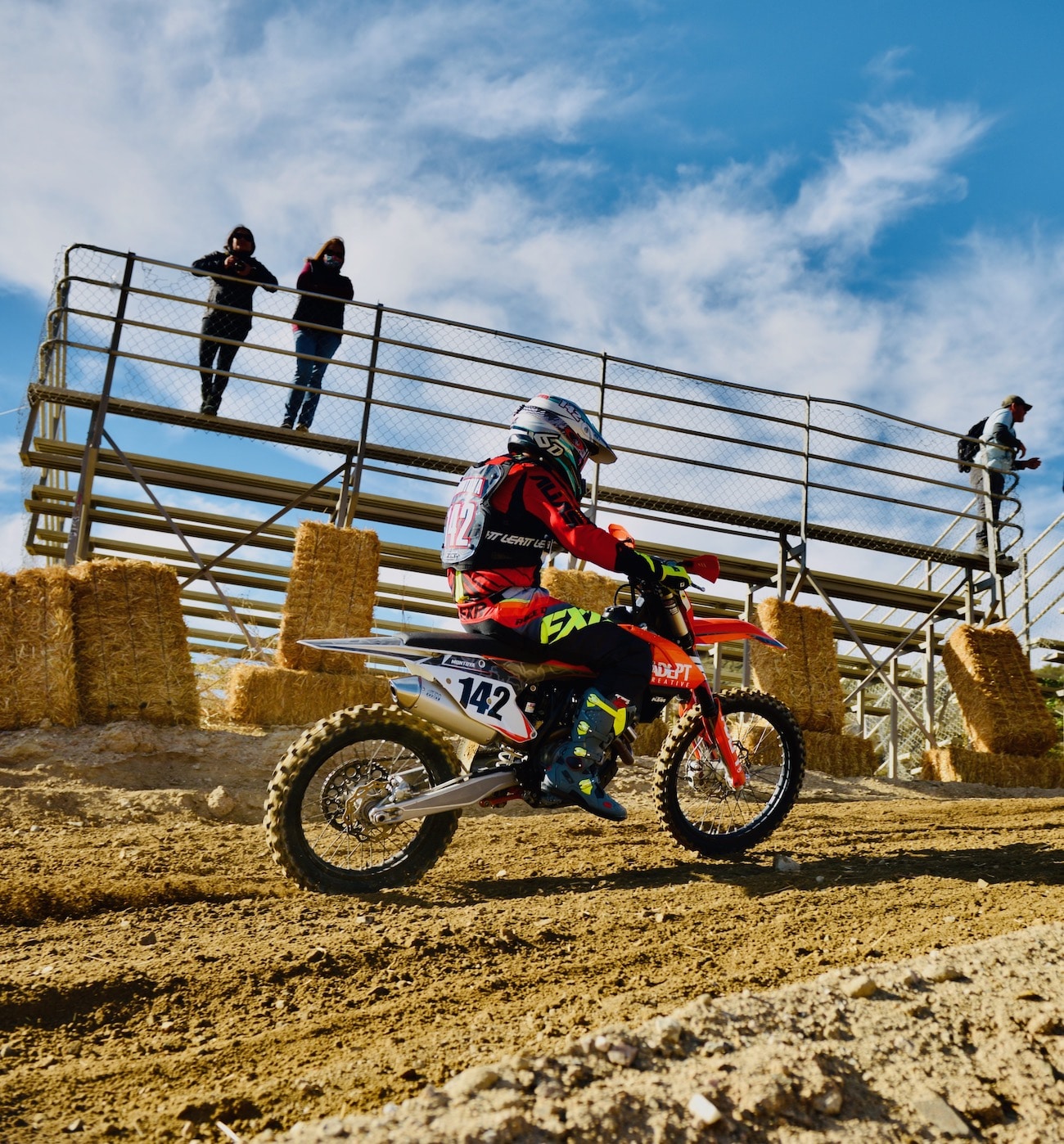 Angel Montoya (142 won the Over-60 Novice class. Photo: Dan Alamangos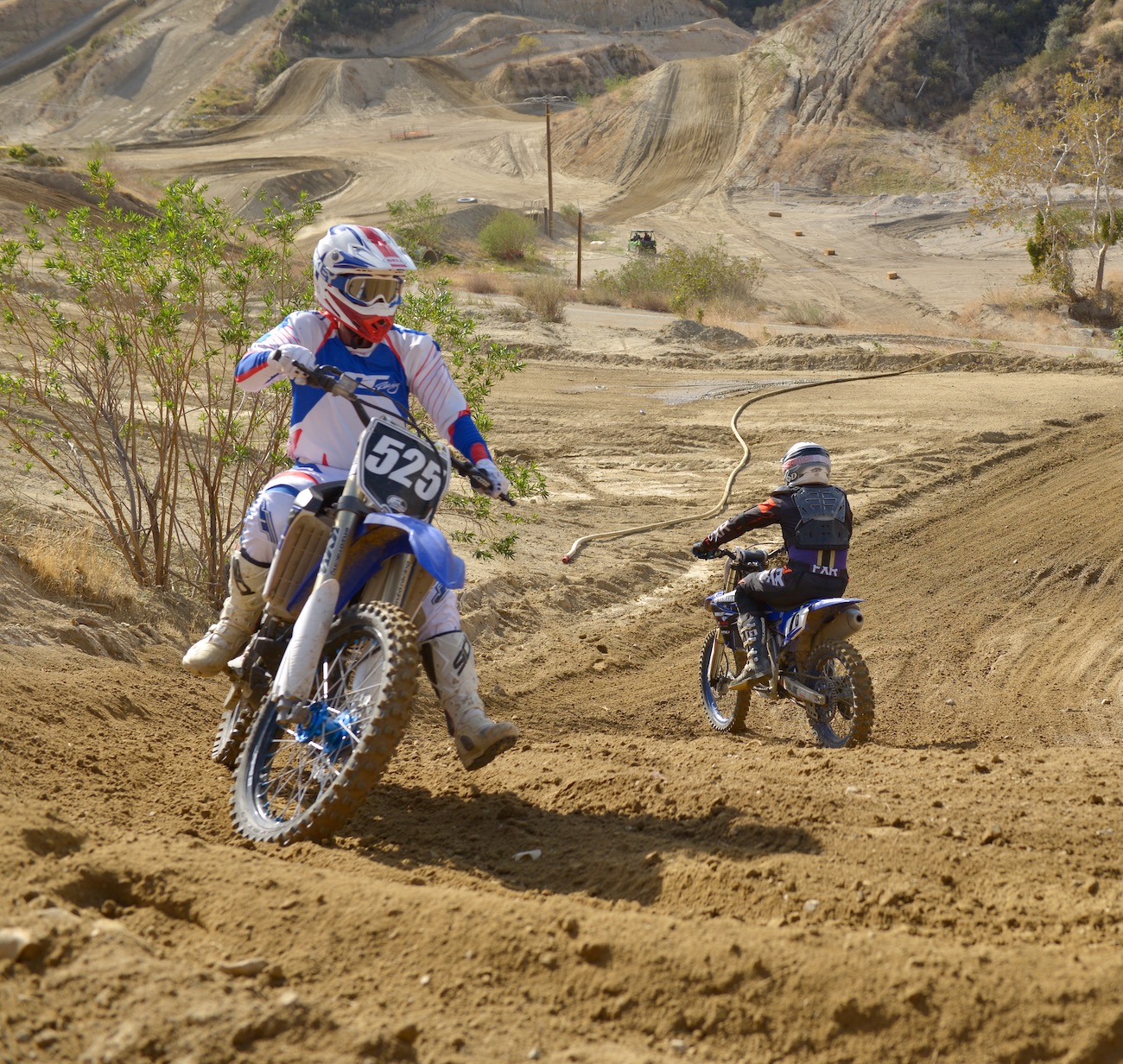 Stephen Johnson (525) is going in the right direction, but D.R. Clements spun a donut at the steep drop-off just around the corner and ended up going back down the track. He finally got it aimed in the right direction, but finished 12th in the Over-60 Expert class. Photo: Dan Alamangos
After finishing third in the first Over-50 Expert moto, Fred Nichols (56) swapped off the top of a tabletop when he came up a little short. He was thrown to the ground and knocked out. Luckily, he came to and was transported to  the hospital for further examination. More info when it becomes available. Photo: Jody Weisel

REM's final race of 2020 will be on December 19.  For more info go to www.remsatmx.com or Click Here for REM's Facebook page.