WE BUILD A TWISTED DEVELOPMENT/ CYLINDER WORKS YZ270F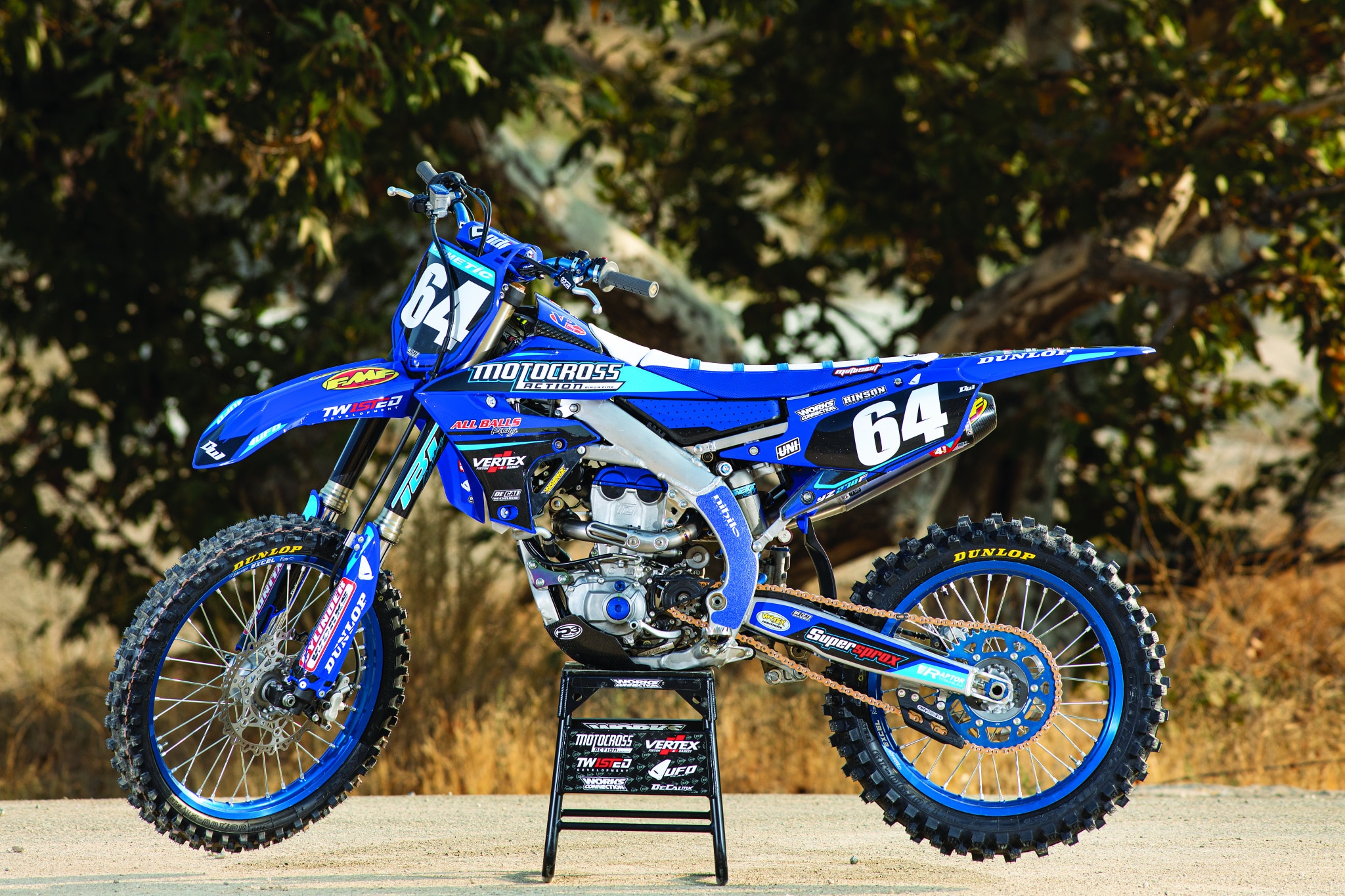 Any motocross engine that has a bigger displacement than its designated class structure allows is considered a "cheater engine." But, cheating was more frowned upon back when racers had more scruples. Today, cheating is SOP (Standard Operating Procedure). A classic example is the Wiseco World Two-Stroke Championships, where they raised the displacement of the 125 Pro class to 150cc because it was easier to make 150s legal than to try to catch all the cheaters—and while they were at it, they made the 250 Pro class into a "Formula Libre" class with no displacement limit. It has been a while since a legitimate 250cc Yamaha, KTM or Husky won the big prize. In the 2020 edition, Mike Alessi won on a Yamaha YZ250 with a 325cc engine kit and in 2021 Robby Wageman won on a Twisted Development YZ300.
But, the Formula Libre format does have its charms, because it brings 500cc two-strokes back into the racing fold. Under this class structure, someone could stuff a fire-breathing Yamaha R1 engine into a motocross chassis for an exciting, unique and downright stupid attempt. But, the only actual Formula Libre racing classes in week-in, week-out local racing are the Vet classes, which are run-what-you-brung.
IF YOU ARE A RACER IN THE 125cc, 250cc OR 450cc CLASSES AND YOUR ENGINE IS 144cc, 270cc OR 488cc, YOU ARE A CHEATER. BUT, WE DON'T PAINT EVERY BIG-BORE RIDER WITH THE "SNIDELY WHIPLASH" SOBRIQUET.
If you are a racer in the 125cc, 250cc or 450cc classes and your engine is 144cc, 270cc or 488cc, you are a cheater. But, we don't paint every big-bore rider with the "Snidely Whiplash" sobriquet. There are riders who embrace big-bore engines because they don't race. They are professional practice riders who just love to ride and would like a little extra oomph to get over the big step-up that has vexed them for months. To Vets and play riders we say, "More power to ya!"
It is no secret that big-boring an engine increases its horsepower and torque. What people forget is that the stock engine wasn't designed for a 1mm-, 2mm- or 3mm-larger piston. Durability is a factor. Maybe not immediately, but 9 times out of 10, boring out an engine will have some negative consequences down the road. Still, companies such as Cylinder Works specialize in cheap and effective ways to increase your pony power without sacrificing durability. How do they do it? They don't go whole hog. They don't bore the cylinder walls so thin that the heat of racing will warp them. They don't set up an engine with the same tight tolerances as the stock displacement. They don't grab for the Golden Goose of massive horsepower; they leave enough meat on the bone for safe operation. And, they provide as much technical support as possible to make sure that their big-bore customers are happy campers. 
The cookie-cutter way of building a big-bore engine is to use a ready-made big-bore kit. This is much like what KTM does to make its KTM 125SX into a 150SX. KTM takes the stock 125 top-end off and replaces it with an upsized cylinder mated to a bigger piston and all the accoutrements in one box. Easy peasy. This approach works. It adds a couple of horses, boosts the torque and increases the probability of clearing big doubles with no trouble. Yes, it does change the power profile to be more of a one-trick pony, but the tradeoff of more burst is the big draw. It is true that the 150 powerband will not be as smooth, fluid or flexible as it was as a 125. 
TM Motorcycles doesn't transform its 125 into a 150 by slipping on a bigger jug. TM takes a more complex approach to building their 144cc engine. The TM 144MX engine isn't built on the bones of the TM 125MX engine. Instead, the TM 144MX engine has its own proprietary engine cases, crank, piston, and bore and stroke. It is a more balanced package and not as over-square as the KTM 150SX layout, which begs the question, since the TM 144MX is a completely different engine from the TM 125MX, is it still considered a big-bore? That is like asking, "If a tree falls in a forest and no one is around to hear it, does it make a sound?"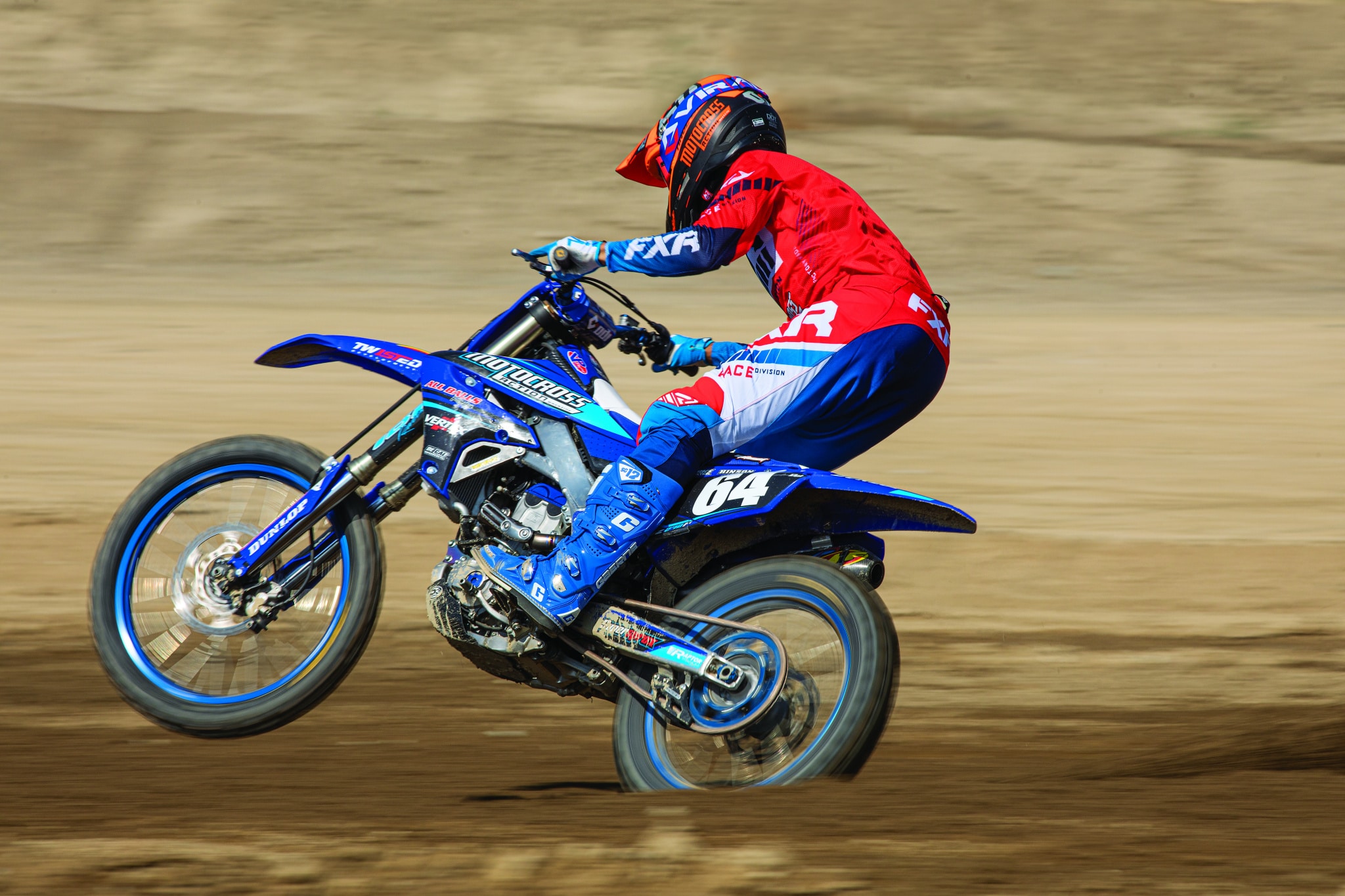 This philosophical thought experiment raises questions regarding engine dynamics, but it is meaningless in the discussion of the practical benefits of big-bore engines. All that matters is whether they provide the kind of powerband alterations that are worth the trouble.
WHEN YOU ADD IN A BIGGER PISTON AND EQUALLY BIG CYLINDER, THE ALREADY SHORT AND FOCUSED POWERBAND CAN SHRINK INTO A NARROWER WINDOW.
That brings us to MXA's Cylinder Works/Twisted Development 2020 YZ270F. This isn't our first rodeo building a big-bore YZ270F using the Cylinder Works full kit ($549.95), which is why we wanted to do it differently this time around. The YZ250F is known for its robust low-to-mid power. When you add in a bigger piston and equally big cylinder, the already-short and focused powerband can shrink into a narrower window. Yes, the YZ270F is even more explosive out of the hole, but it chunks up the already-short power curve. The bigger piston has to push more air per stroke, which makes it struggle to carry speed at high rpm. The lack of over-rev means that the rider has to shift on the bubble. This style of power can boss a rider around if he doesn't bow down to its imperfections.  
We wanted the best of both worlds—in short, a YZ250F big-bore with a powerband that was linear and revved to the moon. Was it possible? We knew building a big-bore engine from the ground up was the way to go; however, we didn't think Yamaha's pencil-pushers were in the mood to R&D a totally new bike. So, we went with the next-best option—Jamie Ellis at Twisted Development. He is a master at finding the perfect power profile for his customers. So, we asked Jamie if he could make the tried-and-true Cylinder Works YZ270F top-end kit more powerful and broader at the same time.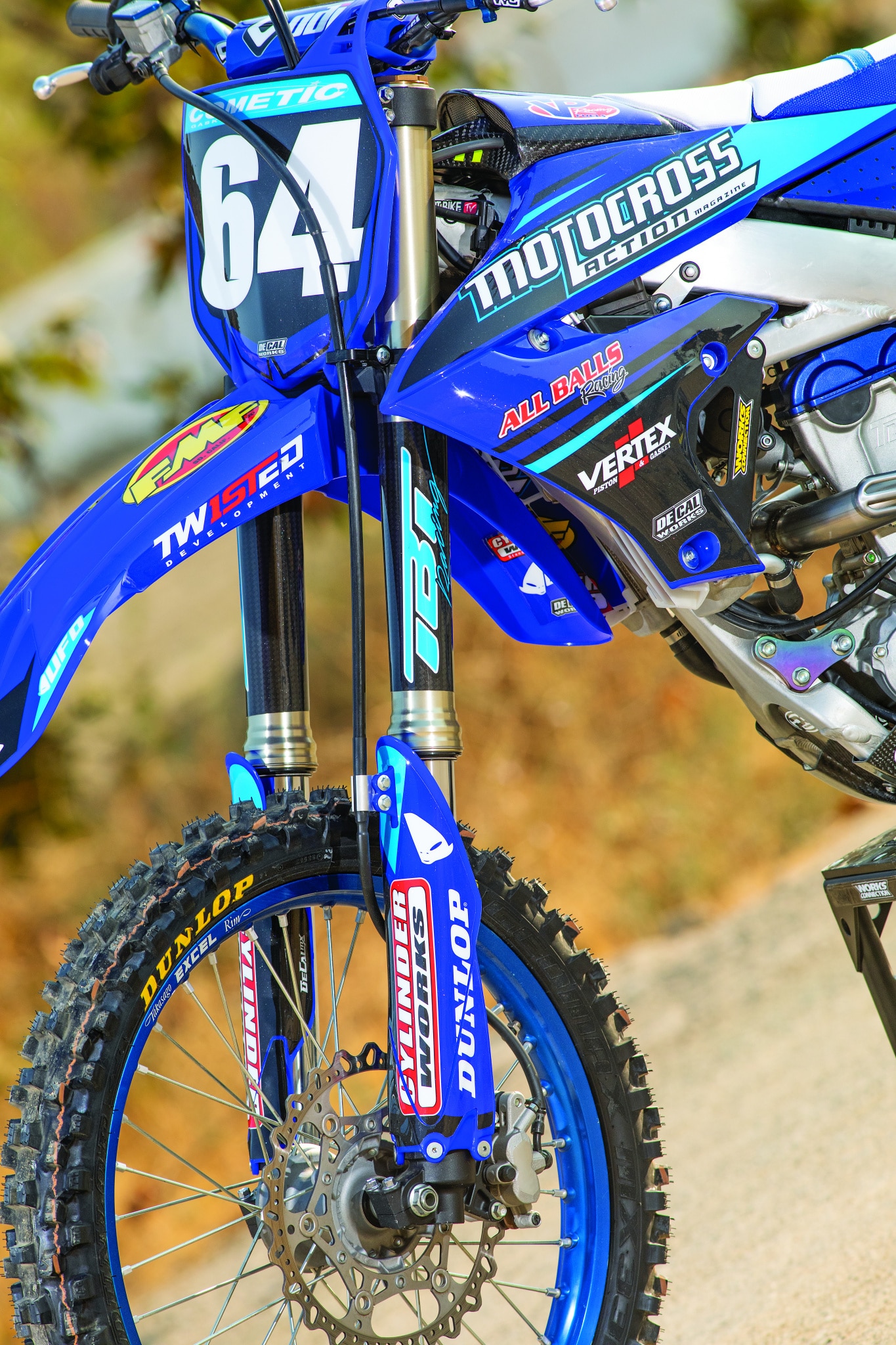 This was a piece of cake for Jamie. It wasn't his first rodeo, either. The Cylinder Works big-bore kit leaves Jamie with a lot of room for improvement. What do we mean by that? Twisted Development is a high-end race-engine shop. In a nutshell, Twisted Development takes the loose tolerances and tightens them up to race spec. Seems simple, right? Not by any stretch of the imagination. Here is a glimpse of what Jamie did inside our engine to give us the power spread we were looking for. 
ON THE FIRST TEST RIDES OF OUR FULL-BLOWN, FULL-RACE, FULL-SIZE YAMAHA YZ270F, THE MXA TEST RIDERS WERE IMPRESSED, BUT WE AREN'T GOING TO LIE; WE CRIED A LITTLE BIT FOR TWO REASONS.

 
First off, Twisted Development knows from experience that the YZ250F's steel intake guides can break when you add muscle to the engine. Twisted Development replaces them with bronze guides to increase durability. Second, Jamie CNC-ports the cylinder head and opens up the combustion chamber. Doing this decreases compression, but Twisted Development makes up for this by decking the head. Third, a Hot Cams Stage 2 kit was used in conjunction with a Twisted Development-spec'ed valve-spring kit. Fourth, to tighten up compression even more, a custom, thin Cometic head gasket was used to get the piston closer to the head. Fifth, Jamie's specialty is his dual-injector kit paired with a high-velocity air boot. Dual injectors have one injector close to the intake ports and one back by the airbox. This system is tuned to a Vortex ignition. On top of all that, a Hinson Billetproof clutch, FMF full exhaust system and a Nihilo carbon fiber-vented airbox cover finish off the engine package. 
As for the rest of the bike, we went full tilt. Since the Kayaba SSS suspension components are already in the ballpark, we just had TBT Suspension in SoCal touch them up to a setting we have lots of experience with. We dressed the bike up in Decal Works graphics, Works Connection parts, UFO plastic, Supersprox sprockets, TM Designworks chain guides, Raptor titanium pegs, and ODI bars and grips. We even added FCP engine mounts to cushion the ride. We didn't have to go whole hog on this build, but we like to give you as many options and ideas along the way as we can. 
On the first test rides of our full-blown, full-race, full-size, Yamaha YZ270F, the MXA test riders were impressed, but we aren't going to lie; we cried a little bit for two reasons. (1) The reverberation noise was insanely loud due to the hopped-up engine and vented airbox cover. It felt like our ears were bleeding. One MXA test rider was laughing at us as he was smart enough to wear earplugs. (2) The power profile brought us tears of joy. Off the bottom, it had enough power to keep us off the clutch and keep the nose down. Once the rpm built up, the engine took off. It felt like an Atlas rocket leaving the Cape Canaveral launch pad, with lots of power but metered out to progressively build up a healthy head of steam. It was both super smooth and extremely potent. Best of all, we could rev it to the moon, which is where most Atlas rockets are headed. It was everything we wished for.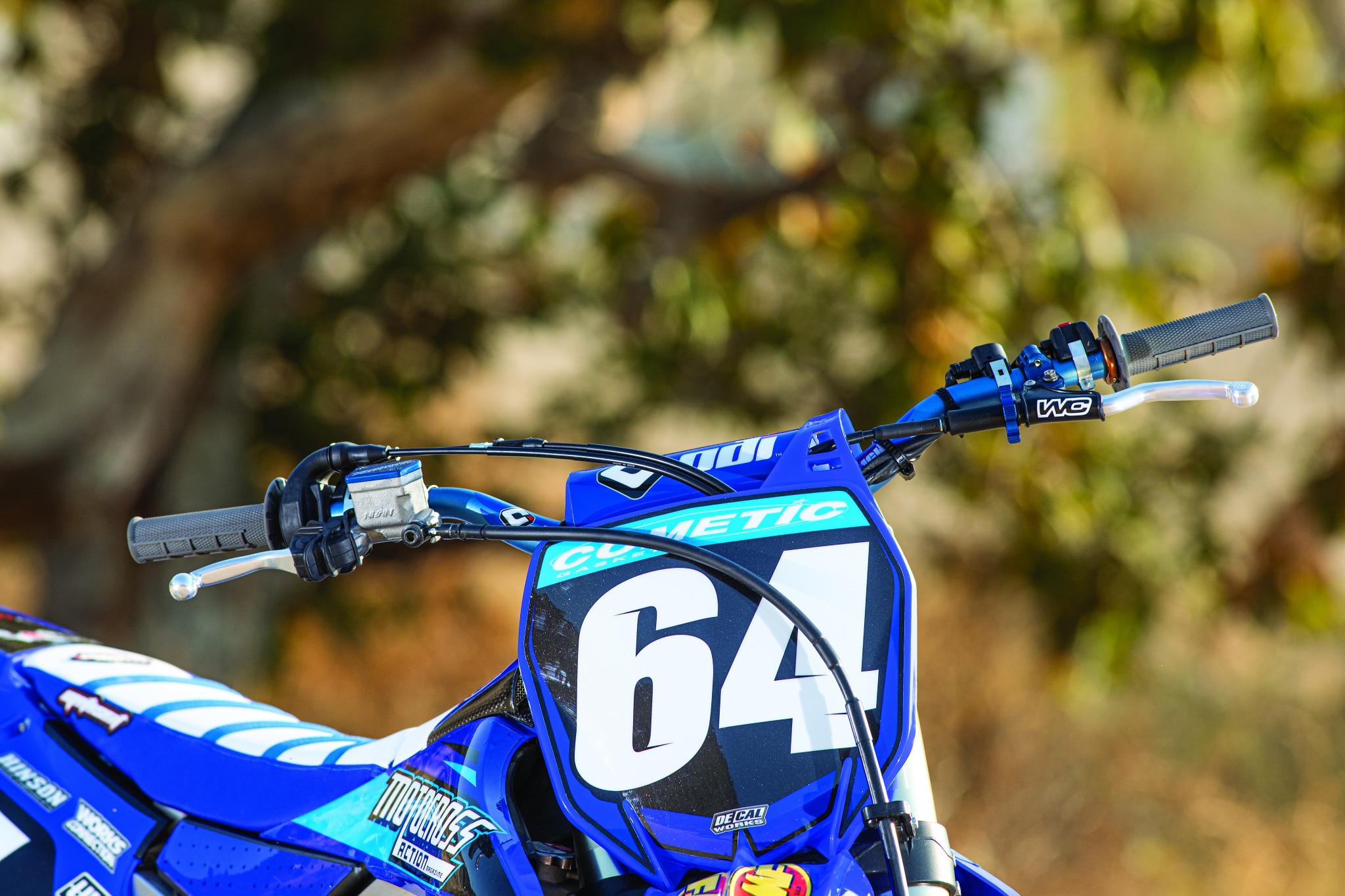 The second fuel-injection nozzle really brought this build home. When you thought the engine was close to giving up the ghost, the afterburners would kick in. On each intake cycle, an engine draws a breath of air from the intake tract, which can be viewed as a long column of air. At low rpm, the engine is taking quick little breaths and only using a fraction of that long column of air. A single fuel-injector nozzle must be placed close to the intake port to deliver adequate fuel at low rpm. At high-rpm, however, when the engine is drawing in the whole long column of air, a secondary injector can maximize the long column of air. Atomization is what counts, and dual injectors can keep up with the needs of low- and high-rpm running. With the second injector being further away from the intake, it allows the fuel to become more of a mist, which allows the fuel to ignite more easily. Second injectors are especially successful at maximizing high-rpm power. 
In essence, the engine of our YZ270F felt similar to a KTM 350SXF but with more excitement down low. Every MXA test rider loved this bike—after he put his earplugs in. We admit that it took a boatload of dough to complete this build, but we felt we had to. It was something that we yearned for. So, we had to build it at any cost. 
If you are on a budget and want something inexpensive and reliable, go with the basic Cylinder Works YZ270F kit. It is a steal on the "price versus performance" chart. Make no mistake about it, the YZ270F powerband will be different from stock, which isn't a bad thing. Many Vet and lower-level riders like the shorter and lower powerband for its added boost. 
If, however, you have an unlimited budget and want something that is made for the few, the proud and the rich, send your YZ250F engine to Twisted Development and ask for the "MXA special." If you are a Vet racer or professional practice rider, you can have a clear conscience racing this bike. But beware, in the displacement-regulated classes, you risk being called a cheater because your ridiculous holeshots in the 250 Novice class will stick out like a sore thumb.