WE RIDE THE BRC 500cc TWO-STROKE KIT BIKE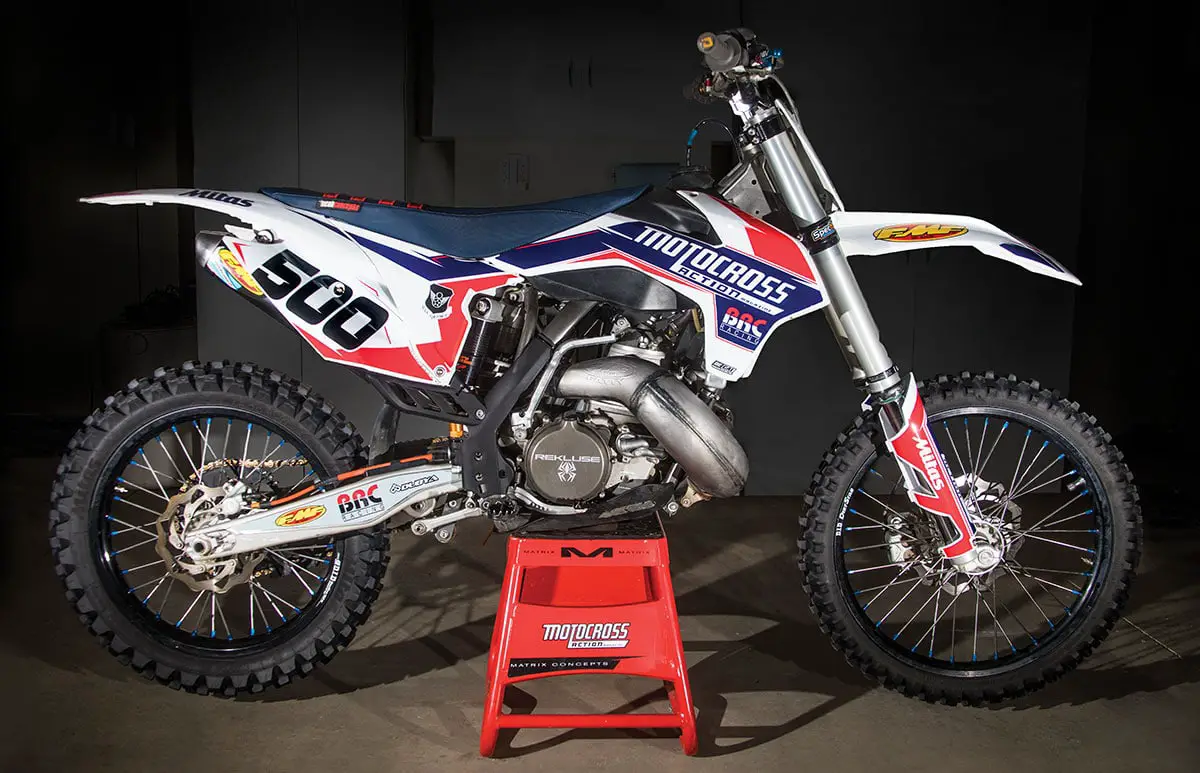 WE RIDE THE BRC 500cc TWO-STROKE KIT BIKE
The 500cc two-stroke engine became extinct in 2000 when the last Honda CR500 came down Honda's Kumamoto production line in Japan. Kawasaki retired its KX500 in 2004. The last Yamaha WR500 was produced in 1993. Suzuki had a short-lived RM500 venture that came to an end in the mid 1980s. And, well, KTM ended its 500cc program in 1993, then went bigger to a 550cc sidecar engine that only lasted until 1995. 
USING LASER SCANNING AND 3D PRINTING, RILEY BUILT A MOCK-UP ENGINE TO DETERMINE IF IT WOULD FIT INTO THE KTM FRAME. THE PLASTIC 3D-MOLDED ENGINE FIT PERFECTLY. THAT WAS ALL HE NEEDED TO KNOW.
These warhorses that were made for the men among men were forgotten over time. Big-displacement two-strokes took riders with finesse and a few screws loose to tame them. Now, in a world populated by heavy, complex, 450cc four-stroke engines that pump out 60-plus horsepower off the showroom floor, the 500cc two-stroke doesn't seem as intimidating to ride as it once did. Riders like Sean Collier and Tyler Bowers have shown that these 500cc beasts can be manhandled. In recent years, the 500cc two-stroke market has been booming, and without any manufacturers producing these big-bore engines, the used 500cc market has exploded. New parts are few and far between, and used parts only last so long. This is why the BRC Engineering team came together to find a solution to the problem. 
The Calgary, Alberta-based engineering company is best known for its championship-winning Super-Kart 250cc GP engines. Riley and Carter Will own BRC Engineering, which was started by their father. A decade ago Riley noticed the motocross trend of rebuilding old Honda CR500 two-stroke engines and retrofitting them into modern aluminum frames. Riley was so enamored with the idea that he built a CR500AF for himself. But, he didn't like the abrupt power of the CR500 engine and decided to manufacture his own 500cc, two-stroke, single-cylinder engine and design it so that it would be a drop-in project for a KTM chassis.
Don't think of BRC as a small hole-in-the-wall shop. It is anything but. BRC Engineering is a precision manufacturing and mechanical design firm based in Calgary, Canada. Its staff includes professional engineers, design technologists and machinists who are dedicated to providing world-class solutions for a variety of industries. Its major markets are oil/gas exploration, medical equipment, microwave components, automotive parts and high-pressure flow controls.
Using laser scanning and 3D printing, Riley built a mock-up engine to determine if it would fit into a KTM frame. The plastic 3D-molded engine fit perfectly. That was all Riley needed to know, and BRC immediately began sourcing partners to cast the engine cases, cylinder and head for its new BRC engine. Some components, such as clutch covers and kickstart levers, were readily available at KTM dealers, so BRC focused on the hard-to-find stuff. As with other motorcycle manufacturers, BRC's experience building kart engines allowed it to view the ground-up development of a 500cc two-stroke as an attainable goal. BRC had a personal interest in Open-class engines and the wherewithal to make a complete engine, so BRC started developing a 500cc two-stroke kit engine in 2016.
Because it is a kit engine, you have to start with a donor KTM 250SX or 250/300XC/XC-W or ECX two-stroke engine so that the BRC kit can harvest, not just the rolling chassis to put the engine in, but the internal parts that are out of its bailiwick, such as the KTM transmission. Since the first BRC 500 engine was developed in 2016, the original donor chassis had to be of the same vintage, and the borrowed internal parts had to come from a 2011 through 2016 KTM engine. It is possible to use a 2006 through 2010 engine; however, some fabrication above the cylinder head and silencer coupling points is necessary. And, of course, BRC is working on new center cases so that the BRC engine will fit in 2017 through 2020 KTMs. But only time will tell when the finished product will be complete.
THE KIT RUNS $5635 IN U.S. DOLLARS, WHICH EQUALS $7500 IN CANADIAN DOLLARS. THE KIT INCLUDES EVERYTHING YOU NEED TO BUILD THE ENGINE, INCLUDING BEARINGS, SEALS, GASKETS, FITTINGS, FASTENERS AND EVEN THE DYNO-TUNED FMF PIPE AND SILENCER.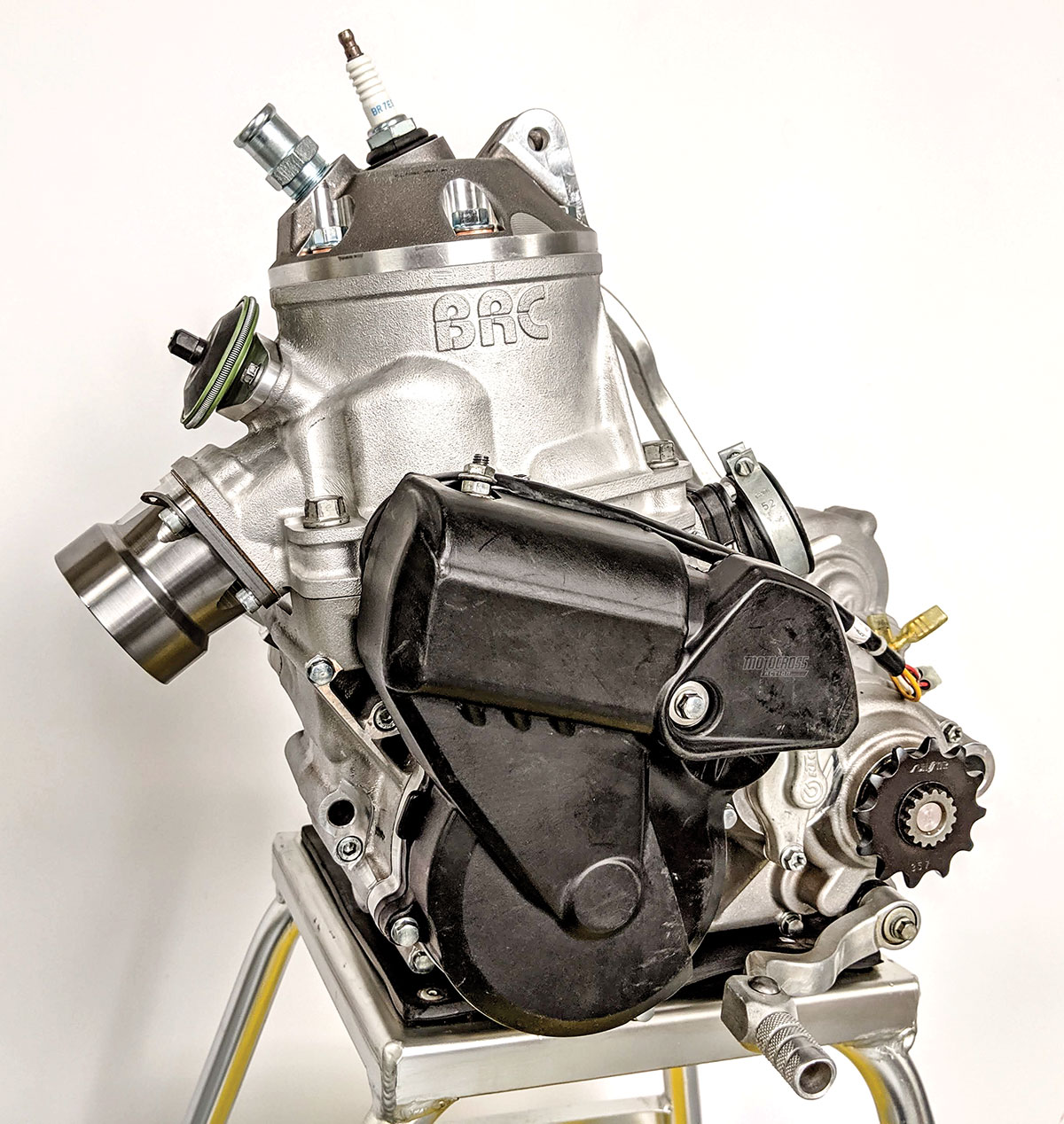 This was a major undertaking. There is a reason so few companies have tried to build their own motocross engines from scratch. What BRC accomplished is worthy of beaucoup praise. They not only had to cast the cylinder, head and center cases but also had to CNC machine a few small pieces. The only KTM production parts that go into the BRC engine are the transmission, ignition, kickstarter and clutch and ignition covers. BRC estimates that 400,000 to 600,000 KTM 250/300 two-stroke engines have been produced from 2007 to 2016. It is not an industry secret that KTM's two-strokes are its best-selling powerplants out of the entire Austrian two-and-four-stroke fleet. BRC didn't just luck into using KTMs as donor machines; it was a smart business decision. KTM's two-stroke sales charts ensure that there is a healthy quantity of used KTM 250/300 machines that could be resurrected with the simple addition of a BRC 500 engine swap.  
BRC can't keep its engine kits in stock. There is actually a waiting list. BRC is so busy that not even the MXA wrecking crew could get a new engine. Our test engine was one of the first run of pre-production BRC engines. BRC and Mitas ambassador Jarrett King drove from Canada to SoCal to hand us our BRC test bike. MXA's donor engine and chassis came from a 2014 KTM 250SX that had seen a lot of test miles. The donor transmission had countless hours on it, making shifting anything but smooth, but we didn't care. We wanted a taste of the big powerplant, even though it wasn't a perfect, hot-off-the-assembly-line BRC product.
The kit runs $5635 in U.S dollars, which equals $7500 in Canadian dollars. The kit includes everything you need to build the engine, including bearings, seals, gaskets, fittings, fasteners and even the dyno-tuned FMF pipe and silencer. Many of the parts are made by aftermarket companies, such as Cometic, ProX, Vertex and Hot Rods, so there is no problem replacing parts when needed. BRC even provides a reference sheet of all the parts, with part numbers included. Keep in mind the price of the kit does not include assembly. BRC will transform your KTM 250/300 two-stroke engine into a 500cc beast for $750. But, any experienced mechanic or KTM shop can easily assemble the BRC kit engine.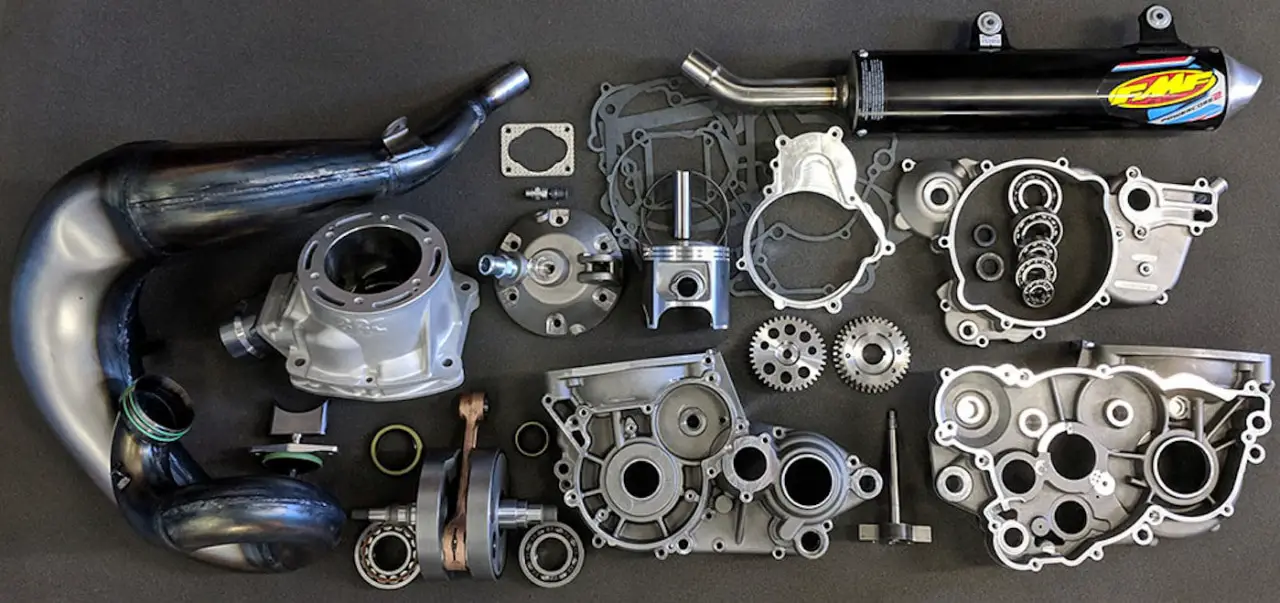 We spent a couple days acclimating to our BRC 500 test bike, which meant fixing parts that were tweaked, bent or worn out, cleaning the bike up and applying new graphics. When the day of the first ride rolled around, we assembled a handpicked crew of test riders. All three were former AMA National and Supercross riders. One test rider had zero 500cc two-stroke experience whatsoever, because he was 10 years old when the last Honda CR500 rolled off the assembly line. The second test rider was old enough to have ridden the last of the Kawasaki KX500s and more than a few Service Honda aluminum-framed KX500 and CR500 kit bikes. The third MXA test rider still wasn't old enough to have raced the AMA 500 Nationals, which ended in 1993, but had lots of experience with the last few years of Honda CR500 production bikes when he worked as a Honda test rider. We told them to focus on the engine only, because the KTM chassis was not what we were interested in.

NONE OF MXA'S THREE SELECTED TEST RIDERS SAID THEY FELT THE

 

WHITE-KNUCKLE FEAR THAT MANY RACERS FROM THE 1980s ASSOCIATE WITH JAPANESE OPEN-CLASS ENGINES.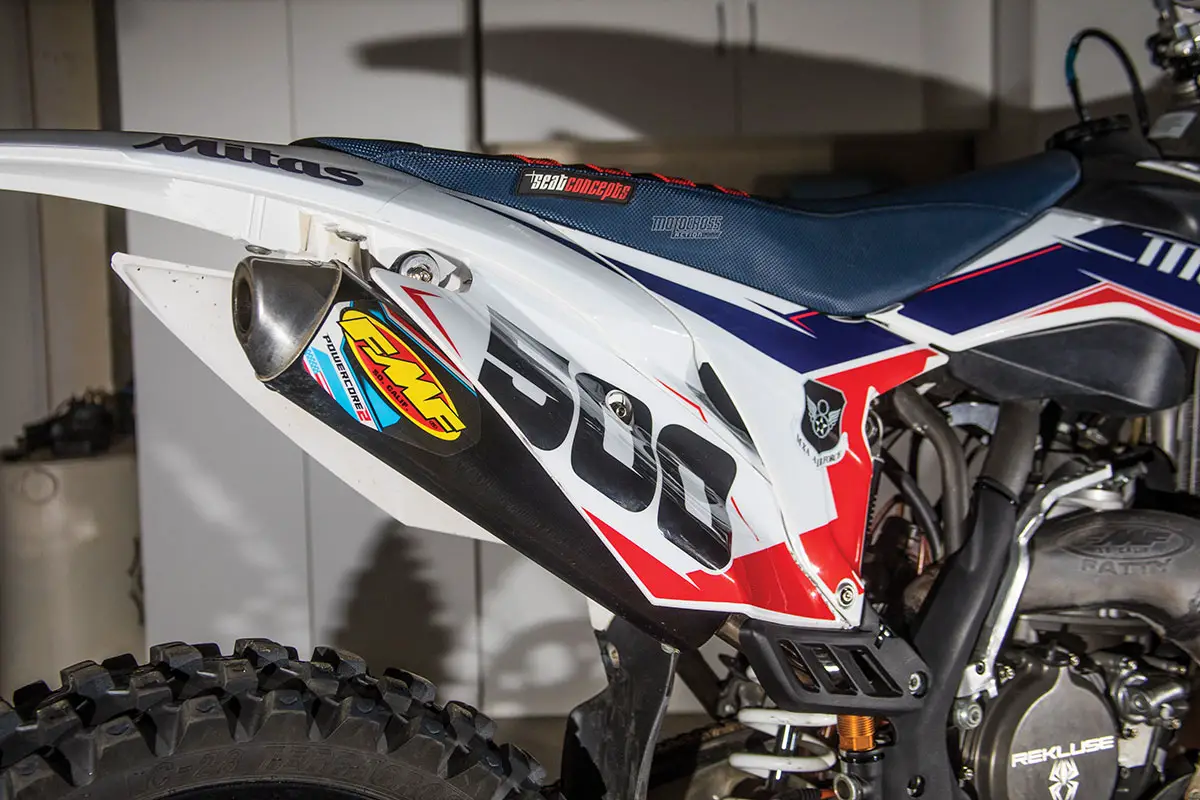 To aid in starting the 500cc power plant, BRC installed a decompression valve in the cylinder head to lessen the compression when starting the bike. It works by pushing the valve in and is released on its own once the engine is fired up. This makes kicking the engine over easier; however, starting an Open bike is still an art form. Making sure the piston is top dead center, getting a full hard kick and finding the right throttle position takes some trial and error. We are so used to electric-start engines in this day and age, we wished for an e-start version of this bike, which is possible.
Once started, the bike sounded crisp and strong. The vibration wasn't anything like that of the CR500 or KX500 rattletraps of the past. On the track, the power was shockingly smooth. It purred rather than barked, making it easy to ride for the average Joe. The power never fell off on top, so you didn't have to shift if you didn't want to; however, our testers did notice that the bike handled much better in the higher gears where there was less engine braking. Lugging the engine was the key to going fast on this bike, although the bottom-end power was not enough to pull the higher gears out of corners. The clutch had to be used to get it into the meat of the power. To get the best of both worlds, our testers learned to downshift as late as possible into the corners so the bike would be well-mannered under braking as well as have the perk of power through the corners.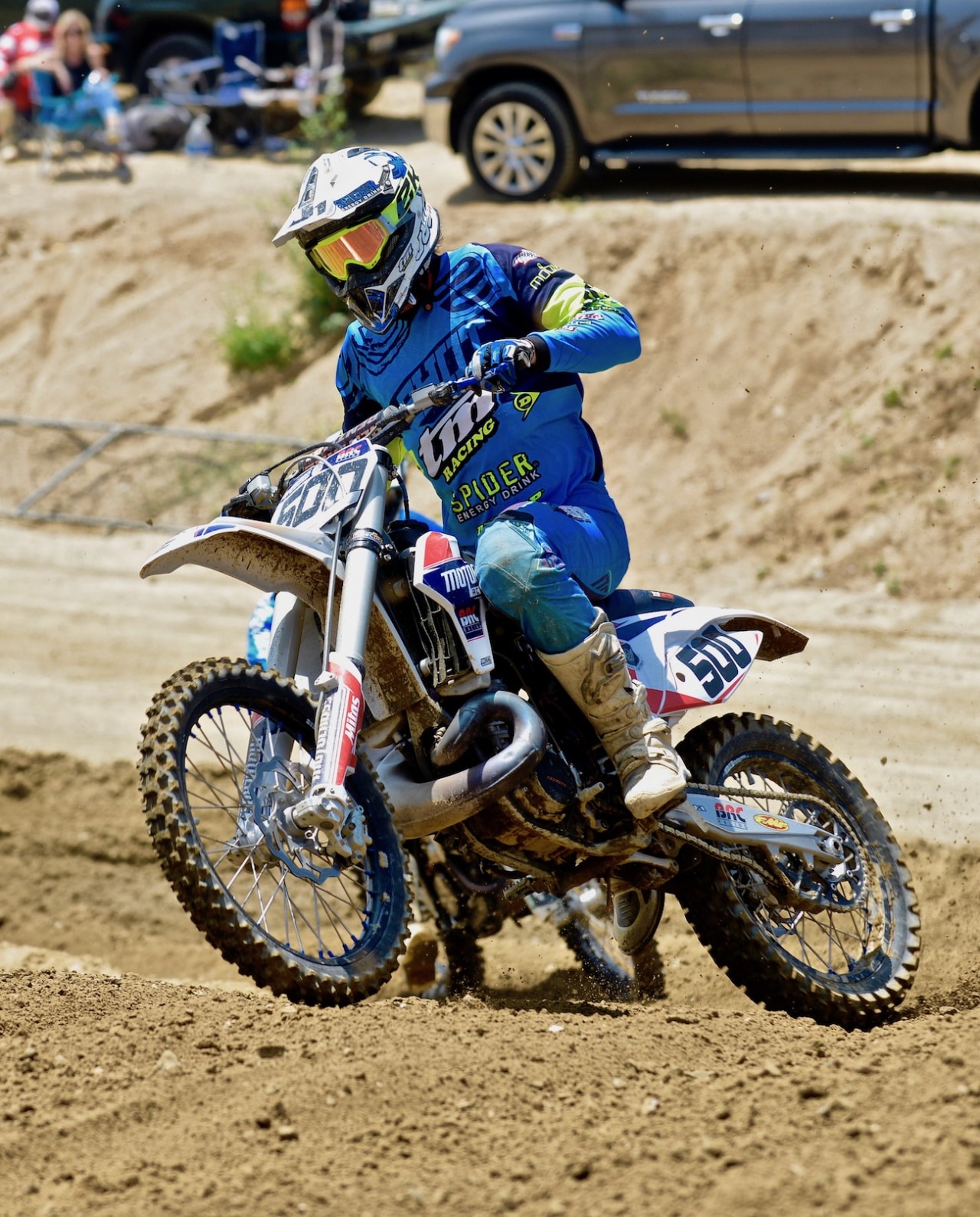 Given that Riley Will didn't like the Honda CR500 powerband in his aluminum-framed CR500AF, we can fully understand why he wanted to make a 500cc engine that was easy to ride with a broad and manageable
powerband. And, he achieved that. The BRC's power is well suited to Vet and Novice riders, and none of MXA's three selected test riders said they felt the white-knuckle fear that many racers from the 1980s associate with Japanese Open-class engines. There is no doubt that the BRC 500 feels ultra-manageable due to its slow-revving power. It is a very tractable and almost leisurely 500cc engine. The powerband is extremely broad, but for MXA's AMA National test riders, it lacked the potent character they expected from a race engine. Luckily, a two-stroke engine can easily be tuned to your liking with a little porting, a little compression and a little gearing.
IMAGINE THE POSSIBILITIES OF A MODERN 500cc ENGINE TUCKED INTO THE INCREDIBLY POPULAR KTM CHASSIS. THAT'S LIKE CATNIP TO
A BIG-BORE FAN.
Who would or wouldn't be in the market for a BRC 500 engine kit? Three groups of riders come to mind: 
(1) Although you might be tempted to think that the primary buyer would be a guy who just bought a 2020 KTM or Husqvarna TC250 and wanted to get more power—that isn't it. If you bought a brand-new $8300 KTM 250SX and the $5600 BRC engine kit, you would have a $14,000 motorcycle without adding any of the aftermarket foof that your heart desires.
(2) The biggest market for BRC 500 engine kits is riders who have a well-used, older-model KTM 250SX sitting in their garage in need of a top-end job. The kit will not only give his old scoot a new powerplant, but it will turn it into something that nobody else at his local track has.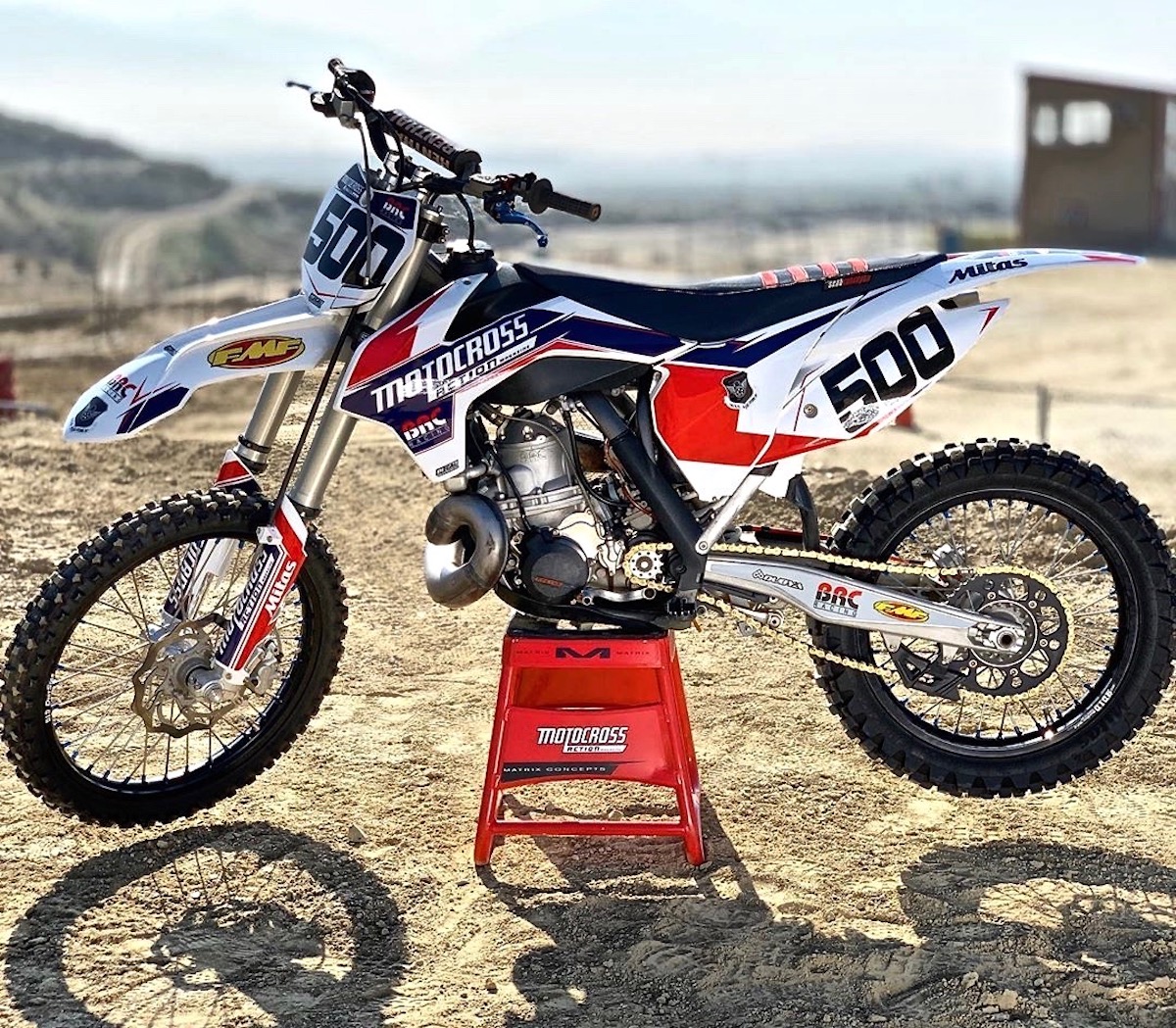 (3) There is a cult-like 500cc following that spends way more than $14,000 building full-race Kawasaki KX500s, even though 1990 motocross racers eschewed the KX500 because of its clunky chassis, slack handling and laggardly R&D. They chose the Honda CR500 because it was a better all-around bike (even though the engine wasn't as good as the KX500 engine). So, imagine the possibilities of a modern 500cc engine tucked into the incredibly popular KTM chassis. That's like catnip to a big-bore fan.
The MXA test riders thought the BRC 500 was a great starting point for a revival of 500cc two-strokes. The only
danger for BRC is that if it gets too popular, KTM may start to play ball again. For more information head to
www.brcracing.ca or call (844) 316-0630.
SEE THE BRC 500 TWO-STROKE IN ACTION