WE RIDE THE DREAM KTM 350SXF OF A KTM INSIDER—PLUS VIDEO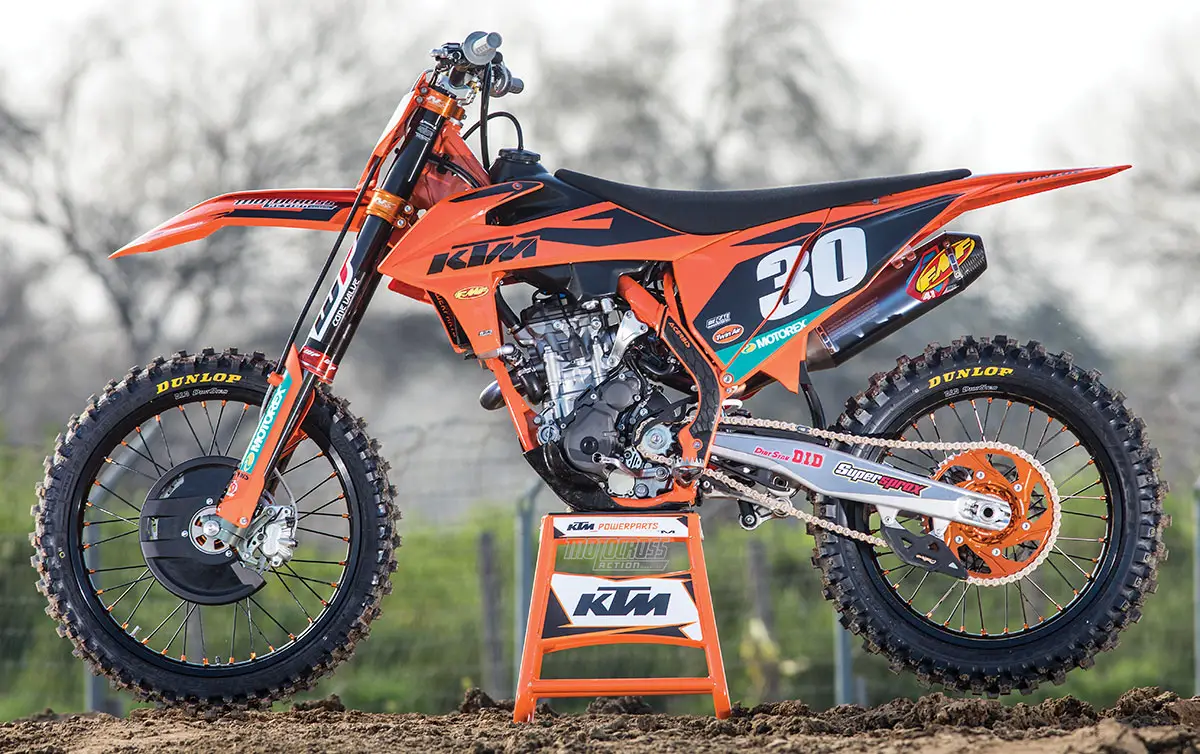 David O'Connor was KTM's Media Relations Manager and he was one of the best media guys in the sport—he raced weekly, was a skilled mechanic and was always handy with answers to questions. He worked at KTM headquarters in Temecula, California, which is, strangely enough, located on the corner of streets named Technology and Innovation. His job was to deal with the media, which, most important, means Motocross Action. It is, for the simple fact that MXA is involved, a very tough job. As a press relations expert, David had to deal with criticism from MXA test riders and criticism from his KTM bosses about the criticism from MXA test riders.
To the media world, David was the face of KTM—more so than Cooper Webb or Marvin Musquin. He was the go-to man for the media for tech info, mechanical help, new bike intros, KTM press events and hands-on aid. When you consider the two largest print magazines that test bikes, MXA and Dirt Bike, and all of the motorcycle websites (and even non-motorcycle websites) that want to do stories on KTM products, David was  a very popular and busy man.
>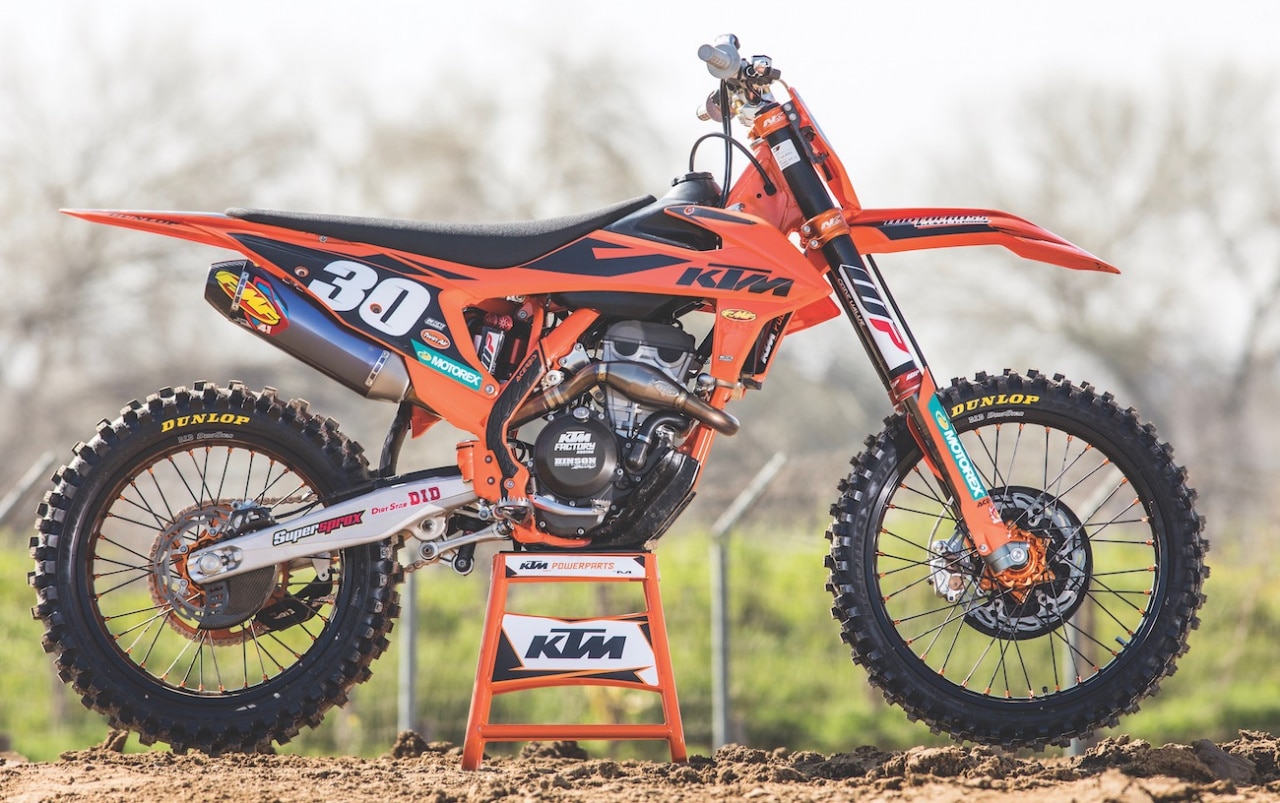 The MXA wrecking crew knew David O'Connor before he came to work as the assistant/mechanic/technician for KTM's legendary Tom Moen. David is from Waterford, Ireland, where the crystal of the same name comes from. He started racing in Ireland in 1995 in the 125 Schoolboy class on a well-used 1987 Kawasaki KX125. Through sheer coincidence, Jody Weisel's mother is also an O'Connor from County Cork—just a stone's throw from Waterford. In one of those twists of fate, the MXA editor and KTM manager are distant cousins from the Emerald Isle, although they never knew each other's families.
In 2005, David decided to expand his motocross education by coming to Southern California with one of the many motocross vacation companies that bring foreign riders to the USA to ride all the SoCal racetracks. David spent a month vacationing at Glen Helen, Milestone, Elsinore, Pala, Perris and Competitive Edge under the watchful eye of former Brit Pro Steven Heighton, the owner of the Race SoCal vacation company. When he got home to Ireland, he couldn't get the warm weather, bright sunshine and plentiful American racetracks out of his mind. David had saved up enough money to come back to the USA by 2007, but this time he called up Steven Heighton and got a job as a mechanic on Race SoCal's bevy of bikes. "It was a great job. I had a free place to stay, and I got to ride every day while ferrying the moto tourists around."
DAVID'S WORK ETHIC BEGAN TO ATTRACT THE ATTENTION OF THE POWERS THAT BE. TOM MOEN ASKED HIM TO WORK FULL TIME IN THE MEDIA RELATIONS DEPARTMENT AT KTM.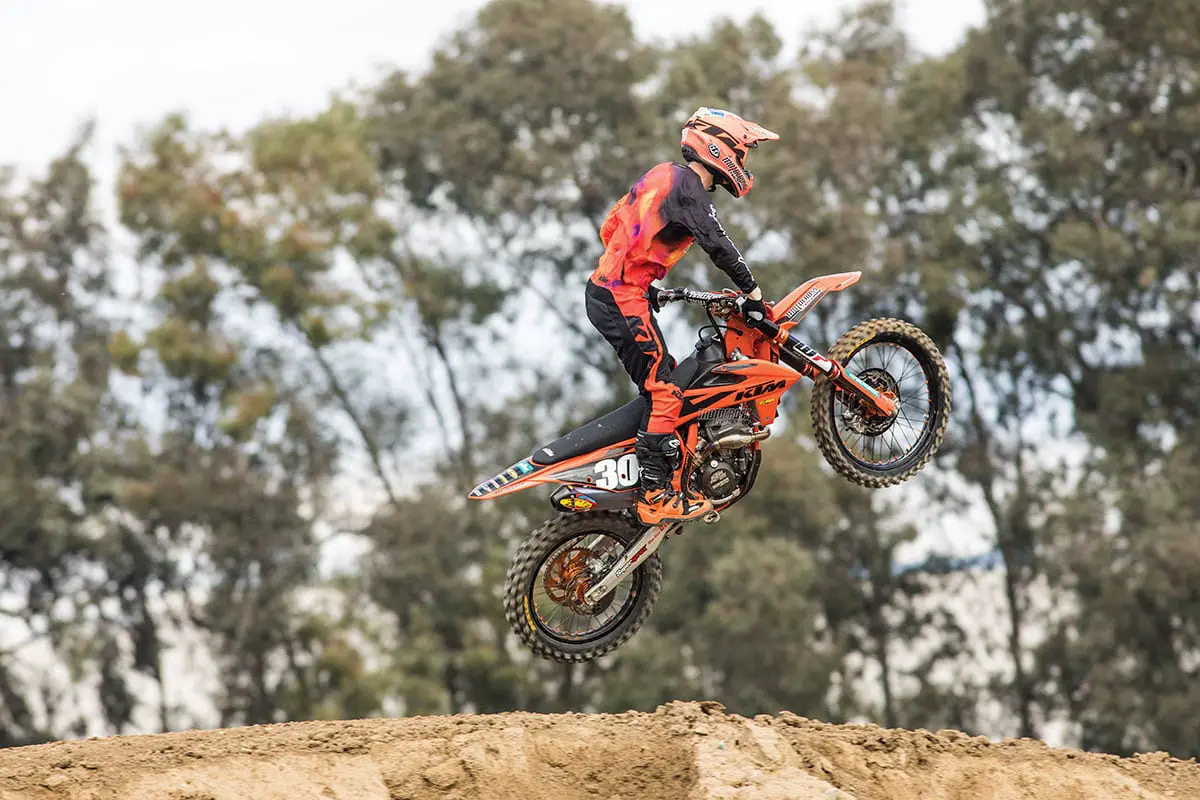 THE GEAR: Jersey: KTM Troy Lee Designs SE Slash, Pants: KTM Troy Lee Designs SE Slash, Helmet: Troy Lee Designs SE4, Goggles: KTM Scott Prospect, Boots: KTM Alpinestars Tech 7.
David had a solid mechanical background. He worked for four years at a Nissan dealership in Ireland and, through Race SoCal, he was soon asked to twist wrenches for Pro riders. His first National gig was with the 2008 Richardson RV Suzuki team for British rider Adam Chatfield. In 2009, he moved over to Star Yamaha, splitting his time between Darryn Durham and Michael Hall. Continuing his vagabond ways, in 2010 he joined the JDR KTM team and wrenched for Australian Dan Reardon, followed by Michael Leib in 2011 and finally the Factory Kawasaki Off-Road team with Taylor Robert and Bobby Garrison in 2012.
David's work ethic began to attract the attention of the powers that be. KTM's Tom Moen asked him to work full time in the Media Relations department at KTM. The job consisted of building up crate bikes for magazine tests and going to press events as the mechanic. David liked the job. There was no traveling; he could spend his weekends with his wife and kids; and, best of all, he could race every weekend if he wanted.
MXA first met David when he was at Kawasaki, but we remembered the smiling guy with the twinkle in his Irish eyes when we reconnected at a KTM press intro. David helped MXA immeasurably over the five years he worked as KTM's Media Relations Technician. When MXA built a project bike or wanted to test Dungey's, Millsaps', Short's or Musquin's race bikes, we went through David. He knew more about what we were doing than we did. He was good for KTM and great for us. Finally, in 2018 Tom Moen got promoted and so did David O'Connor. David took over Tom's old job as the head of Media Relations because Tom wanted his life to be complicated by corporate responsibility, business meetings, reams of daily paperwork and no time to ride. Lucky guy.
DAVID WAS THE PERFECT KTM EMPLOYEE—HE CAME TO THE USA TO RACE AND WORKED HIS WAY INTO THE PERFECT POSITION FOR A MOTORCYCLE RACER. IT WAS GREAT, EXCEPT FOR ONE THING. KTM DOES
NOT LEND MOTORCYCLES TO EMPLOYEES.
David O'Connor at his angriest.
David was the perfect KTM employee—not just because he knew his job, but because he was a motocross racer at heart. He came to the USA to race and over the years worked his way into the perfect position for a motorcycle racer. He was in charge of a fleet of brand-new motocross bikes. It was great, except for one thing. KTM does not lend motorcycles to employees. No sweat. David bought a 2019 KTM and began to build it into his dream bike.
The orange anodized Neken triple clamps are in the KTM Power Parts catalog.
Imagine what the dream bike of the KTM insider would be like. There would be no limits when it came to the engine, chassis, wheels, brakes, forks, shock or accessories. If David had an engine question, he could walk down to the KTM Factory race department and ask team manager Ian Harrison what he suggested. If he had a suspension concern, David got to spend a lot of time with former AMA Pro Casey Lytle who works at WP (which was less than a block away from KTM). Not only that, he had a complete catalog of KTM PowerParts that he could buy all manner of mildly disguised factory parts from.
MXA was lucky, because from the time David sent his black frame off to San Diego Power Coating (SDPC) to have it painted orange, we started bugging him about testing his 2019 KTM 250SXF. David had been to enough MXA test days to know that his pride and joy was in some danger in the hands of the MXA wrecking crew—and, worse yet, he couldn't ride his new bike until MXA got to ride it first. Of course, David was in the middle of the media shootout season during his bike's buildup, so he couldn't blast through the project because he had 125 shootouts, 250 shootouts, 450 shootouts, off-road shootouts and all manner of magazine requests at the height of the new bike season. And, as he got closer to getting it done, the SoCal weather turned record-breaking wet.
Every time MXA scheduled the date to start testing his bike, it would rain and MXA would be off on some other adventure. MXA would reschedule, only to be stymied by rain again, and again and again. Finally, many months after David started building his KTM 250SXF from the ground up, there was a break in the rain, a very short one-day break where MXA's schedule, David's schedule and Mother Nature's schedule aligned.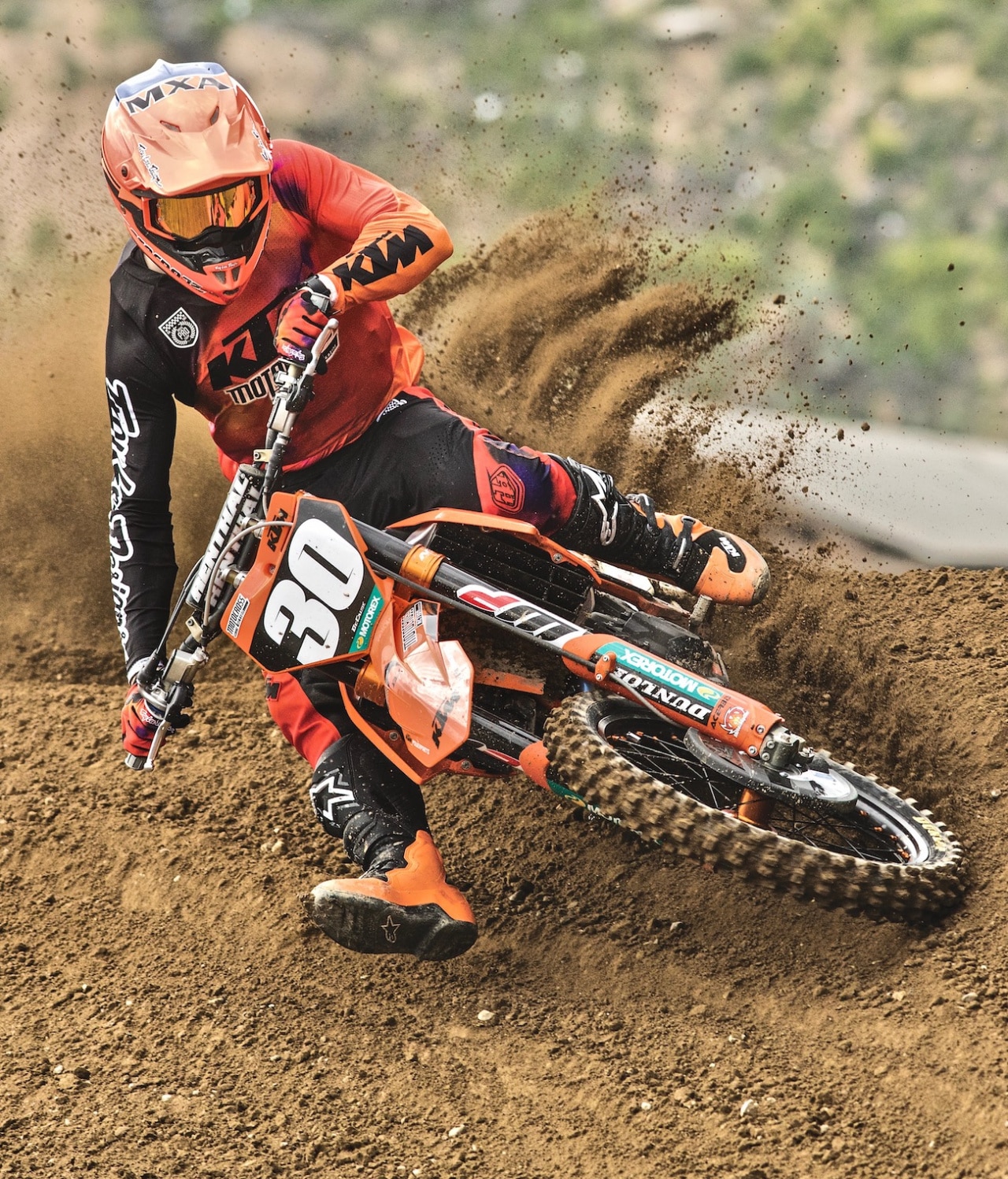 We are sorry that you couldn't be there to ride this bike—and we didn't even let David ride it. We had to shoot the still photos, the MXA video, the action photos and let every MXA test rider get his chance at riding it. David was the odd man out. Let's just say that this was a special 2019 KTM 250SXF, as close to a factory race bike as any bike we have ever ridden, save for an actual KTM Factory 250SXF. Here are the specifics that made this bike so impressive.
Frame. The orange frame doesn't seem so special until you get a KTM with the black chassis. Black doesn't sparkle. It doesn't look unique. It is not on any rider's list of desirable frame colors. For $200, San Diego Power Coating electro-statically applied KTM orange. All David had to do was knock out the bearing races and remove the delicate T piece from the steering head. SDPC took care of the rest.
Wheels. KTM's  Power Parts catalog, which you can find at www.ktm.com or behind the counter at your local KTM dealership, is an excellent choice for semi works parts. David's wheels feature D.I.D Dirt Stars rims laced with black spokes in a cross-three pattern, using gold spoke nipples and CNC-machined, gold anodized Factory hubs. David equipped the hubs with Moto-Master brake rotors, PowerParts front disc cover, Dunlop MX33 tires and heavy-duty Dunlop race tubes.
DAVID HAD BEEN TO ENOUGH MXA TEST DAYS TO KNOW THAT HIS PRIDE AND JOY WAS IN SOME DANGER IN THE HANDS OF THE MXA WRECKING CREW—AND, WORSE YET, HE COULDN'T RIDE HIS NEW BIKE, MXA GOT TO RIDE IT FIRST.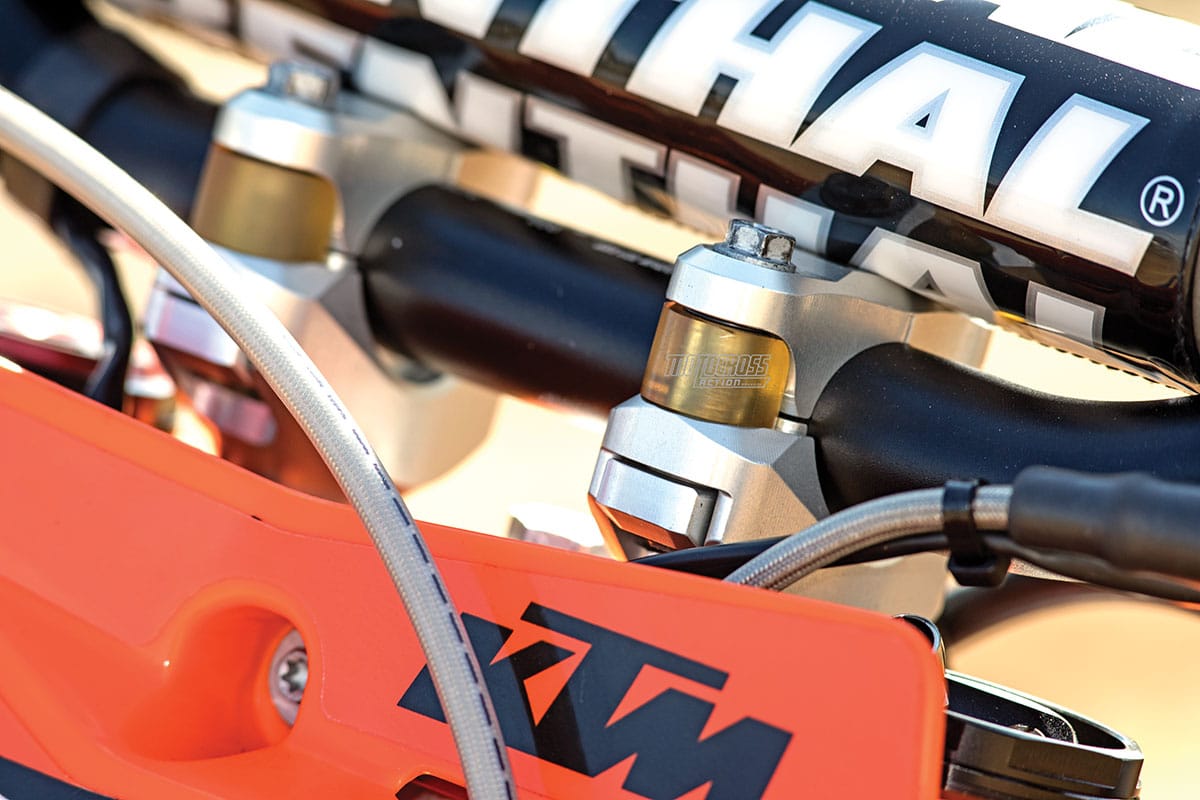 Xtrig PHDS bar mounts are suspended by elastomer bumpers.
Handlebars. Renthal 999 handlebars with Renthal medium-compound, half-waffle grips are attached to Xtrig PHDS (Progressive Handlebar Damping System) bar mounts on 22mm-offset Neken orange-anodized triple clamps.

Air filter. KTMs come with Twin Air filters, but David made two changes to his KTM 250SXF. First, he traded the stock 250SXF air filter cage for a screen-less KTM 250SX two-stroke cage. Second, he cut the flap off the inside of the airbox cover to increase the air flow.
Plastic. David got the all-orange plastic from PowerParts. It can be ordered without KTM graphics. The KTM aftermarket plastic parts were highlighted by DeCal Works' tasteful orange and black graphics—offset by Acerbis plastic frame guards (also in orange and black).
Brakes. Apart from the Moto-Master rotors, David put some love into the Powe Parts rear brake caliper bracket and offset it with a special carbon fiber rear rotor guard (a left-over from the race department).
FACTORY SERVICES SAID THAT DAVID COULD HAVE THE PARTS TO GET THEM OUT OF THE WAY, BUT HE HAD TO PUT THE WHOLE ENGINE TOGETHER HIMSELF AND HE HAD TO RUN VP-T4 FUEL AT THE VERY LEAST, BECAUSE THEY DIDN'T WANT HIM COMING BACK WITH A BLOWN-UP ENGINE AFTER HE RAN PUMP GAS IN IT.
>
David found an old-school Factory Edition sprocket for his bike.
Suspension. There was no doubt what a loyal KTM employee was going to use when it came to suspension. David went with 2020 WP XACT Pro Air (Cone Valve) forks and Trax shocks (with the drop-out feature disabled). David runs his suspension fairly stiff compared to most Vet racers, so he just borrowed Dennis Stapleton's MXA suspension specs from the WP notebook and turned the compression clickers out to suit his speed. The shock comes with an Xtrig worm-drive preload adjuster (which MXA turns with an 8mm socket on an electric impact wrench). The Trax shock is set up with a 45 N/m shock spring, but David was going to try a 48 N/m spring once the components broke in.
Miscellaneous. The gearing was 14/53 (stock is 14/51). The rear sprocket was an orange SuperSprox unit that was a left-over part from an older-model Factory Edition. The skid plate came from PowerParts, and the footpegs were Scar titanium pegs. David ran VP T-4 race gas in his bike because his engine was highly modified. The engine oil was Motorex 10w/50 Crosspower and the coolant was Motorex M3.0 anti-freeze.
MXA wouldn't let David O'Connor ride his bike when he got it finished. He had to wait for the MXA photo shoot and the MXA test riders to get done before he got to try it—which was one week later. Here, David gets to wring it out at an REM race.
The meat of David O'Connor's 2019 KTM 250SXF project bike was the engine—and, oh, what an engine it was. First of all, David got some help from KTM's Factory Services Department. Factory Services only builds engines for KTM's and Husqvarna's contracted AMA race teams, but there was a time when they offered customer engine packages. They stopped when the race team business became all-consuming. David was able to find one set of customer package 250SXF parts on a shelf that had been long forgotten. Factory Services said that David could have the parts to get them out of the way, but he had to put the whole engine together himself (they didn't have time) and he had to run VP-T4 fuel (at the very least), because they didn't want him coming back with a blown-up engine after he ran pump gas in it.
UNLESS YOU ARE A FACTORY-BACKED KTM RIDER, FACTORY SERVICES ISN'T GOING TO HELP YOU IN ANY WAY. DAVID WANTED TO SAY THAT PRO CIRCUIT COULD BUILD AN ALMOST IDENTICAL ENGINE FOR A CUSTOMER.
The compression adjusters looked complicated, but they are adjusted by an Allen wrench.
The customer parts consisted of a Pankl piston, ported cylinder head, Pankl rod with bronze top-end rod bearing, Del West valves, heavy-duty valve springs and camshaft. There was an akadized Hinson clutch cover (but with a stock DS Belleville washer clutch behind it). The water pump cover was also akadized. The exhaust pipe was an FMF Factory 4.1 RCT Hex unit with a Ti muffler. There is no doubt that the trick parts made David's engine very exotic, but this was largely because unless you were a factory-backed KTM rider, Factory Services wasn't going to help you in any way. David wanted to say that Pro Circuit could build an almost identical engine for a customer.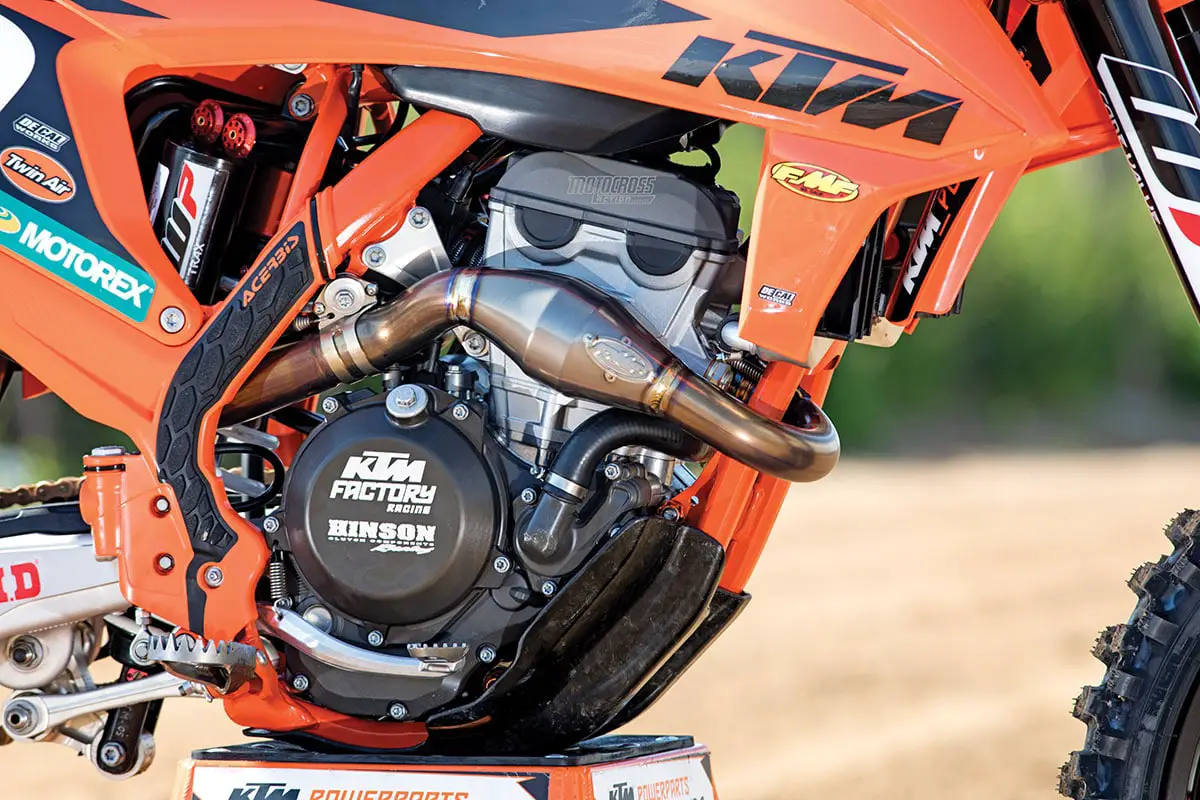 Although David O'Connor built the engine himself, he used hand-me-down Factory Service parts to build a missile.
The last trick in David's engine was a remapped stock KTM black box. David hand carried it to the Red Bull KTM factory team workshop and begged Ian Harrison to map it for him. MXA has experience with Ian's black box magic, because Ian mapped two ECUs for us over the last couple years. What's so special about it? It revs to 15,000 rpm. We can't tell you how important that extra 1000 rpm of over-rev was on the racetrack and the negative effect on the wear and tear of the engine. David's engine was already maxed out in terms of compression, valves and cool parts, but the 1000 rpm was a big deal performance-wise.
WITH 15,000 RPM, THE ENGINE PULLED, AND PULLED AND PULLED. EVERY TEST RIDER WAS SHOCKED BY HOW MUCH STRONGER AND LONGER THE ENGINE WENT. IT WAS A MISSILE.
With the rev limiter set at 15,000 rpm, the sky's the limit.
What was it like to ride? We wish every KTM 250SXF could be like this. It was a missile. Although David had geared it down one tooth on the rear, we could not get it to hit the rev limiter. In fact, we had to gear it down with a 13-tooth countershaft sprocket so we could make shifts on long straights. With 15,000 rpm, the engine pulled, and pulled and pulled. Every test rider was shocked by how much stronger and longer the engine went with just a measly 1000 rpm more rev. A quick look inside the airbox also revealed a long carbon fiber velocity stack in the airboot to improve airflow.  
When you paired the hyper engine with KTM handling and XACT Cone Valve Pro air forks, it was like riding a works bike—largely because most of it would have made any AMA privateer happy as a lark. The forks were super supple yet held up to harsh hits. Now, you might think that the metallurgy, close tolerances and fancy coatings on the Cone Valve forks were what made them feel so good. Not so. Forks are only as good as their valving, and works forks with bad valving aren't any better than stock forks with bad valving. Luckily, WP's valving made David's WP forks and Trax shock perfectly balanced. The forks were super supple yet held up to whatever you threw at them.
This is David's dream bike, and that is exactly what it is—a dream. We loved it. Loved riding it. Loved looking at it. Loved sitting on it. Loved making "braaap" sounds. And, loved the sound of the engine breaking the sound barrier.
A couple years ago, David O'Connor left KTM to open up his own motorcycle shop. It was a dream of his and in short order the life behind the counter and the constant hassle of permits, fire marshals, city officials, taxes and government regulations turned his dream into a nightmare. He closed his shop and started doing freelance work for many companies in SoCal. Even KTM called to see if they could get him to come back to work for them. He did a few side projects for KTM, but resisted going back inside the orange empire. But, finally they made him an offer he couldn't refuse. No, he didn't go back to being the KTM Media Relations guy (our loss), instead KTM offered David a role at KTM Factory Services, building and working on the engines for KTM's AMA Pro teams.
We're glad to have David back, although he never left us since he parks right next to us in the pits at every race. MXA is glad that David got a new dream job and decided to re-run the story of his 2019 KTM 350SXF, so everyone could see his level of perfection.
THE FIRST RIDE ON DAVID O'CONNOR'S KTM 250SXF VIDEO
 
KTM 250SXF PARTS SUPPLIERS
www.renthal.com
www.vpracingfuels.com
www.dunlopmotorcycletires.com
www.ktmusa.com
www.scar-racing.com
www.fmfracing.com
www.moto-masterusa.com
www.xtrig.com
www.motorexusa.com
www.supersproxusa.com
www.wp-suspension.com/en-us/
www.td-racing.com
www.racesocal.com
www.acerbisusa.com
www.sandiegopowdercoating.com
www.decalmx.com
www.nk-neken.com