MXA INTERVIEW | ADAM CIANCIARULO'S LOOKING FOR HIS FIRST CHAMPIONSHIP
Adam Cianciarulo is looking to clinch his first Championship at the Las Vegas Supercross May 4th.  
After a couple tough weekends, Monster Energy Pro Circuit Kawasaki's Adam Cianciarulo was determined to take revenge in Denver and remind everyone that he is the guy to beat for the 250 Supercross West Coast Championship. Adam did just that by winning his fifth race in the series. In doing so he expanded his points lead to 8 over Dylan Ferrandis. Still anything can happen, and Adam isn't letting this win go to his head. But with his previous success in both Las Vegas and East/West shootouts, the smart money is on AC to finally take his overdue first Championship. We were able to grab a few minutes with Adam to hear more about his season to date, and his thoughts on moving up to the 450 class.
BY JIM KIMBALL
ADAM YOU WON IN DENVER AND YOU GAINED A FEW POINTS, BUT NOT ENOUGH TO TRULY RELAX RIGHT? Yes, the points gap went from 5 to 8, but if he (Dylan Ferrandis) would have won, he would have closed up to two points behind; meaning Vegas would be a winner take all. So, it is nice to have a little bit of a points cushion, but it's certainly not enough where I could go into Las Vegas and lay up. My goals are to stay focused and win Las Vegas. Obviously, there is a lot on the line and there is a lot of pressure. But I have had a lot of success in Las Vegas, the bike is great, and my fitness is good. It is something that I have focused on a lot.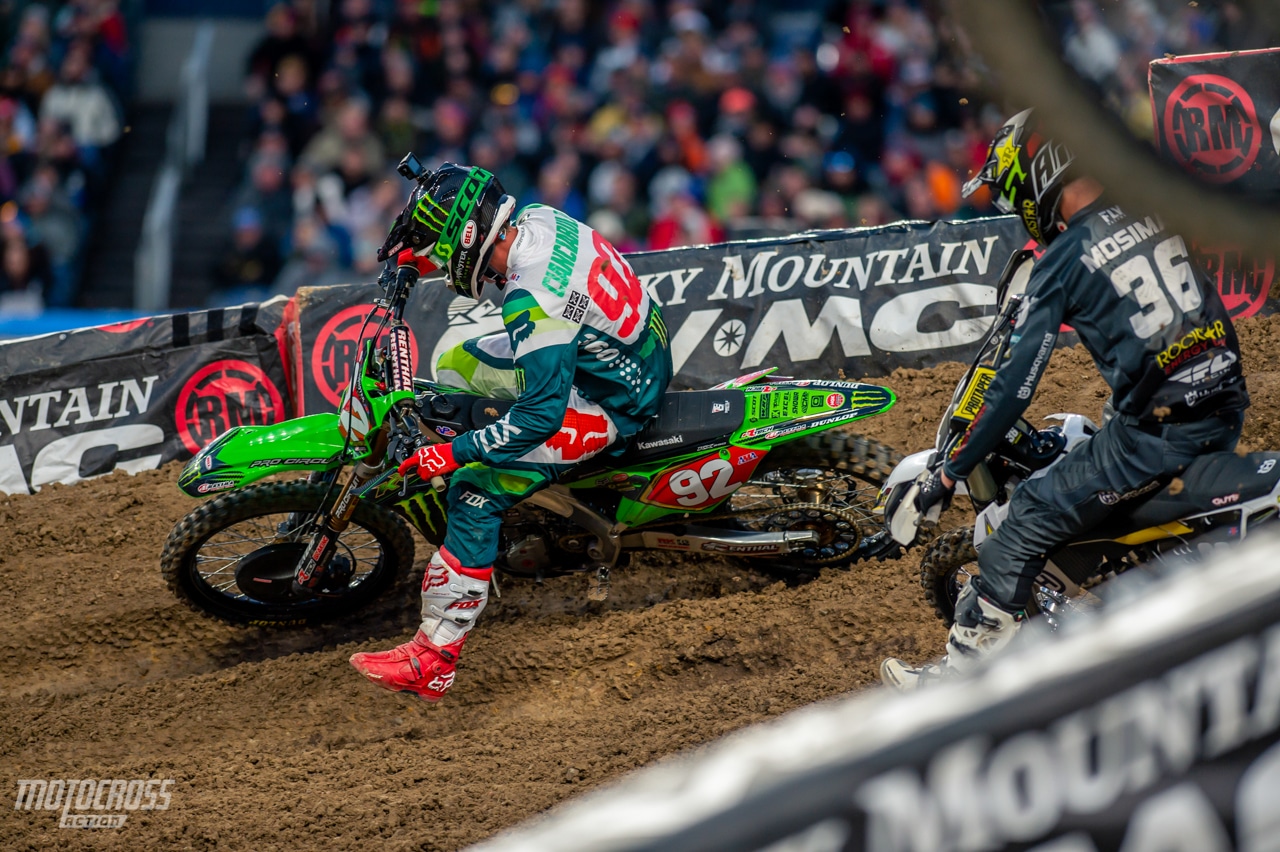 After battling with Michael Mosiman for the first six laps of the 250 main event in Denver, Adam pulled away to win his fifth main event of the season. 
IT APPEARS YOUR RACE CRAFT HAS IMPROVED SINCE LAST YEAR. Yes, it is something that I have focused on a lot. I mean the last few years, I have been working on it. You know, just being a little steadier, a little bit more consistent, and just not panicking when I get in bad situations like you can do. It's dirt bike racing and stuff is going to happen, so you have to remain level headed, and you have to remain focused on what you are doing, and not get too far ahead of yourself. I feel like I did that the last two races. I have not won, I have lost points, but I feel like I have ridden really well both times, just a couple of little things that I could have done. Better starts at Houston would have kept me out of trouble, and all would have been fine. We did lose some points, but still obviously we had to believe in ourselves and that is what we need. We just need to do that and just go into Vegas with an open mind and do what we do.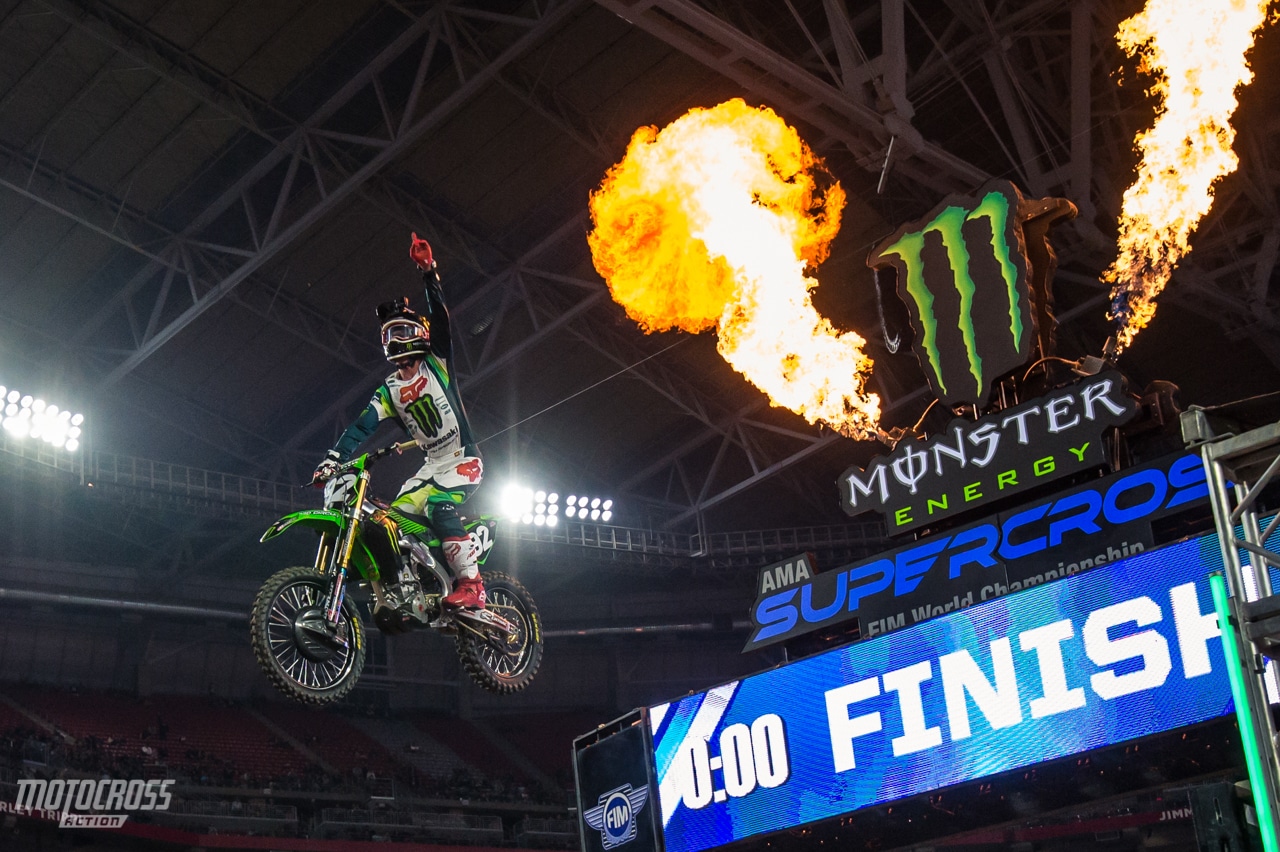 It seems like AC has finally put it all together. He's riding with more maturity and experience in 2019 and so far it is paying off for him.
OBVIOUSLY, YOU HAVE A LOT OF COMPETITORS OUT THERE, BUT IT APPEARS THAT DYLAN FERRANDIS IS THE ONLY ONE WHO HAS BEEN CLOSE TO YOUR LEVEL. Yes, he is really fast. He has had a lot of speed since he has come over to the U.S. and he definitely goes for it. I think he has been the second-best guy this year in terms of that category. Obviously, at this time everybody else is way too far out of it in points to look at, so it is really just me and him, but you cannot really allow it to change your mindset.  You know, I can't go out there and say what is he doing? My goal is just to win the race. I have to look at it like I would look at a race at the beginning of the season and that is exactly what I am doing, like it's round one. You just have to keep all that other stuff from coming into your mind, but yes, Dylan has been having a great year so far, but at the same time, I feel like I am the best guy, and I definitely want to show that at this last race.
The pressure has been rising for Adam Cianciarulo and Dylan Ferrandis in the Championship, but the sportsmanship has still been high between the two. 
YOU MENTIONED BEING THE BEST GUY, WHICH MAKES ME THINK OF THE EAST/WEST SHOOTOUT THAT YOU WON. The shootout was good. A lot of hype coming into that one with my teammate (Austin Forkner) doing so well, and myself. I think we executed it perfectly. I kind of sat back, waited a little bit and watched those guys, as they wanted to make some passes. I have had a lot of success in the East-West shootouts, which is nice for me because that is probably the most pressure packed race we had so far this year.
Adam inherited the points lead in the 250 West class at round five in San Diego and he has held on to it ever since.
DO YOU FEEL LIKE YOU PERFORM YOUR BEST WHEN THE PRESSURE IS ON? I really do feel like I perform my best under pressure, there was a lot of hype and a lot of pressure coming into the East/West shootout. There were so many fast guys out there and if you don't have a good race, you can lose a lot of points. I feel like my back is against the wall like that and I really need to make something happen. I think I tend to pull it out when it's the most difficult, so I will use this to my advantage at the last race.
Adam Cianciarulo and Austin Forkner's post-race celebration in Atlanta after Adam won and Austin finished third in the 250 East/West shootout. 
IT IS CRAZY, HOW BOTH YOU AND YOUR TEAMMATE AUSTIN FORKNER HAD DECENT POINTS LEADS, BUT BOTH LOST THEM. Well, it's dirt bike racing. It is unpredictable and stuff happens. We are going really fast and the levels are only going up. Austin rides on the edge and I can attest to that for sure. Sometimes it bites you in the butt, and sometimes it doesn't. I found the best way to look at it is like a rollercoaster; you just have to remain consistent in your program and what you believe in. You have to remain consistent with the belief you have in yourself. It is always going to be up and down. A lot of times in my career, I've asked why me? Why is this happening? But this way of thinking does not help anything. Stuff happens to everybody, and I mean everybody. Everybody goes through difficult times, and it is challenging. That is why everybody that races Pro doesn't win a championship, because it is hard, and you have to have some luck on your side. Look at Cooper Webb, not that he does not deserve it, because he has been the best all year. But it just seems like stuff cannot go wrong for him, and I think that this is a big mentality thing for him too. He probably believes that stuff can't go wrong for him. I think the fact that he believes that, he attracts positivity towards himself. So, I have tried to adapt that mentality myself, that stuff is going to happen, and you just have to deal with it. You just have to work through it the best you can.
The moment Adam Cianciarulo passed Austin Forkner for the lead at the Atlanta East/West shootout. 
I CAN SEE BOTH YOU, AND AUSTIN, ASSUMING HE CAN RACE, BATTLING FOR SUPREMECY IN THE OUTDOOR CHAMPIONSHIP. I can understand you saying that. I have actually done a decent amount of Outdoors testing. We had a big break in February/March. We had like four weeks off, so I have probably honestly a month of Outdoor riding time in. I have done some testing and the bike is really good. All around, the bike is even better this year, so I am stoked on that. Obviously, you would think that Austin and I would be favorites going into the motocross series. Hopefully, he is ok and he is able to complete out there with me, but obviously my goal is to win Outdoors too. I would love to win all the championships this year, that is my goal. I think I am plenty capable of that. This is the first year that I have belief in myself that I really, truly am the best guy, I really have that self-belief. In years past, I would say maybe sometimes I felt that way, but definitely not all the time, so my goal is to win. Hopefully, he is there with me and can make it a good summer for the team.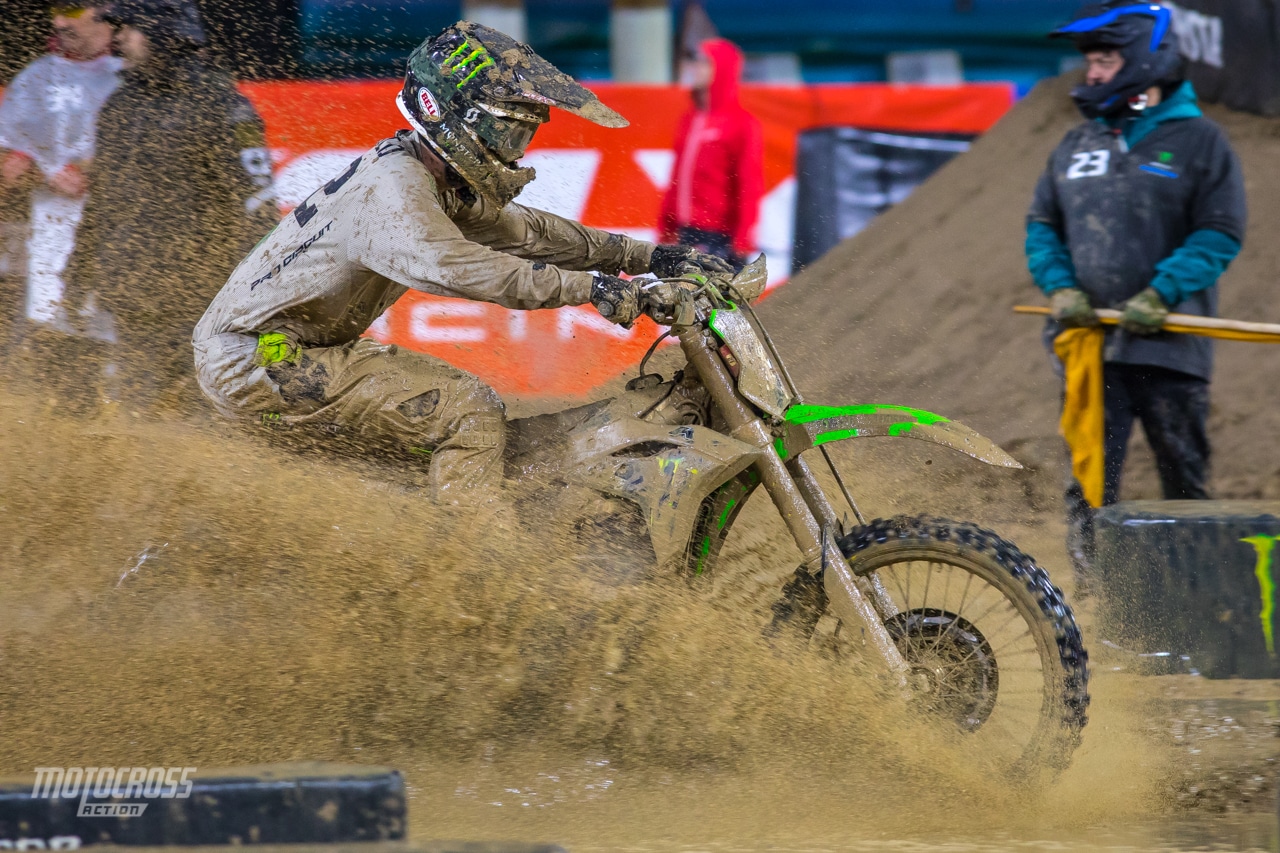 Adam splashes through the lime-infested mud in San Diego. 
ONE MORE TOPIC, MANY THINK YOU WILL MOVE TO THE 450 CLASS NEXT YEAR; WILL YOU? By me thinking about that stuff too much, I am doing a disservice to these people that are here with me fighting for this championship, and these wins now. My goal first and foremost is to repay these guys for all their hard work, and that is to close these things, win, and put some #1 plates up on that door. I have been vocal that ultimately my goal is to compete at the highest level, so I would be foolish to say that I did not want to ride a 450. That is where everybody wants to go, but at the same time, that is certainly not my focus. I will deal with that when it comes. Right now, my focus is just winning these races, and like I said, just repaying all of these guys. They have done so much work, and been there for me for so long, so I definitely want to repay them.
Adam with his friend and training partner, Ken Roczen during track walk. 
I WILL FINISH BY SAYING THAT YOU CERTAINLY WON'T LACK FOR OFFERS. I don't know. I think I have made a lot of improvements this year and I think that they speak for themselves. I am not really one to talk about how good I am too much, but I am just going to continue to do what I do, and we will see what it brings.