BIKES YOU'VE NEVER SEEN BEFORE: 1980 MOTO VILLA 350MX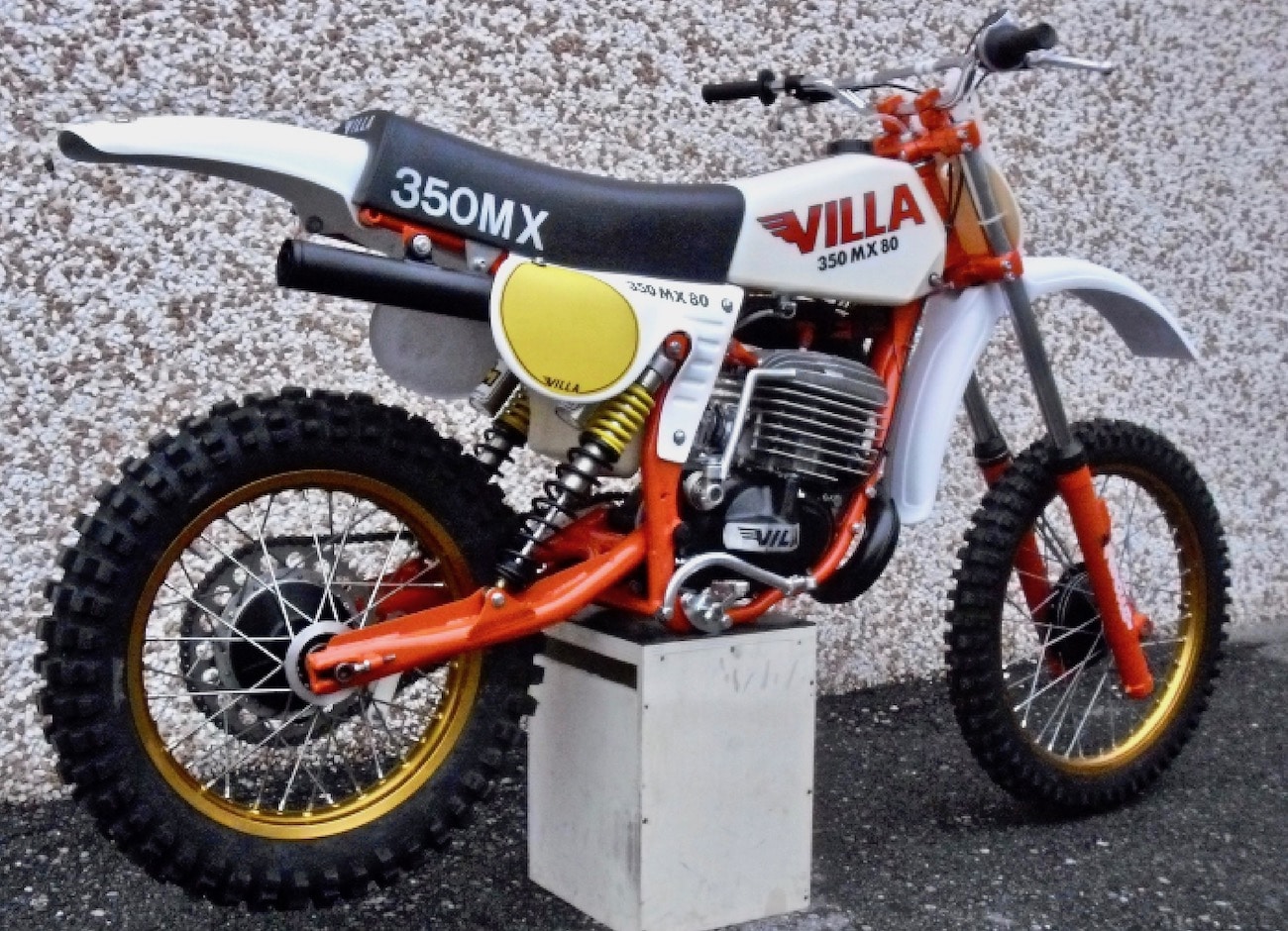 The 1980 Moto Villa 350MX.
The Moto Villa firm was born thanks to the experience of Francesco Villa, a skillful racer and technician for Ducati, FB Mondial and Montesa, who had built a two-stroke 125 racing motorcycle in 1965, called Beccaccino, which was given to the Spanish Montesa firm. Francesco's new company's first actual branded bike was the Moto Villa PR125 in 1968. It was an evolution of the Beccaccino.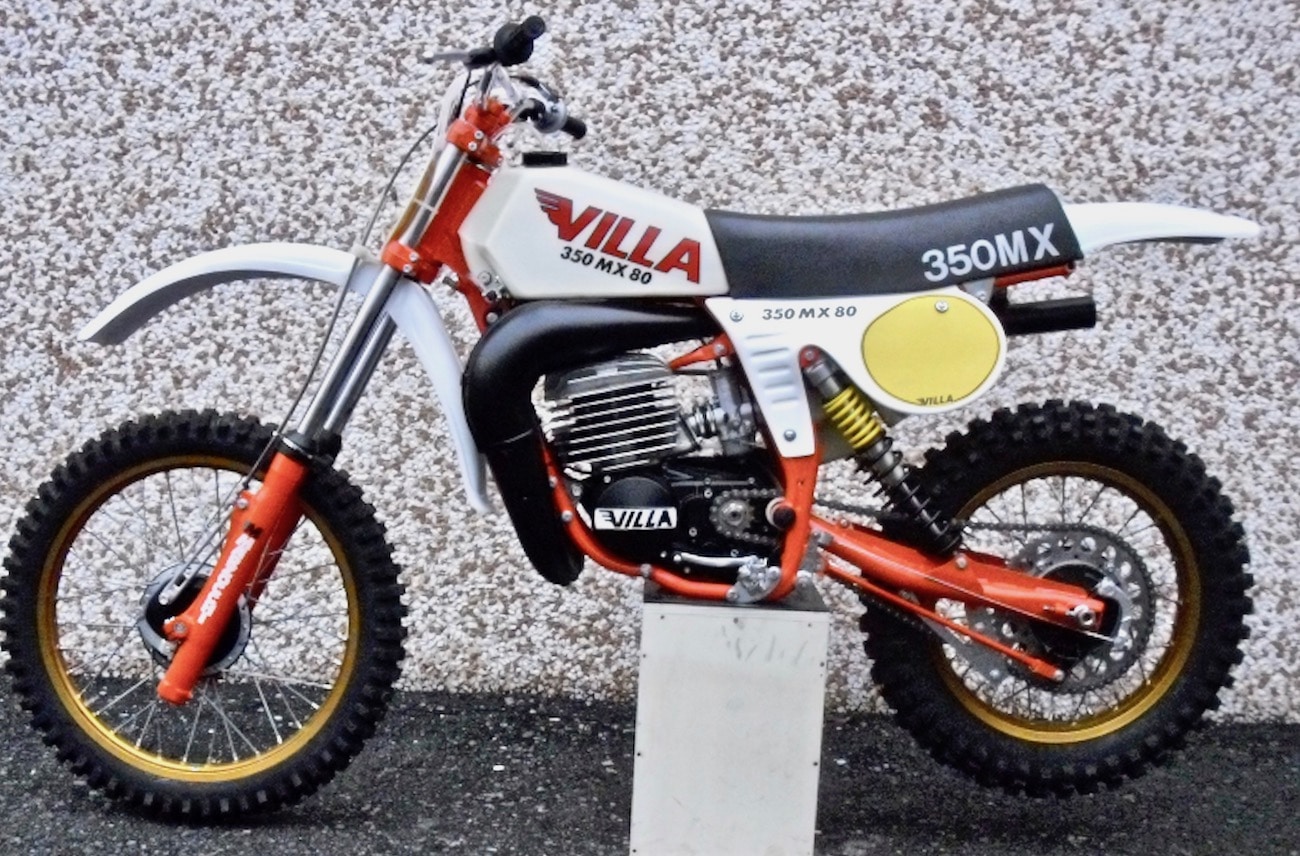 In 1970 the company committed itself to a new 250cc, four-cylinder, rotary-valve, two-stroke road racer, only to have the FIM ban 250s with more than two cylinders the same year.
Moto Villa's four-cylinder, rotary-valve, air-cooled, two-stroke 250cc Grand Prix road race engine was essentially two, 43 x 43mm bore/stroke, 125cc twins mounted on one crankcase and laid down.
The first production machines down the assembly line at Moto Villa used 50cc and a 125cc Franco Morini engines. With it's success assured, Moto Villa stopped being the Italian Montesa importer. And when they couldn't get Franco Morini to improve the racing performance of his engines, they decided to build their own. The first Moto Villa CR models were developed in 1973 in 250cc and 450cc versions as well as motocross and enduro models.
By 1979 they were manufacturing 250, 350 and 410cc air-cooled two-stroke engines—and they won the Italian 500 Championship. Moto Villa also supplied engine technology to SWM and Carabela. Starting from the end of 1981 Moto Villa adopted single-shock rear suspension for all its machines along with water-cooling for the 250. The next major project was the Moto Villa 125 TT4.
In the 1980s there were several technical and mechanical innovations applied to Moto Villa's racing motorcycles and the company expanded into 125cc kart engines—winning the 125cc Junior Italian Championship and French 125 Kart French Championship. Things were looking up, but by 1984 the big Japanese firms had moved into the European market and small manufacturers, like Moto Villa, were squeezed.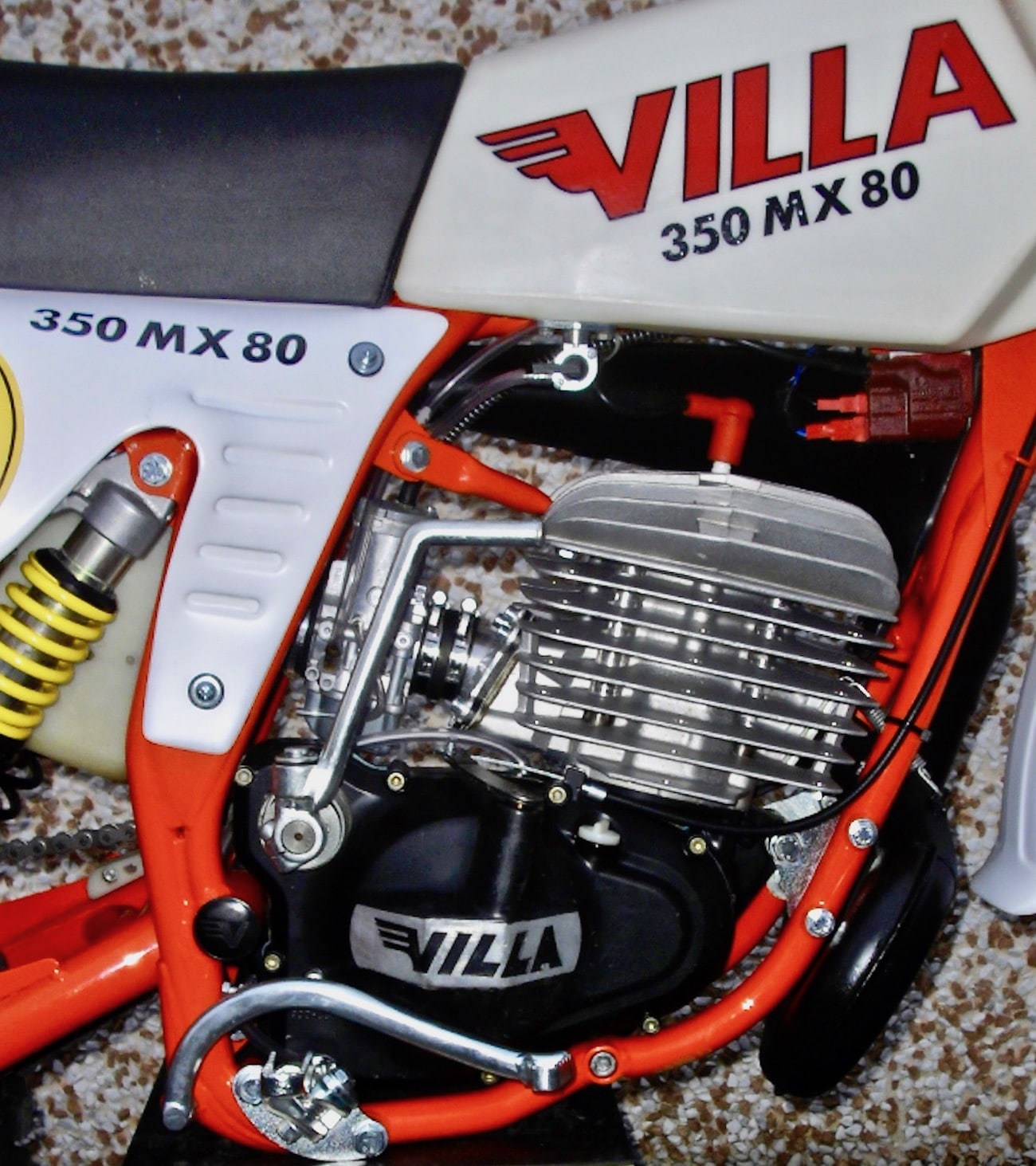 The MX-series of Moto Villa motocross bikes came in 125, 250, 350 and 410 versions (and later a 480cc engine).
Our  featured bike is the 1980 Moto Villa 350, it was in its second year of production in 1980. Moto Villa made the same bike in 250, 350 and 410 versions. The 350 engine had a 81.5mm bore with a short 68mm stroke. It displaced 354.56cc. It was fed by a 38mm Bing carb, Motoplat ignition and six-petal reed valve. The forks were 38mm Marzocchis and the twin shocks were piggyback Corte Cossas. The MX-series air-cooled engines were housed in twin shock, double-cradle, chromoly frames, with resin gas tanks replacing the normal aluminum tanks.
Towards the end of the MX series they designed a stronger single-beam chassis and expanded the racing line to 125, 250, 350, 410 and 480 engines.
Marzocchi forks were mated to Corte Cossa rear shocks. In 1980, drum brakes were still common place.
By 1987, Moto Villa stopped production. Francesco kept the family's racing heritage alive with a series of special race bikes, but in 2012 he sold Moto Villa to the Bivio family. To this day, there are spurts of activity at the old race shop as they roll out occasional special machines, but they rarely see production.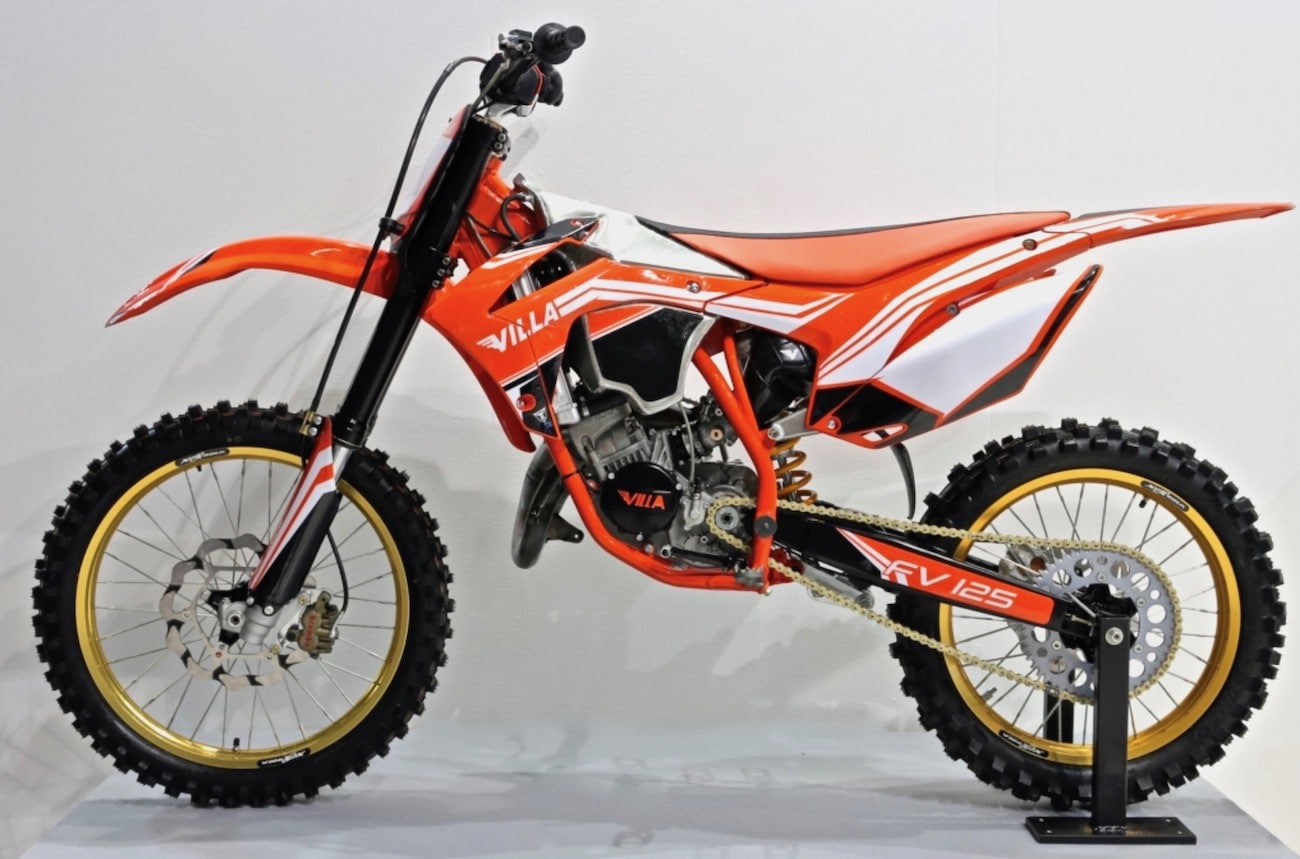 Moto Villa showed this water-cooled FV125 on the European motorcycle show in 2018, but it hasn't been seen since.
Francesco's brother Walter Villa played an important role in Moto Villa history, first by racing the early Moto Villa race bikes in Italian road races and later by helping the firm out. Walter was a four -time FIM World Road Racing Champion and eight-time Italian Champion. Walter died in 2002 at the age of 58 of a heart attack . In 2019 Francesco Villa opened a permanent motorcycle museum dedicated to the history of Moto Villa. However two months later, in February 2020, Francesco Villa passed away at the age of 87.