EVERYTHING YOU NEED TO KNOW TO RACE THE 2022 WORLD VET CHAMPIONSHIP

ABOUT THE TRACK
Welcome to Glen Helen Raceway! This year's track has been designed by Jody Weisel to be a true-to-life National track, but in a "Vet-Friendly" configuration! This year's Dubya World Vet Championships is sure to be a challenge for any Vet contender!
THINGS TO NOTE ON THE TRACK MAP
TRACK LAYOUT
Designed to replicate the great Glen Helen AMA National and Grand Prix tracks of the last two decades, this year's World Vet track will connect the lower National track to the upper REM track. Lap times will hover from 2:40 to over 3:00 minutes with lots of big uphills and corresponding downhills (the elevation at the top Mt. Saint Helen is equal to a 22-story office building). The dirt will be an intriguing mix of loam, sand and hard-pack. As an added plus, the complete race track was tested the week before to insure that it would be challenging and tough, but also Vet friendly. With 900 riders on the track, expect it to get rough (but it will start out smooth).

SIGN-UP TOWER
All Pre-Entrants and Post-Entrants MUST check-in at the Sign-Up Tower located at the north end of the track
RACING & STAGING AREAS
Racing and practice Staging Areas are to the Left/South of the Start Line, Entering from Vendor Row. Look for flags that say, "Staging."
SCORING
All scoring is done by transponders, be sure to charge yours. Glen Helen has transponders in the scoring tower for those that don't have one (they are limited in number).
THE MUSEUM
The Museum is where you will have your chance to meet 2022 Edison Dye Award Recipient, Jeremy McGrath, listen to the Whiskey Throttle Podcast, and watch the Edison Dye Award Ceremony on Saturday evening, beginning at 4pm.
VENDORS ROW
Vendor Row is where we will have plenty of food, beer, clothing, and other participating vendors for you to stop by and enjoy throughout the weekend!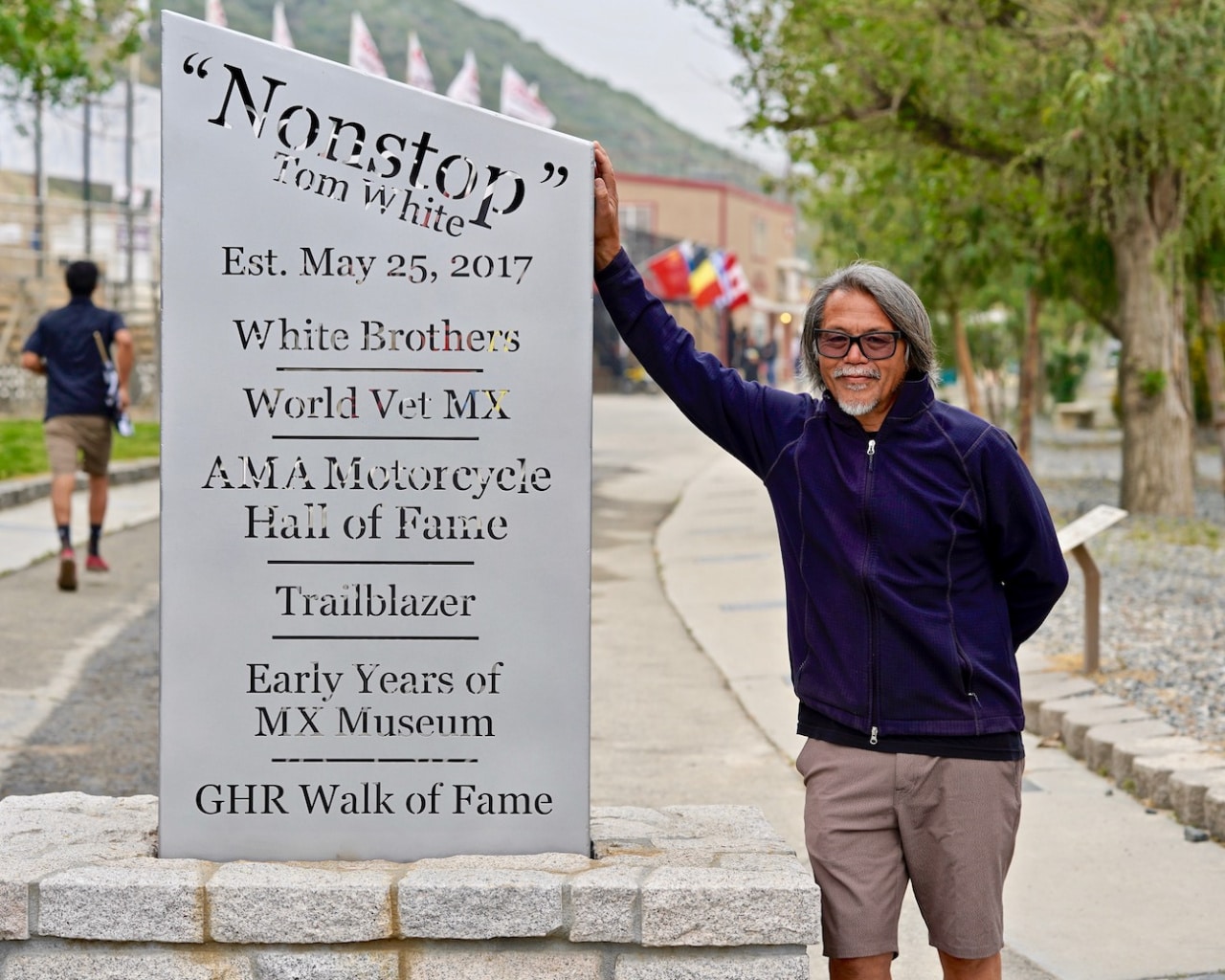 WORLD VET HISTORY
At lunch after a race way back in 1985, Tom White, Alan Olson and Jody Weisel decided that there should be a stand-alone championship race for Vet riders. The three Over-30 racers also agreed that Tom White should pay for the race through sponsorship by his White Brothers Cycle Specialties (by a vote of two to one). And Tom did just that! Not only did the White Brothers sponsor the race for many years, but it is now sponsored by Tom's daughter Kristen and son-in-law John Anderson through their Dubya USA Wheel company. Tom passed away from cancer a few days before the 2017 World Vet and, in his honor, Glen Helen placed a memorial to Tom at the entrance to the "Walk of Fame." Alan Olson would go on to win 9 World Vet Championship, Tom White would win the 1990 Over-40 World title and Jody would finished second twice  in the Over-40 class (beaten by Al Olson both times)
FREQUENTLY ASKED QUESTIONS
Will you be checking IDs?
Yes! This year we will be strictly enforcing the age of everyone in every class.
Class jumping rules
"If I am a 50+ Expert rider, can I also race in the 45+ Intermediate class?" No. You will NOT be allowed to race in a different skill level classes by racing with a younger age group. You can ride with a younger group, but you must always stay at the same skill level.
Race format
This year's race is a three-moto format on Saturday and Sunday. How does it work? Racing will start on Saturday for all amateur classes and continue until Sunday. We will race all of Moto 1 and half of Moto 2 on Saturday, then the rest on Sunday. All three moto scores will determine the Dubya Vet World MX Championship!
Where is staging for practice and racing?
New this year we are staging everyone for practice and racing in the staging area just south of the starting gate (to the left of the start gate if you are behind it). Look for the banners on vendor row that say "STAGING." No bikes will be allowed to enter the track near the museum.

Sharing bikes or transponders?
Can my buddy and I share a bike if we are in 2 different classes? Yes, be sure to let the ladies know at registration.
What days and hours can I sign-up or sign-in? See below
What are the gate fees?
Gates Fees $20 per person
Camping Fees $20 per night per vehicle
Practice Friday $30 per bike
Will you have live scoring?
Yes, at www.glenhelen.com
Are there special races over the weekend?
Yes. The Over-30, Over-40 and Over-50 Pro classes will have longer motos and only race two motos (with Over-40 and Over-50 on Saturday and Over-30 on Sunday. Additionally, Pasha Afshar has put up a $13,000 purse for the Over-30 and Over-50 125 two-strokes races. The Over-30 125 twos-stroke class will race on Saturday and the Over-50 race will be on Sunday. Plus, the "World Vet Cup of Nations" will feature 14 different three-man-teams (made up on one 30-year-old, one 40-year old and one 50-year-old). They will race one moto on Saturday and their second moto on Sunday
Will there be any vendors at the event?
Yes, several different companies will be there selling and displaying products.
Will Glen Helen sell World Vet or Glen Helen apparel?
Yes, the official Dubya World Vet Championship T-Shirts and GHR apparel will be sold on Sat and Sun. Located at the official Glen Helen Souvenir Tent near the Museum.
Will there be food and/or beer on-site for purchase?
Yes, Food and Beer vendors will be at the facility- You may also bring in your own food and Beverage.
Are there Restrooms and Showers? Yes, permanent and portable restrooms will be available. We have also recently installed 2 showers located directly behind the main restrooms.

What do I need to know about the Edison Dye Award?
2022 Recipient: Jeremy McGrath
Meet and Greet/Happy Hour: Saturday, November 5 at 4:00 p.m.
Jeremy McGrath film by Travis Fant: Saturday, November 5 at 5:00 p.m.
Edison Dye Award Ceremony: Saturday, November 5 at 5:12 p.m.
Location: Glen Helen Raceway Museum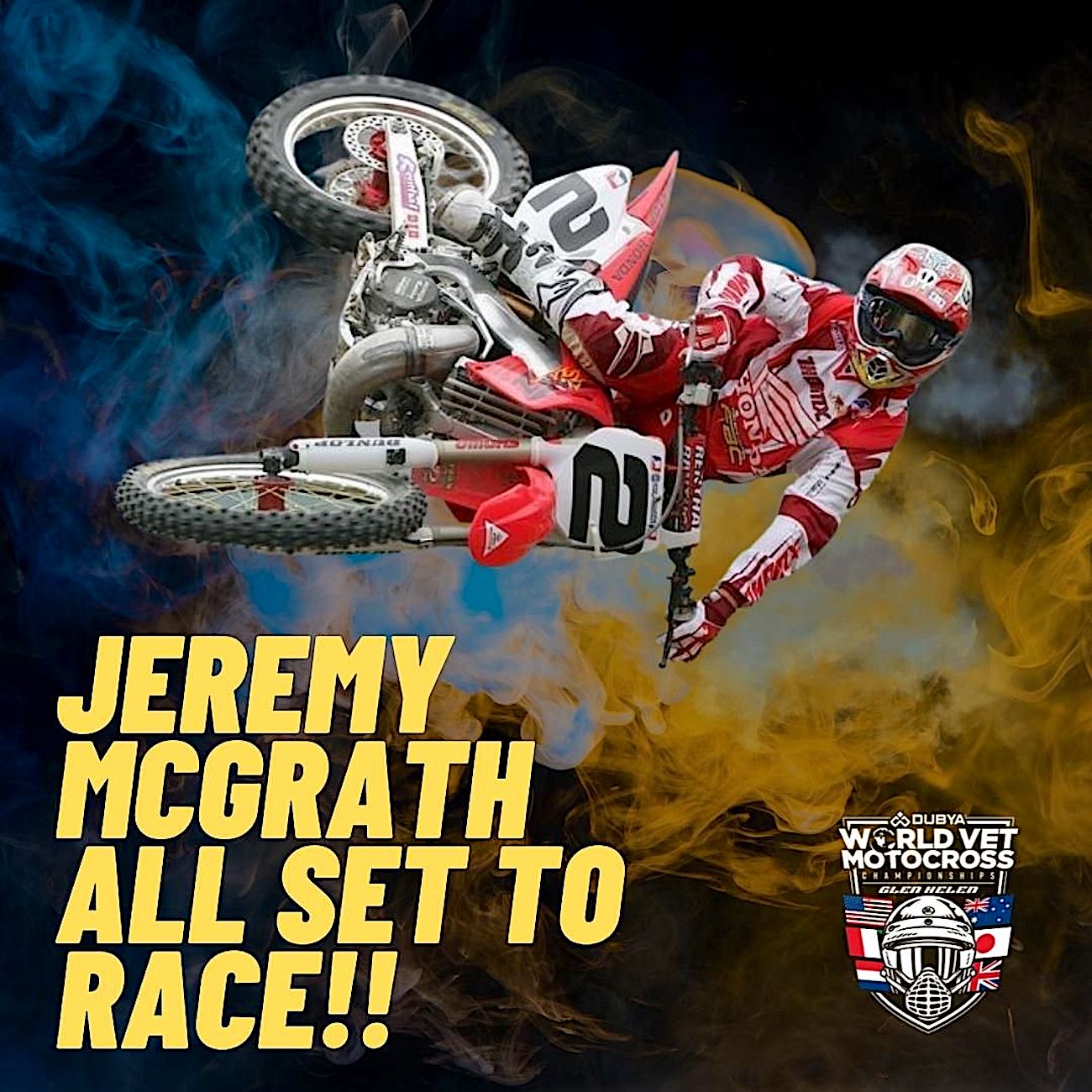 Will Jeremy be racing at the World Vet?
Jeremy McGrath will not just receive the Edison Dye Award at the 2022 Dubya World Vet Championships, but SuperMac will race two Pro classes over the weekend — the Over-40 Pro class on Saturday (November 5th) and the Pasha 125 two-stroke Over-50 Pro class on Sunday (November 6th).
Will there be an autograph signing time?
Yes, right after Edison Dye ceremony with former Edison Dye winners and famous riders who came to honor Jeremy.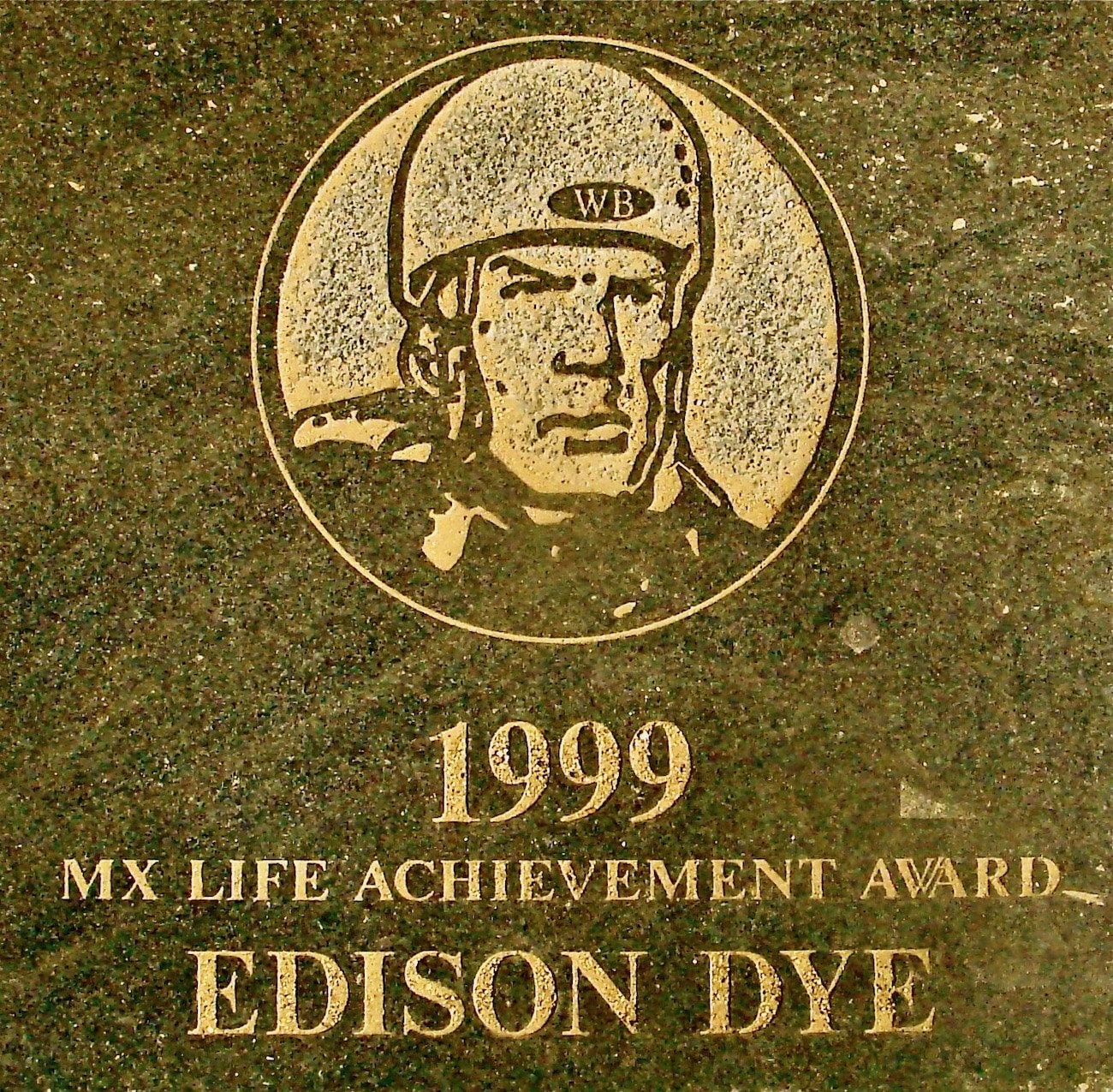 EDISON DYE LIFETIME ACHIEVEMENT AWARD WINNERS (1997-2020)
1997 …Roger DeCoster
1998 …Rick Johnson
1999 …Edison Dye
2000 …Torsten Hallman
2001 …Bruce Brown
2002 …1981 MX Des Nations Team:(Sun, LaPorte, O'Mara, Hansen)
2003 …Gary Jones
2004 …Jeff Ward
2005 …Stu Peters
2006 …Joel Robert
2007 …Bob Hannah
2008 …Brad Lackey
2009 …Tony DiStefano
2010 …Broc Glover
2011 …David Bailey
2012 …Marty Smith
2013 …John DeSoto
2014 …Feets Minert
2015 …Dave McCoy
2016 …Lars Larsson
2017 …Malcolm Smith
2018 …Jody Weisel
2019 …Mitch Payton
2020 …Rex Staten
2021 …Mark Blackwell
EVERY WORLD VETERAN CHAMPION (1986-2021)

1986
30 …Randy Rodriques (ATK)
40 …Alan Olson
1987
30 …Gary Jones (Hon)
40 …Alan Olson
1988
30 …Rex Staten (Hon)
40 …Alan Olson
50 …Ron Way
1989
30 …Warren Reid (Kaw)
40 …Alan Olson
50 …Ron Way
1990
30 …Rex Staten (Hon)
40 …Tom White
50 …Zoli Berenyi, Sr.
1991
30 …Rex Staten (Hon)
40 …Alan Olson
50 …Ron Dugan
1992
30 …Rex Staten (Kaw)
40 …Gary Jones
50 …Zoli Berenyi, Sr.
1993
30 …Doug Dubach (Yam)
40 …Gary Jones
50 …Zoli Berenyi, Sr.
1994
30 …Doug Dubach (Yam)
40 …Kent Howerton
50 …Alan Olson
60 …Fred Sessions
1995
30 …Doug Dubach (Yam)
40 …Kent Howerton
50 …Alan Olson
60 …Zoli Berenyi, Sr.
1996
30 …Erik Kehoe (Hon)
40 …Mike Webb
50 …Gary Dogget
60 …Zoli Berenyi, Sr.
1997
30 …Doug Dubach (Yam)
40 …Ron Turner
50 …Alan Olson
60 …Zoli Berenyi, Sr.
1998
30 …Doug Dubach (Yam)
40 …Ron Turner
50 …Rich Thorwaldson
60 …Zoli Berenyi, Sr.
1999
30 …Doug Dubach (Yam)
40 …Ron Turner
50 …Hideaki Suzuki
60 …John Berkezewski
2000
30 …Doug Dubach (Yam)
40 …Pete Murray
50 …Hideaki Suzuki
60 …George Spearing
2001
30 …Doug Dubach (Yam)
40 …Jeff Ward
50 …Ike DeJager
60 …Lars Larsson
70 …Feets Minert
2002
30 …Doug Dubach (Yam)
40 …Andy Jefferson
50 …Gary Jones
60 …Eyvind Boyesen
70 …Zoli Berenyi, Sr.
2003
30 …Spud Walters (Hon)
40 …Doug Dubach
50 …Gary Jones
60 …J.N. Roberts
70 …Zoli Berenyi, Sr.
2004
30 …Ryan Hughes (Hon)
40 …Doug Dubach
50 …Gary Jones
60 …Hans Hansson
70 …Zoli Berenyi, Sr.
2005
30 …Ryan Hughes (Hon)
40 …Doug Dubach
50 …Brent Wallingsford
60 …Alan Olson
70 …Zoli Berenyi, Sr.
2006
30 …Casey Johnson (Yam)
40 …Doug Dubach
50 …Kim Houde
60 …Terry Sage
70 …Zoli Berenyi, Sr.
2007
30 …Doug Dubach (Yam)
40 …Doug Dubach
50 …Pete DeGraaf
60 …Bill Maxim
70 …Mike Dobbins
2008
30 …Kyle Lewis (Hon)
40 …Eric Sandstrom
50 …Toon Karsmakers
60 …Thorlief Hanssen
70 …Jerry Harpole
2009
30 …Doug Dubach (Yam)
40 …Doug Dubach
50 …Pete DeGraaf
60 …Bill Maxim
70 …Jimmy Redwine
2010
30 …Ryan Hughes (Hon)
40 …Doug Dubach
50 …Pete DeGraaf
60 …Bill Maxim
70 …Feets Minert
2011
30 …Ryan Hughes (Yam)
40 …Doug Dubach
50 …Pete DeGraaf
60 …Gary Chase
70 …Lars Larsson
2012
30 …Ryan Hughes (Yam)
40 …Doug Dubach
50 …Pete Murray
60 …Gary Jones
70 …Lars Larsson
2013
30 …Travis Preston (Yam)
40 …Doug Dubach
50 …Doug Dubach
60 …Gary Jones
70 …Bart Kellogg
2014
30 …Travis Preston (Yam)
40 …Doug Dubach
50 …Doug Dubach
60 …Brent Wallingsford
70 …Gary Chase
2015
30 …Ryan Morais (KTM)
40 …Kurt Nicoll
50 …Doug Dubach
60 …Don Grahn
70 …Roque Colman
2016
30 …Mike Sleeter (KTM)
40 …Daryl Hurley
50 …Kurt Nicoll
60 …Pete DeGraaf
70 …Jim O'Neal
2017
30 …Brett Metcalfe (Hon)
40 …Mike Brown
50 …Doug Dubach
60 …Pete DeGraaf
70 …Steve Machado
2018
30 …Josh Grant (Kaw)
40 …Daryl Hurley
50 …Kurt Nicoll
60 …Pete DeGraff
70 …Gary Chase
2019
30 …Mike Alessi (Hon))
40 …Mike Brown (Yam)
50 …Kurt Nicoll (KTM)
60 …Pete Murray (Yam)
70 …Ike DeJager (Hon)
80 …Chuck Koistra (Hon)
2020
30 …Mike Alessi (Hon))
40 …Kris Keefer (Yam)
50 …Kurt Nicoll (KTM)
60 …Pete Murray (Yam)
70 …Ike DeJager (Hon)
80 …Chuck Koistra (Hon)
2021
30 …Mike Alessi (Hon))
40 …Kris Keefer (Yam)
50 …Kurt Nicoll (KTM)
60 …Pete Murray (Yam)
70 …Tom Jessmer (Yam)
80 …Lars Larsson (Hus)