FACTORY HONDA ANNOUNCES ERIK KEHOE AS NEW TEAM MANAGER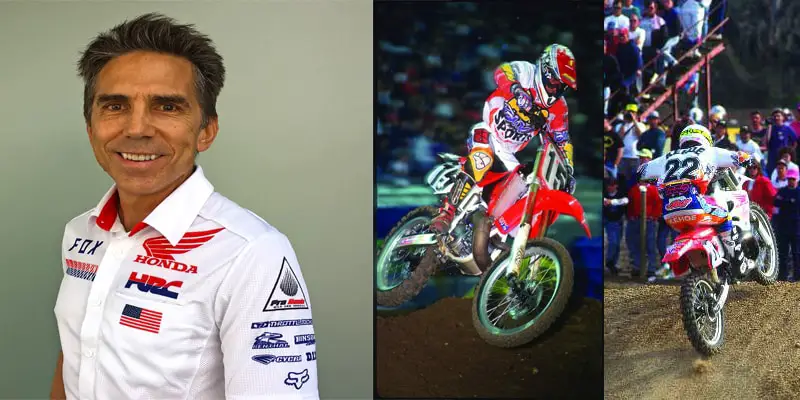 Erik Kehoe now and then.
American Honda announced today a number of changes regarding management of the Team Honda HRC and GEICO Honda race squads, which respectively handle the company's official 450cc and 250cc AMA Supercross/Motocross racing efforts.
Erik Kehoe will return to American Honda as the Team Manager of Team Honda HRC. A former professional racer and Honda satellite-team manager, Kehoe previously managed Honda's in-house AMA Supercross/Motocross team between 2002 and 2012.
Current Team Honda HRC manager Dan Betley will move to the Factory Connection-run GEICO Honda squad, where he will serve as Team Manager. Betley replaces two-time AMA Motocross National Champion Mike LaRocco, who has spent nearly two decades with the GEICO Honda squad, first as a rider and then as a manager. A former Team Honda mechanic, Betley has considerable technical expertise that will be useful as Factory Connection helps Honda develop the all-new 2018 CRF250R, which shares much of its chassis with the CRF450R. With Honda Racing Corporation becoming more involved with the GEICO 250cc racing effort, Betley's HRC relationships will be very valuable.
Mike LaRocco will step down from the Geico Honda team manager position while Dan Bentley takes his place.
All changes become effective at the conclusion of the 2017 AMA Pro Motocross series.
Takashi "Sam" Mishima: Manager of Motorcycle Sports, American Honda
"We're excited to implement these new managerial changes along with Factory Connection. Erik has close ties with Honda, having managed the factory team to five AMA Championships. By bringing our two organizations closer together, we'll be able to more effectively carry out development of new models. American Honda and HRC are both becoming more involved with the 250cc racing effort, so moving Dan to the GEICO Honda team will be a great utilization of his development skills."
Erik Kehoe
"I have a lot of history and good memories with Honda, and it's nice to be reconnecting with such a great company and team. I was fortunate enough to be able to take some time off, which gave me the opportunity to work on some family things. I'm a racer at heart though, and I've probably looked at lap times every single weekend since I left! Now I'm in a different place, and I'm appreciative of having the opportunity to come back into the team. I know how talented Kenny Roczen and Cole Seely are, and I'm very excited about getting to work with them. I'm also looking forward to working with Dan again in his new role at GEICO Honda. I can't wait to get started."
Rick Zielfelder: Founder, Factory Connection
"These changes were sparked from a technical agenda to align our two companies. Given the chassis similarities between the CRF250R and CRF450R, Factory Connection having greater technical cooperation with Honda will help us to be more competitive as a team. Dan is obviously a tremendous choice for us, and we're very pleased to have him be the guy that will lead this effort on our side. We've got a 20-year relationship with Mike, and in many ways he's responsible for putting our team on the map. We'll forever be grateful for that, and he will always be a friend and a resource."
Dan Betley
"I'm looking forward to this new challenge in my career. My goals for the Factory Connection program are no different than my goals have been with Team Honda HRC. GEICO Honda has already been an incredibly successful team, so I'd like to continue that by winning races and more championships. I also see myself as the bridge between American Honda, HRC, and Factory Connection, which will help improve the flow of information in order to make us all an even more cohesive group. I've always enjoyed working on the technical side too, so I'm excited to help develop the all-new CRF250R into a race-winning machine. Although we'll still be in close contact, I'm really going to miss the relationships that I've built with all the team members and riders at American Honda, but they're still in great hands with Erik returning as team manger. I think it's going to be a very smooth and successful transition for everyone."
Mike LaRocco
"When I took on the GEICO Honda manager position in 2010, I thought I'd give it a try and see if I could use my previous race experience to guide the team. I definitely learned a lot being on the other side of the fence. As a rider, you never really know how much goes into getting a team this size to the races. There are a lot of moving parts, and I feel like the team can get to another level by aligning with American Honda like this. When I originally committed to this position, I figured I'd give it five years and see where I was at then. It's been seven years and the team is in a great position, so I'd like to explore what's next. It was a great experience! I've been with these guys in some form since the fall of 1997. I love them, and I'm sure I'll miss it."