HAVE YOU SEEN THE NEW MXA? AUGUST ISSUE OUT NOW, SEE WHAT'S IN IT
WHAT'S INSIDE THE AUGUST 2020 ISSUE OF MXA?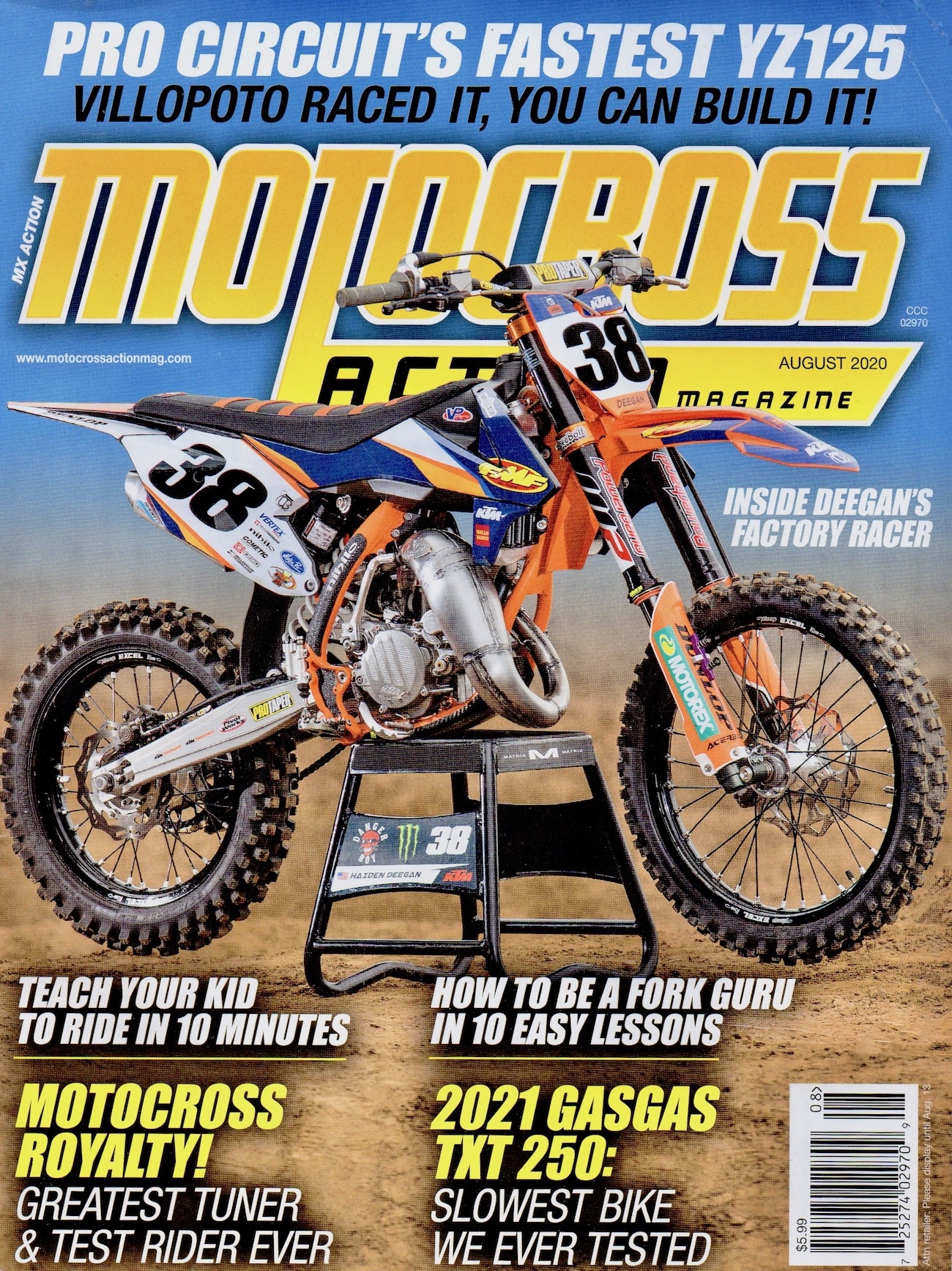 The motocross photography in the August 2020 issue doesn't get justice on an iPhone screen, you need to see the giant 16-inch-wide spread photos in all their glory. Not to mention that you get a $25 Rocky Mountain ATV/MC gift card when you subscribe—which makes your subscription free.
Come with us back to 2008, when Jason Lawrence was all the rage. We weren't all that interested in J-Law's antics, but we were glad to get to test his 2008 Yamaha of Troy YZ250F. Read the full test in the August 2020 issue.
We wanted to build a YZ125 that could win the 2020 World Two-Stroke Championships…and we did. But, the April race became a May race, which turned into a June race and is now schedule for October 3.  Our Mitch Payton-tuned, Cone Valve-suspended rocketship is sitting and waiting.

Ever wonder what the atmosphere is like inside a high-profile AMA Pro team? Well, here is your chance to find out as Jamie Ellis take guides you through the personal politics of a winning team. It's not always pretty.
Frustrated with trying to teach your kid how to ride a bicycle or a Pee-Wee? Start him or her on a Stacyc Stability Cycle. It is essentially a strider with an electric motor. Thanks to three power modes (to suit your kid's ability) they can learn how to balance a bike in 10 minutes.  It comes in two wheel sizes and is the battery snaps in an out like on a power ool.

Twenty years before Yamaha introduced the revolutionary YZ400, they built, sold and raced a much more exotic Yamaha thumper. The HL500 never came to the USA as a production bike, like it did in Europe, but was sold as a kit bike. It has a very unique history.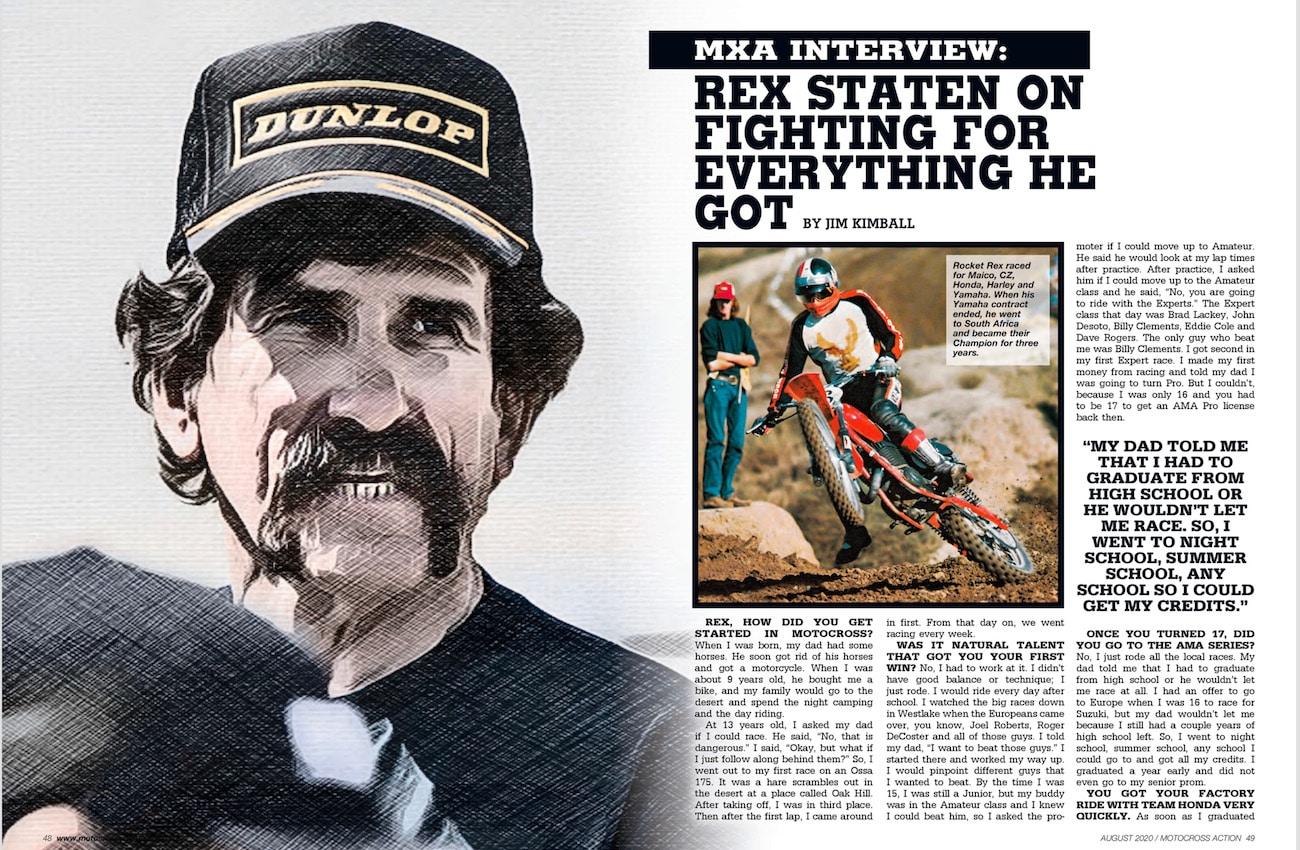 Rocket Rex Staten was not a man to trifle with. Yes, he was a sweetheart underneath his rough and rugged exterior, but that likeable side rarely showed up on the race track. Rex was a man who fought for what he got. You won't read it and weep, but you'll be amazed at his life story .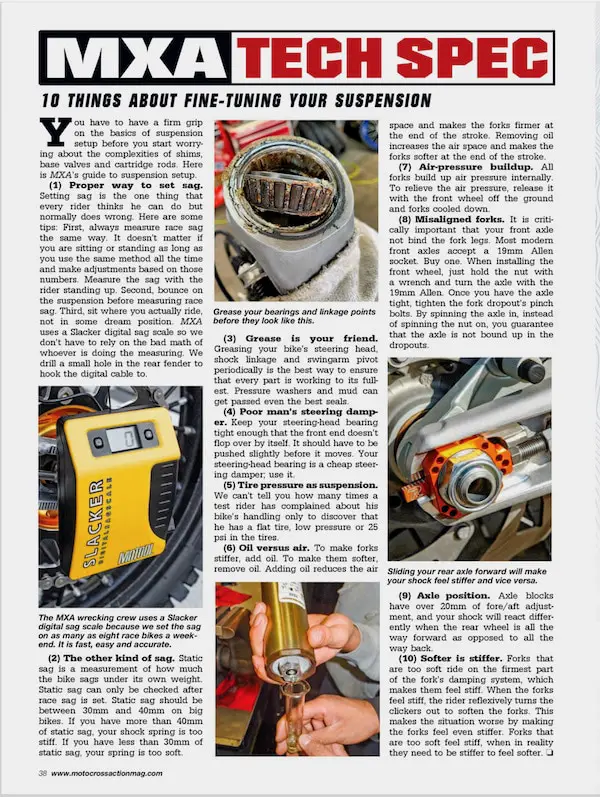 The only things that's in short supply in the motocross suspension world is common sense. In this month's "Tech Spec" we give you a heavy dose of why it doesn't take money to get your bike to work. It takes work.

When KTM asked if we'd like to test the first 2021 Gas Gas in the country, we jumped at the chance. When found out it was the TXT 250 trials bike we jumped over boulders and bunny-hopped over logs. Smarter than the average racer, we took 10-time World Trials Champion Geoff Aaron with us for guidance.
What you don't know about high-compression pistons can hurt you—and we mean your pocket book and your engine's top-end. We got JE Pistons to explain everything you didn't know about high-compression engines.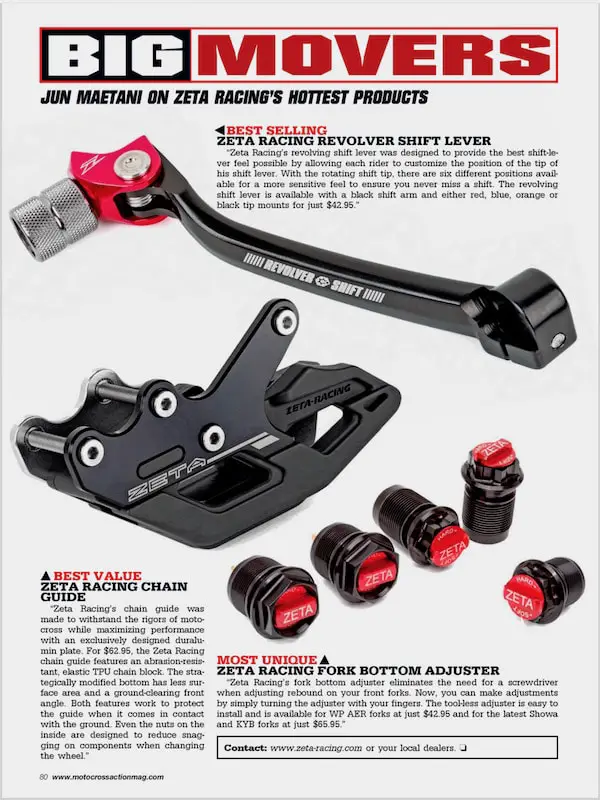 Zeta makes a host of trick  motorcycle parts. We sat down with Zeta'S Jun Maetani to have him show us their three hottest selling product—you might be interest in the fork rebound adjuster that allow you to change the settings by hand.


If you thought linkage rear suspension was a 1980s invention then you need to see 1974's Skunkworks Geometric Progression Suspension system. If the rear linkage doesn't impress you, what about the front forks that use a rear shock mounted through the front fender.

No one knOws more about the YZ450F than the man who did all the prototype testing ON the Yamaha YZ400, YZ426 and YZ450 models. MXA had YamahA's legendary test rider build us a GYTR-kitted 2020 YZ450F.  Was it fast? Luckily, judicous use of the brakes and a weak left wrist made it more than manageable.
If you ask 10 people the same technical question, you'd get ten different answers and 9 of then would be wrong. MXA asks the smartest men in their fields for the correct answers and then we tell it to you.  It cuts out a lot of the comedy, but it saves you time and money when you Ask the MXperts.


Wish you could get a job in he motorcycle industry?  We ask Twisted Development's Jim Braho, ODI's Brandon Greer and Penrite Honda's Aaron Clout how they got their dream jobs. Learn from them.


The MXA wrecking crew tests over 75 bikes a year (in the August issue alone we tested 7 bikes). That means that we go through a lot of gear, parts, suspension and aftermarket parts, here are three that stood out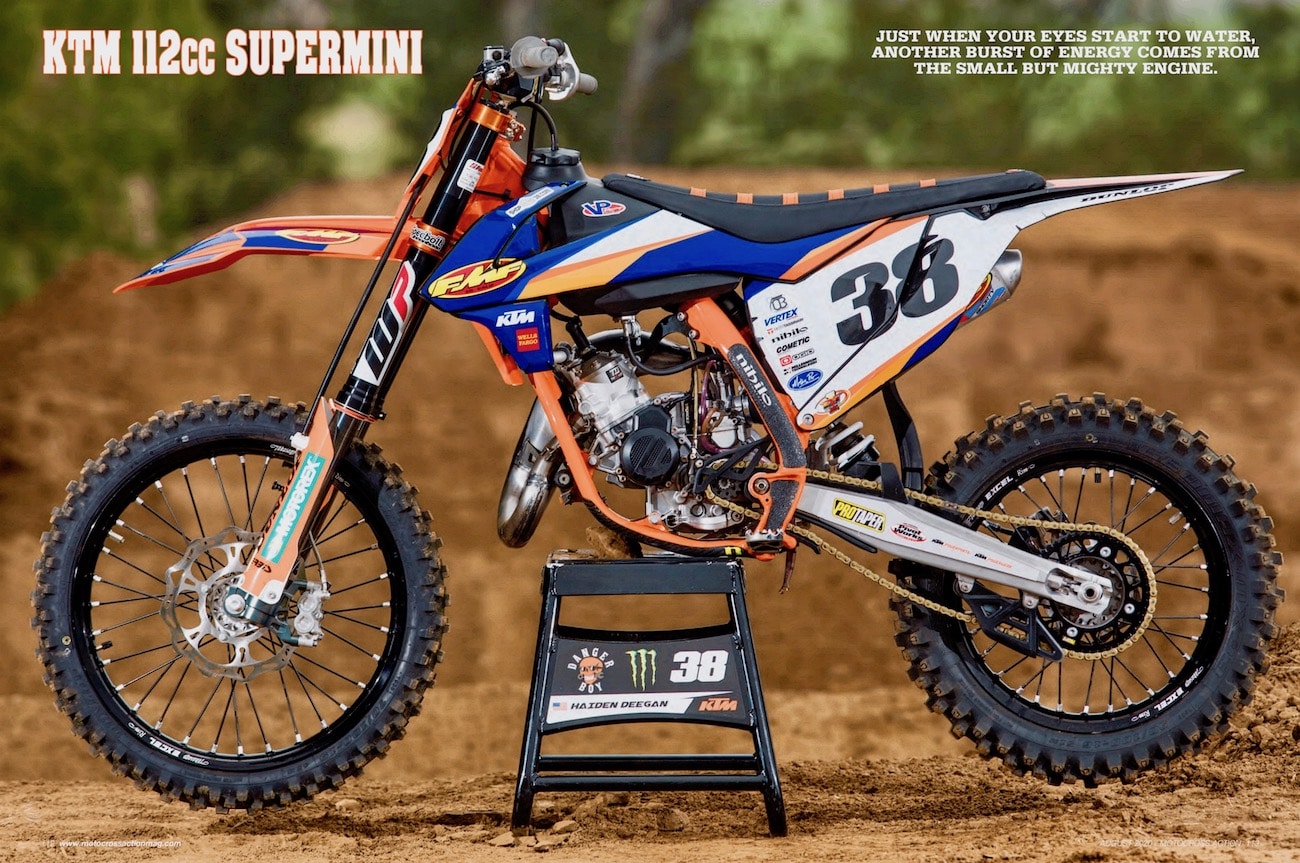 Haiden Deegan's dad is a freestyle and Lucas Oil Off-road truck hero, his sister Haley is a rising star in NASCAR and Haiden plans to be a Supercross star in a few years. MXA went to the Deegan Compound to ride Haiden's KTM 112cc Supermini. It might as well be a works bike.

We showed this Moto in Motion photo from the August issue to Jeff Ward. He loved it.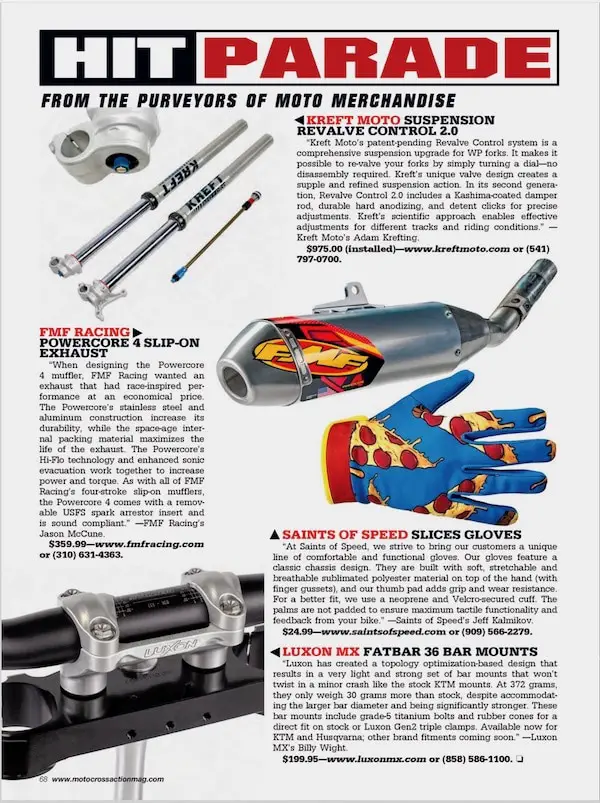 You know who FMF is and what they are capable of building, but we wanted to show you the products of Kreft Moto, Saints of Speed and Luxon. One of them could grow to be as big as FMF in the future.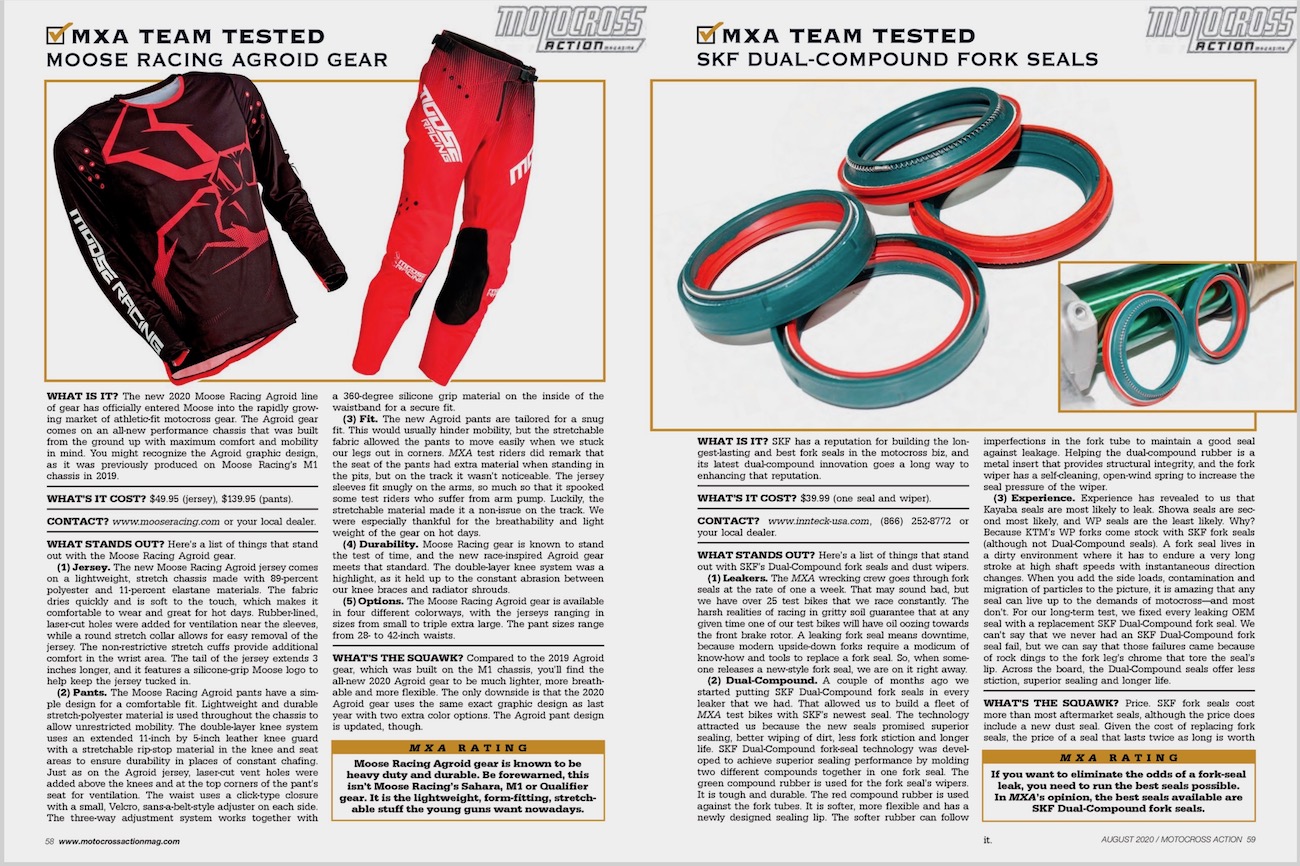 We love new stuff. We use it, abuse it and test it. Best of all, we tell you the good, bad and ugly of how each product works.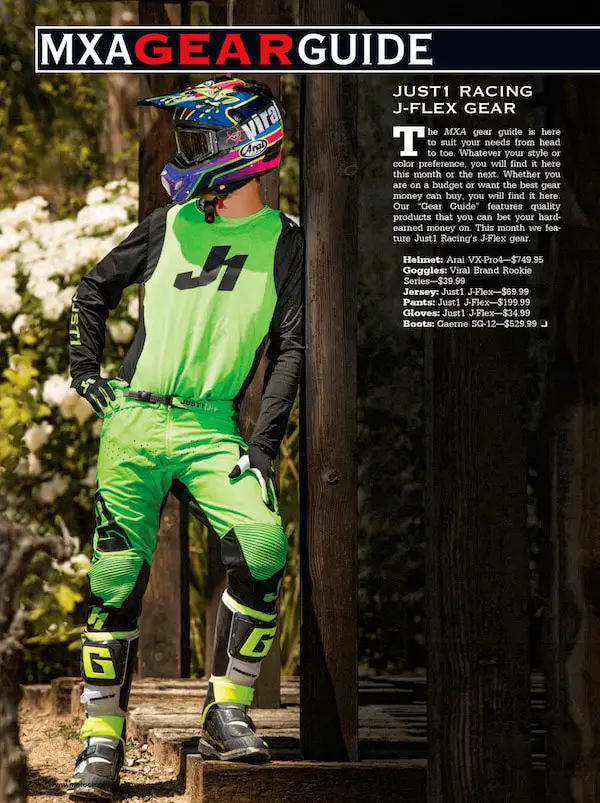 Every MXA test rider is fashion conscious. Every test rider wants to look his best. They want to wear the newest stuff in the wildest colors. They change gear for every photo session. Every month, MXA highlights a different set of gear in our Gear Guide—this month it is Just1's J-Flex gear.


Thirty years seems like a long time ago, but since MXA has been around since 1973, 30 years isn't really ancient history. We take a close look at the August 1990 issue of MXA.  That's Alex Puzar on the cover. Who's Alex Puzar. Alex is a two-time World Champion and made the August 1990 cover because he won the 250 World Championship in 1990.

HOW TO SUBSCRIBE TO MXA SO THAT YOU NEVER MISS ANOTHER ISSUE, PLUS GET A $25 ROCKY MOUNTAIN GIFT CARD TO COVER YOUR COSTS
If you subscribe to MXA you can get the mag on your iPhone, iPad, Kindle or Android by going to the Apple Store, Amazon or Google Play or in a digital version. Even better you can subscribe to Motocross Action and get the awesome print edition delivered to your house by a uniformed employee of the U.S. Government. You can call (800) 767-0345 or Click Here (or on the box at the bottom of this page) to subscribe.