THE BEST OF JODY'S BOX: IGNORANCE IS BLISS, AND I'M NOTHING IF NOT BLISSFUL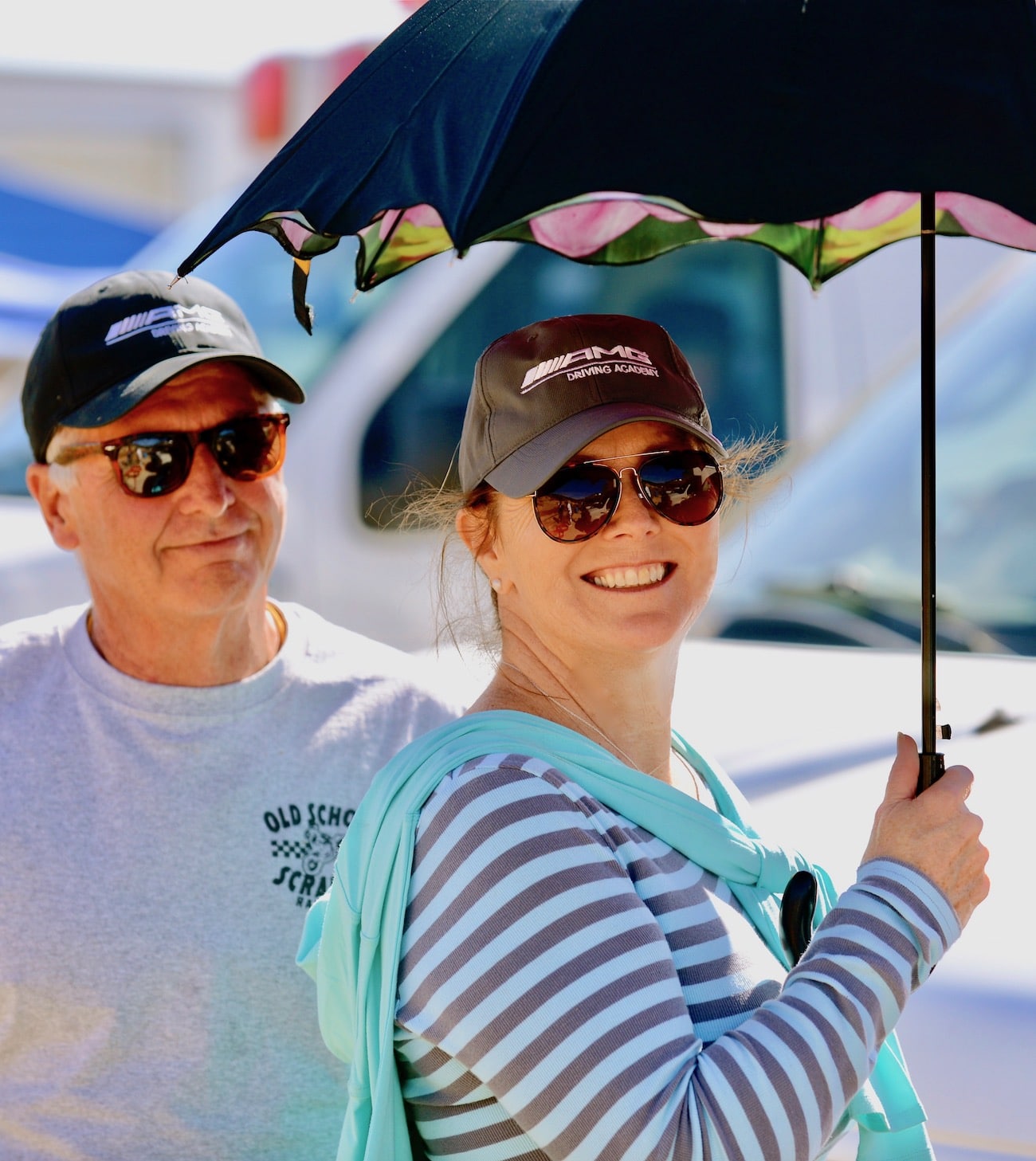 Jody and Lovely Louella.
BY JODY WEISEL
I'm always surprised when someone on the internet writes that they met me once and I was a jerk to them. Oh, don't get me wrong; I can be a jerk. But, it is very rare that I ever meet anyone outside of my own pit. I read somewhere that someone saw me at a vintage race riding like an idiot on a Montesa. I admit that I have ridden like an idiot on a Montesa, but the last Montesa I raced was back in 1978—and I've never ever raced a vintage race in my life. An anonymous guy from England wrote that he came to SoCal to race on his vacation and I knocked him down and swore at him. I admit that I have knocked people down, but I've never used a curse word in my life. I'm no Boy Scout—although I was one—but I don't go out of my way to be noticed. I always say thank you, open doors for the people behind me, lend tools to people in need and don't chew with my mouth open. I am a very private person, and all that anyone really knows about me is what they read on this page.
The motocross business has lots of unlikeable people in it. Motocross is a microcosm of the real world filled with good people and riffraff. During my tenure as a motorcycle racer, I've met truly amazing people and truly alarming people. The people who have met me are free to judge which side of that scale I fall on. I would sound like a jerk if I said that I don't care what people think of me—because that's not completely true. I do care what the good people think.
I TELL HER THAT IF SHE REALLY WANTED TO SPEND TIME WITH ME, SHE WOULD COME TO GLEN HELEN. SHE DID THAT FOR YEARS, AND, OF
COURSE, I MET HER AT THE RACETRACK WHEN SHE WAS A SCORE GIRL.
Mostly, I care what "Lovely Louella" thinks. She has spent the most time with me, seen me at my worst, lived with my foibles and put up with a schedule that is so set in stone that if she wants to spend time with me, she has to work around my racing, testing and magazine deadlines. She has a calendar on the kitchen wall where she tries to write down every one of my races, deadlines and test sessions. She consults it before asking me to do anything. She knows that I can't miss a race under any circumstance. And, I tell her that if she really wanted to spend time with me, she would come to Glen Helen. She did that for years, and, of course, I met her at the racetrack when she was a score girl. But now, she only comes on special occasions, like the World Vet (when all of our friends come over from Europe) and big birthday parties for our motocross friends at REM Glen Helen.
So, I was very surprised when she showed up in the pits at 10:00 a.m. I should have guessed that something was up, because the last time she arrived unannounced it was on my birthday. She brought enough birthday cake for every person at the race, along with balloons and a pit full of willing accomplices. This time when she arrived, I my guard was up—not fully cognizant of what was happening but suspicious. Earlier that morning ace motocross photographer Debbi Tamietti asked me, "Are you ready for the big day?"
I asked, "What big day?"
She stammered out something like, "Oh, I mean—ahh, hmm, just another sunny day in SoCal."
Ignorance is bliss, and I'm nothing if not blissful. I let the comment slide, but when Louella arrived, my antenna was up: "What are you doing here?" I asked.
"You'll find out," she said and headed off across the pits to confer with her partners in crime.
Everybody has friends, but these are the partners in crime.
It turns out that this week's race was REM Awards Day, where they hand out the number-one plate for the previous year. I had forgotten about it, because I was not in the running, having won only three races in the last two years. Plus, I had already been number one at Glen Helen back in 1998. As I stood in the back of the riders' meeting, the promoter began handing out jackets to the class winners. Then he announced that there were some special awards and called up Mike Marion to receive the Sportsman of the Year award. Mike deserved it for building a Tom White memorial bike that mimicked a silver 1974 Yamaha YZ250A from Tom's museum. And before he passed away in November, Tom asked the promoter to do something special for Mike.
Next, they announced that they were going to hand out the Racer of the Year award to a man who truly deserved it. I instinctively looked around to see who that might be when "Luscious Louella" gave me a firm shove from behind. When they called my name, I was shocked, embarrassed and disbelieving. The only thing I did that was noteworthy in that last calendar year, apart from breaking my arm and winning three lousy times, was to complete a string of 117 straight races without missing a single one (up to the race where I broke my arm). The promoter handed me the plaque, a jacket and a microphone.
I said, "I am truly amazed to receive this award, but I can't help but think that if I had won four races last year I might have won Racer of the Decade. When they announced Mike as the Sportsman of the Year, I kind of wished that I could have won that award, but I know that no one I ever raced against would believe that, especially that anonymous guy from England."