IMPORTANT THINGS YOU NEED TO KNOW ABOUT THE 2020 CANADIAN MOTOCROSS NATIONALS (UPDATED)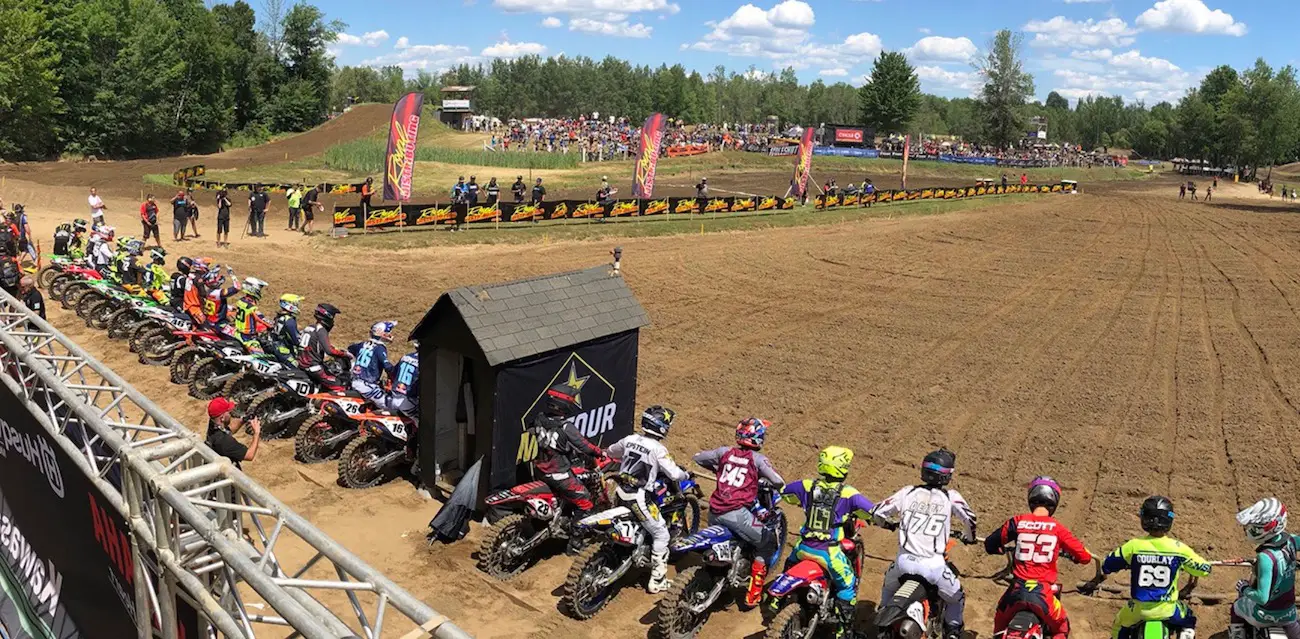 IMPORTANT THINGS YOU NEED TO KNOW ABOUT THE
2020 CANADIAN MOTOCROSS NATIONALS
Professional racing is under incredible pressure to organize and hold their 2020 seasons. With both the AMA 250/450 Nationals and FIM World Motocross Championships are delaying the start of their seasons virtually every other week, the Rockstar-sponsored 2020 Canadian Motocross Nationals are prepared to get under way on the weekend of July 25-26 at Gopher Dunes. But, this isn't business as usual, as you will see when you read the new rules.
(1) Social Distancing. Riders and pit crew must remain six feet away from others. No shaking hands or hugging. It is highly recommended to wear a mask and wash your hands frequently. Race staff will do on-site patrolling to ensure that people are following social distancing measures in and outside of their pits. Treat these people with respect and obey them if they ask you break apart or move along.
(2) Waivers. Every person (no exceptions) entering the property must sign waivers: racers, family, flaggers, medics, staff, etc.
(3) Overnight Parking. Overnight parking will only be available for those in self-contained camper trailers or RV's. Tent camping is not allowed. There can be no groups larger than five people. Only those who arrived in a camper will be permitted to stay in that camper overnight. Camping trailers must not have awnings facing each other. All vehicles entering the property will be parked by parking staff.
(4) Water. You must bring your own water in your own container. Bonfires are not permitted. No evening social gatherings.
NEW 2020 CANADIAN NATIONAL MOTOCROSS SCHEDULE: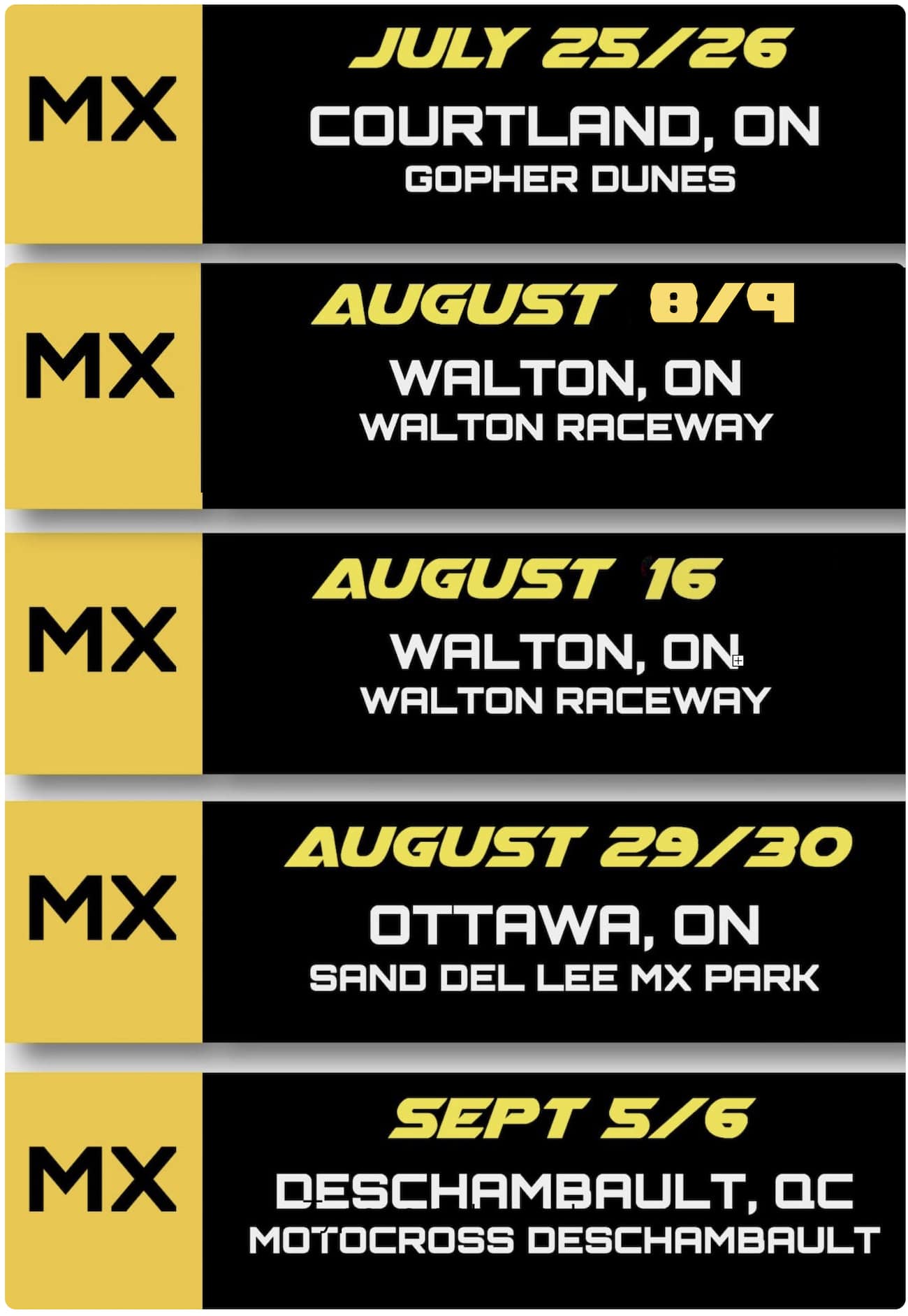 The 2020 Canadian National Motocross schedule has been changed in the last three days. Moto Park on August 1-2 is off the schedule and Walton Raceway will get back-to-back National rounds on August 8-9 and again on August 16.
(5) Gates. Gates close at 8:30 p.m. on Friday and Saturday nights. If you arrive after 8:30 p.m. you will not be able to enter the property and parking alongside the road is not permitted. Gates re-open at 6:00 a.m. on Sunday morning. The gate will close again at 9:00 a.m. on race day.
(6) Pit crew. A crew member is someone that helps the rider, with the bike, body, and mind. Someone that contributes to the riders race day. Crew members can be; a parent, a sibling, a spouse, a friend, etc.
(7) Responsibility: Unless their racer is on the track, crew members must stay in their designated pit area. The rider is responsible for his pit area and pit crew. Any rule violations by the pit crew will be disciplined through the rider's results.
(8) Spectators. No spectators will be allow at the races to keep the minimum amount of people on the property. No unnecessary people are allowed to be part of the riders/racers crew. A limit of six total pit crew are permitted—counting the rider. This group must stay in their designated pits unless watching their rider during the day.
(9) Parking: All vehicles must be distanced as directed by Parking Staff in the pits. No saving of parking spots. All garbage must be placed in designated bins or taken home with you.
(10) Riders meeting: There will be no group riders meeting, instead the rider's meeting will be announced over speakers and a dedicated radio channel.
(11) Starting line rules. One mechanic per rider only. All mechanics must wear a mask or the rider forfeits his gate pick. Staging staff must wear a mask.
(12) Podiums. There will be no post-race podium. There will be separated TV interviews for TV. All payback will be at the following race or check will be sent through the mail.
(13) Clarification: To read the complete rider handbook for the Rockstar Triple Crown Series CLICK HERE. For additional information go to www.rockstartriplecrown.com.