INTRODUCING THE 2004 HONDAS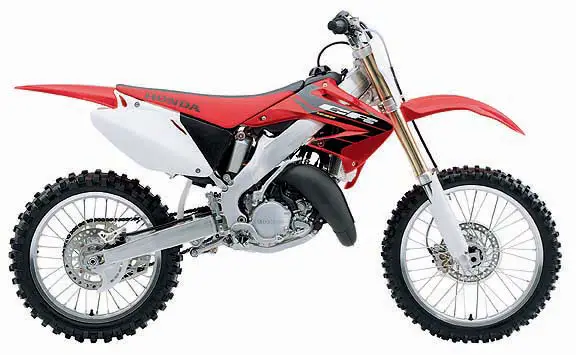 2004 CR125R
Changes for 2004
ú New electronic power valve for optimum valve timing and improved power throughout the range
ú TMX-x carburetor gets new throttle position sensor (TPS) for improved linear throttle response
ú New quick adjust clutch perch
ú New clutch lever to improve feel and action
ú New aluminum Renthal Bars (971 Bend)
ú New "non-slip" seat cover for increased rider control
ú New footpeg hinges prevent dirt accumulation for consistent footpeg angle
ú New Dunlop 742 front and 756 rear tires for improved bottom end power
ú New piston shape for improved horsepower throughout the range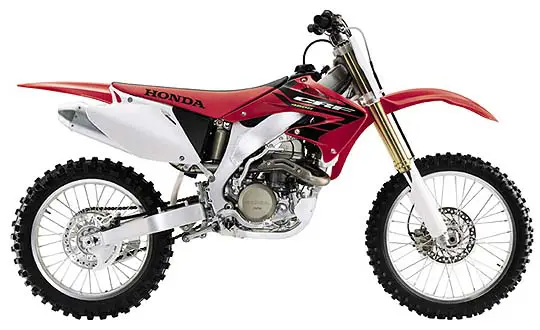 CRF450R
For 2004, the mighty CRF450R tips the scales 3 pounds lighter, and features a more powerful engine and revised suspension, plus a host of refinements to make the best open-class four-stroke even better.
Features & Benefits New for 2004
A new, lighter piston provides quicker throttle response, with a recontoured crown that yields higher compression and improved torque over entire rpm range.
ACG cover now made from magnesium for reduced heat build-up and lighter weight.
New, lighter ACG improves throttle response and rideability.
Revised ignition timing enhances rideability.
Improved carburetor settings for sharper throttle response.
Revised gearing optimizes engine's power output.
New exhaust system features a lighter silencer that's positioned 50mm farther forward for optimum mass centralization.
New, longer-lasting silencer packing.
Aluminum 971 bend Renthal handlebars as standard equipment.
* New quick-adjust clutch perch.
Front fork stanchions' inner surfaces use same honing process as on works bikes for reduced friction. First-time use on a mass-production motocrosser.
Improved damping characteristics for plusher, smoother suspension action.
New footpeg hinges prevent dirt and mud build-up for consistent, flat footpeg position.

New non-slip seat cover for increased rider-control.
New front fender and front number plate for slimmer, more aggressive look and lighter weight.
New Dunlop 742 front and 756 rear tires for improved traction and cornering.
New fork guards, engine guards and front brake hose clamps redesigned to reduce weight.
Overall weight reduced by 3.0 pounds
THE 2004 CR250R
ú New aluminum Renthal Bars (971 Bend)
ú New "non slip" seat cover for increased rider control
ú New footpeg hinges prevent dirt accumulation for consistent footpeg angle
ú Front fork tubes use same honing process as works bikes for less friction. First time on a mass production motocrosser
ú Improved suspension damping characteristics for plusher, smoother suspension action
ú New quick adjust clutch perch
ú New clutch lever to improve feel and action
ú New engine cases to improve mixture flow for improved bottom end power
ú Redesigned free flowing reed valves for increased bottom end power
ú TMX 38 carburetor gets new throttle position sensor (TPS) for improved linear throttle response
ú Air cleaner connecting tube volume up 6.5%
ú Shape and position of exhaust port changed for cleaner, crisper bottom end power
ú New Dunlop 742 front and 756 rear tires for optimum traction & cornering
ú New front fender and front number plate for slimmer more aggressive look and lighter weight
ú New fork guards, engine guards and front brake hose clamps are redesigned to reduce weight